From Ireland's highest peaks to those with the best views, we cover everything you need to know about exploring Ireland's mountains.
There are few things as sweet and pure in life as the thrill of reaching a summit, no matter how minor it is. That moment when you reach the plateau and get those amazing panoramic views of your surroundings, it will break your train of thought and everything in life will pause for one perfect split second. Now Ireland may not have Everest, we may not have Elbrus, but we have plenty of little mountains (12 Irish peaks exceed 900m/3000ft) to play on, to explore and to take your breath away, literally. Consider this your comprehensive guide to Ireland's summits. Now get up, get out and go explore Ireland's Mountains.
Top 50 highest peaks in Ireland
From: mountainviews.ie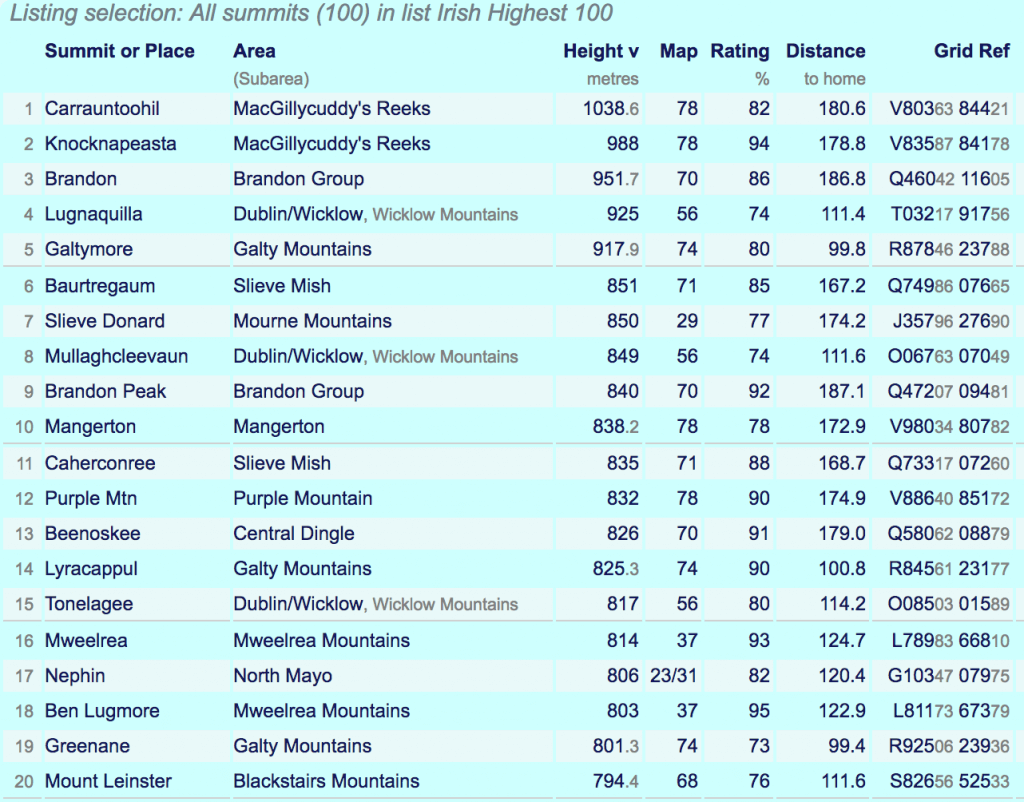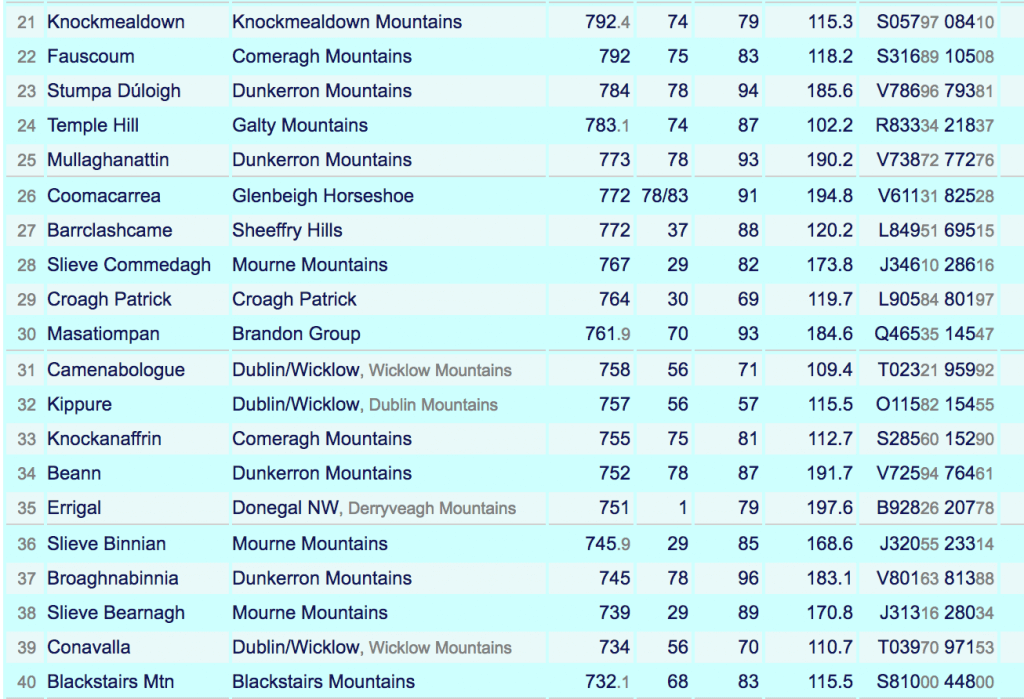 Highest mountains in Ireland by province
Leinster
Luqnaquilla, Co Wicklow – 925m
Mullaghcleevaun, Co Wicklow – 849m
Tonelagee, Co Wicklow – 817m
Cloghernagh, Co Wicklow – 800m
Mt Leinster, Co Wexford – 796m
Munster
Carrauntoohil, County Kerry – 1,038 m
Binn Chaorach/Benkeeragh, Co Kerry – 1,008m
Caher, Co Kerry – 1001m
Cnoc na Péiste, Co Kerry – 988m
Caher West Top, Co Kerry – 975m
Connacht
Mweelrea, Co Mayo – 814m
Nephin, Co Mayo – 806m
Barrclashcame, Co Mayo – 772 m
Croagh Patrick, Co Mayo – 764 m
Benbaun, Co Galway – 729m
Ulster
Slieve Donard, Co Down – 852 m
Slieve Commedagh, – 767m
Slieve Binnian, Co Down – 747m
Slieve Bearnagh, Co Down – 727m
Slieve Meelbeg, Co Down – 708m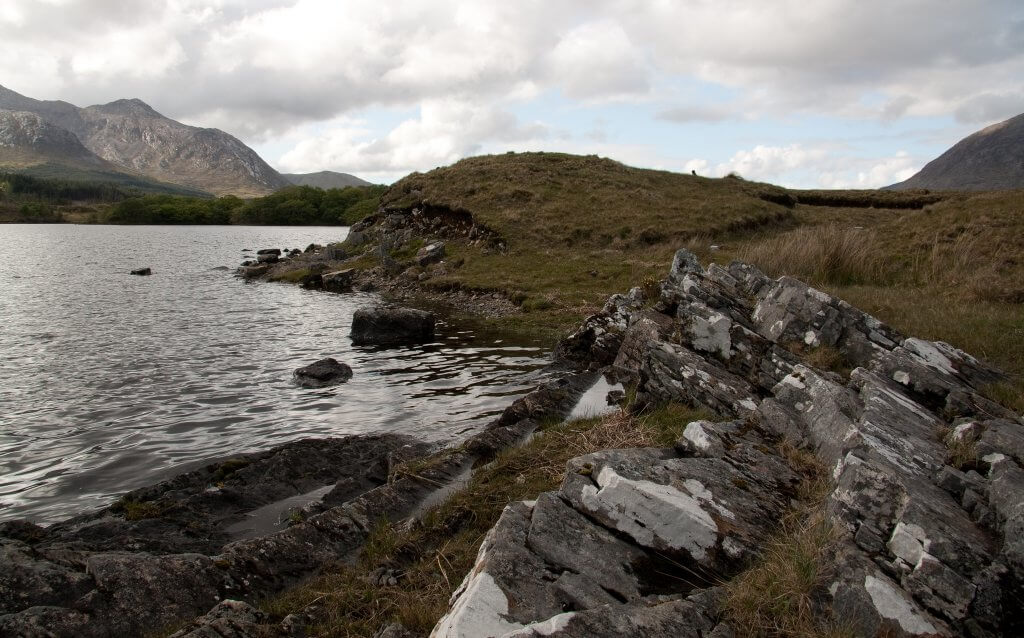 Top Mountains Walks in Ireland:
If you are new to the hills, take a look at our beginner's guide to exploring the mountains before you head off unequipped. Then when you are all set to get out and go, hike one these six best mountain walks in Ireland or if you are just looking to bag Ireland's highest peaks, take a look at 10 of the highest mountains in Ireland.
If you've already had your eye on a particular climb for some time, whether it's the highest peak in the country or a certain popular pilgrimage route, we've got everything you need to know to hike Carrauntoohil, Croagh Patrick, Slieve Donard, Lugnaquilla, the Galtees, the Comeragh Mountains, Mt Leinster and Purple Moutain.
Mountains near Dublin:
Living in Ireland's capital city? You can still escape to the wilds at the weekend, with plenty of mountains to climb a stone's throw from the bright city lights. The Dublin Mountains encompass 43km of mountain trails, country paths and rural roads. Plus the Dublin Mountains Way has been noted as one of the 1,001 most scenic walks in the world. Be the one on the hilltop looking out at the city, breathing in the fresh air and starry skies rather than the thousands the other way around longing to escape the hustle and bustle of the city streets for a brief respite in the hills.
Ticknock
Ticknock Forest is well known to all avid mountain bikers and boulderers alike and it's just as attractive a place to hike. Start at Carthy's Green just off the Ballyedmonduff Road in Ballinteer for a perfect yet challenging two-hour hike. Climb up Three Rock Mountain for stunning views, take note of the triple rock formations and the Fairy Castle ruins. The cairn at the top is the highest point of the Dublin Mountains at 537m. Ticknock is easy to access from Dublin's city centre, just jump on the green Luas to Dundrum and catch a 44b bus to Ballinteer.
Hellfire
The Hellfire is an iconic Dublin climb and a challenging section of the Dublin Mountains Way. It'll take about two to three hours to get to one the notorious landmark – The Hellfire Club. Once a prominent hunting lodge for rich young men from Dublin and allegedly used for satanic rituals and the scene of murders and sacrifices to the Devil.
Or if you are looking for a tad more green, then Wicklow is just an hour away. Take a look at one of our favourites, Lough Firrib and Arts Cross walk in the Wicklow Mountains.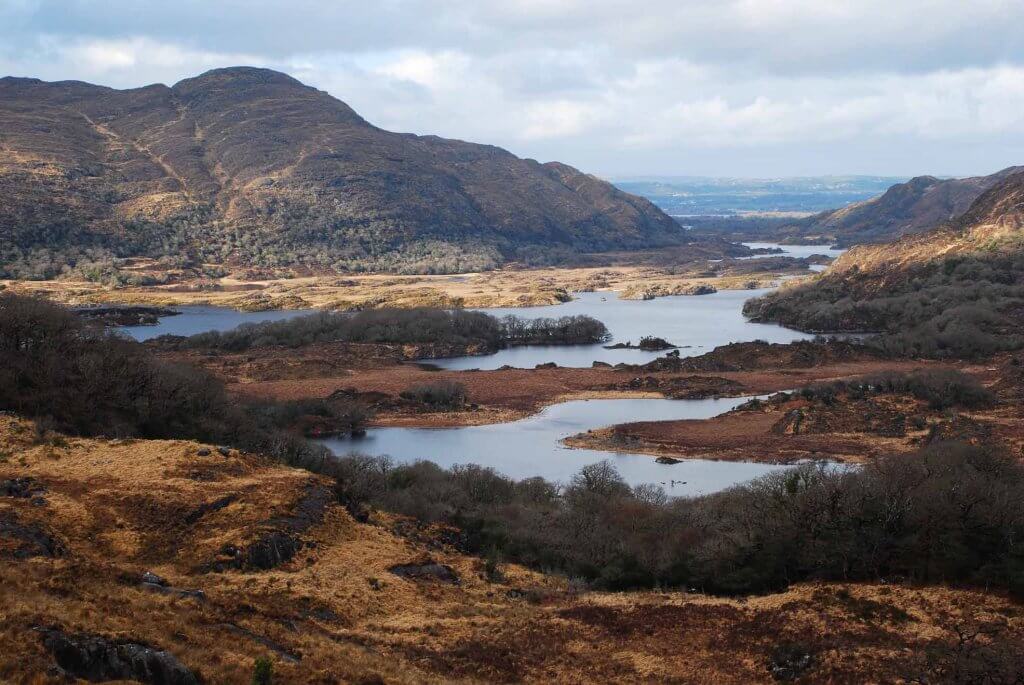 Mountain challenge: The Four Peaks Challenge
As for Ireland's ultimate mountain challenge, the Four Peaks Challenge involves climbing the highest peak in each of the four provinces. Lugnaquilla in Co Wicklow is Leinster's highest peak at 925 metres. Carrauntoohil at 1,038 metres is Munster's and Ireland's highest mountain. Mweelrea in Co Mayo is Connaughts at 814m and finally Slieve Donard, Co Down is Ulsters at 850m.
You can take on the challenge individually or as part of a fundraising challenge for charities like Action Cancer or Focus Ireland. People tend to split the challenge over one or two weekends, three days or 24 hours, if you are really hardcore!
Mountain equipment: All the gear you'll need in the hills
Now armed with all the information to go exploring Ireland's majestic peaks, you'll need some clothing and equipment to arm you against the brutal Irish elements. You'll need a decent baselayer, waterproof jacket, lightweight down jacket, hiking trousers, and a backpack.
Taking care of your feet is the priority for an enjoyable and safe hike, so it is worth investing in a decent pair of hiking socks. If you need help figuring out what properties you'll need, check out our how to guide on picking the perfect hiking socks. Finally, a good pair of hiking boots will make all the difference. Take a look at some of our favourite hiking boots for men and for women.
If you are planning an overnighter in the hills, then camping gear is essential. Our camping checklist will help with that. Ensure you are always carrying a head torch or some source of light, maps, compass, emergency kit, water and of course a multi-tool.
Hiking Poles aren't a necessity in the Irish mountains, but they do mean faster, safer time playing in the hills and we are quickly becoming fans. Check out why we are coming round to the idea with our 10 reasons why to use them.
Enjoy playing in Ireland's mountain ranges!
Check out our Hard as Nails podcast:
Like this? You should check these out: