Carrauntoohil is Ireland's highest mountain at a height of 1039m. It's a challenging climb, but it's also truly magnificent.
Standing at 1,039m, Carrauntoohil is the highest mountain in Ireland and is set among the beautiful Macgillycuddy Reeks in Co Kerry. Given their height, this mountain range can have very changeable weather and can be dangerous at times so experience or a guide is required if you're new to the area.
The Reeks, with 27 individual peaks, are Ireland's highest mountain range and cover an area of around 100 square kilometres from the Gap of Dunloe in the east to Glencar in the west. Up to 25,000 hill walkers go adventuring through their vales and hills every year – it's a brilliant playground!
The range is littered with lakes, forests, cliffs, stunning ridges and incredible peaks to explore for hikers of all abilities. Some of the taller mountains like Carrauntoohil, Beenkeeragh and Caher require experience and fitness and are the only mountains in Ireland that are more than 1000m high.
Given Carrauntoohil's closeness to the Atlantic Ocean, the weather can be very changeable, so you should be prepared for the wet, wind, cold and more if you're heading into the hills there.
There are three main routes up the mountain and you're strongly advised to always carry a map, or go with a guide if you're not that experienced and haven't navigated or climbed the mountain before. There's more on essential kit needed for these mountains below.
Carrauntoohil Ordnance Survey Maps: 78
Carrauntoohil Duration: 12-13 km return, 5-7 hours return
Good for: Pretty hardcore hikers who want to tackle Ireland's highest peaks, or intermediate hill walkers ready to step up.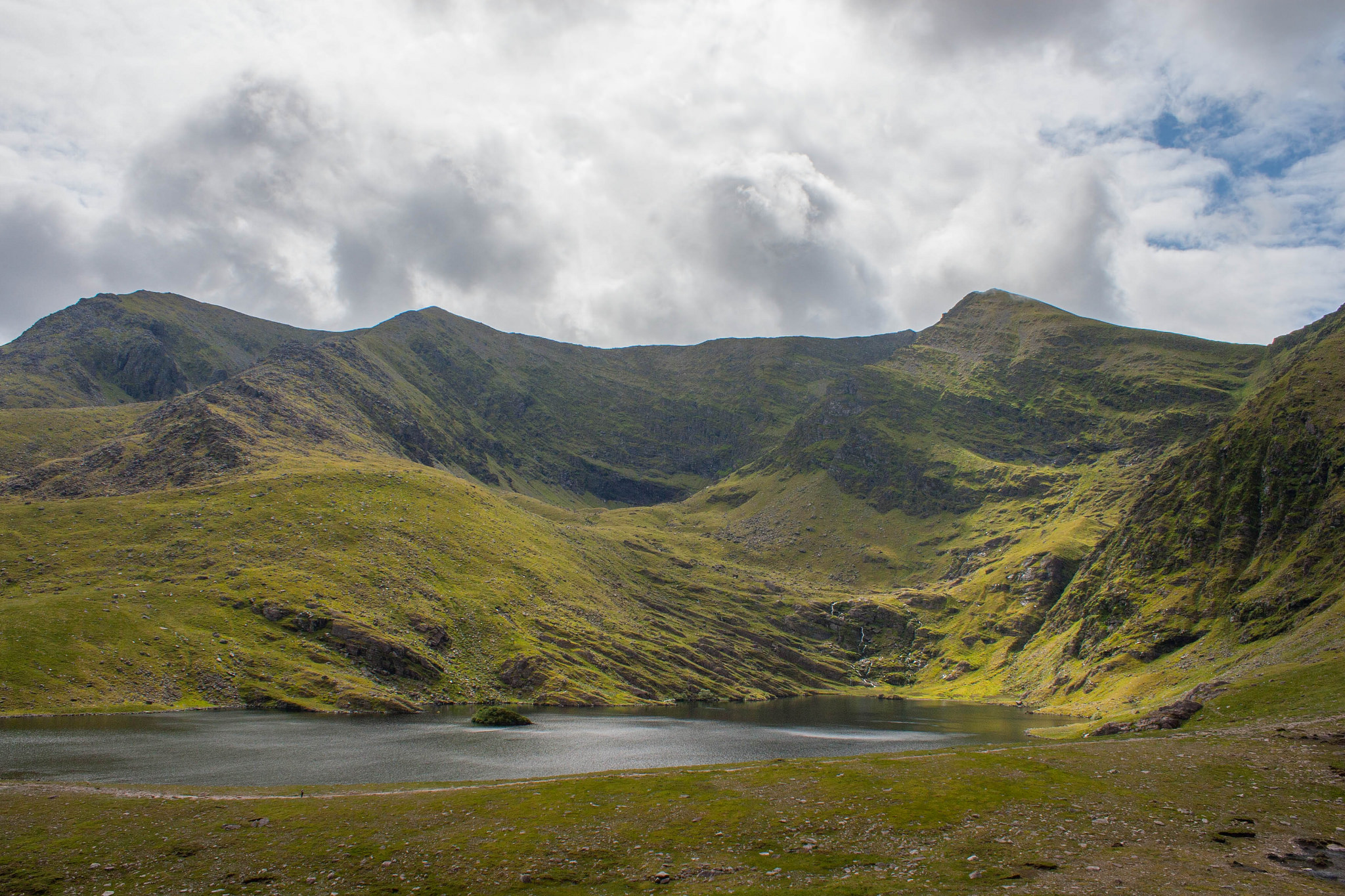 Carrauntoohil: The Routes
Route 1 – Devil's Ladder:
The most popular route, or tourist route as it's often known, is the Devil's Ladder (12km return). It's the most direct and shortest route and is a pretty strenuous walk that will take you between four and six hours. The track is fairly easy to see and follow. Due to the popularity of this trail, it is eroded in parts and is quite loose underfoot through the steep ladder part.
Most people start this route at Cronin's Yard and follow the well-worn path up through Hag's Glen, crossing the lovely Gaddagh River. There are big stepping stones to take you across the river, but be careful making the crossing. You can avoid the crossing by going through O'Shea's Gully instead (route 2 below).
Hag's Glen is a wide open valley that's really beautiful with a lake on either side of the trail, Lough Gouragh and Callee. You'll hike through a fairly boggy/marshy section before reaching the base of the Devil's Ladder.
The Devil's Ladder is quite a tough part of the climb due to its steepness and the loose rocks/pebbles/erosion on this part of the trail. It's a steep gully with loose scree that can get quite crowded so it's best to leave some room between you and others to avoid falling stones (or people). Due to erosion, it can be a bit unstable in places so extra caution is advised. It can be quite dangerous in wet or icy conditions. A walking stick or two can be really helpful.
Waterproof jackets: 6 of the best
Once you've scaled the ladder, the trail veers right to take you up the long climb to the summit. There are a few offshoots branching off on either side, but each leads to the top so take your pick. The final stretch to the summit has hazards on either side, so be really careful in poor visibility or bad weather. There's a dangerous area above Curraghmore if you go left so beware of that. And on the right, a narrow trail will take you across the face of the mountain and on to the Heavenly Gates.
After all your hard work, the summit is breath taking. You'll be surrounded by a rich panorama of mountain peaks and dramatic ridges in nearly every direction. There are also numerous lakes to be spotted, the Wild Atlantic Way in the distance, and to the north east, you should see the rich farmland of Co Kerry.
Carrauntoohil is topped with a cross, which had to be replaced after being cut down by vandals in November 2014. The local community rallied together and carried tools up to get the cross back up within weeks.
Beware when descending from the summit as there is hazardous steep ground in many directions. The Kerry Mountain Rescue Team warn that "there are NO safe descent routes anywhere to the north, northeast, east or southeast of the summit. Always carry a map and a compass and have at least one competent navigator in your group (ie. capable of accurate navigation in all conditions, including white-out and darkness)."
Best advice is to closely retrace your steps the way you came up, to ask for directions if you're in any doubt and to use a compass and map to be safe.

Route 2: Brother O'Shea's Gully
Brother O'Shea's Gully (13km) has become a common and fairly safe alternative route to the busy Devil's Ladder. It starts along the same trail from Cronin's Yard before branching off to the right just before the stepping stones across the river. It's a really scenic route with great views and the chance to get up close to the dramatic, steep north-east face of Carrauntoohil.
Once you branch off, the trail traverses across and up the slope above Lough Gouragh, while the other route continues straight between the two lakes. Care is advised in this area of the hike due its steepness, and there are rocky steps to navigate. Most are possible to skirt around using little detours. This section of the climb is fairly steep and exposed, which may be daunting if you're not used to it.
Above the lake, you'll reach an area of flat ground known as the 'first level' with great views of Carrauntoohil's summit and the Hag's Tooth Ridge on either side. You'll climb up a scree-covered incline to reach the 'second level'. Look out for a lovely little waterfall on the way up. You'll then climb to the 'third level' to find Ireland's highest lake, Cummeenoughter Lake with its deep blue water.
Hiking in Kerry: 5 of the best routes
The trail continues left up the fairly wide incline of Brother O'Shea's Gully, with loose scree on the lower slopes so care is advised. It gets a bit grassier as you go up, but also steeper so be careful. There are also steep cliffs to watch out for on the right under Beenkeeragh Ridge, which you need to be aware of. And there are steep, scree-covered gullies also on the left, which are not to be tackled if you're inexperienced. Some advanced climbers take a route up either the Curved or Central Gully.
At the top of this slope, you'll come to a col or saddle and the track veers left up broken rock to the summit. On a clear day, you'll be rewarded at the col by views down to Coomloughra Lough and even as far as Dingle Bay in the distance. You'll then pass the top of the Curved and Central Gullies before reaching the top of Ireland's highest mountain. Well done!
Route 3: Caher route
This is a really spectacular ridge walk to approach the summit (12/13km) of Carrauntoohil from the south western side of the mountain. It traverses the dramatic ridge above Coomloughra Lough and Lough Eighter and also takes you to the top of the Caher Mountain (1001m) on the way. It really is one of the country's best ridge walks, and is quite strenuous so be warned.
It's probably best attempted by experienced hikers with a good level of fitness, or with a guide or group. There's also an option to do the Coomloughra Horseshoe loop walk, which will take you Ireland's three highest peaks in around four or five hours (more below).
To start this walk, you need to park in the new Hydro Road car park and walk along the steep, concrete Hydro Road for a time, which gives you a heart pumping start to your adventure. The trail continues up the steep lower section of Skregmore and then flattens out as you turn right towards Lough Eighter.
From the lake, you'll turn right again towards the slopes of Caher Mountain (1001m), first across open ground and then along a spur in the direction of the first mountain you'll summit today.
As you climb up towards Caher, the incline gets steeper on your left until you're basically traversing a cliff edge. Be very careful along this stretch of track, particularly if it's windy or visibility is poor.
The trail will take you along the really scenic Caher Ridge Path with great views and takes in the summit of the Caher Mountain, before you you descend a little to the col on the way to Carrauntoohil. The final push up to the summit is hiking up a fairly safe, manageable slope. You've just climbed two of Ireland's highest mountains in one day!
You can take in a third summit if you choose to try the Coomloughra Horse Shoe route, which continues over the top of Carrauntoohil and to the Beenkeeragh Ridge and Mountain (1010m, Ireland's second highest mountain).
Be warned that the Beenkeeragh Ridge is very exposed and like a knife-edge in places with serious drops, so experience is needed and extreme care is advised. If not, you can choose to simply retrace your steps on the way back down.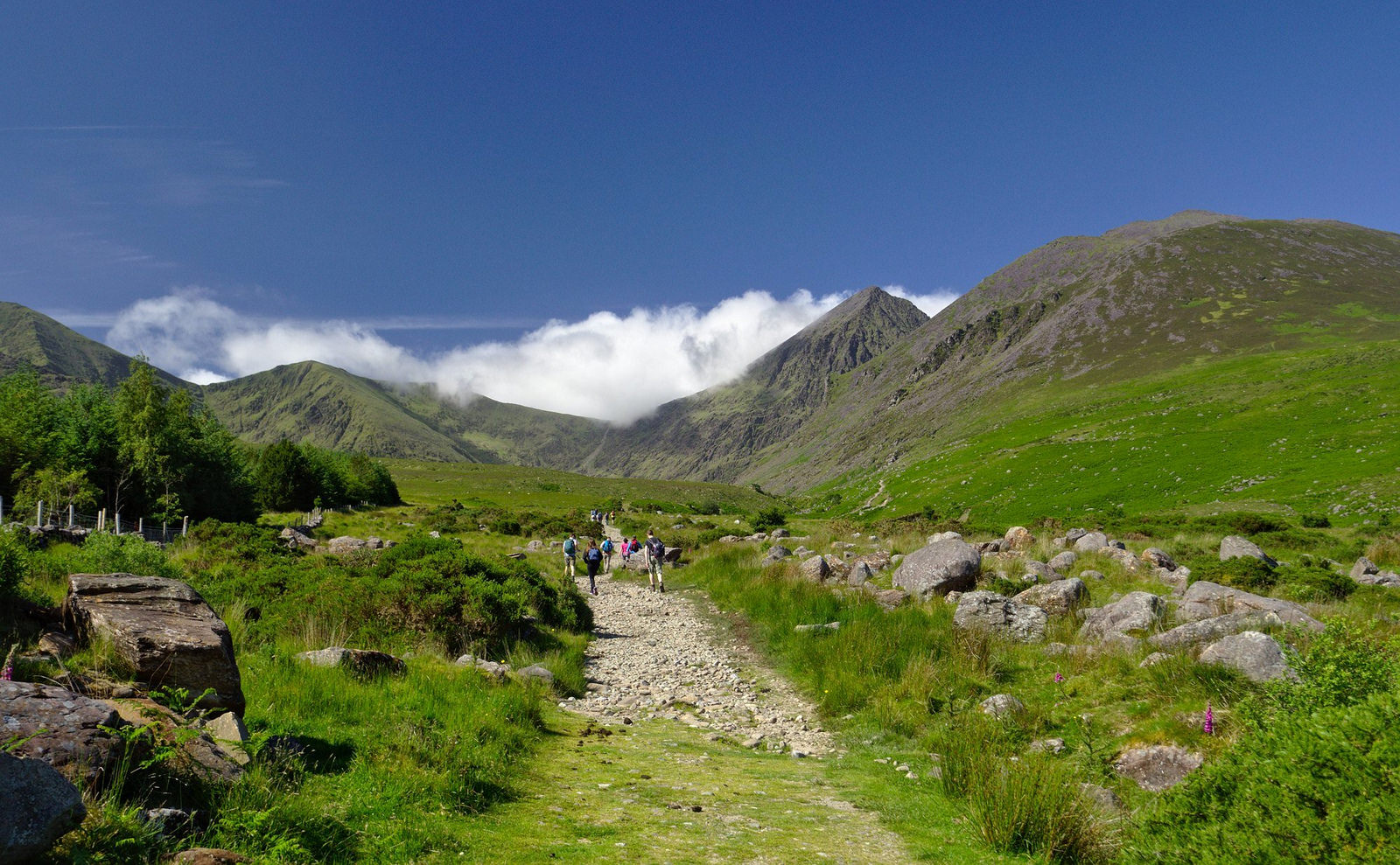 Carrauntoohil: The Weather
Carrauntoohil is best avoided in poor weather. It can be a dangerous mountain and should not be attempted if you're inexperienced and if the weather is not good. Many of the ridges and peaks are very exposed to wind and rain and can be very risky in poor visibility.
Severe weather can blow in to this mountain range from the Atlantic Ocean in minutes and you're best to be prepared in terms of gear, navigation equipment and skills. Be warned about high winds in the peaks, even when it seems calm at the base of the mountains, and also the temperature can drop sharply the higher you ascend.
The temperature falls around 1 degree for every 100m you climb, so that means Carrauntoohil can be 10 degrees colder at the top than it was when you left the car park. It also can be a lot wetter as you climb higher so good rain gear to cover your whole body is a must.
The Kerry Mountain Rescue Team warn that "navigation error remains the single greatest contributory factor to incidents resulting in Mountain Rescue callouts." They strongly recommend the need to learn how to navigate properly in all weather conditions, particularly poor visibility, and in different environments. The Caher and Coomloughra Horseshoe loop walks are particularly exposed and should not be attempted in windy or icy weather, and only during daylight.
Carrauntoohil: Essential Kit
It's vital to bring proper kit when hiking a serious mountain like Carrauntoohil. That means planning as if you'll be staying out after dark or overnight, just in case you get into trouble.
The main things to remember are to wear quality, supportive hiking boots, bring waterproof gear (top and bottoms), extra warm layers, hat and gloves for cold, and a map and compass (and know how to use them!).
Bring plenty of food and water, providing for longer than you plan to be out walking, just in case. It's also wise to bring some emergency kit, including a whistle, torch (and spare battery), first aid kit, survival blanket and bag.
Gaiters for your boots and a rucksack liner are wise if the weather has been wet, which is usually the case. Also, pack your phone and make sure it's fully charged.
Carrauntoohil: Getting there
The Cronin's Yard side of the mountain is a 25-minute drive from the nearest large town of Killarney, in Co Kerry. The Hydro Track car park is a little further, around 30 minutes from Killarney.
There isn't much public transport around the mountain as it's a rural, mountainous area. There are options to join local tours like Kerry Climbing or walking groups which climb Carrauntoohil among other local mountains, like the Killarney Mountaineering Club.
Check out our Hard as Nails Podcast:

Like this? You should check these out: 

Previous Post