Leather vs. Fabric? Gore-Tex? Vibram? Don't worry, we've picked out six of the best hiking boots to take care of your feet!
Hiking boots are essential when it comes to keeping you comfortable and on your feet when hitting the trails. The last thing you need are blisters and a case of trench foot when you're halfway up Lugnaquilla. We've found six of the best pairs available today to cover all budgets.
When looking to invest in a pair of hiking boots you'll have to make a number of decisions. One of the key differences in the pairs below is leather vs. fabric. The former is built to last and will give you many years of service. However, be prepared for a little discomfort as you break them in. Fabric hiking boots will be more comfortable straight away but have less durability when the weather takes a turn for the worse.
In terms of design features, look for things like Vibram soles (light and resilient rubber produced in Italy that can take a ton of punishment) in more high-end shoes, and Gore-Tex (sometimes listed as GTX). The latter is increasingly becoming standard so you shouldn't have a problem keeping your feet dry.
The list below covers a range of budgets. Think about how long you'll be spending wearing them when you consider how much you're willing to spend. You will notice the difference in terms of comfort and stability. Fit is key so always look to try before you buy.
1. Scarpa Marmolada
Price: €267.00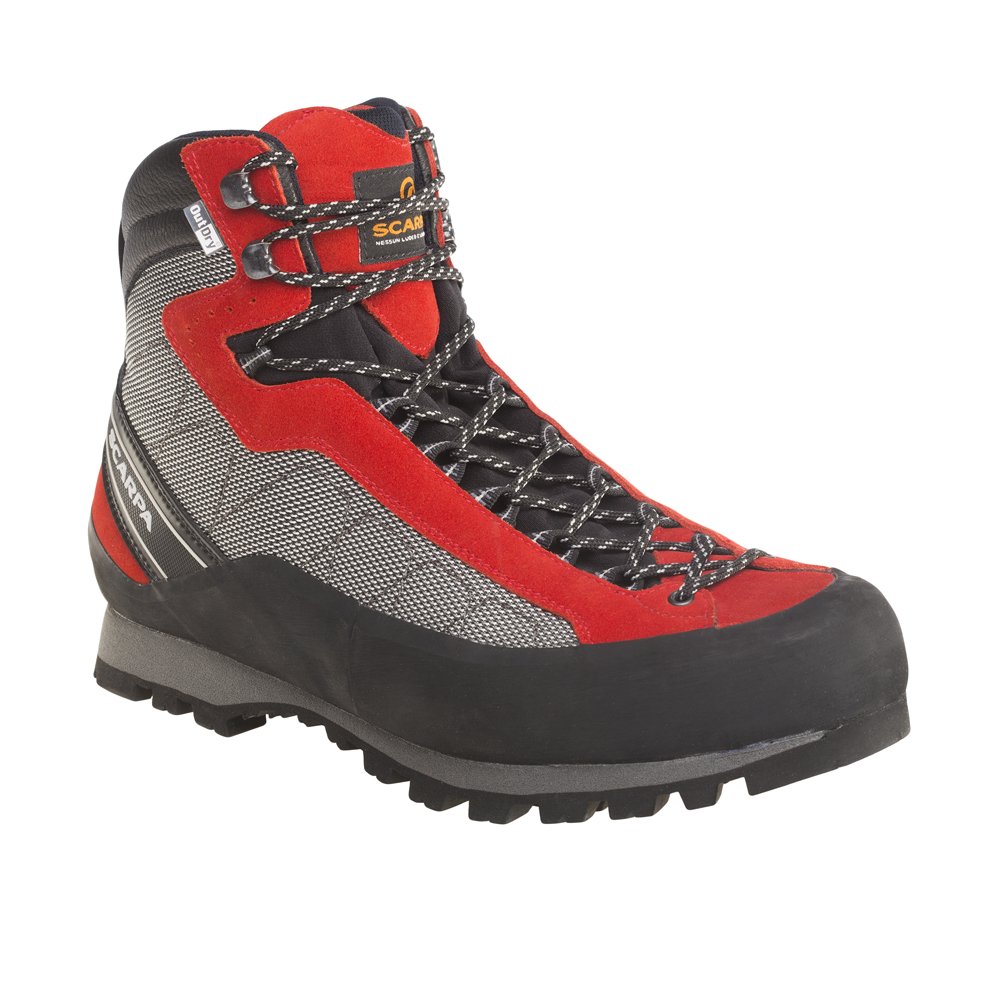 The Marmolada's hiking boots are a serious piece of kit, capable of dealing with 90% of the conditions Ireland has to offer. Lightweight and grippy Vibram Mulaz S soles and OutDry lining form a combination that will keep you dry and upright. Designed with a full range of activities in mind the Scarpa Marmolada's will cover you from simple hill walking to full on scrambling. The rocker sole supplies really good grip whether going up or downhill. While they lack the hardcore durability of leather hiking boots the Marmolada is an excellent all-rounder that will have you climbing with confidence and comfort.
Available from: Cotswold
2. Columbia PeakFreak Venture
Price: €100.00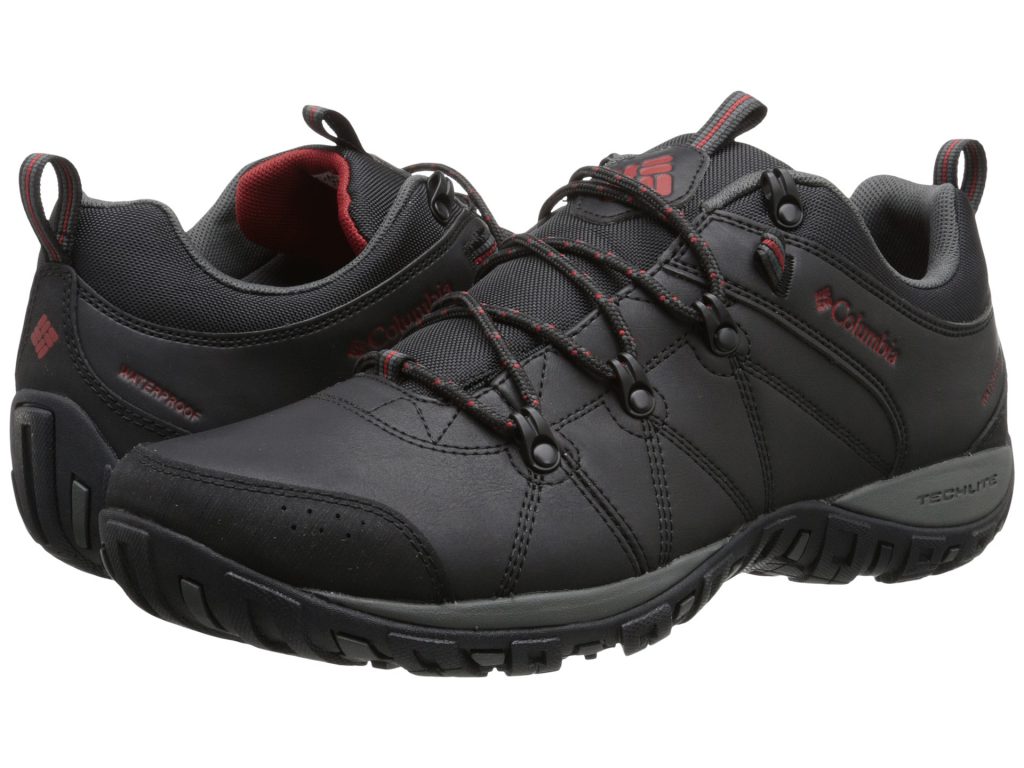 Columbia has a reputation for offering good mid-range options that punch above their price point. This pair is not a true all-year hiking boot but they are fully waterproof thanks to the company's own Omnitech system so you'll be able to survive even the most torrential downpour. You'll find traction is strong on these shoes, again thanks to Columbia's bespoke design, so you should be able to tackle any surface going. Be aware that these boots do seem to run small so you maybe need to try a size up to find the best fit.
Available from: Great Outdoors 
3. Meindl Bhutan MFS
Price: €240.00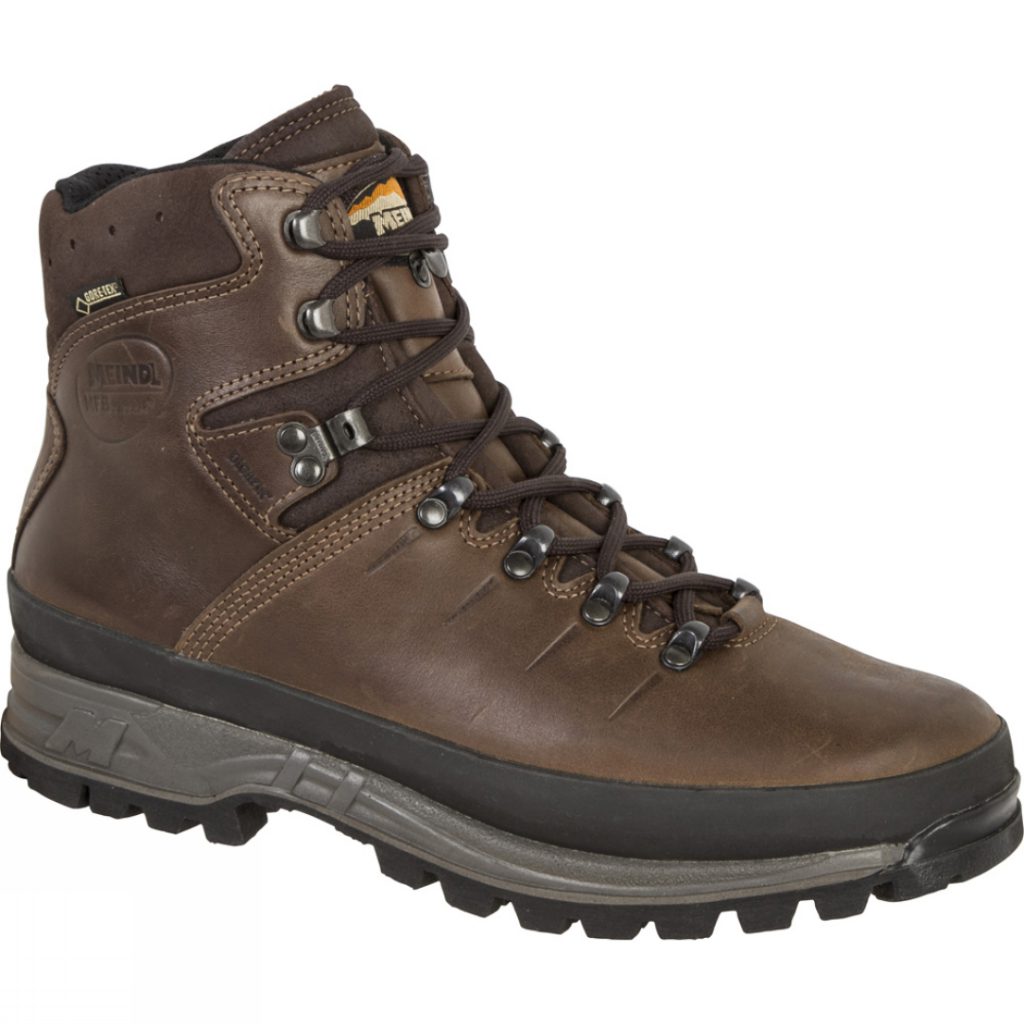 There's something reassuring about German engineering and Meindl has a few innovations up its sleeve to prove this point. These three-season hiking boots support your ankle perfectly thanks to a Memory Foam System that shapes to fit you. As a result, they're more comfortable than many ankle boots. The Bhutan is largely an updated design of the popular Burma range and inherits many of the strengths of its predecessor. The Gore-tex lining will keep you dry and the boots are stiff and durable so you'll be able to rack up the kilometres. Meindl products are built to last and as a result, these boots are little heavier but you'll be thankful for their robustness years down the line.
Available from: Wild Side Sports
4. Danner Mountain Pass
Price: €340.00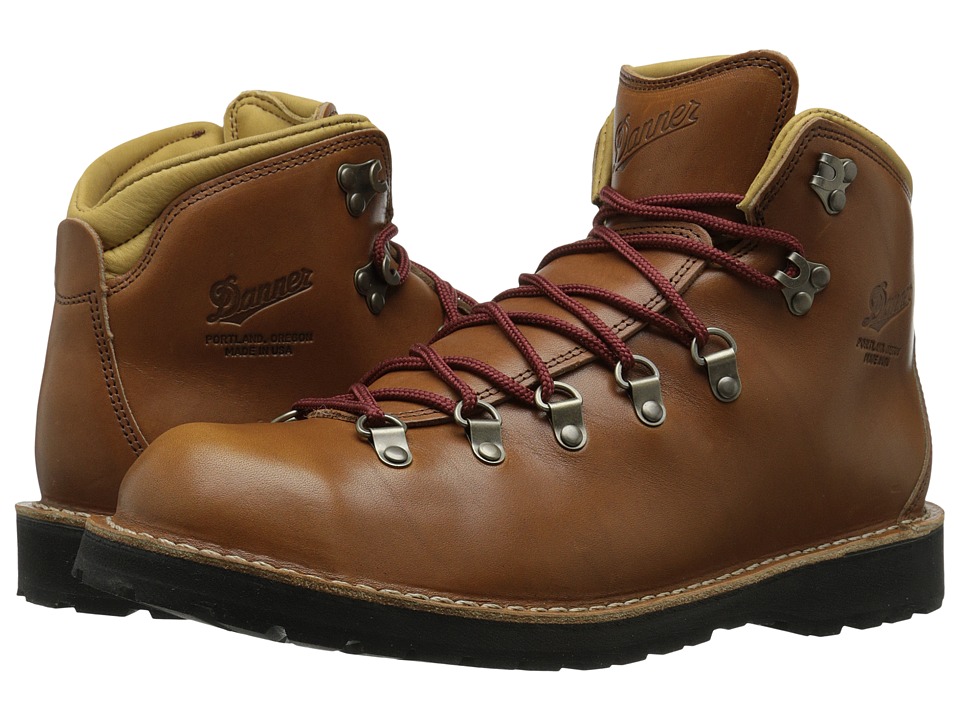 Danner are an American brand that thinks as much about aesthetics as it does about the technical side. These leather beauties are produced at the company's base in Portland, Oregon. The boots have a classic design with modern features, including Gore-Tex and a Vibram sole. Danner promise that these hiking boots will be comfortable right out of the box and so it has proven, they barely need breaking in and look fantastic. The boots picked up some more mainstream notoriety when they were featured in the movie Wild with Reece Wetherspoon. The central character wears them on her soul-searching 1800km hike across the Pacific Crest Trail in America – quite an endorsement.
Available from: Danner 
5. Salomon Evasion Mid GTX
Price: €120.00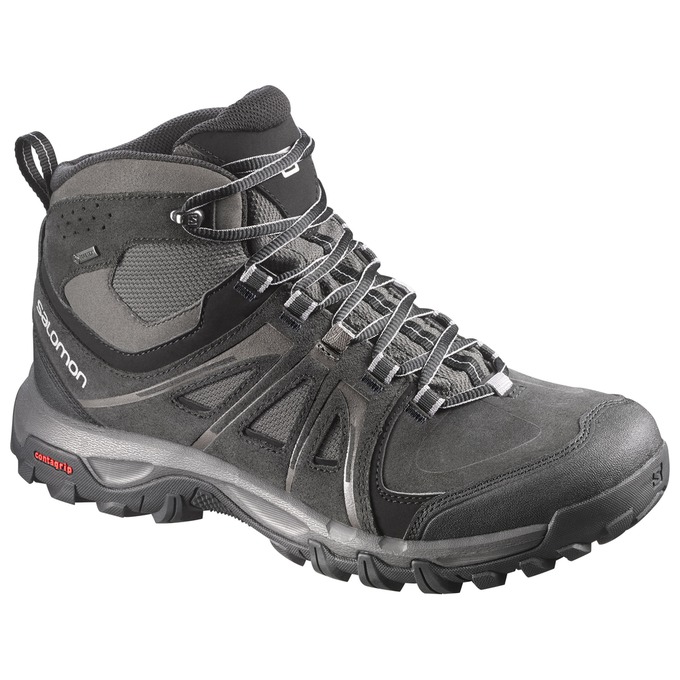 The key selling point of these hiking boots is their weight. At less than 1kg the Salomon Evasion Mid GTX definitely won't be slowing you down. The fit is great and the boot straddles the line between sturdy trainer and heavyweight leather boot admirably. It offers good ankle support. The Contragrip sole gets enough traction on even the most treacherous surfaces and the Gore-Tex liner and rubber toe cap will keep your feet dry and in one piece. These shoes are perfect for hill walking and are also compact enough that they'll fit in your luggage should you be exploring further afield.
Available from: Cotswold
6. Berghaus Hillmaster II GTX
Price: €185.00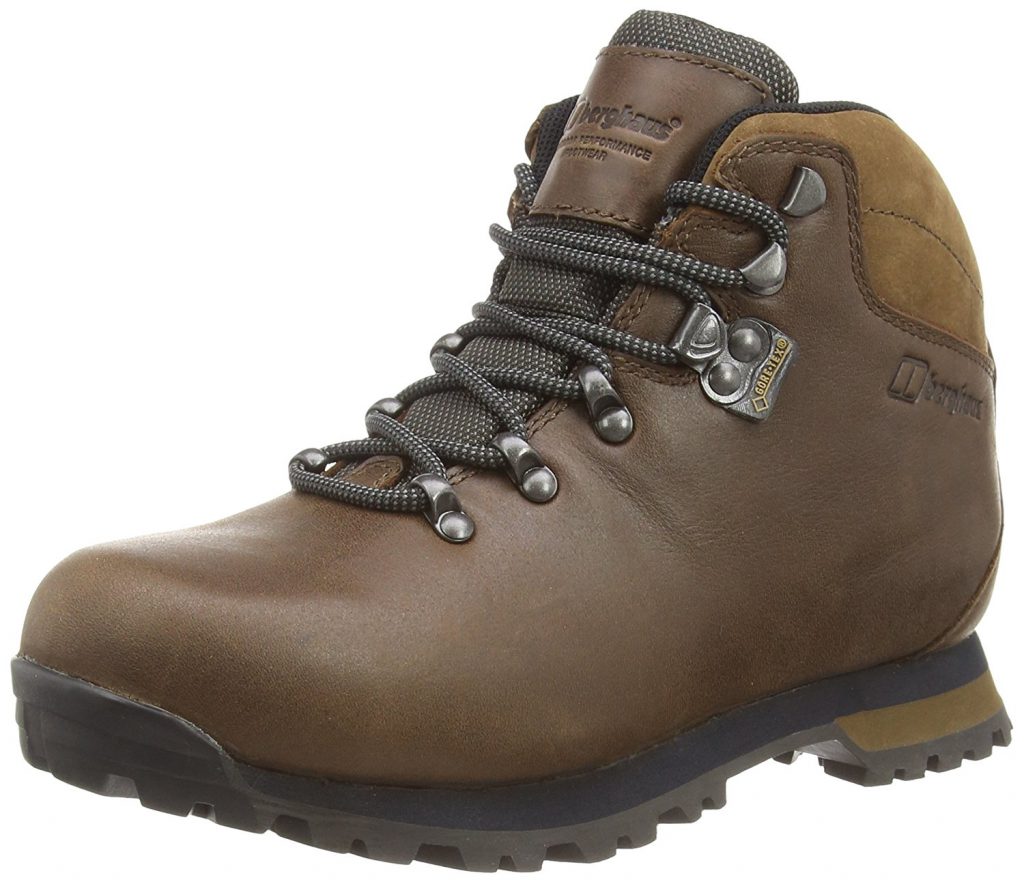 This boot has some serious pedigree. In 2014 Berghaus was merged with fabled British brand Brasher bringing decades of experience together under one roof. The Hillmaster II is based on the latter's original of the same name – one of the best selling boots of all time. The 100% breathable and waterproof Gore-tex membrane will keep your feet cool and dry.
Its strengths are in the name – if you're a hillwalker then this boot is one of your best options. If you're thinking of tackling something more serious you may need to look elsewhere, but the Hillmaster's are a classic for a reason. They offer excellent comfort and quality at a reasonable price.
Available from: Basecamp
Check out our Hard as Nails podcast:
You might also want to take a look at:

Previous Post