By Gavin Daly and photos by Robbie Lawless
The French Alps may be best known as a ski destination, but it also offers a range of adventure pursuits to satisfy any adrenaline junkie.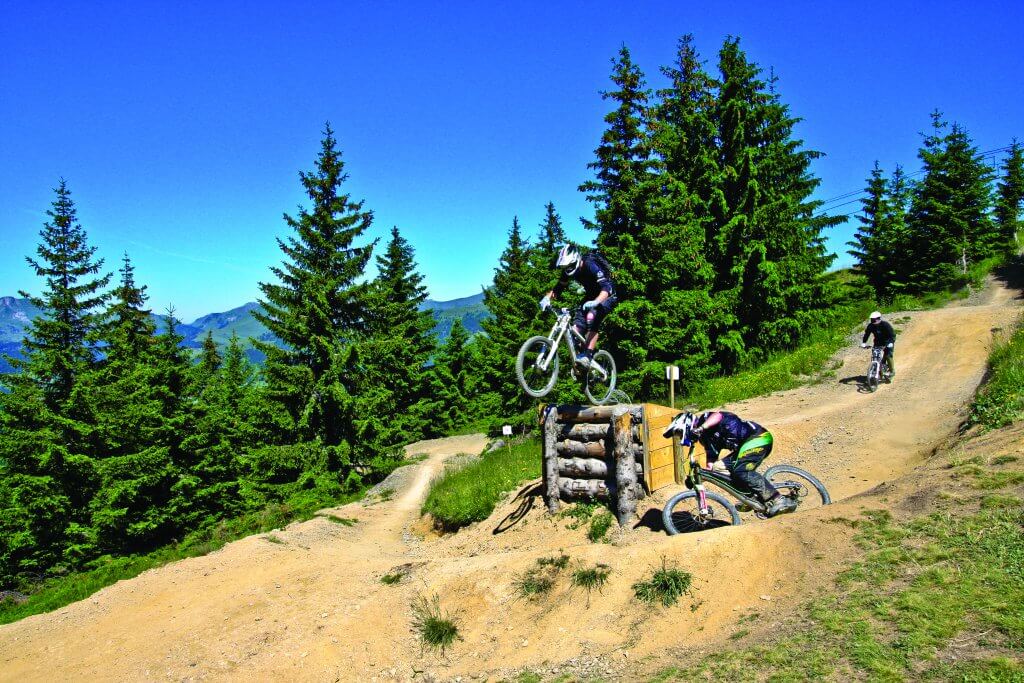 Early July on the road above Morzine and the camper vans are gathering from around the world.
Parked in every switchback on the mountain route to Avoriaz, their canopies out and picnic tables laden, the camper-dwellers await the arrival of the Tour de France. A full 48 hours before the cycling show rolls in, the enthusiasts vie for the best position to see the cycling hard-men.
In our tin-can minibus with rattling windows and missing seat-belts, there is an air of disdain. Tour de France or not, this road belongs to our rag-tag companions – a group of professional parapente jumpers from Morzine with more than a passing resemblance to the Dirty Dozen.
Flying off Europe's Biggest Hill: Paragliding Mt Blanc
At the first half-opportunity, our whistling driver overtakes on a bend, forcing a dawdling rubber-necker into the verge and eliciting a laugh from the jumpers. A few miles on and about 600 vertical metres above Morzine, we hop out in the sunshine and pair up for the jump.
What happens next is a model of adventure sports 'training' in France. Olivier, my jump companion asks my name. "So Gavin, you can run?"' he continues, nonchalantly laying out a lightweight parachute coloured, appropriately, in green, white and orange. "Yes," I say.
"Good," says Oliver, snapping a harness around my body and clipping himself on behind me. We begin to walk, tugged back almost immediately by the air filling the parachute. "Now, we run; run, Gavin, run." We manage only a few steps, then the ground is gone and we're airborne.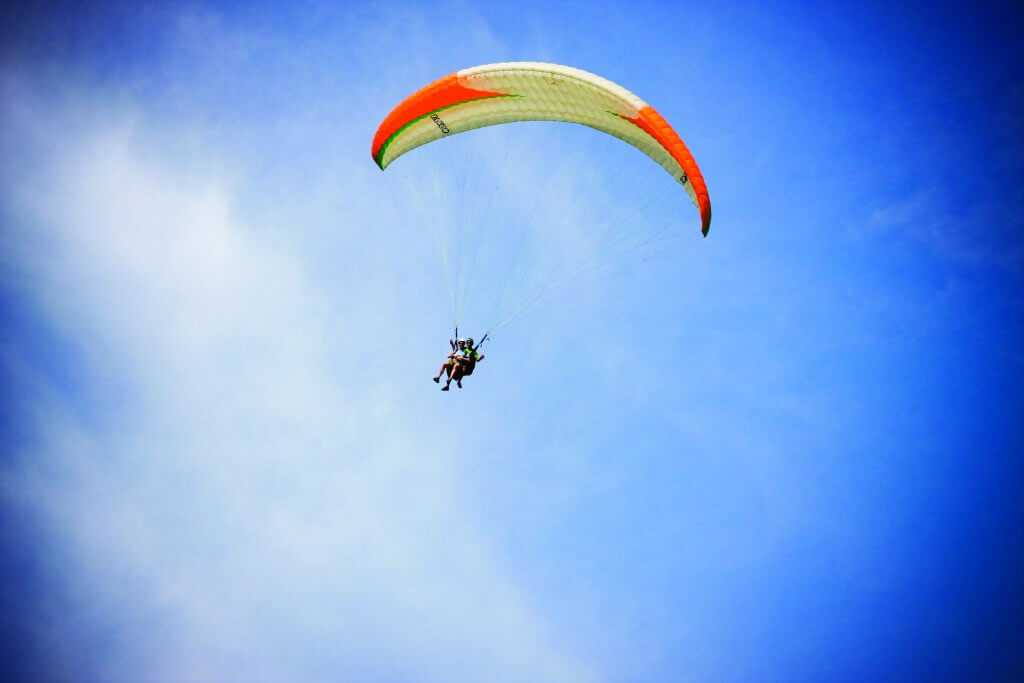 It's no more than five minutes since we got out of the bus and Oliver has said about 20 words. Yet here we are, clipped together, relying on each other, marvelling at the sensation of flight, the view of Mont Blanc on the horizon – and the presence of an eagle in the air beside us.
The story goes that one of Morzine's regular jumpers found the eagle abandoned as a chick, reared it and taught it to fly. Whatever the truth of it, flying just feet away from a bird of prey adds a magnificent extra dimension to an already exhilarating experience.
French etiquette
"You are very lucky, Gavin," says an understated Oliver, who executes a perfect landing, shakes my hand and is gone as casually as he arrived. It's an approach I've come to expect after a week of adrenaline activities in the French resorts of Les Menuires, Meribel, Les Gets and Morzine.
There was similar treatment that morning from Marco, a stocky mountain guide with a shaved head and piercing eyes. A quick handshake in a car park and Marco is handing out wetsuits, reinforced harnesses and helmets for the post-breakfast activity: canyoning.
The dictionary says it's 'the sport of travelling down a river situated in a canyon by a variety of means including scrambling, floating, swimming, and abseiling'. The reality is it's semi-controlled madness.
"By the final 25m abseil down a waterfall, the sickly fear in my stomach has almost won the battle several times. Marco, nonchalant, seems mildly amused. Another handshake and he's gone."
Yet Marco, like Olivier, doesn't ask questions or offer tips. He doesn't even check if everyone can swim. He just leads us to the top of the Canyon de Nyon, where our journey starts with sheer terror, a 45m abseil from a bridge controlled by Marco. Then come the natural 'slides' down the canyon, roped sections where the rope runs out half-way, and delirious, shut-eyed jumps from several metres up into pools of indeterminate depth.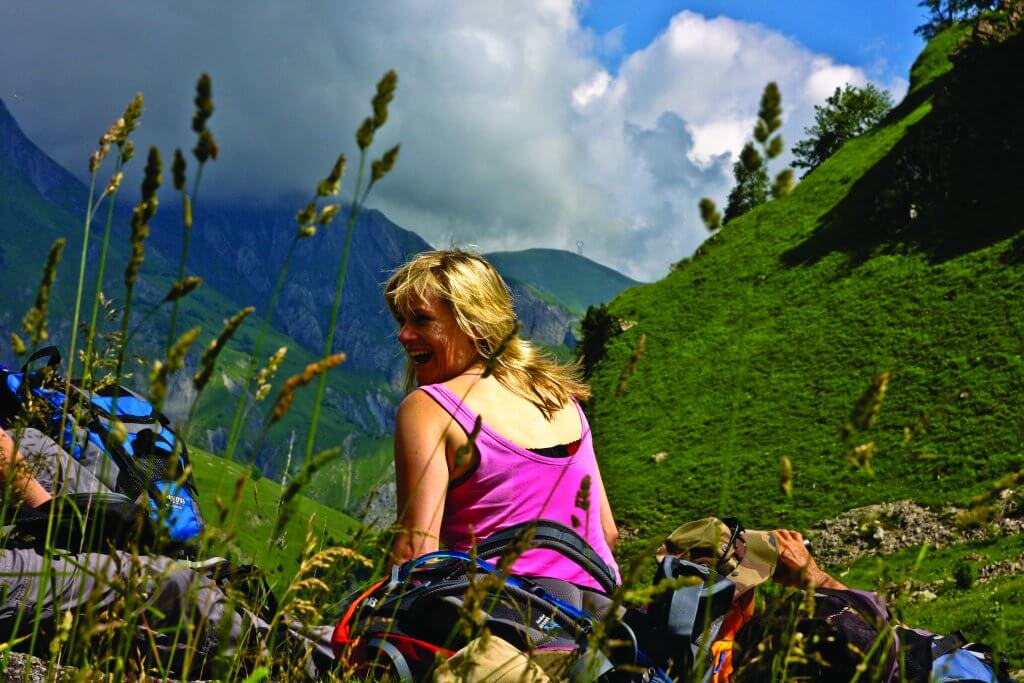 Several times, I think to myself, "They'd never let you do this in Ireland." I have a friend who can't take youth groups on basic caving trips without submitting a map of the cave to an office-based insurance company official for pre-approval.
By the final 25m abseil down a waterfall, the sickly fear in my stomach has almost won the battle several times. Marco, nonchalant, seems mildly amused. Another handshake and he's gone.
Tarzan time
There's good preparation for the canyoning terror in the Adventure Parc Les Gets, just a few kilometres from Morzine, where staff hand out overalls, a harness, Kevlar gloves, and a quick-fire introduction to high ropes and zip wires before letting punters loose. The result: a lot of screaming and imaginative cursing. Two of the worst (or best) high-wire challenges include a swaying wood-and-wire bridge with yawning gaps that have to be jumped, and a Tarzan swing off a platform in the trees into a massive cargo net. Not for the fainthearted.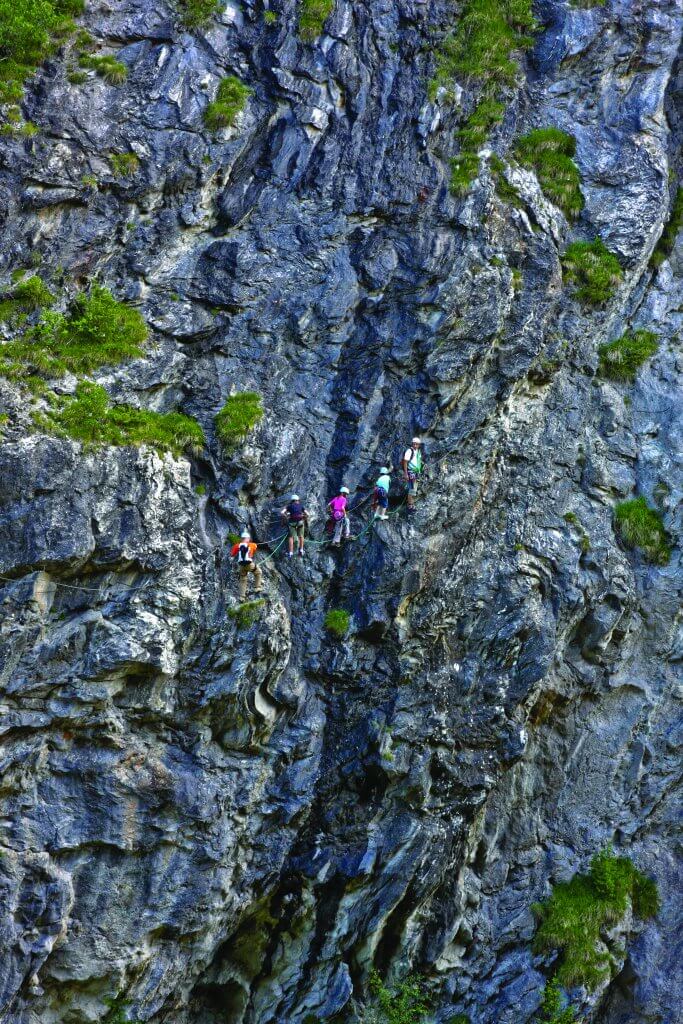 But screaming is common in Les Gets, which attracts thrill-seekers from around the globe, mainly for its downhill mountain-biking trails. The easiest are steep, banked tracks, punctuated by roots and loose stones; the hardest are beefed up with wooden jumps that lead off into thin air.
For this, we have full-suspension mountain bikes and the guidance of Pierrot, who has agreed – after some convincing – that knee, shin and elbow protectors might be a good idea for a bunch of novices off a plane from Ireland. When one rider flies over the handlebars and splits her knee on a root, Pierrot is professional in summoning the rescue team, but not overly surprised.
After all, these are mountain people, whose attitude to adventure – and personal responsibility – has been shaped by generations of experience in mountaineering, skiing and other risky sports. This laidback attitude can be seen everywhere: at the La Casse farm restaurant outside Les Menuires, goats nuzzle their heads into diners' laps and clamber across the roof.
The unspoken rule of the mountains, in summer and winter, seems to be if you take on an adventure sport, you accept the consequences. Mishaps rarely end up in the hands of lawyers or insurance firms. (There is an irony, though: you can't swim in the Les Gets lake if there is no lifeguard on duty, but you can hire a bike and risk your life.)
It was the same with our youthful rafting instructor, who dunked us in the river Dranse for sport, and with Philippe, the silver-haired via ferrata guide in Meribel earlier in the week. The via ferrata (Italian for 'iron road'), were pioneered by necessity in the war years, when armies installed fixed cables, ladders, footholds and bridges to access sheer mountains.
The French followed, with sport and tourism in mind. Philippe, a mountain guide who brings clients up Mont Blanc, says an 82-year-old has tackled the exposed rock face and wire bridge, but his 60-year-old daughter was frightened. Having spent two days with a super-fit 57-year-old biking and hiking guide called Michel in nearby Les Menuires, it's easy to believe him.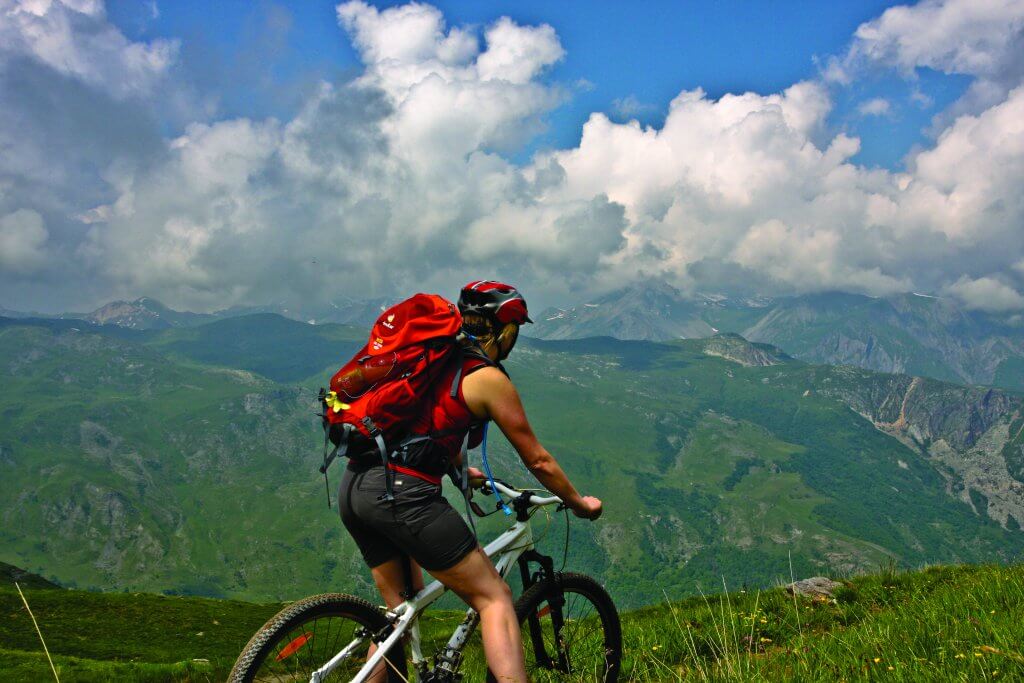 Relaxed and cheerful, Michel had seen us onto our newly rented mountain bikes without any enquiry about our abilities. "We go," he said, disappearing down a slope that started a sweaty 25-kilometre trek.
Wearing only standard bicycle helmets for protection, we plunged down gravel tracks and mucky berms, crossed wooden slats and puddles of gunk, and laboured up inclines. We tackled chairlifts and cable cars – with our bikes – and, inevitably, took some tumbles.
Nothing could slow Michel, who was up early the next day for a guided hike in the spectacularly picturesque Vallée des Encombres. His message: the fun in the Alps doesn't stop in the summer, when the crowds – and the high prices – go away. And for those with a healthy attitude to adventure, it's a great idea to grab a bike or raft or rope or parachute and say: "We go".
Useful websites
If you are interested in taking on your own Alpine adventure take a look at:
Further information:
If you decide that the activities above are too hardcore for you or you have kids in tow, a trip to the French Alps has lots of other active options too. Like a ski pass, multi-pass cards for the whole Portes du Soleil or Trois Vallées costs just €1 per day. This covers pedestrian access to all lifts and endless hiking in the stunning hills. The cards also covers admission to most local sporting facilities like the local pool (in Morzine an outdoor Olympic-size pool), ice-rink and tennis courts etc.
Check out our Hard as Nails podcast:
Want more inspiration? Check out these other holiday options for adventure lovers: 

Previous Post