Hiking poles aren't just for oldies. They're a great way of making your hike easier and more comfortable while taking care of your body.
Hiking poles get a bad rap as a tool for the elderly and infirm. We're here to change that. Hiking poles can, in fact, be a great assistant when out on the trails, as long as you use them properly. Pole technology has come on leaps and bounds in recent decades and they're now much easier to use and carry around. Like all extra bits of equipment, you'll need to practice with them to get the most out of them but once you're an expert, you'll be flying.
Here are just a few of the reasons why we swear by hiking poles: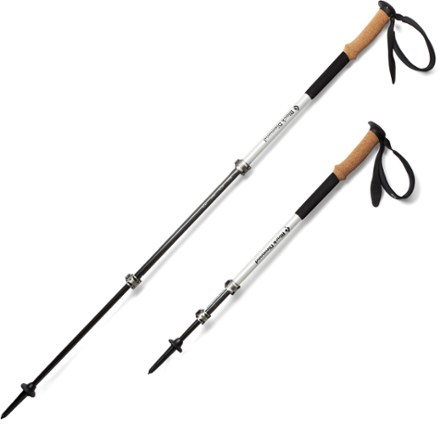 1. Studies have shown that hiking poles are a great way to reduce the strain on your joints. This is especially true if you will be doing lots of descending – your knees will really thank you at the end of the day.
2. Having two extra points of contacts with the ground is a great way to improve balance and stability when tackling uneven ground.
3. Hiking poles really come in handy when you're having to clear a path through overgrown undergrowth. When your way is blocked by brambles or nettles, you'll be glad to have something to fight your way through.
4. Ascending is a lot easier with hiking poles as you're able to provide an extra push using your upper body and will reduce the strain on your legs. This is especially true when you're carrying a large backpack.
5. Once you get into a steady rhythm of using your poles when walking on flat terrain you'll manage to cover ground much quicker.
6. Hiking poles are a great way of providing back support when carrying a large rucksack. It'll spread the weight over a larger area and reduce the strain and impact on your back and joints.
7. By involving your upper body you will get an extra workout – it's the equivalent of going from a running machine to a cross-trainer. Over time it will also help tone muscle in the upper body.
8. If you find yourself having to cross a river or stream then poles will really come in handy. Firstly, you'll be able to use them to test the depth and stability of the river bed. Secondly, when you do cross the river you'll be able to use the poles to provide extra stability.
9. Hiking poles are perfect for testing the road ahead when the path looks to be a little sketchy. This is especially the case when descending – use your poles to make sure your next step is safe and stable.
10. Hiking poles can be used for more than just walking. They make a great makeshift tent pole and or splint in the case of emergency.
Check out our Hard as Nails podcast:
Like this? You should check these out:

Previous Post