Nothing beats the taste of that first drink after a long day in the hills. Here are 8 of the best post hike pubs in Ireland.
No drink is as satisfying as the one you have after a long, arduous day in the hills. A tired, achy body always makes that drink taste a little bit better. However, finding the perfect post-hike pub can sometimes be tricky. On wet, cold days you want an open fire to huddle around, while on long summer evenings you want a great outdoor area with sweeping views to feast your eyes on while you recall your day's accomplishments with your pals.
I have compiled a list of my favourite post-hike pubs – those special places that always hit the spot with a hearty plate of food and a pint of the good stuff. No doubt, you have many more to add, so please feel free to leave your favourite watering holes in the comments below.
1. The Summit Inn, Howth
Dublin folk are spoilt for choice when it comes to great walking and hiking routes within a stone's throw of the city. The Howth Head Loop which covers a distance of 11.8km follows the headland, offering great views of Dublin Bay and the Bailey Lighthouse.
The Summit is the perfect place to stop for a little post-hike reward. A favourite amongst locals, this Irish pub is often packed to the rafters. On sunny days, the large terrace at the front of the pub offers views of Ireland's Eye, Lambay Island and the Mourne Mountains. When the weather isn't playing ball, you can warm up around a turf fire and some hearty pub grub inside.
2. The Blue Light, Barnacullia, Co Dublin
Situated at the foot of the Dublin Mountains, The Blue Light is a quintessential example of an Irish pub. In winter you can huddle around a turf fire, while in summer you can enjoy views across Dublin Bay and across to Howth. The Blue light serves hearty pub grub and always welcome instruments should you fancy joining one of the pub's many impromptu trad sessions.
Hiking-wise, there are a number of great walks and hikes close-by. One of my favourites is the Ticknock walk from Tilbradden. This route takes you through Tibradden Woods, up to the top of Fairy Castle, down to Three Rock, right back to where you began via Ticknock Woods.
3. Mullachain Café, St Mullins, Co Carlow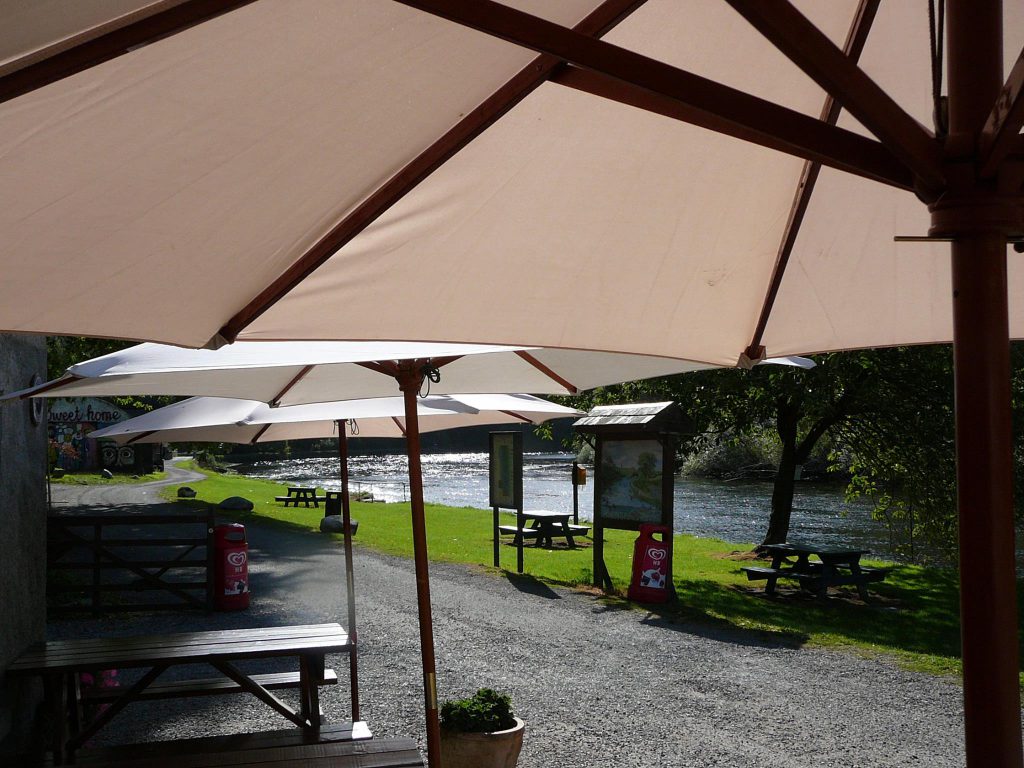 If you are looking for a flat, peaceful walk with a mid-walk swimming spot and a post-walk refreshment spot with uninterrupted river views then this is the one for you! A 6km stroll along the River Barrow from St. Mullins will take you all the way to Graiguenamanagh which coincidently, just so happens to be one of my favourite wild swimming spots in Ireland.
In summer, you can jump off one of the diving boards, while in winter you can enjoy the crisp, deserted waters of the Barrow. This out and back walk will bring you to Mullachain Café beside the car-park where you started. Now I know this isn't technically a pub, but they do serve a mean glass of wine and slap-up grub right on the banks of the river – you'll be hard pushed to find a better view to accompany a glass of ice gold sauvignon blanc on a summer's day!
Mullachain is open from every day except Mondays.
Details on the route can be found here.
10 Irish pubs off the beaten track you have to visit
4. Hugh McCanns, Slieve Donard, Co Down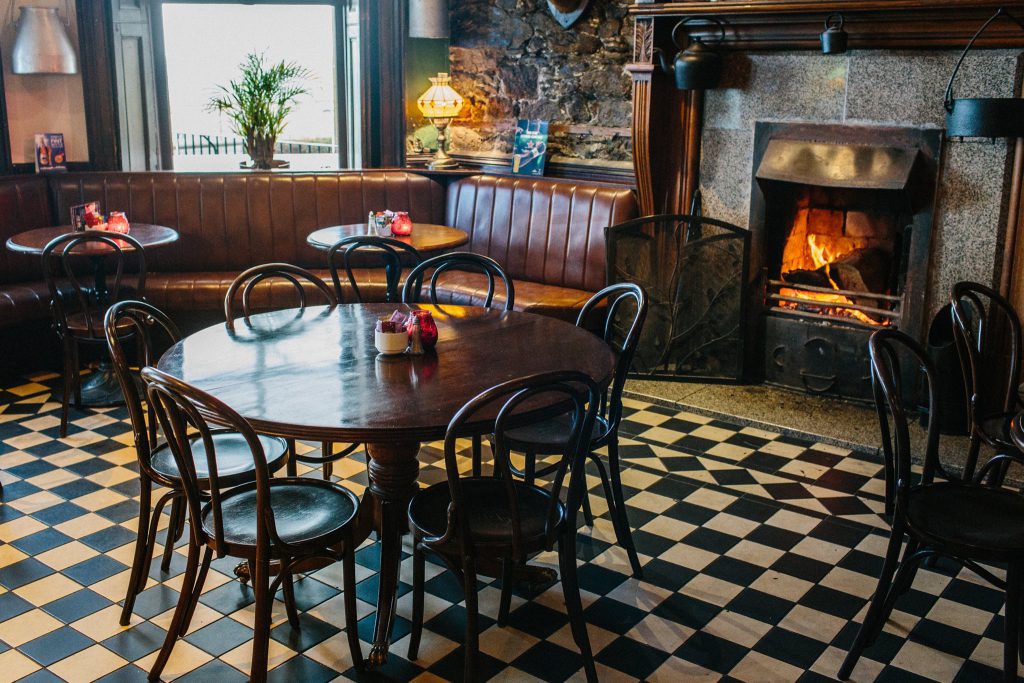 The Slieve Donard via Glen River walk (10km approx.) starts in Donard car park, climbing up through the forest to the famous Mourne Wall before a lung-busting ascent to the summit of Slieve Donard where you'll be treated to sweeping views of the coast. With 850m metres of climbing, you will certainly feel you have earned a nice big meal and a tipple or two when you finally get back to the car.
Luckily you don't have to look too far to get your fix – Hugh McCanns is situated a two-minute walk from Donard carpark and is the perfect spot to rest your weary legs while enjoying panoramic views of the Mourne Mountains and Irish Sea.
5. Joe's Seafood Bar, Rosbeg, Co Donegal
If you've not ventured up to Donegal for a weekend of adventure, then pop it on your to-do list this summer. With a host of activities on offer from surfing to mountain biking and everything in between, you are guaranteed to have the time of your life.
The Bluestack Way is a particular highlight. This 65km route will take you through the true wilderness of Donegal as you traverse the Bluestack Mountains. The route starts in Donegal Town and ends in Ardara, where luckily there is true gem of a pub.
Joe's Seafood Bar in Rosbeg is definitely a favourite of mine. Owner Joe cooks up fresh lobster caught right outside the door. Served with homemade chips, it's good fresh food at its best and it really hits the spot after a long day hiking in the hills. The views from Joe's across Dawros Bay are absolutely incredible and it is undoubtedly the best spot to watch the sun go down in the area. You can even opt to spend the night here as Joe has a couple of rooms available for guests.
Details on the Bluestack Way are available on Irish Trails.
 6. Glenmalure Lodge, Co Wicklow
No Irish hiking enthusiasts tick list is complete without conquering Lugnaquilla, Leinster's highest peak. Described by MountainTrails.ie as "a gentle hill with a mean streak" – Lugnaquilla has become well-known, not due to the difficulty of the climb but more so the tough navigation that ensues should poor weather set-in.
One of the most popular routes up the mountain is from Glenmalure, and with good reason – it is home to the popular watering hole, the Glenmalure Lodge. Open fires, walls adorned with memorabilia and hearty home-cooked fare are what have made this Irish pub one of our favourites on the list.
Wild camping spots in Ireland: 10 of the best
7. O'Lochlainns, Ballyvaughan, Co Clare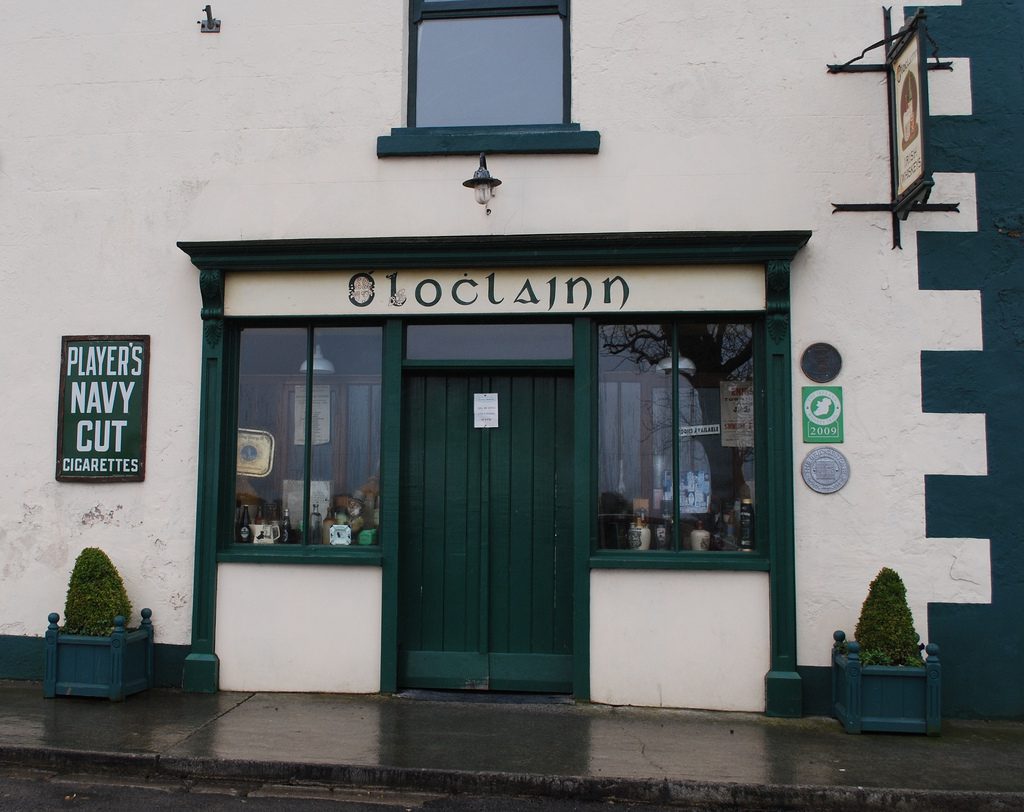 Tucked away on one of the side streets in the small town of Ballyvaughan lies one of the best pubs in Ireland. With just a couple of seats and definitely not enough room to swing a cat, there's a small stove and a pretty impressive selection of whiskeys on offer. O'Lochlainns is bursting with old-school charm and is definitely worth a visit if you happen to be in that neck of the woods.
Walkers are well catered for in the area with an abundance of walks and hikes on offer. The 26km, Ballyvaughan to Black Head loop is definitely a favourite of ours. This loop is a mix of Burren hill and coast and takes in Fanore Beach, the Caher Valley and part of Gleninagh Mountain along the way. Suffice to say, the views of Galway Bay and the Aran Islands are pretty epic.
Check out Irish Trails for the full list of walking routes around Ballyvaughan.
8. Foxy Johns, Dingle, Co Kerry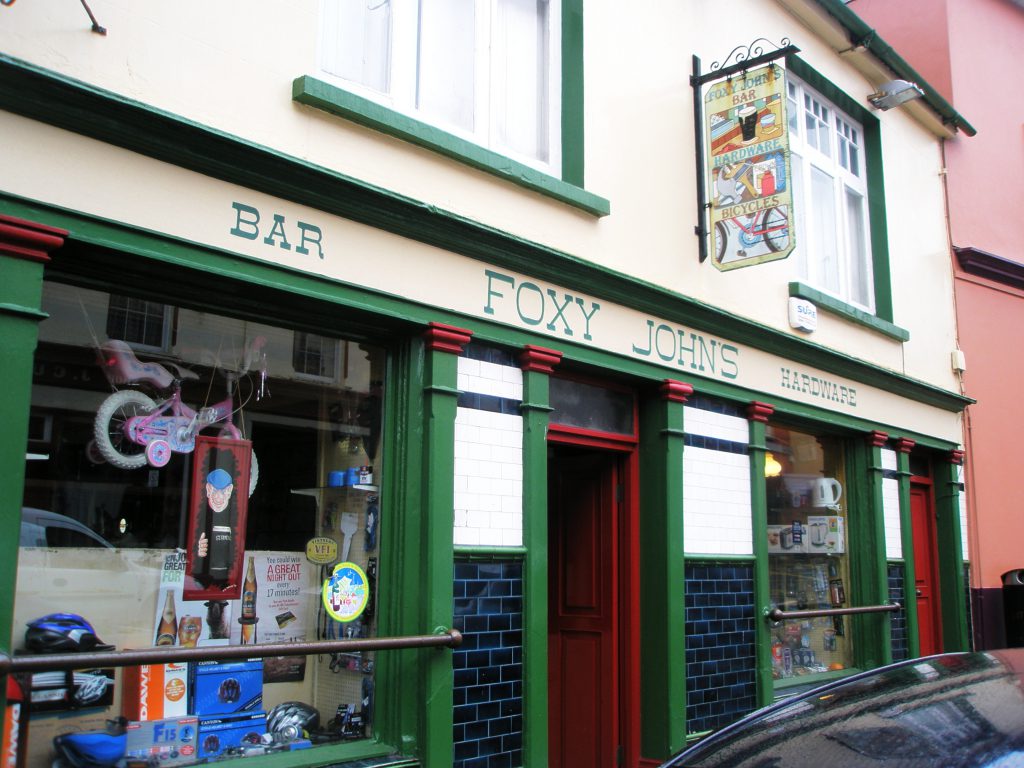 Whether you have opted to take on all 179km of the spectacular Dingle Way or are just sampling a small section, this part of the world is well worth a visit. Set in the rough Atlantic swell, the Dingle Peninsula has so much to offer – you can choose to hike in the foothills of Slieve Mish, tackle Mount Brand or just soak up the sea air as you walk along Slea Head with the crashing Atlantic beneath you. The Dingle Way never fails to deliver.
In addition to great hiking routes, the area is awash with great little country pubs. Dingle is perhaps the most famous for its high-quality seafood, traditional pubs and a flourishing trad music scene. My favourite pub of all amongst stiff competition in the area has got to be Foxy Johns. Who can fault a pub that is also a hardware store and a bicycle hire shop?
Check out our Hard as Nails podcast:
Like this? You should check these out: 

Previous Post

Next Post