Wild Camping is one of the best ways to discover the beauty of Ireland by really getting off the beaten track. 
You deserve better than an hour-long queue for a hostile portaloo at a packed-out campsite. Wild camping is the best alternative and is a great way to disconnect from day-to-day life and to escape the chaos of a campsite. Some wild camping spots are well-kept secrets and we're not here to spoil those sanctuaries. But we are here to give you a steer in the right direction and provide you with all of the information you need to know about wild camping in Ireland whether you are in a tent, a motorhome or simply sleeping right under the stars.
What is Wild Camping?
Wild camping means that you pitch your tent or park your motorhome in a place other than a designated campsite. It is a great way of really getting off the beaten track. However, in Ireland, it is not always simple. Landowners are often reluctant to let people camp on their land and a lot of public spaces prohibit camping, whether that's in a tent or a motorhome. Read on for our essential tips and favourite spots in Ireland to go wild camping.
Wild camping in Ireland is not strictly legal but is tolerated in many upland and remote areas, and the Northern Ireland Forestry Service issues camping permits at some of its sites.
Wild Camping: Essential Tips
1. Practice putting up your tent in advance 
Figuring out how to put your tent up when you reach your camping spot is never a good idea, especially if you are getting there after dark or in bad weather! Practice putting your tent up a couple of times in your back garden before you set off.
2. Choose your camping spot wisely 
This might sound obvious, but try to pitch your tent on flat ground. It will make for a far more comfortable night's sleep. The shade of trees can seem appealing but they are often home to poor quality grass and birds tend to choose life leafy areas to do their business! Take note of the environment around you and take heed of wind directions and incoming tides etc.
3. Seek permission
Wild camping in Ireland can be tricky. The last thing you want is a gun-yielding farmer shouting at you in the middle of the night. Be sure to choose your surroundings carefully. Avoid places with obvious "no camping" signs and seek the permission of the landowner where possible.
4. Leave the BBQ outside 
Never cook or bring a portable barbecue into your tent. Apart from the obvious fire hazards, a barbecue gives off poisonous carbon monoxide (CO), which can kill.
5. Leave no trace 
It is really important to leave your wild camping spot exactly how you found it. Bring all of your rubbish with you and be sure not to move big rocks etc when choosing your site.
The Wild Camping Code
– Campsites must be at least 400m from a road capable of carrying a vehicle.
– Campsites must be at least 400m from a building.
– Tents must be moved after every second night to allow vegetation to recover.
– Campers must remove all food waste and litter, whether or not it is biodegradable. Buried waste is often exposed by foraging animals or by erosion.
– Soap and toothpaste must be kept at least 30m away from watercourses.
– Dish and utensil washing must be conducted at least 30 metres from water bodies. All waste water should be strained and scattered. In no circumstances should waste water used in washing be poured into lakes, streams or rivers.
– Campers are required to conduct themselves in a quiet manner in an effort to avoid disturbing the local community, wildlife or other visitors.
– Campsites must be kept visually unobtrusive.
– Campsites must be left as found, or better.
Wild Camping: Checklist
It is really important to draw up a list of essential items before you set off. Arriving at camp to find that you have forgotten an essential bit of kit can be a real dampener!
You really don't want to forget any of the following items:
Tent
Sleeping Bag
Head torch
Camping Stove
Food
Warm Layers
Wild camping is all about packing relatively light while not scrimping on the essentials. Check out our comprehensive guide to essential camping kit for more details on exactly what you need to go wild camping. We have even written a separate guide for comfortable camping kit to make sure you get a good night's sleep and a guide to choosing the right camping stove. It might also be a good idea to check out our article on 10 life-saving hacks for wild camping.
Another important consideration to make when wild camping is the toilet situation. It is really important that this is dealt with in a clean and easy manner. Catholes for disposal of human waste must be located at least 30m away from watercourses and 50m from walking routes. The waste must be buried and all toilet paper and hygiene products must be carried home with you. Check out our guide to digging an outdoor toilet.
Map of Irish Wild Camping Spots
While the purpose of wild camping is to choose your own spot off the beaten track, Total Camping Ireland has put together a comprehensive map of suitable wild camping spots across Ireland. 
Wild Camping in Ireland: The Top 14 Spots
These spots are a little better known but no less scenic and beautiful for it. So revel in the isolation and remember to leave no trace.
1. Beara Peninsula, Co Cork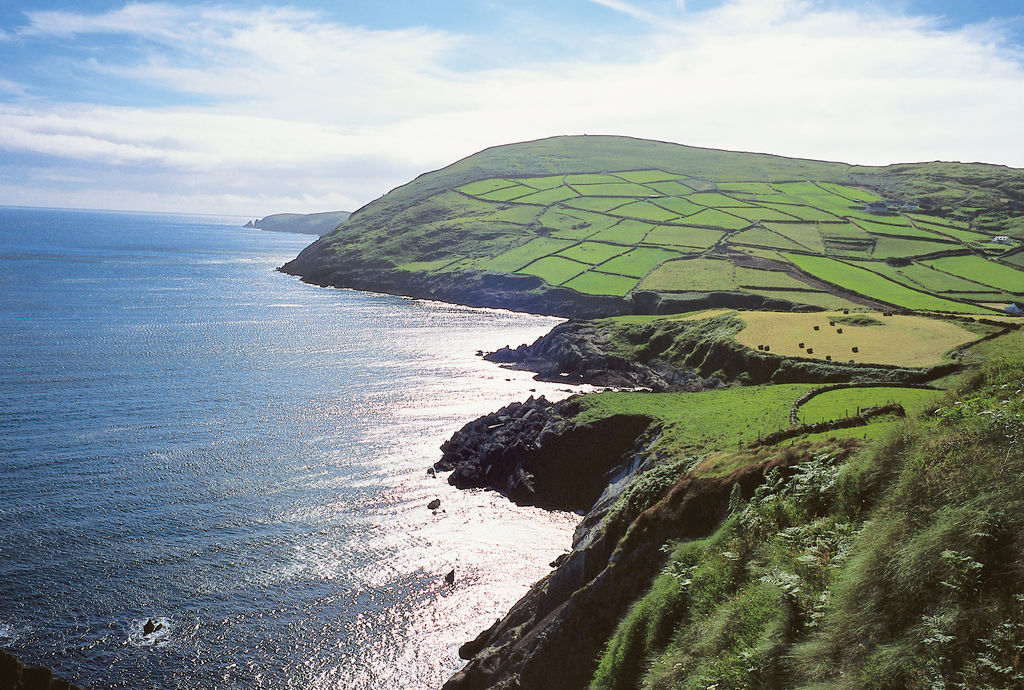 The Beara Way is one of Ireland's most underappreciated beauties, often neglected in favour of the Ring of Kerry next door. There are countless beautiful spots to pitch up along the 206km walking route but the coastline offers the most scenic and secluded spots. You can even nip over to Bere Island via ferry and spend the night there. We think it's the best place to go wild camping in Cork.
2. Sperrin Mountains
An excellent place to go wild camping in Northen Ireland is the Sperrin Mountain range. The mountains are beautiful and wonderfully untouched. They are best experienced as part the Ulster Way hike. The walk is scenic and pretty quiet all year round. At the base of the largest mountain, Sawel, you'll find Glenrandel river – a great spot to pitch your tent at the end of the day's hike.
3. Ben Crom Reservoir
If you're trying to tackle the Mourne Mountains then the shelter at Ben Crom Reservoir is a great spot to rest up either before or after. The stone shelter has stood for decades and is a popular spot to set up camp and the views of the reservoir and the rugged mountains are the perfect backdrop.
4. Black Valley, Co Kerry
The Black Valley connects the Gap of Dunloe and Moll's Gap and offers plenty of spots to pitch your tent when wild camping in Kerry. From here there is plenty of wonderful countryside to explore. The landscape is spotted with bogs, glens, and countless mirrored lakes. This is one of the most remote parts of Ireland and was the last part of the mainland to be connected by electricity and telephone line. With that in mind, we don't advise wild camping in the winter as conditions can get pretty hairy quickly and you'll be a long way from civilisation.
10 Camping Hacks That Will Change Your Life
5. Lough Tay, Co Wicklow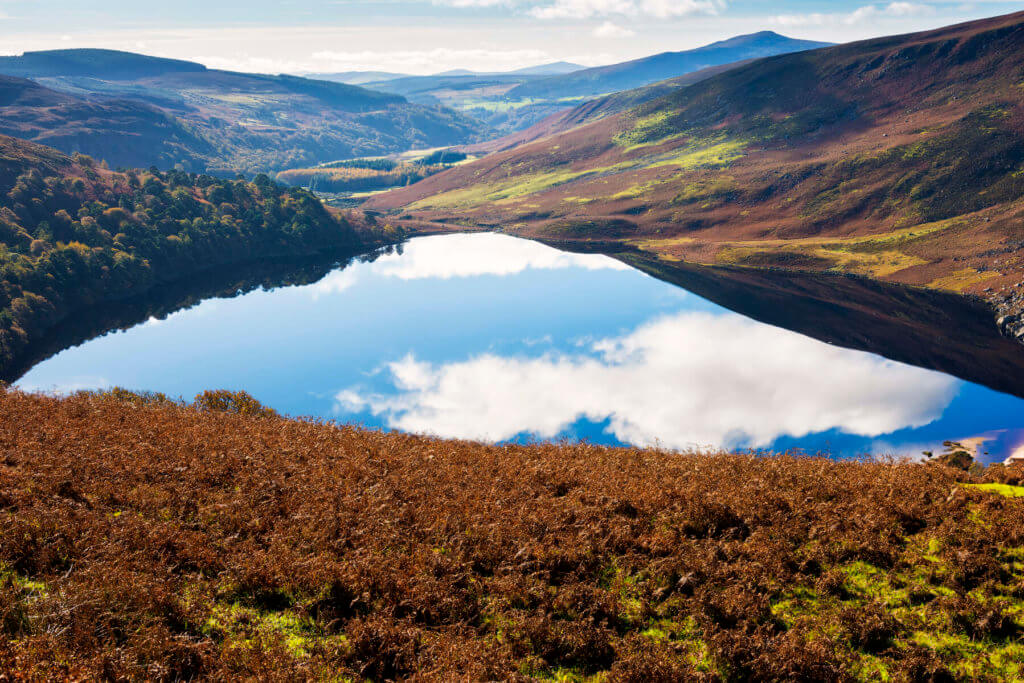 Don't stay on the grounds of the Powerscourt Estate itself but if you keep going you'll find Lough Tay. On the banks between the mountains Luggala and Djouce, you'll discover plenty of peace and quiet to call home for the night. The glassy water and mountainous twins offer fantastic views, while being miles away from anyone. Please be mindful that you can't just camp anywhere here
6. Lough Avoher, Co Mayo
If you're travelling along the Bangor Trail then this little hut offers the perfect respite. The shelter provides water (that may need treating) and shelter for up to five. When the sky is clear you'll be able to gaze upon the stars once night falls and enjoy views of Glennamong Ridge come sunrise. The only downside is that open fires are forbidden but this is a great speck of civilisation in one of the wildest parts of Ireland.
7. Altnabrocky, Co Mayo
This shelter is located along the Western Way and offers a stunning panorama of Lough Cong, Nephin Beg, and Slieve Carr. If you keep climbing you'll find Scardun Lakes. You can often find trout there if you're looking for dinner. As well as the simplistic hut there is room to pitch your own tent and there's a stream nearby offering clean water.
8. The Wicklow Way, Co Wicklow
We know the Wicklow Way is chocka in the summer months, but if you wait until spring or autumn, you'll find it as secluded as ever, especially the further away from Dublin you get. There are plenty of spots to wild camp along the route, but if it's a particular blustery day, keep an eye out for the three Adorandack shelters along the way at Mucklagh (Aughavannagh), Mullacor (Glenmalure) and Brusher's Gap (Paddock hill).
9. Glenregan, Co Offaly
Another camping spot along a long distance walking trail is the Glenregan Valley on the Slieve Bloom Way, just before you head up into the mountains. The flat grassy spot is on the bank of the Camcor River is the perfect place to spend a night.
10. Brushers Adirondack Shelter, Co Wicklow
Adirondack shelters originate, as you might have guessed, from the Adirondack Mountains of New York state. The shelters consist of three sides, a pitched roof and a raised platform floor that sleeps 4-5 people. A few shelters of this kind have been built on Coillte land by Mountain Meitheal which is a group of environmental volunteers.
For staying here you'll need to bring a bivvy bag as well as everything else you might need to stay comfortable and warm. One of the most popular shelters is located at Brusher's Gap on the Wicklow Way, just north of Glendalough. That's about 1.5 hours of hiking away from civilisation.
The site has a fire pit, a picnic table, a water butt and is free to camp at. The water, however, might need to get treated before drinking. Two similar huts can be found on the Wicklow Way at Mucklagh and Mullacor.
More info: Brushers Adirondack Shelter 
11. Cones/Glenbarrow Wild Camping, Co Laois
View this post on Instagram

Glenbarrow is one of the most scenic parts of Slieve Bloom with its dramatic valley and waterfalls, and this camping spot is also a little more rugged than the other ones in the same area. This wild camping is situated just a short walk from the Slieve Blooms Way, about 400 metres downstream from the first bridge on the river Barrow.
This is a sunny camp spot is flat and sheltered by a big stone wall. There are no facilities here and campfires are not permitted. The simpleness and solitude is this place's charm, and it's surrounded by lovely looped walks and a visit to the waterfall Glenbarrow is a must.
More info: Glenbarrow Wild Camping 
11 of the Most Drool-Worthy Glamping Spots in Ireland
12. Coomshanna Wild Camping, Co Kerry
This spartan campsite is basically just a flat area where you can pitch your tent, but with amazing views overlooking Dingle Bay. Nearby is also a stream running which is handy. You'll find the site near the Gleensk viaduct, between Glenbeigh and Cahirsiveen, not that far from Kells Bay.
No fires are permitted and the Leave No Trace rules strictly apply. Ideally, you'll spend no more than one night at each site, to minimise your impact.
More info: Coomshanna Wild Camping
13. Knockadav Wild Camping, Co Waterford
This wild spot in the Knockmealdown Mountains is located on a higher altitude than the rest of the sites. This makes it a bit more exposed to weather than usual, so make sure to bring appropriate gear. It was originally designed for hikers walking the Avondhu/Blackwater Way route. The views, however, are gorgeous and overlook the surrounding Knockmealdown Mountains and farmland leading down to Blackwater Valley.
This spot can be found between Lismore and Clogheen, approximately a 4 km hike from Bay Lough.
More info: Knockadav Wild Camping 
14. The River Barrow, Co Carlow/Co Kildare
Stretching all the way from Lowtown in Co Kildare to St Mullins in Co Carlow is a towpath running alongside the River Barrow. This makes it ideal for a week out in the wild, combining canoeing, hiking and cycling. You might spot both salmon and otters making their way through the river.
Camping wise, either pitch your tent next to one of the loughs or check out the old quarry at Clashganny, that the local community turned into a wild camping spot. Kilkenny local company Go With The Flow can also provide you with a boat, a tent and general guidance if needed.
More info: The River Barrow
Wild Camping: Motorhomes
Finding the perfect wild camping spot for your motorhome can often be tricky. It is important to use common sense when choosing where to park up. Try to be discrete and park out of sight of people's homes or farms. You should aim to park up late and leave early, taking great care to leave no rubbish behind. And if you do get asked to leave, do it without argument, quietly and politely!
Check out our Hard As Nails podcast:
Like this? You should check these out: 

Previous Post