Glamorous camping, or glamping, is all the rage this summer season. And it's easy to see why. They are close to nature getaways with full freedom and won't break the bank.
If you're the type that prefers spending your nights in a bed but still wants to get the full outdoor experience – glamping might just be your thing. From bell tents to yurts to little glamping pods, we've listed the 11 best spots for glamping in Ireland this summer.
11 of the Best Glamping Spots in Ireland:
1. Teapot Lane, Co Sligo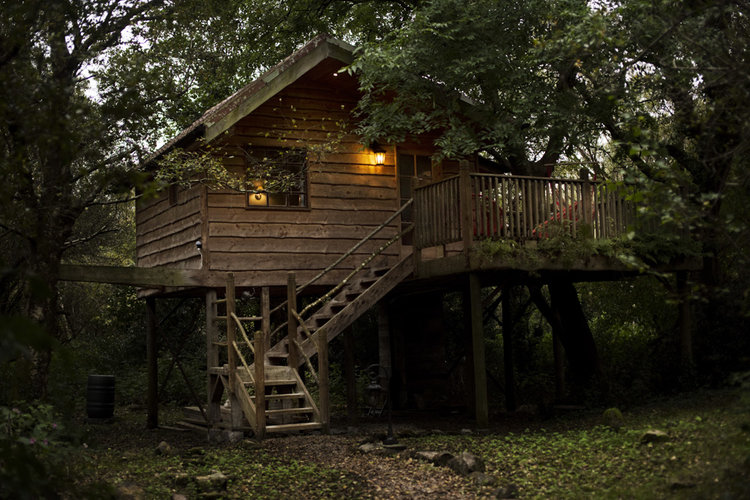 This quirky glamping spot is a gem located in Castlegal, Co Sligo. Their specialities include hen parties, couple's getaways and nice, energizing weekend stays with friends. You have the option to choose between staying in a luxurious and cool treehouse, a cute vintage caravan, a cosy cottage or stylish yurts.
Teapot Lane is situated in the northwest of Ireland which many people consider 'Ireland's adventure capital'. Suffice to say, there is loads to do in the area. The site is located within 10 minute's drive to gorgeous beaches, like the Blue Flag beach in Mullaghmore. If you're into surfing, lessons can be arranged with any of the surf schools in Bundoran. There are beaches and surf spots to suit all levels here. You just can't miss out on this fantastic spot.
More info: Teapot Lane Glamping 
Paddling & Wild Camping Adventures on the River Barrow
2.  The Old Forge Glamping, Co Wicklow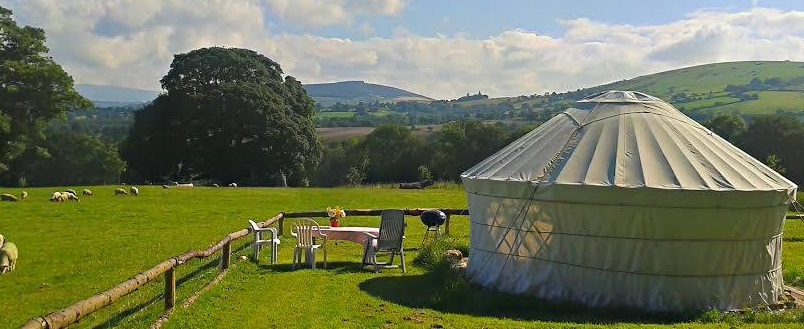 The Old Forge is a cosy glamping venue situated in the Wicklow Hills, looking out at Lugnaquilla's heights. The site has four yurts and one log cabin. Each yurt or cabin has its own BBQ-area and personal campfire.
In the surrounding area you'll find the Huntington Castle. If you're looking to do a mountain walk, go for Mangan's Loop or if you prefer an easier stroll go to Altamont Gardens by the Slaney River.
More info: The Old Forge Glamping 
3. Dromquinna Manor, Co Kerry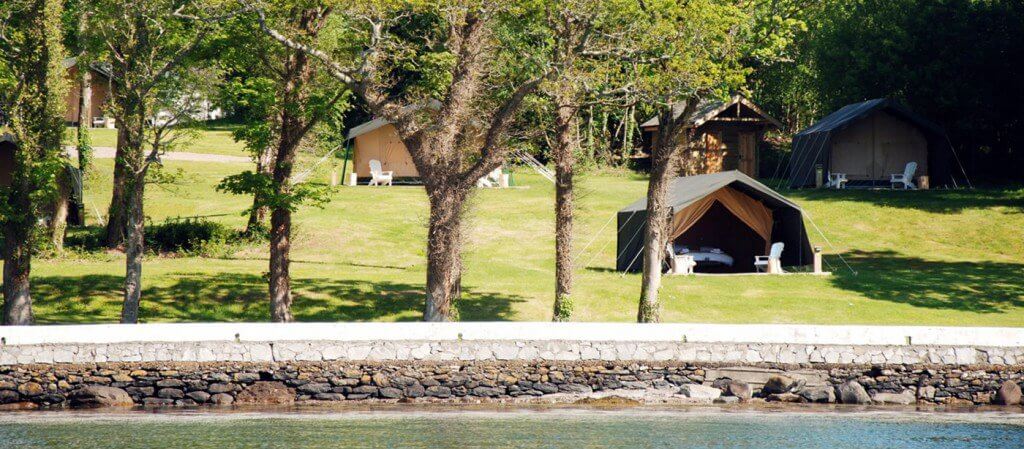 For a more luxurious glamping vacation, Dromquinna Manor by Kenmare Bay, on the famous Ring of Kerry, is your spot. The venue offers several custom made tents, an exclusive "hideaway" spot (perfect for honeymoons), and family tents as well.
On the estate, there is a restaurant called the Boathouse Wine Bar & Grill. Breakfast can be served at your tent in the mornings and there is also a guest kitchen to avail of if you bring your own food.
Located by Kenmare Bay, Dromquinna encourages their guests to bring boats or kayaks and to use their boat slip for trips on the water. The estate also has a 'Fun Beach', a pier and moorings.
More info: Dromquinna Manor 
5 of The Most Eco-Friendly Places to Stay in Ireland
4. Inch Hideaway, Co Cork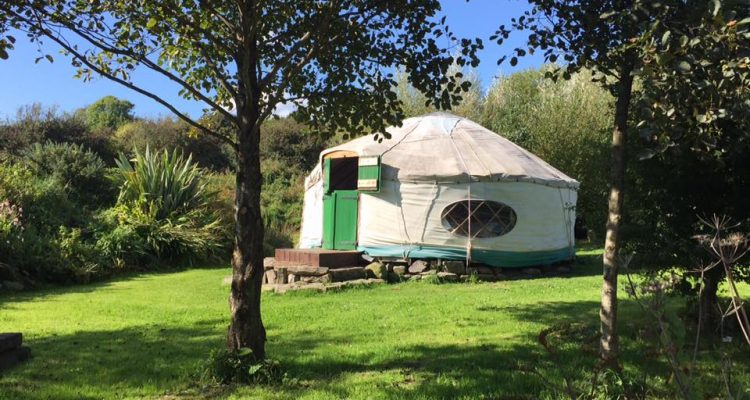 Within walking distance of Inch Beach in Whitegate, this is your number one eco, sustainable, green and pet-friendly glamping option in Cork. The thing we love about this venue, aside from its eco-friendliness, is the range of outdoor activities you can get up to in the area.
Thanks to the proximity of Inch Beach, you can choose from surfing, kayaking and bike rental. There are also plenty of opportunities to do some beautiful cliff walks.
Inch Hideaway has four luxury yurts and the 'Wanderly Wagon' so can accommodate up to 27 people. Each yurt is situated on a raised platform and heated with wood-fired stoves. There is a communal kitchen, a banquet dining area, a wood-fired pizza oven and a campfire pit. It's all about sharing here.
More info: Inch Hideaway 
5. Pod Umna Village, Co Galway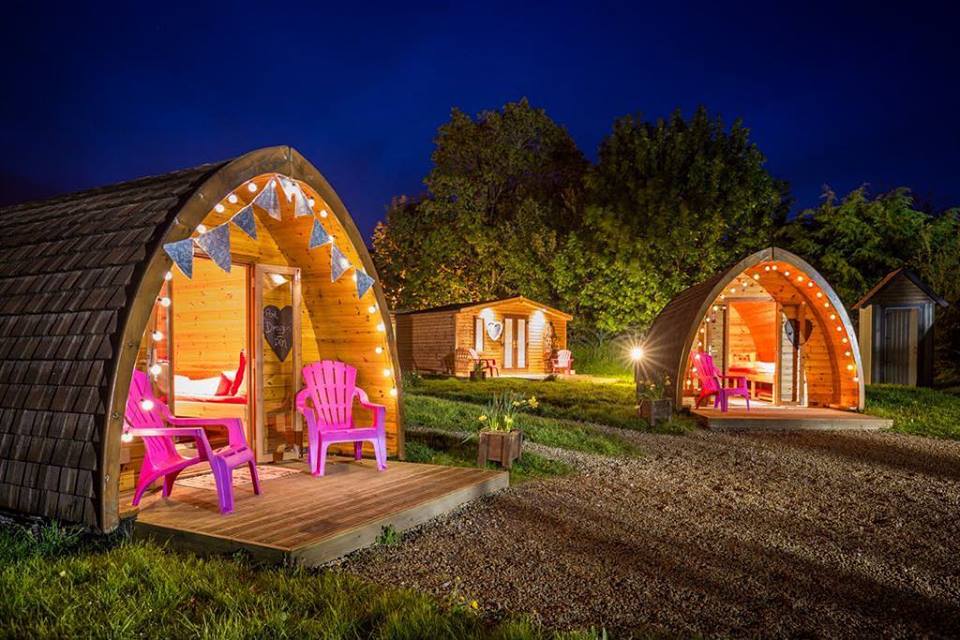 Set in the heart of Portumna Town, this fun site offers guests a chance to stay in a woodland setting but with a town central location. Pod Umna has pods, huts and B&B rooms available for booking. They also cater for all sorts of groups with a variety of packages. Our favorite package is obviously the Adventure Package with opportunities to go water skiing, horseback riding, extreme biking and much more.
Another thing to see and do in the area around Portumna is to visit the Forest Park, where 16 different species of wild mammals reside, including fallow deer and foxes. It's also possible to rent a bike for €20 to explore the surroundings.
More info: Pod Umna Village 
6. Portsalon Luxury Camping, Co Donegal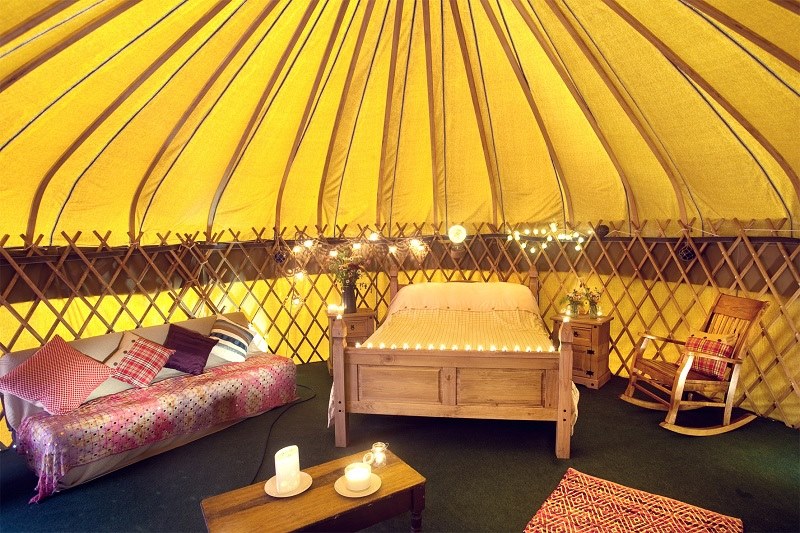 This luxurious glamp-camp is located by the coast in the north of Donegal and has five cosy yurts for rent. The site has beautiful surroundings for exploring and relaxing, as well as a three-mile long beach nearby in the village of Portsalon.
There is a long list of activities to get up to while on your stay here, including the likes of climbing, kayaking, whale watching and surfing. To top things off, Donegal is an especially good place to watch the Northern Lights, which are frequently visible from Fanad Head and Malin Head in Inishowen.
More info: Portsalon Luxury Camping 
Is This the Most Expensive Camping Holiday of All Time?
7. Rock Farm, Co Meath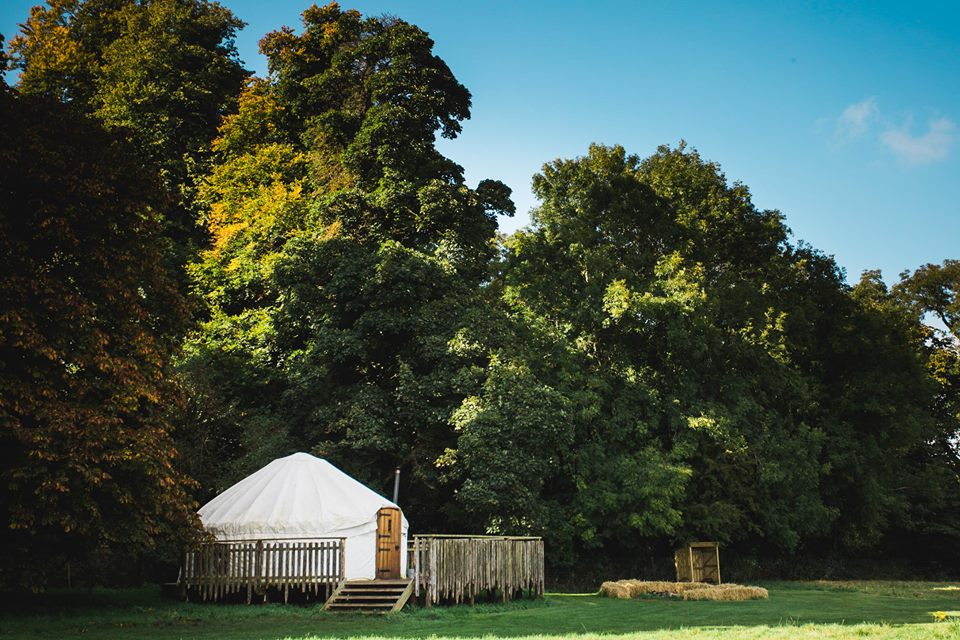 Rock Farm is a comfortable, cosy and eco-friendly glamping site in Slane, Co Meath, that you can't help but love. The venue is located on a wild meadow, overlooking Slane Castle and offers five yurts and two shepherds huts for rent. The centre of Rock Farm is the kitchen, where you'll find yourself the perfect homely vibe. The campsite offers food packs for those who want a break from cooking.
This glamping spot is based on an organic farm and is an ecotourism project. Their ethos is to offer the best glamping experience while protecting and enhancing the local ecology. Rock Farm has a wood-burning-warmed hot tub and plenty of activities like rafting, tree climbing and yoga sessions can be arranged.
8. Killarney Glamping At The Grove, Co Kerry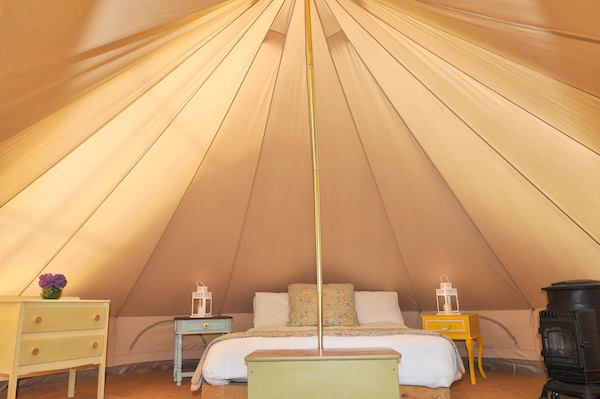 If you're looking for a peaceful, romantic, stay with views of the Kerry Mountains then you've come to the right place. Killarney Glamping offers a relaxed, private and luxurious stay in a suite (formerly Bell Tents) with its own stove and en-suite toilet.
Every suite has a private kitchen, but there are plenty of restaurants in the area as well. As this venue is all about romance, they recommend activities like a spa day or a sunset kayak trip for their googly-eyed guests.
So if a romantic getaway for two is what you're aiming for, skip the big hotel chains and go for a unique experience in Ballycasheen instead.
More info: Killarney Glamping at the Grove 
9. Ballyvolane House Glamping, Co Cork
If you fancy a traditional, fully serviced, experience in the gardens of a Georgian house from 1728 – this is your chance. Guests have the option of staying in either a glamping ark with a proper double bed, or in one of the 11 bell tents. The mattresses are stuffed with recycled denim and organic lamb's wool, and lanterns and tea light chandeliers will add to the cosy atmosphere.
Communal country house dinners are served at night and stress-free breakfasts can be enjoyed in the mornings until noon. This place is meant for long strolls in the surrounding woodlands and beautiful gardens.
More info: Ballyvolane House Glamping
Wild Camping Spots in Ireland: 15 of the Best
10. Emerald Glamping, Co Offaly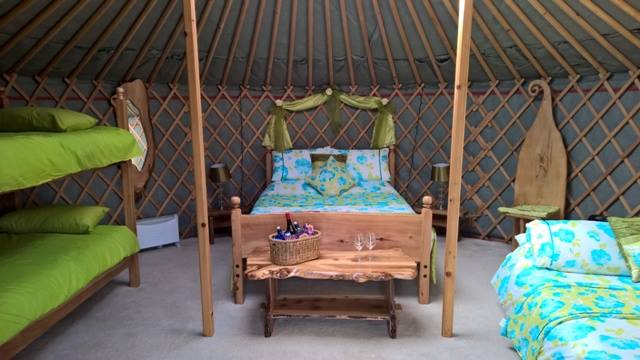 Although currently closed due to Covid, we have high hope that Emerald Glamping will be up and running again soon. So if you happen to be planning a hen party for 2022, you can not not book your stay with Emerald Glamping. With their quirky, unique rooms and full-experience packages, you can't go wrong. You can choose whether you want a one-night or two-night stay, and some of the activities included are sing-a-long at campfires, disco-going, kayaking and archery. The venue can host parties of 15-30 hens, all the meals are included AND it's BYOB, which is pretty great.
On non-hen weekends, families and couples are welcome as well. The site's prettily decorated yurts and tents can sleep 18 people.
More info: Emerald Glamping 
11. Legan Castle Farmhouse, Co Kilkenny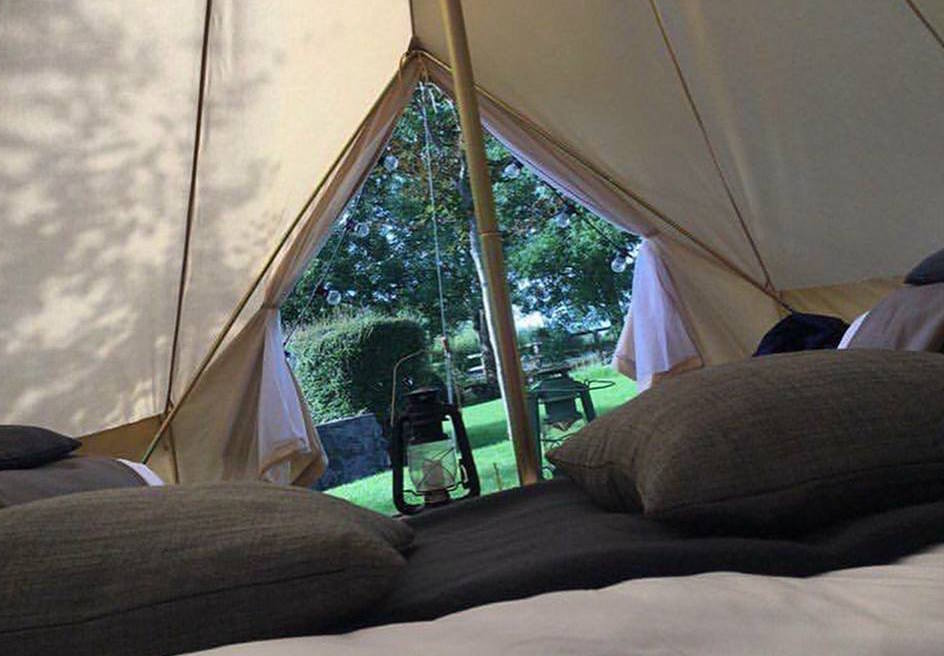 Located 15 minutes outside Kilkenny, this 200-year-old, charming farmhouse is full of magic. The house itself sleeps six people, and there are three luxury bell tents in the cottage garden. The tents all have king-size beds, Egyptian cotton linen and there are hot water bottles to avail of during chillier nights.
Legan Castle is a foodie haven and a cooked breakfast is served each morning in the main house. Evening meals are available upon request as well, and are just as tasty as the morning ones.
There are lots of activities to get up to in the area, like canoeing, horse back riding and fishing – and the Legan team will be happy to assist you in organising day trips.
More info: Legan Castle 
Check out our Hard as Nails podcast:
Like this? You should check these out: 
By Elsa Anderling