Hiking socks are almost as important as the hiking boots you wear. You'll need something quick drying, breathable, and comfortable, here are our key tips.
Hiking socks have the potential to be your best friend or your worst enemy. There's no point picking the perfect hiking boots on the market if you're not going to protect your feet with the right socks. In this article, we'll look at the differences between merino wool and regular wool, cotton and silk, and whether you need wicking or cooling technology.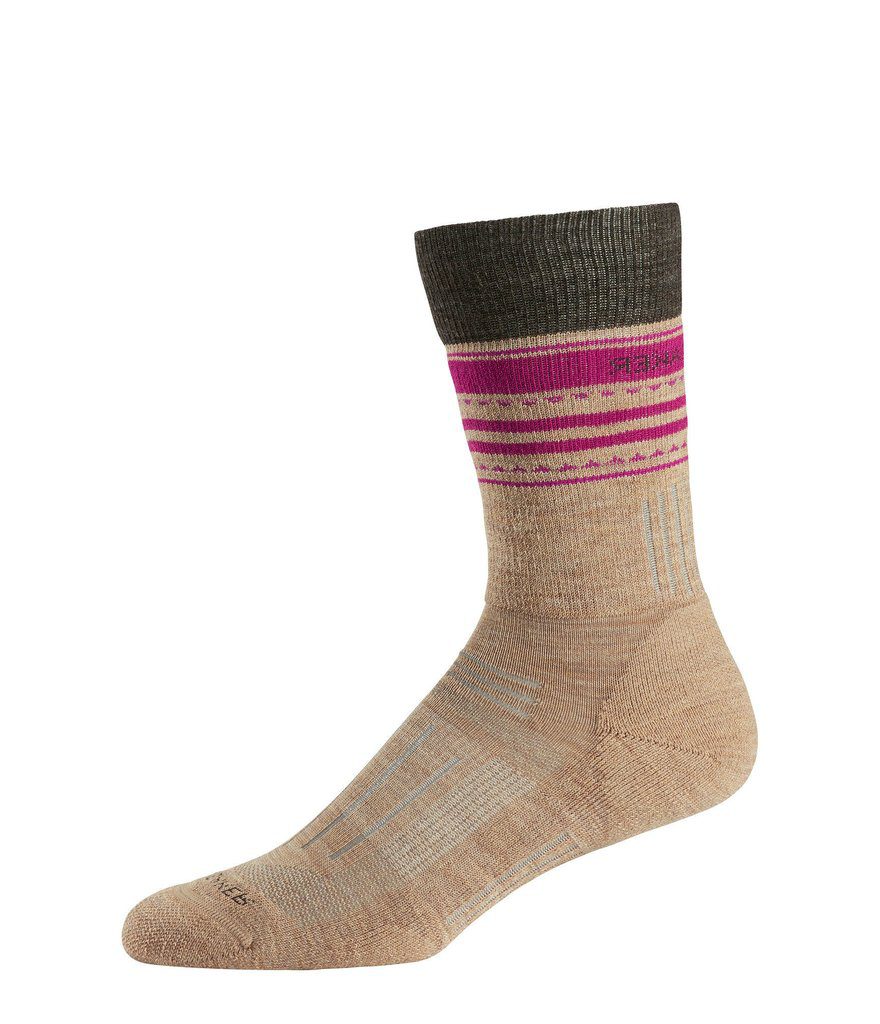 1. Material
Merino wool is a natural fibre that is both warm and soft. It also has anti-bacterial properties that will fight odour – you can even get away with multiple trips per wash. It is more lightweight than sheep's wool, Merino is a strong all-rounder, although there is some premium attached to this. Traditional sheep's wool is the most common material for socks. They provide great warmth through the colder months and their thickness will provide extra comfort for your feet – though be sure to factor that in with the fit of your boots. However, sheep's wool will retain sweat and moisture much more than the alternatives and thus will take longer to dry out between wears. Cotton and silk are the two other likely materials – both are more lightweight than wool so offer a good alternative when the weather improves. This comes at the cost of durability so you may find holes in these after heavy use.
2. Features
Wicking is a key factor you should consider when looking for your socks. Simply put, wicking means moving moisture away from your skin, regulating temperature and lowering the chance of developing blisters. The higher the wicking the more this takes place – it is more prevalent in materials such as Merino wool and silk.
Increasingly manufacturers have looked to modify materials with enhanced cooling technology. These fabrics hope to keep your feet as cool as possible thanks to increased air flow. You'll really appreciate this cooling technology in the summer months.
Some socks will be constructed with extra padding around the toes and heel. These are the two points that take the most strain so having a little extra material can help prevent rubbing and blisters.
3. Height and Fit
Hiking socks come in a range of fits and heights. Everything from discrete ankle socks to long socks that stretch up to your knee. Which one you choose will depend on your boots, ensure that your socks are at least as high as your boots. If you're wearing short socks and boots with a high ankle cuff then you can expect painful rubbing on longer walks. Most hiking socks will come at a crew length, finishing a couple of inches above the ankle, these will serve you well all year round.
When it comes to fit socks should be snug but not tight. Too loose and the material will bunch up which can cause blisters, too tight and they can cause circulation issues and slip from their intended position.
Check out our Hard as Nails podcast:

Previous Post