Lug as it's affectionately known is Wicklow's highest mountain at 925m and is a tough but really rewarding climb. It's a great tick off the bucket list of Ireland's most iconic mountains but needs to be approached with some caution.
Lugnaquilla is Ireland's highest mountain outside Kerry, and is a stunning landmark right in the centre of the Garden of Ireland. Although it's a difficult hike, it will reward you with majestic views.
On a clear day, you can see the pointy Sugar Loaf, a large swathe of the Dublin and Wicklow Mountains and the golden, sandy beaches along the coast of the Irish Sea. In the distance from the top, you might see south west to the mountains of Munster and as far as Snowdonia in Wales.
Lugnaquilla has a range of walks of different difficulties and distances. Overall, it is a wide, bulky mountain with a large flat peak and five ridges extending outwards from it. The summit is flanked on two sides by steep glacial corries or cliffs, which are known as the North and South Prisons and need to be approached with caution.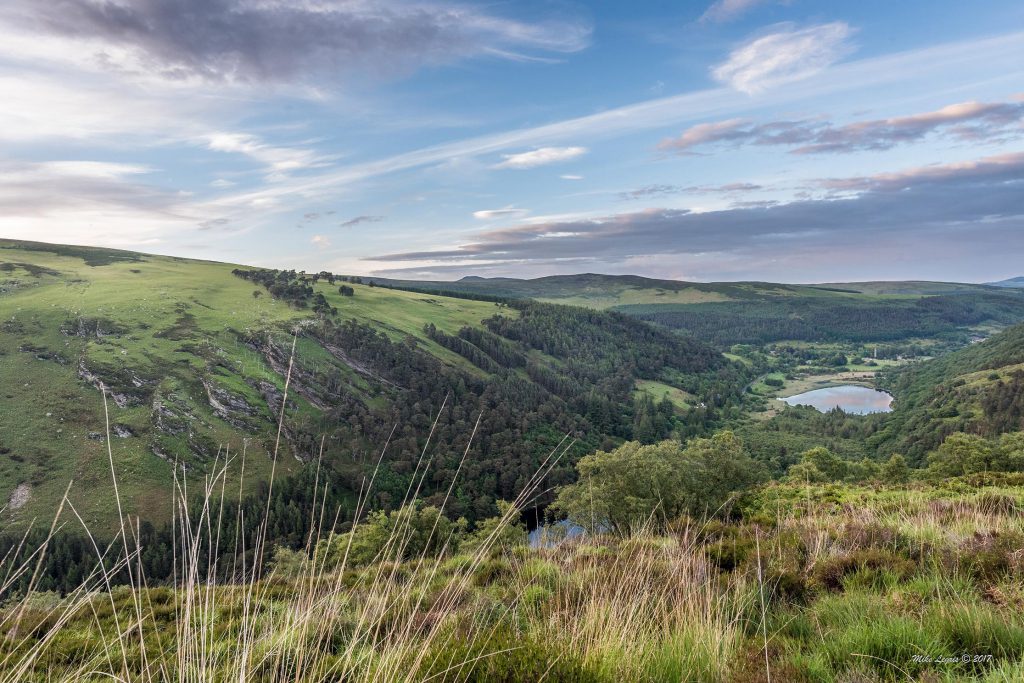 In general, the mountain is more of a broad gentle giant, rather than a dramatic, pointy peak. It's best recommended for intermediate/advanced hikers who want to tick off one of Ireland's great climbs unless you're being guided.
There are a number of routes to the top and there are a few hazards so navigation gear, skills and a map are essential. This means you can take a different route up and down the mountain and there are plenty of options to choose from when you come back next time.
The routes aren't way marked so the walk requires navigation skills, particularly in bad weather and poor visibility. If it's your first time, it may be best to join a walking group or go with a guide if you're not up to navigating on your own yet.
Lugnaquilla Ordnance Survey Maps: 56
Lugnaquilla Height: 925m
Duration: 10-16km return or 5-8 hours
Good for: More experienced hikers as the mountain is not way marked and can be difficult to navigate in poor visibility
Lugnaquilla: Routes
There are a number of different route options depending on which area you want to come from and how long you want to hike for.
1. Climbing Lugnaquilla from Glenmalure
You can climb Lug from the Glenmalure side (16km return approx), starting near the An Oige Youth Hostel – a really cool building dating back to 1903 that is steeped in history. It's a fairly basic hostel with no power or running water, but will definitely take you back to your roots in the outdoors! It has a lovely babbling brook beside it and rich green grassy areas to sit and eat or drink if you feel like a break.
From there, you walk up the forest track on the left that takes you up through the steep, rocky Fraughan Glen beside the Benleagh River, with great views back down the valley and across to Lugduff.
After you climb up and over the glen, the route will take you through some boggy marshland towards the north ridge of Lugnaquilla. Look out for the triangular warning signs of a nearby artillery range and pay plenty of heed to them!
Once you reach the large, open summit, you'll love the views with lush, green fields and the Dublin and Wicklow mountains visible in every direction, and also the Irish coastline stretching out in the distance.
Hiking gear and equipment: what you need to get you started
2. Climbing Lungnaquilla from the Glen of Imaal
Another quite popular and slightly easier approach to the mountain is from the Glen of Imaal, starting near Fenton's Pub (Approx 11/12km return). This is the shortest route. You walk up along the military access road via a grassy hill to Camara Hill, but again be careful of the artillery range as this route goes straight through it.
The artillery range is usually quiet on the weekends, but check if you're in the area mid-week. You can find out from the Army or on the Mountaineering Ireland site. You can check if the range is in use and take an alternative trail if there's practice going on. It's important to stick to the trail.
From here, you should be able to see lovely views out across the rolling fields of Carlow and Kildare. This route becomes less steep after Camara Hill and will take you along a fairly wide ridge to the summit plateau and the cairn at the top.
3. Climbing Lugnaquilla from the south (Aughavanngh Bridge)
You can also climb Lugnaquilla from the south, starting near Aughavannagh Bridge and walking up through the Ow Valley. On this route, you can follow along the river from the bridge and through forest tracks in a trail that goes from a gentler river bank to a steeper gorge, and there's even a waterfall. After this, the forest fades away and you'll have a pretty steep final climb to the summit of the mountain.
There are other route options too if you want to consult a map.
Lugnaquilla: Difficulty
The summit plateau can be particularly difficult to find in bad weather and leads some inexperienced hikers to get lost. It's very hard to find your way in poor visibility as low cloud or rain can make it very difficult to navigate. The area has cliffs to the north and south so extreme caution is advised. In poor visibility, you may only be able to see a couple of metres in front of you and the trails are not always easy to follow. Hence, navigation skills and a compass are key.
Best advice is to consider going with a group or a guide for your first time going up Lugnaquilla so they can show you the way (and hazards), and always check the weather forecast before you set off.
Lugnaquilla: Weather
Lugnaquilla is an exposed mountain that is very much affected by the weather due to its height, so you need to be fully prepared mentally, physically and gear-wise. Visibility can be severely reduced on all approaches to the summit in low cloud or rain and with cliffs in the area, you need to be very careful.
The weather can change very fast, so be prepared for that too. It can get very cold quite quickly as you get higher up the mountain, so even on a summer's day, you need to bring plenty of extra gear.
Irish walking routes: 10 of the best in Ireland
Lugnaquilla: Essential kit
Solid hiking boots are advisable, particularly for the steep/rocky/uneven parts of the climb on some approaches. Rainwear is essential along with extra warm layers in case it's cooler at the top. Gaiters are a great help on the marshy/boggy parts of the hike and will help keep your feet drier.
It's also wise to bring food and drinking water, to make sure your phone is fully charged, and sunscreen and a hat if it's sunny.
A compass (and knowledge about how to use it) and a map are essential for this hike, as trails can become impossible to find around the summit once bad weather closes in.
Read more advice on hillwalking safety and what to bring and avoid here.
Lugnaquilla: How do I get there?
Lugnaquilla is in a pretty remote and rural area of Co Wicklow and the approaches are not really serviced by public transport, so the best way to get there is by car. The nearest town is Rathdrum, which is served by bus and rail, and you could make your way from there. Or else join a hill walking club and take advantage of car-pooling.
Check out our Hard as Nails podcast:
Like this? We think you'll love these: 

Previous Post