Co Clare is a winner on all fronts – amazing views, great pubs, scrumptious seafood and so many fun activities to choose from – seriously what's not to love?!
There's something about the rugged landscape and simplicity of the west coast of Ireland that just screams escape and relaxation. From the jagged cliffs of west Donegal to the white sand beaches of Co Kerry, I love every single bit of that glorious coastline. However, if I were forced to pick a favourite part, Co Clare would by very high on my list thanks to the sheer diversity of the landscape on offer.
Here is my guide to the ultimate adventure-packed holiday in Co Clare.
1. Ballyvaughan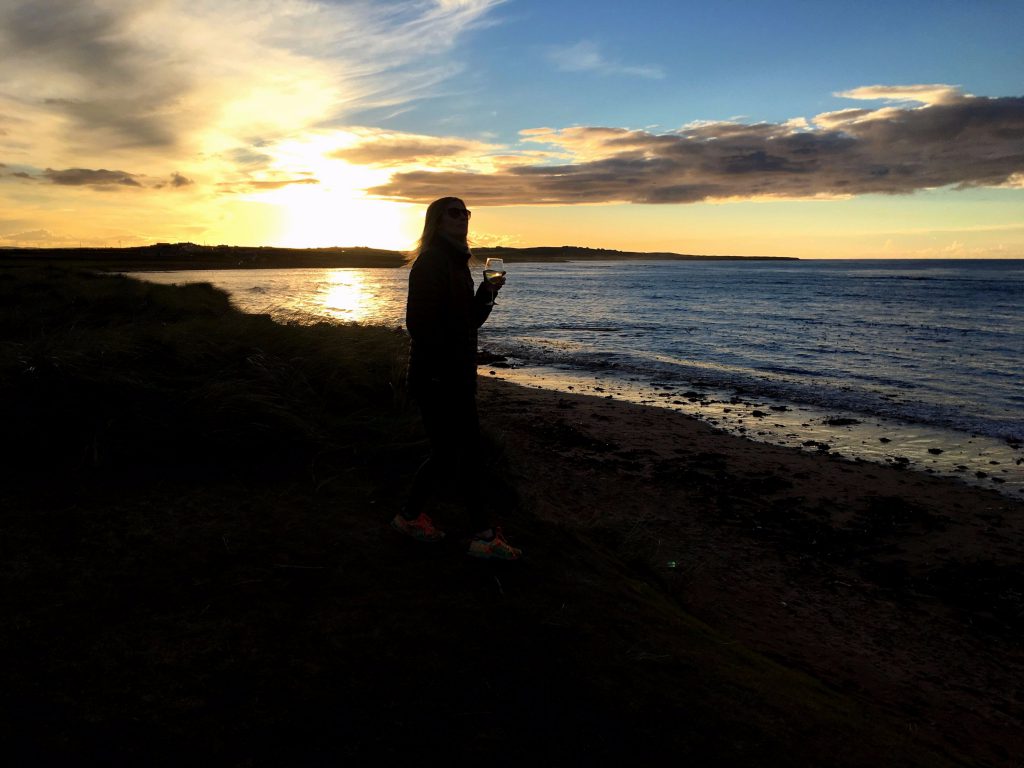 Ballyvaughan is an idyllic village in the heart of the Burren. No words can accurately do justice to the unique landscape of the Burren. Located in the south-eastern part of the county, jagged limestone rock covers the landscape – trees, water and earth are scarce.
One of my favourite routes to run or walk is from Ballyvaughan to Fanore (or the other way around). Taking in the old famine road, this 21km offers stunning views of not only the Burren but across Galway Bay too. You also have the benefit of finishing by the water – those who are brave enough can venture into the Atlantic for a quick dip to cool off post-hike.
Check out the full details of the Ballyvaughan to Fanore walk.
Those who choose to walk this route should be prepared to be out for 5-6 hours so don't forget to bring snacks and wet-weather gear. This is a one-way walking route (unless you are eager to take on the out and back which is 42km), running a car shuttle with friends is probably the easiest, however, there are taxis in the area which can be booked in advance to take you back. There is also a bus during the summer months.
Where to stay in Ballyvaughan: Hazelwood Lodge offers cosy accommodation with top-notch brekkies.
Where to eat in Ballyvaughan: Monks Bar down by the pier offers scrumptious seafood, while L'Arco on the main street offers some pretty decent Italian fare.
Don't miss: O'Lochlainn's Pub is definitely worth a visit. This tiny pub is always packed, there is often trad music and the range of whiskies on offer is exceptional.
2. Doolin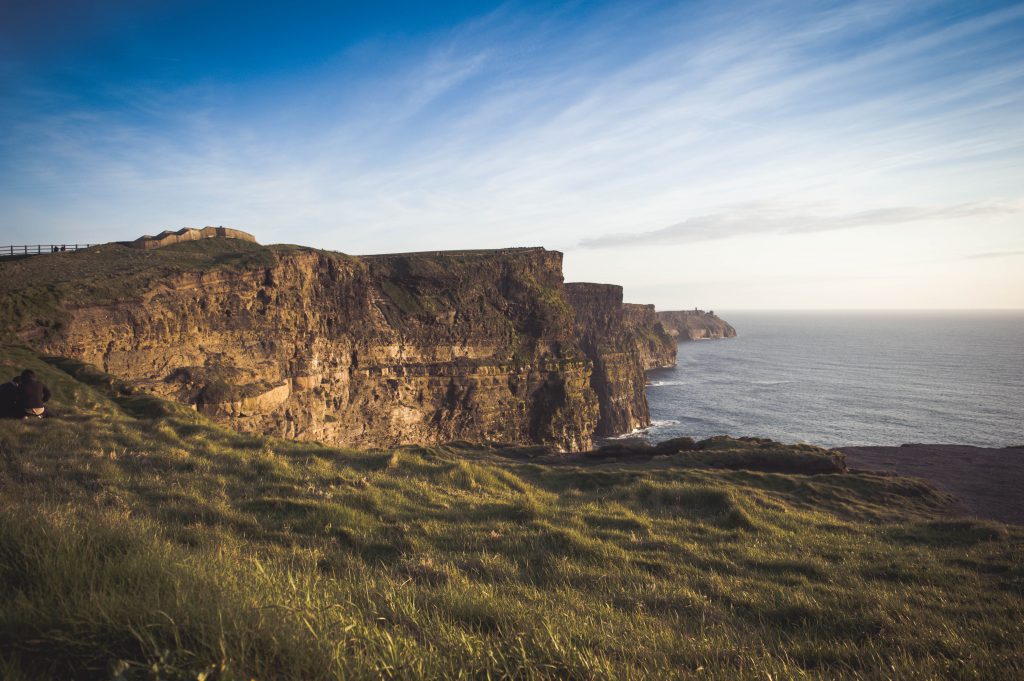 I know it might be a little touristy, but I still absolutely adore Doolin. Not only is it home to some lively pubs, it is also home to… wait for it now… the largest stalactite in the Northern Hemisphere. Jokes aside, though, a trip to Doolin caves to see the rather impressive feature is actually well worth it (it is a great activity for bad weather days).
The Cliffs of Moher are really nearby. Those who are adventurous enough can hop on their mountain bikes and ride there (and the whole way along the cliffs) from Doolin. You can also choose to walk along the cliffs from Doolin to the Cliffs of Moher Visitor's Centre which is about 8km. From there you can continue to walk along the cliffs, walk back to Doolin or take the bus that runs back to Doolin.
Ferries run daily from Doolin pier. When the surf is good you will also get a great view of some of the country's finest surfers catching waves alongside Crab Island and on the break to the left of the pier.
Where to stay in Doolin: Blackberry Lodge is located at the edge of Doolin and offers lovely rooms with a substantial breakfast.
Where to eat in Doolin: In my opinion Roadford House is the best restaurant in town. The pubs also serve decent pub-grub.
Don't miss: The traditional music sessions are one of the best things about Doolin. Take a pub crawl down the main street to search out which one has the best offering that evening – you won't be disappointed.
3. Fanore and Lahinch: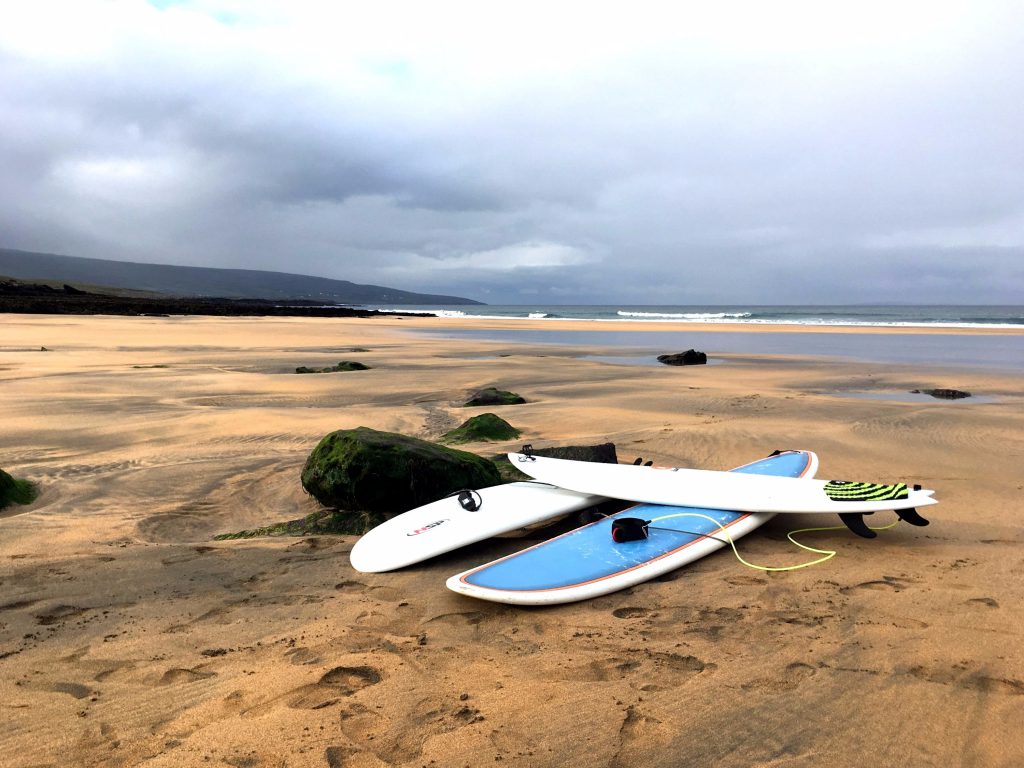 One of the best things about Clare is the abundance of fantastic surf. Experienced surfers can opt to head to the likes of Crab Island in Doolin or Doonbeg, while those slightly less skilled (like myself) can opt to take on the beach breaks of Lahinch and Fanore. The latter is always a lot quieter, however, surf lessons and hire are always a bit sporadic in winter months.
Lahinch is open for business all year around so you can be assured board and wetsuit hire if you need it.
Ben's Surf Clinic offers lessons and board rental all year around in Lahinch, while you need to contact Aloha at Fanore a couple of days ahead of arrival to find out its opening hours.
Where to stay: Lahinch is pretty lively so if it is a night out you are after then I would definitely recommend staying in town. However, if you want something a little calmer with a bit of a buzz then I would definitely recommend Vaughans in Liscannor – both the bed and grub are great and there is always a good atmosphere is the pub.
In the other direction, I am a big fan of Red Cliff Lodge at Spanish Point (be sure to request room 1 as it has the best view). In summer months there is a fantastic restaurant on site too.
Where to eat: You cannot come to this part of Clare and miss out on a meal at Barrtra. Offering panoramic views of the coastline and insanely good food, this is one of my top three favourite restaurants in Ireland.
Don't miss: Doonbeg is a great spot for watching the sunset. While the Trump Hotel has about as much personality as white bread, the staff are lovely and will let you take your glass of wine out onto the beach to watch the sunset. Alternatively, you can pack your own bottle of wine and a blanket and head for the beach.
Check out our Hard as Nails podcast:

Previous Post