Words: Deirdre Mullins
"Whale shark," shouted our skipper as he pointed out to choppy waters. "Oh sorry, it's a dolphin," he quickly corrected himself. Ordinarily, I would be thrilled to see a dolphin but I had flown thousands of kilometres to Mexico to swim with whale sharks, so even Flipper, the dolphin TV star doing his backward tail walk, would have been hard pushed to get a reaction from me.
I was 20km off the coast of Cancun and as our search went into its third hour the taste of disappointment had left a lump in my throat. I had taken for granted that my journey wouldn't be in vain as the Cancun tour operators gave a 100% guarantee that we would swim with the whale sharks. But at this stage, it wasn't looking likely.
Suddenly the mood was lightened with a roar from the captain. The boat pulled to a stop and just a couple of meters from us were two juveniles swimming slowly in circles, opening and closing their large mouths. It was an amazing sight.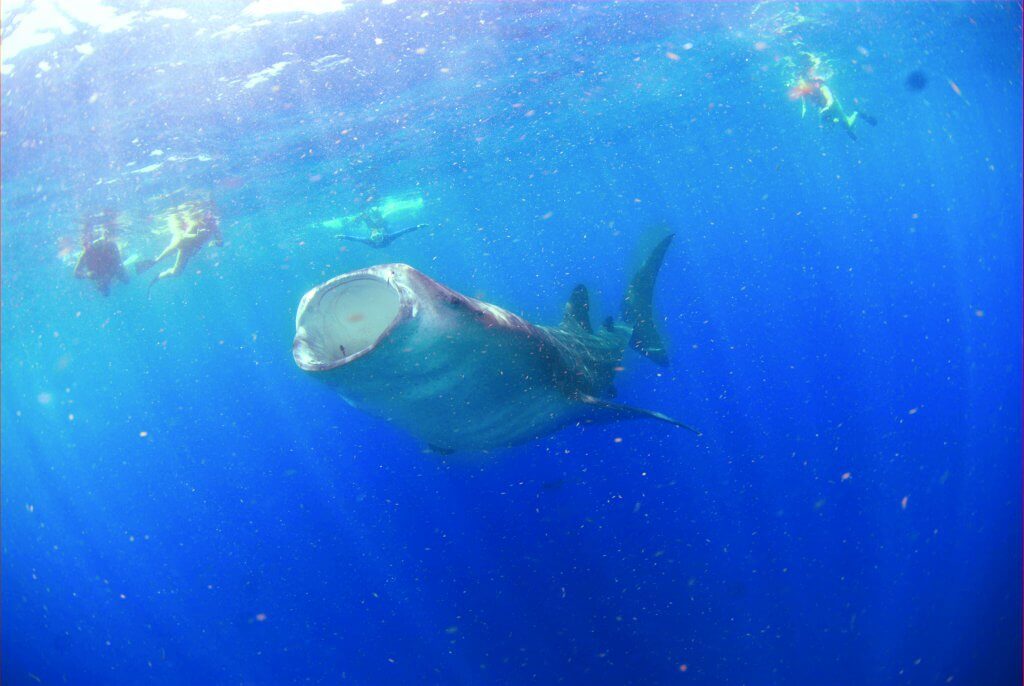 In compliance with Mexican regulations, we were instructed that only two swimmers and a licensed guide were allowed in the water at any one time with the sharks. "You must not swim towards the shark but let it come to you, swim alongside it, never touching it," said the instructor. He reassured us that it was perfectly safe to swim with them. Whale sharks are filter feeders they only eat small fish and plankton and have no interest in human meat.
Two members of the group swam with the juveniles while I waited, very impatiently, for my turn. Five minutes later the sharks had grown in numbers from two to 20. I had hit gold. 
Eye to eye
Whale sharks are true sharks, but are called 'whale' sharks because of their enormous size. They are the biggest fish in the sea and can grow up to 14m in length. They populate the tropical zone around the globe but this region off the coast of Cancun is the only place where populations this large gather. The sharks typically congregate in pods of 10 or 20 but researchers estimate that in this region the pods have about 100 to 200 in them. So this is one of the best places in the world to swim with these magnificent beasts.
Clad in snorkel and goggles I jumped into the turquoise Caribbean sea and in seconds a whale shark swam towards me. It was incredible to see its metre-long mouth opening and closing in search of food. Its large flat head and two small eyes stared. On seeing me, he slowly turned direction and my instructor signalled for us to swim alongside him.
7 of the World's Best Yoga and Surf Retreats
His gigantic tail seemed to effortlessly propel him forward. Whale sharks are not fast swimmers and move at an average speed of 5km per hour, so without too much effort I could keep up with him. I was so close that if I had stretched my hand out it would have touched the shark. At such a close distance I got to examine him in detail and to admire his grey back with pale yellow spots and stripes. I watched his large gills move in and out and small pilot fish swim under his belly.
At first I thought the sharks were indifferent to me but after some time I realised that they weren't ignoring me but were inquisitive. They swam slowly out of curiosity and when they decided they had enough they would accelerate and leave me behind.
Everyone in the group had three swims with the whale sharks. Satisfied with our encounters the skipper started the journey back to Cancun and the crew served a delicious lunch on board. Ceviche, a traditional Mexican dish made with fresh fish, lime, onions and chills, was the perfect meal followed by quick snorkel on the reef.
More to Cancun
Cancun is a man-made tourist destination built on a sandbar, with the Caribbean Sea lapping on one side and a lagoon on the other. But whale sharks aside, what else does a resort with flashing neon lights and spring breakers have to offer nature lovers and outdoor enthusiasts?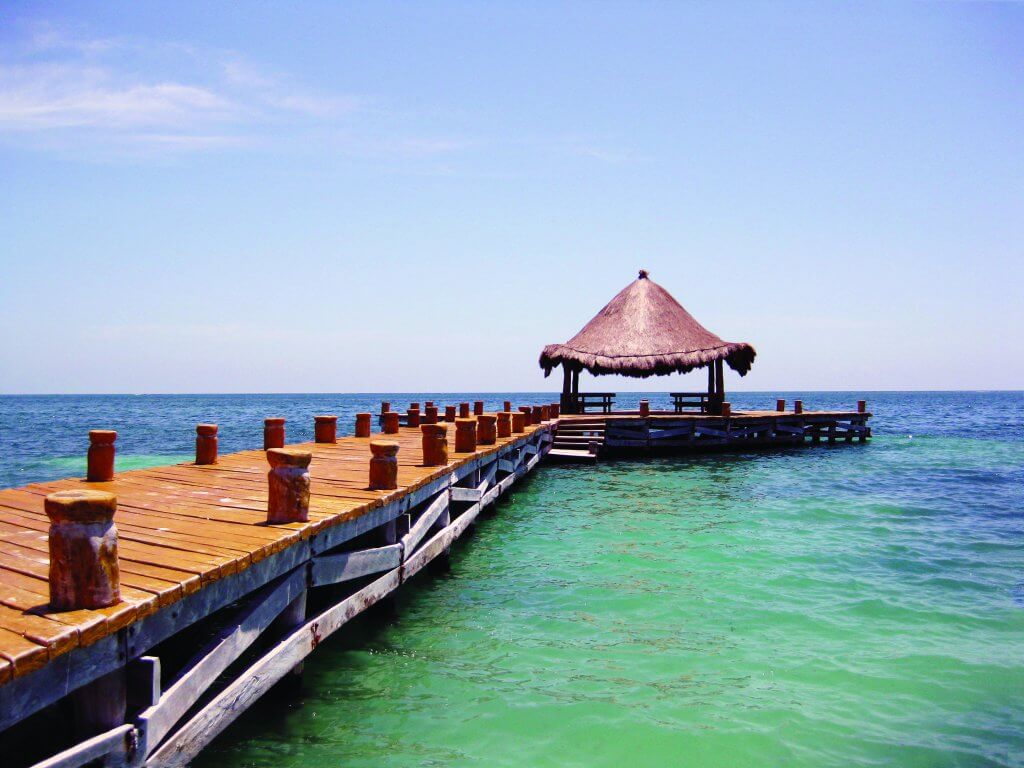 The city is surrounded by 20km of white sandy beaches with clear blue sea. These waters are part of the Mesoamerican Barrier Reef which is the second largest reef system in the world after Australia's Great Barrier Reef. It stretches for 1,000km along the coast of Mexico, Belize, Honduras and Guatemala and is home to 500 species of fish and 60 species of coral. Sea turtles, sharks, manatees, dolphins and manta rays live in these waters which make diving and snorkelling here the stuff of dreams.
Venture slightly away from the coast and enter the otherworldly experience of Río Secreto, a vast network of underground rivers and caves. Wearing a wetsuit, hardhat and miner's head torch, you can walk, paddle and swim through the 600m of underground rivers. The stalagmite and stalactite rock formations are stunning, as are the rays of light that beam down into the caves through holes in the earth made by tree roots.
15 Things We Can't Live Without on our Travels 
These caves were formed two million years ago and it's said that the Mayans used them as a place of worship and meditation. After reaching a large pool deep underground I understood why the Mayans made the effort. Our guide instructed us to hush and switch off the torches. The cave was devoid of any light and silent apart from the odd drip of water, the perfect place for contemplation.
History buffs who want to learn more about Mayan culture can also visit the world-renowned sites of Chichen Itza and Tulum which can be done as day trips from Cancun.
If the bright lights of Cancun are not your cup of tea, Puerto Morelos is a good option. It's a pretty little fishing village in between Cancun and Playa del Carmen and the surrounding area is home to many all-inclusive resorts, many of which are offering good value for money since the global economic downturn.
Just a five-minute walk from the village of Puerto Morelos is Ceilba Del Mar which is at the top end of the scale. It's perfectly located on a private stretch of powdered sandy beach. If you're feeling a little more active you could take one of their evening yoga classes on the beach, explore the surrounding ocean using the hotel's kayaks or spend the day in the spa.
After my perfect day sharing the ocean with the awesome and gentle whale sharks, I relaxed on the beach in Puerto Morelos and watched the sunset as a dolphin played in the shallow water in front of me. Again it wasn't Flipper but this time I did get very excited.
Check out our Hard as Nails podcast:
Previous Post