Follow Anthony Finn on his favourite trail run through the Wicklow Mountains for breathtaking views of Lough Firrib and moments of serenity like no other.
Recommended by Anthony Finn
Why I love this place:
I read so many trail running and ultra running books, but the longest distance I do is about a half-marathon. I love the sense of serenity that Scott Jurek or Killian Jornet write about, that absolute peace they get, often in the middle of what sounds like crippling agony, alone on the trails. This trail offers a taste of that.
One of the reasons I moved to Wicklow is that there are trail runs everywhere, a must-have for a runner like me. And this route from Turlough Hill to Art's Cross gives you everything you need in a trail run, all under 15 km out and back. The best part is that it's quiet and serene, and often you'll find yourself running it alone. And of course, discovering the utter gem that is Lough Firrib.
Another reason to love this run is the challenge of being on a remote trail — one that is largely unmarked and with difficult and rough terrain, but the rewards are many. The views are stunning all along the trail, whether roughly west-south-west towards Conavalla and Table Mountain as you head towards Lough Firrib, or the views roughly north-east towards Blessington Lakes from Art's Cross.
Ultimately though, the gem in the middle is simply Lough Firrib itself, a small lake that feeds into the Glenealo River and eventually into the upper lake in Glendalough. Really, there is nothing quite like the feeling of finding Lough Firrib. The lake is hidden from view so you can't see from the trail. The easiest option is to follow GPS coordinates or a compass bearing and as you scramble through peat hags, often up to your knees in bog, but eventually this small, quiet lake appears almost out of nowhere. If you run this route in the summer and autumn, the lake is skimmed by swallows and the water provides a cool and clean drink.
One of my most memorable runs on this trial was the first time I did it. Rather than following my GPS, I let my four-legged running companion Maggie lead me back from Art's Cross to the access road. The route she took managed to knock 1 km off the route I previously chose. There's a lesson in there somewhere, but unmarked trails like these are always full of constant surprises.
What to expect:
A challenging run on mixed terrain which in parts can be very slow going.
Route:
There are two routes are available, but my preference is to start out from the access road to Turlough hill, which is off the military road to the Wicklow Gap. After approximately 2 km of climbing on the access road, you cut approximately north-west across a partial trail that eventually begins to fade once encountering some large slabs of granite. It then pretty much disappears among peat hags, but this will depend on which route you take from the boggy mountain top.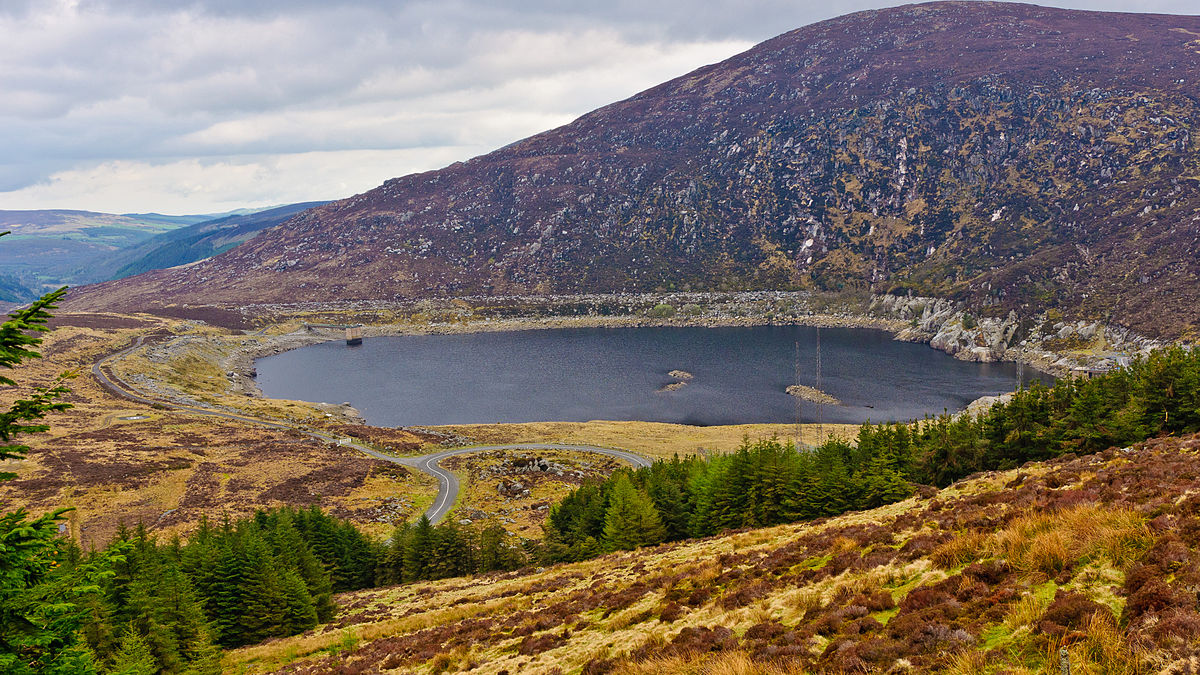 You can travel around 5 km across the mountains to Lough Firrib and from there around another 1 or 2 km roughly north-west to Art's Cross.
Don't miss:
The peat hags (seriously)! They are oddly beautiful along this trial. On its own, the both eerie and challenging terrain is also something I really enjoy, especially because it requires some personal intuition.  Additionally, the unspoilt gem of Lough Firrib itself has to be one of the best aspects of this trail, along with the stunning views towards Blessington lakes from Art's Cross. And finally, the quiet serenity of this trail continues to draw me back in again and again.
Essential info:
 This is a short out-and-back run, in and around 15 km depending on how much meandering you do in the peat hags, so nutrition and water are not an issue. A solid pair of trail running shoes are essential and you should be prepared for a possible turn in the weather, I'd recommend a rain jacket just in case.
When clouds roll in, visibility can go to zero very, very quickly. Bring a GPS and/or a map and compass. Or a dog. Or all three. Be prepared.
Drop by Ordinary Trail Runner to view my personal blog, or check out Mountain Views  for reviews of other trails and a GPS map of the mountains.
Check out our Hard as Nails podcast:

Previous Post