There is no shortage of fantastic walking routes in Ireland. Whether it's a relaxed coastal saunter, a fresh forest walk or a lung-busting mountain climb you're after, Ireland has them all in abundance.
Irish walks vary between those that are marked and those that require navigation skills. If you do choose the latter, ViewRanger is a great app for showing all of the different trails available for walkers. But even if you do rely primarily on a Garmin or similar GPS device it is always a good idea to bring a map and compass as a backup. Those who are new to hiking should opt for marked walks when starting out. It also might be a good idea to check out our essential hiking tips for beginners.
Top Irish Walks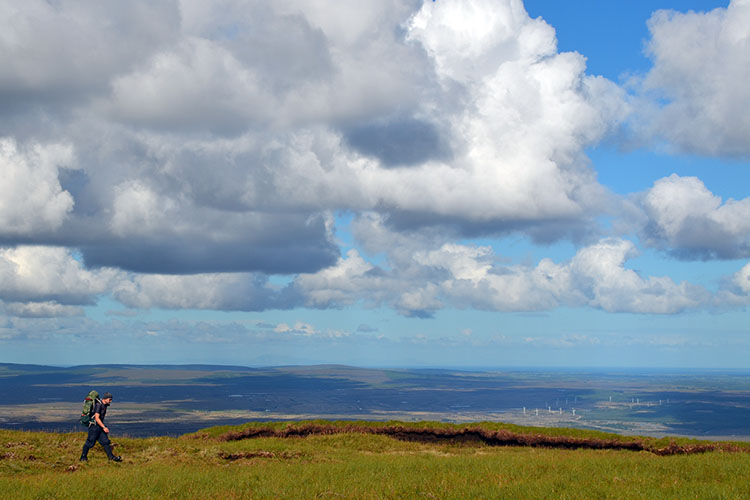 While Ireland is not a huge country, there is a huge volume of incredible walks to choose from. In summer, you can tackle longer walks such as the Bangor Trail or even opt to camp and make it a multi-day adventure in the Nephin Begs. While in winter, it is better to opt for shorter walking routes that will promise to have you home before dark. Some of our top Irish walks include:
For more walking route inspiration check out our article on the Top 50 Irish Walking Routes.
Irish Walks for Beginners
Those who don't have a lot of walking or hiking experience under their belts should opt to take on a marked walk when starting out. It is also important not to bite off more than you can chew distance wise. Start with a manageable distance and build your distance as you become fitter and stronger. It is also important to invest in a good pair of hiking boots, a waterproof jacket and a comfortable backpack. And we also recommend hiking poles as they really do take the strain away from your knees.
Check out our list of top Irish walks for beginners.
Irish Coastal Walks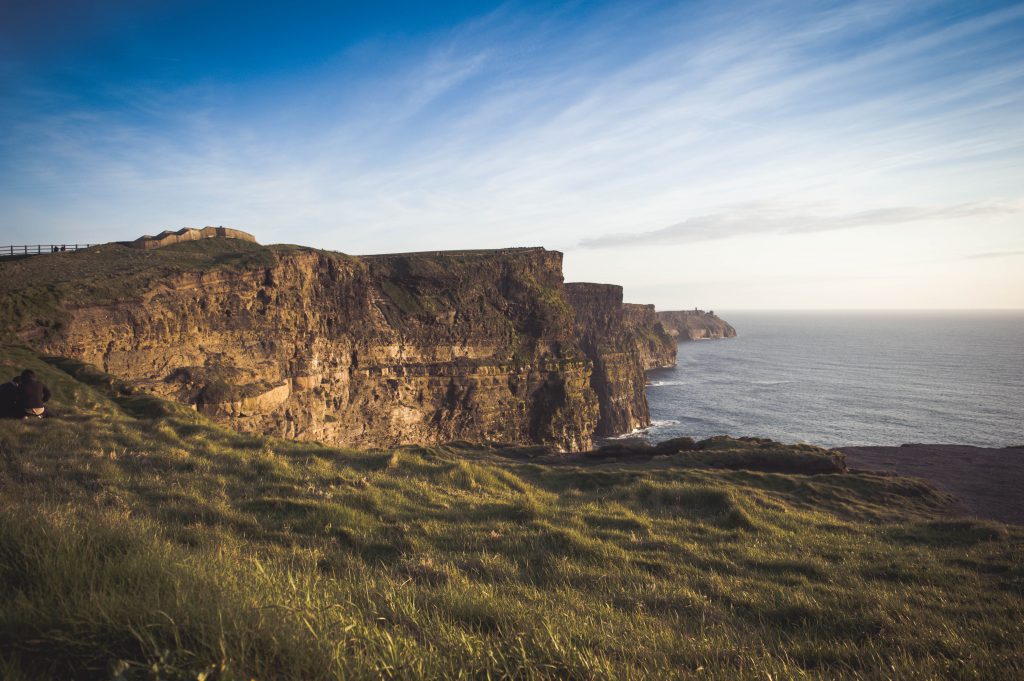 Here in Ireland, we have a whopping 5,600km of coastline that's just begging to be explored.  Featuring breathtaking cliffs, hidden coves and miles of sandy beaches, you can never get bored on any Irish coastal walk. Some of our favourite coastal walks include the Cliffs of Moher Walk, the Causeway Coastal Route from Ballintoy to Portbalintrae, the Dunmoran/Aughris coastal walk in Sligo and in Dublin we love both the Howth Cliff Walk and the Bray to Greystones Walk too.
Paddy Dillon's book Irish Coastal Walks is also a great source of information about Ireland's top coastal walks.
Check out our list of the best coastal walks in Ireland.
Irish Forest Walks
We have 20 forest parks in Ireland, 11 in the Republic and nine in Northern Ireland. While they are used in part for commercial forestry there is a huge emphasis on recreation with the parks offering a range of forest walks, car parking and often cafe and toilet facilities too.
Below is a list of Ireland's forest parks:
Ards Forest Park
Avondale Forest Park
Castlewellan Forest Park
Curragh Chase Forest Park
Donadea Forest Park
Drum Manor Forest Park
Dun a Rí Forest Park
Farran Forest Park
Florence Court Forest Park
Glenariff Forest Park
Gortin Glen Forest Park
Gosford Forest Park
Guagan Barra Forest Park
Killykeen Forest Park
Lough Key Forest Park
Parkanaur Forest Park
Portumna Forest Park
Rossmore Forest Park
Slieve Gullion Forest Park
Tollymore Forest Park
For more comprehensive information about forest walks in Ireland check out the Ireland Walking Guide website.
Check out our list of 7 of the best forest walks in Ireland.
Irish Looped Walks
A looped walk means that you start and finish in the same spot. Looped walks in Ireland vary in difficulty and length. However, there is something out there to suit all abilities. The Spinc in Glendalough is one of Ireland's most popular looped walks. It's close proximity to Dublin, views of the Upper Lake and surrounding mountains and well-marked trail mean it's the perfect choice for those who don't have a lot of experience in the hills. Elsewhere we also love the Coumshingaun Loop walk in the Comeraghs, the Mackoght Loop trail in Donegal and the Glenamalure trail in Wicklow.
Check out our list of some of the best-looped walks in the country.
Irish Railway Walks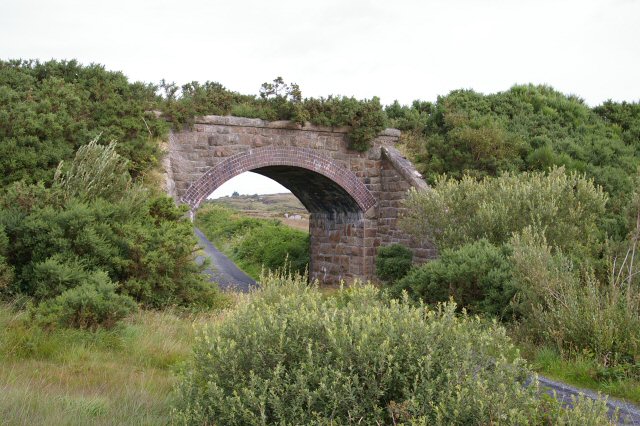 Over the past number of years, abandoned railways have been transformed into off-road cycling and walking routes. The most well-known of which is the Great Western Greenway which runs from Westport all the way to Achill Island. Elsewhere, the Waterford Greenway has recently opened and the Muckish Railway Walk, Burtonport Railway Walk and the Tinahely Railway walks are also popular.
Kevin Cronin has written a great book, Off the Beaten Track, on over 20 railway walks in Ireland. It's the first guide of its kind in Ireland and will appeal to both experienced ramblers and the general public alike.
Long Distance Irish Walks
Those looking to push themselves can opt for one of Ireland's long distance walks. A number of waymarked ways offer hiking veterans the opportunity to test their mettle on mutli-day hikes along some of the country's most punishing terrain. Some of the longest walks in Ireland include the Ulster Way at 1000km, the Kerry Way at 215km, the Wicklow Way at 120km and the Burren Way at 114km. Other popular long distance walks include the Coast to Coast and the Wicklow Round.
Check out our comprehensive guide to the best long distance walks in Ireland.
Irish Mountain Walks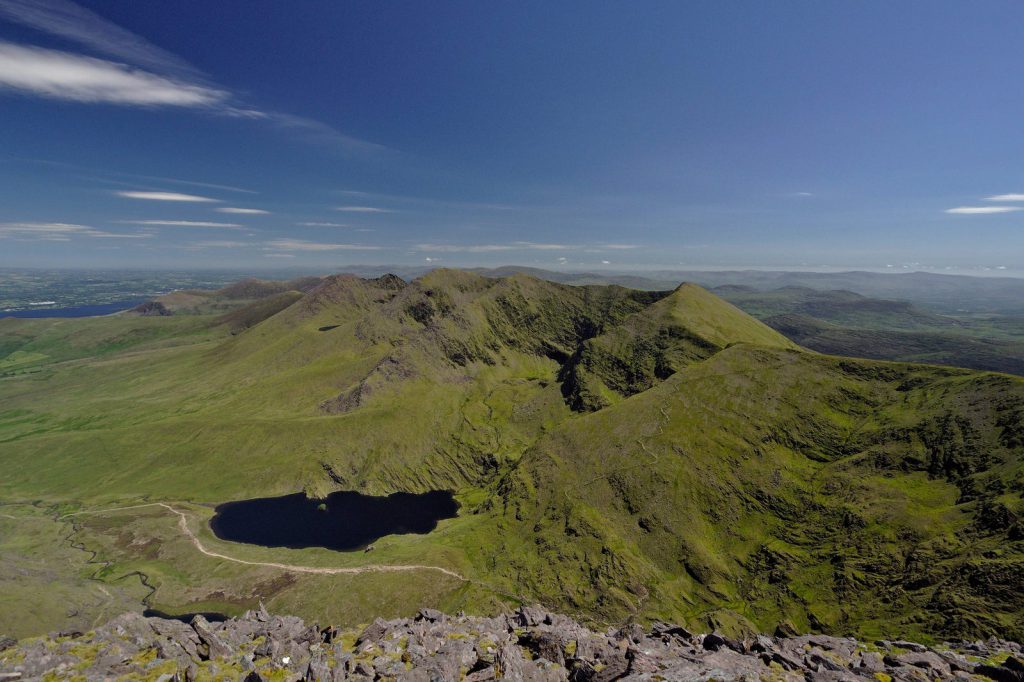 Ireland might not be home to the highest peaks in the world but what we lack in height we make up for in beauty. There are an abundance of punchy mountain climbs up and down the country from Croagh Patrick in Co Mayo, to Mt Leinster in Wexford, Slieve Donard in Co Down, the Galtees in Tipperary and the Comeraghs in Waterford. And let's not forget about Ireland's highest peak, Carrauntoohil. Standing at 1,038m high, Carrauntoohil offers not only a wide range of walking routes but also spectacular views out across The Kingdom.
Check out our list of the best mountain walks in Ireland.
Walking Routes in Northern Ireland
Northern Ireland has it all – breathtaking mountain ranges, dramatic coastal walks and family friendly forest parks. And with the Ulster Way spanning over 1,000km you could spend a lifetime walking in Northern Ireland and never tire of the place. The Causeway Coastal Path is one of the most popular routes with visitors to the area. In fact, the scenery is so good that the Antrim Coast was just voted as the top place to visit in 2018 by the Lonely Planet Guide. Mountain lovers are well catered for in the Sperrin and Mourne Mountain ranges with Slieve Donard offering a particularly challenging climb. The Gobbins is also proving to be a big hit with visitors to Northern Ireland. This cliff-face path at Islandmagee offers walkers the opportunity to cross bridges, explore caves and walk through tunnels along one of the most dramatic parts of the Antrim coastline.
Walking Checklist
1. Plan your route in advance and don't be too ambitious
If you are new to walking and don't have any navigation skills, be sure to choose a route that is well marked and not too long.
2.  Look at the weather forecast but don't trust it
Take a look at the weather forecast before you set out. However, don't rely on it too heavily, it is Ireland so chances are it will rain no matter what is predicted.
3. Wear the right gear
It's a good idea to wear lots of light layers when hiking as it means you can pop them on and off when needed. Merino wool makes a great baselayer as it is nice and cosy and wicks away sweat very efficiently. It is also essential that you pack a waterproof jacket, hat, gloves and an extra warm layer just in case the weather does take a turn for the worse. And don't forget it gets 1-degree colder every 100m you ascend.
4. Pack snacks and plenty of water
Even if you are only heading out for a short walk, it's also a good idea to have some water and a snack with you. It's also a good idea to pop a small first aid kit in your pack, just in case.
5. And don't forget your mobile phone!
It always a good idea to have at least one fully charged mobile phone in the group just in case one of you does get into trouble.
Check out our Hard as Nails podcast:
Like this? You should check these you:

Previous Post

Next Post