Ireland should, in my opinion, be renamed the adventure capital of Europe. For such a tiny island, there are so many incredible outdoor activities on offer. So many in fact that choosing what to do can often be overwhelming. To give you a steer in the right direction, we have compiled the ultimate list of adventure activities in Ireland that are definitely worthy of a place on any adventure junkie's bucket list. We've even divided them up into the provinces for your convenience!
Leinster
1. Go Kitesurfing on Duncannon Beach, Co Wexford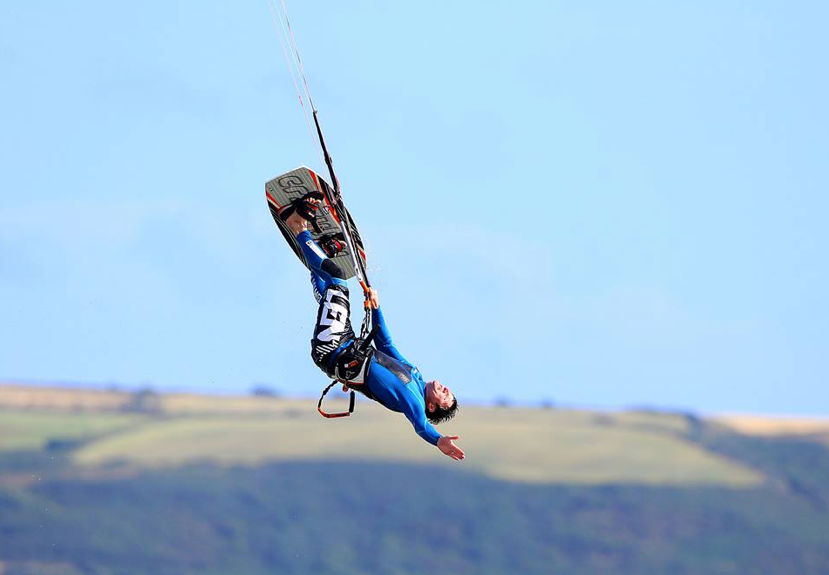 You may not believe it but Wexford is the perfect place to kitesurf! Take a kite lesson with Hooked Kitesufing in Duncannon. A 1.5hr lesson consists of a bit of land-based instruction, theory and then into the water for some real fun! They also do powerkiting, where the kite pulls you across the sand on a mountain board or kite buggy.
In the depths of winter, they are known to head up to the top of Mt Leinster in the snow for a spot of snowkiting. They offer SUP lessons if you are looking for a more relaxed day out and run an annual kitesurfing festival Hooked Kitefest every summer, which offers an array of activities for young and old alike. With live outdoor music and DJ on the beach and kids activities galore, it's always a great weekend to visit the county.
What to expect: A challenging but extremely rewarding lesson on a beautiful stretch of sand down in Wexford.
Essential info: Hooked Kitesurfing run a number of kitesurfing courses to suit your budget and ability. From their zero to hero course to discovery lessons and powerkite to SUP.
2. Experience the Winter Solstice at Newgrange, Co Meath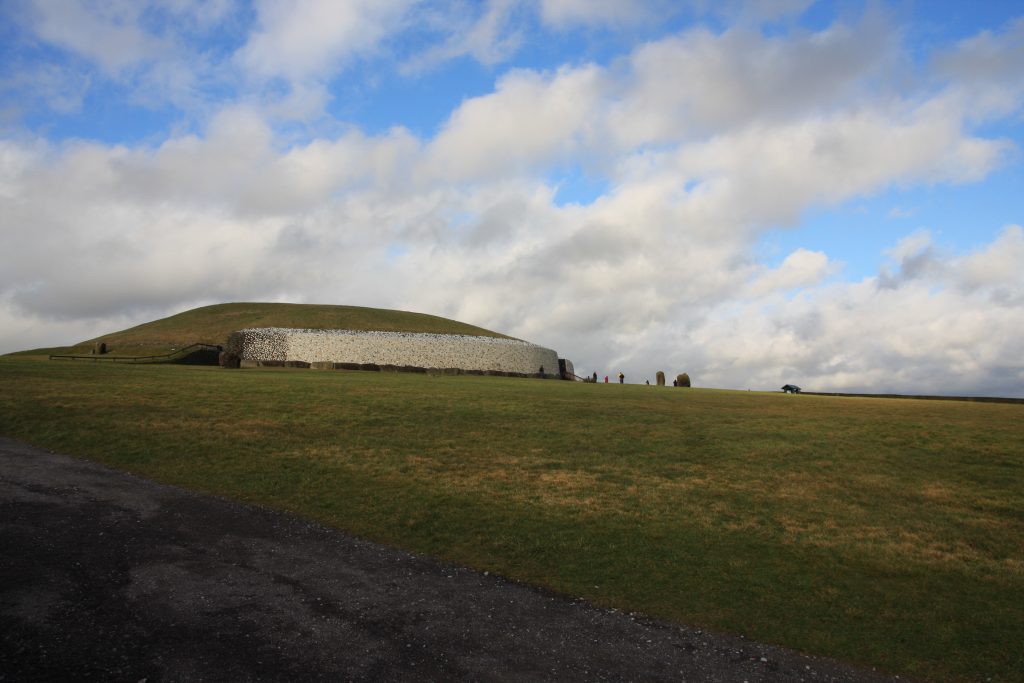 Newgrange is a 5000-year-old burial tomb in the Boyne Valley. Every year people gather at dawn to witness the rising sun light up the tomb on the shortest day of the year for the Winter Solstice.
What to expect: One of the most amazing things you will ever experience!
Essential Info: Access to the chamber is decided by a lottery. Everyone is welcome to go and stand on the outside of the monument. But the real magic happens inside, so get signed up at the Brú Na Bóinne Visitor Centre and pray to those pagan gods that you'll be chosen.
3. Dive off Forty Foot at Christmas, Co Dublin
It's a Christmas Day tradition around the country to brave the elements and have a Christmas day dip in the wild swimming spots of Ireland. One of the most popular is the jump off the Forty Foot in Sandycove, Co Dublin!
What to expect: The queue in the morning will be ridiculous so we recommend leaving it until the afternoon to take your place on the rocky platform.
Essential Info: If you don't fancy the jump, there are plenty of easier ways to enter the water just around the corner in Sandycove itself.
4. Go Sailing in Dun Laoghaire, Co Dublin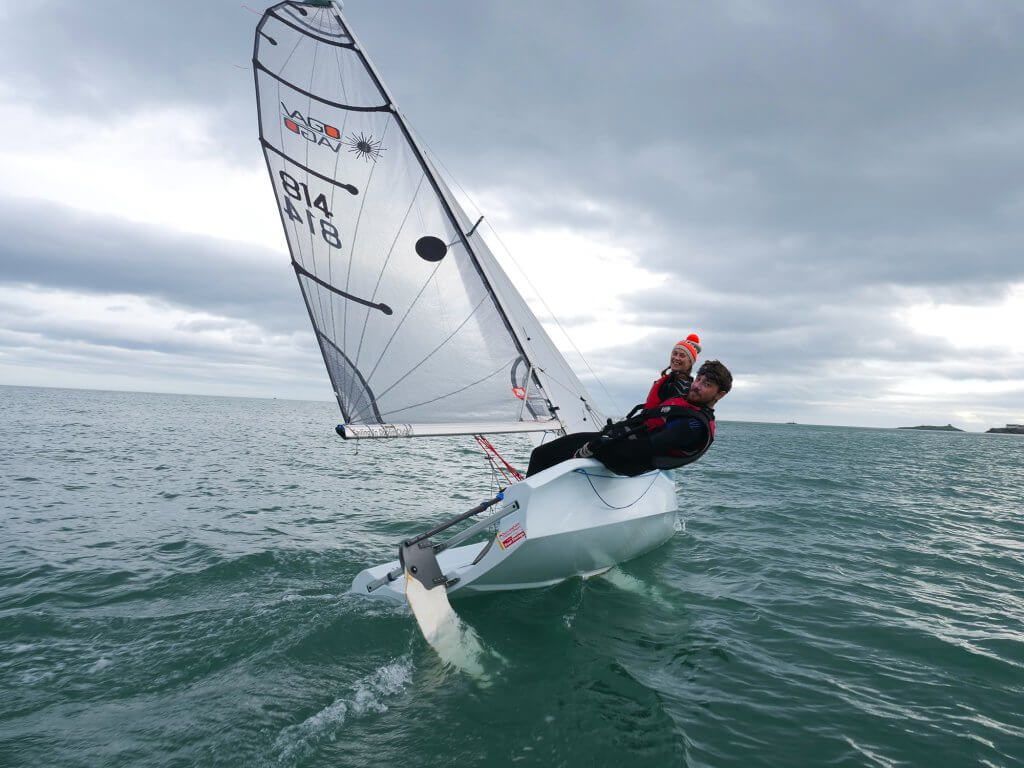 If you have never sailed before, you don't know what you are missing. You will never experience freedom bouncing on the frigid emerald water on a boat. It ticks all the boxes; adrenaline, social life, fresh air, skill and there are few better spots in Ireland to try it out than Dun Laoghaire. You'll find all sorts of clubs and schools down at the marina that will help you join their wild world. One such club is Sailing in Dublin Club (SID) who offer year-round sailing for a low cost to literally anyone who wants to get out on the water.
What to expect: An enthusiastic and welcoming community of sailors ready to befriend you and teach you everything you need to know.
Essential info: The boatyard (Coal Harbour) is near the West Pier in Dun. For €370 per year SID provides a fleet
 of dinghies (1 and 2 person boats) and three yachts (max 7 persons) for sailing activities and competitions. Regular races and regattas are held year round. For the full review of our trip with SID click here.
5. Hike Leinster's Highest Peak Lugnaquilla, Co Wicklow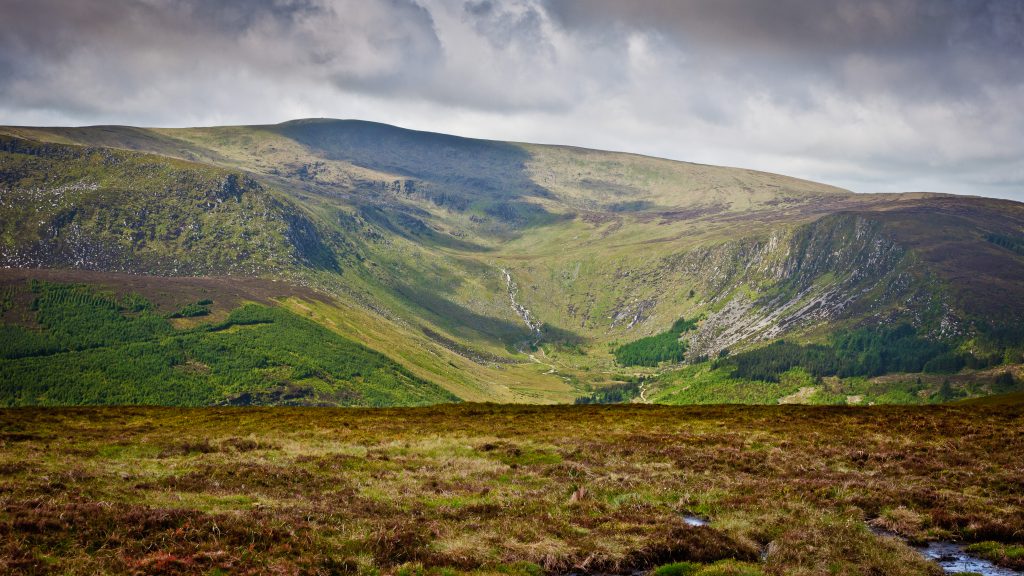 Lug as it's affectionately known is Wicklow's highest mountain at 925m and is a tough but really rewarding climb. It is also Ireland's highest mountain outside Kerry. Although it's a difficult hike, it will reward you with majestic views.
On a clear day, you can see the pointy Sugar Loaf, a large swathe of the Dublin and Wicklow Mountains and the golden, sandy beaches along the coast of the Irish Sea. In the distance from the top, you might see south-west to the mountains of Munster and as far as Snowdonia in Wales. It's roughly 10-16km up and down and will take you between 5-8 hours.
What to expect: In general, the mountain is more of a broad gentle giant, rather than a dramatic, pointy peak. It's best recommended for intermediate/advanced hikers who want to tick off one of Ireland's great climbs unless you're being guided.
Essential info: The routes aren't way marked so the walk requires navigation skills, particularly in bad weather and poor visibility. If it's your first time, it may be best to join a walking group or go with a guide if you're not up to navigating on your own yet. Check out our full guide for Lug here.
6. Have a Lazy Day on the River in the Midlands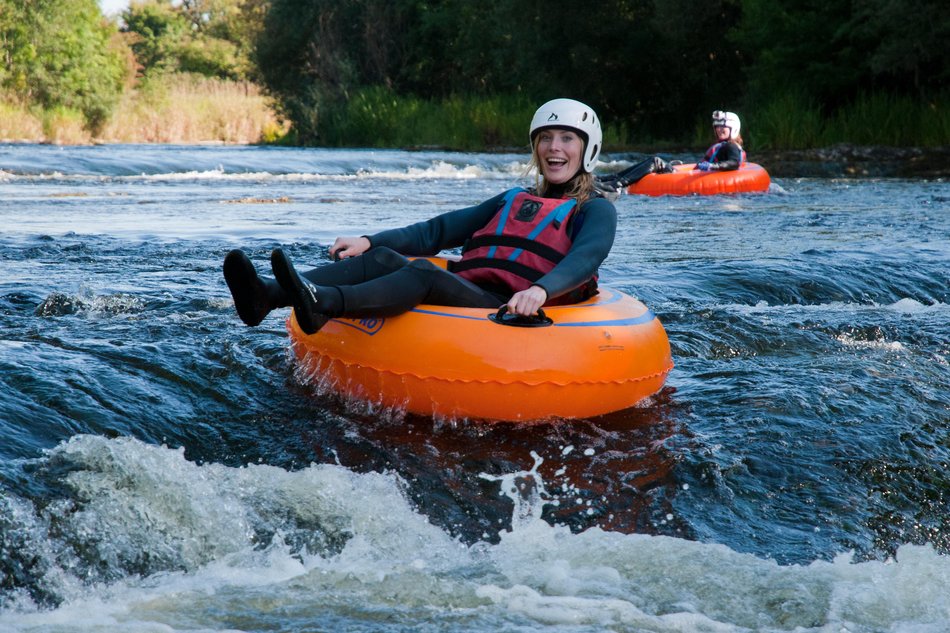 Grab a group of pals, an old pair of trainers and hit the Midlands for a sedate, yet super enjoyable day of adventure on the River Inny. River tubing is not a common activity in Ireland but there is a lot of fun to be had. After sustained periods of rain (so on a regular basis here in Ireland), you can expect a couple of fun rapids to negotiate along the way. On the quieter sections of water, your guide will treat show you various acrobatic tricks you can attempt on the tube and you basically spend the day larking around having a lot of banter on the water.
What to expect: A pretty tame day out in a beautiful place with plenty of laughs thrown in!
Essential info: Check out Extreme Sports for full details.
7. Go Rock Climbing in Dalkey Quarry, Co Dublin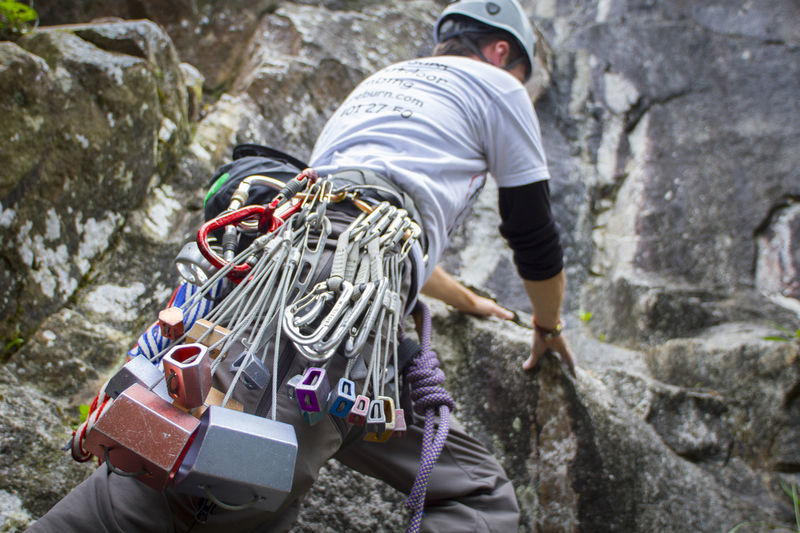 Although the indoor rock climbing and bouldering scene have exploded of late in Dublin, for those who prefer to venture outside, rock climbing in Dalkey Quarry is somewhat of a rite of passage. If you are up for a bit of crag climbing and reckon you are brave enough to abseil down a 20-metre high vertical cliff, this is the spot for you.
What to expect: Some seriously impressive views over Dublin Bay and south over the Wicklow Mountains while you pull yourself up that cliff face and abseil back down.
Essential Info: Adventure.ie runs half day Rock Climbing and Abseiling courses for anyone over the age of 10 years. Dalkey Quarry is located 10-minutes walk from Dalkey DART Station.
8. Sunset Hike to Lough Ouler, Co Wicklow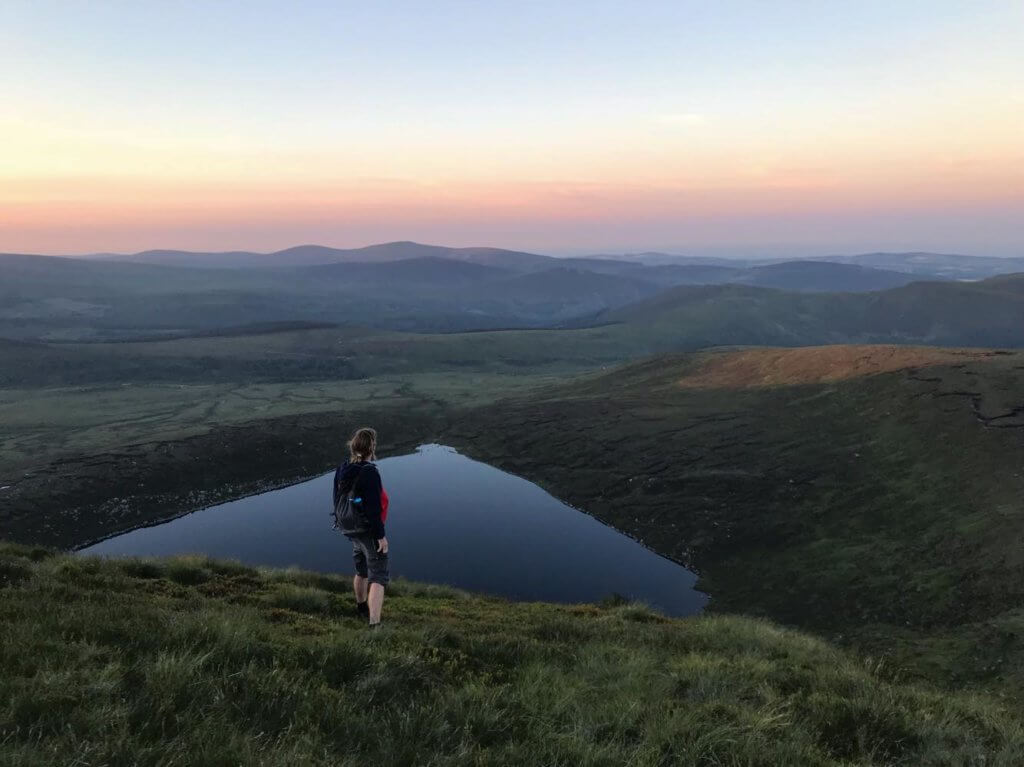 If you want to win some serious brownie points with your other half or impress a certain someone on a first date, there is nothing more romantic than a sunset/sunrise hike up Tonelagee overlooking the incredible heart-shaped lake known as Lough Ouler. The hike up will take about 45 minutes to get the view. Make sure to take a swim in the fresh waters of the corrie. We promise that you won't forget this experience in a hurry.
What to expect: One of the most scenic lakes you've ever set eyes on in Ireland. Perch yourself on the side of the hill and bask in the views and quietness of this magical place.
Essential info: For a looped walk, there's the Tonelagee Lough Ouler loop from Glenmacnass which is about 8km. If you are just going up for the sunset, just climb the hill and go back down the same way so you don't get caught out in the dark.
9. Swim in Solomon's Hole, Co Wexford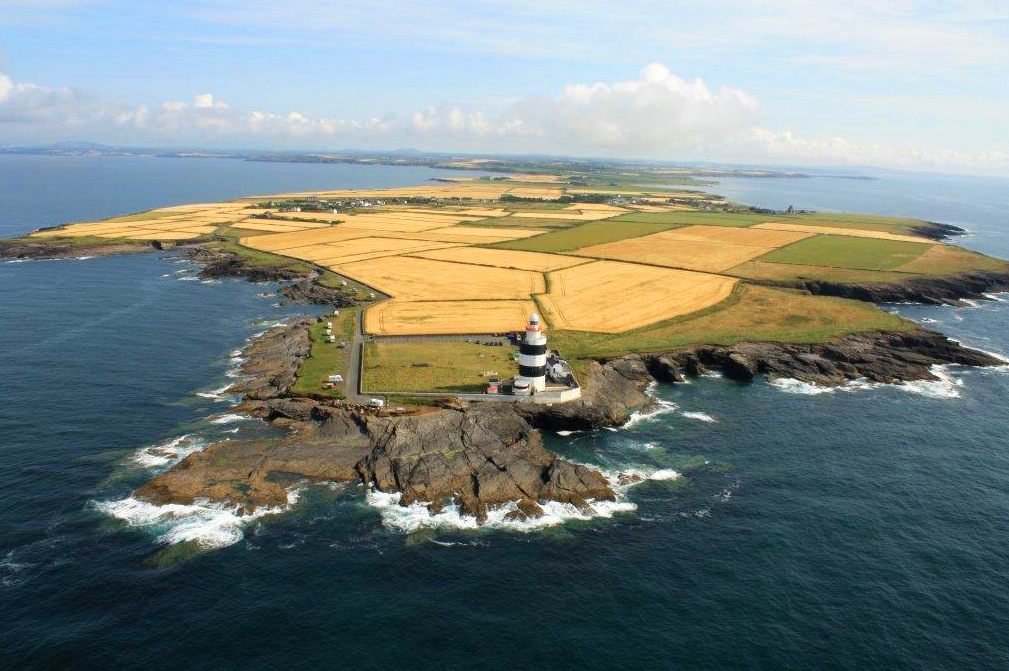 The Hook Peninsula at the very bottom of Wexford is an adventure lovers paradise. And no trip there would be complete without a swim in Solomon's Hole. A superb snorkelling spot, look down to discover a magical underwater world, look up and you'll see a backdrop of rugged and intricate limestone cliffs with the world's oldest lighthouse perched on top of it.
What to expect: A beautiful natural salt water pool, that shields avid sea swimmer from the rough water around the Hook.
Essential info: You'll find great snorkelling at all but low tides. Drive there park at Slade Harbour you can also walk there from the lighthouse.
10. Wakeboarding in Dublin's City Centre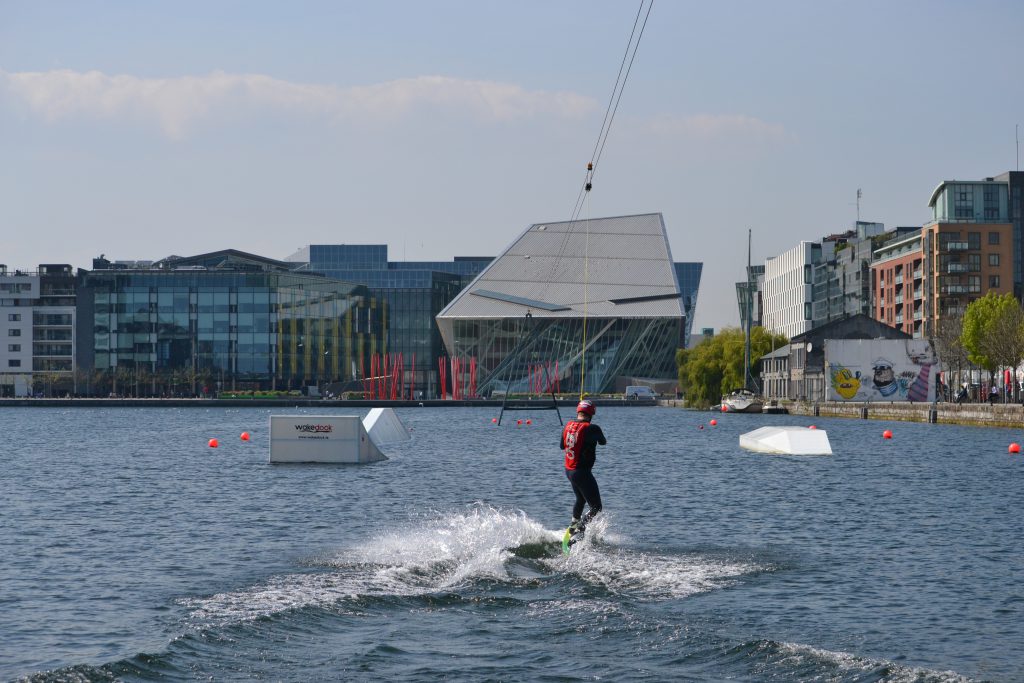 Wakeboarding is the ideal summer sport for the snowboarder. Skill, adrenaline and loads of fun, wakeboarding is definitely one of our favourite adventurous activities. And Wakedock is the premier place to do it in Dublin city where down at the docks you'll discover a little adventure hub where all the cool kids hang out in the cable wakeboard park.
What to expect: A very fun time on the water and a new addiction to add to the list. Start with a beginner sess and if you get hooked (you will!) you can move on to the cheaper options of buying ride passes etc.
Essential info: Wakedock offers one to one tuition in their beginner lessons and costs €60 for adults and €45 for under 18s.
11. Walk the Wicklow Way, Co Wicklow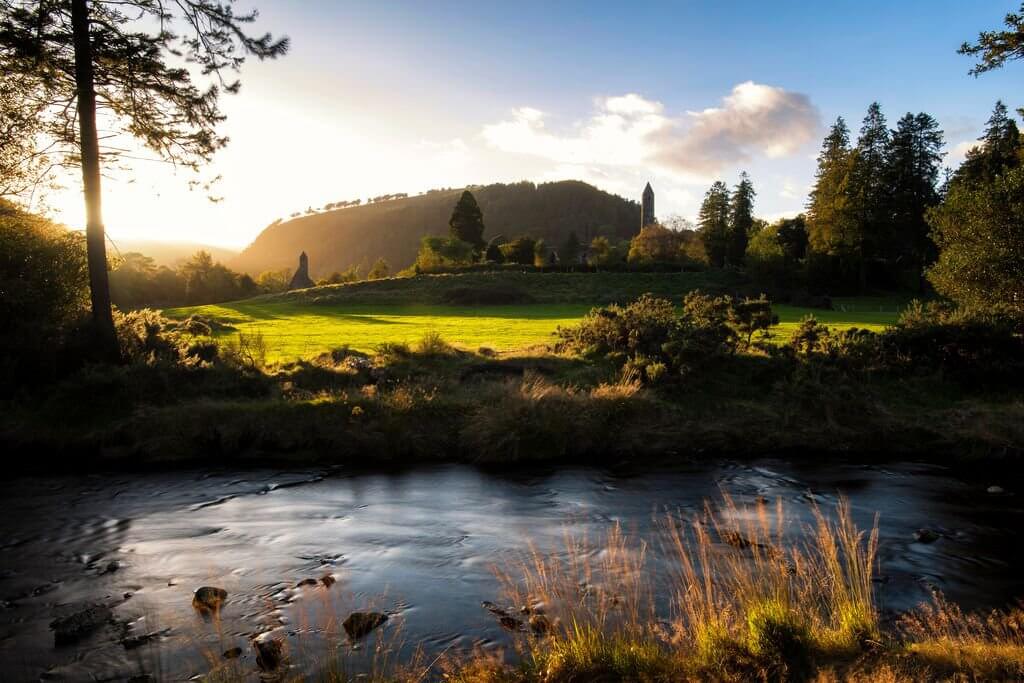 For a long distance trail, there's the iconic Wicklow Way. At 127km the Wicklow Way was one of the first long-distance hiking trails in Ireland and it still remains the most popular one in the country. If you are seeking solitude though, don't let that deter you, you'll still find it here. Bar around Glendalough, chances are you won't meet too many kindred spirits walking.
What to expect: The waymarked trails include mountains, upland lakes, steep-sided glacial valleys, fast flowing mountain streams, forests and farmland.
Essential info: Beginning in Dublin's southern suburb of Rathfarnham and travelling down through Wicklow to finish in the picturesque village of Clonegal, Co Carlow.
12. Visit the Saltee Islands, Co Wexford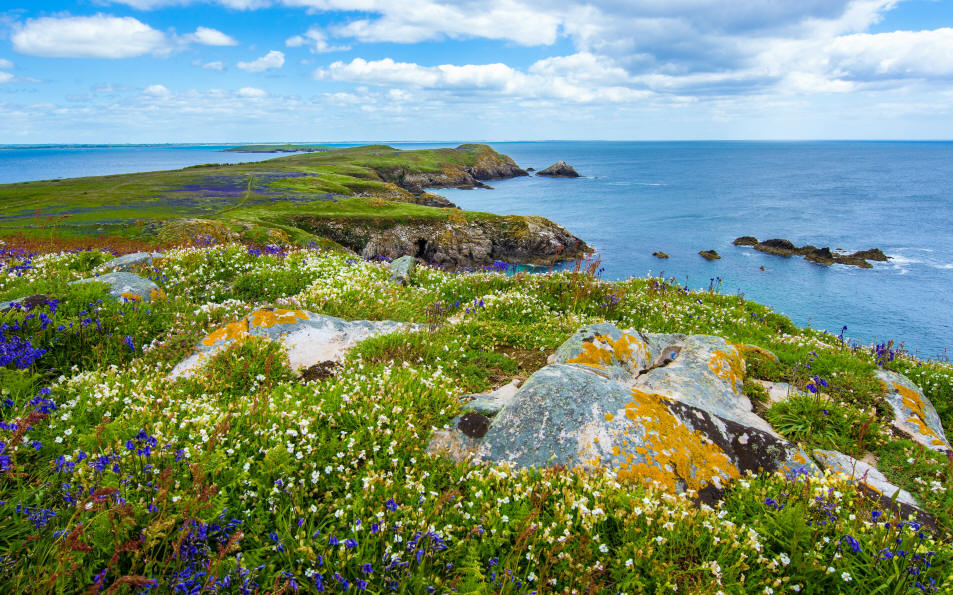 At the tip of Wexford is the Saltee Islands off of Kilmore Quay. The island is one of the most famous bird sanctuaries in Ireland. Even if you are not a bird watcher this place will leave you gaping in awe. Gannets, gulls, puffins and seals galore, just perch yourself on the cliff's edge and watch them swoop and soar. Explore the caves and beaches and bask in the freedom of the Saltee islands.
What to expect: A hidden gem down in the sunny south east, where if you time it right you will experience the most stunning sites of marine life, bird colonies and pure rugged wilderness.
Essential info: As the Saltees are private property you can't camp on it which is actually a great thing as it protects the ecosystem but you can do day trips! To book a boat across contact Declan Bates: +353 (87) 252-9736.
8 of the coolest Airbnbs in Ireland
Munster
13. Moonlight paddling in West Cork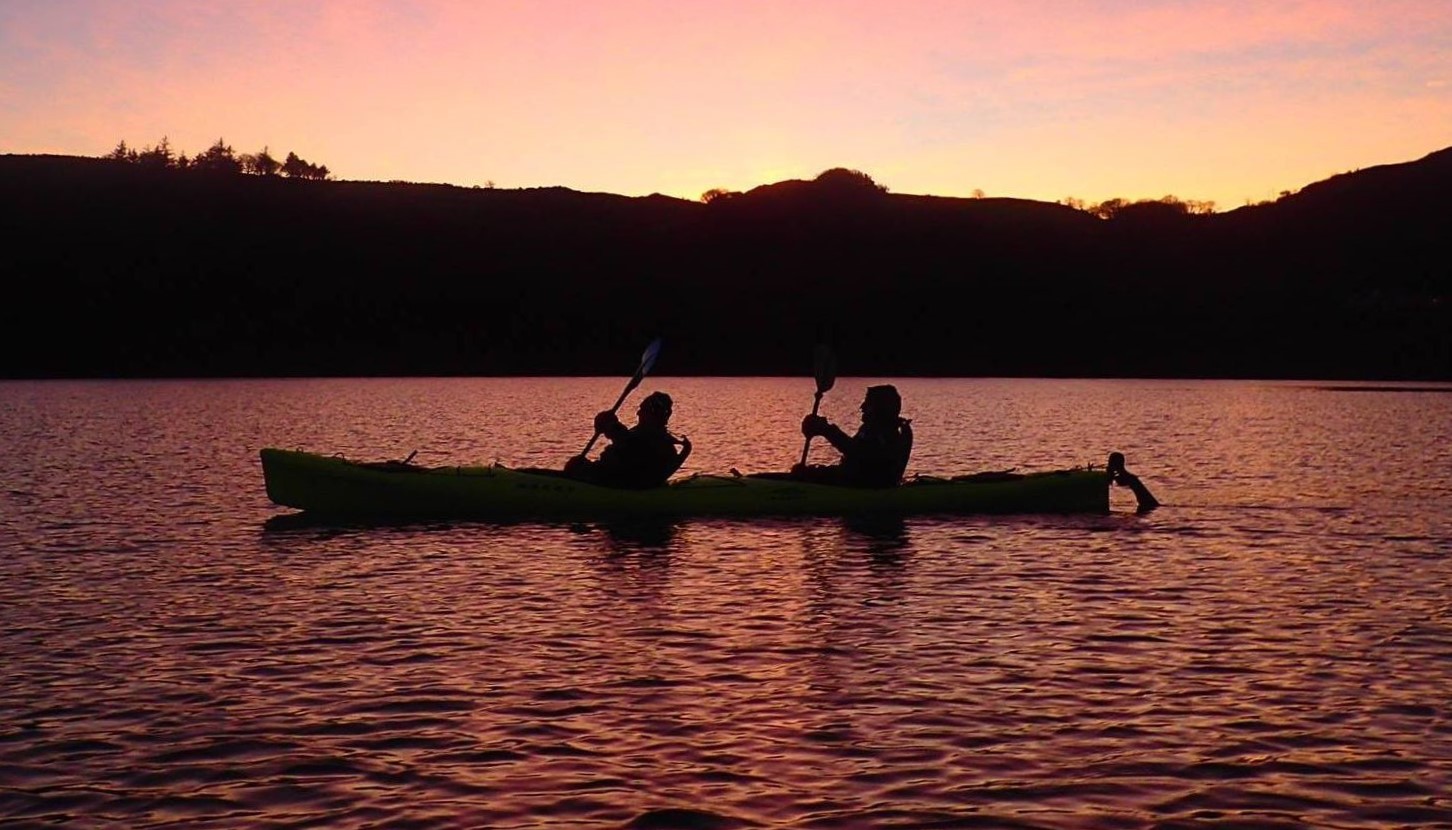 Voted as one of the top 10 alternative tours in the world by Trip Advisor, it is criminal to head to west cork without taking in a moonlight paddle with kayaking hero Jim Kennedy. Kicking off an hour before sunset you'll be treated to silhouettes of seabirds on the bank, raw-red sunsets and the thick canopy of stars above as you make your way across either Castlehaven Bay or Lough Hyne in West Cork.
What to expect: An abundance of wildlife and encyclopaedic knowledge of the area from Jim.
Essential info: This tour is suitable for all kayaking abilities and costs €50 per person which includes the use of equipment. Check out Atlantic Sea Kayaking for more information.
14. Surfs Up in Fanore, Co Clare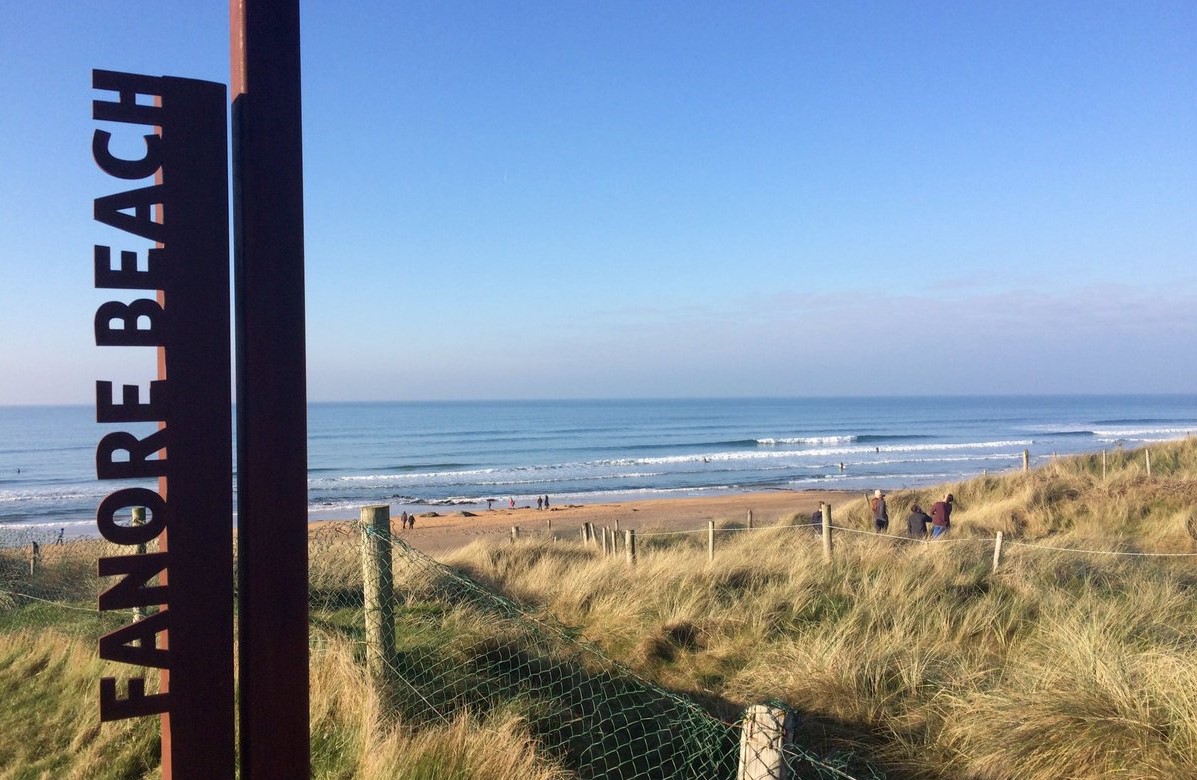 Fanore, in north-west Co Clare, is one of my favourite spots in Ireland. Its Gaelic meaning "fainne oir" translates to ring of gold which is in reference to the town's beautiful sandy beach.
What to expect: Spectacular scenery, reliable waves, a quiet beach and a resident dolphin.
Essential info: Aloha Surf School, situated in the beach car park, offers board and wetsuit hire and lessons.
15. Climb Ireland's Highest Peak – Carrauntoohil, Co Kerry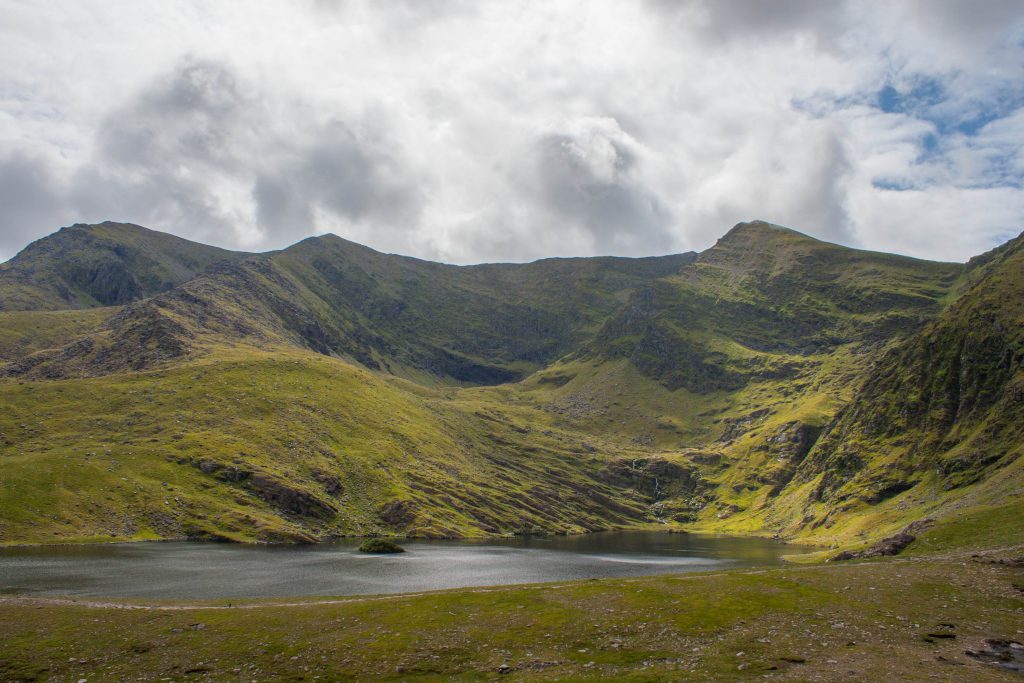 Carrauntoohil is the highest peak in all of Ireland and is at the centre of the MacGillycuddy's Reek range in County Kerry. Worth doing in itself, just for the bragging rights. There are three routes; Devils Ladder route, Brother O Shea's gully ( Cummeenoughter) route, Caher ( Coomloughra) route. The first been the most used.
What to expect: At 1,038m, the climb is a tough one, but on a good day, the views from the summit are incredible. The Devil's Ladder is the 'tourist' route but has become badly eroded in places, so take care.
Essential Info: It'll take about six hours to get up and back down. The start point is Lisleibane or Cronin's Yard.
16. Visit the Most Southern Point of the Country, Co Cork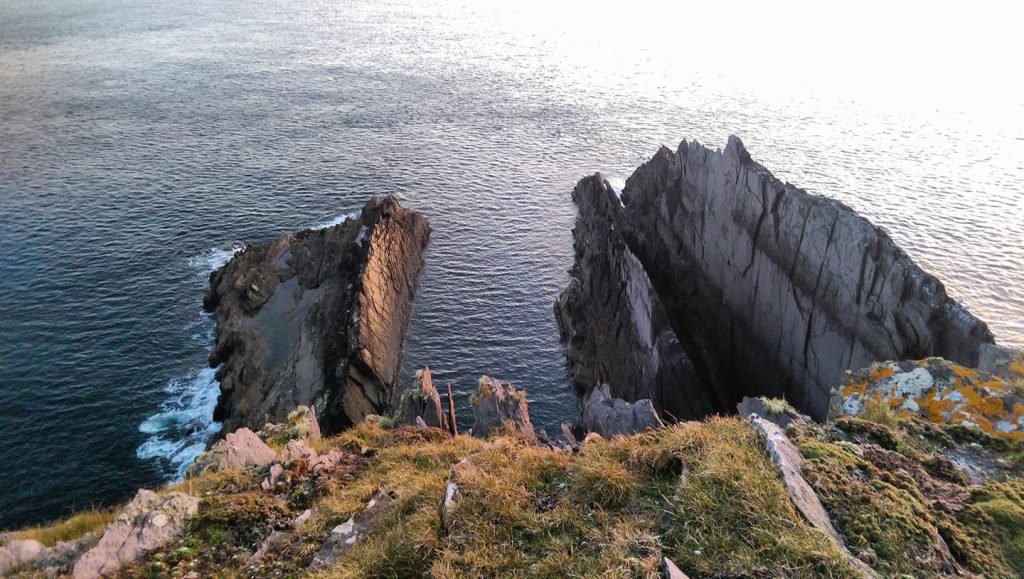 Apparently Mizen Head is not the most southern point of Ireland, it is, in fact, the nearby Brow Head. You will get the to experience the brute force of the Atlantic from here. The area is dominated with wild and rugged beauty. If you are a film buff, you'll be happy to know that scenes from Star Wars Episode VIII were also filmed here.
What to expect: No visitor centres, no crowds, just wildness!
Essential Info: Head to Crookhaven from Clonakilty to find it. Check the weather forecast before you go, as it is a fairly exposed part of the country!
17. Relax in Style in Inchydoney, Co Cork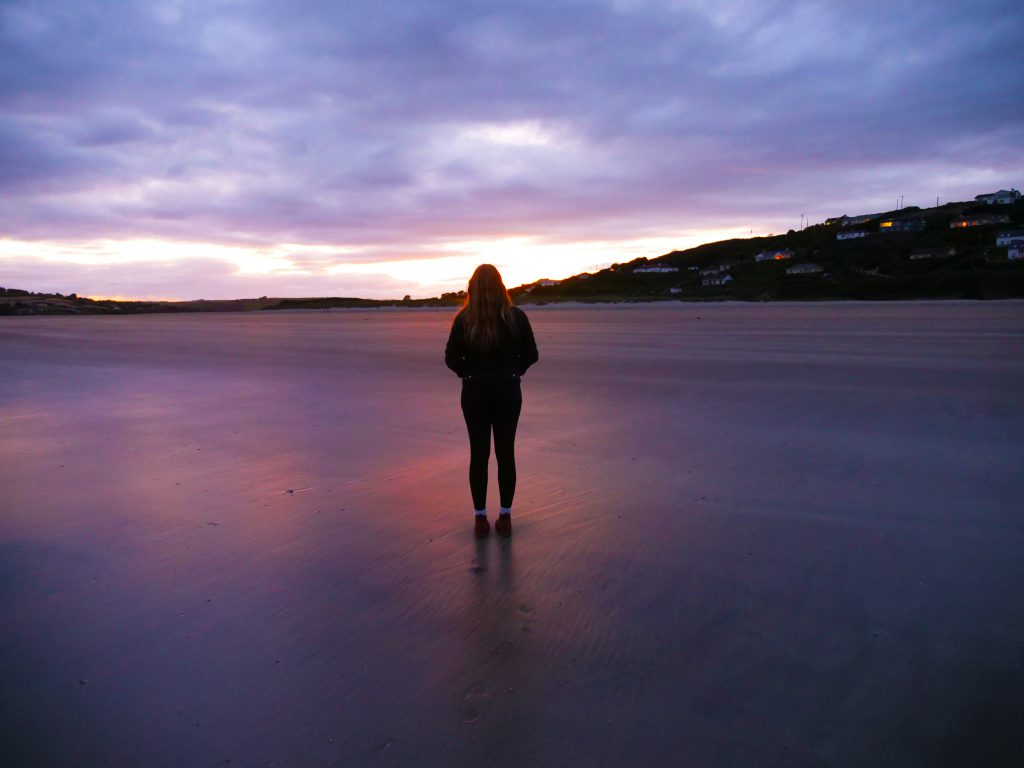 Inchydoney is a hidden paradise off Ireland's west coast. Far from the crowds, it is a place where luxury and adventure collide. Splash out and set up camp in the famous Inchydoney Lodge and Spa, treat yourself to luxury by night in its spa and enjoy an incredible dining experience with locally sourced produce, then spend your days exploring the rugged beauty of West Cork by kayak, bike, or your own two feet. It is a place where people are kind, where the views are jaw-dropping, and where you can escape the monotony of life for a little while.
What to expect: It is the very best of Ireland. Spend your days' surfing, whale watching, walking and kayaking. Then unwind in luxury at night.
Essential Info: Inchydoney Island Lodge and Spa is located in West Cork, just outside the town of Clonakilty. Roughly 50 minutes from Cork International Airport and Cork City, 2.5 hours from Shannon Airport and 3.5 hours from Dublin Aiport. Buses run daily from Clonakilty to Cork, where onward connections by Rail and Air can be made for those travelling without a car.
18. Take a Ride in Ireland's only Cable Car, Dursey Island, Co Cork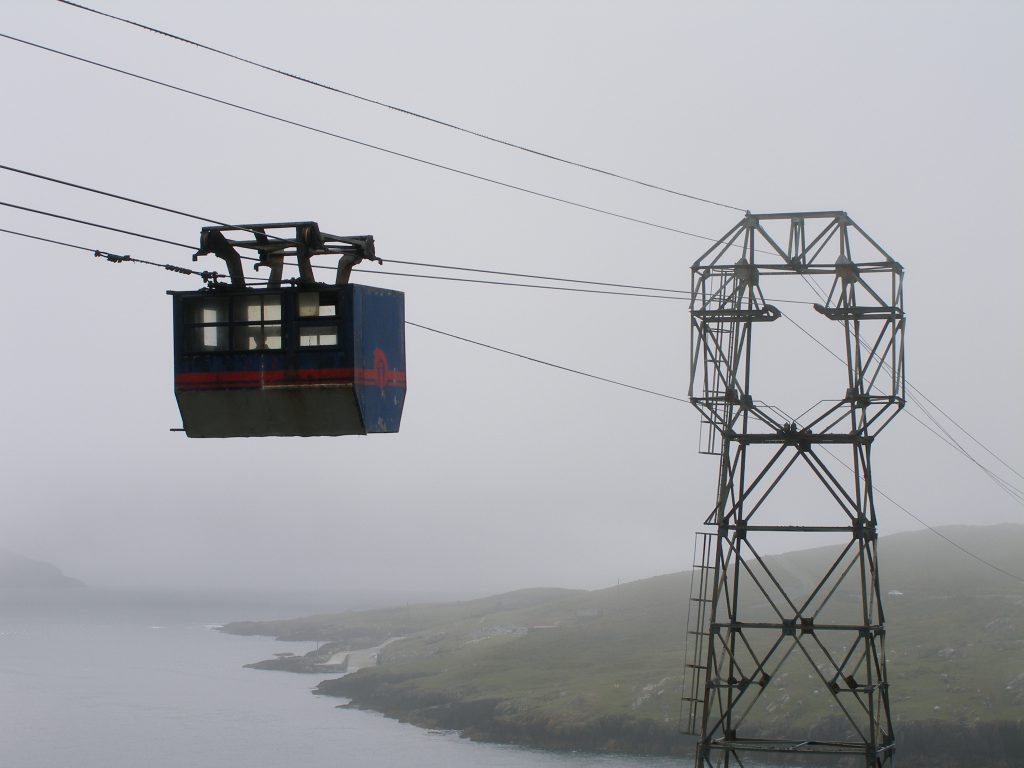 We bet you never knew that Ireland is home to a cable car? Situated on the Beara Peninsula in Co Cork, it is the only cable car to traverse open sea water in Europe. Open since 1969, the cable car was traditionally used to transfer people, sheep, cows and other supplies to Dursey Island from the mainland. These days, it also takes the odd tourist across too!
What to expect: A slightly hair-raising ride across the channel followed by blissful ruggedness on the island. Whales and dolphins are common visitors to the area and wild camping spots are plentiful
Essential information: If you are planning to head across to the island, be sure to bring your own supplies as there are no shops or restaurants. The cable car runs constantly from 9am-8pm during the summer months and costs €8 for adults. Check out Beara Tourism for more details.
19. Hit the Trails at Ballyhoura, Co Limerick
Ballyhoura, Co Limerick, is the largest mountain bike trail network in Ireland. Offering a whopping 98km of trails you could spend an entire week here and still be exploring new routes on day seven.
What to expect: Breath-taking views of the Ballyhoura mountains, lung busting climbs, technical rocky sections and twisting singletrack.
Essential info: Trailriders, situated in the carpark at the trail head offers full day bike rental for €35. All of the trails are fully marked and graded from green to black in the same way that ski slopes are.
20. Kayak the Copper Coast, Co Waterford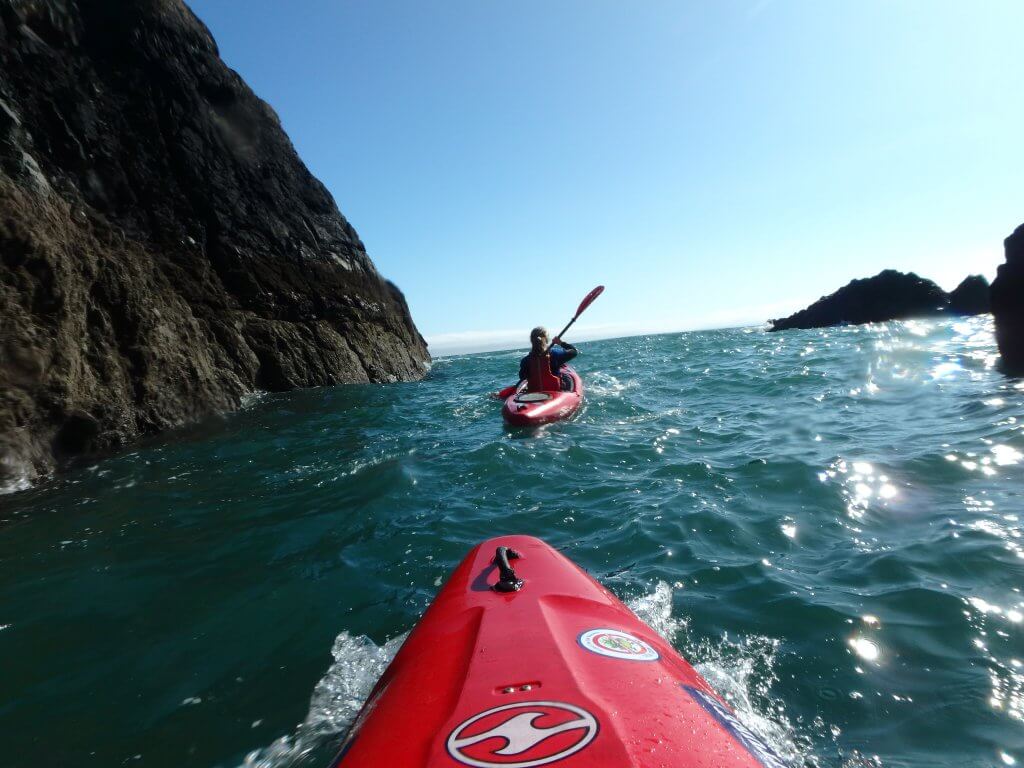 A paddle along the Copper Coast is a must! Bathed in glorious sunshine, you glide along the calm, crystal waters of the Copper Coast, ducking in and out of caves and coves as you explore these epic cliffs from the water. The cacophony of colour will be forever imprinted beneathyour eyelids. The yellow of the cliffs and the sparkling green water as the sun dances on it is nothing short of incredible. The little inlets, coves, caves, blowholes, rock faces and seabirds circling overhead make for one special experience.
What to expect: Geology, mythology, wildlife, laughs, a workout, it is exploration at its finest.
Essential Info: Pure Adventure offers sea kayaking trips along the Copper Coast which runs along the Waterford Coastline. Phone: +35387 226 5550. Email: info@pureadventure.ie
21. Wild Cooking, Co Clare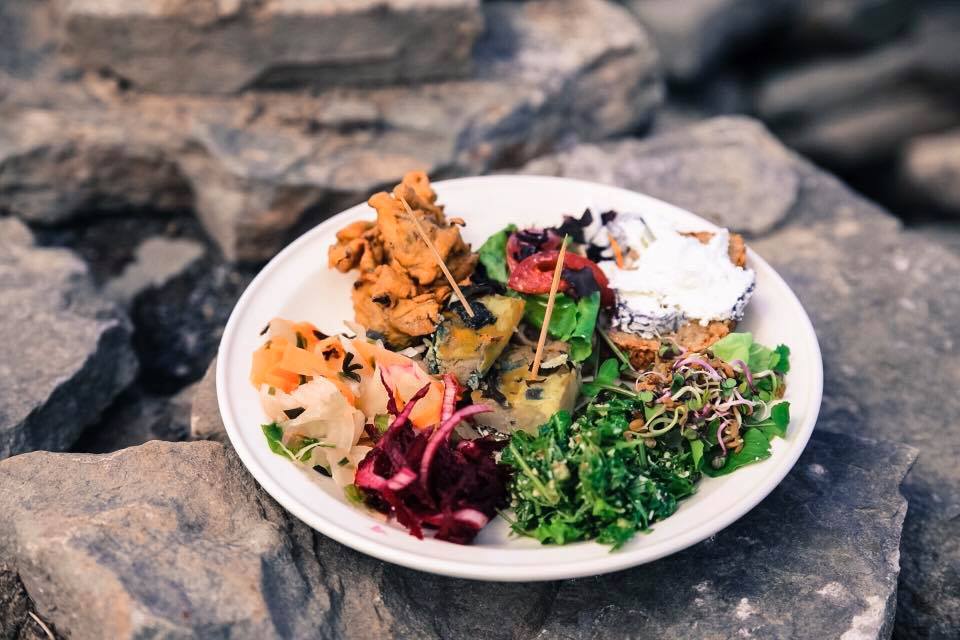 Ireland has ample opportunities for foraging and wild cooking if you know where to look. This wild cooking experience should be on everyone's bucket list. The Wild Kitchen, based in Lahinch, offers an alternative adventure. Take a guided Wild Food Walk on land and seashore where you seek out delicious, edible, wild plants. Using foraged ingredients like seaweed, dilisk and sea spirulina, combined with watercress, pignuts, samphire and ramsons, you cook up one wild and wonderful meal.
What to expect: Tasty food and an adventure, wild cooking is an off the beaten track experience that you will remember forever.
Essential info: Email: info@wildkitchen.ie/Address: Wild Kitchen, Callura South. Lahinch. Co.Clare/Phone: 087 6877890/ Website: Wild Kitchen.
22. Go for a Surf in Co Clare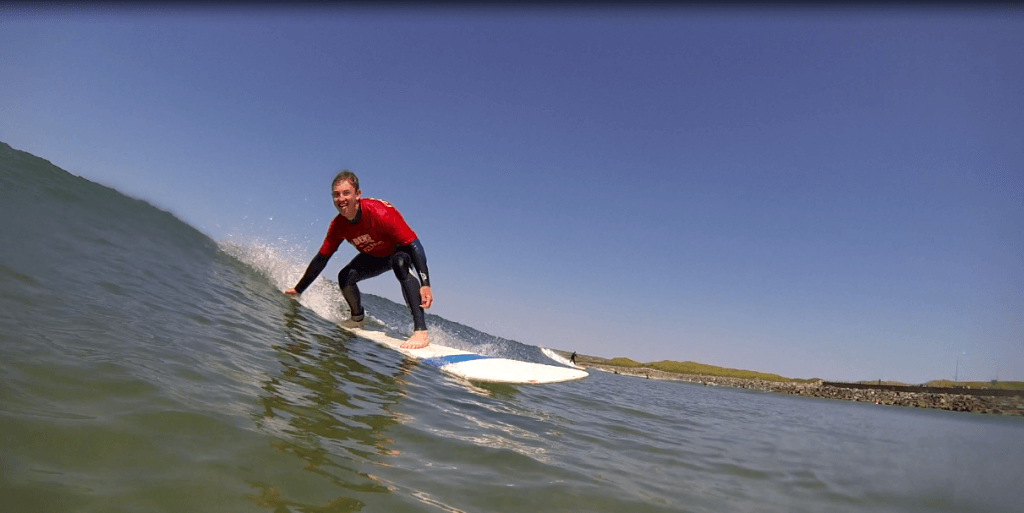 If you are anyway tuned into the Irish surf scene you'll have heard of the monster waves been surfed beneath the Cliffs of Moher. In the right conditions, the most famous wave of them all, Aileen's can reach 12m in height! Only the truly hardcore can ride this beast, but Clare is still pretty much the surf capital of Ireland. Surf schools are just bursting to teach you the tricks of the trade along the boardwalk of Lahinch. Take a lesson or if you are a seasoned surfer just rent a board (€10–€20) for a few hours, you can usually get foamies to decent hardboards.
What to expect: Even just heading to the cliffs to watch the local big wave surfers at work is awe-inspiring! But nothing substitutes the real deal, head to Lahinch for a little stoke.
Essential info: You'll have your pick of providers, including the Lahinch Surf Experience, Ben's Surf Clinic, Lahinch Surf School, and The Green Room Surf School. For a quieter surf head to Fanore in north-west Clare or Spanish Point.
23. Go Whale Watching in West Cork, Co Cork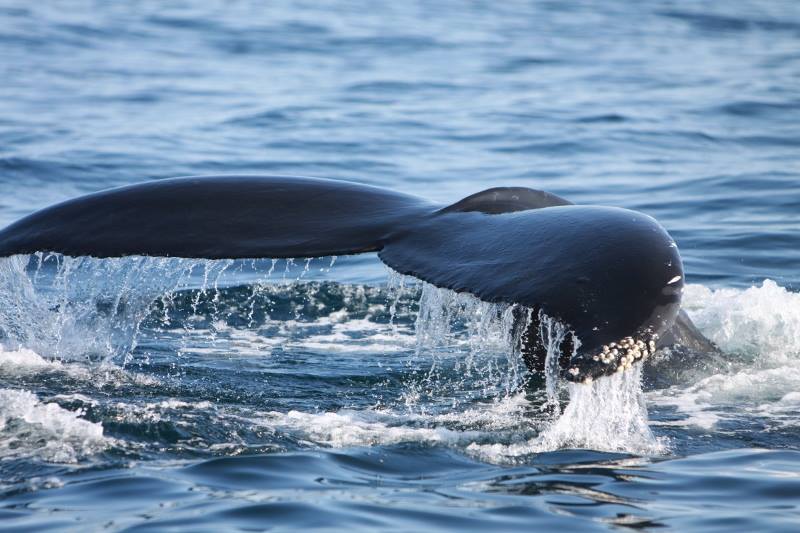 We may not be on par with Canada or Iceland when it comes to spotting the majestic beasts of the ocean, but Ireland has been known to throw up some incredible sightings off the west coast on a pretty regular basis. So whether you are over on the Emerald Isle for a holiday, or are enjoying a staycation this year, pencil in a whale watching tour in West Cork.
What to expect: Pray to the gods that you will spot a few of the following; minke, fin, humpback whales, common dolphins, harbour porpoises, seals, turtles, basking sharks or all of the above!
Essential info: Cork is legendary for its whale watching voyages and few do it better than Nic Slocum from Whale Watch West Cork. The boat Voyager leaves Baltimore Harbour daily at 9.30am and 2.15pm. The tour takes around four hours and is so worth giving up a morning/evening for. Colin Barnes from Cork Whale Watch is another superb provider operating out of West Cork.
24. Adventures in Ballyhass Lakes, Co Cork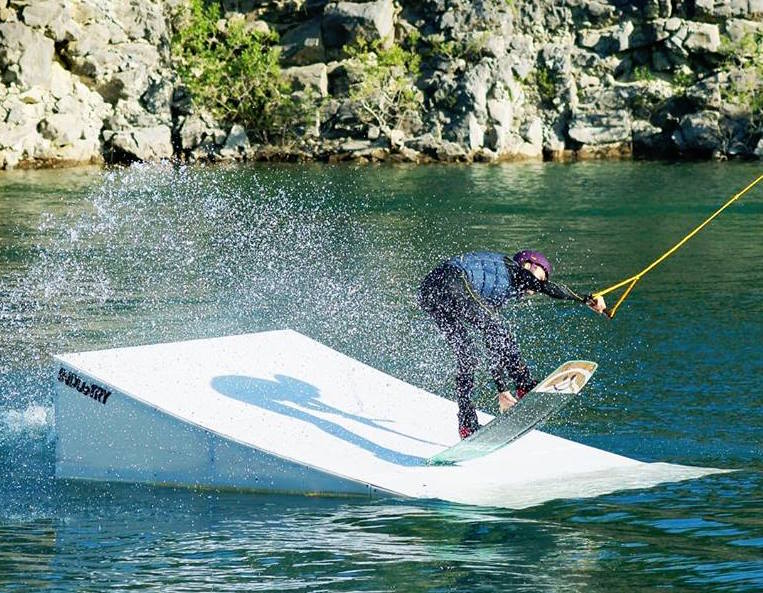 You could spend the whole weekend here and still not have tried all of the activities on offer. Located on the grounds of an old quarry, Ballyhass has a wakeboarding park, an aqua-park, a leap of faith and ziplines galore. My top thrill here was throwing shapes on the clear waters of the wakeboarding park. You can't help but get caught up in the instructor's enthusiasm as he whoops and hollers when you manage to pull off a move.
What to expect: This place is super chilled with folk hanging out, sipping coffee, laughing and messing. Before you leave, be sure to climb the pole to stand on the teetering platform in the sky and take the Leap of Faith. Then have a few runs on the ziplines over the lake for one last dose of adrenaline.
Essential info: All sessions at Ballyhass are coached one on one by our trained instructors so you get a personal training package included whether you are riding for the first time or trying to nail a raley off our 10m cliffs! A lesson costs €22 for adults and €15 for U16.
25. Take in that Iconic Instagram View of Comshingaun Lake, Co Waterford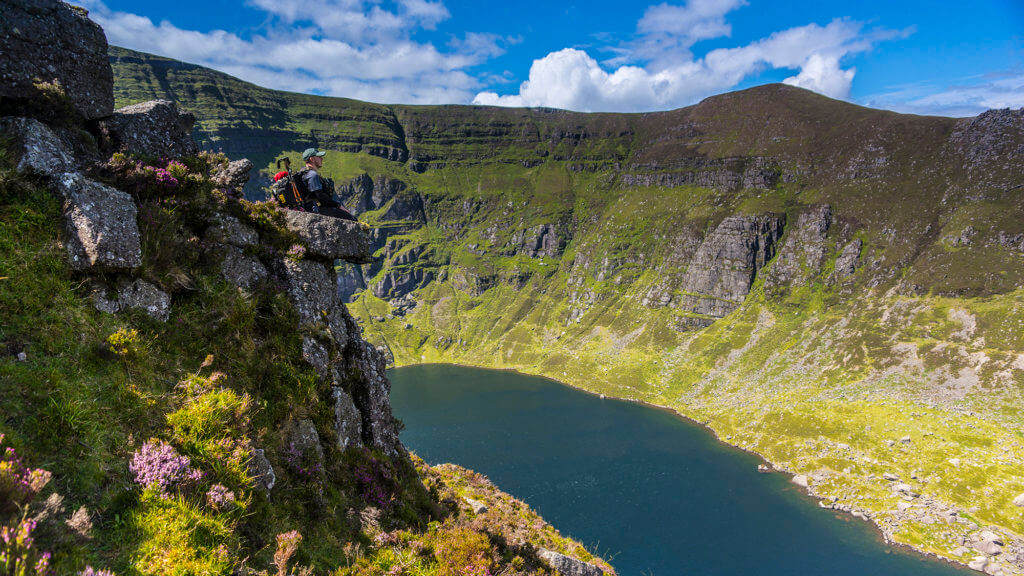 Just type in Coumshingaun Lake into Instagram and the pictures alone will have you hopping in the car and heading straight there – all with the goal of nabbing yourself that epic picture of you perched on a rock overlooking the famous corrie lake. We recommend a swim in the frigid waters.
What to expect: A nice albeit challenging walk with superb views and the perfect place for a refreshing dip.
Essential info: The hike to the lake is not waymarked so if your navigation skills are weak, we recommend Mario from Muddy Boots. This guide's stories of life in the Comeraghs and the hermit of Lackendarra will leave you spellbound. He'll also introduce you to lots of edible plants as you walk. Getting up to the lake and back down takes about two hours. For a more strenuous hike, Mario does offer a four-hour looped walk that we will be returning for! Muddy Boots Guided Walking/(+353) 086-3970568/mariomacrory@hotmail.com
26. Cycle the Ring of Kerry, Co Kerry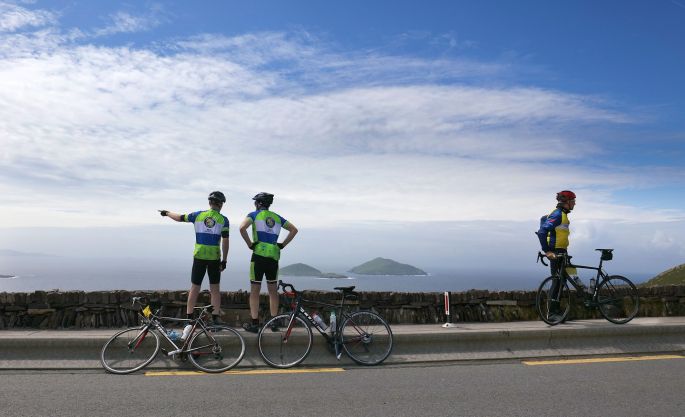 The most iconic cycle route in Kerry is undoubtedly the Ring of Kerry. The scenic 170km loop takes in the best views of the Iveragh Peninsula. Particular highlights are Ladies View, Moll's Gap, Derrynane Beach, the Skellig Ring Road and the Gap of Dunloe. If you have a few days, we recommend encompassing the Dingle Peninsula into your route itinerary.
What to expect: There you will see the old Ireland you read about in folklore. The high mountain passes, breathtaking coastal views, the great beaches and the stunning Blasket Islands.
Essential info: If you don't want to go it alone, there's always the option of the annual Ring of Kerry Charity Cycle. Take to the route with thousands of others to raise money for charity.
27. Cycle the Waterford Greenway, Co Waterford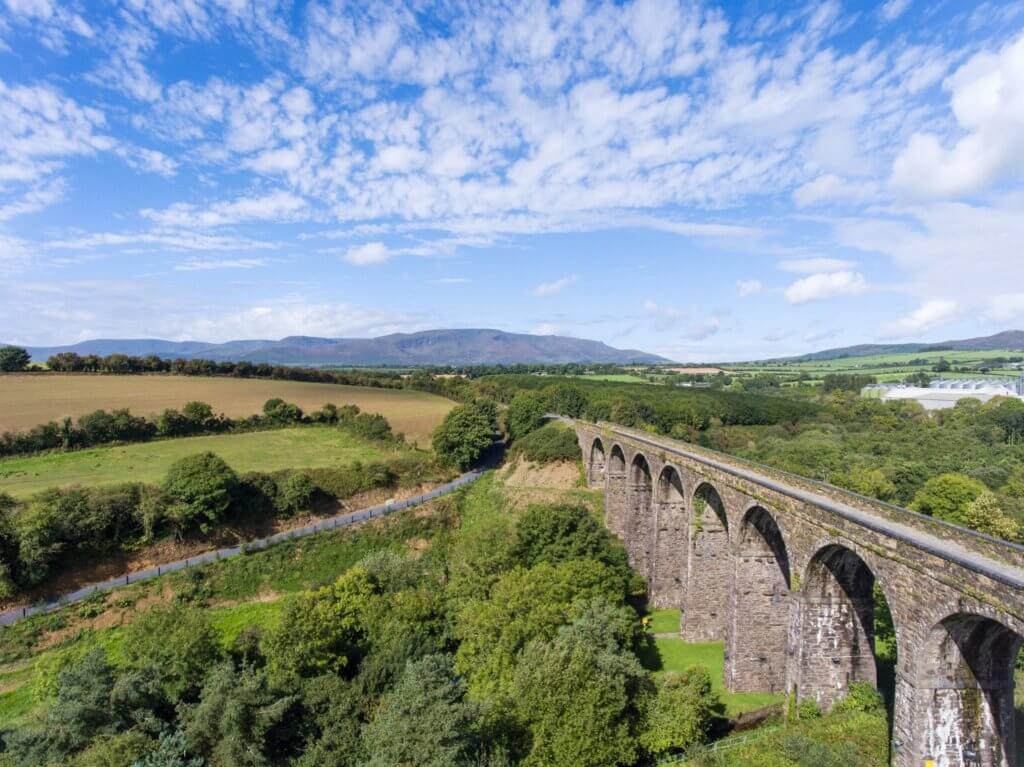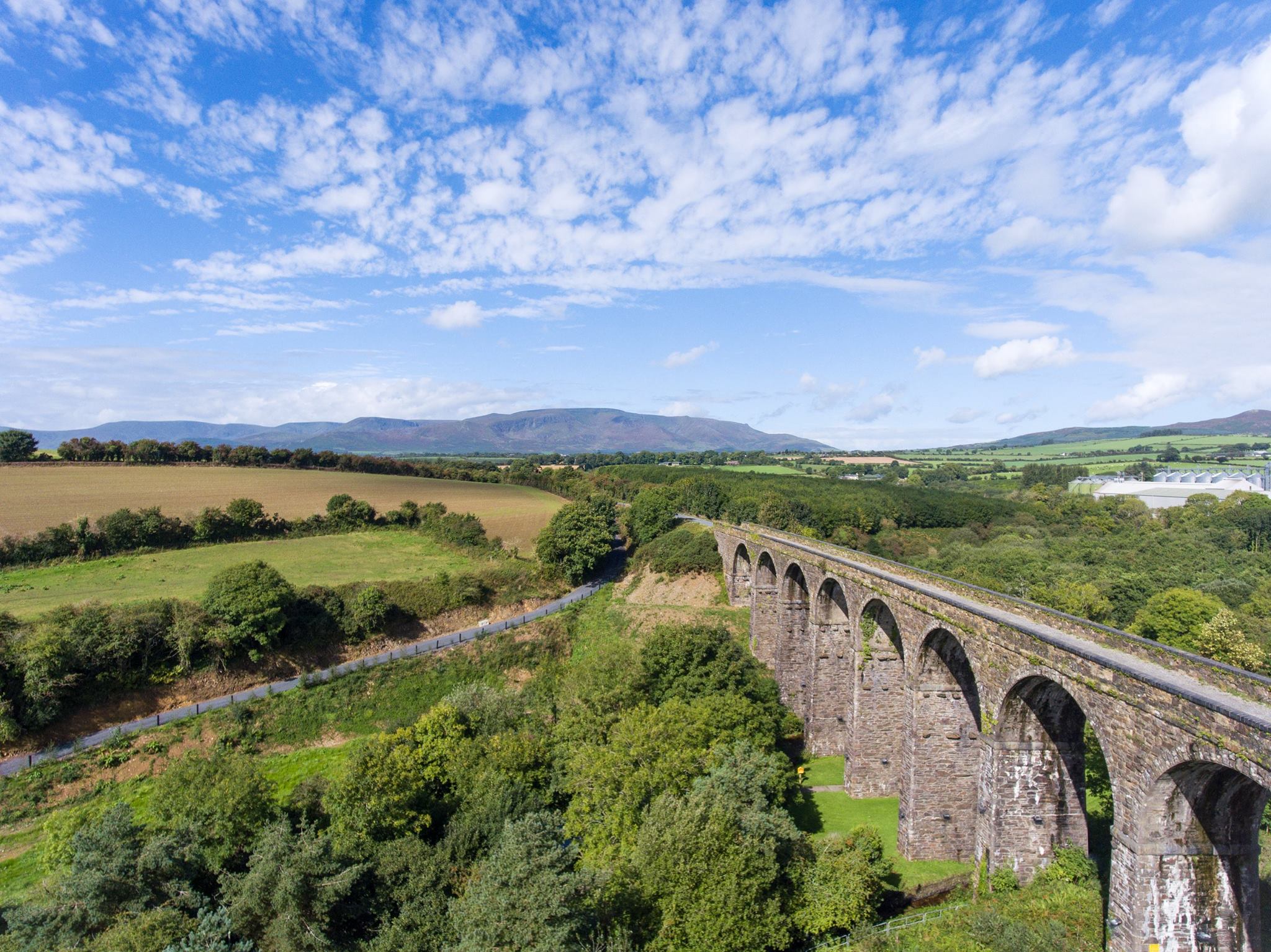 The Waterford Greenway is a haven for those looking to unwind. Running from Waterford City to Dungarvan, the Greenway offers 46 glorious car-free kilometres to explore. It's a shared use Greenway, which means that people are allowed to cycle, walk and run, you can even bring your dog, as long as he/she is on a lead.
What to expect: The views throughout are nothing short of spectacular and there are plenty of refreshment stops en route for those looking to make a day of it.
Essential info: Bikes can be rented for €20 (€45 for an electric bike). Bike hire includes bikes fitted to your size, helmet, hi-vis jacket, roadside assistance and shuttle bus service. Waterford Greenway Bike Hire operates from Waterford City, Kilmacthomas and Dungarvan. We have all the information you'll need to do this cycle right here.
28. Have a Pint in Doolin, Co Clare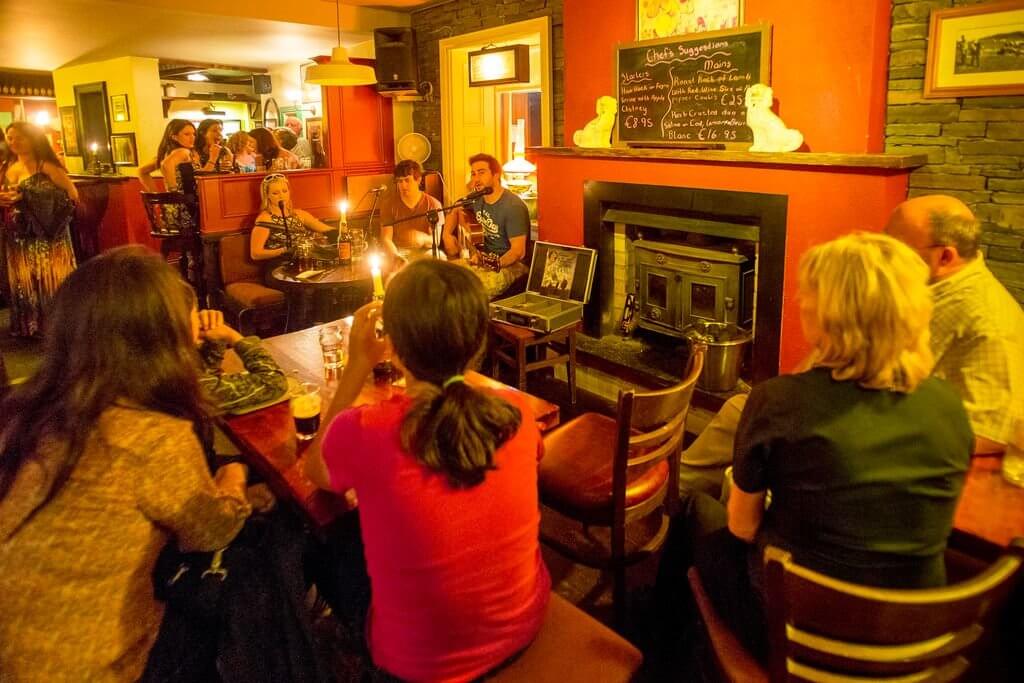 We love a bit of Doolin, it's where you go to escape the hustle and bustle of city life. Pick one of the quaint and colourful pubs, park your bum on a bar stool, get a pint in hand and enjoy listening to genuine Irish trad session. Spend the day catching a few waves or climbing mountains. Pull up in the van, camp nearby, stay in one of the many accommodation on offer in the village.
What to expect: Music, pints, cosy pubs, ocean air and the warm hospitality that the Irish are known for
Essential info: Doolin is perfectly situated for trips to the Aran Islands, the Cliffs of Moher and the Burren. So base yourself here at night and spend the days exploring.
Wild swimming spots in Ireland: 10 of the best
Connacht
29. Go Kitesurfing in Co Mayo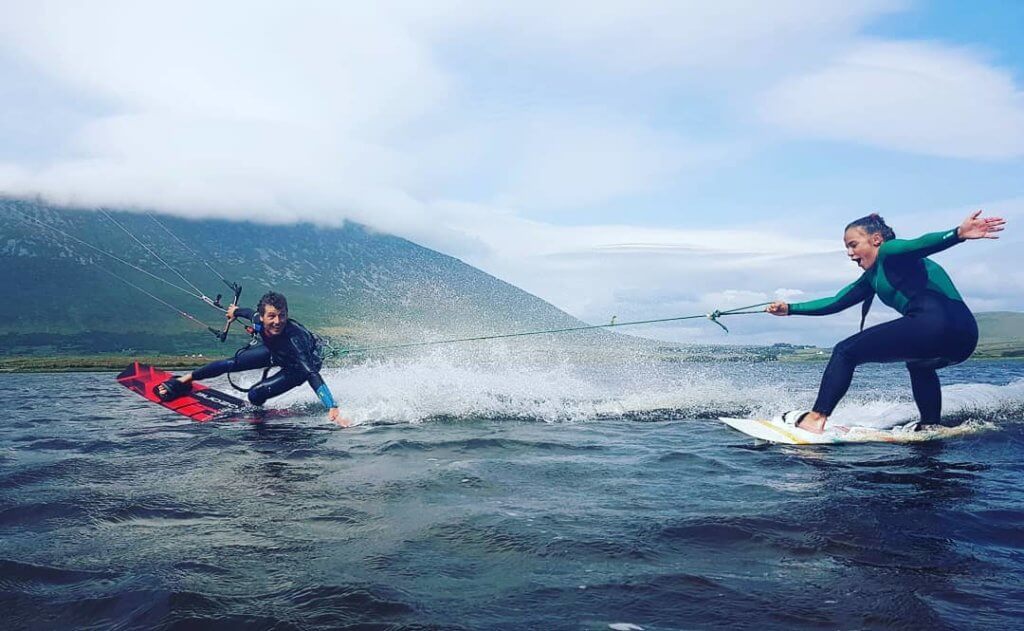 Achill Island is basically made for kitesurfers. There are several awesome locations depending on the conditions but you'll usually find the kitesurfers convened at the flat water lake in Keel. Whether you're a pro or just looking to take that first step, this is the perfect spot. Louisburgh, in the shadow of Croagh Patrick is another option. The beautiful area has a beach for almost any wind direction. In heavy conditions, there is a little lake just a few hundred metres from the ocean that gets steady and consistent south westerlies, perfect for a spot of kitesurfing.
What to expect: A whole host of options to get that kite in the air and you can bet it's going to be windy!
Essential info: Pure Magic on Achill Island offer three-hour kitesurfing sessions for €130 or you can rent the equipment per hour for €35. BigStyle is based out of Louisburgh run 12-hour lesson packages for €390, six-hour lessons package €220 or three-hour lessons for €120.
30. Go on an Overnight Adventure on a Deserted Island, Co Sligo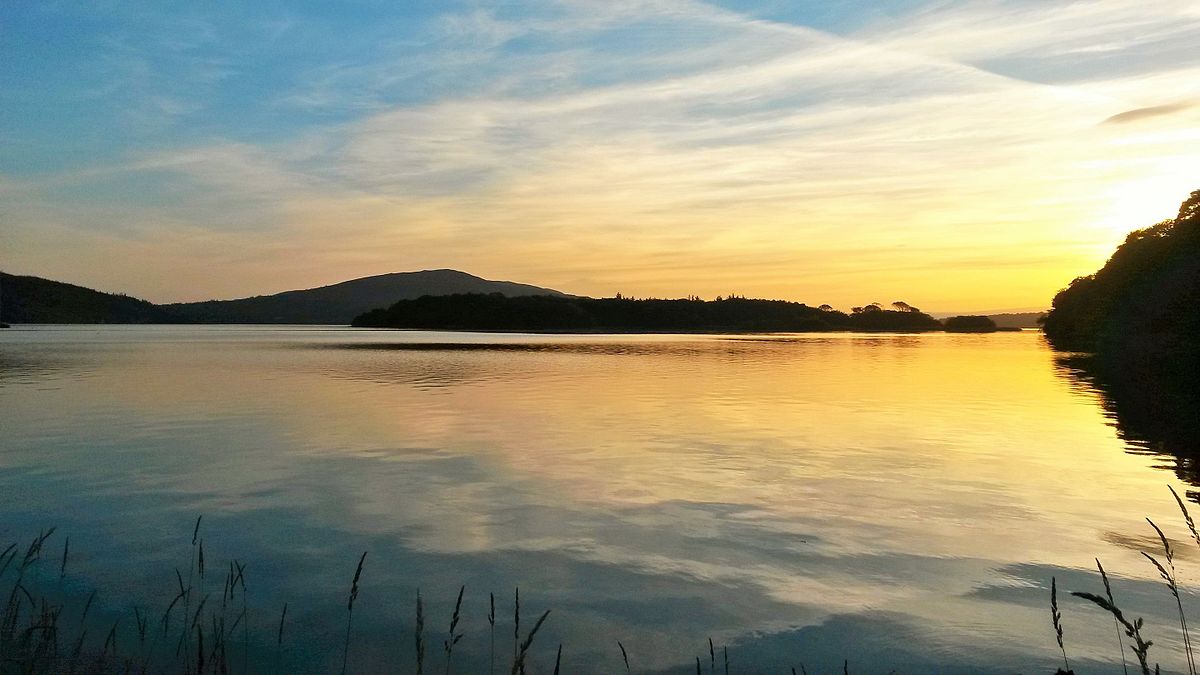 Made famous by the poetry of W.B. Yeats, Lough Gill in Co Sligo holds a very special place in my heart. As a child, I spent two weeks of every summer at an outdoor activity camp just outside Sligo. Once during that two weeks, we were sent to Church Island situated in the middle of Lough Gill. We were tasked with choosing our mode of transport to the island (I soon learned that a kayak was a better option than the swim), building a shelter for ourselves and cooking our own food. It was absolutely fantastic.
What to expect: A small, deserted island in the middle of one of Ireland's most picturesque lakes.
Essential info: Lough Gill is surprisingly underutilised with only one small tourist boat running tours of the lake in summer months. So if you are hoping to make your Church Island adventure a reality you will need to travel there with all of your own equipment in tow.
The best place to depart by kayak is Hazelwood. From there, the paddle around the island and back is just over five miles. Whether you choose to explore the island during the day or stay overnight is up to you. There is a small fisherman's cottage on the island with a fire in which you can take cover if the weather does take a turn for the worse.
Check out the map of Lough Gill.
31. Visit the Worm Hole on Inis Mor, Co Galway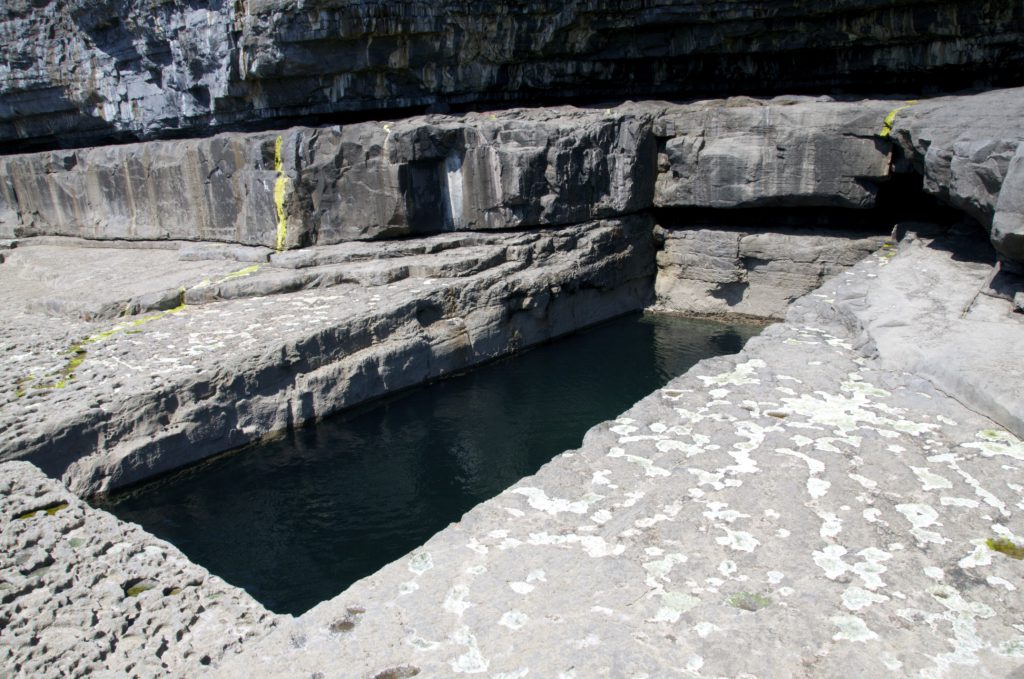 Pol na bPiest (in Gaelic), the Worm Hole, or Serpents Lair… all names for one surreal sea pool on the biggest of the Aran Islands, Inis Mor. It's been put on the map in recent years by the Red Bull Cliff Diving World Series, where athletes dive from up to 27 metres, three times the Olympic height. This natural rectangular shaped pool into the sea is a wonder to behold.
What to expect: It's a stunning spot once you get there, but that is the issue, getting there! It's far into the cliffs and requires some rock jumping and following some dodgy red arrows but with a bit of perseverance, you'll find your way eventually!
Essential Info: To find it, walk east along the cliffs from Dún Aonghasa or follow signs from the village of Gort na gCapall. The Aran Island Ferries depart from Ros a' Mhíl, a port 23 miles west of Galway City centre and costs €25 return per adult.
32. Cycle the Great Western Greenway, Co Mayo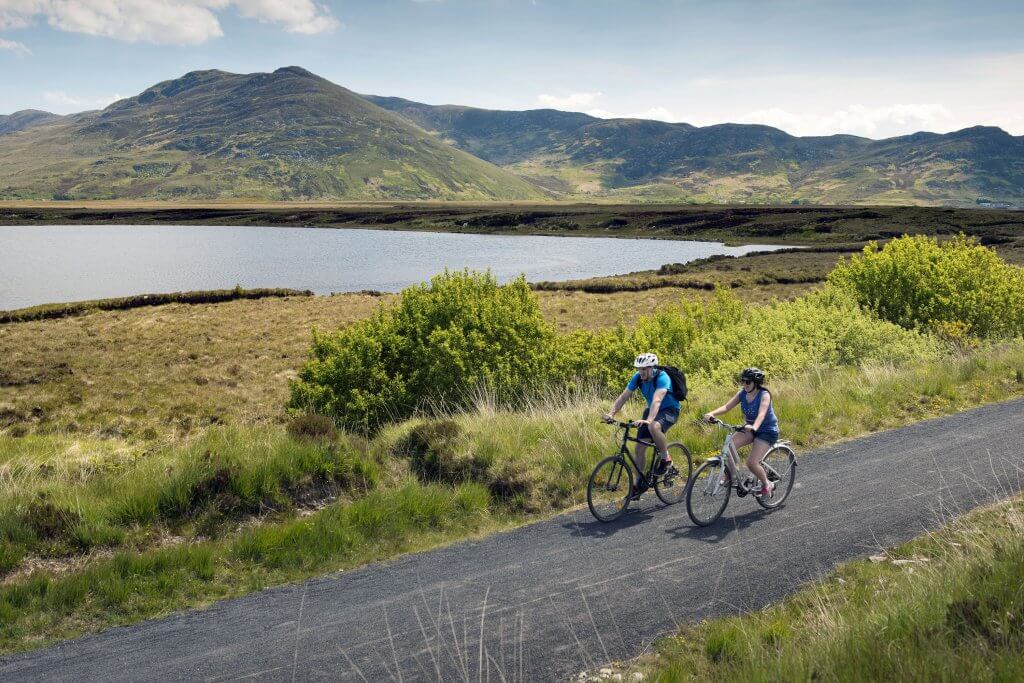 The most well-known cycle route in Mayo is without a doubt the Great Western Greenway. The 42km route from Westport to Achill (or vice versa) is the longest off-road walking and cycling trail in Ireland. And it's a stunner!
What to expect: A perfect way to spend a day off the road and in nature amongst rolling hills, stunning vistas and coffee shops galore!
Essential info: Bring your own bike or hire them. There are loads of place to get them from, including the Greenway Bicycle hire, Clew Bay bike hire and Westport bike hire.
33. Explore Delphi Valley, Co Mayo/Galway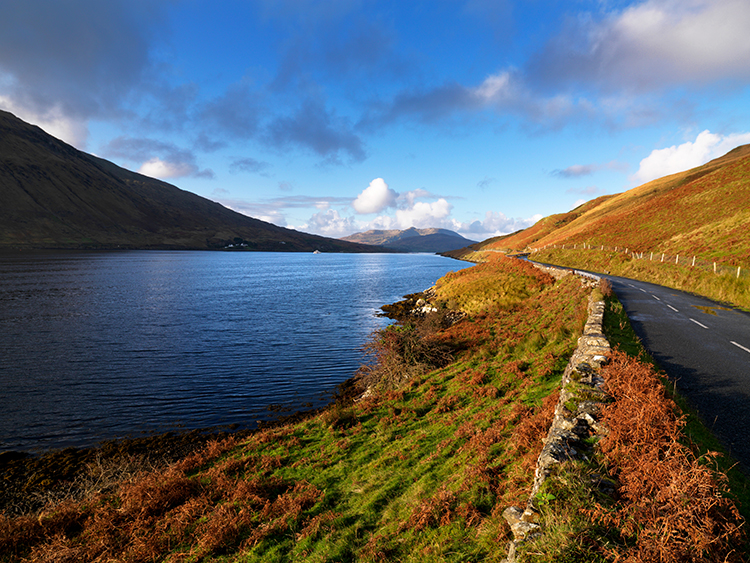 The Delphi Valley is a beautiful, tranquil and remote spot in the depths of Connemara. It is definitely one to add to your Irish bucket list. Cycle, run, climb mountains, mountain bike to your heart's content. If you stay in the four-star Delphi Resort or Wild Atlantic Hostel, they have a ton of activities on offer including a GoZip Forest Park, kayaking, surfing, coasteering, raftbuilding, SUPing, bushcraft survival, orienteering, a bog obstacle course, mountainbiking, a high ropes course, archery and yoga retreats. They even run events like The Delphi Tri Event and Delphi Challenge annually. We love it there!
What to expect: Every activity under the sun and breathtaking scenery.
Essential info: Delphi Resort is located in the heart of the scenically breath-taking Delphi Valley, near Leenane, Connemara, Co Galway. The resort is situated along the Wild Atlantic Way, Ireland's 2500km coastal trail.
34. Visit Clare Island, Co Mayo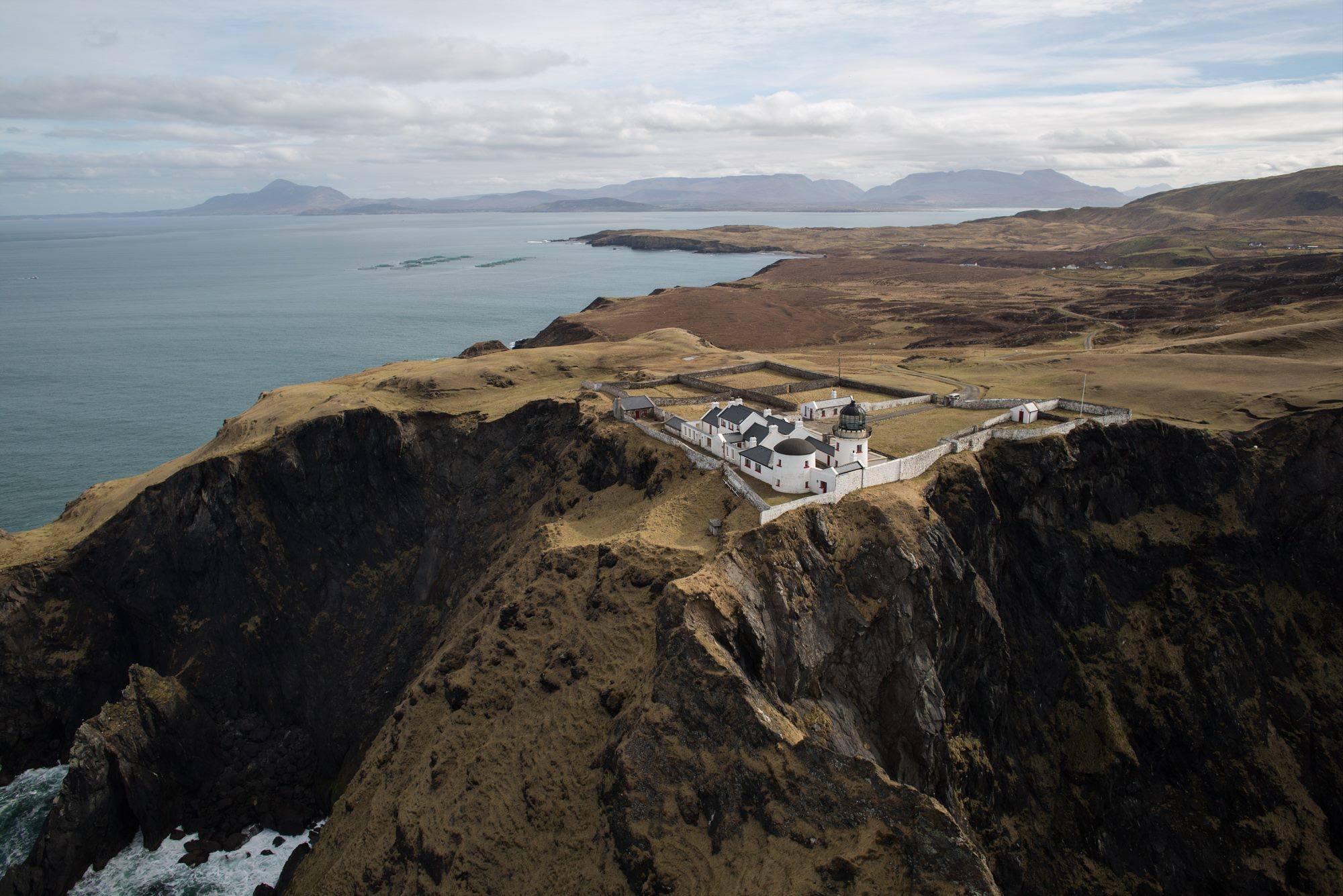 Standing guard at the entrance to Clew Bay, Clare Island is a tiny mountainous island in County Mayo. Famous as the home of the pirate queen Grainne Uaile (Grace O'Malley), today just 145 people live here year round. But the diminutive island is a haven for adventure lovers. They've got coasteering, hiking, rock climbing, sea kayaking and snorkelling. All of which are available with Clare Island Adventures.
What to expect: An off the beaten track adventure with tons to entertain you while being immersed in the rugged beauty of the landscape.
Essential info: In summer, there are a number of ferry sailings from Roonagh Pier to Clare Island. The boat crossing takes about 25 minutes. In the winter, there are usually only two boats a day (morning and evening) Clare Island Ferry Co and O'Malley's Ferries (Clare Island) Ltd. Check out our full guide to Clare Island here.
35. Climb Croagh Patrick, Co Mayo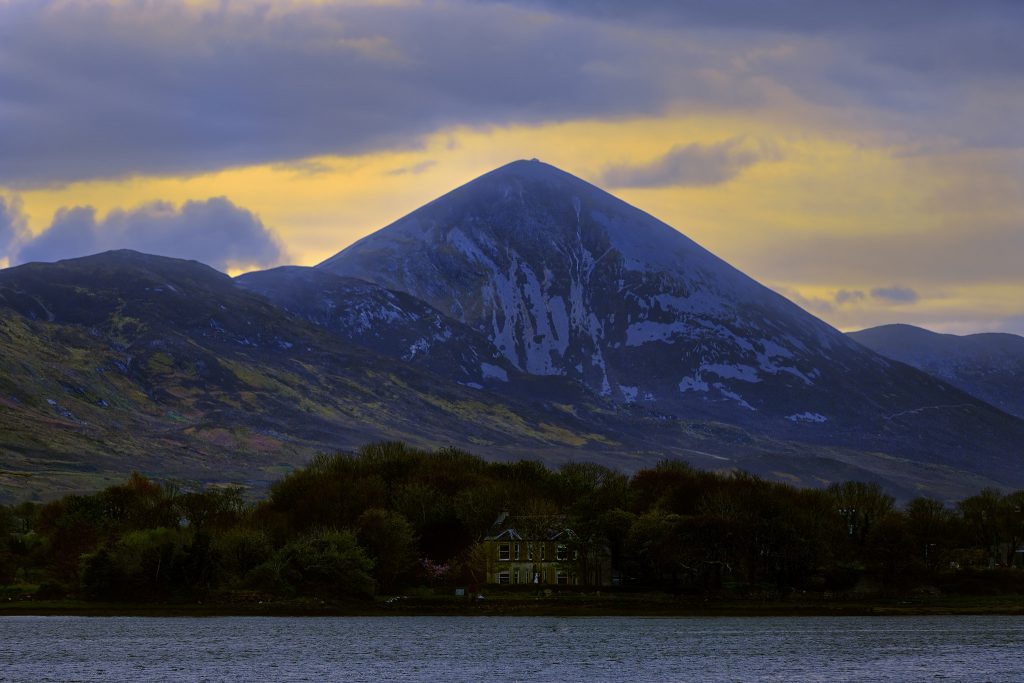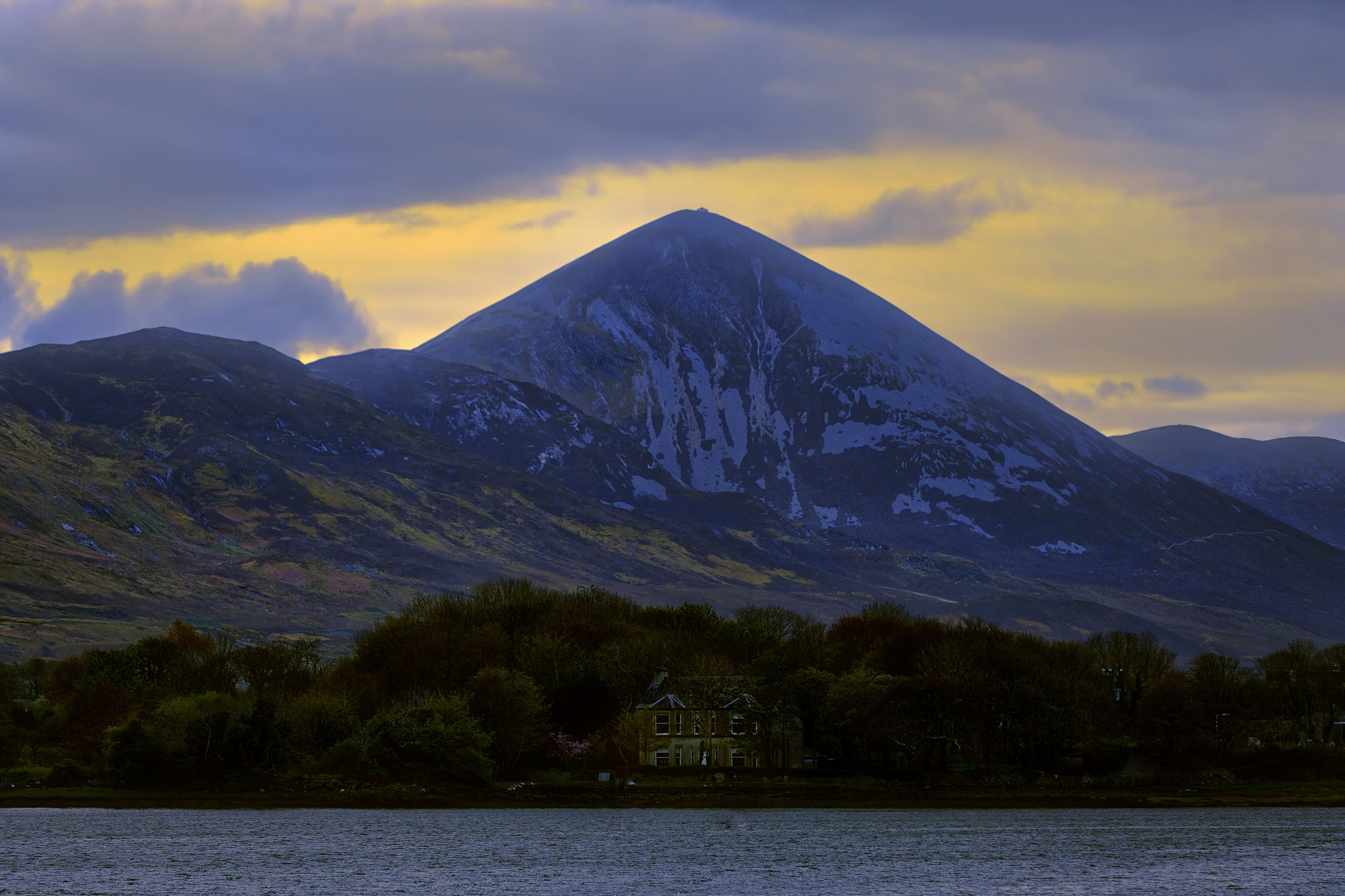 Croagh Patrick (764m) is a peak steeped in history, religion and mythology. At 764m high and offering breathtaking views across Clew Bay it's also a rite of passage for hiking enthusiasts. It is one of Ireland's most stunning mountain climbs with its unique conical shape towering above the edge of the Atlantic Ocean on the rugged west coast. On a clear day, it offers panoramic views of the hundreds of tiny, green drumlin islands in Clew Bay, the Wild Atlantic Way, the gorgeous tourist town of Westport and surrounding mountain ranges.
What to expect: It's a great route for people who don't know how to navigate, but who want great views of the Atlantic coastline. It's about 7km and will take 3-4 hours return.
Essential info: The start of the mountain walk is a short 10/15 minute drive from Westport town and most people come that way by car. There are also bus and train services to Westport from Dublin and Galway if that's your preference. Check out our full guide to Croagh Patrick here.
36. Drive the Sky Road in Clifden, Connemara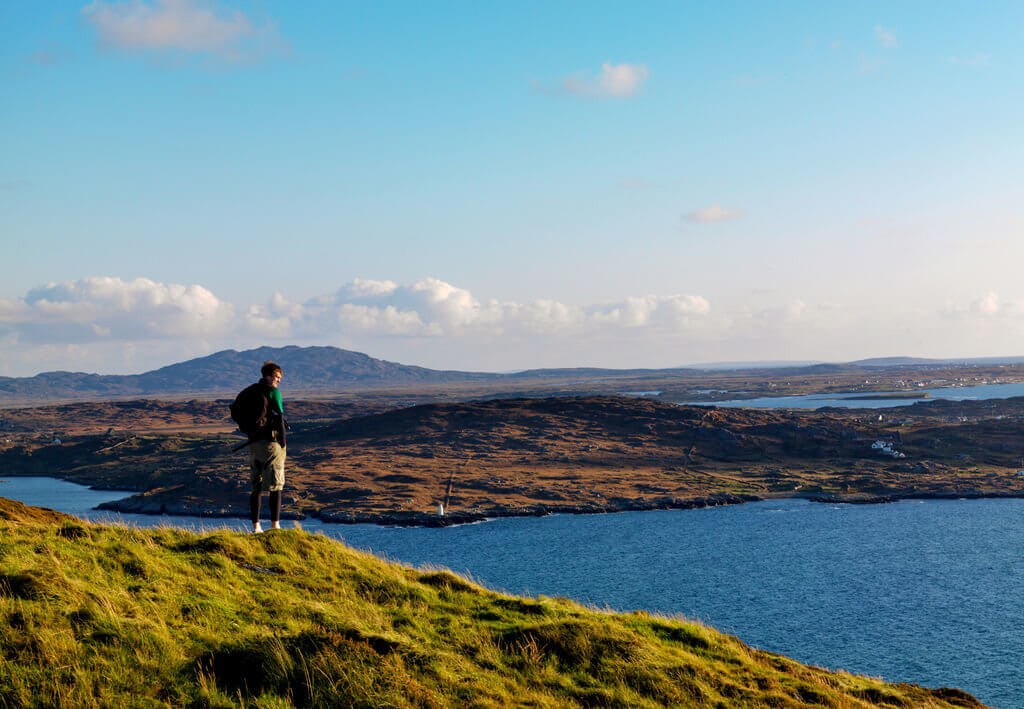 This is one of the most scenic drives in Ireland! Cruise through the wilds of Connemara. Start in Galway and head for the coast and Clifden's famous Sky Road for the best views of Inisturk and the Twelve Bens. Then if the tide is right, go explore Omey Island, which is reached by driving across a sandy causeway.
What to expect: Great views out of your window, plus there are several megalithic tombs, Standing Stones, and Promontory Forts scattered along the way. It's part of the stunning Wild Atlantic Way for good reason.
Essential info: The circular route is 16km long and takes you out west from Clifden, onto the Kingstown peninsula, and back into Clifden via the N59.
37. Climb Benbulben, Co Sligo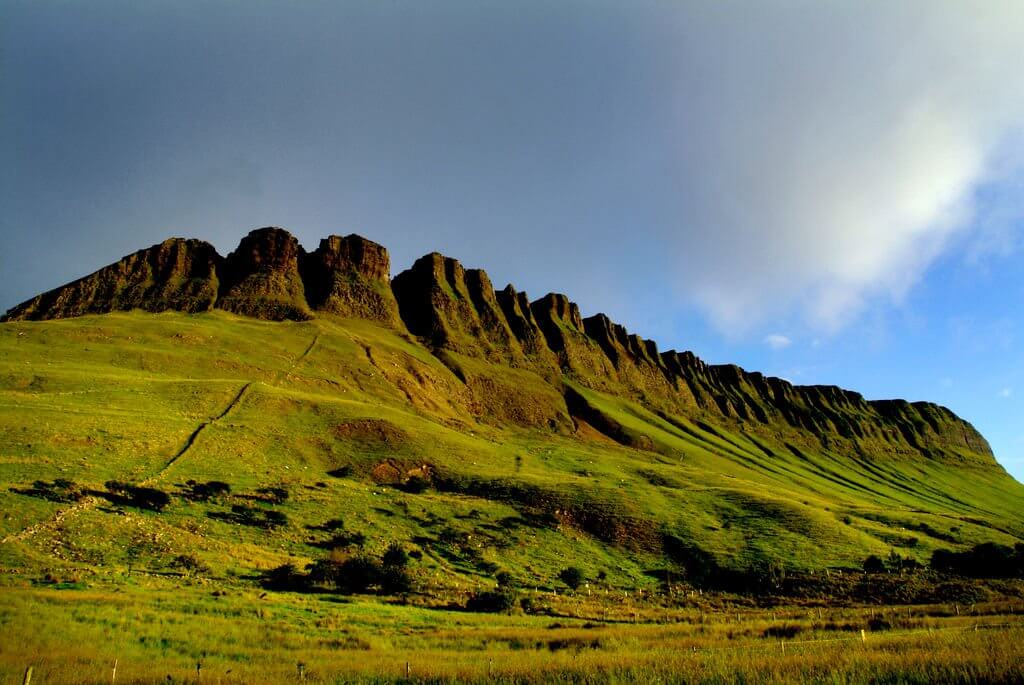 Benbulben (526m) is another impressive and very distinctive mountain that is more than worth a visit. If climbing it, fantastic views of Donegal Bay and The Blue Stacks Mountain can be promised – and if taking a stroll in the area's lower altitudes, the mountain itself is definitely a special sight to behold.
What to expect: Incredible views of Yeats Country, right out to Donegal Bay, Slieve League and the Blue Stacks Mountains.
Essential info: It's roughly a 4-5hr hike starting at Luke's Bridge all the way up to the summit plateau. Wear decent waterproof boots and waterproof clothing.
38. Go Scuba Diving or Free Diving, Co Sligo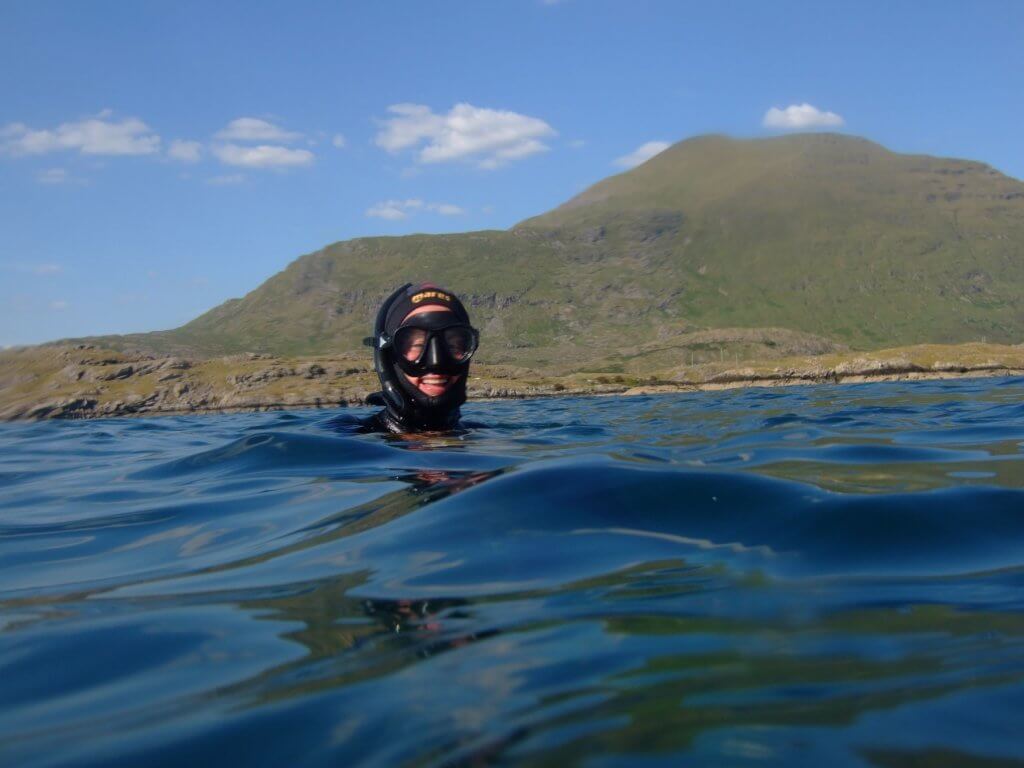 Sligo with its breathtaking coast is a great place to be for both scuba diving and free diving in Ireland. There is plenty of marine wildlife to discover along the shallows of the Wild Atlantic Way. While freediving is a sport that doesn't require any other gear than swimwear or possibly a wetsuit, as well as a diver's mask – scuba diving takes a little more effort in prep and gear.
What to expect: Solitude, freedom and an amazing underwater world filled with marine life.
Essential info: Freedive Ireland, located in Mullaghmore, run several types of freediving courses. If you'd like to just get out for a couple of hours and exploring on your own – they provide snorkelling gear as well.
Offshore Watersports Mullaghmore offers both full scuba diving courses, dry dive taster sessions in pool or ocean, as well as dive safaris. The safaris are for the more experienced divers (who already got their scuba diving PADI certificate) and include famous diving sites like Main Beg, St John's Point and Ballyconnell Point.
39. Go Snorkelling in Keem Bay, Co Mayo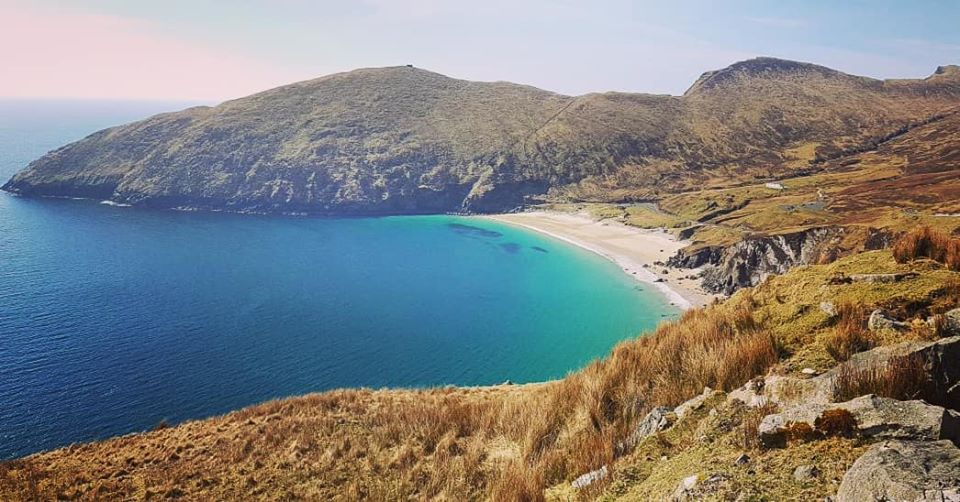 Keem Bay is definitely one of our favourite spots on Achill Island. The drive over there in itself is an adventure but nothing beats a snorkel in its pristine waters. It is actually an official Blueway snorkel trail and a discovery spot on the Wild Atlantic Way. Combine it with a hike up Croaghaun mountain for the cherry on top.
What to expect: You will see spider crabs, fish, sand eels, sea urchins and much more hidden beneath the surface. If you are incredibly lucky, you'll get to share the waters with basking shark.
Essential info: Bring your own gear or sometimes in the summer there will be watersports trailer there to rent equipment from. The lifeguards on duty can help point you in the right direction of the trail.
15 of the best stops along the wild Atlantic way
Ulster
40. Cycle a Part of the Wild Atlantic Way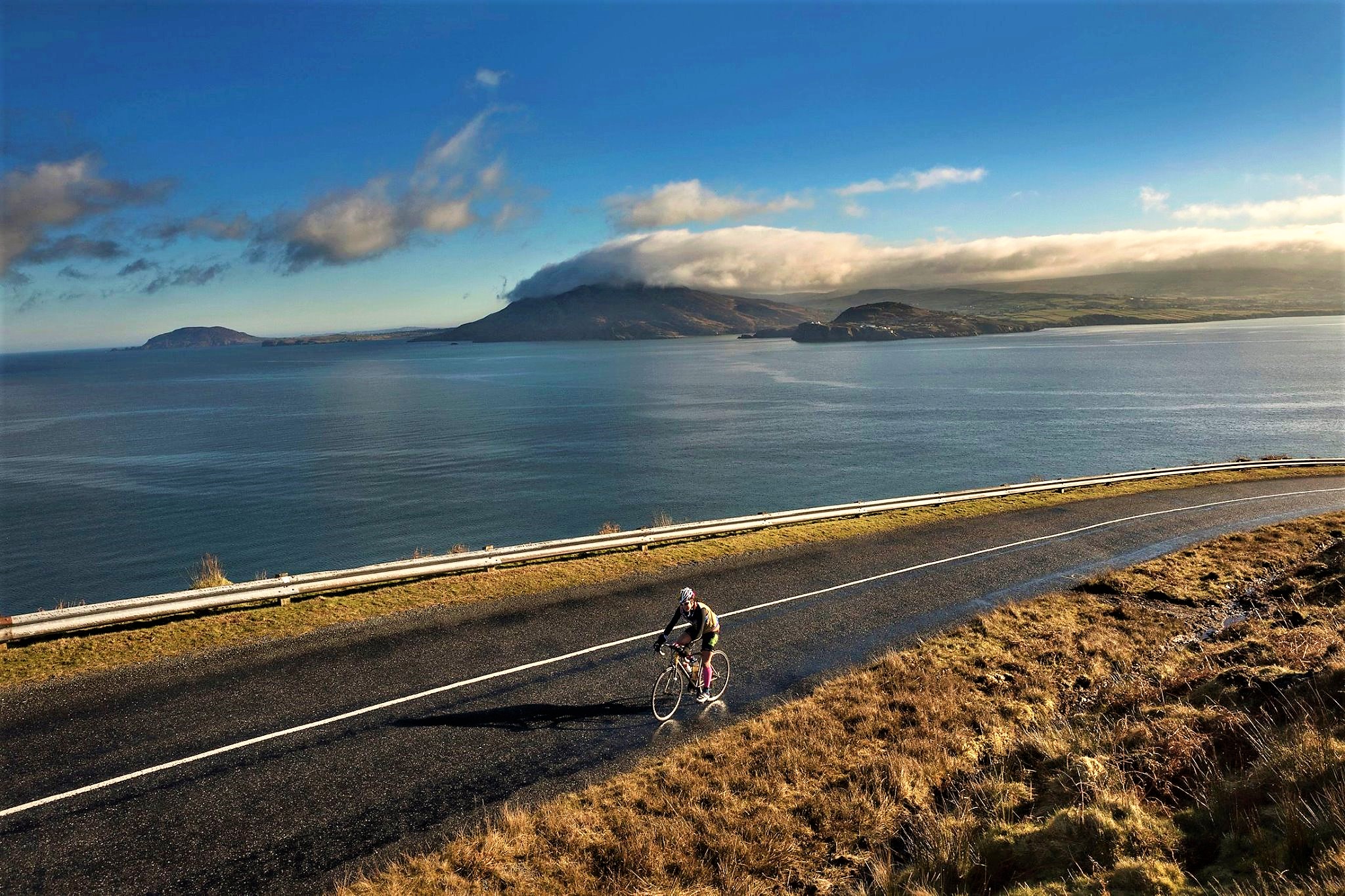 There is something about the feeling of a salty wind hitting your face. It is exhilarating. And luckily, living on a small island like Ireland we have an abundance of exposed coastal bike rides right on our doorsteps. A highlight, however, has to be the sections of the Wild Atlantic Way in north Donegal – if you cycled any closer to the sea, you would be in it! Departing from Rathmullen, you can wind your way up the coast, past Portsalon, right around Fanad Head before crossing Drongawn Lough and looping right around Melmore
What to expect: Quiet roads offering mind-blowing views of golden sandy beaches, dramatic cliffs and the crashing Atlantic with a few heart-pumping climbs thrown in for good measure.
Essential info: If you don't own a bike there are plenty of bike rental companies dotted around the country. However, if you are looking to do longer rides, it may be worth renting a light road bike as it will make your time in the saddle infinitely more enjoyable. Biking.ie has a fleet of carbon road bikes available to rent in Dublin and Wicklow which you can take for up to a week.
Check out the Wild Atlantic Way for further information on the various cycling routes available.
41. Walk the One Man's Path on Slieve League
This narrow scrambling path runs up the spine of Slieve League and leads you up to the highest sea cliffs in Ireland. These cliffs are also amongst the highest sea cliffs in Europe. From the highest point, it's a staggering 609m (1,998 feet) drop into the Atlantic Ocean below.
What to expect: From the designated viewing points, the views are just incredible! On a clear day you can see right across to Sligo, Leitrim and the Mayo coast.
Essential Info: It's only about a 10km round-trip, but you need to be a fairly experienced climber to tackle the ridge.
42. Hit the Causeway Coastal route in a VW camper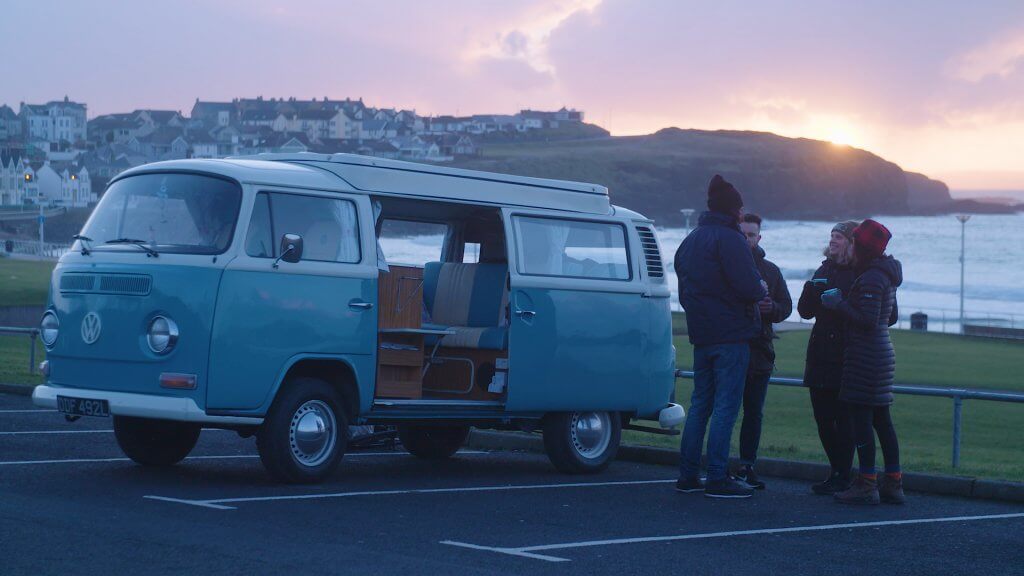 Nothing says freedom quite like the feeling of hitting the road in a vintage VW camper van. Enjoy a slower pace of life as you weave your way along this glorious coastal road. With its chocolate box villages, traditional fishing harbours, pristine beaches and epic geological and historic sights, you'll find yourself stopping every few minutes to absorb it all. And if you don't fancy squeezing yourself into a hammock for the night inside the van, you park it up and head for one of the many boutique guesthouses or hotels along the route.
What to expect: Follow our full Causeway Coast itinerary here.
Essential info: Happy Campers NI rents out a selection of VW camper vans from its base in Newtonards just outside Belfast.
43. Conquer your first sea stack, Co Donegal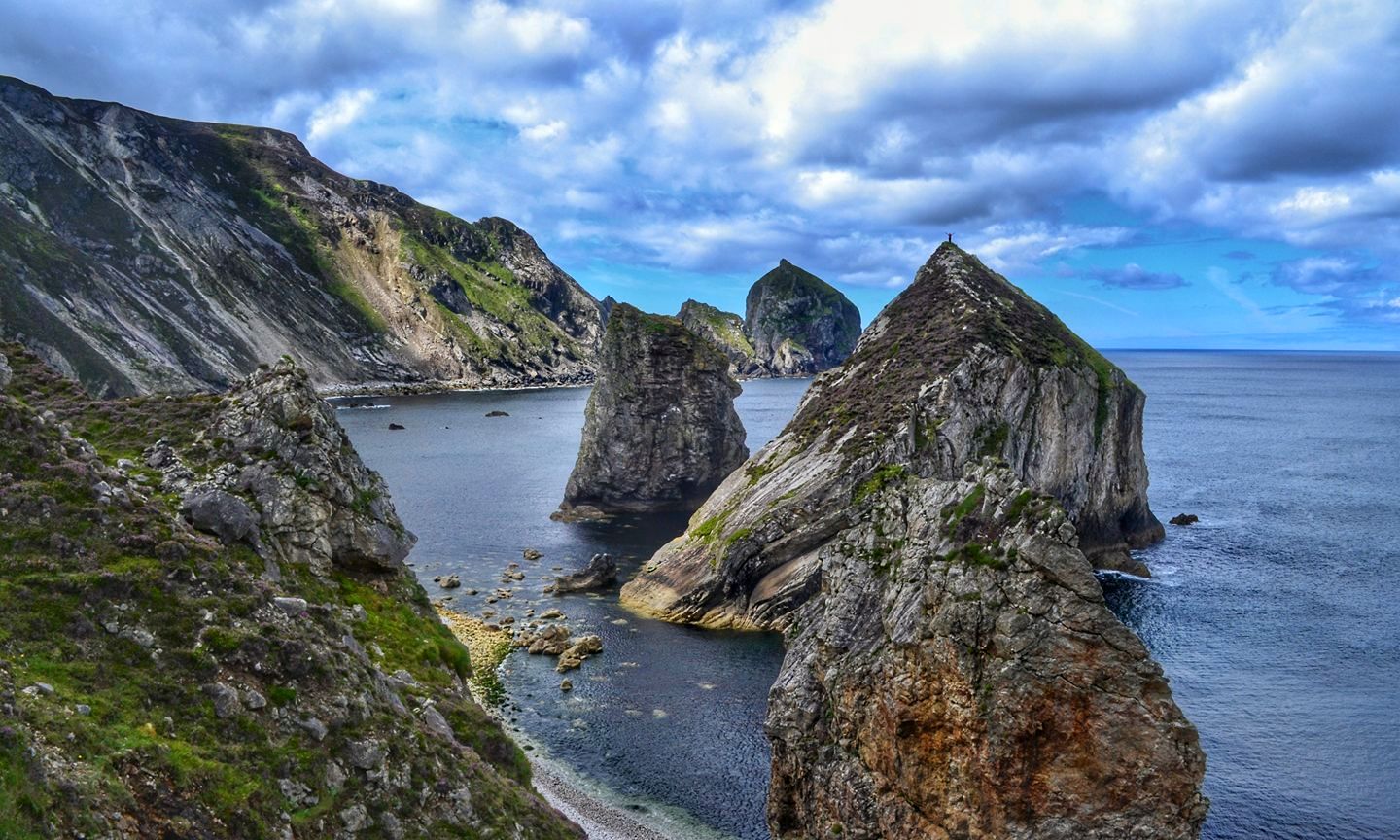 It's hard not to be wowed by Cnoc na Mara, near Glencolumbkille in Co Donegal. Standing at 100-metres, this sea stack provides an exhilarating experience. Standing on a pinpoint 100m above the ocean, 500m from the nearest point of land and 20km from the nearest main road, you are guaranteed to feel a million miles from civilisation.
What to expect: You will get to experience one of Ireland's most remote climbs – standing on the pinpoint top of the sea-stack you will feel a million miles from anywhere as the sea surrounds you below.
Essential info: You need a good head for heights and some climbing experience for this one. In addition to Cnoc na Mara, Unique Ascent offers a number of additional routes to explore across the coast of Donegal, including 250m sea cliffs.
44. Explore the Mourne Mountains, Co Down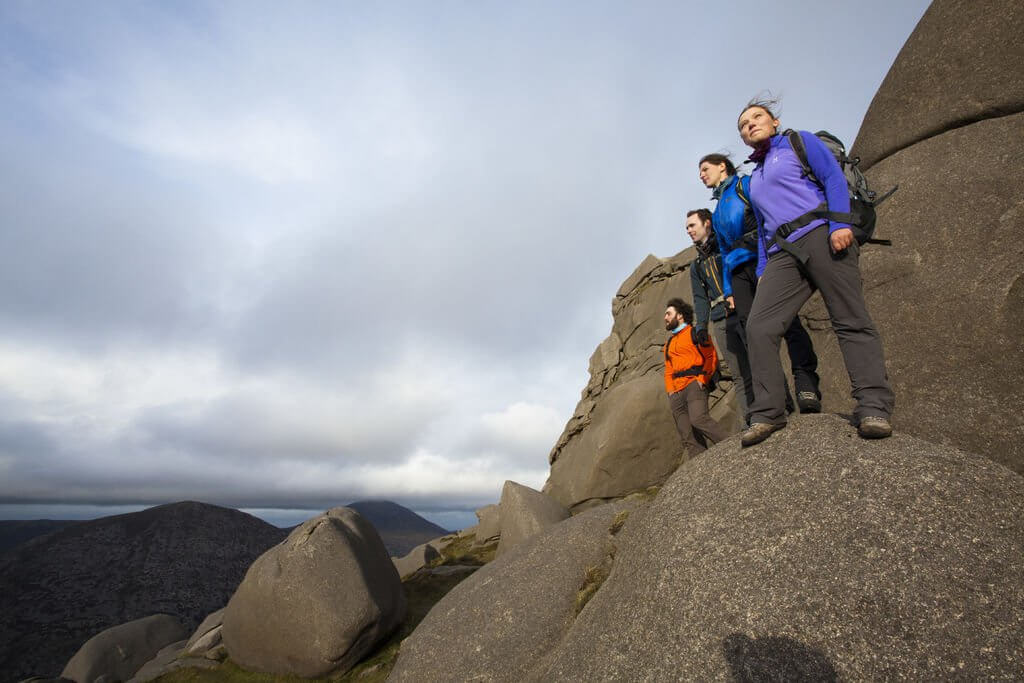 These Northern Ireland mountains are the perfect place for biking and hiking, camping and climbing! They are the highest and most dramatic mountain range in Northern Ireland and voted the 'Best Walking Destination' in Northern Ireland in WalkNI's inaugural awards. They have 12 peaks rising above 600m and plenty of walks on offer to suit all ages and abilities. Slieve Donard is the highest peak for a great hike or for rock climbing head to Pigeon Rock or Fairhead.
What to expect: The very best of Northern Ireland, a place to play and quieten the mind.
Essential info: The Mourne Mountains are situated 50km south of Belfast and just over 100km north of Dublin. Translink operates a "rambler" bus service through the Mournes from May-August each year, Tuesday to Sunday. Activities in the Mournes Shuttle Services (AIMSS) provides a shuttle service to walkers in the Mourne Area. For more information or to book the shuttle service, contact Peter Magowan on +44(0)75 1641 2076.
45. Swim under the Carrick a Rede Rope Bridge, Co Antrim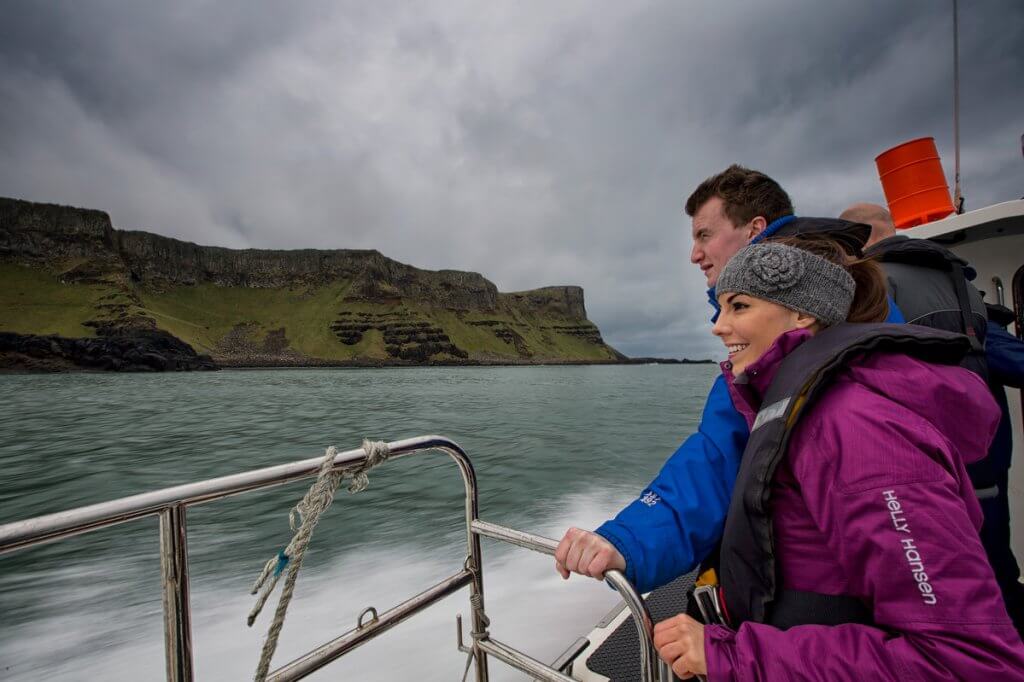 This should be an absolute must on everyone's to-do list. Departing from Ballycastle, skipper Richard from Aquaholics talks you through the myth and history surrounding this unique landscape. He also happens to have worked on Game of Thrones, which is a further bonus for fans of the show. Bob past Kinbane Castle and onto the Carrick-a-Rede Bridge, hopefully, you'll spot a big pod of dolphins, minke whales or even a basking shark. The highlight of the trip for us, however, is undoubtedly the jump off the boat into the North Atlantic Sea. Swimming right between the imposing cliff face and sea stacks and under the Carrick-A-Rede rope bridge offers a completely different perspective on this famous attraction. It's a whole lot of fun and highly recommended.
What to expect: Wildlife, adrenaline, fresh air and a chance to swim underneath one of Northern Ireland's most iconic landmarks.
Essential info: Aquaholics runs two boat trips along the Causeway Coast. The Giant's Causeway Coast and Rathlin Island boat trip departs from Portstewart Harbour and visits the Skerries, Dunluce Castle, the Giant's Causeway, Whitepark Bay, Ballintoy and Carrick-a-Rede rope bridge. It then heads over to Rathlin Island to the bird sanctuary and West Lighthouse before you get a 45-minute break on Rathlin. The trip costs just £50. The cheaper alternative is the Puffins Express and Carrick-a-Rede rope bridge boat trip. The two-hour trip is £30 per adult and just £15 for under 12s.
46. Visit the most Northern Point, Co Donegal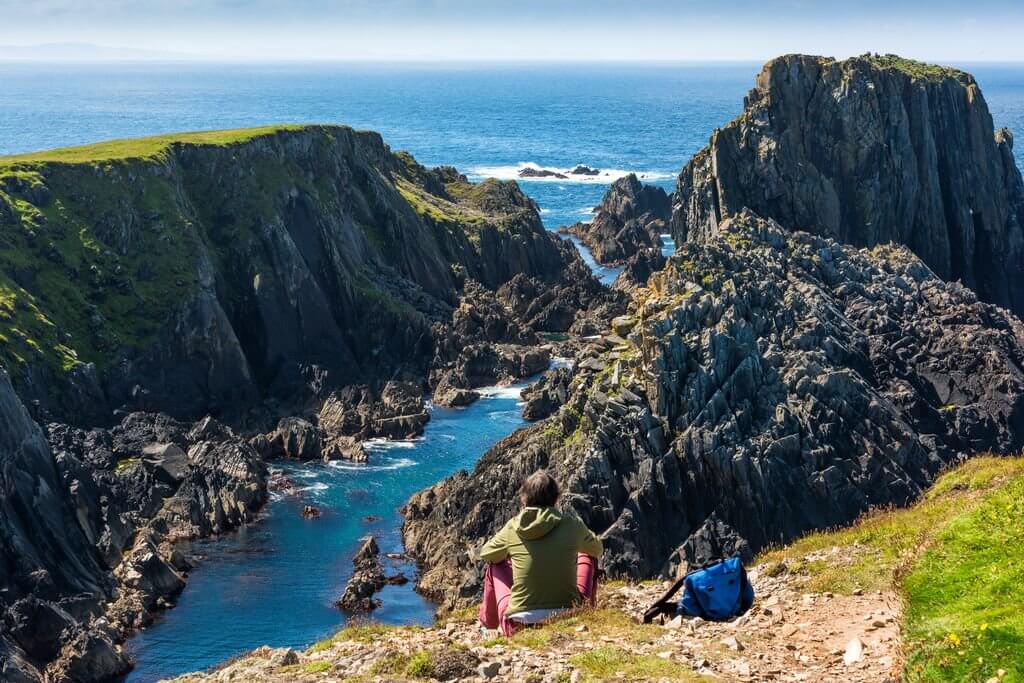 Malin Head in Donegal is Ireland's most northern point. Head to Banba's Crown at the very tip of it, to see the most northerly building on the mainland. The cliff top tower was named 'Banba' after the mythological patron goddess of Ireland. It's got a fascinating history, built as a Napoleonic lookout tower and went on to be used by Lloyds of London to contact ships offshore during WWI and WWII.
What to expect: Rocks, shorelines and the highest sand-dunes in Europe. Plus, if you are very lucky, on a few nights a year you can see the Northern Lights from this point!
Essential Info: Make sure to grab a coffee or something to eat from the somewhat legendary food truck Caffe Banba that is sometimes parked up there.
47. Go Coasteering in Northern Ireland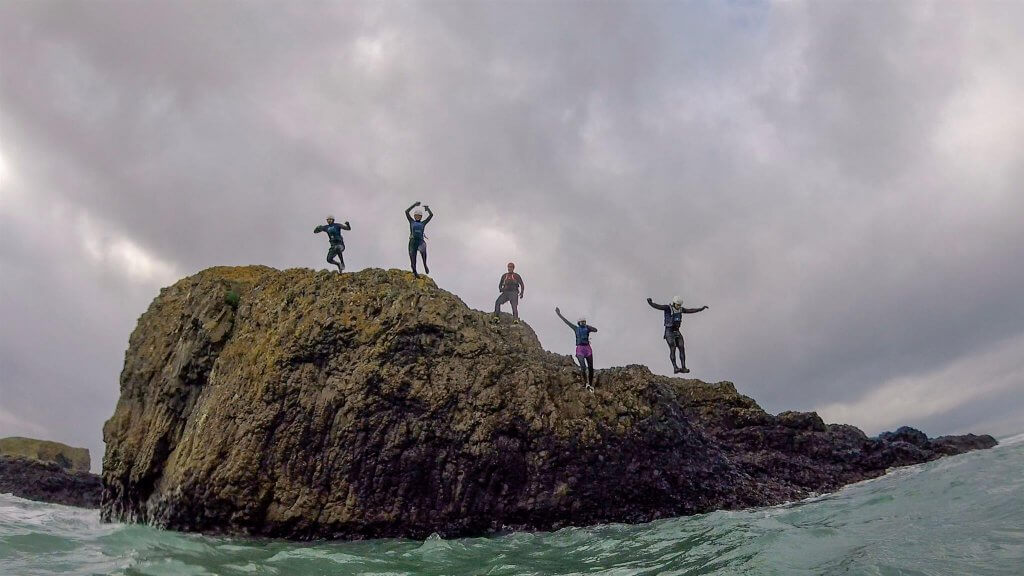 Coasteering is about the most amount of fun that you can have. Jumping off cliffs into the water, whizzing down natural water slides and swimming from spot to spot through the crashing Atlantic is guaranteed to release your inner child. There are two spots worth sussing out. The Bloody Bridge at the foot of the Mournes is the first (also a great bouldering spot) and Ballintoy, home of the famed Carrick-a-rede rope bridge is the second.
What to expect: A super picturesque spot to lap up some adrenaline. It's the perfect way to explore the Causeway coastline.
Essential info: Bobby from Coasteering NI offers a really great trip, departing from Ballintoy Harbour. Sessions cost £45 but there are discounts available for bigger groups.
48. Go Caving in Co Cavan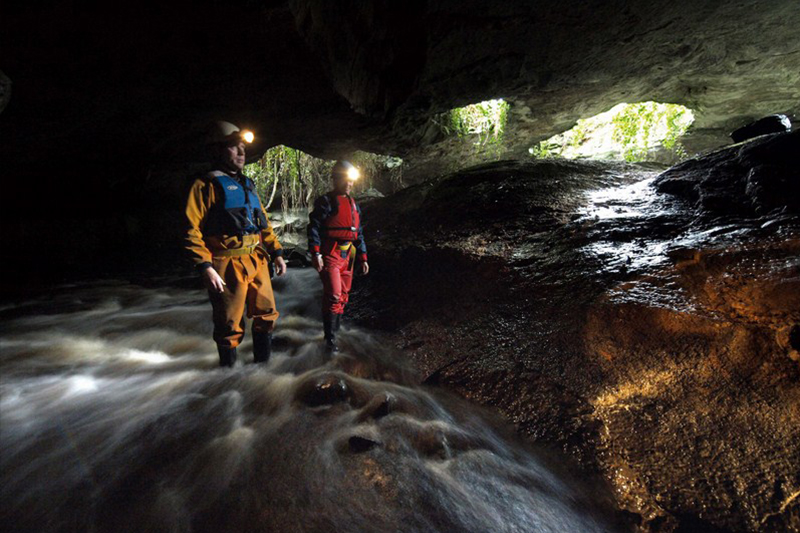 Exploring overground is all well and good but don't forget that there is a whole world beneath your feet that's waiting to be investigated. One place that should be on your bucket list is the river canyon in White Fathers, Blacklion, Co Cavan. Nestled within the Marble Arch Caves UNESCO Global Geopark, it's got some epic caving opportunities.
What to expect: Plenty of curtains and stalactites to marvel at and nothing will get the heart rate spiking like a swim underground in pitch blackness.
Essential info: Corralea Activity Centre run two-hour caving sessions in Blacklion for £120 for two people.
49. Paddle the North Coast Sea Kayak Trail, the Causeway Coast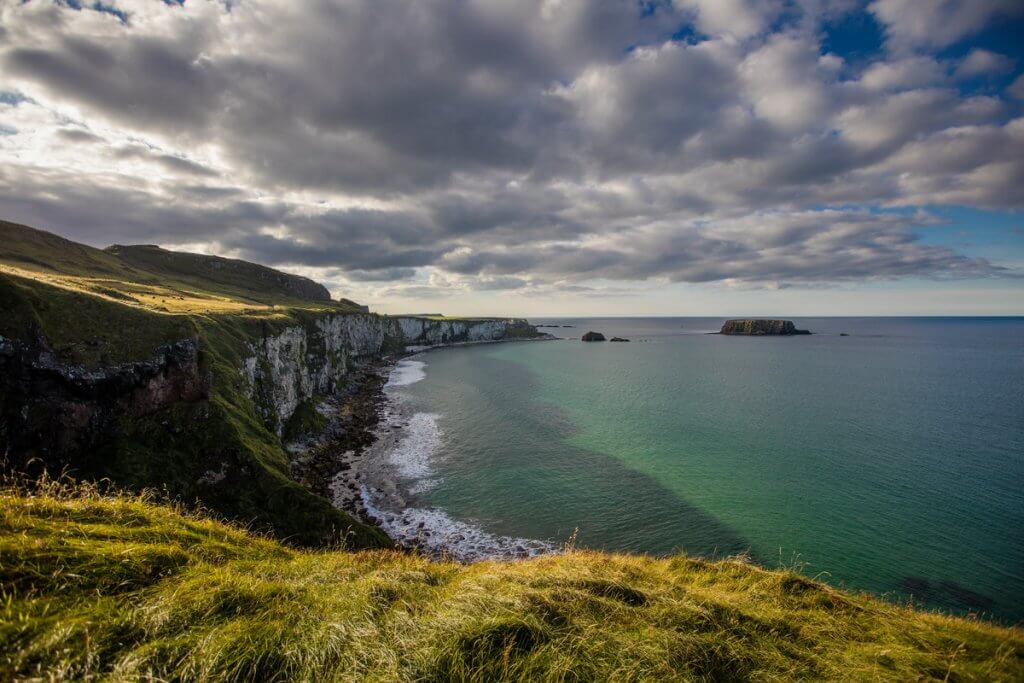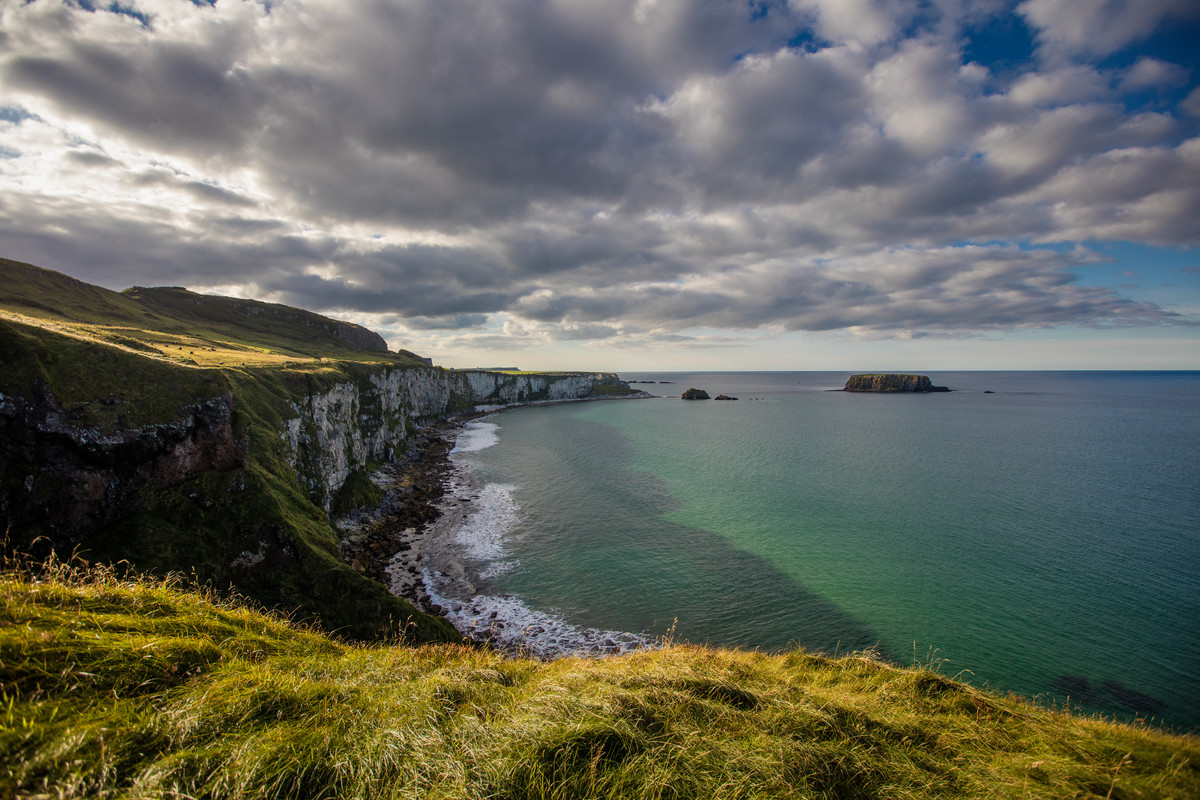 From Magilligan Point in Co Derry, all the way to Waterfoot at the mouth of Glenariff flows the North Coast Sea Kayak Trail. You can paddle any one of the six sections, all depending on your experience and what you are looking for. It really is a bucket list adventure.
What to expect: All will enjoy the incredible scenery, wildlife and local history. Taking in the ancient castles, the Giant's Causeway and the dramatic rope bridge.
Essential info: Xplore Outdoors run three-hour sessions for £45. You will be in a group of no more than six enthusiastic paddlers! Bring swimwear or shorts and t-shirt, towel, old footwear or booties, snacks and a drink.
50. Go Mountain Biking in Rostrevor, Co Down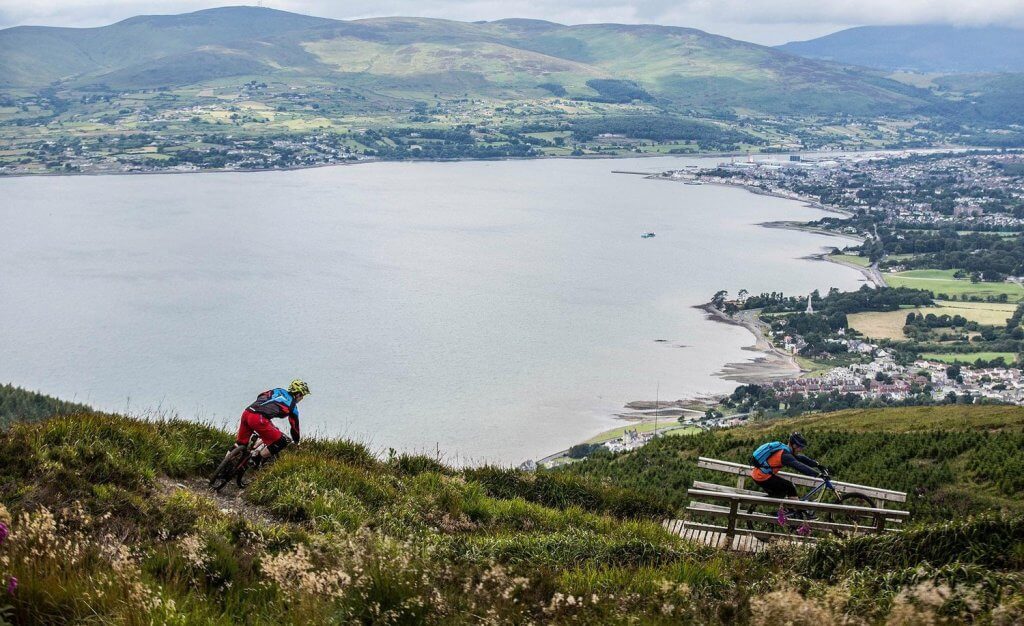 Are you ready to rip some black trails?! In that case, the Rostrevor Mountain Bike Trails in Co Down is the place for you. With 27 km of red trail and a hair-raising 19 km of black trail, Rostrevor is believed by many to be the top spot for high-level mountain biking in Ireland.
What to expect: Situated on the shores of Carlingford Lough, you can expect some amazing views shredding around here.
Essential info: If you're not bringing your own, rent a bike at East Coast Adventure for around €20. They also offer lifts from Thursday through Sunday. Aside from that, they also have a café; a bike wash and showers, so you can leave feeling fresh AND filled with adrenaline. You'll find them about 75 km out of Belfast, on the Shore Road between Rostrevor and Kilkeel.
Check out our Hard as Nails podcast:
Like this? You should check these out: