Standing guard at the entrance to Clew Bay, Clare Island is a tiny mountainous island in County Mayo. Famous as the home of the pirate queen Grainne Uaile (Grace O'Malley), today just 145 people live here year round. But the diminutive island is a haven for adventure lovers as Outsider's editor Roisin Finlay discovers.
I'm standing on the top of a 30-foot sea stack. The Atlantic in all her watery glory stretches out around a cotton wool grey sky. The pile of rock is called the Bird's Nest thanks to the toupee of grass which grows on its top, dancing and waving like a wayward comb-over in the light breeze. It's one of those calm mild days. A 'pet of a day' as my mother would say.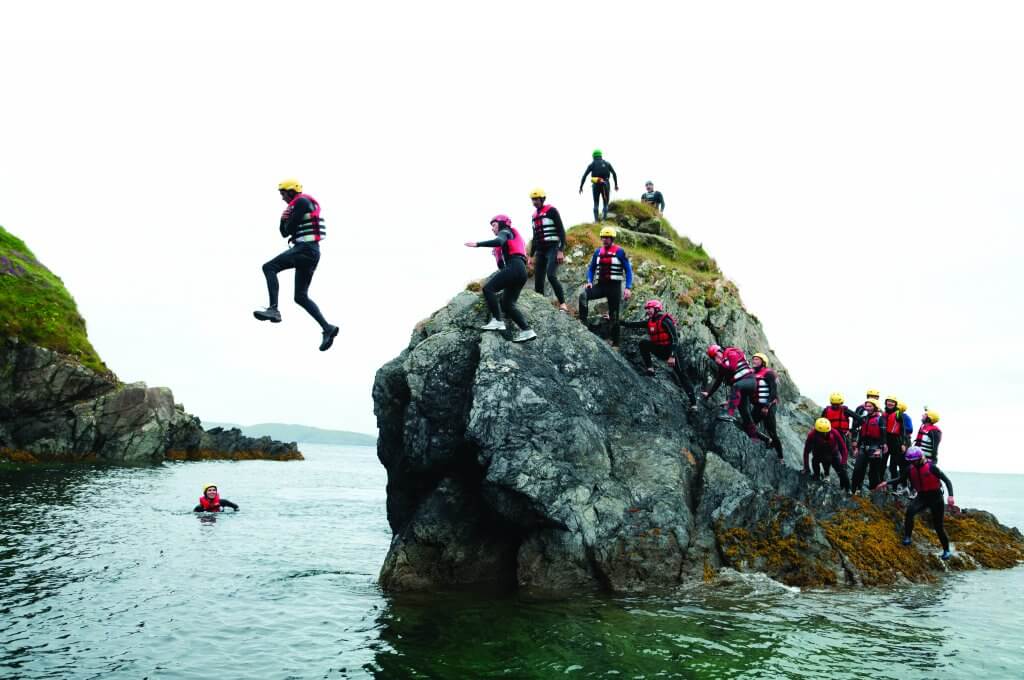 I take a few deep breaths and mutter some clichéd 'psyche-me-up' expressions before I jump. A guttural roar fills the air before I blast into the sea, light disappearing and a storm of water and bubbles rushing past my face. Then the blackness recedes and I surface into the light. Grinning. I did it! I am coasteering off the northeast coast of Clare Island in Co Mayo.
Coasteering on Clare Island:
The idea behind this activity is simple. You explore a section of coastline through a combination of swimming, clamouring along rocks and jumping off certain points. It's a basic concept but it can be dangerous so it's important to use a qualified guide.
We're under the watchful eye of two guides from Clare Island Adventures, a collective which organises accommodation, transport to the island and adventure activities while you're there.
The Best Irish Islands to Escape to
For both comfort and safety, our guides Ian and Susan have kitted us out with a helmet, buoyancy aid and not one but two wetsuits for extra warmth.
The water is about 10° Celsius and despite dreading being freezing for the trip I am completely fine. In fact, I forget about the cold pretty quickly as I am distracted by the stunning scenery which pans in soft lines of grey, blue, purple and green from Achill Island to Croagh Patrick.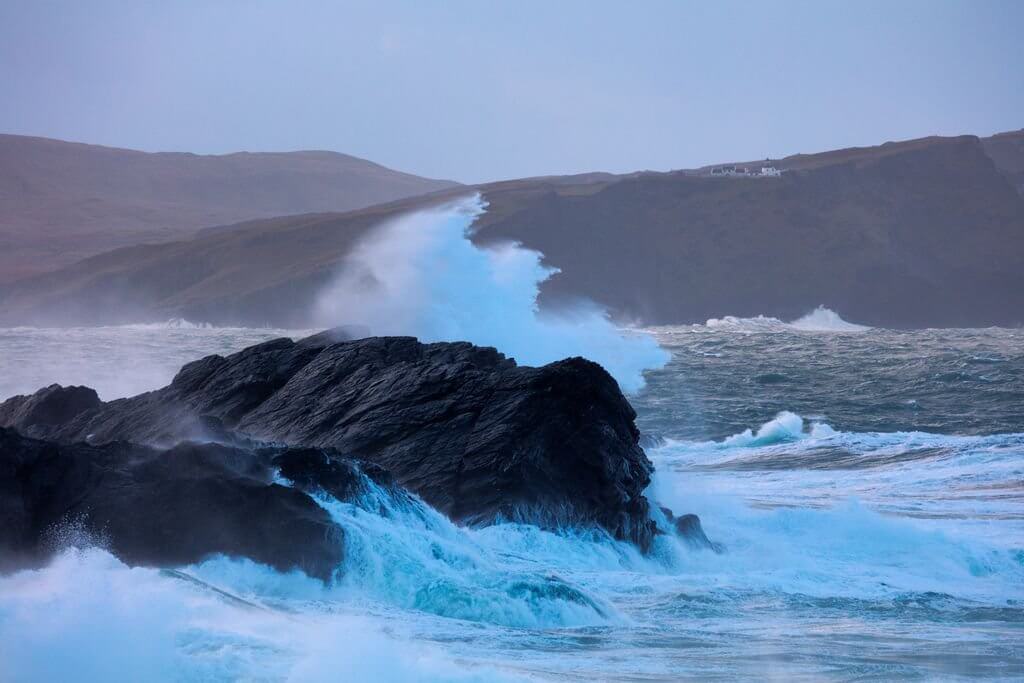 Our route also brings us into a sea cave. The atmosphere is ethereally peaceful until a cormorant flaps suddenly from the darkness, indignant at the intrusion no doubt. Some of the group swim down an ever narrowing and darkening cavern but I'm too spooked so I find a perch and admire the colour of the rocks and take in the sunlight playing tricks through the crystal clear green water. I can only imagine what the light show would be like on a clear sunny day.
The Ultimate Irish Adventure Bucket List 
When we regroup we recommence our rock clamouring and leaping into the sea. The trip is cleverly organised so that the jumps increase in height gradually until finally we reach the Bird's Nest. Ian, our gentle giant guide, makes sure everyone knows that there is no pressure to jump.
Other activities on Clare Island:
Other activities on Clare Island include hiking, rock climbing, sea kayaking and snorkelling. All of which are available with Clare Island Adventures.
Where to eat and drink on Clare Island:
Go Explore Hostel /Sailor's Bar & Restaurant offers a smart and comfortable hostel and a cosy bar offering up a feast of delicious fish and homemade soups with an incredible view.
A return ferry, half day adventure activity, one night accommodation and full Irish breakfast costs €83 per person. Check out Clare Island Adventures for further details.
There is a second bar on the island attached to the community centre. One can expect writer's nights and live music in this authentic Irish bar.
If hostel style accommodation is not your thing there are also a couple of B&Bs on the island or we can also highly recommend Clare Island Lighthouse for those looking to push the boat out!
Getting to Clare Island:
In summer, there are a number of ferry sailings from Roonagh Pier to Clare Island. The boat crossing takes about 25 minutes. In the winter, there are usually only two boats a day (morning and evening).
Clare Island Ferry Co – (O'Grady's)- Clare Island's official subsidised service year round
For a timetable log onto www.clareislandferry.com
For queries contact: 00353 (98) 23737/ 00353 (86) 8515003 / 00353 (87) 9004115
Email: bookings@clareislandferry.com
O'Malley's Ferries (Clare Island) Ltd
For a timetable log onto www.omalleyferries.com
For queries contact: 00353 (98) 25045/00353 (86) 6000204
Email: annmarie@omalleyferries.com
Check out our Hard as Nails podcast:
Like this? You should check these out: