Want to get away from it all? We round up the coolest Airbnbs in Ireland, at least one of which is sure to tickle your fancy! 
If you are dying to get away from it all for a weekend, we reckon we have just the ticket. We have rounded up 15 of the coolest Airbnbs in Ireland which offer something a little out of the ordinary. They all have a few things in common though – they offer blissful peace and quiet and all of your home comforts to boot!
1. Secluded Coastal Studio, Co Cork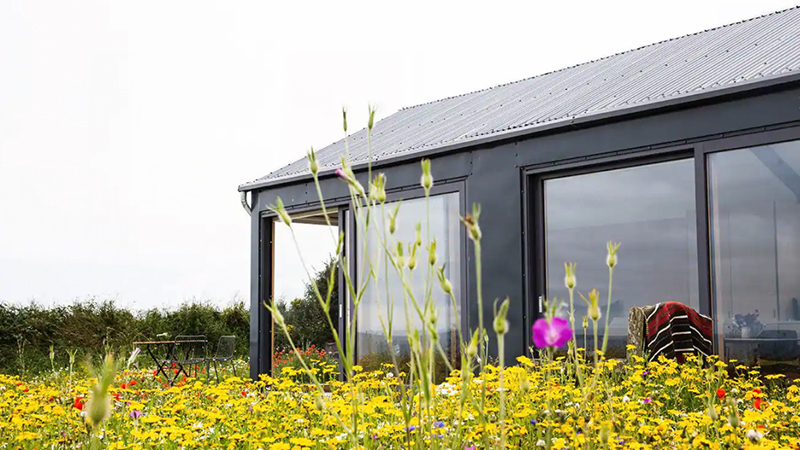 Sleeps: 2
Price: €150
If what you seek is tranquil strolls along the beach and log fires burning then this secluded coastal studio is perfect. Incredible views and not another soul in sight is our idea of bliss. If you chose to stay put in the studio for your entire holiday and not venture outside, you'll still return to reality revived. On the flip side, if you do want to go explore, it's just a 30-minute drive from Cork.
Worth noting: If you are planning to stay for any longer than a weekend, there is no washing machine in the studio but there are another two on the property that you have access to.
More info: Secluded Coastal Studio
2. The Hideout, Co Wexford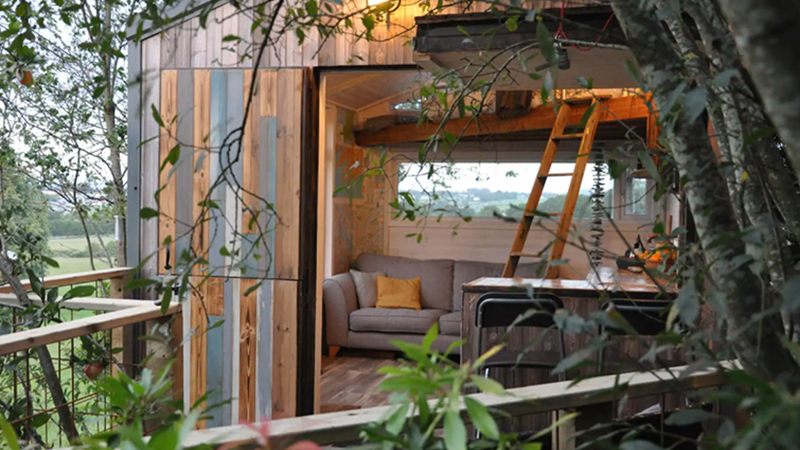 Price: €120
Sleeps: 2
This incredible treehouse is all about simplifying life and embracing the moment. From basking in the heat of the woodstove to stargazing from your bed to enjoying a hilltop sunset or the rainfall showerhead, this is a space to rejuvenate.
Worth noting: Bring a pair of flip flops as the bathroom pod is just a small distance across the deck from the treehouse.
More info: The Hideout
3. Five Star Cottage and Private Beach, Co Donegal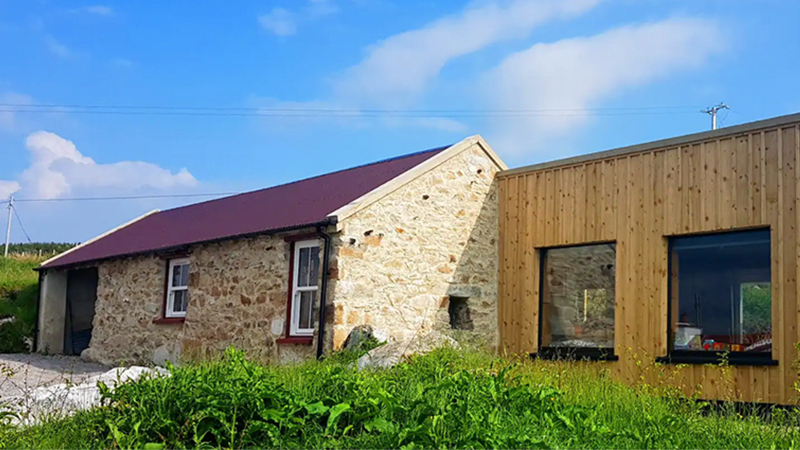 Sleeps: 4
Price: €143
This stone cottage set on your very own private beach is truly otherworldly. The hundred-year-old granite structure has been given new life with its recent renovations. The window seats are our favourite feature – the perfect place to perch yourself with a good book after a day by the sea.
Worth noting: The cottage sleeps four, one room has a kingsize bed and the other has two singles. Pets are also welcome here!
More info: Five Star Cottage
4. Tuckmill Treehouse, Co Wicklow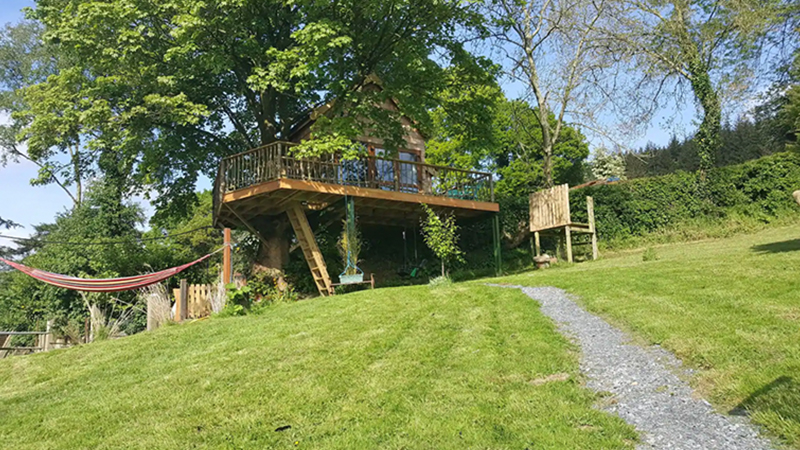 Price: €130
Sleeps: 2
If a break from the trappings of modern society is what you seek, then Tuckmill Treehouse is perfect. It operates a self check-in and has no TV or wifi, truly making it a sanctuary to escape to. Spend your days relaxing and roaming the natural deciduous woodland nearby.
Worth noting: The treehouse is located in Baltinglass, near to the Wicklow Way, if you feel like some first-class hiking. Prosecco on ice is also available at an extra cost.
More info: Tuckmill Treehouse
5. Donegal 2020, Co Donegal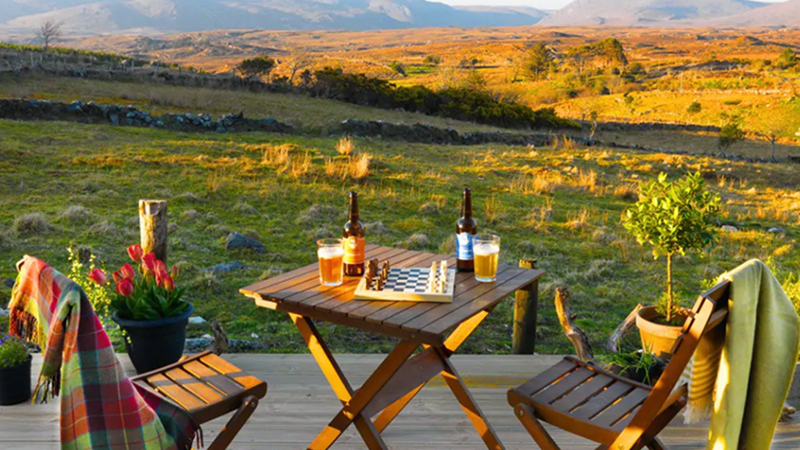 Sleeps: 2
Price: €75
This unique cabin is the perfect little hideaway to explore Donegal from. Not only is it a mere 15 minutes from the Wild Atlantic Way, but it also overlooks views of Glenveagh National Park. Built with sustainability in mind, the cabin is handcrafted from reclaimed and upcycled materials and features a stunning garden roof. Heated by a woodburning stove, it radiates character! For those who want a bit more than just TLC, there is plenty of hiking and biking to be done from your front door.
Worth noting: The cabin is located in a Gaeltacht area, so come immerse yourself in the local culture and make sure to attend a traditional music session in one of the local pubs.
More info: Donegal 2020
10 books that will make you quit your job and travel
6. Lough Hyne Cottage, Co Cork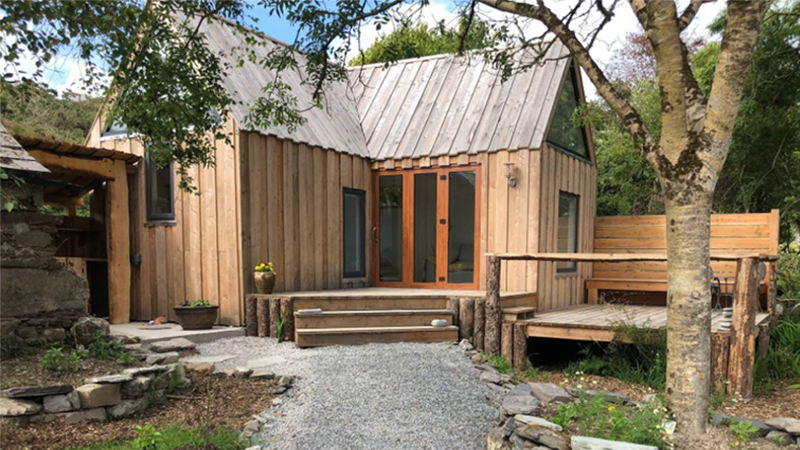 Sleeps: 4
Price: €115
This bespoke cottage overlooking Lough Hyne is about as 'instagrammable' as they come. Built inside stone ruins dating back to 1860, you'll fall in love with every little detail. It's the perfect relaxing getaway for a group of friends or family. Enjoy a dip in the lake at sunrise before a morning yoga session in the open-plan living room or out on the expansive deck.
Worth noting: Lough Hyne Cottage is situated on a growing organic farm. The hosts are always keen for you to join in and avail of the fresh produce grown there.
More info: Lough Hyne Cottage
7. Rural Mountain Retreat, Co Kerry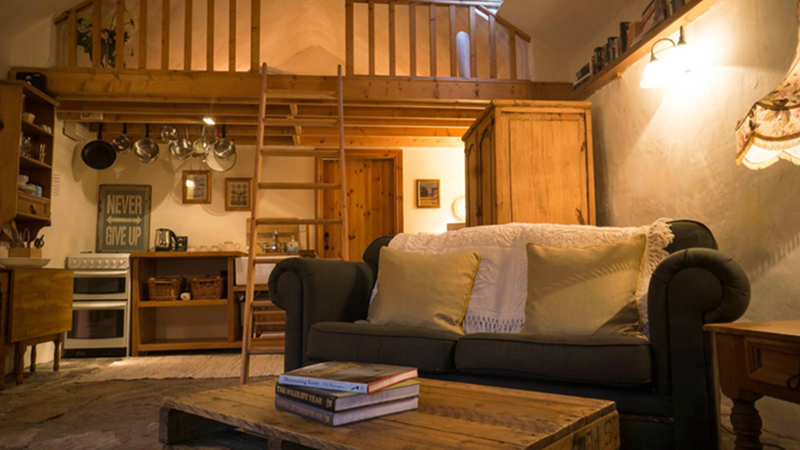 Price: €89
Sleeps: 2 guests
This incredible space is located at the foot of Ireland's highest mountain, Carrantuohill. The converted stone farm building oozes character and is the perfect hideaway for a couple or solo traveller to escape from the city for an idyllic few days in nature.
Worth noting: It's an ideal basecamp for hikers, climbers and mountaineers. A welcome pack of homemade soda bread, butter, milk, tea and coffee adds the perfect touch to an exceptional place.
More info: Rural Mountain Retreat
8. Off-Grid Tiny House, Co Wicklow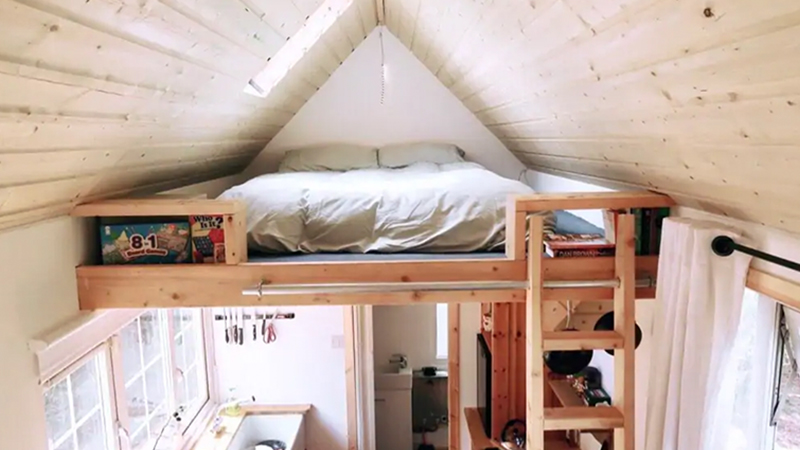 Price: €60
Sleeps: 2
Get a taster of what it means to live off-grid in this beautiful tiny house located in the Wicklow Mountains. Embrace a simpler lifestyle for a few days and get back to what is really important. See what it takes to live more sustainably using solar electricity, rainfall tank water and a compost toilet. Just a five-minute drive from town, it's also easily accessible from Dublin.
Worth noting: It truly is off-grid so there is no TV or wifi, so bring a book!
More info: Off-Grid Tiny House
9. Conroy's Old Bar, Agish, Co Tipperary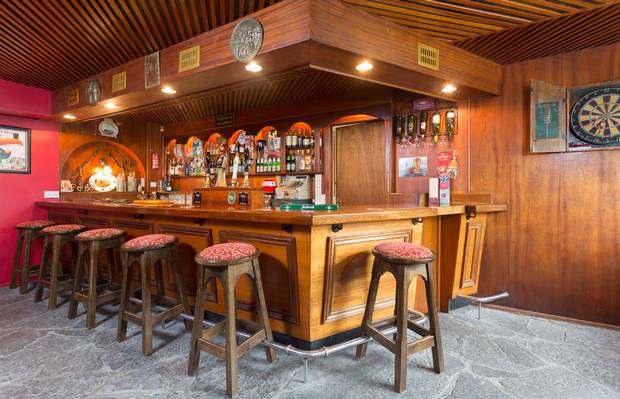 Sleeps: 4
Price: From €140
This self-catering pub is often referred to as "the pub with no beer". But fear not, the landlord has a very loose BYO policy… aka you can bring in whatever you like!
The converted village pub complete with polished mahogany bar and open turf fire has a fully functioning kitchen and a lounge jam-packed with all of your favourite pub games. There's also an old beer garden and BBQ with amazing views over the Tipperary countryside.
Worth noting: If you have always dreamed of playing barman to a whole host of friends, you have to keep on dreaming. The landlord allows no more than four people on or in the property at all times.
More info: Conroy's Old Bar
 10. Ballytarsna-Hackett Castle, Co. Tipperary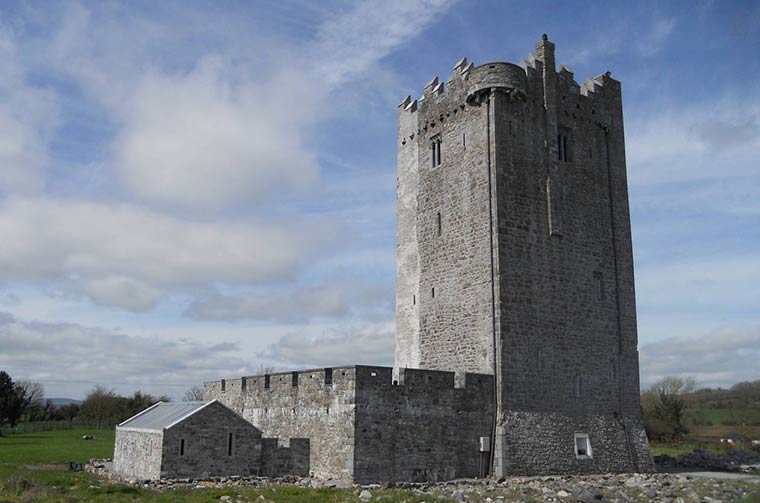 Sleeps: 2
Price: From €175
Dating back to 1480, Ballytarsna-Hackett Castle has been lovingly restored and offers guests a stay to remember. The top floor which is available for rent as a self-contained unit is beautifully decorated (expect a four-poster bed, free-standing bath and a small library) and offers sweeping views across the wilds of Tipperary.
The castle even has its own dungeon, within which the year 1536 has been carved into the wall – it's a little spooky.
Worth noting: You need to pack light for this one – the fifth floor is reached via 64 stone steps.
More info: Ballytarsna-Hackett Castle
15 of the best stops along the wild atlantic way
11. Cookoo Wood Hexagon, Westport, Co Mayo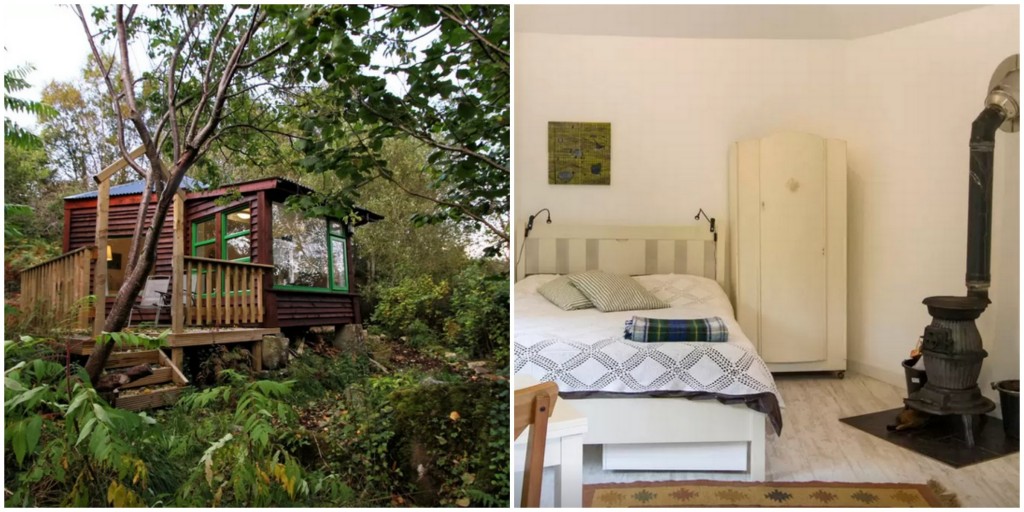 Sleeps: 2
Price: From €80
The Cookoo is one of my absolute favourites on this list. With nothing but a few goats and hens for company in the neighbouring field, it offers complete escapism. A deck surrounds the property so if the sun does make an appearance, you can catch it at almost any time of the day. It is also beautifully decorated and comes complete with a potbelly stove for cosy nights in.
Worth noting: The host supplies fresh wheaten bread, fresh eggs, fruit and milk and a number of other essential making this place the perfect hideaway.
More Info: The Cookoo Wood Hexagon
12. Gypsy Wagon, Fintown, Donegal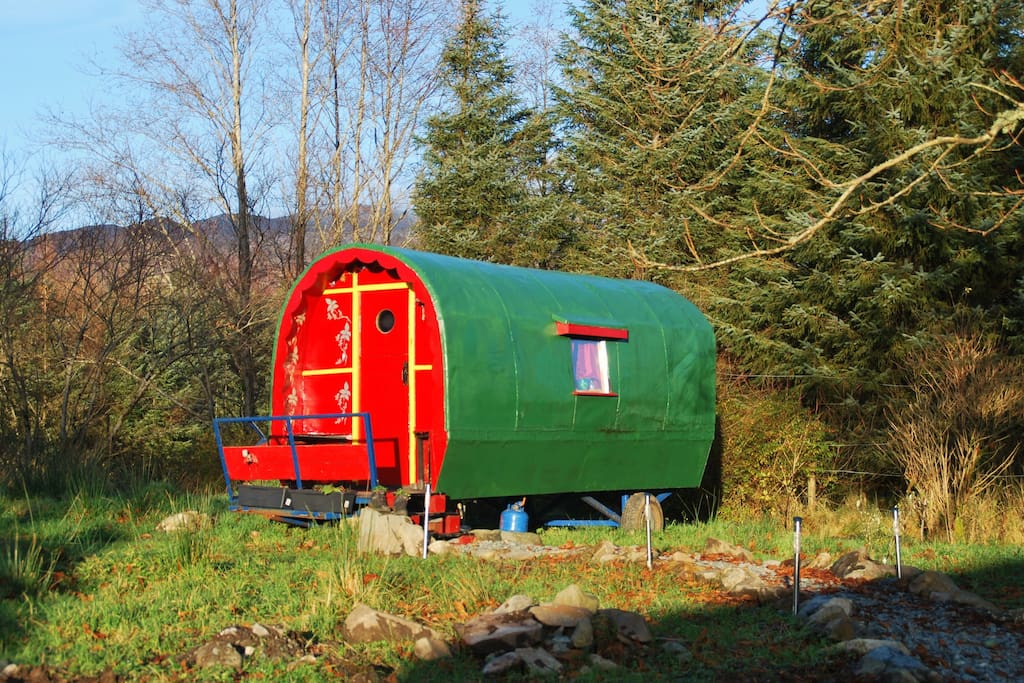 Sleeps: 4
Price: From €45
Step back in time and experience something very unique: A traditional bow top gypsy caravan set in a woodland in the Donegal hills totally off the beaten track. Lovingly restored to a high standard you feel cosy and snug in the midst of nature.
You will find an old horse-drawn gypsy wagon which is now set on a meadow under mature trees. It is a very quiet and peaceful location with streams, lakes and forests all around in the hills of Donegal.
Worth noting: The caravan will sleep a family of four (two adults and two children) with two double beds. The adult bed on top is six foot long, the one below is about 5 foot long.
The caravan is very well insulated and has modern amenities like running water, a cooker, fridge, kettle and toaster and can be heated with a modern wall-mounted electric heater with a timer which makes it always warm and cosy whatever the weather.
More info: The Wonderly Wagon
13. Pop's Dream, Whitehead, Co Clare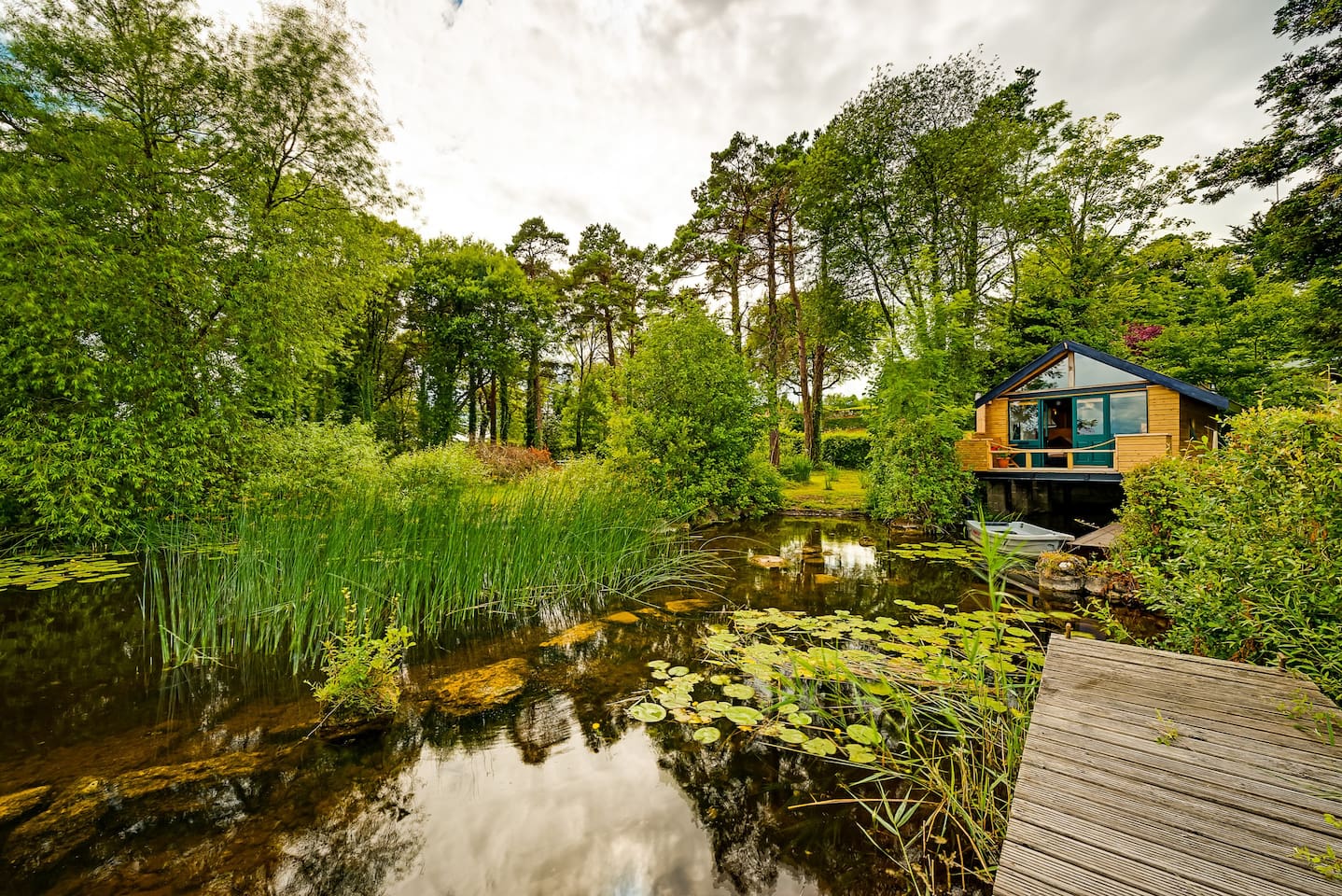 Sleeps: 2
Price:  From €60
Pop's dream is a small slice of paradise on the sunny side of Lough Derg. The boathouse is self-contained with a full kitchen and bathroom. There's a private veranda with seating for two and a small BBQ.
Worth noting: This place is pretty remote so come equipped with everything you are going to need, you don't want to have to pop out for milk should you run out!
More info: Pop's Dream
14. Wicklow Head Lighthouse, Wicklow
Sleeps: 4
Price: From €250
This is a peace seeker's haven with inspiring and refreshing views of the Irish Sea. The landscape and scenery surrounding the lighthouse provide a perfect backdrop for a unique and memorable break.
The lighthouse has six octagonal rooms carefully constructed in the void that existed within the tower when it was first taken on by Irish Landmark. The arched windows set into walls offer stunning views out to the Irish Sea and the surrounding countryside making this property a most unique place to stay.
Worth noting: Brides Head beach is just a 15-minute walk away so don't forget your togs!
More info:  Wicklow Head Lighthouse
15. Urban Tranquila Tree, Co Cork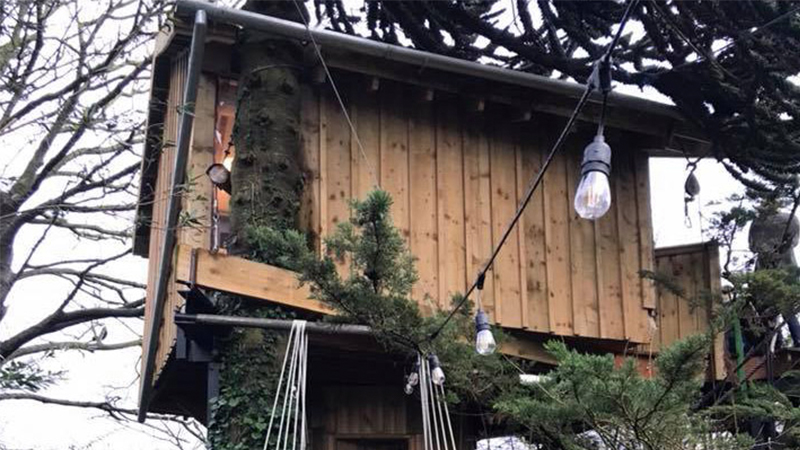 Sleeps: 2
Price: €130 per night
This sturdy backyard treehouse is equipped with a bathroom, double bed and a deck with furniture overlooking Cork city. Standing 6m high, supported by trees in the middle of an old Victorian garden, the treehouse is located in a peaceful atmosphere just a five minute walk from Cork city centre.
Make use of the tea and coffee facilities available in the bedroom before opening the glass double doors to the deck. While taking in panoramic views of the city in the morning, the host can deliver warm croissants to your door in a basket via a string pulley from the ground level.
Worth noting: The treehouse is fully furnished with heating options for all weather. You must walk into the open air down a set of spiral stairs to get to the bathroom – bathrobes and flip flops are provided by the host. The treehouse is set in the host's garden and shielded by trees to allow privacy.
More info: Tranquilla Tree
Check out our Hard as Nails podcast:
Like this? We think you'll love these: 

Previous Post

Next Post