Kieran Creevy goes ski touring in the Finnish Arctic and discovers a vast winter wonderland that will have you stuffing your down jackets into a bag and hopping on a plane.
For those of you interested in a proper wilderness experience or are keen to get the feel of ski touring without getting into terrain that's too steep or technical, the Finnish Arctic gives you both in spades.
Imagine the landscape of Wicklow covered in metres of snow, but 20 times bigger and you've got some idea of the scale of the Finnish Arctic. Even if you've been hiking in the Alps, the Pyrenees or the Atlas, there's no comparison when it comes to the sensation of remoteness that you get here.
Sure, you do meet other groups touring on Nordic skis, travelling by skidoo, or dog sledding, but these encounters tend to be few and far between.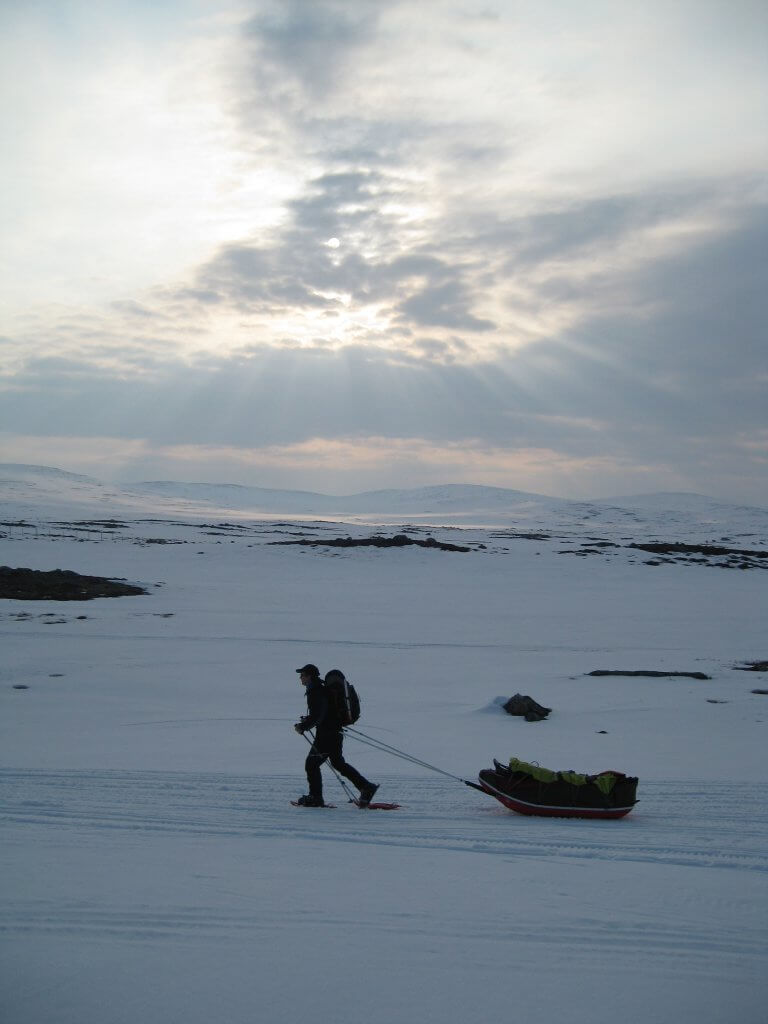 I was in the Arctic thanks to a late-night conversation with the head of the outdoor department in IT Tralee when I'd jokingly asked if they needed any extra instructors for their Finnish expedition.
Fast forward six months and I found myself travelling north overland through Finland with four other instructors and 25 students from IT Tralee's PE course who had designed this expedition. Coming from a country that's always referred to as 'green', it's an eye-opening experience. For one thing, there are vast tracts of forest which could easily encompass all of Leinster with room to spare.
Meet the mountaineer from Dromara who made the first ascent of Burke Khang mountain
So, it's an odd sensation when all the forestry dwindles to scrub plants as the snow and ice expands until eventually you're faced with mile after mile of frozen lakes and snow-covered mountains.
Dotting this wilderness area, a superbly organised Finnish wilderness hut system allows ski tourers to travel incredibly light. This system is split into three options: club huts, reserved huts/or sections of huts and free huts. Club huts are for members only. Reserved huts can be booked months in advance, giving you the opportunity to plan your tour according to where you want to go and how much ground you're going to cover each day. The free huts are similar to Scottish bothies, but much better equipped.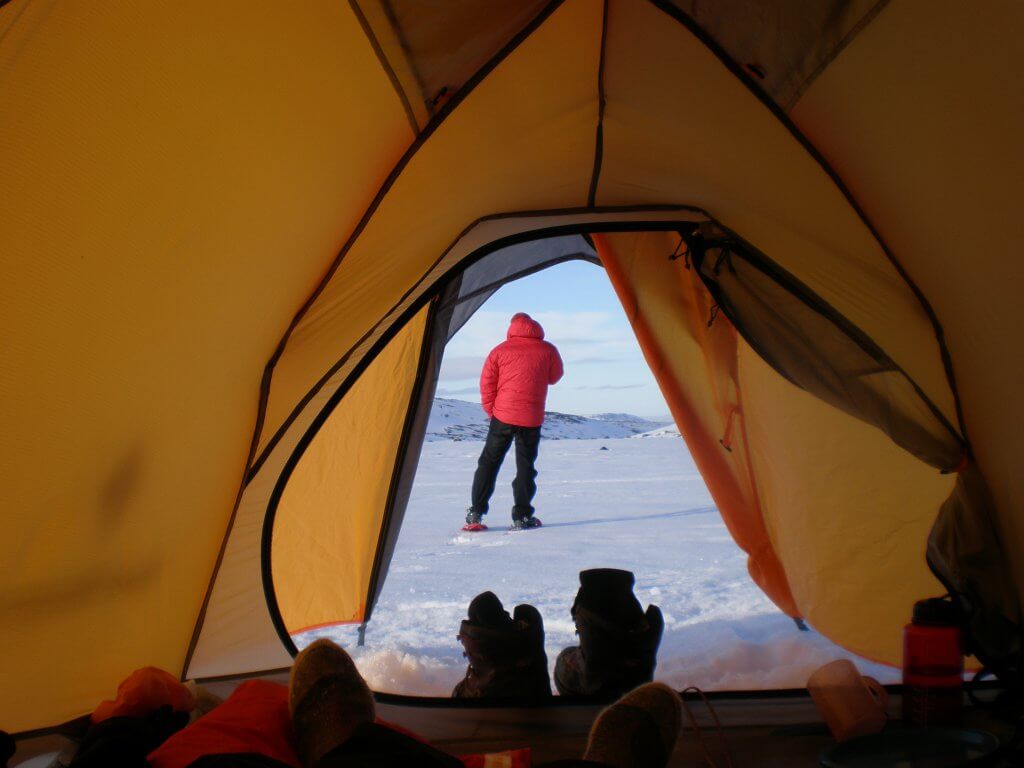 Our initial objective (which had been worked out in the comfort of the Tralee student lounge months previously) was to head from Kilpisjarvi under the steep slopes of Saana (which, when the weather cooperates, plays host to a crazy midsummer ski race), through the Kasivarsi wilderness area and finally to ascend Halti (1323m) which straddles the Finnish/Norwegian border.
Change of plan
The plan was to cover about 15-20km per day using the huts as reference points but camping nearby. We quickly realised however that while pulling 60kg+ pulks (large sleds shared between groups of three) is relatively easy for experienced Arctic explorers like Ranulph Fiennes, we were finding it much harder work. So before long, each small group had come up with various Krypton Factor methods to split the work of pulling. If you're planning a similar trip, it'd be far easier for each member of the party to pull a small sled like the local ski tourers.
Because of our difficulties we had to revise our objectives by the end of day 1. We headed for the Meekonjarvi Hut and decided to use this as a base camp travel out from there on day trips unencumbered by sleds.
In the wilderness you need to plan well in advance, have realistic goals and revise them if necessary. Otherwise, you could get to your destination but have no energy left to set up camp, feed yourself, or take care of yourself, your group or your equipment. Not a good idea!
At the hut, some of the group opted for a tour around the lake, while Lorcan (one of the other instructors), three students and I headed off to climb nearby Saivaara mountain, which bore a resemblance to Benbulben in Sligo. On the way, we encountered a herd of reindeer. The scramble up the scree-covered south face was challenging enough but once on the summit ridge, we were rewarded with superb views down to the hut, over the neighbouring peaks and onwards towards Halti.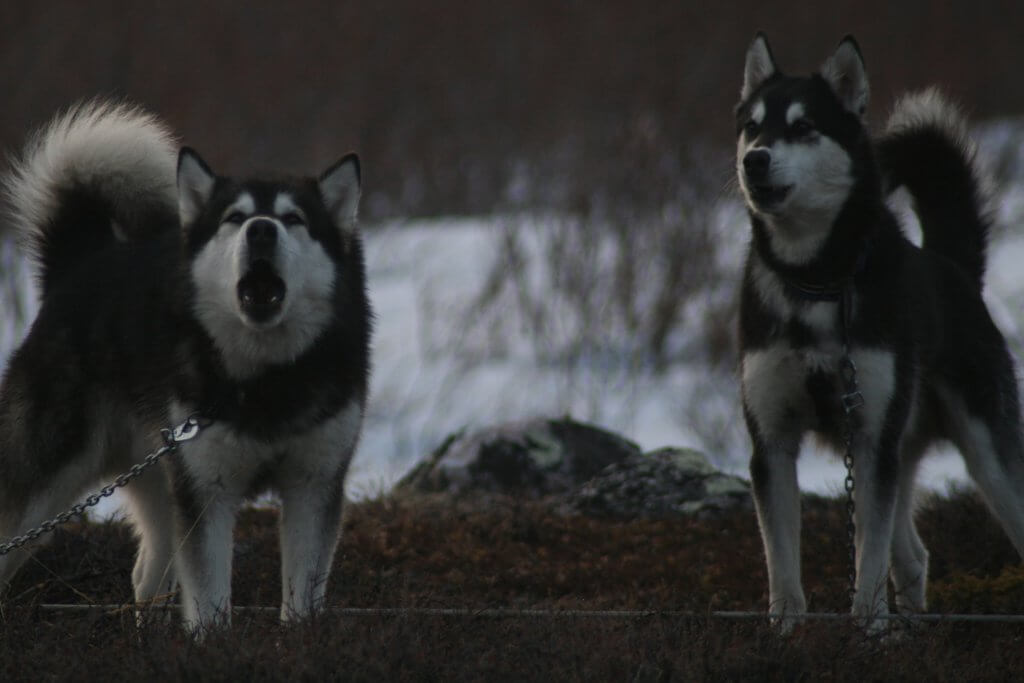 The experience of being cut off from the normal visual cues common in most mountain environments was both exciting and surprisingly meditative. With the cold crisp air, incredibly blue sky, and the distance you could see, it felt like exploration. Now, given that the area is superbly mapped I know that's not true, but having the option to change direction on a whim, the potential to confer with your friends and say "lets head for that peak today" was special.
This, to me is part of what a snow-covered landscape offers. That and having the possibility to continue on into the wee hours of the morning if you felt strong, or setting up camp early ready for an early start in the morning (what morning?). Or simply sitting in the door of the tent, happily cooking away with the sky turning pink in front of you and reflecting in the snow. Another bonus was not having to worry about it lashing rain just as you were about to prepare dinner.
A beautiful miscalculation: climbing Mt Rainier
Incidentally, heading out into this terrain for an extended period of time requires a serious amount of food and fuel since you'll invariably be melting snow for your water unless you're lucky enough to come across holes dug into the ice-covered lakes at certain points. Usually, these are located close to huts, but it's best to assume that you'll be melting snow.
Weather warnings
The other element of a long wilderness trip, especially in the Arctic, that bears careful consideration is that you need to be pretty self-sufficient in terms of navigation, winter camping skills, high-calorie food requirements, and having enough warm clothes for freezing temperatures (although on our trip we had what seemed to be unseasonably warm weather). It was balmy enough to ski uphill with just a pair of softshell pants and a lightweight woollen thermal, topped by a windproof shell. It was only on the last two days that the weather changed; we went to bed under blue skies but woke up to whiteout conditions and serious wind-chill.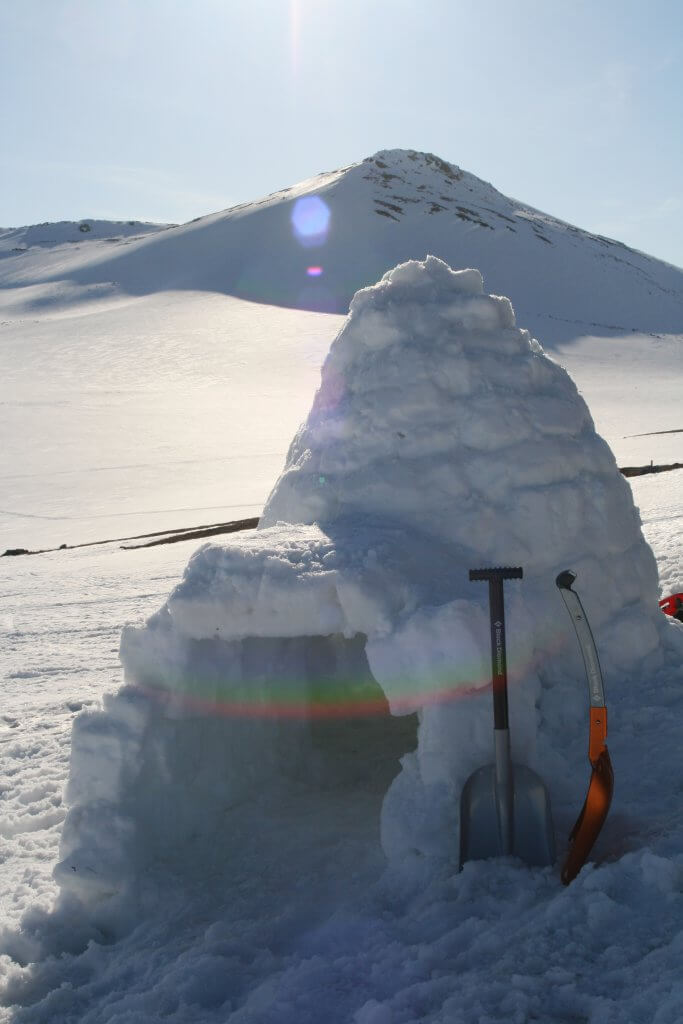 Carrying this amount of equipment and food is too much for your back unless you're incredibly skilled at packing light, are heading off for just a two- or three-day trip, or you're Scandinavian.
The last statement isn't meant flippantly as we met just such a Norwegian ski tourer eight days into our tour that had been out for two weeks with all his gear in an 80-litre rucksack. This was impressive enough on its own until he mentioned that he had travelled the last day with a broken ski binding and that he'd kept it together with a MacGyver-like combination of spare ski pole sections, duct tape (an absolute wilderness essential!), and cable ties.
Inventive and experienced backcountry touring Scandi's notwithstanding, if you're heading out for a few weeks, the most comfortable and practical way to carry your gear is to pull it behind you on a sled. Now, we're not talking about a tiny toboggan, but a decent sized sled in addition to a 30-litre backpack. That should be enough to carry all your food, clothes and equipment for two weeks. Pulling a sled does take some getting used to and although it's unsuitable in the steeper terrain in the Alps, it's very useful in rolling Arctic terrain.
One other major benefit is that due to the temperatures you're reasonably free to take perishable foodstuffs that would otherwise be unsuitable for an extended camping trip. Think of winter ski touring in sub-zero temperatures as touring with a portable fridge.
Anyone for Thai-style salmon with wild rice? Or proper Italian carbonara with fresh parmesan? Chocolate mousse? Remember you need loads of calories to keep warm in low temperatures!
Unfortunately, on this trip not everybody had quite got the message about a varied diet. One enterprising but uninspired group of lads (who still had the mentality of student grant-low cost food = more beer money) decided to base their breakfasts and dinner plans around the E number goodness of Frankfurters – 240 of them to be exact!
Local legends
Our encounters with other Finns that we met in the mountains contrasted strongly with those we had met just two weeks previously in the town of Kilpisjarvi prior to one massive ice fishing contest. Now some readers will maintain that they could drink anyone under a table. I beg to differ. Having seen the staggering quantities of beer put away during the contest and in the bar prior to our departure into the wilds, I'd put my money on a Finn (women or man) any day.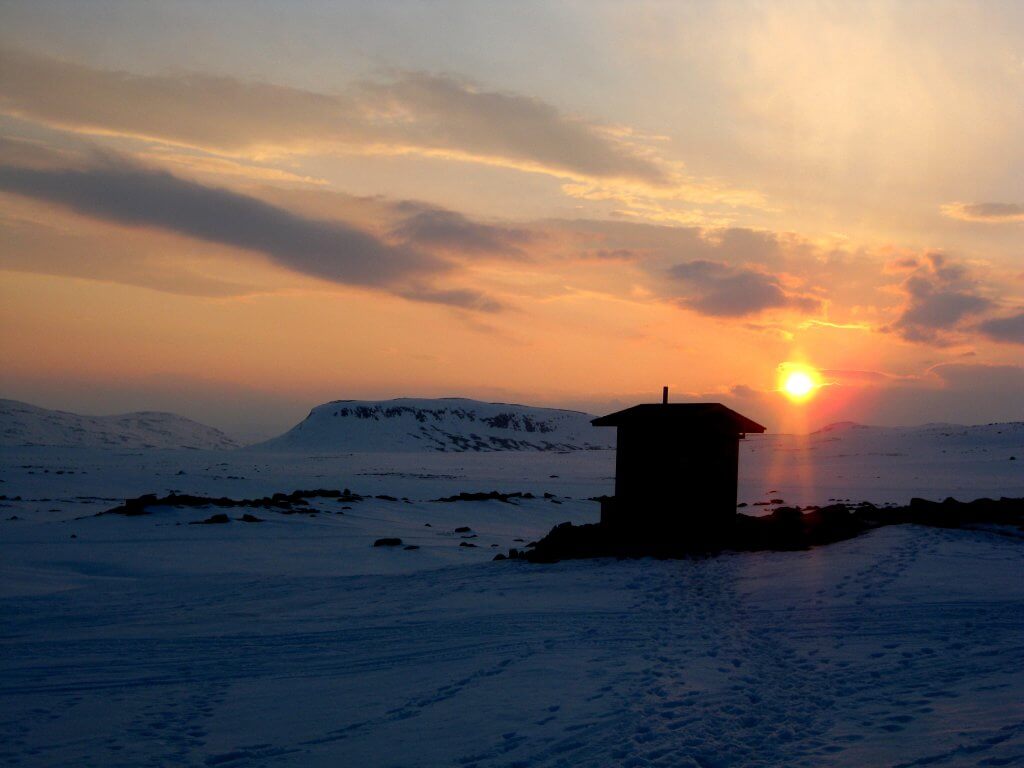 Those that we met along the trail and in the huts that we used for the odd night were a testament to the affinity that Finns have to the outdoors. Many take regular trips in winter and again on the lakes by boat further south in summer. One man that we met several times stood out; travelling solo for 10 days, he'd been ski touring every year for at least two weeks a year, and to top it off he'd recently celebrated his 72nd birthday! It's no surprise that apparently one in three Finns have a wooden cabin in the forest or by a lake somewhere as well as their apartment/house in towns/cities. It was an experience to see the ease with which they travelled and the distances covered by a seasoned ski tourer.
It can be bitterly cold in the Arctic early in the season, so the best time to travel is between mid-March to late April. The lakes should all be well frozen to a considerable depth (if there's any risk of a lake being unsafe don't cross it, just ski around it) and you've got way more daylight to enjoy this stunning wilderness. When we were there at the end of April to mid-May, we only had two hours of twilight. At this time of year, you'll usually benefit from reasonable temperatures during daytime. However, it can still drop to well below freezing (as low as -20°C) at night.
Having been there for but a brief visit, I'm hoping that the opportunity comes soon to travel for a few weeks through this magnificent Arctic wilderness.
Organise your own trip
For more local information about ski touring, or to organise a guided trip contact: Lieven De Rycke, Ounasjoentie 52 b 12, 96200 Rovaniemi; tel. (+358) 40-820-3535; e-mail: de.rycke@pp.inet.fi or Pekka Tyllilä; e-mail: hikingtravel@hikingtravelhit.fi; web: www.hikingtravelhit.fi
Check out our Hard as Nails podcast:
Like this? You should check these out: