You might be tempted to buy a cheap tent in Tesco or Argos but if you are planning on making camping a regular thing, you are going to need something a little more durable to survive the Irish elements – so here are some of the best two-man tents!
There's something soothing about pitching a tent — in theory. Let's face it, it's not always so idyllic. But, once the hard work is done and you're enjoying a cold one around the fire, there are few things better. However, one sure way to ruin all that is to find your home for the night just isn't up to scratch. Leaky, cramped, or just a nightmare to assemble – these are just a few of the things that can go wrong if you buy a bad tent. To save you some of the headache, we've picked out our favourite two-man tents that will make the perfect home away home when you're out and about.
Some things to keep in mind:
The tents listed below are designed to be lightweight and portable, the perfect companion for two people on a multi-day hike. Keep in mind these three key factors when looking for a tent.
1. Berth is the number of people the tent can fit. Crucially, this is calculated without taking rucksacks, luggage or other equipment into account. Most will be big enough for a decent sized rucksack each, but if you're not a light traveller or fancy stretching out, then it's worth going a berth up, so for a two-person tent consider a three berth size.
2. PU number denotes the hydrostatic head of the tent – basically, how waterproof it is. A tent needs to have a PU number of at least 1000 to be considered waterproof, though most manufacturers start at 2000 just to be sure. This will be sufficient for most rainfall. Higher waterproof resistance is usually reserved for tents designed for the worst conditions.
3. Weight is definitely a big consideration, though remember, you will be able to split carrying the tent between you. Similar to sleeping bags, tents hardiness is often measured in seasons. Always make sure that your tent can handle more serious weather than you're subjecting it too. We would recommend a three-season tent as a hardy all-rounder. It will be able to handle a little snow but will struggle under worse conditions.
1. MSR Hubba Hubba NX
Price: €510.00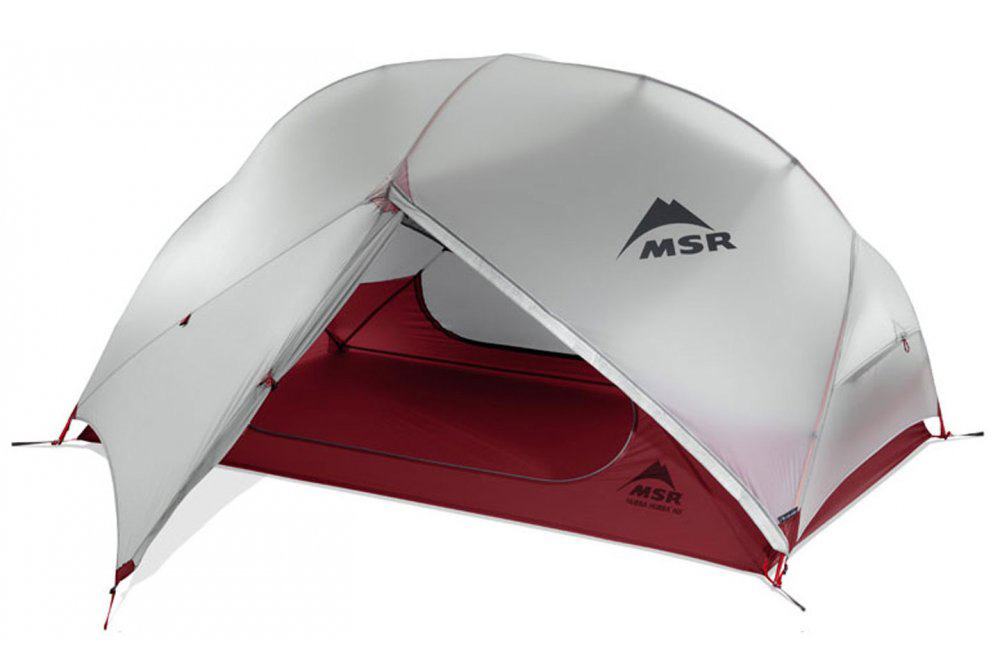 Though pricey, the Hubba Hubba lives up to its name. It offers a perfect balance between space, weight, and strength. Weighing in at 1.5kg this is a featherlight tent that doesn't compromise that's built to survive three seasons. When the sky is clear the flysheet can be removed to give you a perfect view of the night's sky when the weather turns the fly sheet features a clever rain gutter over both doors to stop you getting drenched when coming or going. Because of the mesh top, you'll need to set it up quickly in the rain, but the symmetrical design and easy-to-assemble poles make this a quick and painless process. Thankfully it's also easy to get back into its stuff sack. Because of the super lightweight material, you may need to pitch the tent on top of a footprint if the ground is rocky, but otherwise, the tent is durable and will last for years. If you're focused on weight along you'll be able to find lighter tents but the Hubba Hubba offers an impressive all-rounder. However, at this price, you'll need to use it more than the odd weekend to get your money's worth.
Available from: Cotswold Outdoor
2. Marmot Vapor 3P
Price: €319.00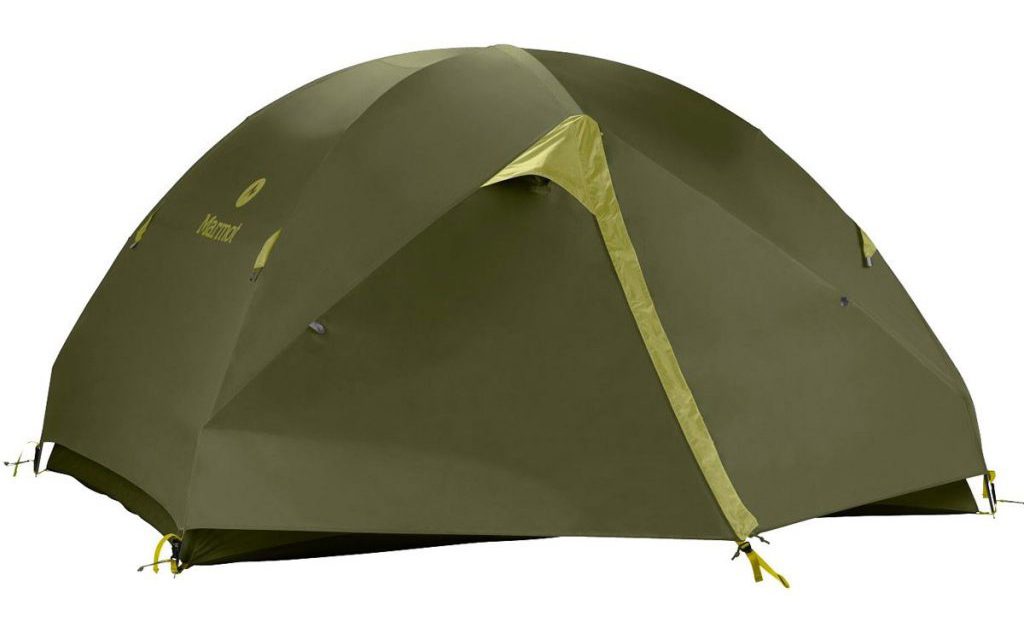 This tent is a spacious option for two people travelling with plenty of kit. It has plenty of space in the vestibules for rucksacks or cooking and with near vertical walls, the tent is fine for spending time in. As a three-berth tent, it is on the heavier end for two people to carry but it's not too bad. The tent also doesn't pack down as other more lightweight alternatives but this is the trade off made for extra space. The Vapor is easy to set up quickly and will survive adverse weather. The entire ceiling of the tent is mesh meaning that once the flysheet is removed you can embrace nature when the night sky is clear. This is a very solid tent at a reasonable price.
Available from: Base Camp
How to dig an outdoor toilet in 4 easy steps
3. Vango Banshee 300
Price: €200.00
This three-berth tent is a hardy home for traveling hikers. Within a couple of trips, you'll be able to put this tent up and down within 10 mins. With a hydrostatic head of 5000mm and a low profile you'll survive torrential storms unscathed. For two people you'll be left with plenty of space for rucksacks and equipment but the tent runs quite low so there isn't too much room for activities. The pack comes in just short of 3kg meaning it's on the heavier side but still not too cumbersome. Having doors on both sides means you can get in and out without disturbing your partner. However, because of the slanting walls, the side doors will let in rain when you open them during adverse weather. This is a rugged tent that offers durability and weather resistance at a good price.
Available from: Fifty Three Degrees North
4. The North Face Talus 3
Price: €195.00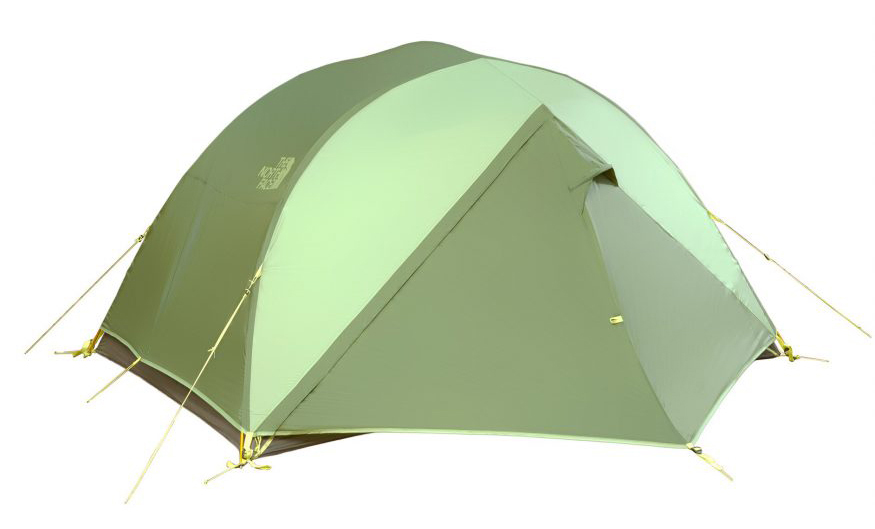 The Talus 3 is a well designed three-berth tent that is well ventilated making it breathable and comfortable for two. It comes with a footprint for pitching on rough terrain and the polyester fly sheet is durable come wind, rain, and sun. It's very light at just over 2.5kg, and is even lighter if you leave the footprint at home. It's quick and easy to assemble and has plenty of interior space to exist in comfortably. The tent also features a gear loft at the top which is well ventilated allowing you to air out gear during periods of good weather.
Available from: Great Outdoors
The Ultimate Irish Adventure Bucketlist
5. Rab Latok Summit Shelter
Price: €600.00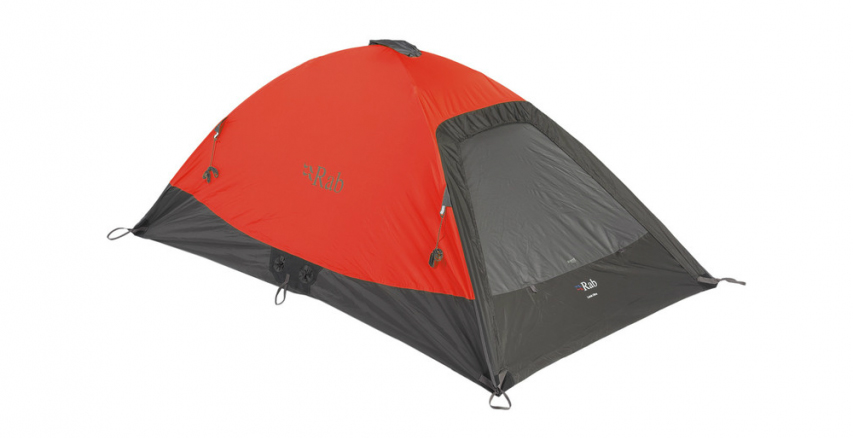 The Latok Summit Shelter is a four-season tent that is super hardy and designed for surviving on the side of a mountain. It is a compact design inside and out – if you're 6 foot and up you will reach both ends when laid out and sitting up is a distant dream. At 1.5kg this tent is incredibly light, meaning it's easy to carry wherever you go, it also takes up a very small footprint so you can pitch it pretty much anywhere. The tent is only a single layer system so you'll be able to pitch it in minutes, but it will only be the fly sheet between you and everything Mother Nature has to throw at you. That layer is made of eVent fabric that is extremely durable while being breathable. The Latok Summit Shelter is a tent for hardcore hiking all through the year when you're more interested in surviving the storm rather than enjoying a lie in.
Available from: Cotswold Outdoors
6. MSR Elixir 2
Price: €260.00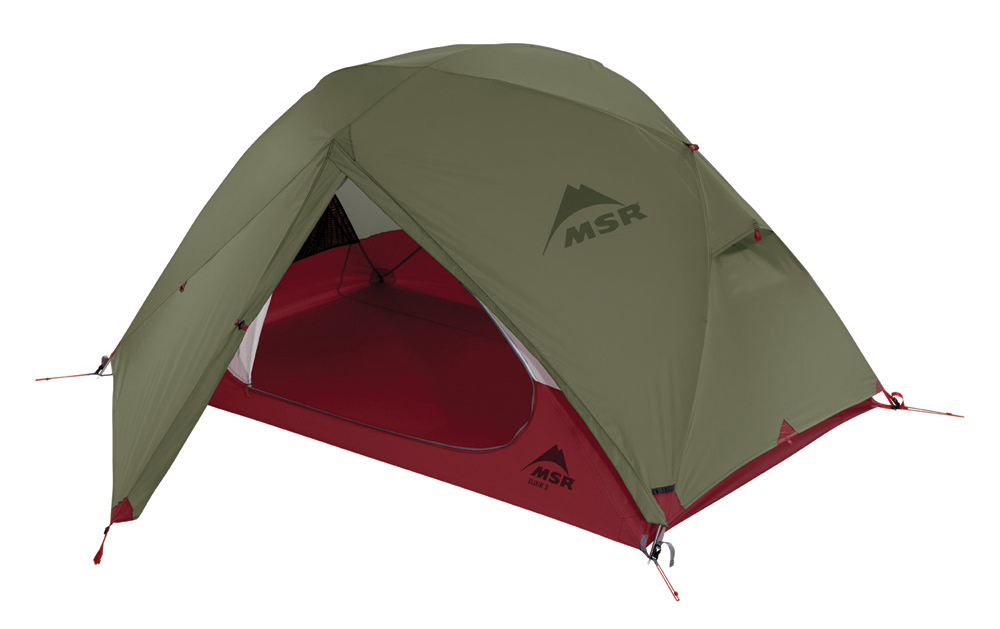 The Elixir two-man tent is another fine offering from Mountain Safety Research. Coming in at 2.6kg this is an efficient and high performing tent that is a comfortable size for a pair of hikers. There is plenty of storage space thanks to the two vestibules and large pockets in the interior. The walls are very steep, with the highest point at 1.8m meaning you won't be too claustrophobic inside. The tent comes with a footprint meaning you can pitch it wherever you want. In colder weather, you will experience some condensation on the inside of the flysheet but there's no risk you'll get wet. The Elixir will take a little practice in order to master assembling it but the colour coded poles make things easier. You can be confident this tent will survive high winds with little problem and with a 3000mm hydrostatic head it'll keep the rain out too. This is a great mid-range option for an individual or hiking duo. Check out our full review of the Elixir 2 here.
Available from: Base Camp
Check out our Hard as Nails podcast:
Like this? You should check these out: