Taking place at Easter each year, the Devizes to Westminster International Canoe Race is arguably the world's toughest paddling challenge. To complete it is a huge achievement and puts your name along some great sporting, exploring and paddling heroes. Explorer Sir Ranulph Fiennes, double Olympic gold medalist rower James Cracknell, and Rebecca Stephens, the first woman to climb Everest solo, are all finishers. It's an event however that also twice defeated Sir Steve Redgrave, who won gold medals at five consecutive Olympic Games. On the Easter weekend, 33-year-old Dale Rothwell and 42-year-old Dermot Walsh (both fathers of two) are the proud owner of DW finishers' medals. Here Dale tells us his story.
The Devizes to Westminster International Canoe Race (DW) is the world's longest non-stop canoeing challenge. It involves paddling 125 miles, portaging 77 locks and staying awake and motivated for more than 24 hours. Added to this is the pressure of having to arrive at Teddington Lock within the tidal window: miss the outgoing tide and you won't be allowed through for safety reasons, meaning you are forced to retire with only 18 miles left to go.
But all of that is only important when you finally get to the starting line. In fact, my race started way back in 2010. I was on the Derreen River with some of the Tullow Kayak Club members running the 'GORGE', a small rapid usually well within my ability. But that day I struggled and swam. I knew I was unfit, overweight and out of practice. Over the next week I did some hard thinking and asked myself if was I going to become a couch potato Dad or was I going to do something about it? I decided to do something.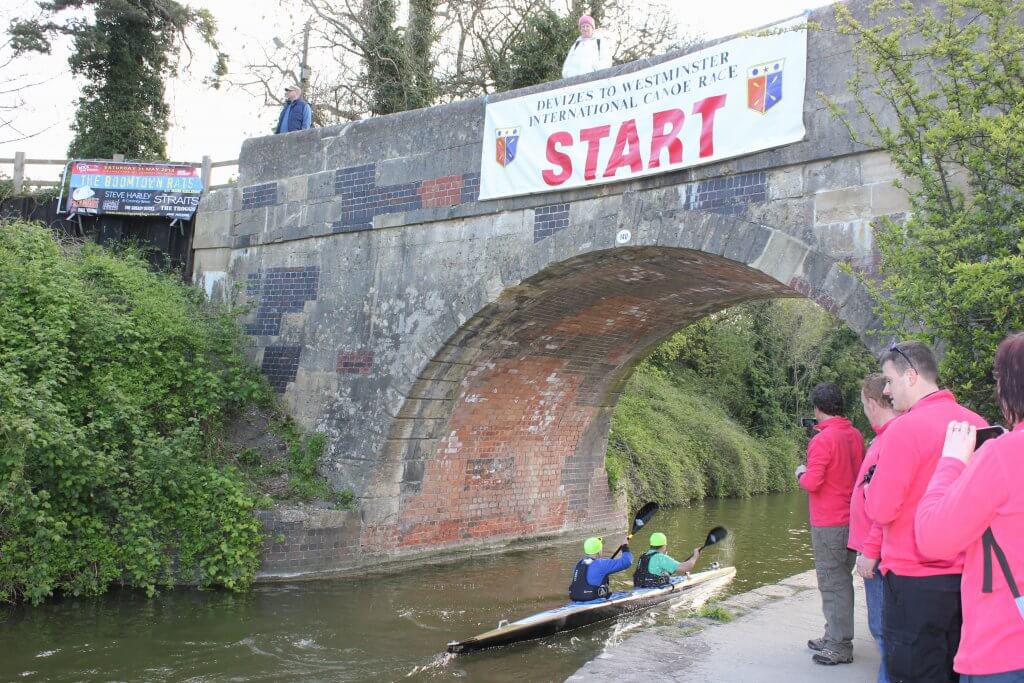 I started paddling flat water outside the club in a 'dancer' once a week after the kids were put to bed. Dermot Walsh, another club member, had not paddled recently due to work and family, and I convinced him to come help with some first-timers from the club. Then in 2011 we both entered the 18-mile Liffey Descent. I finished in 2hrs 50 while an exhausted Dermot took more than four hours.
I continued with my solo training one day a week and ran occasionally. Even still, on a white-water trip to Scotland that summer I found I was out of my depth as I had not been practising enough. When I got home I started to paddle twice a week and, after weeks of pestering, Dermot started training with me. We paddled the 2012 Liffey Decent in my 'Jackson duo', a slow white-water kayak, in 3hrs 5; a personal best for Dermot who was also full of energy at the end! It was soon after this that I learned of the Devizes to Westminster race. Dermot laughed at the idea but it stuck in the back of my mind.
Joe Barr: The highs and lows of endurance cycling
In the meantime, Dermot had seen the benefits of the training and was a fitter, leaner man who was no longer out of breath when playing with his kids. Compliments from his friends and family only made him want to train more. We started to paddle 20km at night on the Slaney, regardless of temperature, wind or rain. It was a new adventure every night.
Easter weekend 2013, I went to Scotland again and this time fitness was not an issue. The whole time I was thinking of the DW taking place a few hundred miles further south with mixed emotions. I was fitter now, but sitting on the River Etive in Scotland at midday with the temperature gauge reading 5°C, I knew conditions for the DW would not be much better. Also, even though we had been talking about doing the event for some time, Dermot had still not committed. Could we handle what DW could throw at us? And, would Dermot commit to the race?
"You plan to sit in that"
To get a feel for the race, Canoe Marathon Ireland kindly offered us a Peter Spence K2 kayak to have a go in. I remember looking at the kayak for the first time with Dermot's American brother-in-law (a man of few words). His only comment was, "You plan to sit in that for 24 hours?"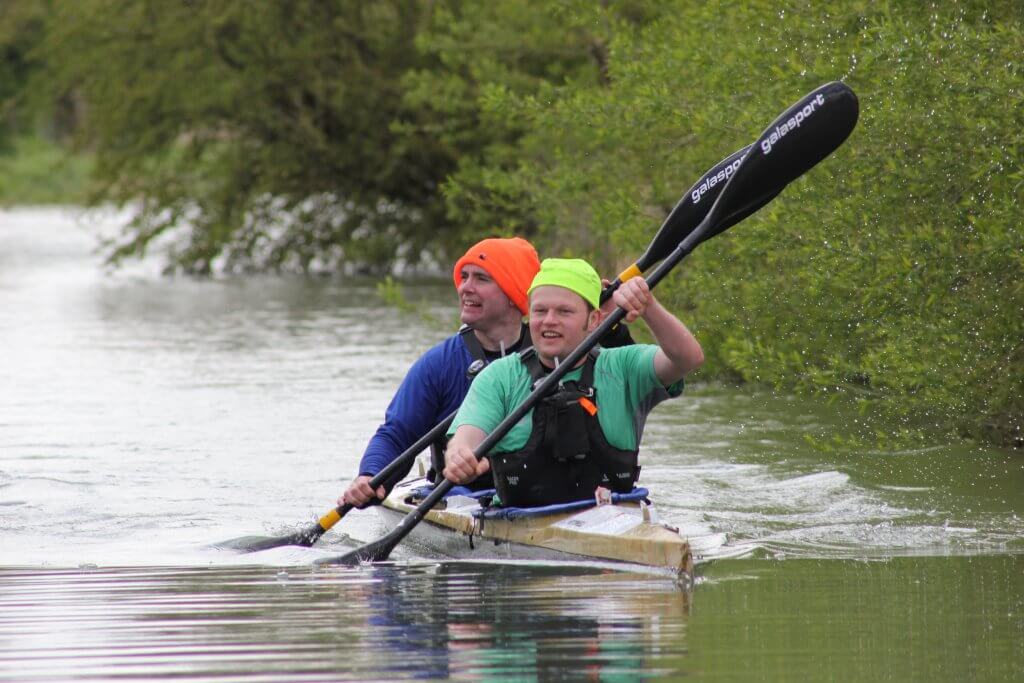 Our first time in the K2 was at a club night and when everyone had left we very cautiously put the kayak in the water. Away we went, wobbly at first, but OK. After two more nights at the club we felt confident enough to take on the Barrow River, planning a trip from Leighlinbridge to Carlow and back. Not long after we started, we both had cramped legs and feet but we kept going. The fun continued when we ran out of drinking water. We arrived in Carlow shortly after midnight where Dermot went to a chipper in full kayak gear and got some water, not to mention a few strange looks.
It was on this night that Dermot coined the phrase, "This is shit, but it's good craic," a phrase to be repeated many times during training. It was 2am by the time we arrived back at Leighlinbridge and we both had several missed calls from our wives. It was after this that Dermot made the commitment to train for the DW.
10 of Ireland's best long distance walks
To keep things interesting we would vary our training. There was no science behind this; we just wanted to have fun. Running was great but hard on the body. We tried boxing, swimming and even cycled a 110km charity race on a tandem bicycle we made from second-hand bits.
Swimming fun
We were now regularly paddling long sections and we thought we would benefit from a lighter kayak. After a race in Celbridge we had the opportunity to try a full racing K2. We ended up swimming seven times in 10m so it was obvious that we would need a slightly slower, more stable kayak. Luckily Thomastown Paddlers were selling some of their old stock and we found our boat.
Training continued into the winter, the cold only starting to become a problem on long paddles. We bought new hooded cags and this was solved. A bigger problem was lower back pain due to what we thought was a lean in the boat. We tried physio, pilates and even had new custom seats made, none of which seemed to solve the problem. It was on a training session with Morgan Cooper that some small issues with our paddle technique were pointed out to us. Morgan is a paddler from Celbridge who instructs outdoor education and holds the record for the touring double class on Liffey Descent so we were in good hands. This advice did help immensely and it is here that I have to admit I was reluctant to seek help earlier despite the advice of our support crew chief Susan Doyle. I would advise anyone thinking of doing the DW: don't be too proud to ask for help! However, it meant that with just six weeks left to go we were now trying to correct our paddle stroke.
Show time
So after months of training on the canal at night, sometimes with our support crew (they could tell a few stories: reading maps, lock diagrams, tide times, compulsory kit, food and fluid plans), we were ready to go: One kayak, two paddlers, 14 crates of kit, two vehicles, and a seven-man support crew.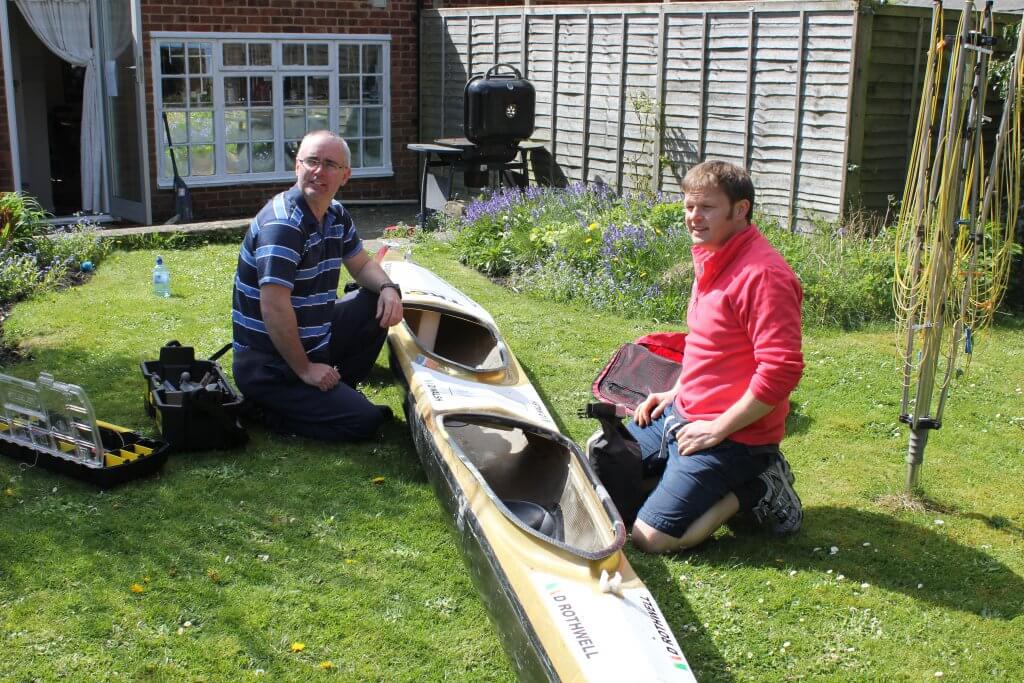 Our support crew was made up of Susan Doyle – outdoor instructor/paramedic, Eddy Coleman – fireman/paramedic, Mark McGrath – outdoor instructor, my wife Jackie Rothwell, Dermot's wife Jacinta Walsh, Eamonn Byrne – a long-distance lorry driver who drove one vehicle and Tim Brady Boulton (my brother-in-law who drove the other vehicle). Each member of crew was chosen for their individual skills (map reading, monitoring split times, navigating locks in advance of the team arriving for best get out and put in, first aid, boat repairs, food preparation etc). Without a good support crew you will not finish. They have to know when to give you a kiss and a hug or have the sense to give you a kick to get back into the boat. During the race we needed both of these things.
We woke at 6am on the morning of the race, had a big breakfast, loaded the vehicles and headed down to the start. We had our pre-race photos taken and last-minute checks were done. At last after months of work we were off at 8.05am on Easter Saturday morning. Dermot remarked that the kayak was shaking but we both concluded that it was nerves. Sure enough, 30 minutes later it had stopped. Over the next three hours, we completed the 18-mile 'pound' section of the race. There are no portages on this section so your legs can get stiff on it.
Meet Conor Maguire: big wave surfing's one to watch
But things were going well and the support team had a rhythm going, helping us to take in the estimated 20,000 calories we needed for the 24 hours and the 500ml of water per hour. Paddling through the 34-mile Newbury checkpoint we were in unknown territory as our training had never gone past the 36-mile mark. By now we had been made aware we had a large following of supporters via the live tracking webpage and social media updates from the support team and this gave us great encouragement.
As we passed the Cunning Man Pub, we knew Reading would not be far. This is where the canal joins the river with its much-desired flow. Paddling through a city was a surreal experience, and with people sitting outside pubs cheering you on, you felt this was a real adventure. At Dreadnought checkpoint (58 miles), we had more food and a full gear change. It would be dark in the next 40 minutes and my legs and feet were beginning to get pins and needles. Back on the river I realised my legs had swollen and my pants were too tight. We would not meet the support for another hour and by then I was in quite a bit of pain. Once we met them a pants change seemed to fix the problem.
Total darkness now covered the meandering river.
Occasionally we would see another kayak to our left or right and start paddling towards them only to realise they were paddling to us. By now our bodies were tired and our 22kg kayak felt like it was 44kg. The support crew tried to boost spirits by surprising us with fish and chips at 2am, but Dermot was in no mood for food and I could only eat a little. However, the support crew knew the importance of regular calories and forced us to eat which we did not like but in hindsight probably ensured we finished the race.
A watery wall
Over the next three hours I hit my wall. A few times I drifted off, only to hear Dermot ask, "OK Dale?" I would wake up, momentarily, think I was about to paddle into a hole before getting my bearings and replying with a short grunt, "Yes!" Our support crew had grown concerned for us and pulled us to the bank near a bridge to give us a very strong coffee at 4.30am. When the sun came up at 5am our body clocks thankfully kicked into gear and we turned a corner. Things seemed to improve and the finish line felt within reach.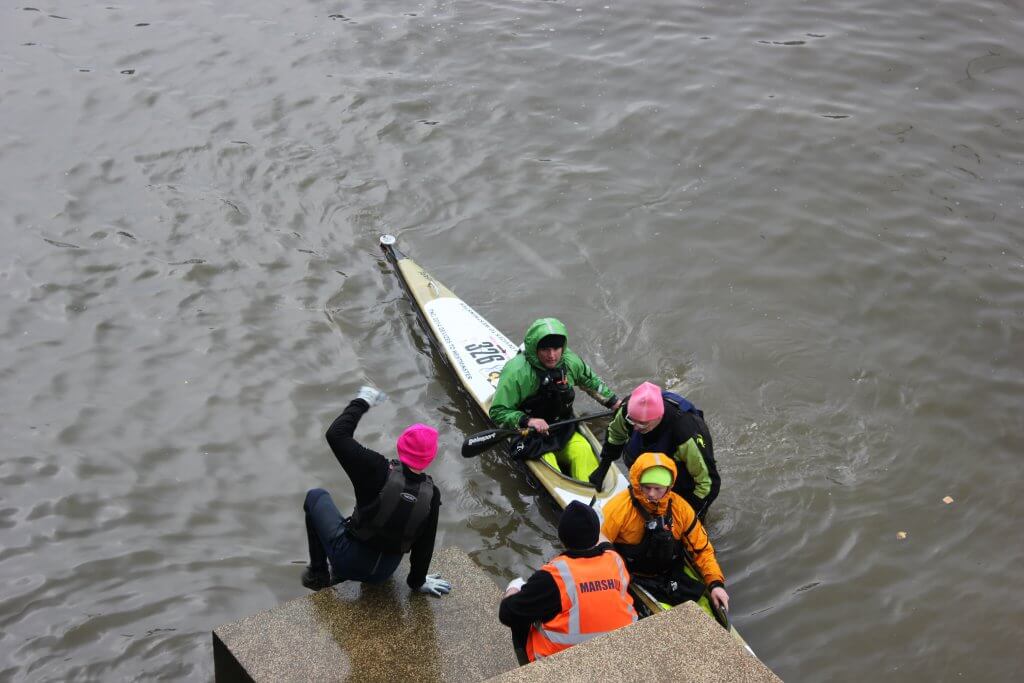 Molesey Lock was another milestone as we had now paddled 100 miles and had been non-stop paddling for nearly 24 hours. With five miles to go to the all-important Teddington checkpoint, we knew we were going to make the tidal window. Our bodies were in remarkable shape considering what we had gone through but it was now taking longer and longer to get back into the boat and leave our support crew after each portage. It was also taking longer to do the simplest of tasks, like change into dry gear. But I remember Dermot and I telling each other, "It is only five more miles! One more hour to Teddington!"
At Teddington Lock we had another gear change, a last application of anti-inflammatory gel to the sore areas and a quick body rub. With a kiss from our respective wives, off we went knowing we would not see the support crew until Westminster Bridge. We were in good spirits as we pushed away. "Only 18 miles to go: a Liffey Descent," Dermot said to me laughing. I thought back to 2012 and how the Liffey Descent had taken its toll on Dermot and just how far the two of us had come.
Next up was Richmond Lock. If we made it on time, we'd be able to paddle through. Otherwise we'd have another portage on our hands. As we rounded the corner, the first barrier was down and second had started to drop. We sprinted for the last arch, but when we were still 50m away the lights came on. No luck! As we hauled the boat, every mile felt like five as we were so tired, but our spirits were good. As we made our way down the quays motorboats started to appear on the river.
Crossing their wake head on was OK but then it would rebound off the walls and hit us square on the side. This was very unnerving as a swim at this late stage could be disastrous.
Then I heard the welcome sound of Big Ben striking 12 o'clock and knew we couldn't be far from the finish. As we rounded what seemed like a never-ending series of bends the famous clock came into view, followed by Westminster Bridge and the realisation that we had made it. We were helped out of our kayak and we climbed up the steps to the quayside with shaky legs where we were presented with our finisher medals. It was hard to take it in. We had done it in 28:04:27. Of the 200 boats that started, 70 with us were not so lucky and had retired due to exhaustion. Later we would find out that we hadn't just finished, we also won the Overseas European Trophy which is awarded to the fastest crew of European nationality, who visited the UK primarily to enter the race.
It was a surreal experience to stand there in the shadow of Big Ben and the Houses of Parliament and think about what we had achieved. Sitting in the car waiting to leave the event, despite being utterly exhausted, I started looking forward to our next adventure, because I had all already found something better than a DW finisher medal: the chance to go on a paddling adventure with a friend.
Check out our Hard as Nails podcast:
Like this? You should check these out:

Previous Post