Conor Maguire is fast becoming a name to watch across the globe on the big wave surfing scene. Surfing since the age of the 11, the now 24-year old has been pushing the bar further and further over the past couple of years. And his efforts haven't gone unnoticed. Conor has received XXL nominations and finished in the top five in the Tube of the Year category at the Big Wave Awards last April. We caught up with the Bundoran local to find out a little more about his passion for riding monstrous waves. 
How has 2017 been for you?
2017 have been the best year of surfing I've ever had. Ireland was hammered by perfect swell after perfect swell pretty much the entire winter. Each session I felt more confident in big waves. There was a really good local and international crew around pushing the limits.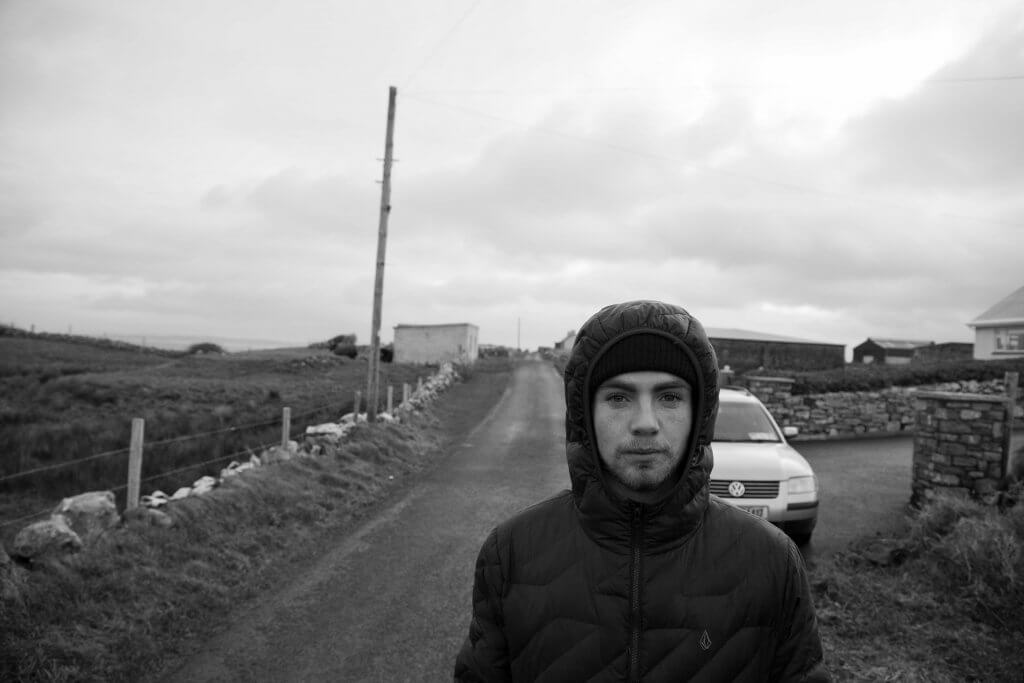 Were there any particular highlights? 
An evening that sticks out in my mind was the last paddle session we had at Mullaghmore. The waves were very inconsistent but every now and then there would be one massive wave to keep everyone on their toes. I managed to catch one of those sneaky waves, which was enough to keep me happy. My good friend Conor Flanagan was swimming around with his camera and managed to capture the ride. I was lucky enough to earn a Tube of the Year nomination at the World Surf League's 'Big Wave Awards' from this. The nomination later led to a top-five finish in the category in April. The main highlight for me was surfing massive Mullaghmore in perfect conditions with just a few friends. I also received two XXL nominations that session which was an added bonus.
5 of Ireland's Best Surfing Beaches for Beginners
How does it feel to be nominated for such prestigious awards?
When the waves are massive I'm never thinking about getting a nomination. I always just focus on enjoying myself and hope to catch the best wave of my life. In saying that, it is nice to be recognised for something I dedicate so much of my life to. It is an honour to have my name alongside surfers I've looked up to for years.
How do you feel when you are surfing a monstrous wave? 
It is always hard to describe how you feel when surfing a huge wave. Before and after, you experience every emotion under the sun, whilst during, you are so intently focused on the wave and making it out safely that you forget about everything else. It is almost as though you're in a deep meditative state as you're gliding across a massive lump of water.
Do you ever get scared?
I think there would be something very wrong if I didn't get scared! Fear can help you in a lot of ways though. Sometimes it helps you make calculated decisions in hectic situations that could have prevented serious injury. Other times, it drives you to push yourself further and further out of your comfort zone. After all, the huge adrenaline rush we get from a frightening scenario is what a lot of people chase. Whether it be a roller coaster or surfing big waves.
View this post on Instagram
When did you start surfing? And how did you get into it? 
I started surfing at age 11 with a friend at my local beach. We were completely hooked after our first session, surfing any chance we got. Every weekend soon turned into every day. Having a friend to surf with really helped me to progress as we pushed each other further and further. We started competing together and met lots of other young surfers. By 15 we had a solid crew of grommets feeding off each other's energy, whilst having the time of our lives. My friends at that time in my life are still my best mates and a huge factor in my progression in the sport.
6 Irish Surf Spots You've Never Heard Of
How about the progression to the big waves, how do you go from surfing standard size waves to getting towed in?
I was very lucky to grow up in Bundoran as we have a huge variety of waves along our short coastline. Beginner, intermediate or advanced, we have something for every level. You can push yourself as far as you see possible. Each wave is like a stepping stone to the next, with the level of difficulty and fear rising each time.
From a young age, I always loved feeling out of my comfort zone. I would always try and catch the biggest waves my little arms could get me into. I watched local surfer, Richie Fitzgerald, pioneer the now famous Mullaghmore, while I was scratching into what felt like huge waves at our 3-foot beach break. I had photos of him surfing all over my bedroom walls and was obsessed with what it would feel like to ride a huge wave. I promised myself that one day I would surf out there. I worked my way up to surfing Mullaghmore by putting a lot of time in at other breaks. I paddled around out there a few times to get a feel for the place.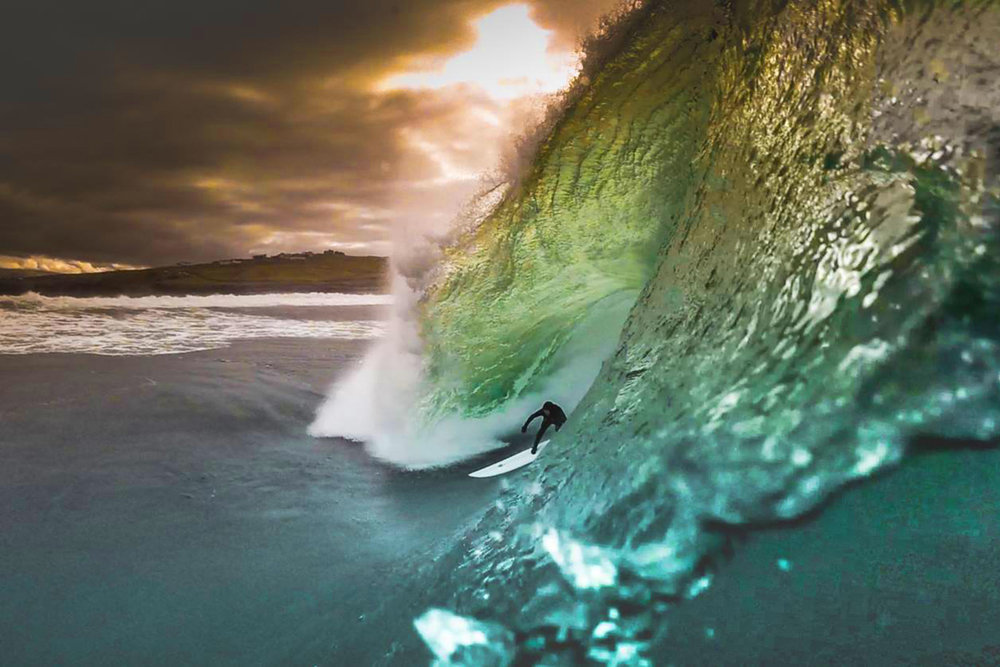 Describe the first time you were towed into a big wave? 
A few days after my 20th birthday, a huge swell popped up. I really wanted to give Mullaghmore a try, so I convinced Dylan Stott to bring me out. He was just as excited as I was to get my first wave out there. Richie lent me his prized tow board and the rest of the boys wrapped me up in life vests. I was shaking with fear and felt nauseous. I wanted to back out, but all the years of obsession drove me to give it a lash.
Dylan towed me into my first wave, which was the best wave of my life. I had so much adrenaline coursing through me that I thought I was going to pass out. It was the most intense feeling I had ever felt. Dylan shouted at me to grab the rope again and towed me into two more waves. Each was better than the last. It brought me back to when I first started surfing. I was addicted to surfing big waves after my first session and I can't get enough of it since.
What is the biggest wave you have surfed to date? Can you tell us about it?
It's hard to tell, but I think the biggest wave I surfed was back in 2015 during a crazy day at Mullaghmore.  It was one of the scariest waves of my life. My good friend, Barry Mottershead, was towing me into waves that day. We had just got out back after a smaller wave. This huge mass of water popped up out of nowhere to meet us. We only had a few seconds to get ready before I was pulled up on the rope. I let go and free fell about 6 foot and somehow landed on my feet. I just held on for dear life and managed to make it to the channel safely. I was shaking with fear and excitement for days afterwards. When I saw the footage I couldn't believe how big the wave looked. That wave gave me huge confidence to push myself further.
Where is your favourite place to surf?  
My favourite place to surf is around my hometown of Bundoran. We have so many world-class waves, which people travel from all over the world to surf. I feel very privileged to have grown up in such a fruitful area.
View this post on Instagram
How do you train your body for surfing? 
I like to keep my workouts fun and interesting. I do quite a bit of hiking and love kayaking. Surfing lots is obviously my favourite way to keep fit and stay connected to ocean. I also do a lot of yoga to help keep me supple.
What next? What does 2018 hold for you? 
I have a few projects in the pipeline and I will be releasing a new video in the coming months.  I have also just been invited to compete in a big wave contest in Spain this winter. The waiting period has just opened up and I'm really looking forward to it.
Check out our Hard as Nails podcast:
Like this? You should check these out: