Trail running denotes the activity of running and hiking over trails rather than along roads. It usually takes in mountainous terrain, where there can be much larger (and much more fun) ascents and descents. The sport is both thrilling and addictive.
Ireland is covered end to end with fantastic trails. Some are waymarked, more are not and require a strong sense of both direction and adventurous spirit! We asked three of Ireland's top trail runners what their favourite routes to run are in this beautiful country of ours. Here, Rachel Nolan, Richard Nunan and Moire O'Sullivan share their secret spots with us.
Rachel Nolan's Favourite Trail:
Carrowteige Loop, Co Mayo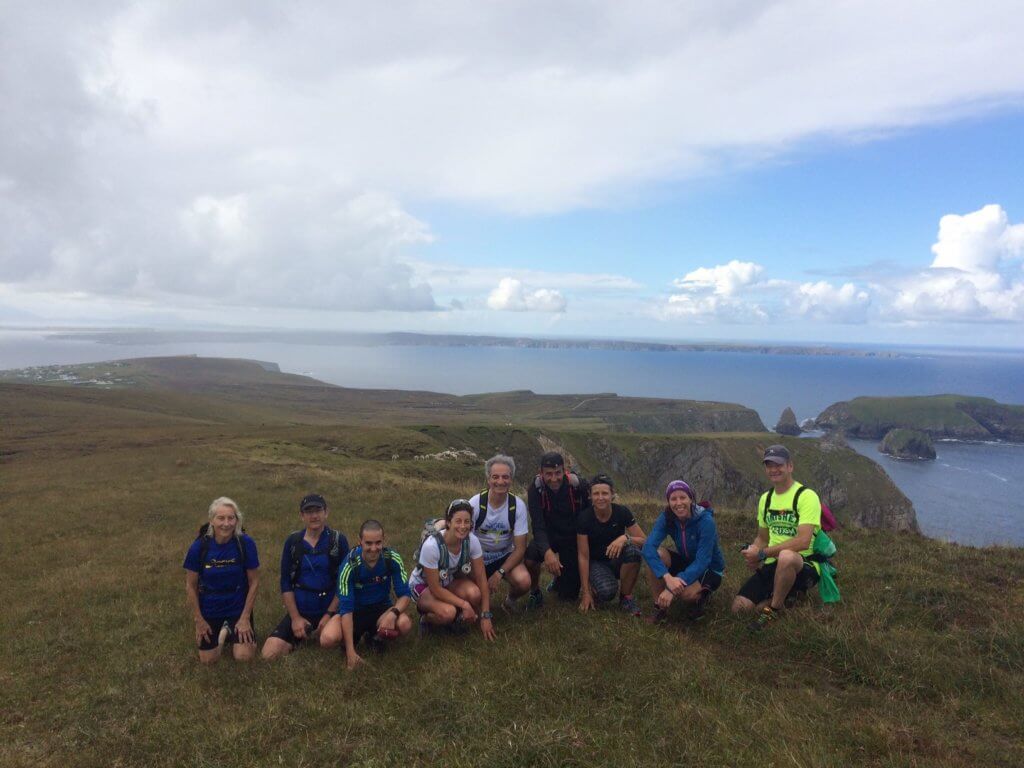 Start point: Carrowteige trail head (Parking, toilet and shop here)
End point: It's a loop trail
Distance: 18km
Elevation: 450 m
Details on Strava: Leave your watch in the car and just get out there and enjoy the timeless natural beauty!
I have so many favourite trails, it's never easy to pick one but here are the details of one that is off the beaten track and, in my opinion, possibly the most spectacular undiscovered coastal trail in Ireland.
What to expect: Breathtaking coastal views, cliff-lined trails, Irish bog, golden sandy beaches, crashing wild waves and friendly sheep.
What do you love about it: It's wild! The views are just WOW and as it's off the beaten track. It's only the true adventurers that will find it.
What not to miss: A stop off after for a pint of Guinness in Denny's pub in Rossport or a bowl of delicious seafood chowder in Mary's cottage in Ballycastle is the perfect way to refuel and soak in the local atmosphere.
Rachel's Irish Adventures organises walking and trail running adventures to Carrowteige and lots more undiscovered stunning locations. To find out more, email: info@rachelsirishadventures.com
Richard Nunan's favourite trails:
Crone Wood to Lough Tay and back along the Wicklow Way, Co Wicklow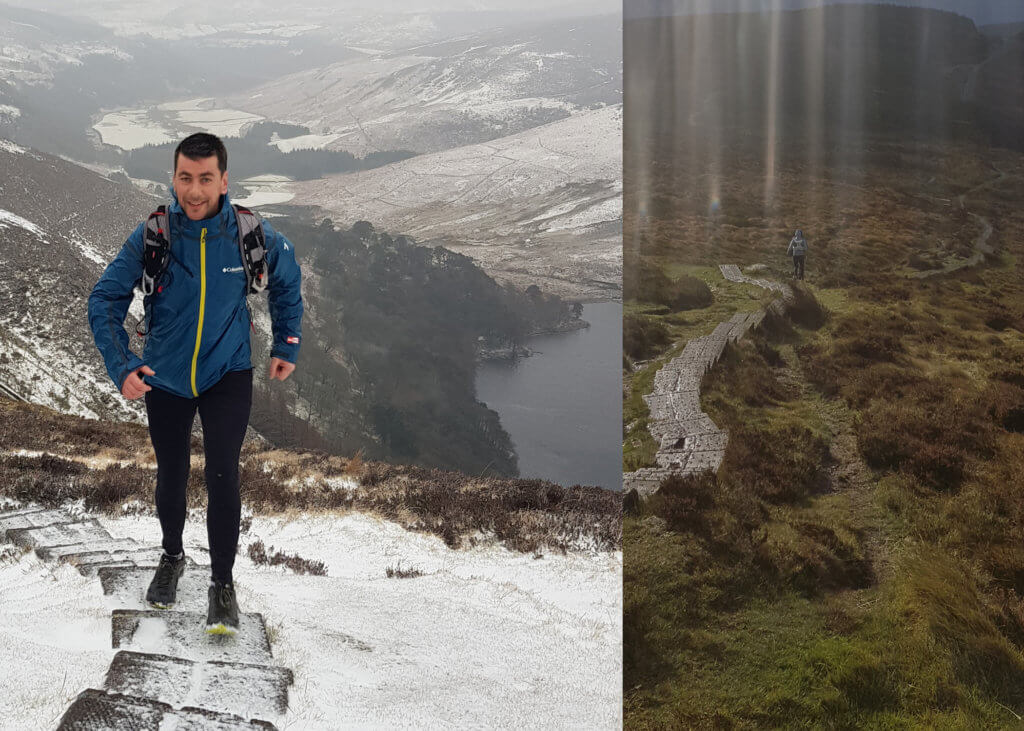 Distance: 20km
Difficulty: Easy
Start point: Crone
End point: Lough Tay
Distance: 20km
Elevation: 1800m
This route starts in Crone on the fire road until you eventually hit a spectacular view of the Powerscourt waterfall. A lovely rocky descent down to the Dargle follows and a grassy climb up on to the Djouce saddle. The fantastic single track around the shoulder of Djouce brings you on to boardwalks that eventually lead you to Lough Tay with a view down into the soul of the Wicklow Mountains overlooking the Guinness house at Lough Tay.
This is one of my favourite training runs for the mixed terrain. It means you are never bored, you are always guaranteed a change in the terrain and often a change in weather. It has some really nice long climbs, so its always a challenge to see if you can stay running rather than walking, which means you can push really hard or just power hike!
What to expect: Expect some stunning views throughout and a new experience running along some wooden sleepers.
What do you love about it: The variation of terrain and the descent down into Lough Tay, walking out on to Lough Dan.
What not to miss: The awesome view when you cross the road at Lough Tay and look down onto the lake.
Ultra-Runner Paddy O'Leary on Running, Racing, and Refueling
Macgillycuddy Reeks Route, Co Kerry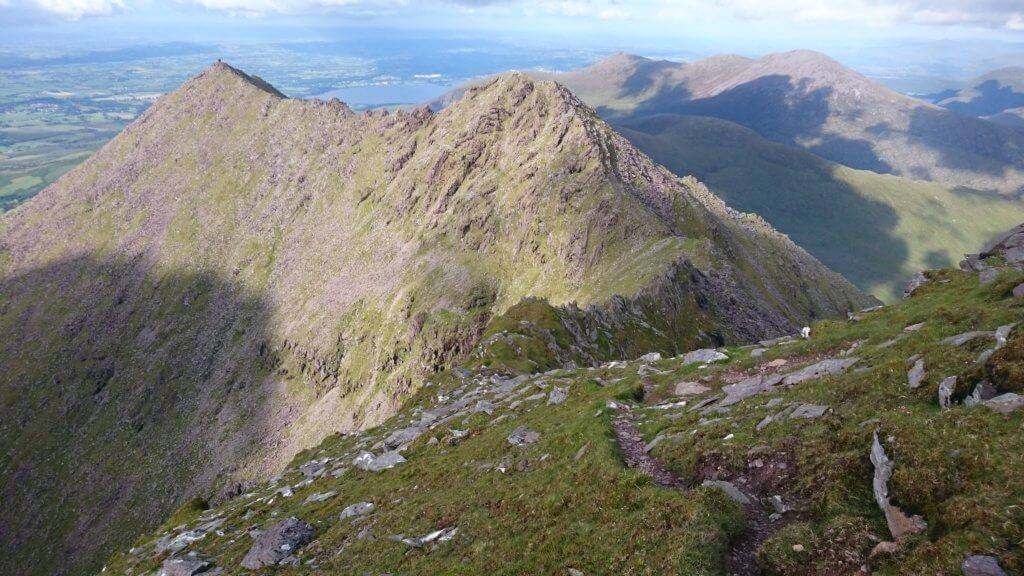 Start point: Cronin's Yard
End point: Cronin's Yard
Distance: 20km
Difficulty: Technical (Richard's favourite)
Elevation: 1600m
This is one is not for the faint-hearted, technical but there is some absolutely fantastic running and views. Up onto Knockbrinnea, Beenkeragh across one of the best ridges in the world and up onto Ireland's highest peak, Carrauntoohill, Cnoc na Toinne, Maolin Bui and Knocknapeasta, Big Guns and then descend via Cruach Mhór. I mean what is there not to love about this route?
What to expect: A view of Ireland's tallest peaks and incredible views of the Kingdom.
What do you love about it: I love the technical terrain and the sheer drops on either side as you run along the ridges.
What not to miss: The Beenkeragh Ridge between Beenkeragh and Carrauntoohil.
The Mournes Skyline route, Co Down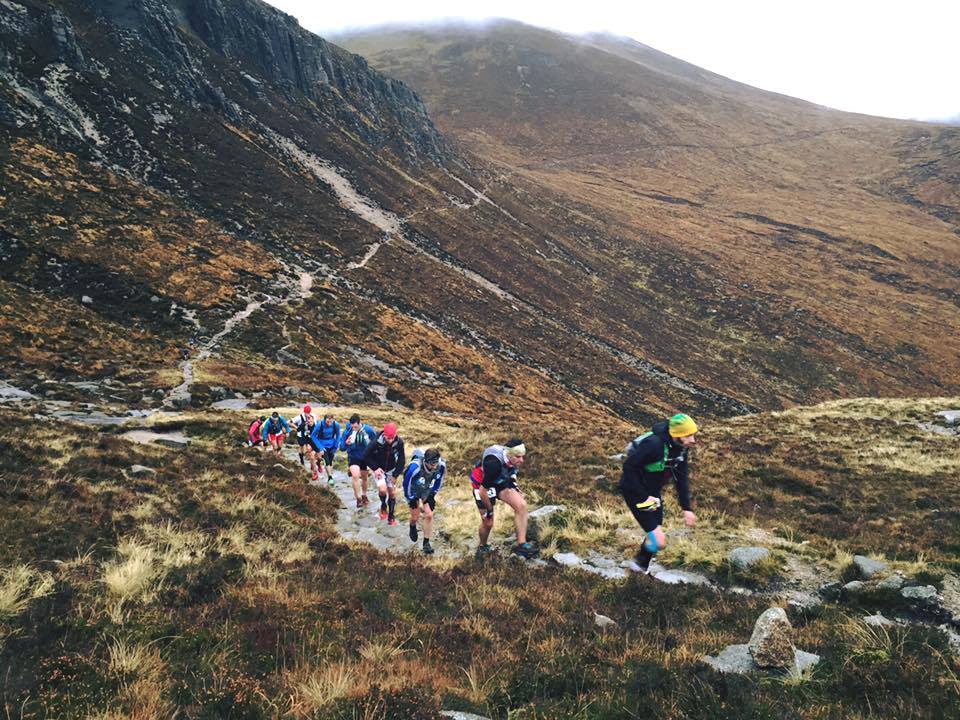 Start point: Newcastle
End point: Newcastle
Distance: 35km
Elevation: 2600m
If it's the UTMB, the TDS, TDG or Mount Blanc, Laverdo etc., that you are training for then this is the training route for you. The steep climbs and technical descents are perfect for taking on the more Alpine races of Europe. The Mournes offer spectacular views. They start, in Newcastle, is only 90 minutes from Dublin, probably much the same as heading to Glenmalure.
It's a gradual climb up through the forest on to the Slieve Donard saddle. From here, it's a nice run along the Brandy Pad before the climbing begins up Slieve Bearnagh. It's a long climb but a fantastic descent. From there it's up another technical climb up on to Meelmore and then follow the race route which is a descent to the road.
The journey back is up to you. There are lots of options to go the high road or the low road around the hills. The preferred is to climb back over Lough Shannagh, back up on to Meelmore, Bearnagh, Slieve Corragh and then up on to Slieve Donard. As a training run, it's great as, depending on how you feel, you can drop hills along the way. But then you don't get to see the spectacular views.
What to expect: A view of Irelands fantastic Mourne Mountain range.
What do you love about it: I love the steep climbs and the technical steep descent off Slieve Bearnagh, one of the best descents in the country.
What not to miss: The views on the left as you run at speed along the Brandy Pad heading out.
Moire O'Sullivan's favourite trail route (author of Bump, Bike and Baby – Mummy's Gone Adventure Racing):
Slieve Donard, Co Down
Start point: The carpark at Meelmore Lodge
End point: The café at Meelmore Lodge for tea and traybake
Distance: 16.5 km
Elevation: 1,040 m
What to expect: A bit of everything! Some technical trail running along the Brandy Pad; a steep climb and serious descent of Slieve Donard (Ulster's highest mountain) and a relaxing run along the infamous and formidable Mourne Wall on your return.
What do you love about it: It's in the Mournes… what's not to love about running in this incredibly beautiful and majestic set of mountains in Northern Ireland?
What not to miss: Skip over the stile or step through the gate when taking in the view from Hare's Gap, one of the country's most dramatic mountain passes.
Have you listened to our awesome podcast yet?
Like this? You should check these out: