Four o clock rolls around and the whole office closes their laptops, packs up their bags and heads out the door for our "mystery day out" that we were told about in an email one week ago. The only information we received at first was to just be prepared for a fun-filled day out of the office, so obviously, we all got very excited.
We had our suspicions about what we could possibly be doing, but we didn't want to get our hopes up too soon! Of course, once Roisin had asked us if we were happy being in the water, we knew that our suspicions were confirmed, we were going to Harbour Splash, the new inflatable water park just a short Dart ride away.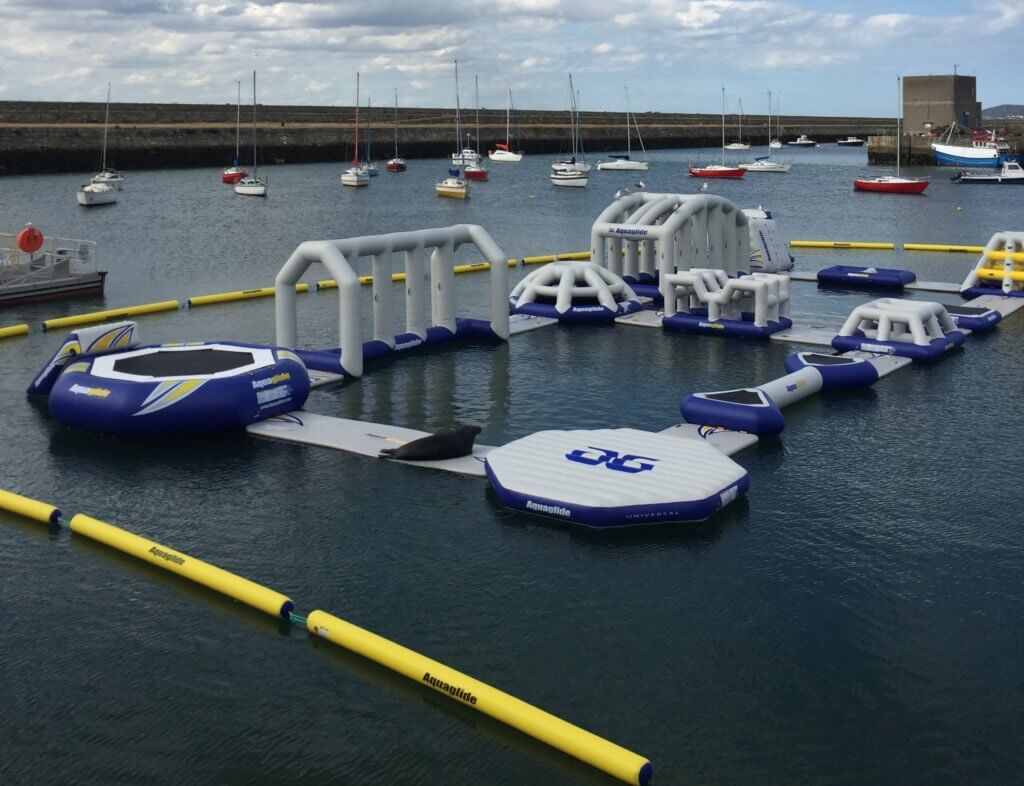 Our team walked on over to the Dart, feeling like a proper school-trip, and made our way out to the harbour. The sun had been out all day, and as it hid behind the clouds for a few moments, I was a little concerned that the Dublin water would shock my body into an instantly frozen ice-cube. But, once the sun popped out again, I was almost begging to get in the water! We all checked in and made our way over to the pier next to the park to wait a bit before our session was called.
Just by looking at the park, I was itching to get in the water and jump around on the platforms — it was honestly a grown-up kid's dream. The inflatables were all connected to each other, making one large obstacle course that was just calling to our inner-kid.
Inflatable Waterpark to Open This Week in DunLaoghaire
Within two minutes of sitting on the pier, we had made a new friend. A massive seal sat sun-bathing on one of the platforms, unbothered by our little coos and "awws" as we took picture after picture of this adorable animal. I was secretly hoping that he would stay on the raft when we got on!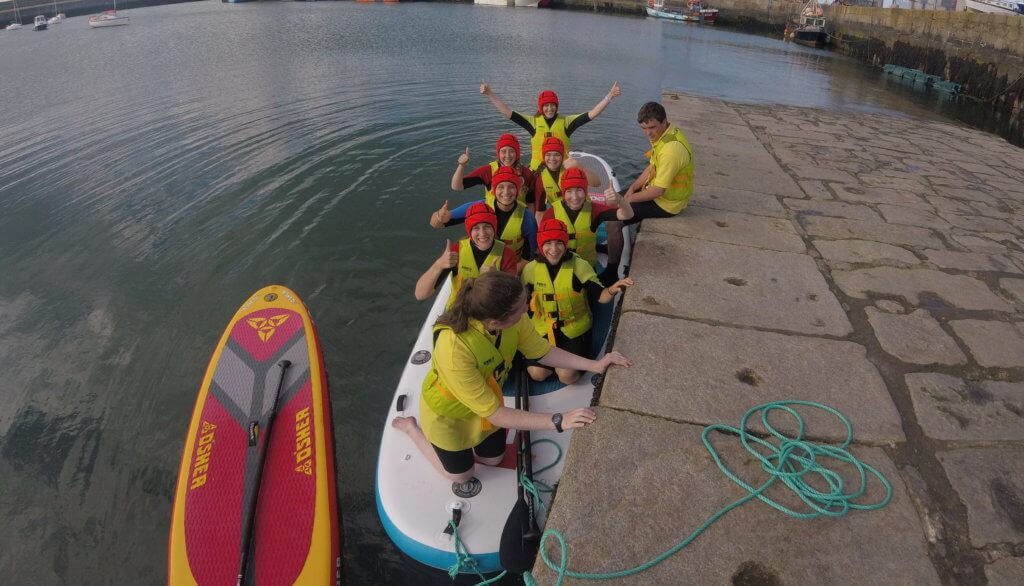 After we were finished gawking at the seal, we walked back over to suit up for the adventure. Wetsuits? Check. Life-vests? Check. Weird, soft, red helmet thing? Check. I must say, we were looking good.
I was wondering how we were going to get out to the park, considering it was in the middle of the harbour without a ramp leading up to it. It turns out, transport via paddleboard was the prefered option! Ten of us piled on to the board, sitting on our knees, and the instructor took us on out. Once we got to the first platform, we all piled off, far too excited for our own good. We got the go-ahead to start playing around, and I immediately tucked and rolled (literally) to the water-trampoline. However, one of the obstacles caught the attention of the whole Outsider gang, and we migrated to the dog-bone shaped obstacle to witness each other wipeout.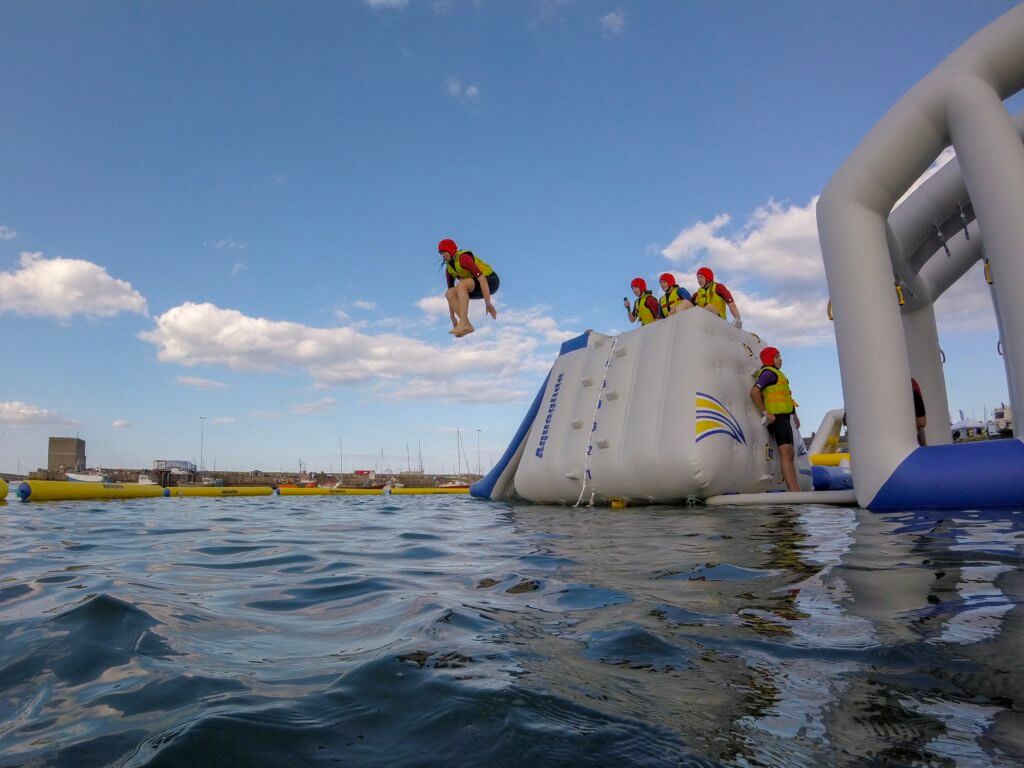 One by one, we all tried to cross the wiggly, wobbly cylinder that lay between two triangular platforms. It was nearly impossible not to fall off. Yvette took three steps and simply jumped off into the water (probably just to get over the initial shock!). Orla tried a slight jog across, but quickly fell victim to gravity and tumbled off the ledge. We were already all laughing hysterically.
I was next. Orla, of course, was trying to shake the cylinder to make me fall off, but I gracefully tip-toed my way over and landed pristinely upon the next platform. Just kidding. I had the wipeout of the century that did land me on the platform and not in the harbour, but that was quickly changed by my boss, Heather, pushing me in!
Sun, Swims & Cycling: Exploring the Very Best of Dublin by E-Bike
We spent the next 15 minutes exploring the different obstacles on the course, not worrying about what we looked like or how elegantly we got from one event to the next. I think that was the beauty of this place — the atmosphere brought us back to a time where we simply didn't have a care in the world. The park was completely inflatable, nothing could hurt us if we fell. So we felt free to prance, jump, climb, swing, and crawl onto anything without fear. If we fell, only soft padding or water was there to catch us. Now, does that mean we relentlessly pushed each other in? You bet.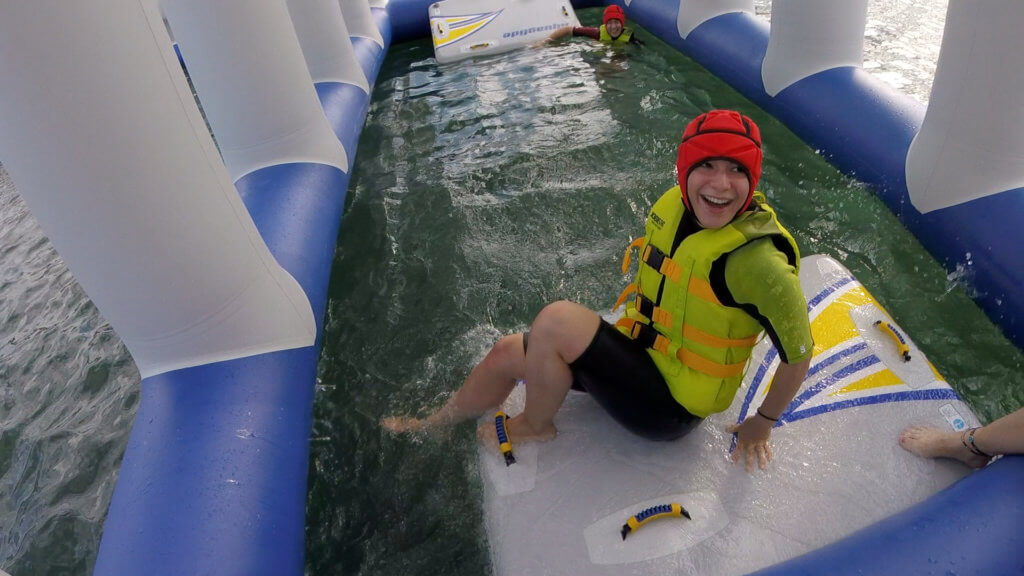 One of the most challenging aspects of the park was the monkey bars. None of us got more than three bars in before we toppled back into the water, laughing at our meagre attempts. Around every corner was a new challenge and a new chance to crack-up laughing at someone's latest take-down. Once the five-minute warning was sounded, we all climbed up to the top of the slide and braced ourselves for a 'last-hoorah' jump into the water. Two by two, we all jumped off the platform, Outsider style.
Harbour Splash allowed us all to let out our inner-kid, even if it was just for an hour! It was truly a bonding experience for our staff and was a fantastic evening activity. The staff was extremely friendly and made it their mission to keep us safe and keep us having a good time.
Pants back on and salty, wet hair pulled back into a bun, I headed off for some pizza and drinks with my colleagues. Let me tell you, after an hour of flopping like a seal to get back onto a platform after catapulting yourself into the water, pizza never tasted so good. Shovelhead Pizza is right around the corner, and you can grab your slice with a pint of Guinness and dine in the Purty Kitchen Beer Garden right next door.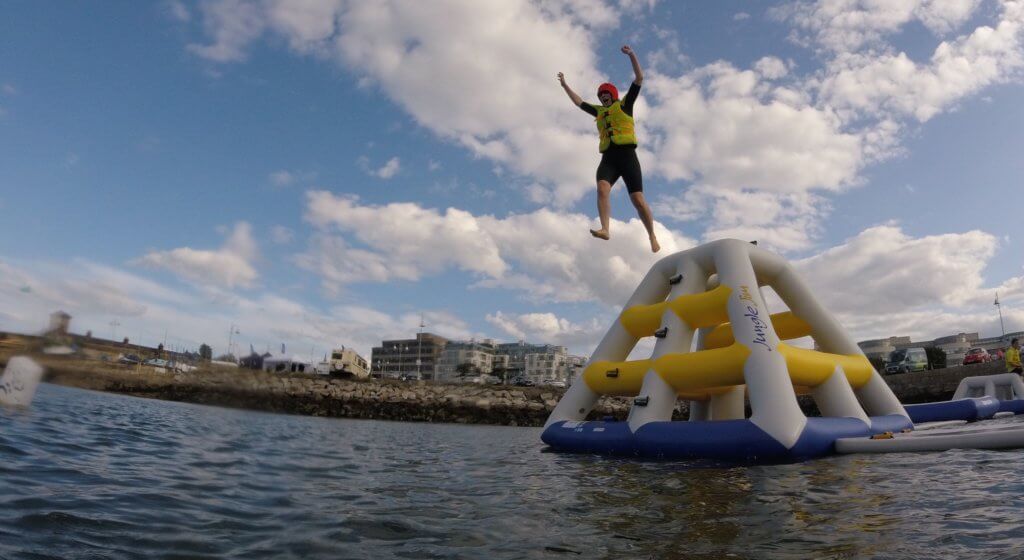 If you're looking for some good craic for all ages that will have you busting your gut laughing, getting some fresh air, making a fool out of yourself, and rejuvenating your mind and body, Harbour Splash is a great choice. We clearly made the right one, and made some hilarious memories along the way!
Check out our Hard as Nails podcast:
Like this? Check out these other articles: