Europe's toughest and most famous ultra, Columbia UTMB is less than a month away, so we've rounded up everything you need to know about this iconic race.
UTMB. The ultimate ultrarunning test, the pinnacle of the European trail running circuit. A single-stage mountain ultramarathon in the Alps, encompassing western Europe's highest peaks. It's a spectacle, a festival, like being in Paris when the final stage of the Tour de France comes pelting in. The buzz and beauty resonating through the streets, the sheer pain and beautiful torture that the athletes put themselves through as thousands toe the start line each year to compete in the Ultra-Trail du Mont-Blanc.
A 170km long course with over 10,000m of brutal ascent. The superhuman elites manage to inhale that distance in around 20 hours, while the mere mortals knock around it in around 40 hours. Combine this with heat, snow, rain and temperatures as low as -9°C, it really is a race worth following. This year's edition will see superstars like Kilian Jornet and Núria Picas battle it out on the trails. While from Ireland, we've got the ultrarunning legend Eoin Keith, while Wexford's Paddy O'Leary potentially is doing the TdS.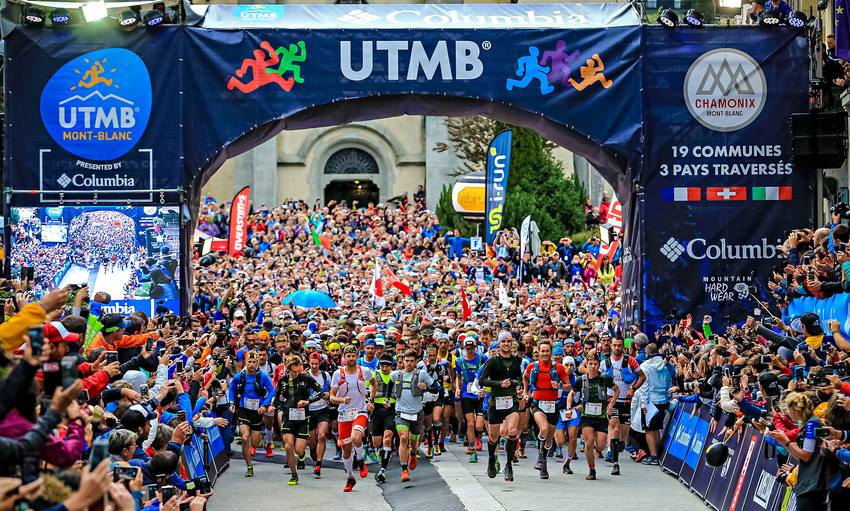 When is it?
The UTMB is traditionally held on the last weekend of August. In 2018, it will be held on the 27 August to 2 September and in 2019, it will be 26 August to 1 September.
Where is it?
At the base of Mont-Blanc in Chamonix, France.
7 of the Toughest Ultra Marathons in the World
Fun facts about the UTMB
This is the first year the race is offering prize money. A total of €2,000 for the winner, €1,500 for second and €1,000 for third, with money all the way down to the athlete in 10th position.
The route more or less follows the Tour du Mont Blanc hiking path – a route which takes nine days on average to hike.
The maximum cut off time is 46.5 hours.
The route passes through three countries, France, Italy and Switzerland.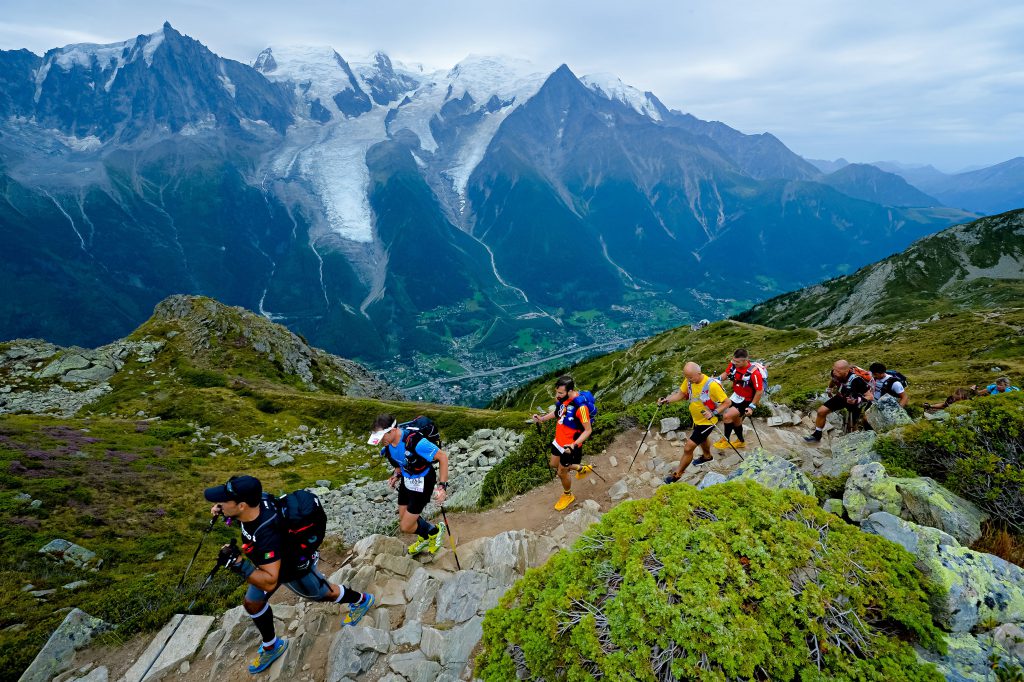 What are the other races in the UTMB family?
While the UTMB is the main attraction, there are several more races in the UTMB family that run alongside it.
PTL (Petite Trotte à Lèon): This relay is completed as a team and covers 290km and 26,500m of ascent. The cut-off time is 151:30 hours.
TDS (Traces des Ducs de Savoie): One of the most technical mountain races on offer, the 119km route follows the Grande Randonnée trail over 7,250m of ascent. The cut off time is 33 hours.
OCC (Orsières-Champex-Chamonix): UTMB's entry-level race, the OCC covers 55km and over 3,500m of ascent. The cut off time is 14.5 hours.
CCC (Courmayer-Champex-Chamonix): A 101km long route with a total ascent of 6,100 metres and a maximum cut off time of 26 hours and 45 minutes.
What are the requirements to qualify for UTMB?
UTMB uses a points system for qualification. You can earn between 1 and 6 qualification points at designated races. To register for the UTMB, you need to have a minimum of 15 points from a maximum of three races. Because of its popularity, athletes are then selected by a lottery.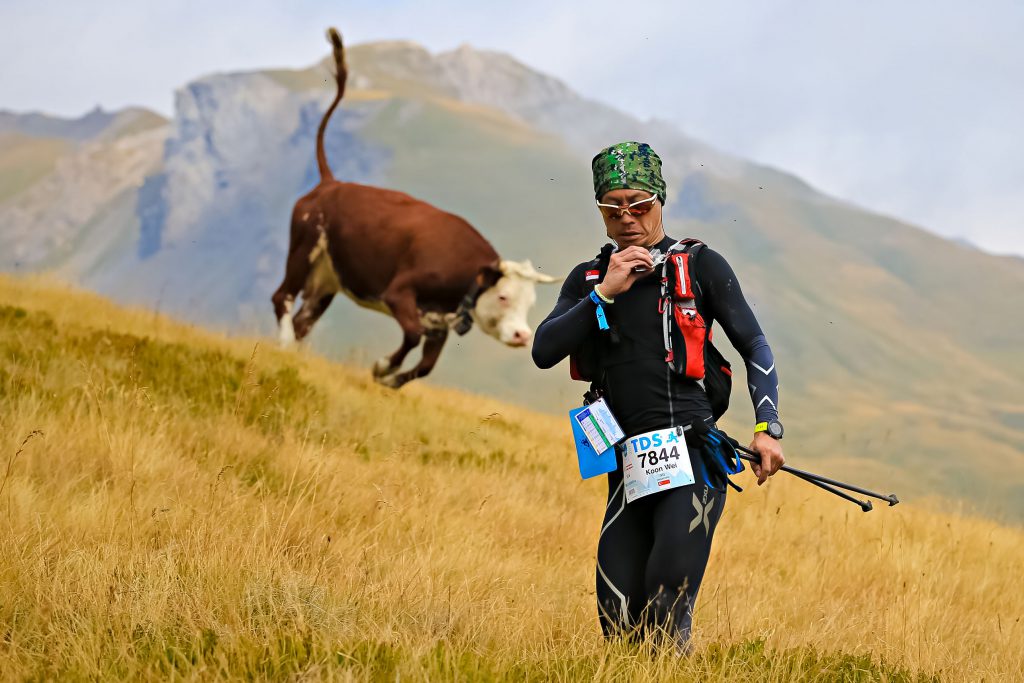 UTMB Qualifying Races in Ireland:
The 2019 qualification races are TBC. Check out the UTMB website for the extensive list of qualifying. However, in the past few years, the Irish qualification races have included the following races:
Ultra-Marathon Tips: 7 Essential Tips for your First Race
The Route:
The route takes in Courmayer, Champex, and Les Chapeux, with the race starting and finishing in Chamonix.
We asked Irish ultrarunning extraordinaire Eoin Keith to answer a few of your questions about the UTMB:
How do you prepare for a race like UTMB?
"Lots and lots of running! You have to put in the hard work. In the month or two leading up to the UTMB I focus on getting in plenty of hill runs, as well as my usual back-to-back long training runs at the weekend. You have to get comfortable running for long distances in the hills carrying a backpack.
I try to simulate, as closely as possible, the conditions I will face in the race. I also try to ensure not to neglect speed work and do one or two speed sessions per week, usually a combination of interval training with my running club, and tempo runs on the road. Also, get in some hilly cycles too to build climbing strength. Of course, I'll train in whatever conditions the weather throws up, as you don't get to choose the weather on race day!"
What is the toughest thing about UTMB?
"The quality of the field makes it very hard to stay competitive and to focus on running your own race. Huge numbers of runners set off at lunatic pace, and unlike most races, quite a large number of them can maintain that. It requires a lot of focus and patience to run your own optimal race."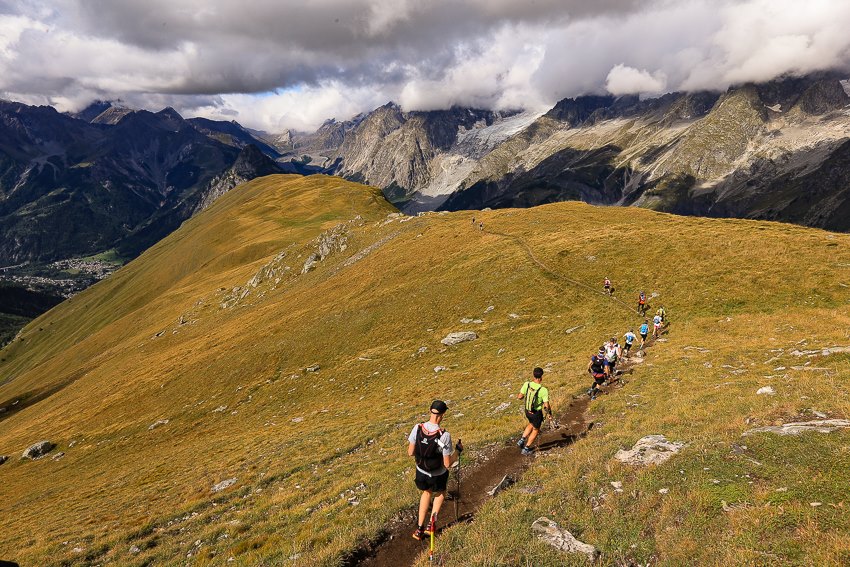 What advice would you give to those heading out there for the first time?
"Above all else, embrace the atmosphere and enjoy the whole experience. The atmosphere at the start is particularly awesome. The countdown to the start, with the race theme "1492 by Vangelis" blasting out, and then running through the streets of Chamonix jammed with cheering supporters is just superb. The other thing is to ensure to run your own race. Pace it too easy, if anything, in the first half to ensure that you make it through to the finish. And of course, keep looking around and taking in the amazing views, and remembering how lucky we are to be able to enjoy this incredible playground.
The toughest section was probably the top half of the second major climb to Col De Bonhomme and across to Croix De Bonhomme. I really felt the altitude kick in on the steep climb up, and we were met by an icy wind running along the top along with some nice thick mist. It was a good gear testing section! Despite my wish for bad weather, I was happy enough to descend into the calmness of the next valley and get some views back."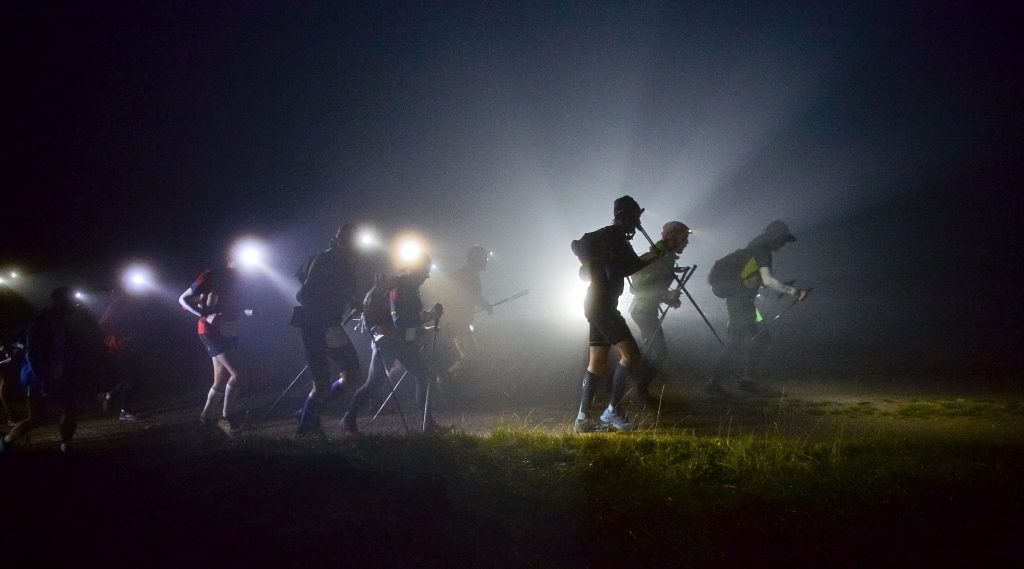 What Mandatory Kit is Required?
Basic Kit:
Pack destined to transport mandatory equipment throughout the race.
Mobile/cell phone with international roaming allowing for its use in the three countries (load into its memory the organisation's security numbers, keep the phone on, don't mask your number and don't forget to leave with the battery fully charged)
Personal beaker 15 cl minimum (bottles or flasks with lids are not accepted)
Two torches in good working order with spare cells/batteries for each torch (Recommendation: 200 lumens or more for the main torch)
Survival blanket of 1.40m x 2m minimum
Whistle
Self-adhesive elasticated bandage which can serve as a bandage or strapping (minimum 100 cm x 6 cm)
Food reserve – Recommendation: 800kcal (2 gels + 2 energising bars each of 65g )
Jacket with hood which will withstand bad weather in the mountains and made with a waterproof and breathable membrane (eg. Outdry)
Long-legged trousers or race leggings OR a combination of legging and socks which cover the legs completely
Cap or bandana or Buff®
Additional warm second layer : a warm second layer top with long sleeves (cotton excluded) of a weight of  a minimum of 180g  (men's size medium (M) ) OR the combination of a warm long sleeved underwear (first or second layer, cotton exclude) of a minimum weight of 110g  (men's size medium (M) ) and a durable water repellant (DWR protection) windproof jacket (the wind-proof jacket does not replace the mandatory waterproof jacket, and vice versa.)
Hat
Warm and waterproof gloves
Waterproof over trousers
ID – passport/ID card
Hot weather kit (can be deemed necessary by the organisation, according to weather conditions)
Sunglasses
Saharan cap or any combination which completely covers the head and nape of the neck
Suncream
Supply of water of two litres minimum
Cold weather kit (can be deemed necessary by the organisation, according to weather conditions)
Protective eyewear
Third warm layer  (intermediary layer between the second layer and waterproof jacket)
Recommendation: fleece or compressible down jacket
Robust and closed trail-running shoes (minimalist or ultralight shoes excluded)
Other recommended equipment (list non-exhaustive):
Smartphone with the  LiveRun app installed and activated + external battery
Spare warm clothing, indispensable in the case of cold or wet weather or in the case of injury.
Poles in case of rain or snow for your security on slippery ground
Vaseline or anti-heat cream
A sum of a minimum of €20 (for contingencies).
Reusable bowl
GPS watch
Knife or scissors for cutting elasticated bandage
Emergency sewing kit
Eoin Keith's Recommendations for Must Have Kit:
"I'll bring two almost complete sets of gear to Chamonix to allow for the fact that the weather is so unpredictable."
If the weather is good: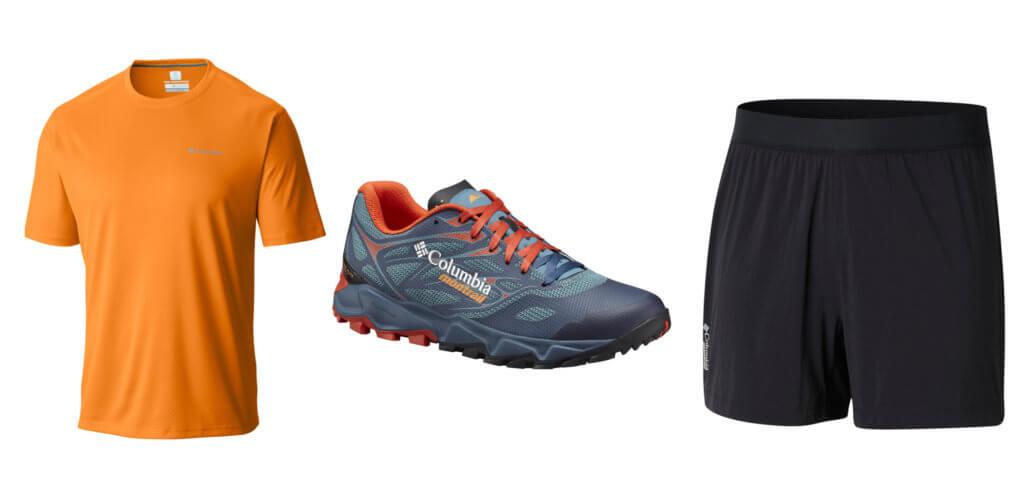 If the weather is bad: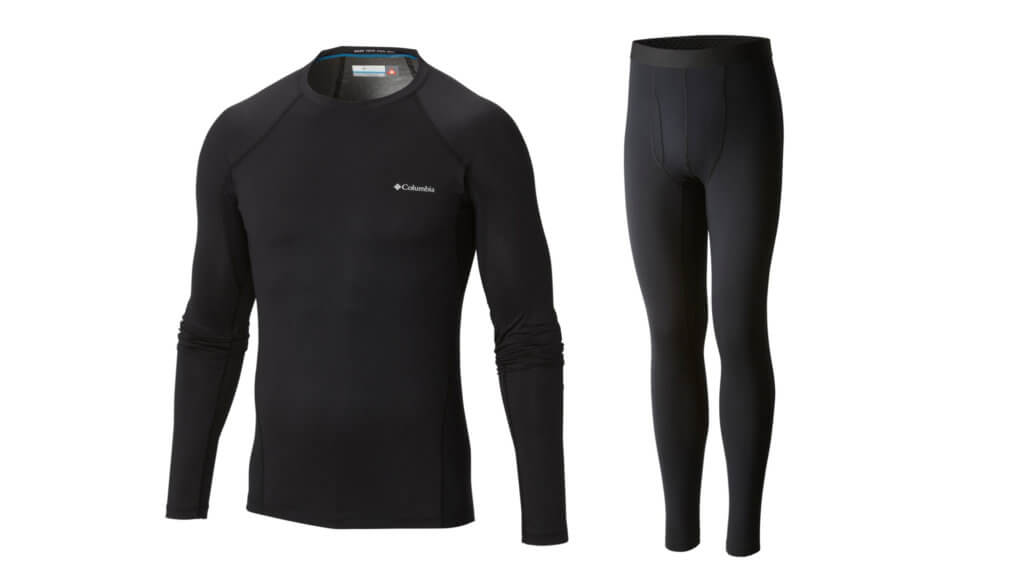 Running shoes with built-in gators
In my pack: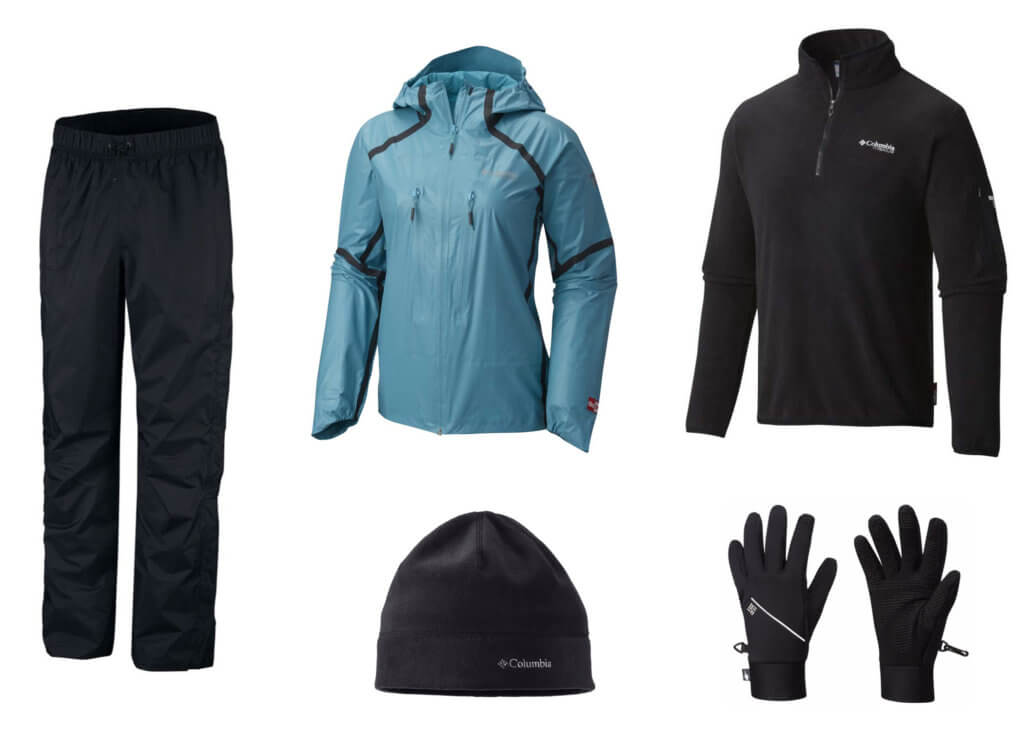 Eoin Keith's most valued piece of kit is his Columbia Outdry Extreme lightweight waterproof jacket. "It is my first and most important line of defence against inclement weather. It's the most genuinely waterproof jacket I've ever used, but is also very breathable, and extremely resilient. The latest version I'm wearing is a great lightweight version… perfect for racing!"
Check out our full review of the Columbia OutDry™ Ex Tech Shell Jacket.
For more info: UTMB
Brought to you by:
Check out our Hard as Nails podcast:
Like this? You should check these out:

Previous Post