Tom Dolan came 6th in the Mini Transat, Ireland's best ever result in the race. We caught up with him to talk about the rashes, the suffering, the struggle to self-fund and taking a wrong turn on the Mini Transat.
Born and bred on a farm in Kells, Co Meath, Tom Dolan (30) does not have sailing in his blood. He was never part of a yacht club, he didn't go on sailing holidays and never had any lessons as a kid. Tom fell into sailing somewhat by accident at the age of 10 after his father bought an old wooden dinghy in the Buy and Sell. Yet, despite this unorthodox entry into the sport, Tom has a seriously impressive sailing CV. He has French, Irish and British qualifications and made his first crossing of the Atlantic at just 21 years of age. In 2016, he won the Mini en Mai and the Trophée MAP, becoming the first Irish person to win a race in France. In June, Tom podiumed at the Mini-Fastnet Race, despite being fouled by a fishing net. That same month, he was second in the 500 Mini-en-Mai Race.
Tom is now just back from showing off his sailing prowess on the world stage, having come sixth in the Mini Transat, Ireland's best ever result in the race. There is nothing mini about the Mini Transat, it is a sailing race across the Atlantic Ocean which covers almost 4,000 miles and requires participants to spend almost two months at sea, alone on a 21ft boat. The race is considered by many to be one of the most extreme in sailing due the distance covered compared with the size of the boats. We caught up with Tom to talk about his entry into the sailing world, find out how the Mini Transat went and talk future adventures.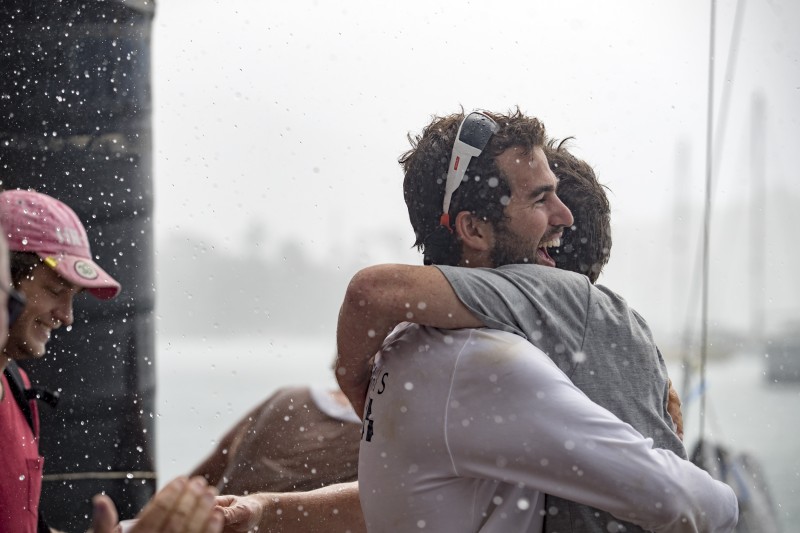 You had an unusual entry into the sport (by not coming from a sailing background) how was that coming into a sport like sailing where from the outside looking in it can appear to be somewhat of an exclusive club?
It wasn't very easy! As a youngster, I gave up sailing as it was simply not accessible for someone coming from the country. There were two main structures that then gave me access to it, firstly the Shackleton outdoor adventure course in Colaiste Dhulaigh in Coolock and then Glenans sailing club in Baltimore Co Cork. Both of which made it possible to progress and then work in sailing. Glenans then gave me the ticket to France.
Why did you choose to enter the Mini Transat?
Again you could say it is the accessibility of it. It is the only ocean racing circuit that is achievable on what you could say is a reasonable budget. It still costs a bomb but the class do a lot to control the costs. The size of the boats cannot be more than 21foot, the materials used for construction and for the sails are controlled and the electronic equipment allowed on board is controlled (no computers, no chart plotter no satellite phones etc). There is a circuit of races around the French coast which are generally timed around public holidays, which allows people who work full time to compete. The class allows everyday joe soaps to have a go at ocean racing or complete a life's ambition, while at the same time allowing up and coming skippers to make a name for themselves before moving on to bigger classes of boats.
Could you hike the Inca trail with 25kg on your back?
How did you fund your own trips?
A combination of working, sponsorship, crowdfunding, the old man's inheritance and a bank overdraft!
You seem to be putting all your resources into racing, what's driving you to put in that level of commitment?
I think it's a combination of things. Speed is a big one. It's hard to get the same sensations from any other offshore boats. There is also the challenge of it, the fact that you are your own boss and you are completely responsible for any mistake you make. Your world becomes all about going fast and in the right direction. You eat and sleep only to keep your mind and body working efficiently so that the boat goes at its best and as much as possible, better than the others. So the competition is definitely a factor. So to answer your question, the speed, the challenge and the competition. It is sort of like an addiction in a way, when I'm not doing it all I think about is doing more! And for the last number of years, it has been my entire life.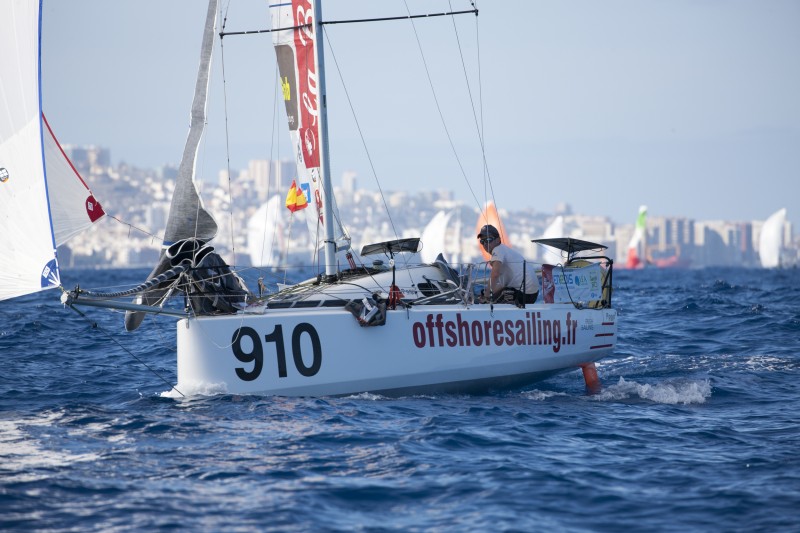 Did you suffer during the race?
The humidity was a bit of an issue and when the boat goes fast, it is very wet! All of us in the lead group had the same problem. We were wet 24 hours a day for 14-15 days, morning noon and night. We could have all the fancy gear on that we wanted but thanks to the heat, the most simple manoeuvre would leave you covered in sweat. It was like spending two weeks in a swimming pool! By the end of it, I had fairly bad rashes all over my body and my legs and my hands were in tatters.
Was there a low point?
An hour into the race! With the stress of the start, I missed a last minute change that they made to the course causing me to miss a mark just after the start. I had to turn around and go back to pass it. When I got going again I was last, 10 miles behind the nearest boat. This messed up my head a lot and I had trouble sleeping for the first three days. I gained back a lot of places but I never managed to catch the lead group. It still hurts a bit, after three years of my life preparing for this race I missed one line on a piece of paper!
Meet the mountaineer from Dromara who made the first ascent of Burke Khang mountain
Was there a highlight?
During the second leg when we went through the Cape Verde Islands (there was a risk of a hurricane so they sent us south). We arrived in the channel between the Santo Antao and Sao Vincente, where the wind funnels and accelerates strongly. It was as night fell and I was neck and neck with the guy who was third. Our coach had told us "be ready for 12 hours full on" and he wasn't far off, it turned out to be 24! The two of us had a great battle, zig-zagging all night in the pitch dark in 25+ knots of wind! After all of that, soaked and exhausted, I ended up two miles ahead of him.
Massive congrats on the result! Are you happy with it?
Ah yes and no. I will always regret the stupid mistake at the start of the first leg. I finished sixth overall, 19 minutes behind the Swiss guy in fifth. You can go over the entire 4000 miles in your head and think of how many times you could have gained those 19 minutes and it'll drive you crazy!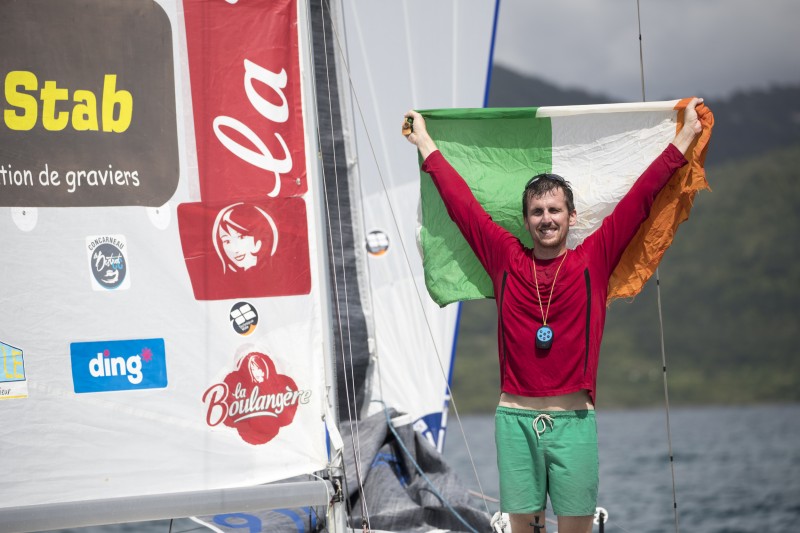 "The five sailors that finished in front of me had ten times the budget that I had."
– Is that the way it works, money over skill?
No, you cannot win a race like this without being skilled and those ahead of me are all very talented and are to watch for the future. What I meant was that I am proud of what I achieved with the little resources I had. I had no salary and while preparing for the race I also had to work to butter the spuds. I prepared everything on the boat myself, I installed all of the gear and electronics and at the same time had to try and prepare myself physically as best I could. It took a lot of time and to be honest by the time the race started I was knackered!
Exploration in a modern world: Leon McCarron's journeys in the Middle East
Your boat pitchpoled 800 miles from the finish, can you tell me what happened?
It was a bit mad, I got surprised by a squall in the middle of the night with over 40 knots of wind in it. I had too much sail up and the boat nosedived and went head over heels! I was thrown across the boat and into the water but luckily I was tied on. I was lucky that the boat didn't capsize and that the mast didn't break!
This is your second time racing in the Mini Transat. Will there be a third time?
I don't think so, but who knows, we should never say never!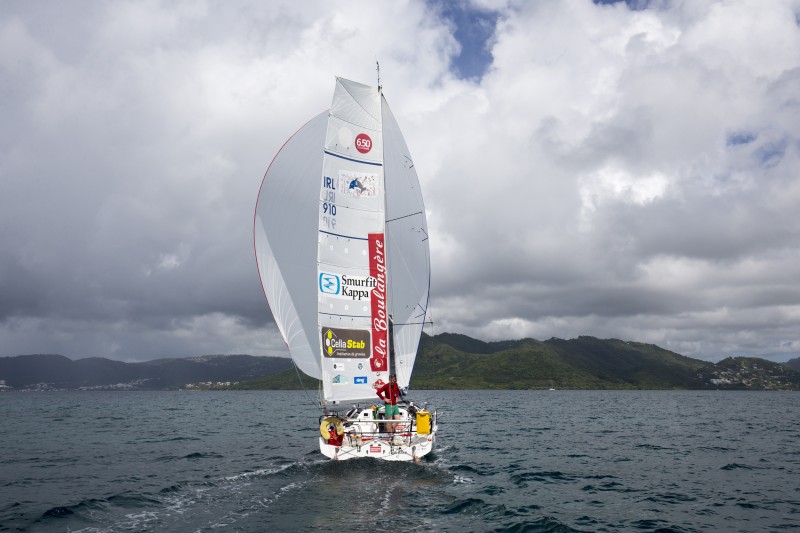 Is it hard to keep yourself motivated as a lone navigator?
When things go wrong it can be. I experienced this during the first leg after I made the stupid mistake, the guilt of letting down all those who supported and helped me caused me a lot of trouble. After a good chat with my coach I managed to have a different mindset for the second leg. He told me "those who are great manage to sail the same when they are first or when they are last, you need to be almost robotic in your mindset and always keep a stable morale". So that's what I put in my head 'stable morale' and it worked a charm. I thought about nothing except going fast and going the right way. When things started to go wrong I stayed stable.  I didn't think about those at home, about what would happen if I won or lost or what would happen in the future. I was like a robot.
How do you take care your body on a multiday race like that? (Nutrition/hydration/sleep)
It's a bit of a vast subject but there are a couple of rules never to break. You must always have at least four hours of sleep per 24 hrs or you start to lose lucidity. Every time I had a snooze, I noted how long it was to be sure I had enough each day. Hydration isn't really a problem, I drink water by the gallon. As it was hot I wasn't far off four litres per day. A good trick is to drink sparkling water as it hydrates you better and you pee less! Foodwise, it's important to avoid too much sugar as you have bad comedowns, the best snacks are dried fruits and nuts. Apart from that, it's a mix of freeze dried and soft can meals pumped with calories. But it takes it's toll, in 2015 I lost 7 kgs and this time 5 kg.
What's next for you?
I am looking for the budget to compete in the Solitaire du Figaro, a professional single-handed racing circuit in France, considered to be the equivalent of the world championship of single-handed racing. The level is very high and I will be competing against the best in the business. I will more than likely get a good spanking but I will learn a lot. Then someday hopefully around the world!
Check out our Hard as Nails podcast:
Like this? You should check these out: