SNOW!!! Does ANYTHING compare with pulling back the curtains in the morning to find it there? That couple of seconds it takes your brain to register why the familiar old world is an unfamiliar colour; your eyes widen in delight then quickly shut as your retinas burn from the reflected dawning light. Pure, clean, virginal, untouched. Sprawling, soft and stifling the sounds of the starting day.
Words: Ross McDonagh
Of course, some see snow and think: "ugh – cold", or "ugh – slippy", or even "ugh – I'm gonna fall on my ass". But readers of Outsider think, "Cold, slippy, and I'm gonna fall on my ass!"
And if the weather forecast is correct and the drifts drift by this year, there is a tonne of stuff you can do right here in Ireland. Seriously! You could for example…
1. BUILD STUFF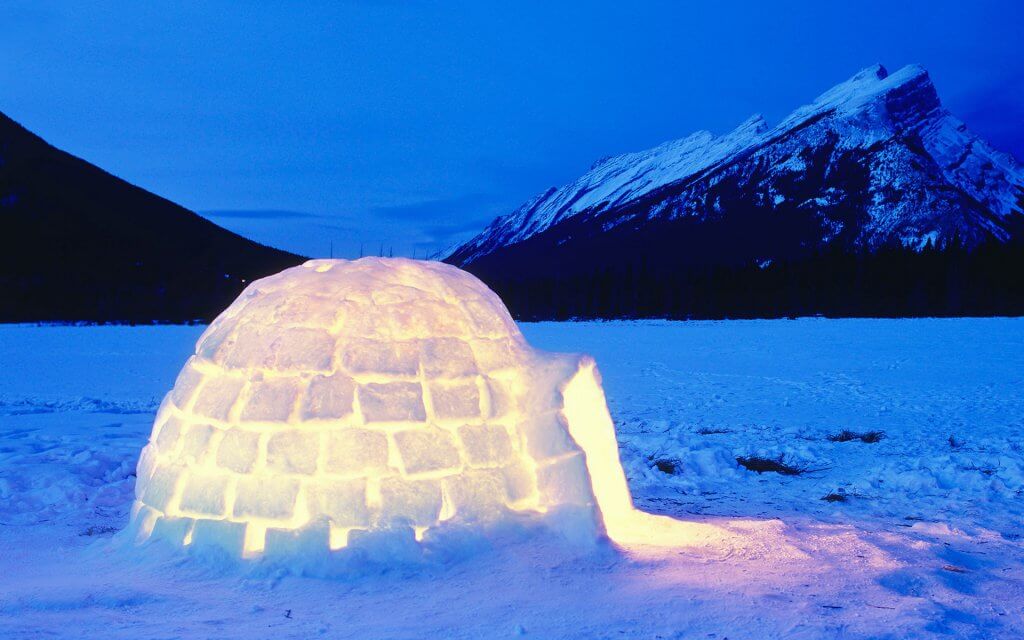 To most Outsider readers, the most pertinent matter about the matter of snow is that it reduces traction between reader and earth. What we tend to forget the further we move from childhood is that snow makes for pretty awesome building material, and you can build some pretty awesome stuff out of it. It's a completely malleable, self-replicating, self-adhesive, non-toxic substance that disposes of itself when you're done with it. And every construct comes with built-in drinks cooler.
As a fully qualified snow engineer, let me bestow some of my vast knowledge. Firstly, leave the carrot at home. In the chauvinist world of snow-building, 'men' have been the go-to blueprint for budding sculptors for too long. The only limit is your imagination (and a pre-required low centre of gravity). Why not start by rolling a few balls of different sizes and then seeing what you can come up with? As for props, bringing a hat and scarf to the party sort of limits your options. For the critically acclaimed Snow Ant (pictured) I raided a nearby recycling skip and found a large sheet of cardboard with served admirably as a sled to pull my bored assistant around for a bit, before I tore it into strips for the ant's legs.
Using rolled snowballs however also limits your structure, but with the right tools you can seriously expand your repertoire. For the award-winning Snow Igloo I made, I used two different sized robust plastic storage tubs. Simply fill with fresh snow, stamp down, rinse and repeat until it's hard-packed to the brim. Carefully flip it over, give a few firm taps on all sides, and out slides a solid ice building block capable of repelling Mongolians. Then simply measure out your ground space, lay a circle of blocks (leaving space for the door), and continue up in concentric circles with subsequent layers. A sprinkling of fresh fallen snow between every brick makes excellent mortar to hold it all together.
Three key pieces of advice: 1) Don't build in an area without at least a small appreciation of snow engineering, lest some little scummers come and kick it down. 2) Build in full view of neighbours/friends; they will be well impressed and will rush to pledge their servitude. 3) Check the weather forecast and only build if you have a few days of snow scheduled. If you think the film 'The Snowman' was heartbreaking, try watch your unfinished masterpiece igloo melt away before it even gets a roof…*sniffle*
2. GO SNOWBOARDING IN WICKLOW
It may not have the fancy ski lifts, expensive ski shops or promiscuous ski instructors, but Wicklow has plenty of hills. And when they're covered in snow, well that's all you really need isn't it? Sources close to this magazine have uncovered a secret spot that's pretty sweet for stick pricks and tray gays alike. Well actually most people who ski or board know about it as whenever it snows the place is hopping.
Basically head for the Shay Elliot memorial in Glenmalure. From there you have the option of coming down through the forest trail or the country road itself. You don't need to worry if you're skiing down it as there won't be any cars driving up it.
The forest trail features a fast 450m direct downhill amongst the trees, then a 200m short flat-ish bit, before zooming down another 500m of trail to the humpbacked bridge 100m above the pub, where you zip down the road and into the car park. So while the route might not be quite as kitted out as the continent, the après ski is in full effect.
The trek back up to the top is arduous, but with a bit of luck some of the local quad bikes will be out on towing duty.
3. GO SNOW-TOWING
This is highly stupid, pretty dangerous and probably illegal…and I can't think of three better reasons to try it. Get something with a bit of torque (like a Land Rover), something that can connect a person to it (like a rope), something to tow (like a sled/snowboard) and someone reckless enough to ride it (like you). Then all you need is a big field somewhere and a decent driver.
Obviously this is immense fun but, seriously, make sure the driver knows what he or she is doing. And make sure the towee wears a helmet. Controlling where that towee goes requires more than a basic understanding of the laws of physics. Braking hard after driving in a straight line will quickly introduce you to the rear bumper, and jack-knifing around and under the car is an equally unappealing outcome. If in doubt – bail out!
How to save money on your ski holiday
4. HAVE A BYOB BOX SESSION (build your own box)
The snow usually comes as a detriment to most businesses. So when the rest of the capital ground to a standstill a few winters ago, passers-by might have wondered why one little furniture shop in Harold's Cross was still furiously at work.
Dubliner Emmet Condon recalls, "As the giant flakes fell and fell, one of the boys got on the phone to say he had been inspired by the weather to turn production at his nearby woodwork shop from high-end furniture to low-end sliding devices – namely a 10-foot box and a little ramp to assist the slide into it.
"So, with darkness descended, I had the somewhat surreal experience of a short march from Rathmines to Harold's Cross, board in hand, fully kitted out as if in the French Alps, passing commuters who, despite thinking they had seen it all in the previous few days – had now really seen it all. We spent a great evening practising our jibbing skills on our own little private snow park in the heart of Harold's Cross. It might not have been Laax or Whistler, but in many ways, it was much, much more memorable."
5. GO ICE CLIMBING IN KERRY
Besides Wile E. Coyote, the odd salmon and those nasty little feckers in the Amazon that swim up your pee and into your urethra, going up water just sounds like a grammatical error. But when it's cold enough, Nathan Kingerlee does it. And for a rather reasonable fee, you can do it with him.
Climbing up a frozen waterfall is one of those very few opportunities when you'll get to take advantage of a captive Mother Nature as one of her most powerful forces stalls helplessly, allowing you exhilarating access through a very small window in time. Nathan and the team at Outdoors Ireland (www.outdoorsireland.com) take groups up the Macgillycuddy Reeks in Co Kerry, where you can make the normally impossible ascent of sheer ice using crampons and axes. Don't sneer too much at Mother Nature though; she will kick your ass eventually.
6. GO MOUNTAIN BIKING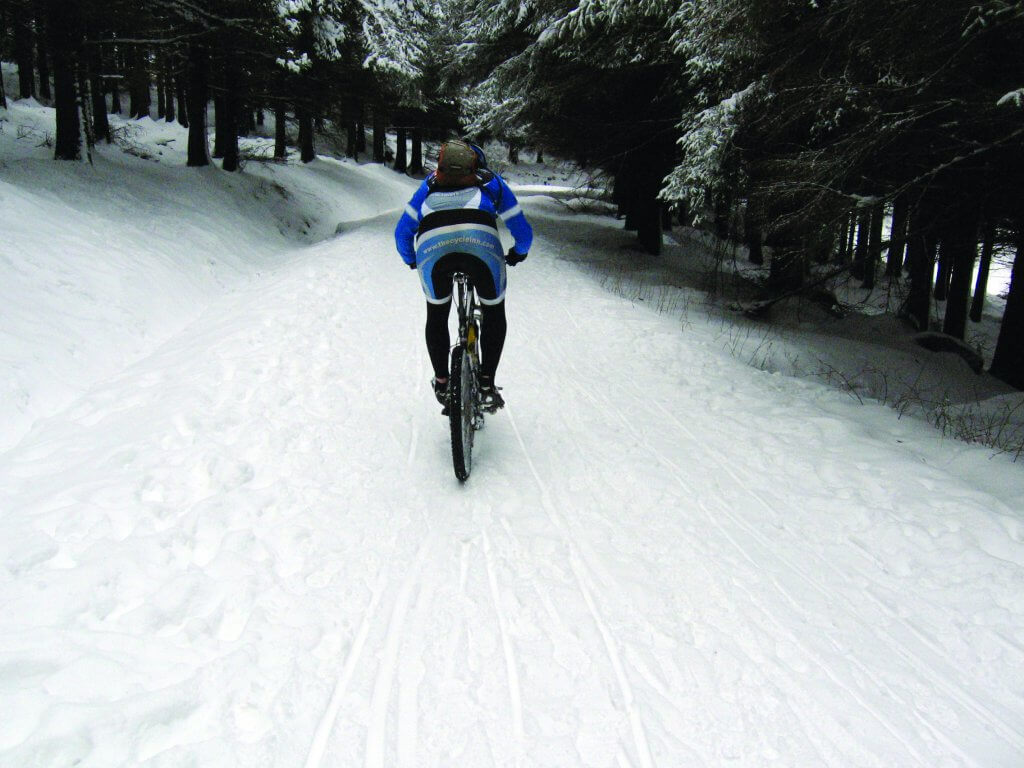 Mountain biking in the snow? Really? Absolutely, says Outsider's bike guru Ben Merchant. "Wrap up warm (the padding helps with crashing too) and hit the hills. The trail looks strange (if you can see it) and depending on the route it might be impassable but it will certainly ride differently.
Last winter, on one of several snow rides, a group of us headed up the Ticknock fire road which had disappeared under several feet of snow. It was slow going but the scenery was astounding, with tree branches weighed down by heavy snow and a landscape that fooled you into thinking you were in Canada. Coming across the odd deer added to the illusion.
Is Japan the best ski destination in the world?
"Random skiers and snowboarders passed us on their way down but they couldn't go back up easily whereas we could. Control was interesting, traction too, but we got there in the end to a spectacular view of a white Dublin. In the crisp and clear conditions, the trails were great fun, especially where the snow had been compacted, making it possible to ride. Forget about off piste here though. Snowdrifts and wheels don't mix – but at least the landing is soft! Descending is a riot with rear wheel drift your friend and power slides. Don't miss the opportunity; just get out and ride!"
7. DO URBAN RAIL
Not the sort of thing you'd expect to see in Rathfarnham, but these pretty neat tricks were performed in pretty limited space. It looks like some of the footage was shot in Kilternan as well. In any case, stick around – all the face planting is at the end.
8. TAKE SOME PICS
Daragh Muldowney of Dulra Photography (www.dulraphotography.com) first got interested in shooting snow while snowboarding in the French Alps, where metres of fresh white fluffy stuff falls amid high winds and creates sublime patterns. While snapping these, Daragh lamented how Ireland never got a similar winter coat, until four years ago when lo and behold – Ireland re-entered the ice age. Since then, whenever there's a hint of snow, Daragh grabs Wanda (his camper van), food, warm clothes and camera gear before driving/skidding his way to Glendalough.
"We park near the bottom of the Wicklow Gap Road or at Glendalough itself (double yellow lines are covered so no tickets to be administered). Then we cook up a feed in the evening, getting the van nice and warm and covered with internal condensation. As soon as the gas is turned off the freezing temperatures kick in. By the time we get up in the morning there is usually about 1mm of ice covering the entire inside of the van. Essentially you're sleeping in a fridge freezer! My -20˚C sleeping bag and duvet are required for heat.
"After breakfast we hike up the Wicklow Gap before dawn to capture the early morning light. I'm all about patterns, texture and light, both in the snow and ice formations that abound in conditions like this. It's a unique experience to be out for an entire day in minus temperatures connecting with nature's extreme beauty. There is pure healing in connecting in this way.
"We'd stay out till sunset before heading back to do it all over again. It's a pleasure to be out in it and enjoying it. After a fresh dump, the snow covers everything like icing sugar, softening all edges and giving definition to the exquisite shape of the leafless trees."
Daragh captures everything on his trusty 30-year-old Canon AE-1 with a selection of prime lenses and a Glitzo carbon fibre tripod. No enhancements, no filters, all nature. His top tips: Don't overexpose the snow, keep your batteries warm, and get snow chains for your tyres!
9. GO SKI TOURING
For those who don't know what ski touring is, imagine skis where your boot is only attached at the toe and the heel is free to lift. This makes walking possible, even slightly uphill. The heel can be fixed for travelling downhill, and for steeper uphill sections, a set of 'skins' is attached to the base of the skis to provide traction and stop them slipping back down. 'Skins', incidentally, used to be made from actual animal skin so the fur would grip the snow allowing the skier to go up steep slopes. These days, they are synthetic.
As an avid fan of snow and ice (and with the last three winters providing the basic material), Hugh McLindon has spent as much time as possible ski touring in the Wicklow mountains.
"A series of snowy winters has given me a chance to evolve my approach, from using homemade plywood snow-shoes to a full set of touring skis and skins. We're all keen to save money these days, but for any level of comfort and safety it's worth going for proper snowshoes or touring skis and skins. Cheaper or homemade gear will always break at the most inopportune moments, and may even lead to injury."
If you do go touring in Wicklow during the winter, Hugh advises bringing enough gear to keep you happy overnight – light-weight snow-shovel, group shelter, blizzard bag, stove and food. "Travel in a group, bring a first aid kit and don't rely on your phone – the sub-zero temperatures are a killer on batteries," he said.
Should you get into difficulty and your phone is working, simply dial 999 or 112 and ask for Mountain Rescue. As the PRO of the Glen of Imaal Red Cross Mountain Rescue Team, it could well be Hugh who rescues you too!
Check out our Hard as Nails podcast:
Like this? You should check these out: