In 1998 Adele made the first British female winter ascent of Ama Dablam (6386m) in the Himalaya. However, her climbing career took a step back when she was involved in a serious accident in the Alps. She spent five months in a wheelchair and had an arduous journey back to fitness. But giving up was not an option, climbing was far too important to her.
Adele was the first British woman to have summit Mount Everest twice. She also holds the British female record for climbing five of the fourteen 8000m peaks. These days, Adele is still conquering 8,000m peaks and works as a guide for both Jagged Globe and Adele Pennington Mountaineering. On 5 December, she will give a talk in Basecamp where she will talk about the epic highs and lows of climbing some of the world's highest peaks. Tickets cost €5 and can be purchased here.
In the meantime, read on for a little snapshot of Adele Pennington's incredible journey…
My love of adventure started when my stepfather took me up Mt Snowden at the age of six. After that I just loved the mountains. However, I was living in Corby Northamptonshire where there are no mountains so I didn't take things any further until I was about 18 or 19 that I really started exploring.
I became a teacher to give myself more time to play. I went to uni in York and then on to do a PhD. I then decided to become a chemistry and outdoor education teacher so I would have more time to do what I love.

I was in a really bad accident in the Alps and was told I might never be able to climb again. My rope jammed and I tried to unjam it. It was cold and dark and I made a mistake by not tying a knot properly, I ended up falling 30m. I was very badly smashed up. I was only rescued 17 hours later.
I remember lying there thinking that I'd had a good life. I had done a lot. I was young and I had thought I was invincible, but there I was paralysed from the waist down. My injuries included a broken jaw, a crushed skull, a fractured pelvis and a broken back.
Scaling Mount Damāvand, Iran's Highest Peak
I wanted to get better. The thought of not climbing was too much. I wanted to get better so I decided that I needed to get fit again.  I had already climbed Ama Dablam (6386m) in the Himalaya and wanted to do more. The doctors were a little negative and told me that I would walk with a limp and maybe never climb again. So I took on intensive physio, put in a lot of hard work and had great friends who took me to the swimming pool and threw me in out of my wheelchair.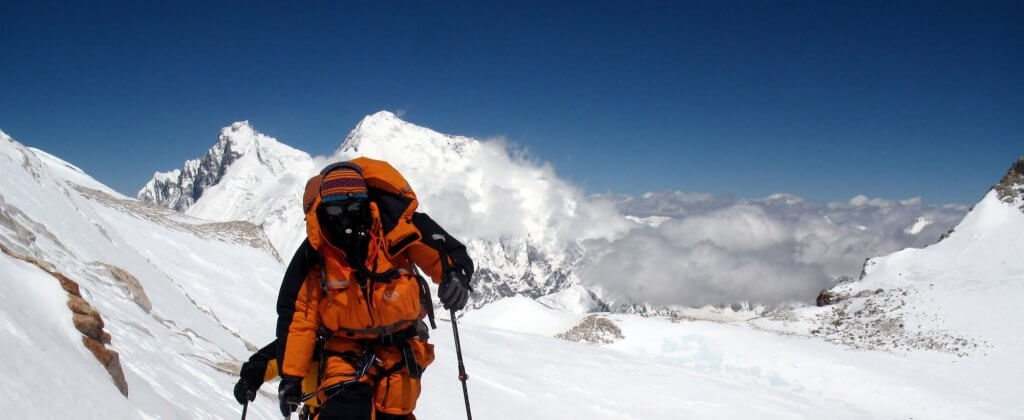 My accident was the turning point in my career. I decided to become a freelance outdoor instructor and also started working for Jagged Globe.
I had always dreamed of climbing Everest and got a very lucky break. In 2008, Janet Pickett asked would I guide for her on Everest. It was wonderful and we are still very good friends today.
The second time I climbed Everest wasn't so great. I was leading a team of 13. There were a lot of egos which made the management role quite difficult. It made me realise that I didn't want to manage a big team on big peaks.
You have to stay at the top of your game when you are leading. Client care at altitude is very difficult. I would even question the use of the word guide at 8000m. I also thought about the fact that something could happen to me and where would it leave the others.
Climbing big peaks is like a game of chess. You have to work out when the mountain will let you up. It's calculated and all about getting everything weather, studying weather forecasts and working out your summit window.
It is a battle of the wits. The mental side of things is just as important as the physical side of things. You see how long you can withstand mental torture, bad weather etc. The harder the summit though the better the feeling of achievement. Although, I have retreated from summits to make sure that I come back alive.

I always shed a few tears when I reach the summit. I get quite emotional at the summit. But I soon get anxious to get back down again. It takes a while to actually realise what I have done.
When I get home after a big expedition I don't like to integrate with people. I do a lot of sitting and staring into space, letting my brain re-normalise itself. Although I usually have work so have to click back into normal life again pretty quickly.
I don't think I'll climb big peaks forever. I would like to do a couple more until they become too difficult. I'll always climb, walk. Or at least I'll carry on as long as I'm physically fit. I'll be climbing, walking or at least looking at the mountains for as long as God lets me live.
I've been given two really good pieces of advice in life. The first to never rush acclimatisation. Slowly, slowly, slowly and never rush it.  The second piece of advice was given to me when I was 19 and I was doing the Liathach Ridge for the first time. I was told by an older man to follow the crampon scratches and polished rock and that I would be ok. It was a really nice thing to tell me.
I would tell others looking to climbing big peaks to choose their peak carefully and to never give up.
If you would like to hear more about Adele's incredible journey then head along to her talk at Basecamp on Middle Abbey Street in Dublin on 5 December. Tickets cost just €5 and can be purchased here.
Check out our Hard as Nails podcast:
Like this? You should check these out: