Think you are too late to the game to take up sailing? Think again! Claire McCluskey took up the sport in her late 20s and has now sailed across the Atlantic and back again.
We've all had some mad notions while knee deep in pints in the local pub. Most of us wake up the next day, nursing the hangover either chuckling or cringing at the mad announcement of a grand adventure that we made to the entire room. Claire and her partner Nick Russell are not quite the same as the rest of us though, as in they follow through on the plans they concoct in bars. "It was, for the most part, a bit of a random one," says Claire, "I had decided to move to New York for a year for work, but Nick wasn't in a position to make the move with me. The prospect of spending time apart was a bit sad, so over a pint one evening I promised him that he could choose the next adventure".
Nick chose sailing. So instead of doing something like buying a house, they bought a boat. In 2014, they purchased a 56' wooden sailing ketch called Rogue Trader. In 2016, they set sail from Crosshaven, Co Cork to Las Palmas, Gran Canaria. From there, they continued across the Atlantic Ocean to St Lucia in the Carribean, eventually making their way all the way back to Ireland via the Azores. A nine-month adventure that altered their lives forevermore.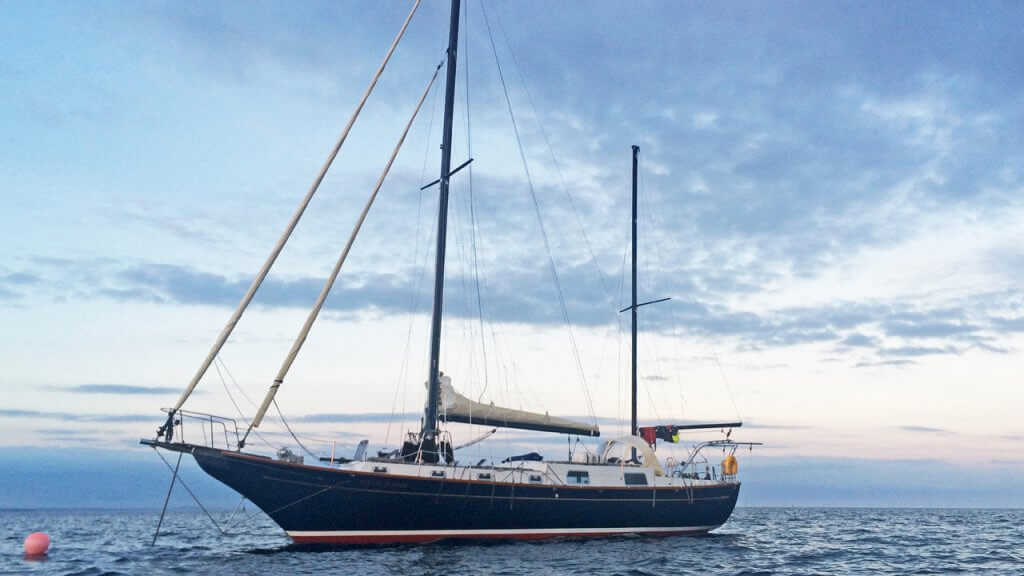 Hailing from the landlocked county of Monaghan, Claire McCluskey (29) was not exactly raised with the skills of the sea. "With the exception of a spin on the Irish Sea ferry, a Venetian gondola and the odd kayak, I had actually never been on a boat until 2013," she says. When they came up with the idea to sail across the Atlantic, Claire checked herself into a few courses. She completed the Day Skipper certificate and a shore-based Yachtmaster navigation course with the INSS in Dun Laoghaire.
"I have a weirdly fond memory of sitting in the engine bay sitting in a puddle of diesel and working out from sketchy instructions how to bleed an engine, for the first time in my life."
Not the kind of people to let a minor detail like a lack of sailing experience stop them, off they went into the sunset to begin their grand adventure. "Within a couple of hours of leaving Ireland, it was pitch black and two of our crew were hit hard with seasickness. Unfortunately, Nick, the skipper, was one of them. It was all up to me (with limited sailing experience but knowledge of the boat) and three guys we met online (experienced sailors but who weren't familiar with Rogue Trader) to take charge. To top it off, our new instrument panel had failed almost immediately upon departure and so the header tank ran out of fuel, incurring an airlock in the engine.
7 Ways to Get into Sailing (Without Having to Buy a Boat)
"To this day, I have no idea how I got through that first leg. I have a weirdly fond memory of sitting in the engine bay (accessed through a tiny cupboard which the others couldn't fit through) sitting in a puddle of diesel (which I caused from over-filling the header tank by accident) and working out from sketchy instructions how to bleed an engine for the first time in my life. All the while my entire surroundings were shuddering violently back and forth as we ploughed through the waves. I think I found something funny in the absurdity of the situation that carried me through and I eventually figured out how to get the engine running again. It was a miracle that I managed to avoid sea-sickness, or maybe it was staved off by pure fear or stubbornness."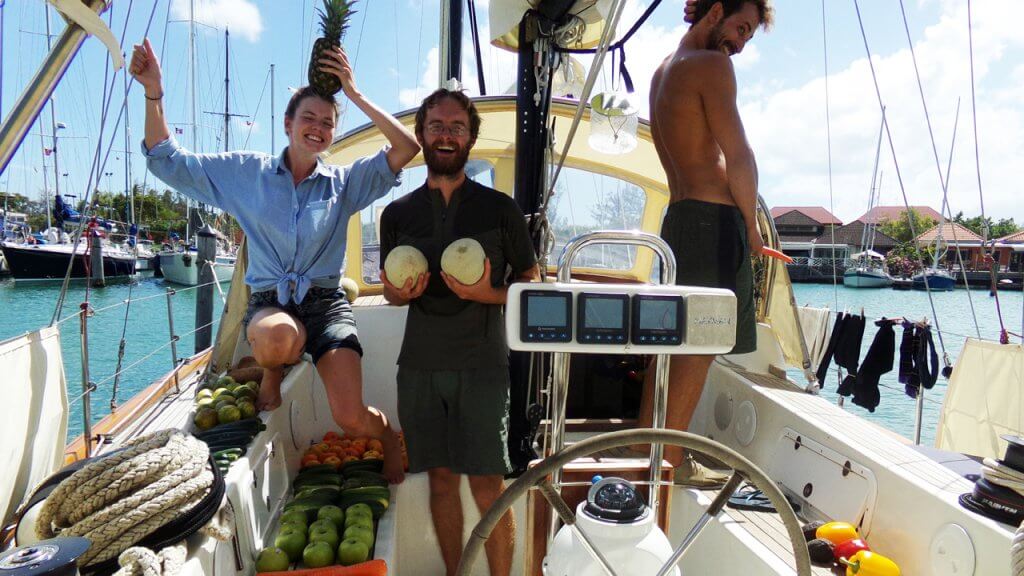 Claire's description of life on the boat will make you want to quit your job and set sail. "Since I was little, I had always hoped to go on a big adventure one day, which made the idea of sailing so appealing to me in the first place. In reality, it was a lot of hard work, with no privacy or creature comforts and it was occasionally terrifying. But there's something about the sense of adventure that makes up for all those hard things. Even by the time we reached Gran Canaria (only the beginning of the journey really), we had already gone further than we had ever gone or even believed we could go. And that sense of accomplishment was addictive. I found it very empowering."
A Day out on Dinghies with the Sailing in Dublin Club
"The day-to-day life on board was also where we found the real affirmative moments. We decided to stop for a day due to low winds. Instead, we jumped in for a swim in the bright blue sea. It was about 4km deep and actually my first time ever swimming out of my depth in salt water! We caught fish and made fresh sushi that day, and we sat out under the stars as one of our crew serenaded us softly on the guitar. It can be insanely idyllic at sea when the weather is nice. When the skies are clear, the stars stick out sharp as if on pins, overflowing the horizon in all directions – it can be very distracting!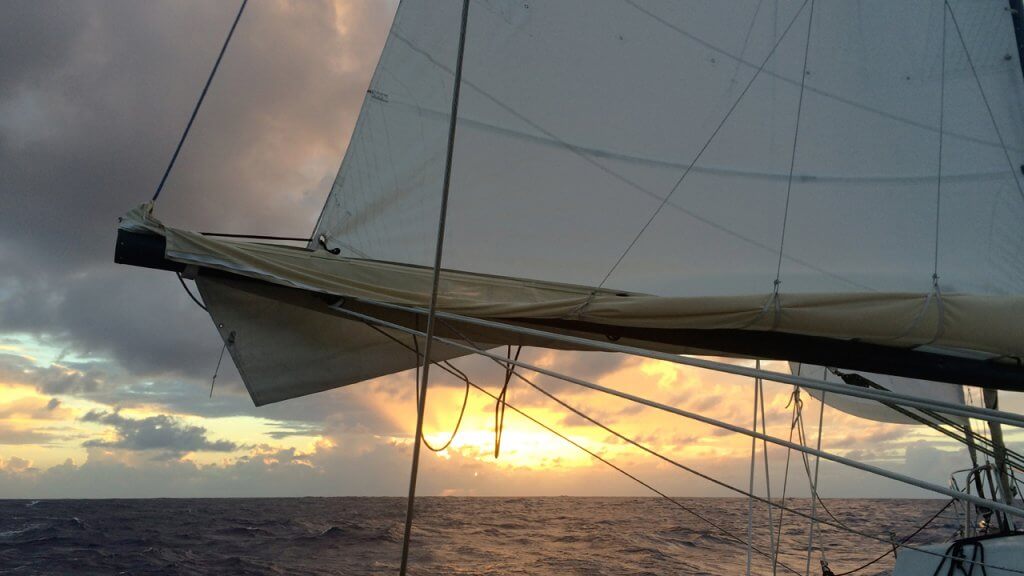 "And I personally loved the phosphorescence that comes from light-emitting plankton in the water on dark nights. As the bow disturbs the water, it lights up and sparkles and it feels like the boat is flying along by magic. Occasionally we could spot dolphins swimming alongside in the midst of it all, their bodies lighting up as they torpedoed back and forth underneath us. And one still night, en route from Antigua to the Azores, we made pizzas and watched 'The Never-Ending Story' out in the cockpit with a big, full moon above. It was a delightfully surreal experience, especially with all the synth in the soundtrack!
"But the sentiment of our crew member Brian still holds true, the best thing about long distance sailing is arriving at your destination. As we arrived into Crosshaven, after our hardest leg yet, the joy was tremendous. It was a super-high! Everything was so beautiful and all our families were there to welcome us back home after nine months. It was all very emotional."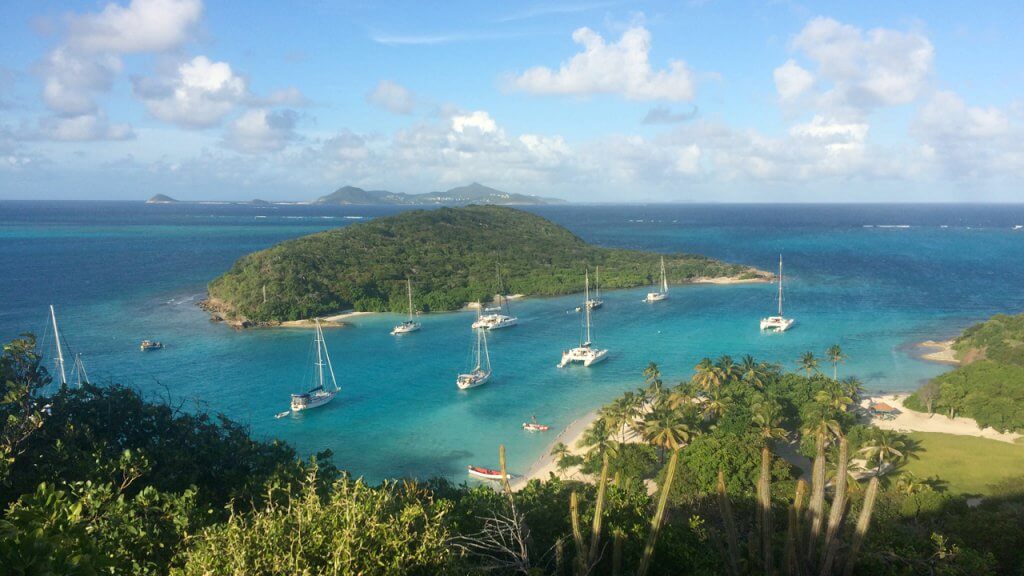 The difficulty of committing to a trip like this is giving up the safety net of normal life and heading off into the unknown. An adventure on this scale changes you. "For me, personally, it has opened up my eyes to what's possible. This whole experience has made me feel more capable and more confident in myself. By the time we were headed for home, I was well able to skipper the boat, which was a huge leap for me in such a short space of time. And I've learned a lot about my own resilience. There were some really challenging moments and I surprised myself often in ways that I'm both proud and not so proud of! However, I definitely think it's made both of us more ambitious. We laugh about it, but these days when we have a mad idea it can be a bit scary because there's the possibility now that we might really go for it! It's certainly raised the stakes with our pub chat."
10 Things Everyone Should Know Before Their First Sailing Lesson
Claire has some advice for anyone yearning for an adventure and looking to take up sailing. "I will pass on a piece of advice that someone told us when we first set out to do this, 'Just do it. Once you have a boat, get your safety kit and go!' This pearl of wisdom came from a couple who spent a few years circumnavigating the world. Their friends had similar plans but were waiting until the boat was 'ready' and timing was 'right' and they never got round to it. The timing will always be awkward and the boat will never be perfect, but as long as it's seaworthy and you have your safety kit, you'll make it work.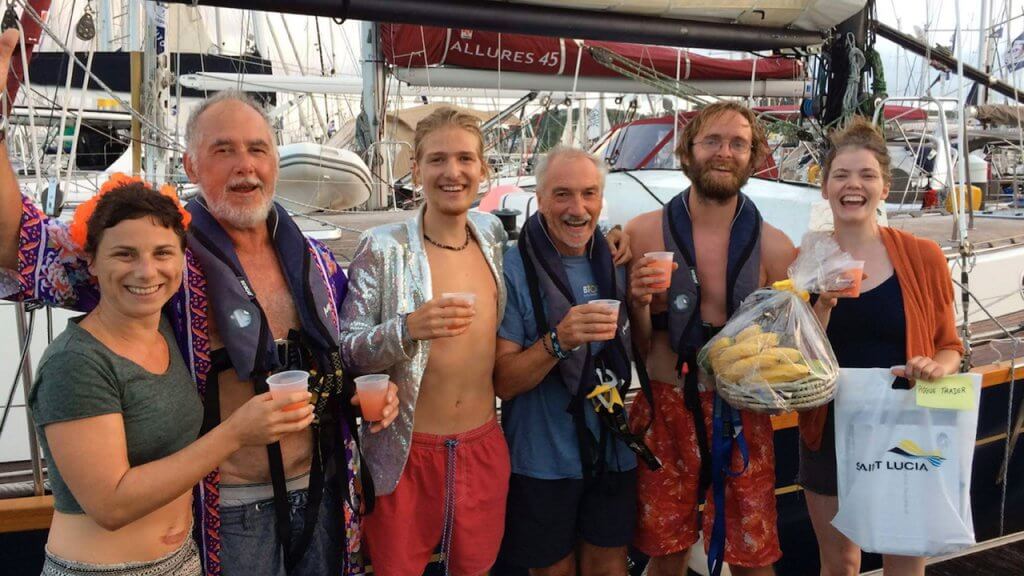 "Another point to mention, you don't necessarily need to go the whole hog like we did and buy a boat to have an Atlantic adventure. There is a huge scene in boat hitchhiking and Gran Canaria was a hot spot for people looking to catch a boat in the days leading up to the ARC. That's how we found half our crew! I've met many people who have put themselves out there and found a place on an ocean crossing – some with zero experience – so it is achievable. There is also a wealth of opportunity online, with websites like crewseekers.net and oceancrewlink.com, which we fondly refer to as Boat Tindr. It goes without saying, approach with caution and spend some time with your prospective boat before you leave the shore. But trust your gut and take a chance!"
"I never imagined I'd become a sailor and I'm not even that sporty, so if I can do it, I truly believe anyone could."
If you are reading this and getting butterflies in your stomach then perhaps it's time you found a new hobby! Claire says sailing is one of the most exciting activities she ever got into. "You can come at it from so many angles. It can be really energetic and thrilling, like an endurance sport, or it can be super relaxing and calming, and a lovely way to spend a sunny afternoon. Best of all, if you have the right kit, it can take you almost anywhere in the world! As a form of travel, it's better for the environment and it gets you face to face (really right up in there, sometimes too close) with nature.
"Most of all, I have found that sailing develops a strong sense of self-reliance that stands to you in all other areas of life. At sea, if something goes wrong, you have to be able to fully rely on yourself and figure your way out of a tricky situation. It's a bit scary at first but with practice, it helps you to realise how best to hold yourself in a crisis and to be more aware of the potential in your surroundings. I never imagined I'd become a sailor and I'm not even that sporty, so if I can do it, I truly believe anyone could."
If you are tempted to take up sailing, check out our tips for getting into the sport here and have a look at the Try Sailing website for everything a newbie needs to know to get started.
Words by: Orla Ó Muirí
Check out our Hard as Nails podcast:
Like this? You should check these out: