If you have your sights set on climbing Aconcagua, have a read of this first. Cotswold Outdoor ambassador Pat Divilly is just back from climbing it and here are all of his top tips.
The best selling author, Cotswold Outdoor ambassador and high-performance coach Pat Divilly (30) has just successfully summited Aconcagua. It is the world's highest mountain outside of Asia, standing at 6,960.8m (22,837 ft). He was only one of two to successfully complete the climb out of a group of seven. Amongst those attempting the challenge, one got a blood clot, another suffered from cerebral oedema, and the other three turned around before reaching the top.
Three and a half thousand people attempt to climb Aconcagua every year, yet it only has a 30% success rate. We caught up with Pat in Cotswold Outdoor's new Dundrum store to talk about all the things you need to know before taking on Aconcagua.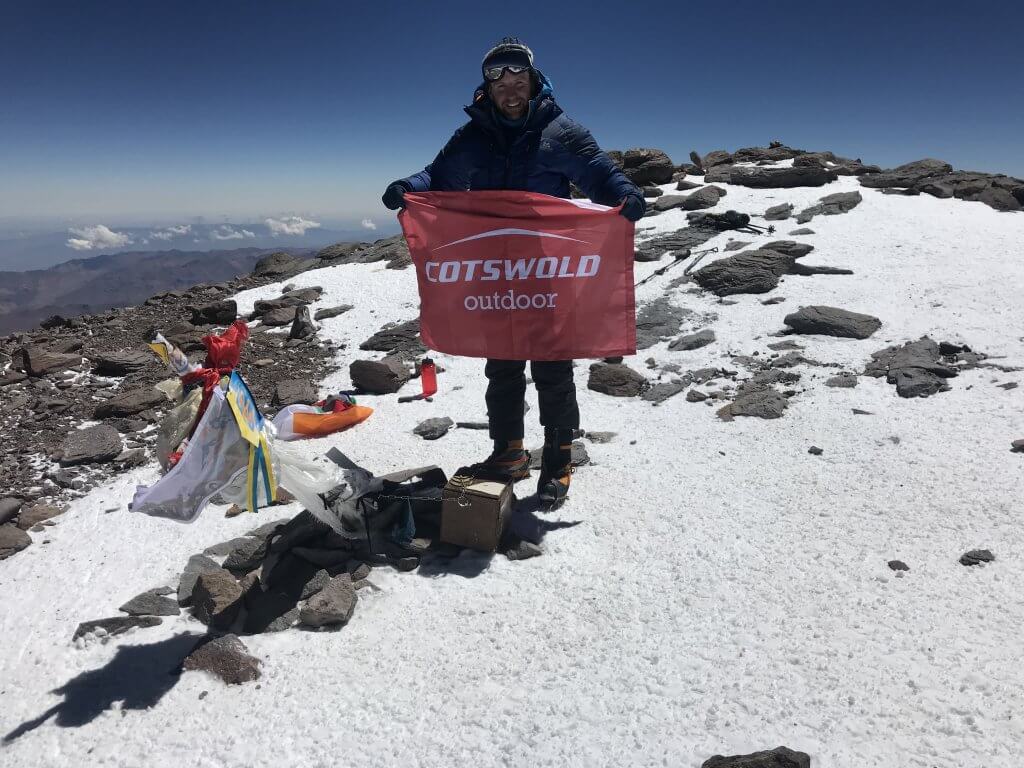 1. Do you need a porter?
Everyone else on the trip hired a porter, but it costs something like $1000 so I decided against it. Partly because of the financial side of things but equally, I would rather fail on it carrying my own stuff than complete it with help. It's about finding the balance between carrying enough that you'll be fuelled but not so much that your pack will be too heavy. I was carrying about 27kg. It's over two days so you do a carry from Base Camp to Camp 1, cache the stuff (hide it under rocks), come back down and sleep and then go back up the next day.
2. Beware of the risks involved
Our guide told us a lot of horror stories throughout the trip because he wanted us to be realistic. The three risk factors were frostbite, cerebral oedema, and pulmonary oedema. At altitude, these things just happen. We were sleeping at 5,800m, which is the height of Kilimanjaro's summit. You can get cerebral oedema, where your brain swells or pulmonary oedema, where your lungs fill with water and you effectively drown. It happened to one of the guys on this trip. We were taking a break and we sat down and he had his backpack on him. Within five minutes he was gone from joking to not being able to say his own name. They got him down, thankfully.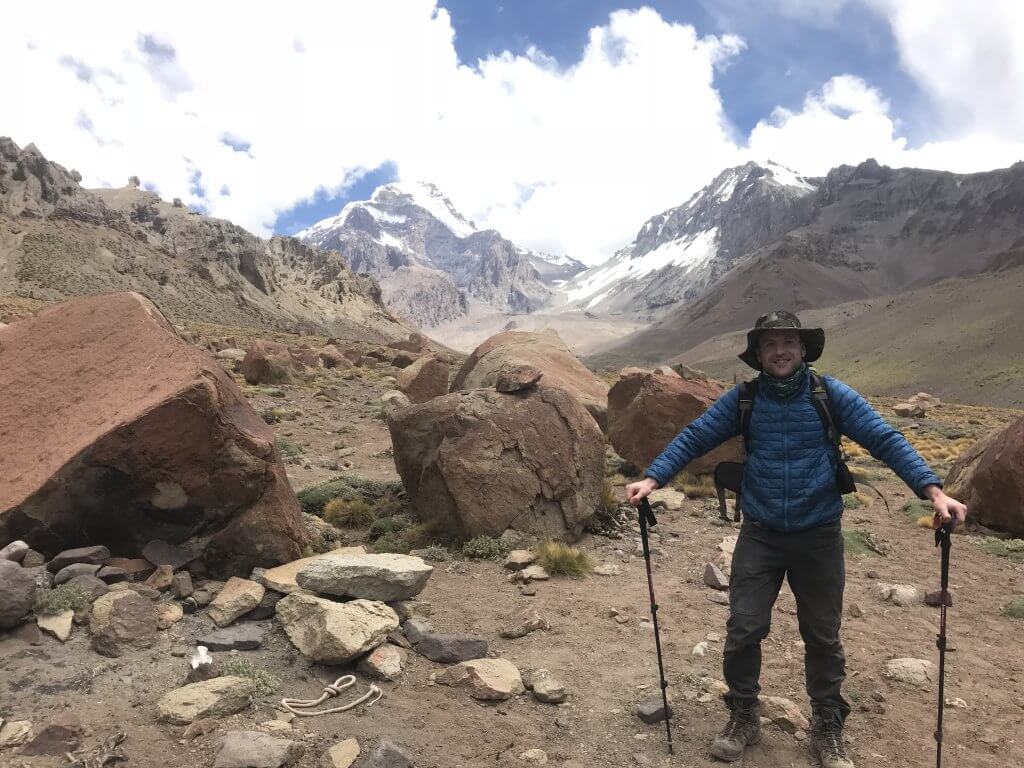 3. Surviving at altitude
My attitude to the altitude was to take everything one step at a time. I saw people in the group stressing themselves out and over-thinking it. I just tried to look after myself in terms of sleep. I would eat when I wasn't hungry, drink when I wasn't thirsty. In my opinion, that's where people fail.
I had very low O2 stats. At sea level, you are about 99% and as you go up it lowers. Most people were at about 85% and I was down at 60%. At sea level, I would have been hospitalised. But I didn't have any symptoms. Don't over-think it. You have to just chill out in the evenings and let your body get used to the altitude.
What I love about these kinds of trips is that you are super present. You aren't thinking about the future or the past; it's just the simple life. It's back to basics. Your only job for the day is to get to the next point. So when you go up, your brain says 'OK I'm higher now' and you start getting used to that. Then you come back down where it's more comfortable and sleep. There were a couple of rest days in Camp 2 where you're just sitting in the tent all day and you couldn't go outside cause the wind was howling. I was losing my mind. I just wanted to go but it was probably the best thing to stay and get used to it.
High-Performance Coach Pat Divilly on Achieving Goals
4. Replicate the conditions when training
I did a good bit out on the Twelve Bens in Connemara, with a 20kg weighted vest or backpack. I also did breath training with Patrick McKeown in Galway. He helps high altitude climbers to acclimatise.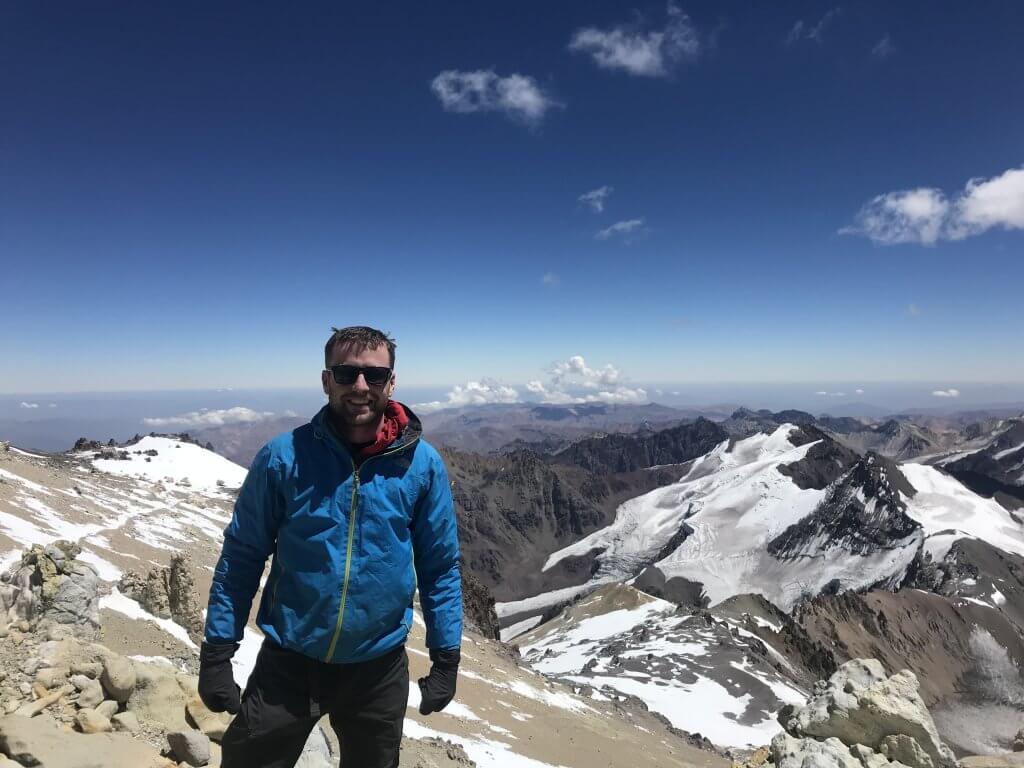 5. Gear is so important
You need the proper gear. I had a Rab 1200 sleeping bag, so that went to -35°C. The guide said, " You'll be uncomfortable if you are warm, but you'll be dead if you are cold." It's a good way of looking at it. I wore a pair of Montane Men's Terra Pants, Mountain Equipment Men's Echo Hooded Jacket, and used the Lowe Alpine's Mens Atlas II 65 rucksack.
I wish I had brought a better Thermarest. If I was going again, that would be the thing I would invest in to make the trip more comfortable, plus loads of warm layers. I had six layers on for summit night. Temperatures were -30°C. You would easily ruin your trip if you didn't have the right stuff. There is an hour and a half section on summit night where you're just getting slapped in the face by freezing cold wind. It is on a ridge, so you can't stop and you can't turn back. Any skin that is exposed there is going to get frostbitten. Come prepared and don't underestimate the cold.
6. The little details
Bring American dollars to Argentina because it's all pesos but they want tips in dollars. Bring snacks that you like because you are not going to be hungry up there. You are more likely to eat something you like. You can obviously rent boots when you are out there but you are better off getting your own. When I did Elbrus, I rented boots and they were like space boots. Your boots, your sleeping bag and your down jacket are, in my opinion, the most important things.
Check out our Hard as Nails podcast:
Like this? You should check these out: