The surfing talent coming out of Ireland right now is insane! There are the tremors of a movement resonating out of the West Coast. Epic photos and edits reach us weekly of some lad in a barrel or getting wiped out on a big slab of water like Aileens or Rileys. It is making us excited for the future of the sport in our little country!
Standing amongst the weather-worn pack of chargers is the unassuming 20-year old, Gearoid McDaid. Looking quite at home in the big waves of Ireland, but where McDaid really comes into his own is performance surfing. We caught up with Gearoid while he was competing as part of the Irish team in the World Championships in Japan to talk all things life and how it feels to be one of Ireland's best performance surfers.
How was 2018 for you?
2018 was so epic for me. I travelled more than I ever have and saw some of the coolest places ever. I went to the likes of the Caribbean and Chile, places I thought I'd never get to go to.
I also had a lot of fun at home during the winter while I was filming for a video called "Misery Loves Company" where me and my filmer Clem McInerney travelled all over Ireland and Europe trying to score the best waves we could.
Misery Loves Company from Gearoid Mcdaid on Vimeo.
Any particular highlights?
One would have to be coming third place in the first WQS contest of the year in Tenerife. It was a super hard competition so I was delighted to get a result like that. Other than that just surfing at home scoring waves every day.
You are one of Ireland's best performance surfers. Do you ever feel nerves or pressure as you become more well known?
Sometimes. I guess at contests I feel some pressure to perform but it's only me putting pressure on myself so I'm trying to stop doing that.
A lot of Irish surf scene revolves around big wave surfing. Is that something that interests you or are you more into the performance surfing? Why?
In the last few years, surfing in Ireland has all been focused around big waves. Which I like and I'm really trying to get in to as well. Every winter I try to get bigger waves at Mullaghmore but my main thing is performance, which is a bit different. Hopefully, we can make Ireland known for performance surfing as well as there are some really good kids coming up that are going to be ripping in the next few years.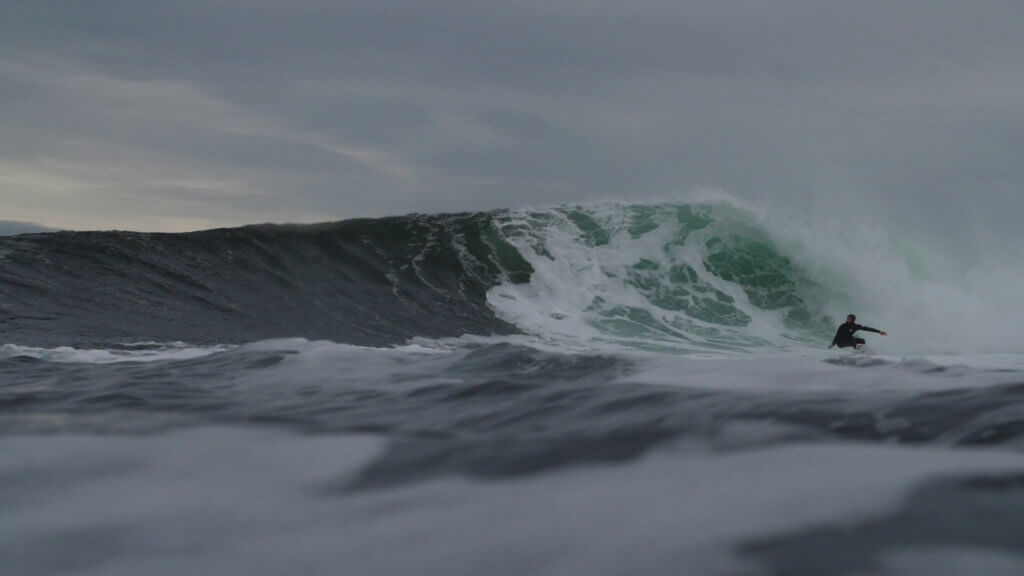 Is fear something you experience out there?
For sure, I'm always scared. I've paddled out on some big days and not caught a wave because I was scared. But I'm really trying to put that fear into the back of my head and push through it. I think if I can do that it will lead on to bigger and better things for me in the next few years.
Meet Conor Maguire: Big Wave Surfing's One to Watch
What's your favourite wave in Ireland?
It's got to be the Peak in Bundoran. It's just the most fun, high-performance wave we have and it's super consistent. It breaks nearly every day so you can't really beat that.
What can Ireland offer the international surfing community?
Ireland has some of the best waves in the world, which now a lot of international people are starting to realise. It means that it's getting a bit more crowded but that's only for a week or two in October. No one can handle the cold we get in the middle of winter though!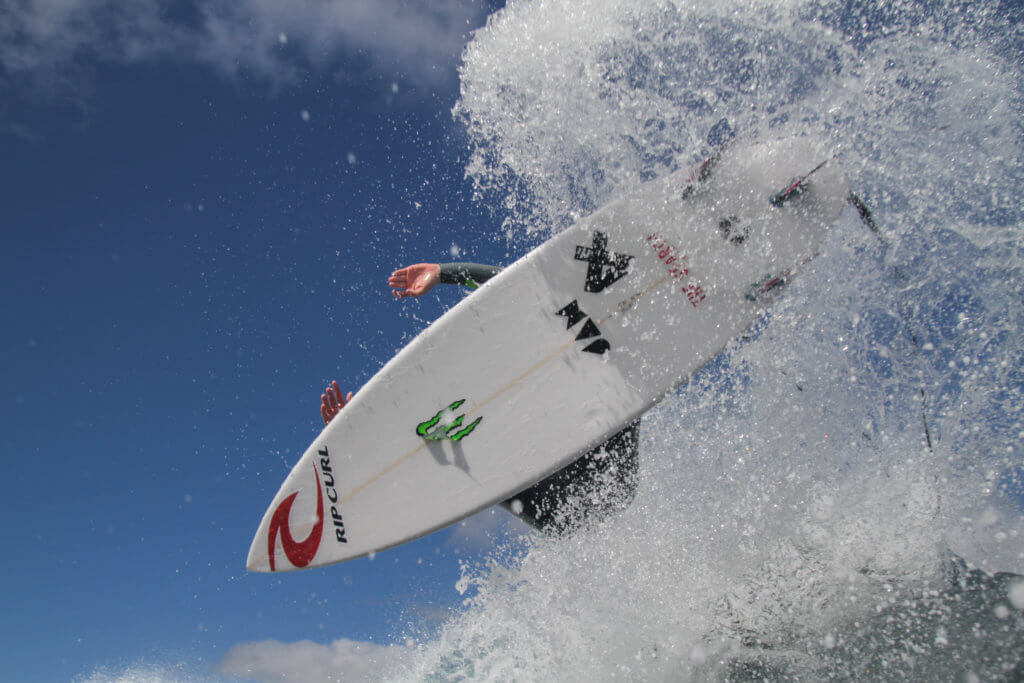 Can you tell me a bit about your lifestyle? Your job is not exactly the typical 9-5 job… do you train every day/what do you do if the surf is not good/how do you line up your trips and comps etc…?
My job is pretty great and I'm so thankful to my sponsors for allowing me to do it. I would pretty much surf every day if I could. But sometimes in Ireland, it's just not possible with the crazy storms we get. If there are no waves, I'll usually do a little bit of training and hang out with my friends.
My trips really depend on the season. In summer I'm pretty much away the whole time doing contests. But as winter comes I try to be at home as much as possible to try and score waves.
You got to surf with Mick Fanning when he came to Ireland – what was that like?
Mick is a legend. I spent a week surfing and travelling around with him and he's one of the nicest guys ever. It was a pretty epic opportunity to get to hang with him. Hopefully, I'll get another trip with him again. I keep telling him he has to come back so hopefully, he will soon.
What's your go-to board when surfing in Ireland?
I have a pretty diverse quiver of boards. It really depends on the size of the waves. But I always surf my sponsors Fourth surfboards. No matter what the waves are I can always rely on them to perform.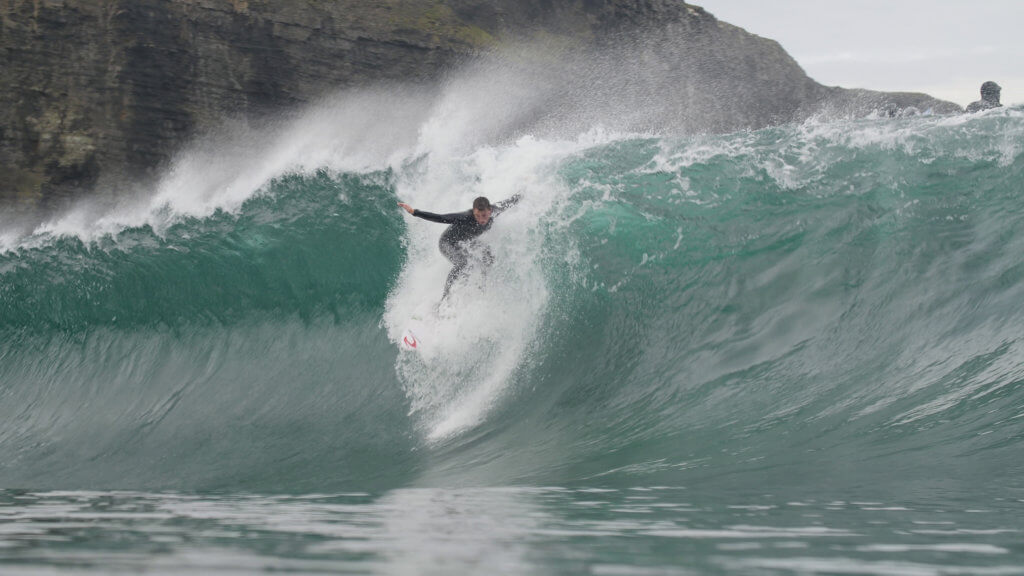 What's the 'local' scene like in Ireland? Any agro in the line up like many of the warm water surf spots?
Nah, the lineups are pretty chilled here although it is getting a bit more crowded and heated but it's a lot more chilled than everywhere else. I think that's why everyone loves it here so much.
It's the dream of many a kid to grow up and one day become a pro surfer… is it all it promised to be? Or is the reality of it not quite as glamorous?
It's definitely not super glamorous. There's a lot of travelling, sleeping in my car and stuff like that. But it's definitely the best job I could ever ask for. It's worth all the hard work we put in to get waves!
What are your goals/plans for the year ahead?
This is my last contest of the year here in Japan. From then, when I get home, it's going to be chasing swells, trying to make another movie and get as much content as I can. So hopefully we'll have a good winter of waves!
Have you listened to our podcast yet?!
Like this? You should check these out:

Previous Post