The dark cold months of an Irish winter are the perfect time for an early-season trip to Indonesia. Smaller swells roll in year-round in this surfer's paradise. Here Declan Hearne tells us about the best place to have an authentic Indonesian experience.
Looking for the real Indonesian experience? Well, forget Bali if you are. Bali is not Indonesia. Bali is full of drunken sunburnt surf kids, middle-aged lost souls and increasingly Russian oligarchs!
Now don't get me wrong. You can still go there and find blissful waves, people and places, but if it's the real Indo experience your after, Bali's not it.
Nias was once 'a right of passage' for any true surf explorer. The early surf pilgrims went to extreme lengths to experience this jewel of Indonesia's surf dream.
To get the real Indonesian experience you've got to get off the beaten track to some less-explored spot like western Papua, or you can return to one of the early holy grails of surfing in Indonesia – Nias Island.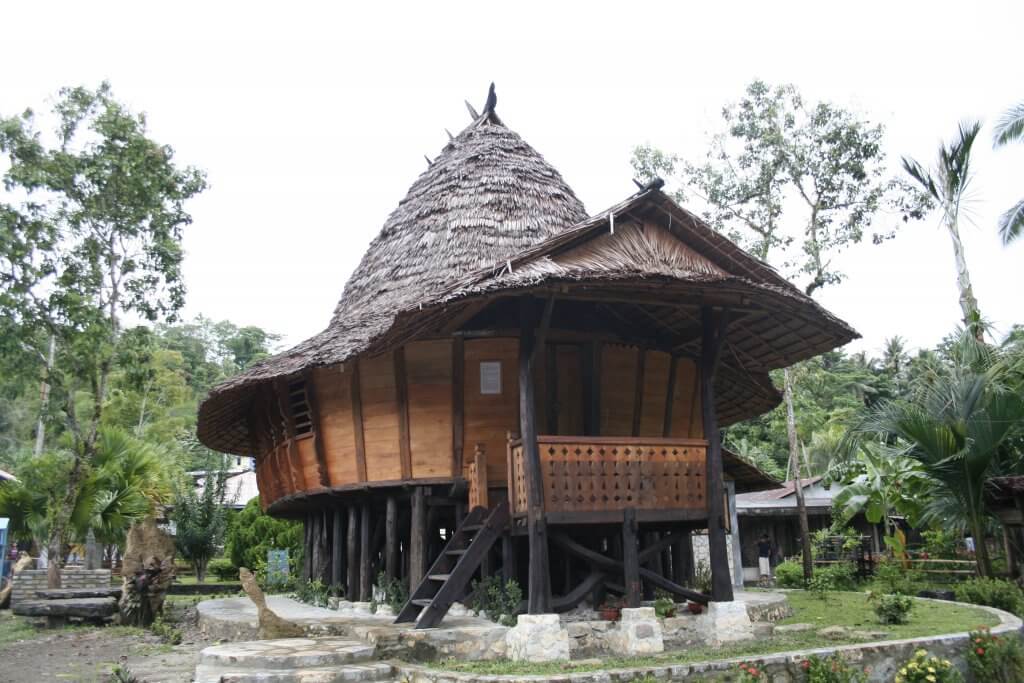 Nias was once 'a right of passage' for any true surf explorer. The early surf pilgrims went to extreme lengths to experience this jewel of Indonesia's surf dream. Like many grails, after a time the focus moved on and attention shifted to newer glitzier locations. But even if a little forgotten, Nias seems to have weathered well over time and has developed a certain resistance to change.
The local communities here have a resilient core and hold on to their ancient culture. Sure there is a string of poorly designed losmen (hostels) lining the wave front since the 80s but you only have to go 100m up the hill and you are transported back in time to a bygone era.
7 of the World's Best Yoga and Surf Holidays
Hillitobara, a traditional village with homes constructed from massive timber beams, has stood the test of time. Just beyond these villages there are other waves for those who wish to sample the old faithful 'Lagundri Bay' with new unexplored spots. While culturally Nias is still largely intact, some things have changed since the halcyon days. The wave has changed. And it has improved.
In March 2005, only months after the Indonesian Tsunami, a massive earthquake rocked Nias to its coral foundation. It rocked and lifted the reefs by up to three feet. The Point in Lagundri Bay has been lifted by about a foot. For many Indonesian reefs, this would be a killer blow, making the water too shallow to surf. The Point in Lagundri, however, is unlike the majority of Indonesian reefs. Lagundri breaks in relatively deep water. The uplift from the earthquake has only intensified the wave. Now even in small swells the wave breaks with the same olive shape. On bigger swells it breaks through all tides. Swells over six feet create 'double ups' where the wave ledges over the reef and creates deep hollow barrels.
Traditionally the Indonesian surf season peaks during the European summer months, but word is slowly seeping out that Indonesia can produce decent waves almost anytime of year. Heads, like myself, who aren't really into fighting with a pack of 40 other wave hungry dogs might find the slightly smaller waves during the off season a fair trade off.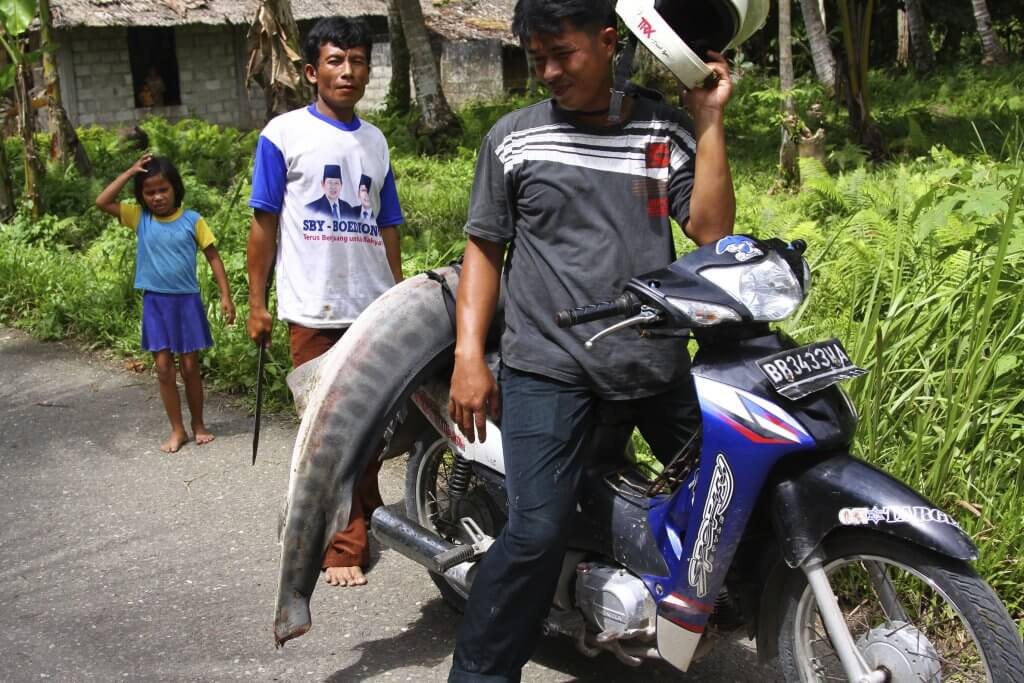 Paddling out at dawn on your own is increasingly a rare privilege. During the off-season, the point can get good days with four- to five-foot swells where you are only sharing the wave with a handful of mellow travellers and much more relaxed locals. But even these chilled days are becoming rare. So if this sounds like your calling, you better get packing as these uncrowded days are probably numbered.
Getting to Nias Island is still a mission. It will test you and you will probably feel like kissing the ground when you finally get there.
Still a mission
Getting to Nias Island is still a mission. It will test you and you will probably feel like kissing the ground when you finally get there. While taking a boat from Sibolga to Gungnung Stilio is the traditional route, flights from Medan are increasingly common.
From either the ferry port or airport in Nias you will be pounced upon by locals offering to bundle you in the back of a van and take you to Lagundri Bay. These vans typically drive at crazy speeds along very narrow roads and the journey is hair-raising. The roads are dotted with dodgy wooden bridges that wouldn't be misplaced on a Jack Sparrow adventure. Kids, chickens, goats and pigs add to the obstacle course, all to the seeming amusement of the crazed van drivers.
Diving with Whale Sharks in Mexico 
But it's all worth it when you finally reach Nias Selatan, the spot where the road meets the south coast and you are greeted by the ocean unloading on to the winding reefs. From this point it is still about an hour to Lagundri but your mind be will mesmerized by the swell pounding to your right, and the sweeping rice fields and patches of jungle to your left.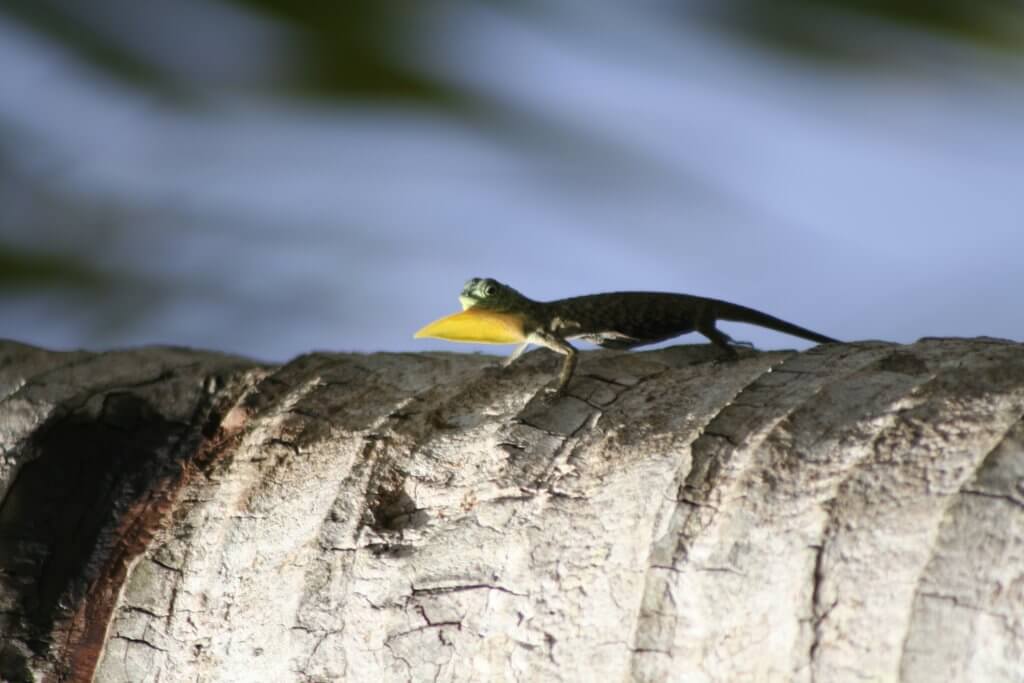 Teluk Dalam is the main town of Nias Selatan. It is a bastion of poor governance and corruption, but still a good spot for some nasi padang (rice, padang style) before the final stretch for Lagundri. The road is better from here and the bay can be reached within 30 minutes. I have often stopped at the little bridge where you get that first glimpse of the bay and imagined what it must have been like when the first surfers reached this place.
The story goes that back in 1975, while hanging out with some tribal leader on mainland Sumatra, Aussie surf pioneers Kevin Lovett and John Giesel found a map of Southern Nias. They must have figured Lagundri Bay was well aligned to draw in the southwest swells that roar up the Indian Ocean. They set off across land and are said to have met with Peter Troy and Wendy Adcock at the ferry port in Sibolga. Troy and Adcock were legendary surf explorers of the time and it's not clear if they had already known about Lagundri when they met up. The "relentless sets of smokin' 6-to-8 foot almond-eyed waves" that greeted Lovett and the others must have been like an apparition.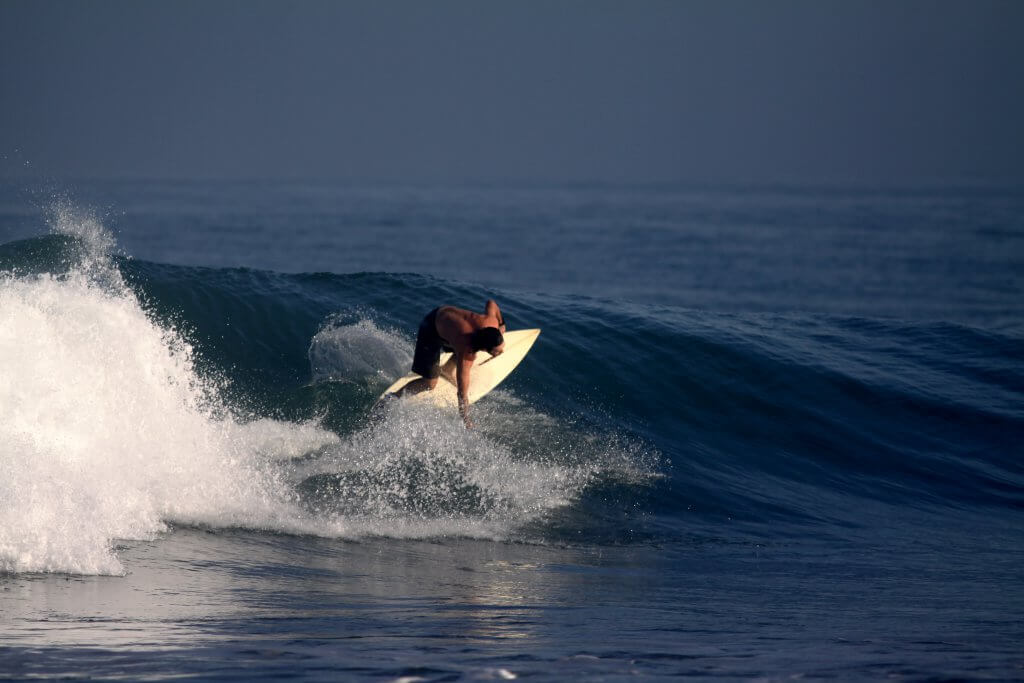 If you do go there, after you have surfed a few days and recovered from your travel, go down to the bridge and just think about how bloody committed Lovett and the early travellers must have been. Malaria, dengue, sometimes hostile locals and appalling transport are still the norm today, so try transporting yourself back to the 70s and imagine the difficulties they faced. The challenge of the early trips left a mark on them all and their stories are now part of surf legend.
The wave bewitched these early explorers. For months on end, they lived in nipa huts and survived off very basic food.
The wave bewitched these early explorers. For months on end they lived in nipa huts and survived off very basic foods. Coupled with full exposure to the elements, this took its toll. Giesel contracted malaria and never really recovered. With a weakened immune system he died of pneumonia seven months later.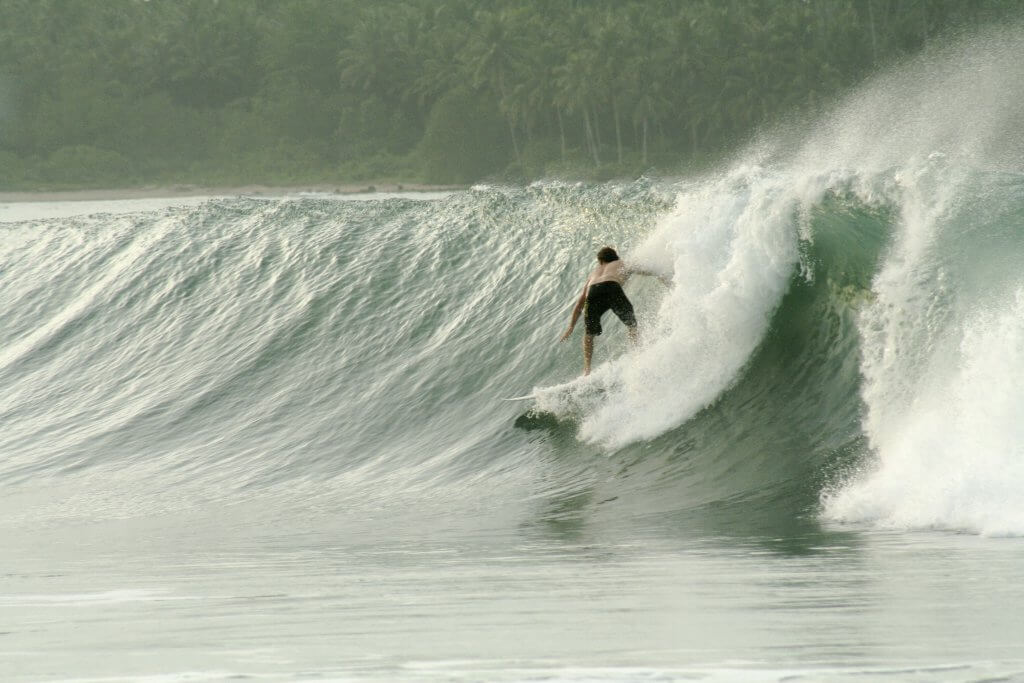 Lovett found out some years later that the local traditional leaders, the Siulu, had held tribal hearings and many elders felt that the hippie surfers, were not a good omen and that their heads should be put on stakes. Nias has a long history of head hunting that continued right up to the late 1950s and many of the tribal elders today would still have clear memories of their head hunting past.
Unlocking the gold
While head hunting is a thing of the past, many of the traditional cultural practices remain alive in local culture. The last of the old tribal halls still stand in the hill-top villages that surround Lagundri and are well worth a visit. If you are looking for a local guide, seek out Timmy from the Key Hole losmen, which Timmy and his family run right in front of the Point. His family has strong connections with some of the elders from Hillitobara. He can help you get from the airport, sort out daytrips to some of the lesser-known waves and if you want to check the old warrior ritual of stone jumping – Timmy's your man.
6 of the Best Irish Surf Beaches You've Never Heard of
Stone jumping is an iconic activity in Nias. Think of solid overhead stonewalls from over the West and these boys leap over the wall without touching it. A serious physical feat, which traditionally all young warriors had to achieve prior to being considered a capable man.
With a bit of caution and a dose of common sense, the modern-day traveller can avoid the hazards of dengue, malaria and diarrhoea – but you should be aware that in the local villages many continue to suffer due to poor awareness and lack of access to clean water. SurfAid International and other non-government organisations continue to work with the communities to tackle malaria, malnutrition and improve access to water and sanitation.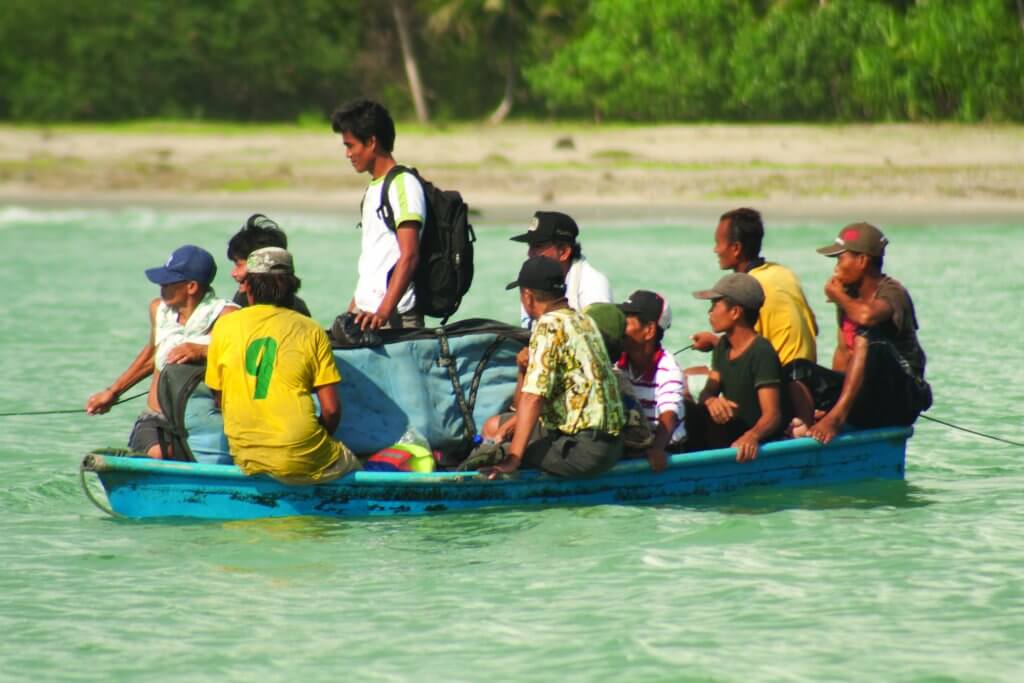 The more positive side of this under-development perhaps is that people are still open to taking you into their homes or walking with you along jungle paths to show you the less explored waves. Surfing does contribute to the local economy but the impacts tend to be concentrated in the immediate shoreline area around Lagundri Bay, so if you do go to more remote parts, be sure to spend a little money on food, water and accommodation just to help spread the benefits, even a little.
Also hanging out in the surrounding villages can be key to unlocking the old gold of Nias. When you return to your losmen in Lagundri you will be amazed at how the locals there will be aware of your excursion and they too will show you the old gold that made Lagundri the original Holy Grail of Indonesia surfing destinations.
ESSENTIAL INFORMATION:
The waves
The Point in Lagundri is the main show on the wave front. It is alongside the top right-hand reef breaks. The drop is a dream. Then the green wall draws up and the curtain draws over. From three to five foot, barrels can happen but it is more a high-performance wave with lots of wall to hone your round house. Once the wave starts clipping near six foot the wave comes into its own. Deep drops can be rewarded with long barrels. After the first section, which runs for about 60m to 100m, the wave runs into deeper water and softens for another 100m or so. On smaller swells, this inside section can run for 150m.
The downside of Nias compared with Bali or the Mentawai is that it can't compete with the wave options. The once infamous Machine, a mechanical left-hand wave, is dead seen the earthquake. The reef has been lifted high and dry. Indicators, which is outside the Point, has also suffered. It only starts to work over six foot and is hard core with zero room for error. In three years spent on Nias, I only saw it surfed a handful of times. It takes a committed drop into a big open pit which you have to exit from or you will be rolling on dry reef.
It takes the bones of an hour if not two to find the next known waves. Rockstars is a fast right-hander about an hour away, back towards Teluk Dalam. It's great for an afternoon surf and a spot to surf with hawk billed turtles!
More info
Getting to Nias: Medan is the jump-off point from mainland Sumatra. Check out cheap flights from Kuala Lumpar or Singapore to Medan. To get Nias Island air is now the preferred option for many. However note that Airlines come and go in Indo and do not have often do not have the best track records. I stuck to using Merpati and Sabang Merauke Air Charter  (SMAC) and only ever had once incident where one of propellers cut out mid-flight! The pilot did a good job with the remaining engine. During heavy weather, it is not uncommon for flights to turn back half way. Delays are the norm. Check out Nias online for updates on airlines.
Getting to the Bay: In season (May-September) there are always a bunch of vans waiting at the airport and ferry port to up pick anyone carrying a board. They will pack you in the van and bring you on a ride from hell to arrive somewhat dishevelled at the promised land of Lagundri Bay. Check out the Key Hole Surf Camp for transport and accommodation.
Check out our Hard as Nails podcast:
Like this? You should check these out:

Previous Post

Next Post