Summer is over, so it's time to deck your bike out with some lights for the winter commute. These are some of the best bike lights for commuting. 
As the winter rolls in once more and the days get shorter and darker, it's time to kit your bike out with some lights to keep you safe on your daily commute. You'll need at least two, a white light for the front and red for the back. You can pay anywhere between €10 to €200 for a light, aim for something in the middle to ensure you are safe out there but don't spend a small fortune on just one accessory. At the end of the day, you want to be seen and you want to see, so here are 10 of the best bike lights for commuting.
Front Bike Lights
1. Blackburn Central 700
Price: €99.95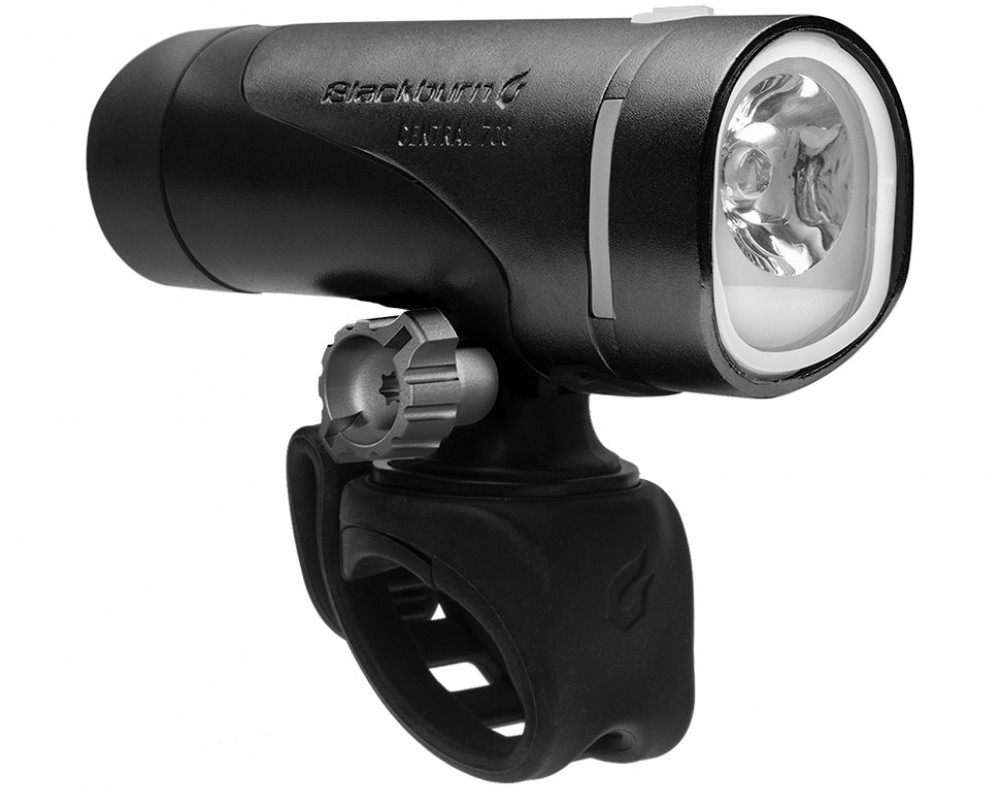 The Central is a good investment as it's such a versatile light. Its double tab and thumbscrew mount is compatible with any GoPro camera mount. It also has a rotating ratchet double back rubber strap mount which works on bars and stems. As for the beam itself, it has a good strong central beam, a frosted lens edge and back sloped lower section to give you good peripheral and just-in-front-of-wheel awareness vision. Two tall side gills increase traffic visibility. There are three constant and two flashing modes and it's splash proof.
Available from: Buckley Cycles
2. Lezyne Macro Drive 1100XL
Price: €57.49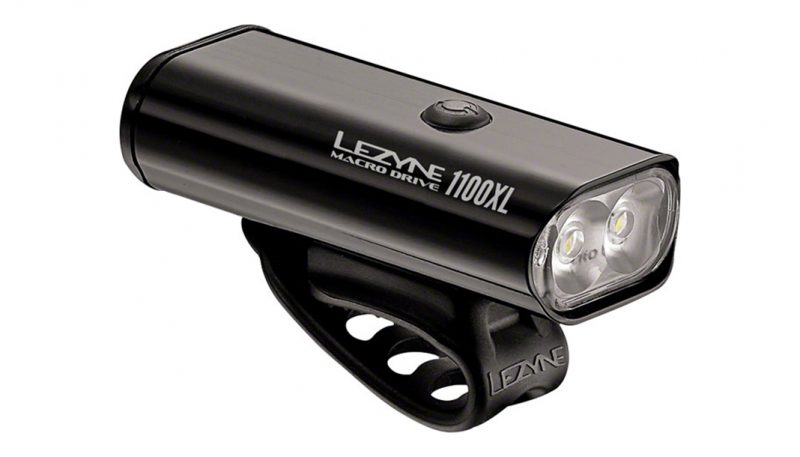 Lezyne is well known in the cycling industry for their good quality products and the Macro Drive 1100XL is no exception. Offering a maximum output of 1100 lumens you are sure to be seen on even the darkest of nights.  Meanwhile the seven different modes all you to tailor the light to your riding environment. The light has an easy mounting system, is fully waterproof and can be recharged via USB. Battery life is 1.5hrs on full beam and up to 78 hours on the lower setting.
Available from: Chain Reaction Cycles
3. Cateye Volt 800
Price: €82.98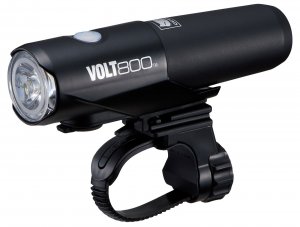 Cateye is another reliable bike light brand in the market. At 800 lumen output, this will both ensure you can be seen plus light the way for you in unlit areas. The single LED will cover a bike path easily. Plus it has a great battery life of up to 80 hours at low beam. At high beam, it will only last for two but as it's rechargeable, that should be plenty to get you home.
Available from: Chain Reaction Cycles
4. Blaze Laserlight
Price: €148.74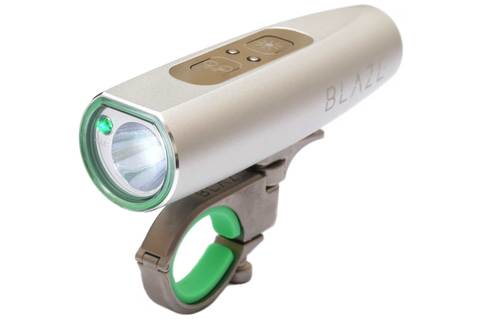 This laser light is arguably the best commuter light of the bunch. Designed to make cyclist more visible on the road, the light not only shines a regular beam out in front but also a projection of a green cyclist out on the road in front of you. This was designed to alert drivers of your presence before they can actually see you.  It provides a front light with a 300-lumen output and it gives the rider warning of a coming cyclist by displaying the image of a bike on the road. This can be really helpful for cycling city commutes.
Available from: Evans Cycles
10 of the best bike commuter backpacks
Rear Bike Lights
5. Moon Arcturus Auto Pro
Price: €25.52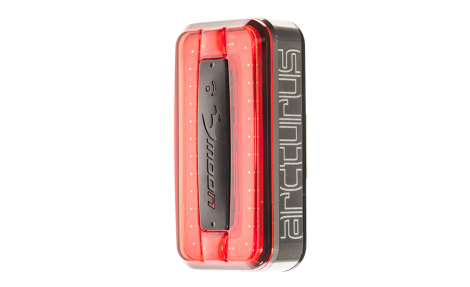 Yes, rear bike lights under the £50 mark have made it onto our best bike lights list! The Arcturus Auto Pro uses a COB LED for wide-angle visibility. It has three steady and three flashing modes to choose from, plus an auto light sensor which gives you the option to let it self-asses your safety. It can be attached using the built-in strap clip slots or a saddle rail clamp. There is also an inbuilt slow-power hour of safety reserve for emergencies.
Available from: Merlin Cycles
6. Knog Blinder R70 rear bike light
Price: €51.78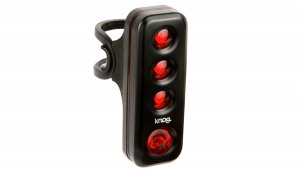 This rear bike light is a great purchase. Four LED lights with an output of 70 lumens, it's bright, has five modes, a good battery life, and is USB rechargeable. It is definitely one of the best on the market.
Available from: Wiggle
7. Cateye Rapid X3 100
Price: €41.64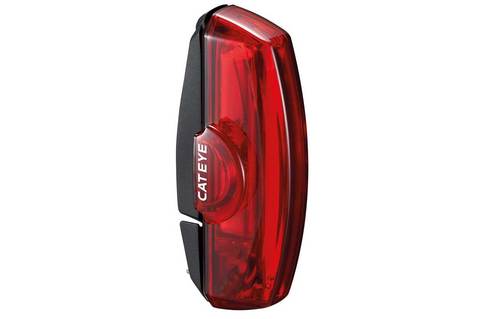 100 lumens is plenty for a backlight. The Cateye Rapid X3 100 is one of the more speedy lights to recharge, taking just three hours. It has a good battery saving mode which automatically kicks in when the light reaches a certain amount of battery. There are six light settings included, so you can adjust it to suit all conditions.
Available from: Evans Cycles
Combo Bike Lights
8. CatEye Volt 100 XC/Rapid Micro Set
Price: €27.06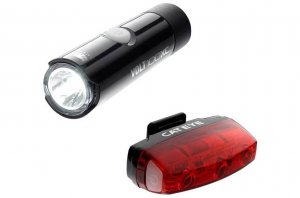 This bike light set makes for a good combination for your commute. Both have constant and flash settings. The Volt 100XC produces 100 lumens while the Rapid Micro Rear light produces 15 lumens. The front light will last for five hours on a flash setting and for one hour when on constant. The rear light will last between three to 30 hours. They are also both rechargeable.
Available from: Wiggle
Waterproof jackets: 6 of the best
9. Niterider Lumina & Sabre
Price: €74.03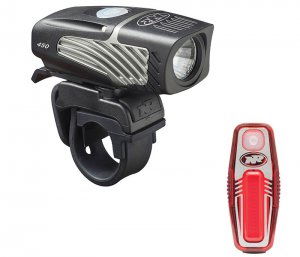 The 450-lumen beam of the Lumina on this bicycle light set gives excellent illumination so you can get home quickly. The Sabre rear light uses a single strip COB LED with extra side LEDs, plus five modes to choose from. Both also have thick rubber strap mounts that will easily fit around your bars.
Available from: Wiggle
10. Knog Blinder Road 250 Light Set
Price: €115.99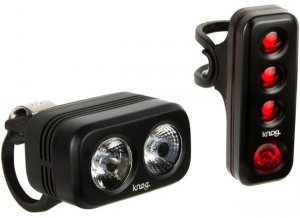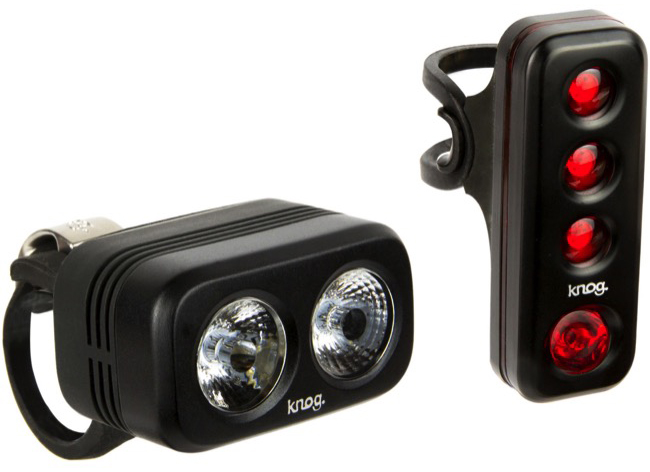 Knog makes some brilliant bicycle lights. The Blinder Road twin packs deliver a nice and powerful 250-lumen beam at the front and 70 lumens at the rear, giving you 100% visibility. They are also compact, super-light, USB rechargeable, and waterproof.
Available from: Chain Reactions Cycle
Check out our Hard as Nails podcast:
Like this? You should check these out:

Previous Post