On the hunt for a decent backpack for your daily cycling commute? We've rounded up some of the best bike commuter backpacks on the market.
There are panniers, handlebar bags and baskets galore, but nothing beats the ease of slinging on a backpack and hitting the road. When on the hunt for the perfect one, there are a few factors worth considering, air channels for breathability, padded arm straps, chest and hip straps, pockets, a laptop pocket with padding, waterproofing and reflective details. You'll definitely find something to suit you amongst this list of ten of the best bike commuter backpacks.
1. Osprey Radial 34 Backpack
Price: €126.49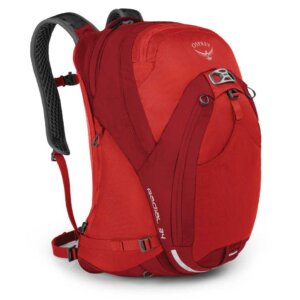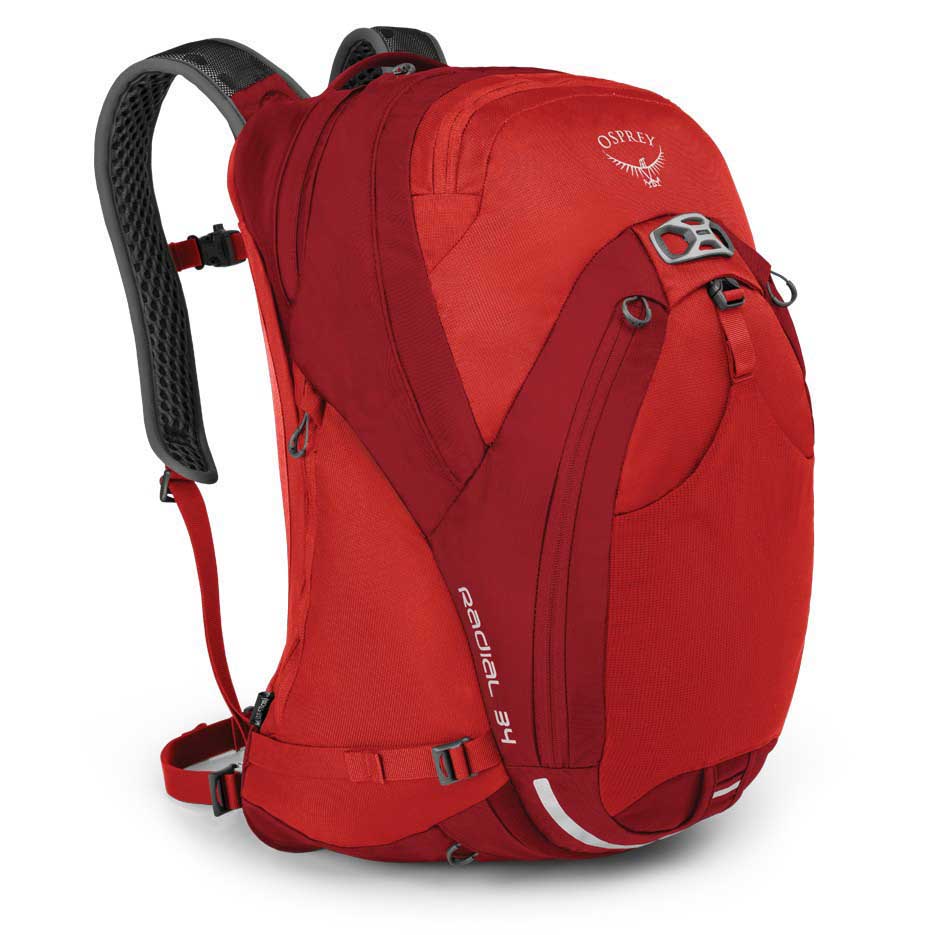 Osprey has a reputation for building high-performance outdoor gear and the Radial 34 backpack reinforces that reputation. It has an AirSpeed™ trampoline suspended mesh back system for ventilation, an integrated kickstand to keep the bag upright, a LidLock™ helmet attachment point and a high visibility rain cover included.
This backpack is designed specifically for cycling with a harness and suspension system that moves with the rider. It also has a u-lock carry, a blinker light attachment and reflective details to keep you safe on those winter nights. Your laptop will even have its own dedicated top-zip sleeve, making it the ideal commuter accessory.
Available from: Chain Reaction Cycles
2. Ortlieb Velocity High Visibility Rucksack
Price: €169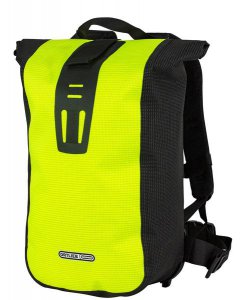 This high visibility rucksack will ensure every motorist spots you a mile away. This rucksack has a waterproof, polyurethane-coated Cordura fabric in neon yellow and the black fabric parts of this bag are densely interwoven with high-luminosity reflective yarn. At 20-litres it's a good size to fit everything you need for work in it.
The detachable zipped pocket on the inside is another handy place for storage. A foam-padded back, ergonomic shoulder straps, breast strap and waist strap makes for a comfortable fit. One of our favourite features is the edge protectors on the bottom which increases resistance to wear and tear. A bike helmet or safety light can also be attached to the front of the pack.
Available from: Cotswold Outdoor
3. SealLine Urban Backpack
Price: €155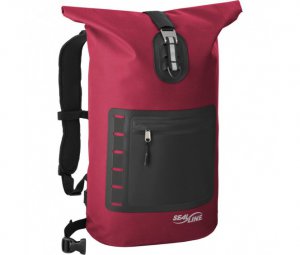 SealLine is the god of waterproof gear, and in Irish weather, waterproof gear is a must. This SealLine Urban Backpack uses river-bag technology to keep your stuff dry in rain, hail or shine. It is a lightweight and durable option made from PVC-free double-coated fabric with a watertight roll-down closure and a QuickClip™ attachment. There is also a moulded back panel for comfort.
Available from: Great Outdoors
4. Deuter Compact EXP 16 Backpack
Price: €67.49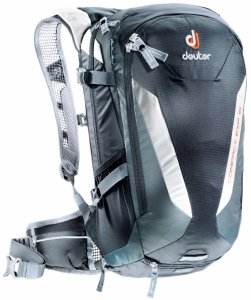 The Deuter has a lot of features with a more affordable price tag. The Compact EXP 16 Backpack has an AirMesh lining to provide ventilation, adjustable Auto-Compress hip wings, a reinforced back panel, a large storage space and it even includes a wet laundry compartment. It is also compatible with hydration systems, which can be purchased separately if you have quite a long commute. In addition to all of this, it has 3M reflectors, a reflective loop for a safety light, and an integrated rain cover.
Available from: Chain Reaction Cycles
5 super easy ways to revitalise your bike
5. Osprey Syncro 10 Rucksack
Price: €91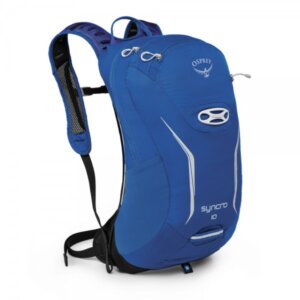 Another Osprey favourite is the Syncro 10 Rucksack. It is perfect for a lighter load. The rucksack has an AirSpeed back system, a LightWire frame and a ventilated BioStretch harness so you won't arrive in work with the back of your shirt drowned in sweat.
It has also got a LidLock bike helmet attachment, stretch mesh side pockets and scratch-free electronics pocket to carry your phone. Safety features include reflective graphics, a blinker light attachment and integrated 'High-Vis' rain cover to boost your visibility.
Available from: Cotswold Outdoor
6. The North Face Borealis Backpack
Price: €100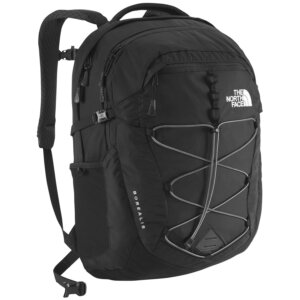 The Borealis Backpack isn't specifically designed for the biking life, but it does a pretty good job. With its FlexVent™ suspension system, custom injection-moulded shoulder straps and a padded mesh back panel with spine channel,  it is ideal for comfort and ventilation. In addition to all of this, it has a padded sleeve to protect your laptop, a waist belt, and loads of reflective features to keep you well lit.
Available from: Great Outdoors
7. Deuter Speed Lite 20 Backpack
Price: €39.99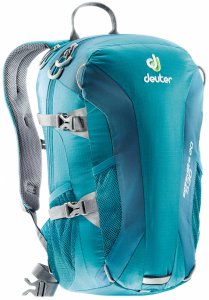 This ultralight backpack is the perfect option for your commute if you don't want to spend crazy amounts of money. It has wraparound compression straps to reduce excess movement. It also has a frame-support rod, which can be removed if you want even less weight and a closer fit. Plus, it has a breathable foam back.
Available from: Great Outdoors
8. Osprey Radial 26 Hydration Pack
Price: €113.99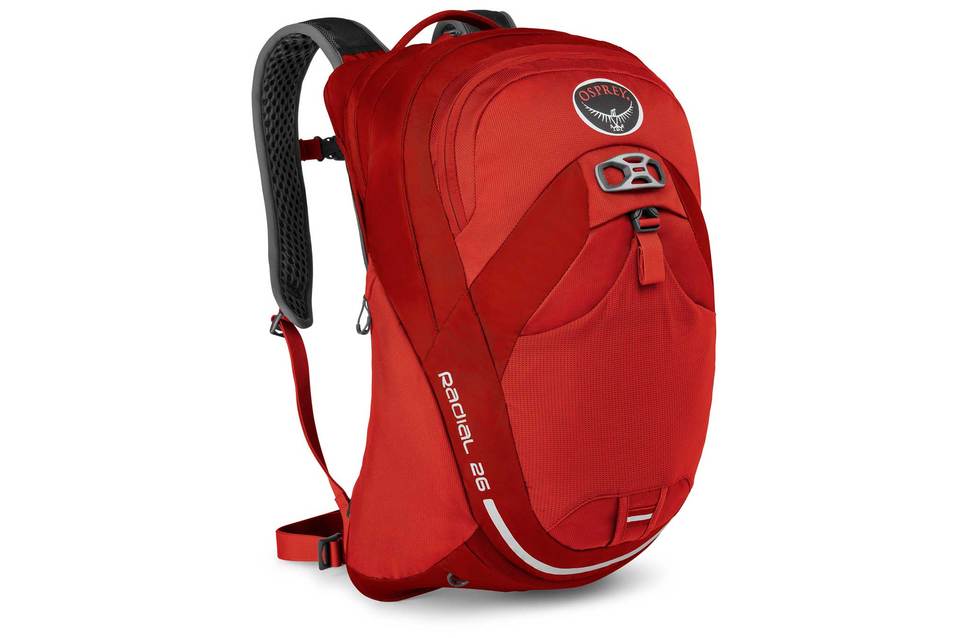 The Osprey Radial 26 Hydration Pack has an AirSpeed™ inspired trampoline suspended mesh back system which allows for great breathability. The ventilated stretch yoke and load lifters on the harness combined with the elastic hipbelt wing move closely with the body. It also has an integrated kickstand, a LidLock™ bike helmet attachment, a padded laptop holder and a built-in high-visibility rain cover.
Available from: Chain Reaction Cycles
Waterproof jackets: 6 of the best
9. Vaude Bike Alpin 25+5 Litre Backpack
Price: €130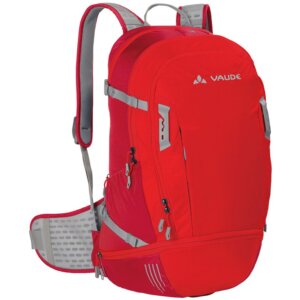 The Vaude Bike Alpin 25+5 bike backpack is made for trans-alpine challenges, so it's going to be super sleek and comfortable on a commute. It has F.L.A.S.H. shoulder strap length adjustment, Aeroflex mesh back suspension and an ergonomic, air permeable hip belt. Plus it has plenty of pockets to keep your contents organised and a zip expansion which allows you to increase packing capacity by 5 litres.
Available from: Cotswold Outdoor
10. Ortlieb Commuter City Rucksack
Price: €143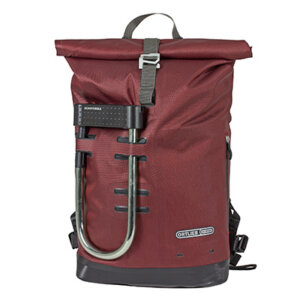 The Ortlieb Commuter City Rucksack is one of the more stylish options, but with great features too. It is a waterproof city pack made of lightweight, durable nylon fabric. It has a roll closure top, a large main compartment plus a padded notebook compartment. It also has breathable shoulder straps, removable chest and waist straps and a foam back with ventilation channels to keep you comfortable on your commute. It fits 21L and has reflective details, a light attachment loop and can hold your u-lock.
Available from: Cotswold Outdoor
Check out our Hard as Nails podcast:
Like this? You should check these out: