Load up the car and head on a camping road trip to Galway, explore the city, then head out to wilds of Connemara for a night's sleep.
If you've pinpointed Galway as the destination for this year's family staycation or weekend away with your buddies. Why not make it a camping holiday for something different, cheaper and way more fun! We've gathered together some of our favourite places in Galway to wild camp, glamp or park up the motorhome in. This is your complete guide to camping in Galway.
Wild Camping
The Wild Camping Code
– Campsites must be at least 400m from a road capable of carrying a vehicle.
– Campsites must be at least 400m from a building.
– Tents must be moved after every second night to allow vegetation to recover.
– Campers must remove all food waste and litter, whether or not it is biodegradable. Buried waste is often exposed by foraging animals or by erosion.
– Soap and toothpaste must be kept at least 30m away from watercourses.
– Dish and utensil washing must be conducted at least 30 metres from water bodies. All waste water should be strained and scattered. In no circumstances should waste water used in washing be poured into lakes, streams or rivers.
– Campers are required to conduct themselves in a quiet manner in an effort to avoid disturbing the local community, wildlife or other visitors.
– Campsites must be kept visually unobtrusive.
– Campsites must be left as found, or better
Clifden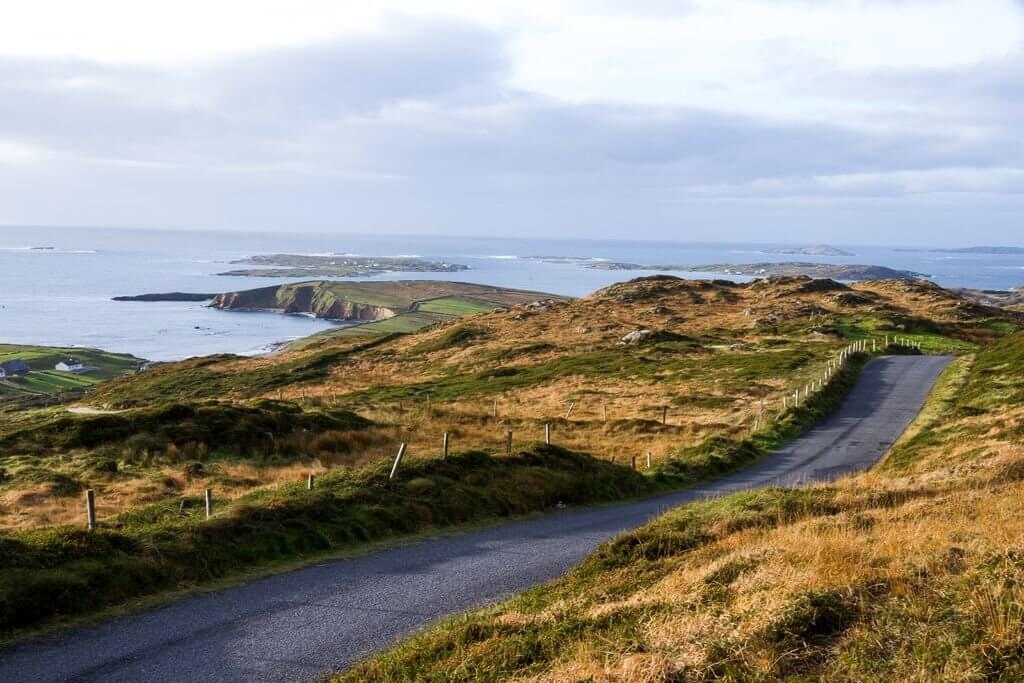 One of our all-time favourite road trips is the 123km Connemara coast drive where you start in Galway and head for the coast. Have the camera ready for Clifden's famous Sky Road where you'll see the best views of Inisturk and the Twelve Bens. Plus there are several megalithic tombs, Standing Stones, and Promontory Forts scattered along the way. If the tide is right, go explore Omey Island, which is reached by driving across a sandy causeway. There are so many spots that you can veer off and set up camp for the night along this route.
Dog's Bay, Roundstone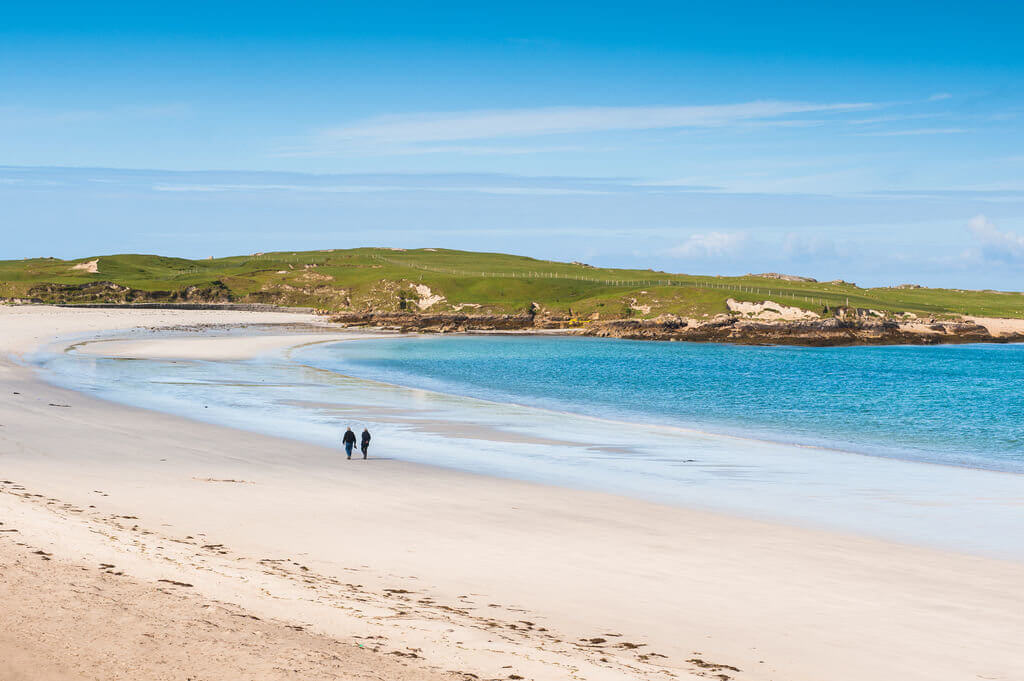 This stunning stretch of sand is the ideal place to bunker down for the night. The sand is white, the sea turquoise. It's completely unspoiled, so leave it that way. The whole area around Roundstone and the village itself is well worth a wander.
Inishbofin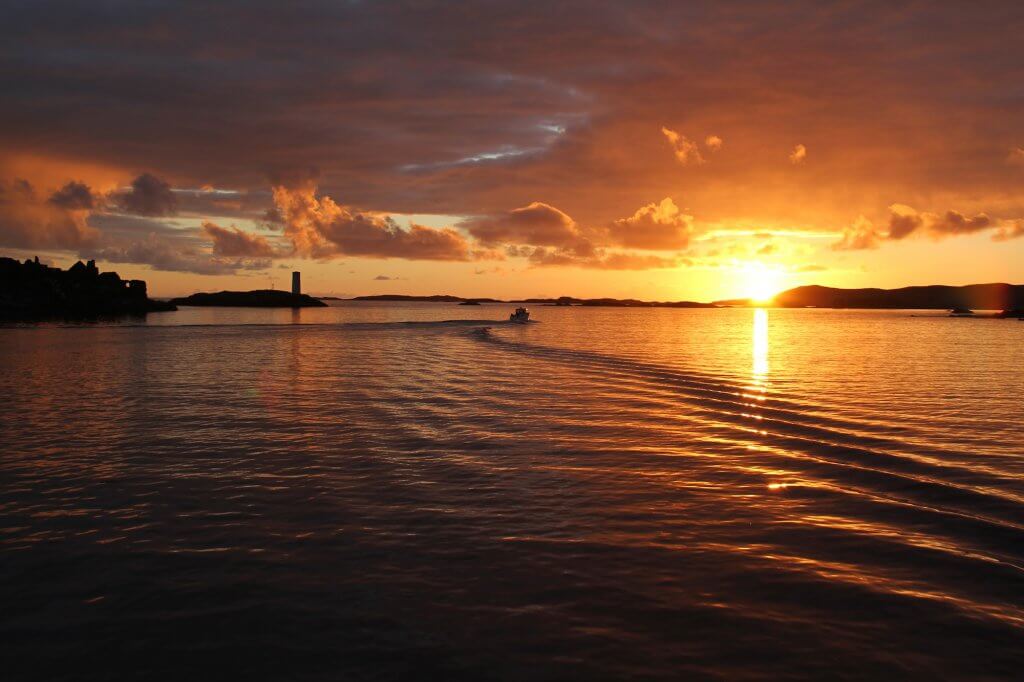 From the moment you step off the boat, you feel like you are transported to somewhere far further than you have travelled. Bursting with character, it is home to white-sandy beaches and tropical coloured waters. And fear not, there is plenty to keep an active soul occupied here – from bikes and hikes to kayaking, diving and fishing you definitely will not get bored. Plus, lively trad music sessions almost every night of the week. There are three sailings per day during the summer months and two per day during winter from Cleggan Pier in Connemara. For our full take on Inisboffin, have a read of this.
The Aran Islands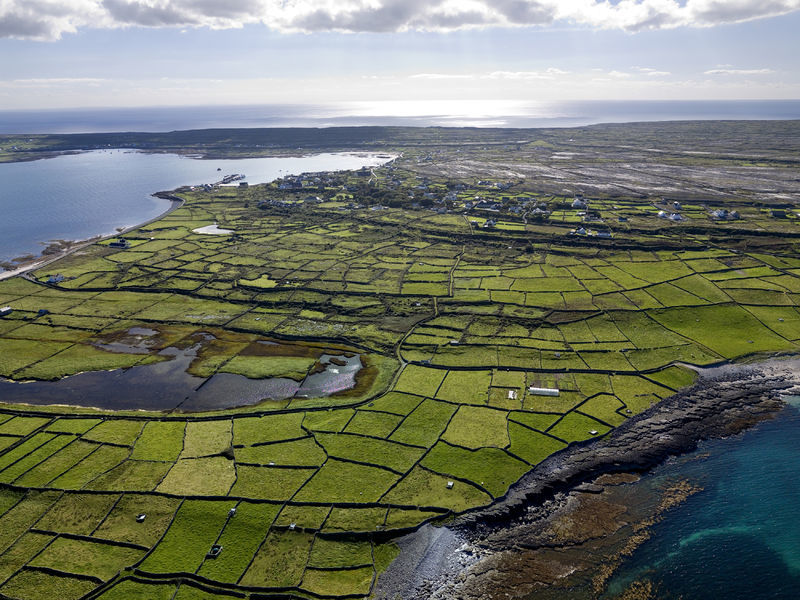 The Aran Islands will bring back fond memories for some of the school trips and summer holidays spent riding bicycles around this gem of an island. Inis Mór is the largest and is home to Dun Aonghasa. Then there is Inis Meain and Inis Oirr. The islands can be reached by ferry from Rossaveal. A must see spot is the Serpent's Lair or the Worm Hole on Inis Mór. It is the home of the Red Bull Cliff Diving Championships. Watching someone dive into this stunning natural pool into the roaring Atlantic below will simply take your breath away. Plus there is plenty of space to set up camp for the night.
Things to Do in Galway: The Complete Guide for Adventure Lovers
Glamping
Crann Og Eco Farm, Drummin Gort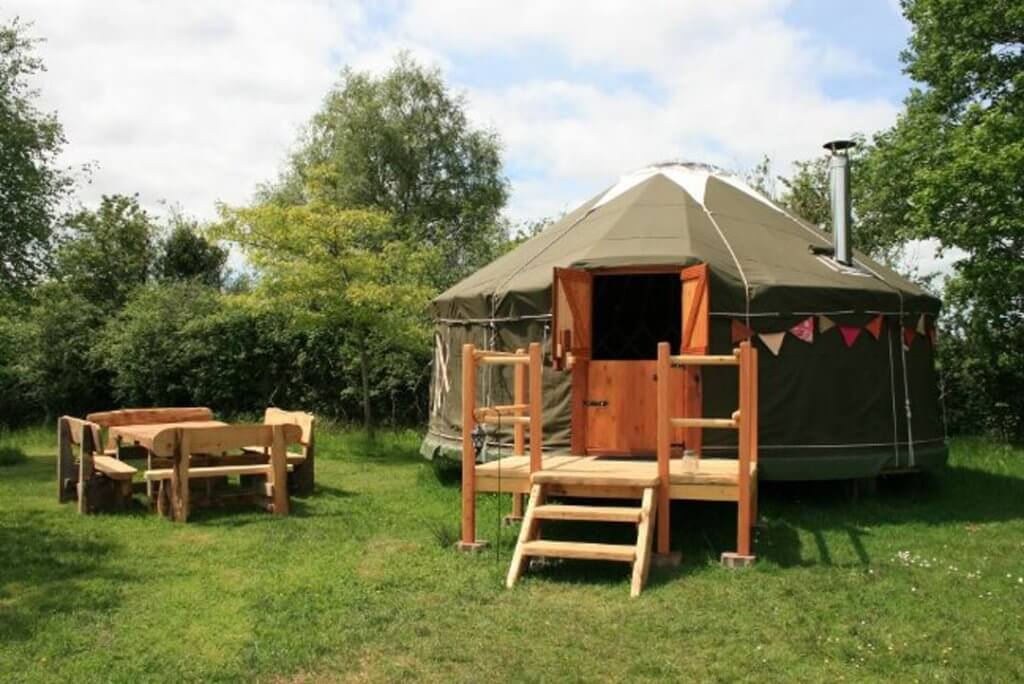 At the heart of an organic working farm, this destination near Drummin Gort is all about reconnecting with nature. Ponies, lambs, puppies, ducks and hens provide the entertainment. Pitch your own tent or choose from a yurt, two bell tents or an A-frame hut made from wooden pallets.
Most of the cooking happens in the native American-style Hogan building which has a roof opening to allow for campfires regardless of the weather. Eco credentials include compost toilets and solar-assisted showers. The farm has an Eco-Tourism Ireland Gold Award. Tent pitches cost €10 per night and Glamping accommodation starts at €75 per night for two people.
More info: Crann Og Eco Farm
Pod Umna Village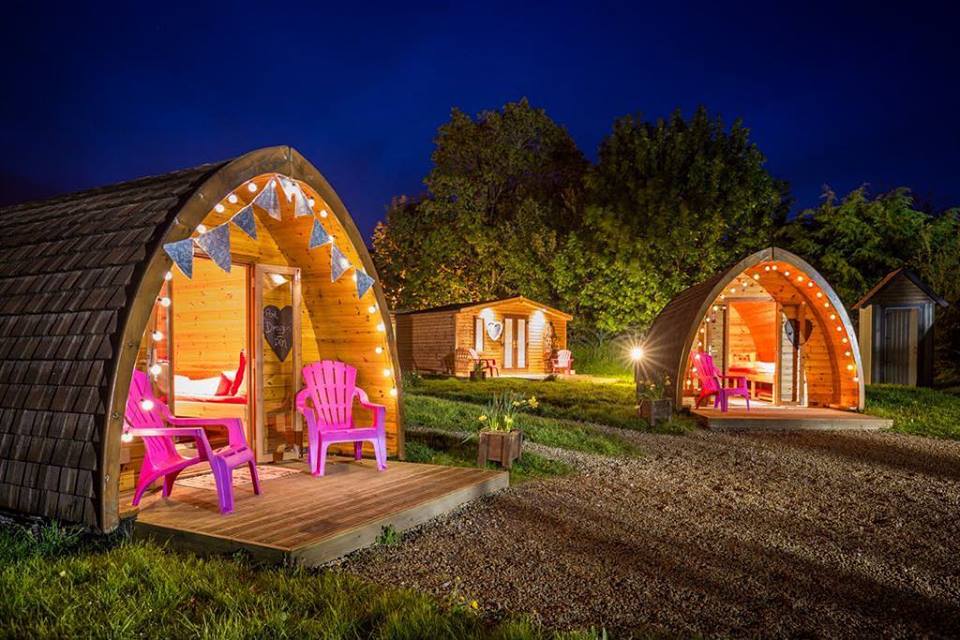 Set in the heart of Portumna Town, this fun site offers guests a chance to stay in a woodland setting within a town central location. Pod Umna has got pods, huts and B&B rooms available for booking. They also cater for all sorts of groups with a variety of packages. Our favorite package is obviously the Adventure Package with opportunities to go water skiing, horseback riding, extreme biking and much more.
Another thing to see and do in the area around Portumna is to visit the Forest Park, where 16 different species of wild mammals reside, including fallow deer and foxes. It's also possible to rent a bike for €20 to explore the surroundings.
More info: Pod Umna Village 
Kitty's Cosy Glamping Campsite, Kinvara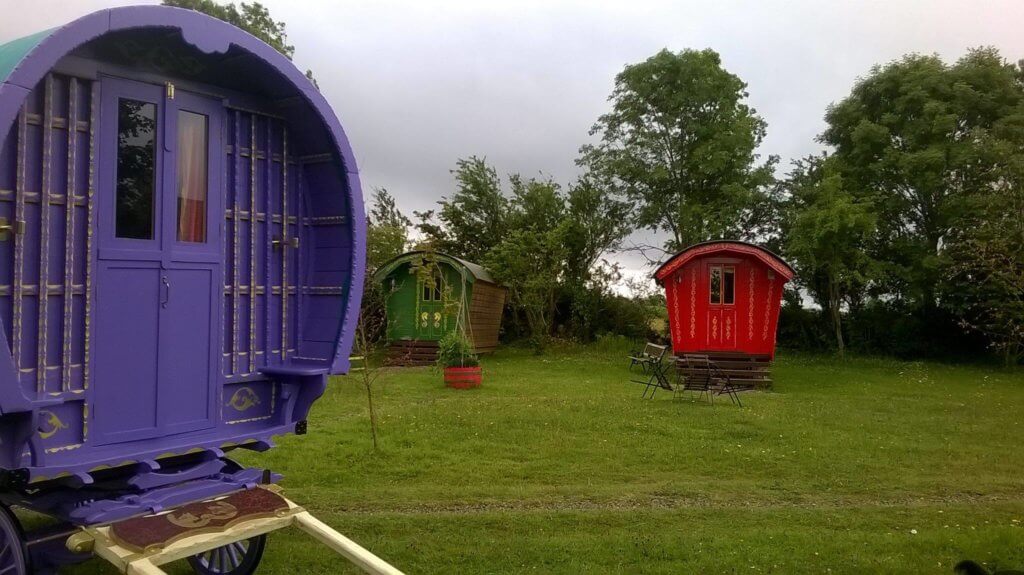 For a campsite nestled in the foothills of the Burren, Kitty's Cosy Glamping Campsite is a treat. You are just a short drive away from the stunning Cliffs of Moher, the famous Lisdoonvarna and the beautiful village of Carran. They have a fully equipped kitchen and dining area, an outdoor bbq area and fire pit, a fully sheltered lounge area and out door seating throughout the campsite. Make sure to go for a dip in Lough Bunny.
More info: Kitty's Camping
Clifden ecoBeach Camping, Connemara
For the eco-conscious among you, this campsite is Ireland's first Climate Neutral accommodation. It boasts some of the most incredible Atlantic seascape views, its own secluded private sandy beach and is just ten minutes from Clifden town and two minutes from the small scenic village of Claddaghduff. There is also loads of designated trekking routes nearby. Their Glamping and wild camping style plots with private eco-campfires are peaceful and privately spaced between marram grass-covered sand dunes.
More info: Acton Beach Side Camping
8 of the Most Scenic Walks in Galway
Camp Sites and Caravan Parks
Salthill Caravan Park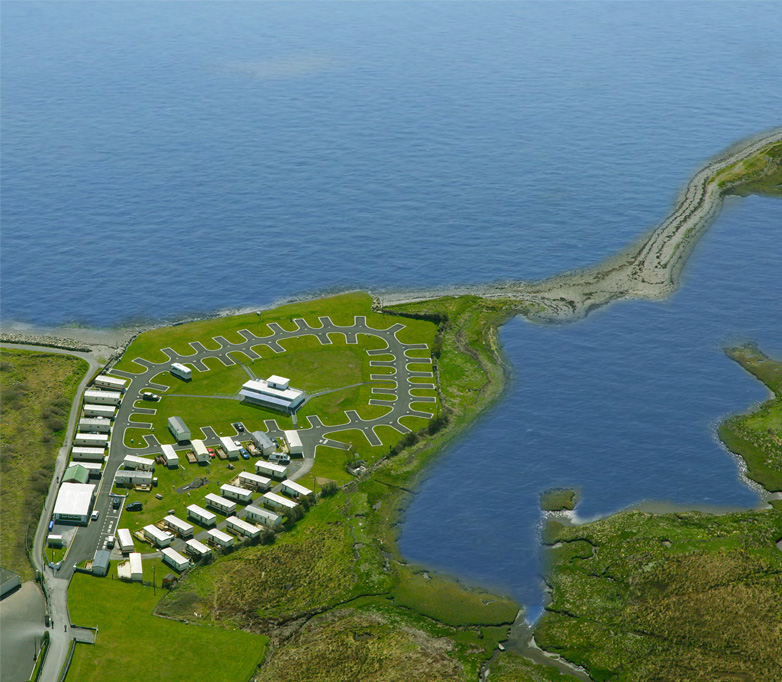 On the go since 1960, this five-acre park has Tarmac Camper Van Bays, a Camping Area for 30 tents plus static mobile homes (private and not rented). The park is boarded by breathtaking views of Galway Bay. There's a games room, an outdoor play area and a purpose-built coastal pathway into Galway City. There is also a bus service which passes the main gate every 30 minutes and an on-demand taxi service. Plus a hotel, pub, a shop and supermarket all within walking distance.
More info: Salthill Caravan Park
Renvyle Beach Caravan & Camping Park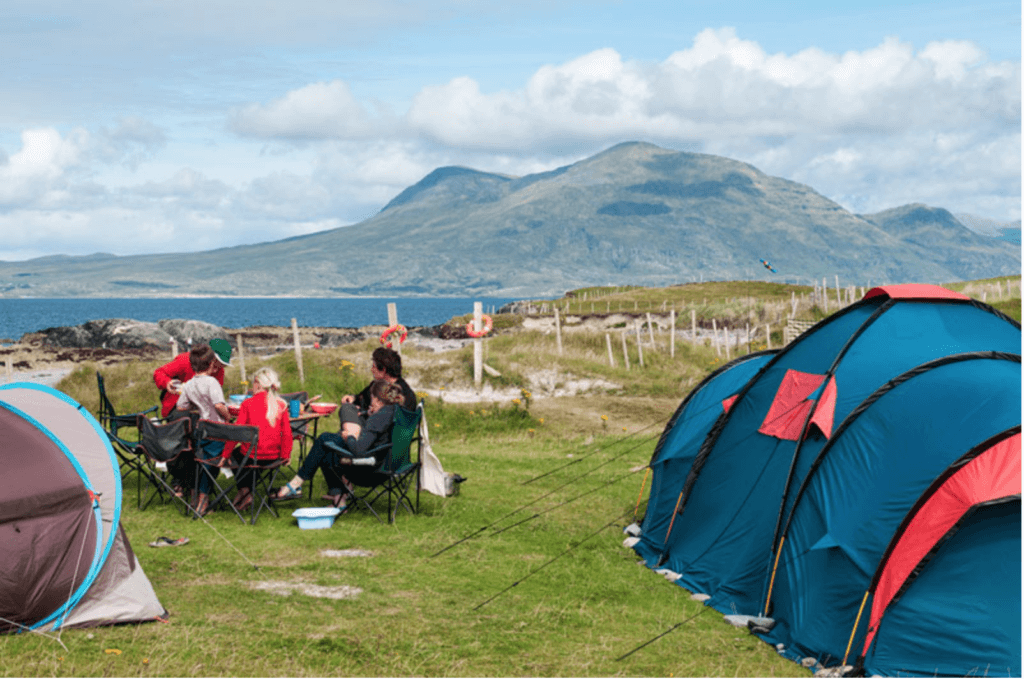 This 4.5 acre park consists of 36 pitches and lies on the edge of the Atlantic Ocean, overlooking Clare Island, Inishturk, Achill, Mweelrea and Croagh Patrick. The big attraction to this campsite is its direct access to its own sandy beach. Shops, pubs and restaurants are a short walk from the park and if you want to explore further Clifden is the closest town.
More info: Renvyle Beach Caravan Park
Spiddal Mobile Home Park
This mobile home park is situated just one mile from Spiddal village, a Gaeltacht area known for its sandy beaches and beautiful scenery. The village itself is full of amenities and services. Plus, there are many activities to keep you entertained including shore fishing, angling, canoeing, sailing, scenic walks and golf courses close by. Plus Connemara and the Aran Islands are to the east, while the thriving Galway city is only a short drive away, making this campsite the perfect base.
More info: Spiddal Mobile Home Park
O'Halloran's Caravan and Camping Park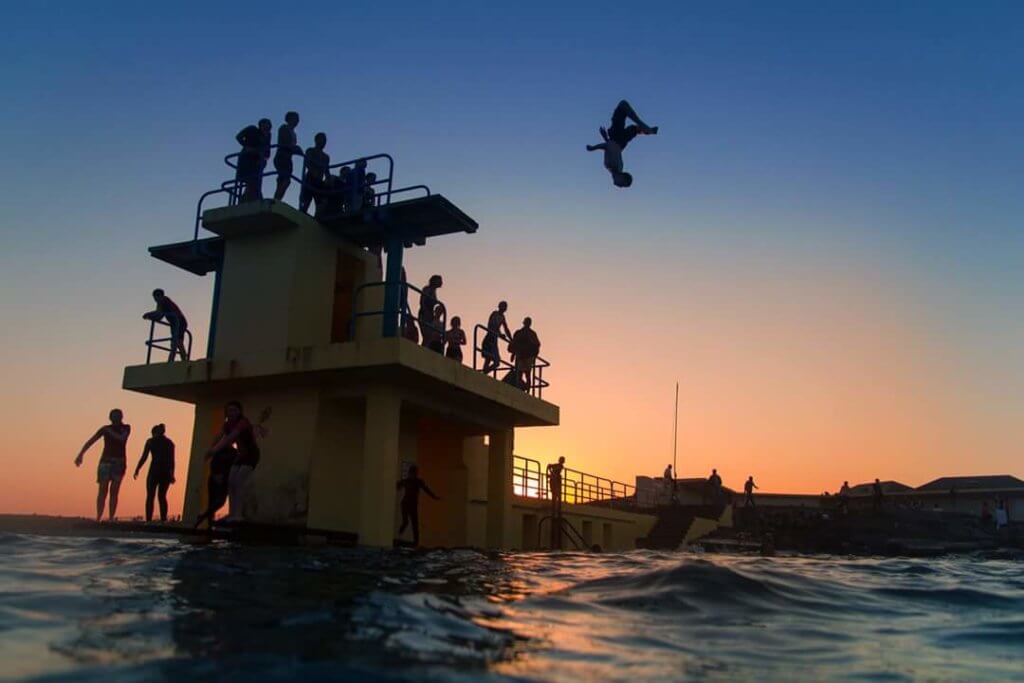 Another option for Salthill is O'Halloran's Caravan Park. It caters for mobile homes, overnight caravan and camping, plus it's just 200m away from the famous promenade. Perfectly situated to enjoy the seaside town while spending your days exploring Galway city.
More info: O'Hallorans
If you have any camping mishaps while in Galway or forget some of your gear, head to Call of the Wild store based in Eglinton St. in the city centre. Pop in to say hi, they would be more than happy to help!
Check out our Hard as Nails podcast:
Like this? You should check these out:
Next Post