Galway is a magical place to be when it comes to experiencing nature. There are loads of ways to explore all that is on offer and walking is one of the best! 
To help you choose your walk or hike, we've listed 6 of our favourite walks here that pack a punch in terms of views but are not too taxing when it comes to navigation. Although we always recommend bring a map and compass to be on the safe side.
1. Portumna Forest Park
In this magnificent park, there are several different walks to choose from. One of our top choices is the Rinmaher Walking Trail. It's about 10km, mainly on a single track trail. There are great views of Lough Derg near Rinmaher Point and it covers most of the park.
2. Diamond Hill Loop
View this post on Instagram

This is a fantastic 7.2km looped walk in Connemara National Park that delivers incredible scenery as a reward for the climb  to the summit at 400m. On a clear day, expect views out to the islands of Inishturk, Inishbofin and Inishark, as well as Tully Mountain, Mweelrea and the Twelve Bens. The roughly two-hour walk starts and ends at the Connemara National Park Visitor Centre and you'll tread on well maintained gravel paths, wooden boardwalks and steps to reach the summit and beyond. This hike is perfect for families with a gang of adventurous kids or groups of friends enjoying a weekend away. It's perfect for trail running too.
3. Omey Island Walk
It's hard to imagine a more magical experience than the 5.6km Omey Island walk. For a start, you'll walk across Connemara's only sub-sea road to reach this little paradise. That's right, the island is only accessible on foot at certain tide times – from two hours before low water to two hours before high water. (If you're unsure if it's safe, ask in Sweeney's shop and pub in Claddaghduff.) Once you've reached the island, turn right and head northeast towards the old graveyard. Keep following the beach and you'll round onto the northern part of the island and up onto the hill of Crocán na Mban to enjoy magnificent views over the sea. Keep an eye out for dolphins before completing your loop along the shore till and pass the U-shaped bay before you reach a paved road – what a novelty! – which will bring you back to the beach and back across to the mainland. The hike takes about 1.5-2 hours depending on how much ogling the views you do!
4. Knockma Forest Walk
Knockma Wood, with its lovely collection of ash, hazel and oak, is located on a low hill, just a few kilometres west of Tuam. This walk is pretty easy, making it a perfect one to do with your kids or your friends that are new to walking. If you've youngsters in tow, keep an eye out for the little fairy doors on some of the trees! From the car park, the walk is a 4 km loop up and around the hill, with lovely views of the plain below. In winter enjoy the sight of the turlough lakes and in summer be amazed that they have all disappeared! Legend has it that Maeve, the mighty Queen of Connacht, was buried in the cairns on the summit of the hill. If you tell someone from Sligo that though, be prepared for a debate! Whether the mighty monarch is there or not, the beautiful panoramic views from the top are fit for royalty.
Things to Do in Galway: The Complete Guide for Adventure Lovers
5. Inishbofin Westquarter Loop
Another magical island walk, the Westquarter Loop will be a feast for any walker that seeks a traffic-free world and wild ocean views! Starting and ending at Inishbofin's pier, the 8km route takes in blow holes and sea arches, the Dún More Cliffs and Iron Age promontory fort ruins, and the chance to ogle the local seal colony. You'll also explore lovely Trá Gheal beach and the famine road. This relatively gentle trail runs on grass paths, turf banks and shingle beach pebbles and will take between 2hrs–2.5hrs depending on stops.
The Road Less Travelled: Our Whistle Stop Tour of Ireland's Wild Atlantic Way
6. Killary Harbour Coastal Walk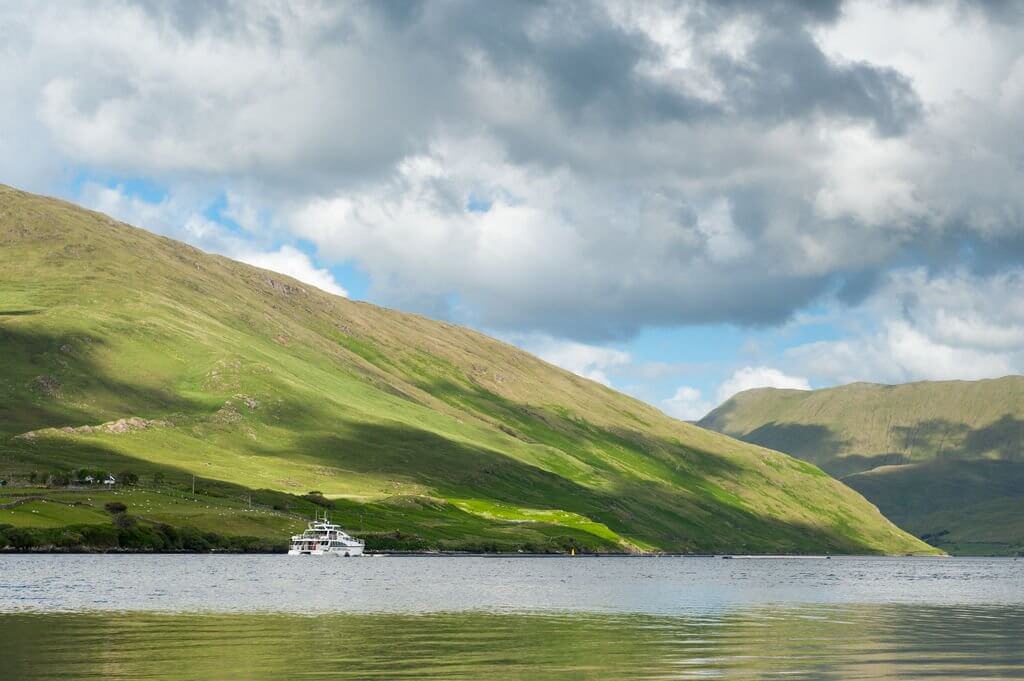 Carved by ancient glaciers, Killary Harbour is Ireland's only fjord. Surrounded on three sides by towering mountains and hills, including Mweelrea, the Devilsmother, Ben Gorm and Leenane Hill, this is a magnificent place to walk. If you'd prefer your walk to stay relatively low level but take in the views of these stunning peaks, the 16km coastal trail is ideal.
This is a relatively easy walk to do despite its 16 km, and the trail consists mainly of minor roads and old farm roads. You can get there either by bus or by car and the start and finish are located at a junction on the N59 and the road to Bunowen.
Starting and finishing at the junction of the N59 and the road to Bunowen, follow the old famine road on the southern side of the fjord to Killary Harbour Youth Hostel. Then return on the minor inland road which passes Lough Muck and Lough Fee to complete the loop. The walk will take roughly 6 hours.
Check out our Hard as Nails podcast:
Like this? You should check these out:
By Elsa Anderling

Previous Post