Just 8km off the coast of Ireland, Inishbofin is a little island off the Connemara coast with a mere 180 inhabitants. Roisin Finlay heads out to visit in search of some RnR and finds a Wild Atlantic gem that boasts big skies, gentle adventure and big ideas.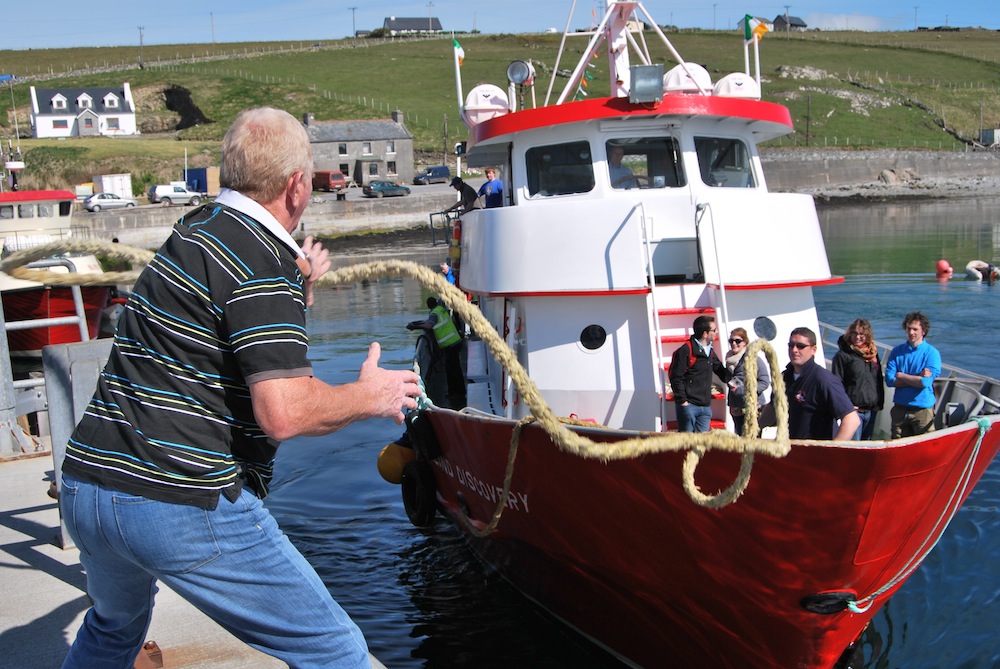 "She reminds me of a librarian. She's shy and from a distance might seem quite dowdy. It turns out she has a fairly racy sex life though."
Anthony McGeehan eyes give a cheeky twinkle as he adds, "She has two partners and she plays them off against each other. One is her alpha male and the other her beta. She's always sneaking off on the alpha and he's then in a panic flying around looking for her."
McGeehan is talking about the dunnock, a common enough bird about the size of a robin that I can honestly say I've never even noticed before. Now I'm riveted by this timid little winged creature who feistily bosses two males around to ensure the survival of her chicks.
I'm on a bird watching tour on Inishbofin – an activity that until five minutes ago I had associated with oddballs and old people, despite considering myself as outdoorsy and fairly tuned into nature. I'm standing stock-still soaking up the incredible variety and richness of birdsong on and having my mind blown by birdy facts.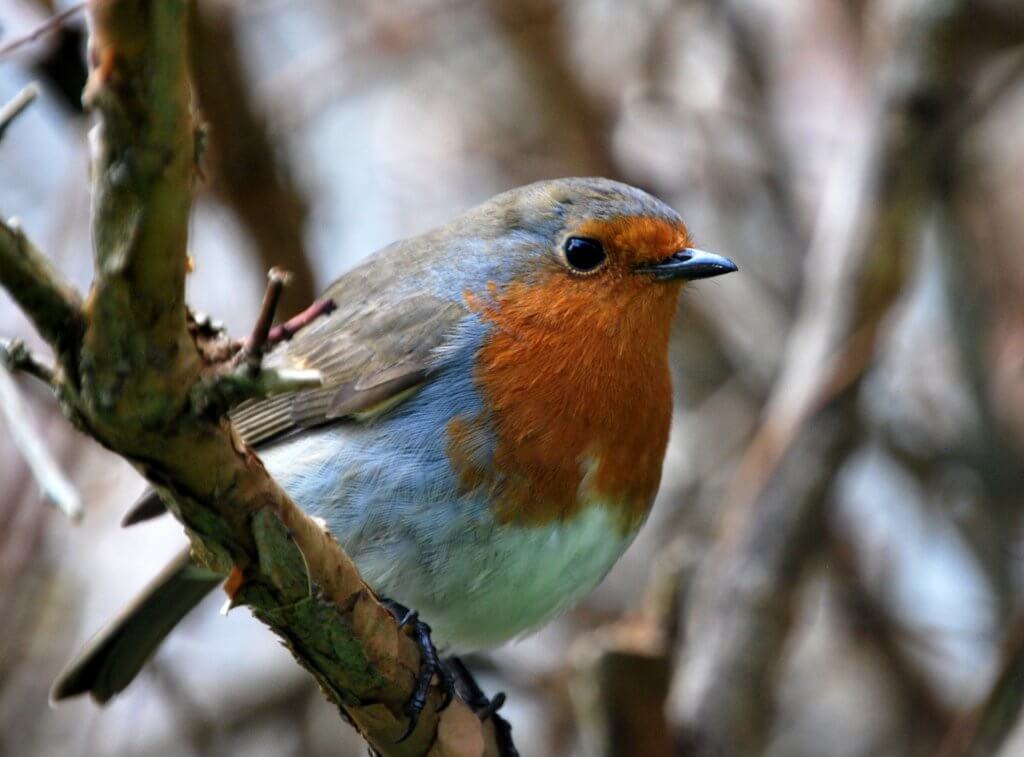 Anthony roves seamlessly from topic to topic, explaining how birds' lungs function in a different way to our own which is why a bird like a lark can sing continuously to attract its mate and mark a territory. And how migratory species use infrared to navigate while others catch rides on hurricanes to speed up their journeys. Anthony also explains that the tiny island of Bofin is the last stopover point for migratory birds on their way north to Iceland and beyond.
He tells us that lapwings, ringed plovers, oystercatchers and common sandpiper breed here, as well as the now rare corncrake. The globally endangered corncrake's success on Bofin is helped by the traditional farming methods and local conservation initiatives which are as simple as letting nettles grow untamed in certain areas.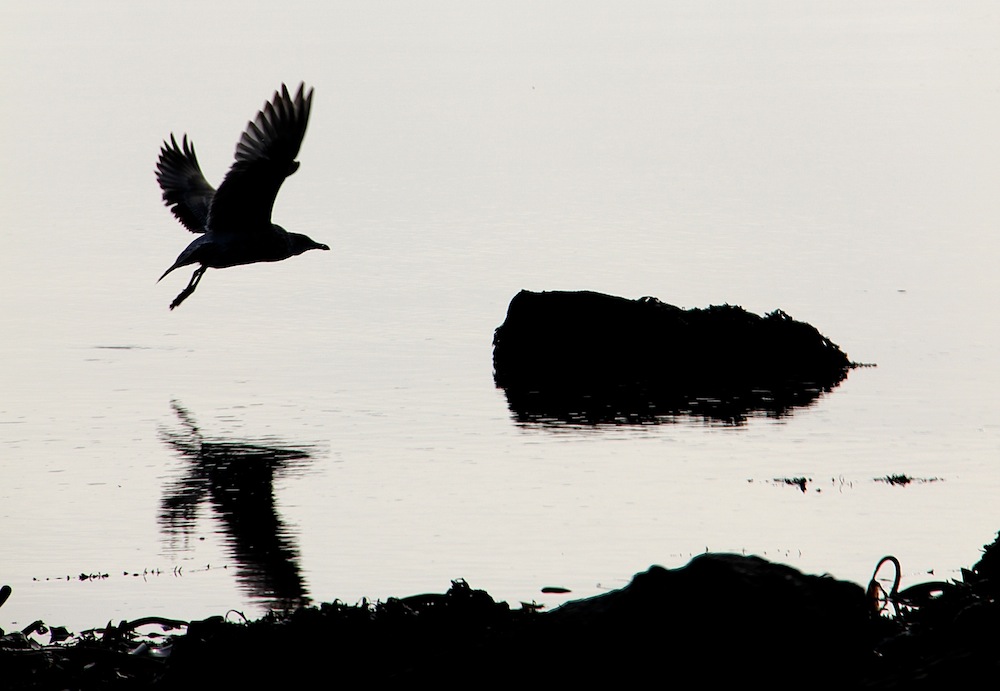 It's too early in the year for us to hear these migrants but if we return in summer we'll be sure to recognise their call. When measured it registers at about 100 decibels which to put in context is almost as booming as an ambulance siren!
"Within a day of being here I knew I'd be spending a huge amount of time on this island for the rest of my life. Listening to the skylarks was like stepping back into my childhood."
Anthony is fascinating, articulate and funny to boot. While he is well-known amongst bird lovers, I can't help wondering why he is not on nature programmes or a household name like David Attenborough, because he is just as absorbing and passionate. Hailing from Belfast, he first came to Inishbofin 10 years ago and since then he has devoted himself to observing the bird life of the diminutive and gorgeous island off the coast of Connemara. His tours run out of the Dolphin Hotel (www.dolphinhotel.ie) which offers a bevvy of bird experiences thanks to bird loving owners Pat and Jackie Coyne. The pair have even added a wildlife pond, bird-feeding station and hide at the hotel.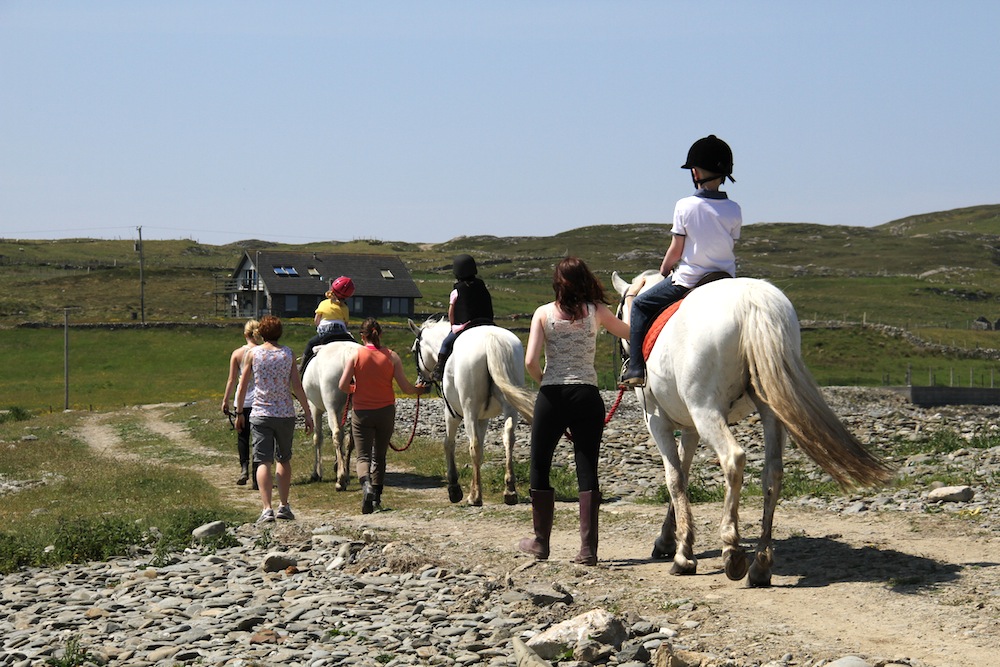 Speaking about Inishbofin, Anthony says "Within a day of being here I knew I'd be spending a huge amount of time on this island for the rest of my life. Listening to the skylarks was like stepping back into my childhood," he says.
It's not just Anthony that realises that the island is special. Over the past two years, local businesses and the community have joined forces to work on an eco-tourism initiative with a view to preserving the island's natural and historical heritage and to create and sustain local employment and the economy.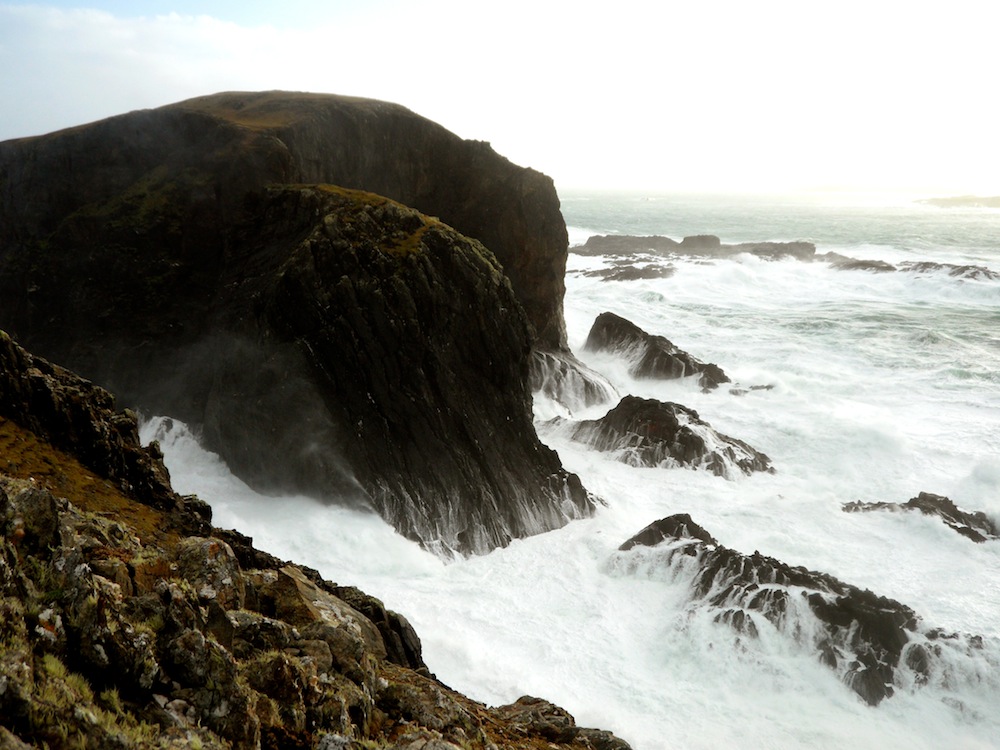 The Blue Dolphin's bird watching tours are just one of a 14-plus officially designated eco-tourism experiences that have been painstakingly developed and improved and over the last two years in order to earn the EcoTourism Ireland award, the only globally recognised standard for ecotourism on the island of Ireland, accredited by the internationally renowned Global Sustainable Tourism Council.
Amongst the businesses that have embraced the ecotourism standard are family run hotels and self-catering houses overlooking the Atlantic. As for the eco experiences available, they include stand-up paddle boarding on the recently developed Blueway, catching your own fish and having The Beach Bar fillet and fry it for you, and self-guided walking tours to explore coastal tracks, dune-lined beaches, and ancient archaeological ruins. The Beach Bar can provide picnics are provided in reusable containers and backpacks.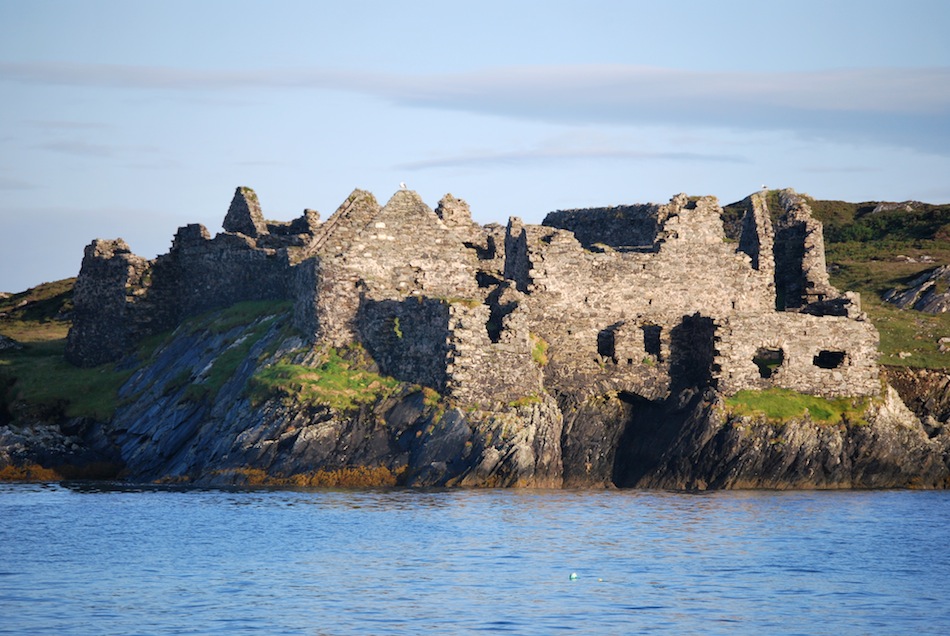 Or what about joining in the fun of lambing, sheep shearing and watching sheep dogs in action with islander and sheep farmer Simon Murray? Coastal and therapeutic horse riding for people with physical, cognitive, emotional and developmental disabilities with Inishbofin Equestrian Centre is also on offer. Or take your pick from Nature Photography holidays or sailing trips with John Francis Day to the surrounding islands to take in the wildlife and amazing views (think seals, sea stacks and staggering views).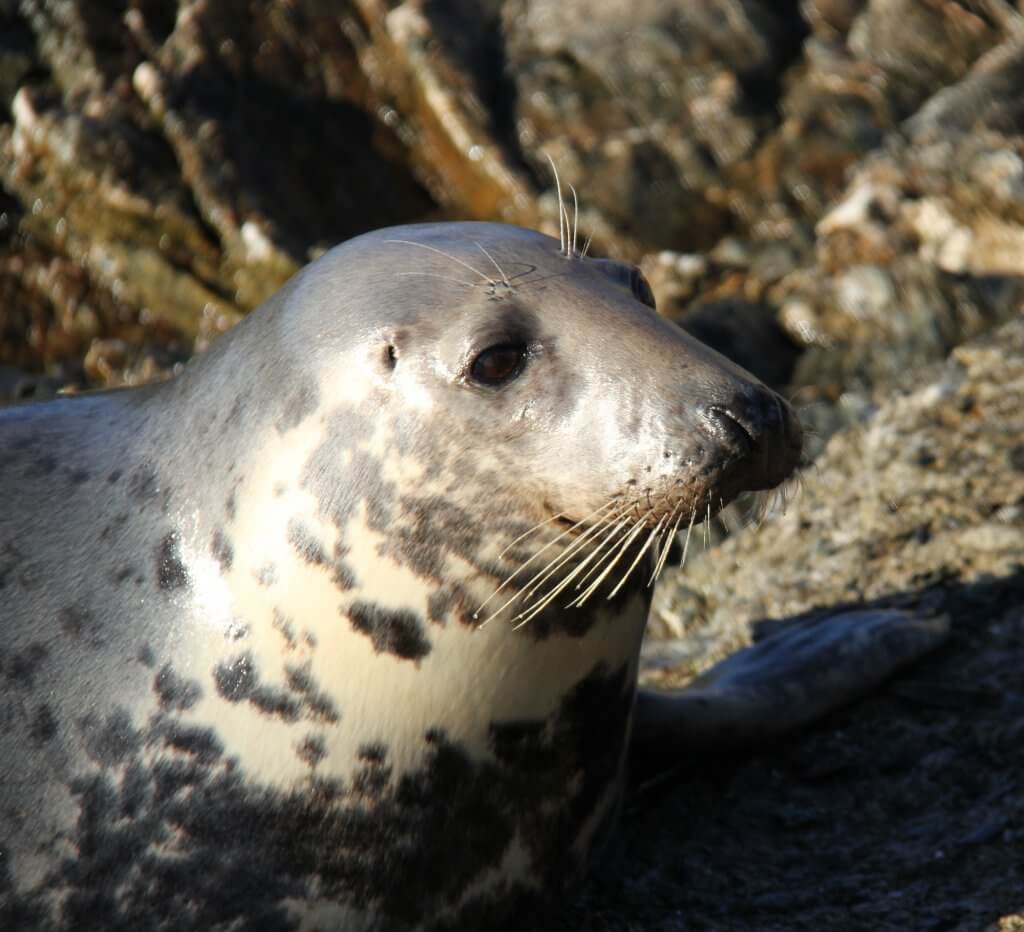 Another highlight in this quiver of eco-tourism projects is a tour with islander Tommy Burke, whose knowledge of local history and cultural heritage is second to none. A trip with Tommy is like exploring an open-air museum. We learn about the Cromwellian barracks which still stand firm overlooking Bofin's harbour despite the epic storms of recent years and we are lucky enough to get a weather window to visit Inishshark. Unpopulated since the last 23 inhabitants were moved in October 1960, the island's story is laid out under your feet and all around you as you roam, from the ruins of the church, school and cottages, running right back to monastic times with crumbling beehive huts and ancient graves.
Standing amongst the ruined buildings is a stark reminder of how remote Atlantic islands like these must constantly innovate to remain vibrant places and just how important initiatives like this eco-tourism plan which kicked off back in of 2014 are.
"Inishbofin is an amazing place and so are the people. They are inspirational, open-minded and have a real can-do attitude."
That was when Mary Mulvey, head of EcoTourism Ireland, was approached by the Islanders. She has been working with them ever since, helping them get these green and sustainable tourism products and experiences up to speed. Mary says, "Inishbofin is an amazing place and so are the people. They are inspirational, open-minded and have a real can-do attitude. When we started working together, they looked at everything, not just tourism, but community, conservation and a nature plan. It's the only island in Ireland to date where the local people and businesses have come together to protect the island's precious environment and create a community-led ecotourism initiative. Their aim is to develop a tourism product that is sustainable and benefits locals and visitors alike. The results have been outstanding."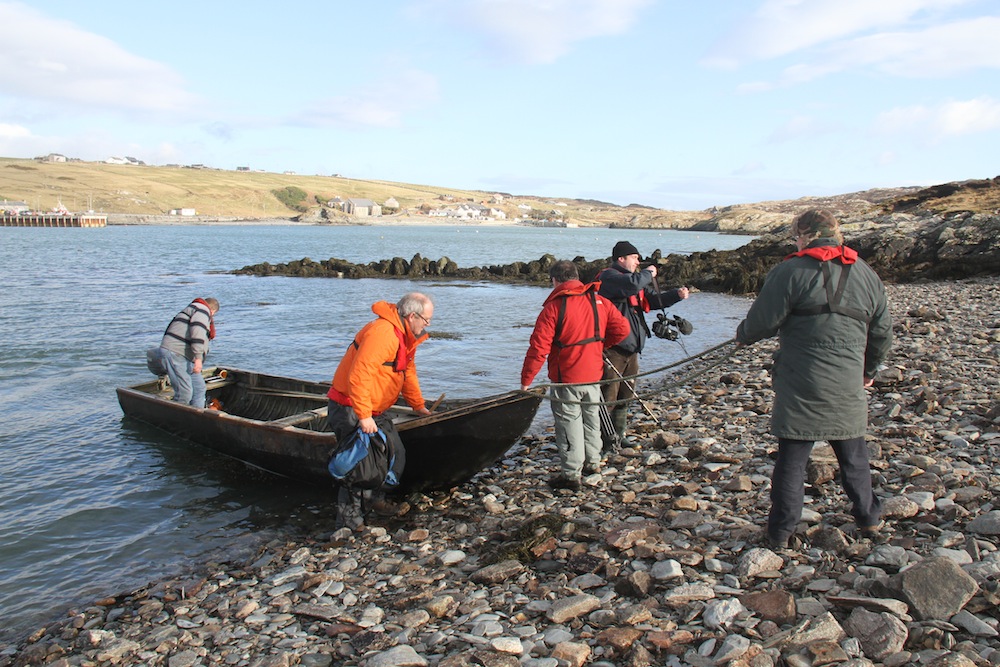 She adds, "There are 58 criteria that need to be addressed before you can get the Ecotourism Ireland Label. They cover carbon, water, waste and energy. Businesses would work on everything from water conservation to reducing food waste and packaging. All but two of the hotels on the island have now been certified."
The whole island also signed up to become a Fair Trade island (serving only Fairtrade tea and coffee) and Leave No Trace members. The Leave No Trace programme involved educating everyone from school children to businesses on the outdoor ethics programme designed to promote and inspire responsible outdoor recreation. Each trained person is then an ambassador for the programme.
The Leave No Trace and Clean Coasts Most Devoted to the Environment Award: Meet the Nominees
Despite their achievements, the community and businesses are not resting on their laurels. Mary explains, "This community would rival any in Ireland with their dynamism. They are currently working on getting Dark Skies designation and developing their own community-led nature plan. Dark Skies designation would mean Bofin would be officially recognised as one of the best places in the world to star gaze while the nature plan is all about setting up a conservation trust to protect the island's precious biodiversity and habitats. Amongst other things, it will aim to protect dunes and marram grass as well as replanting native trees to help bird life (there are currently only two remaining trees on the island).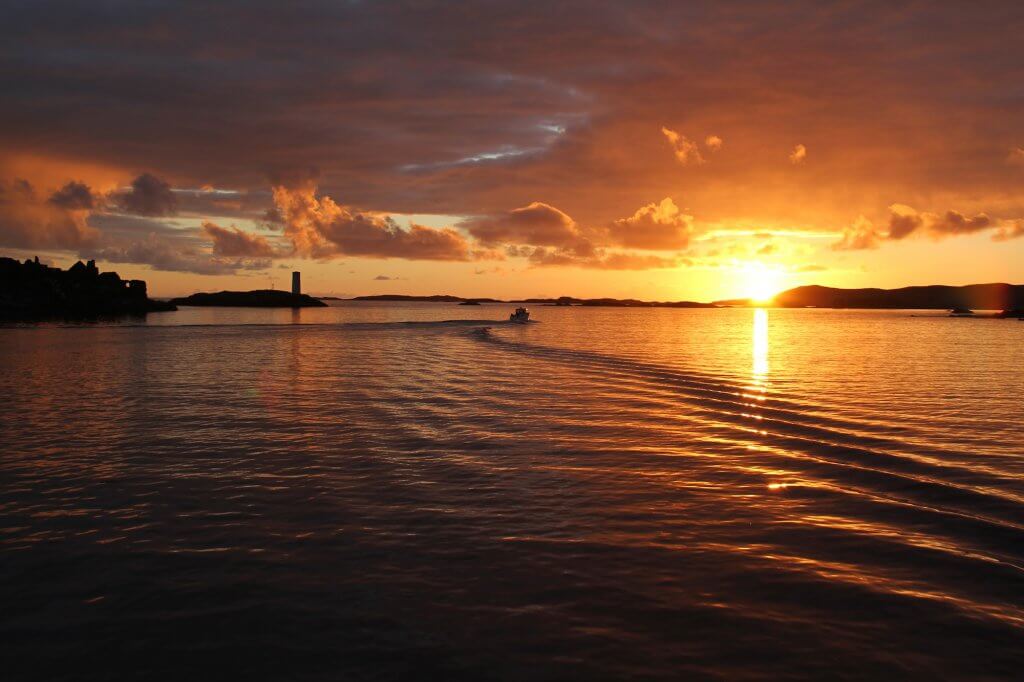 There are so many feel-good reasons to visit Inishbofin and I haven't even mentioned the great calendar of events that include a walking festival (April), an arts festival (April), a half marathon (May), a yoga festival (June), a summer school (July), Maritime Festival (August), a set Dancing and Trad Weekend (September) and a food festival (September).
Or the stunning white-sand beaches with Caribbean-like water (colour, not temperature!) which is famous for its clarity amongst divers and snorkelers, the fantastic friendly great bars with regular trad music. The lack of traffic is also a joy; the island is car free apart from the few owned by locals, so everyone is either on bikes or walking.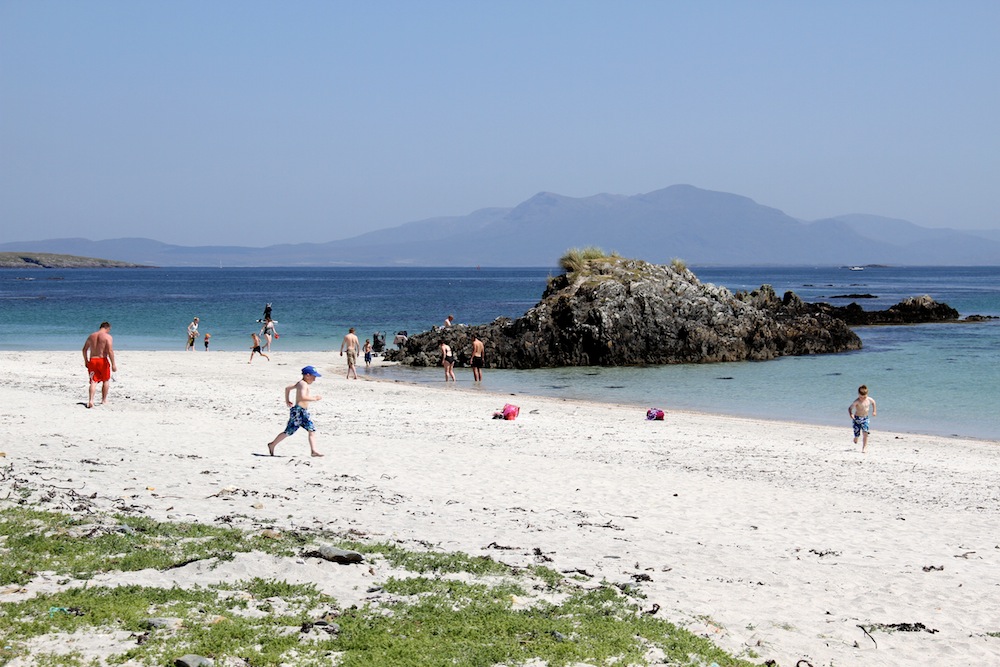 And then there's the utter peace. Being here is like stepping into a dimension where time moves slower. A day here feels like a week away. A long weekend is a like a proper holiday where emails and deadlines feel far away, where there is time to wallow in the scent of cut grass, to notice a bumblebee foraging amongst wild flowers and to take time to dote over the lambs springing and gambolling in the fields.
More Inishbofin Facts
Getting there: Inishbofin is a 40-minute boat ride from the tiny harbour of Cleggan in Galway (www.inishbofinislanddiscovery.com). It has a population of 180 and is 16.5km2.
Where to stay: We stayed at the Dolphin Hotel which has the Ecotourism Ireland Label. It is a simple and very welcoming hotel just a 10-minute walk from the ferry. Owners Pat and Jackie Coyne are mines of local (and bird) information as well as wonderful hosts. Pat will pick up and drop off bags to the ferry. They should include laughter therapy on their menu of offerings as Pat will have you in stitches at every interaction with his wry observations and hilarious tales.
Where to eat: We ate at the Dolphin Hotel (delicious local lamb and salmon were on the menu) and the Beach Bar (locally caught lobster, crab, mackerel and pollock feature). The Beach Bar also has the Ecotourism Ireland Label and offers accommodation.
Shopping: Inishbofin Heritage Museum and Gift Shop is just two minutes from the ferry. It has handmade gifts and island crafts and also features the contents of an old island cottage and its collection of over 200 black and white photographs depicting island life, fishing and farming practices.
More info: For details of all experiences mentioned above and more, contact Inishbofin tourism manager, Luke Murray csptourism@inishbofin.com or visit: www.inishbofin.com
About Ecotourism Ireland
Ecotourism Ireland is the only globally recognised standard for ecotourism on the island of Ireland, accredited by the internationally renowned Global Sustainable Tourism Council.
The Label has been developed in association with Fáilte Ireland, Northern Ireland Tourist Board (NITB), and an advisory panel from the Environmental Protection Agency (EPA), National Standard Authority of Ireland (NSAI), the Department of Agriculture & Rural Development (DARD), National Parks and Wildlife Service (NPWS). These agencies act as an independent auditing aspect of the label nationally.
Ecotourism Ireland is interested in working with businesses of any size that want to improve or promote sustainability and eco credentials.
Check out our Hard as Nails podcast:
Feeling the love for Ireland's coastlines and islands? Keep exploring with the links below: 

Previous Post