If spending your day-off getting soaking wet and covered head-to-toe in mud while pushing your body over hurdles, down slides and through tunnels sounds like the time of your life, then we might just have the perfect Saturday plan for you. 
Mud runs and obstacles races combine the grit and determination of an endurance athlete with the fun and thrill of being a kid again. Due to popular demand, there are now many options for endurance mud runs in Ireland. These runs are almost never about your time when you cross the finish line — they are about helping out your fellow runner as you tackle the obstacles together, and the memories you make along the way. Here are some of the best obstacle races in Ireland sure to get you sweaty and happy!
1. Mini Muckers
October 6, 2018: Punchestown Racecourse, Naas, Co. Kildare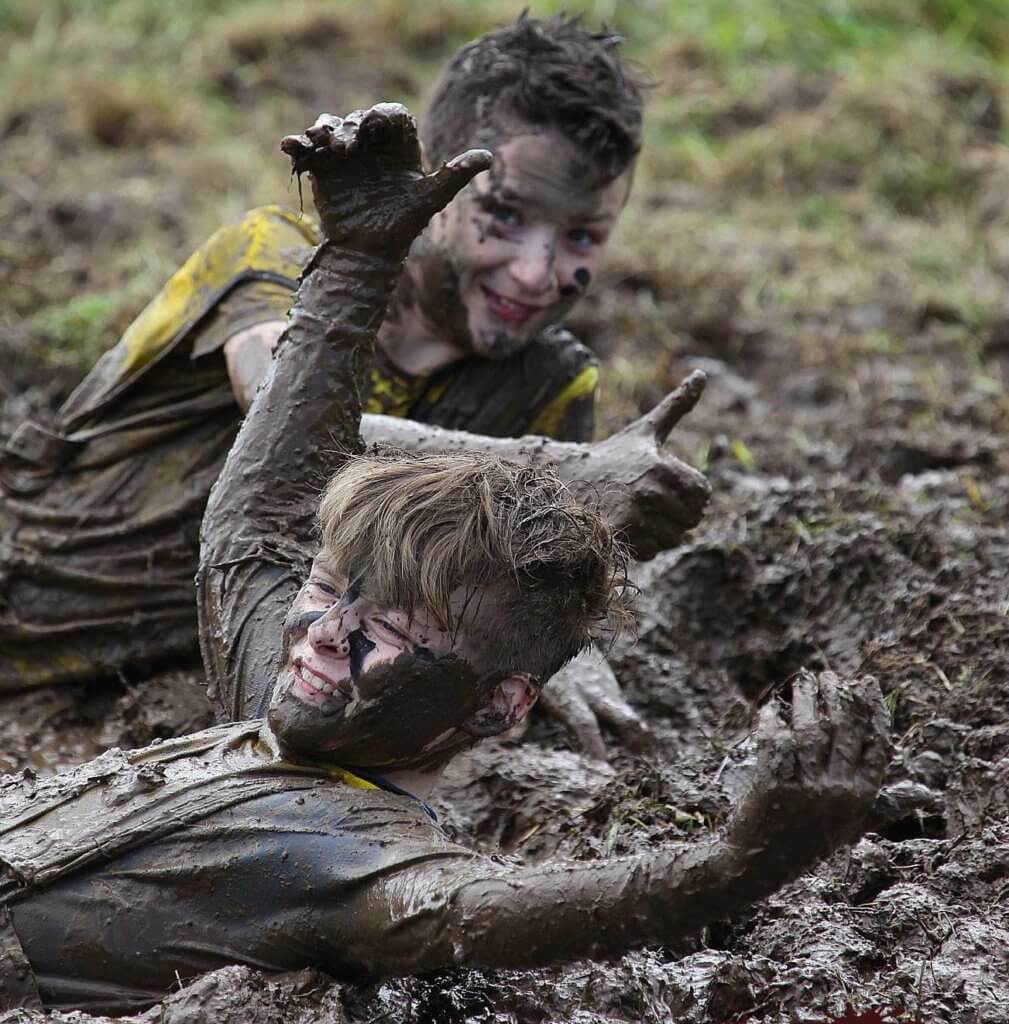 Kidz Fitness Lid. is an Irish run company that strongly believes that the introduction of fitness challenges at a young age leads to a happier, healthier child with a positive outlet of energy, teamwork skills, and even some new friends! That is why they have created the Mini Mucker — a mud race just for kids.
Coming to Punchestown Racecourse, Naas, Co. Kildare in October, the Mini Muckers are inviting the kids of Ireland to dress up in their Halloween costumes to compete in a 2.5km course chock-full of muddy obstacles such as log jumps, a large moat, water jumps, net scrambles, mud crawls, mud pits and much more.
This event is suitable for any children over 7 years. Visit the Mini Muckers website to sign up!
2. Hard As Oak
Returns in 2019: Derry/Londonderry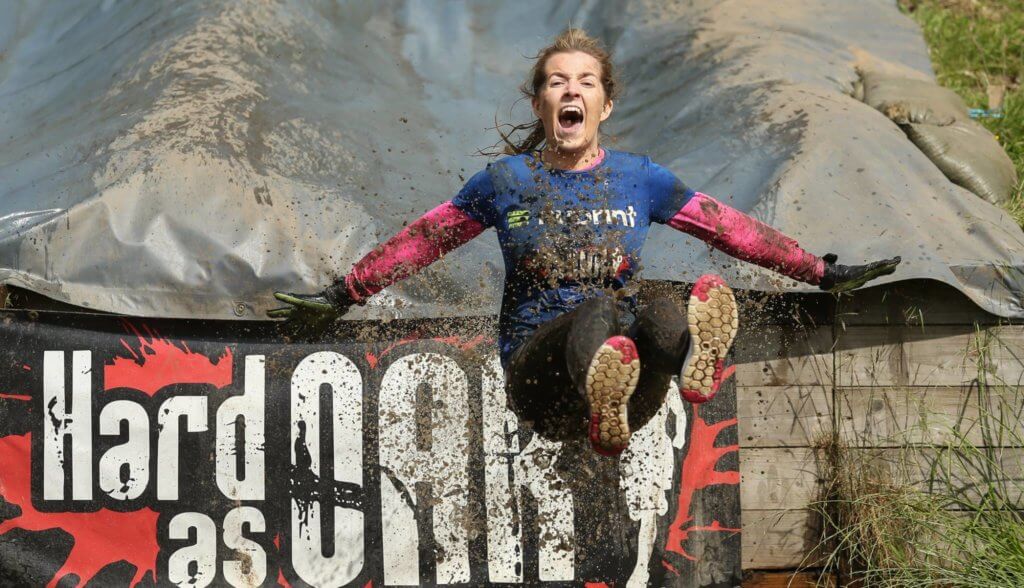 Every year, the Hard As Oak obstacle course makes its way to Ireland to test participants' limits while they scramble over mud mounds, jump into freezing water, crawling through mud under barbed wire and throwing themselves over wooden walls — and that's only the beginning. There are over 50 man-made obstacles in this 10km course and if that sounds a bit daunting, do not fret! The main focus of this race is teamwork. Everyone works together to push each other to the finish line and everyone strives to build that comradery throughout the entire race. And, if a certain obstacle looks too frightening, not to worry, just skip that one!
If your kids want to participate in the messy fun, Hard as Oak offers a Teen (5km) race and a Mini (2km) race, so everyone can challenge themselves by pushing their muscles and minds to limits that they never expected!
For more information, visit Hard As Oak's website.
3. Turf Warrior Challenge
November 3, 2018: Killary Adventure Centre,  Leenane, Connemara, County Galway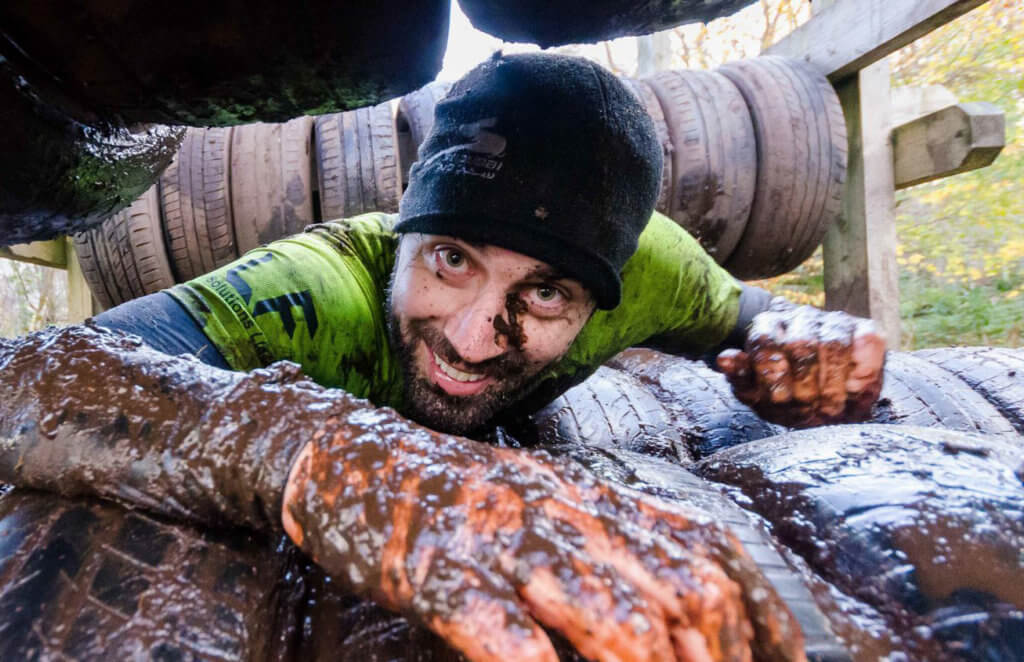 Ready to swim, run, jump, and climb your way through the bogs, rivers, and forests of Killarney Fjord? Then this is sure to be the race for you! This 10km run is jam-packed with muddy obstacles and challenging activities that will have you relying on your peers to increase morale and comradery!
According to the Turf Warrior site, you do not need any special skills for the obstacle course but will need some upper body strength for some elements of the assault course and must be comfortable in waist deep water. Also, make sure you are ready to receive some cuts and bruises along the way — because these obstacles are no joke! Slide into freezing water, swing your way across dirty monkey bars, and crawl through inches of mud to reach the finish line. And, if finishing the race isn't reward enough, enjoy a free event t-shirt for all competitors, homemade soup and bread, a free beer and a free ticket to the event's after party!
If you don't want to go to the after-party as a mud-monster, bring an outlandish costume and join in on the fun! Winner of the costume party receives a prize, and the general atmosphere of accomplishment and fun is enticing and contagious!
Find out more and register at Turf Warrior Challenge.
Diving into Summer, Outsider Style: Our Evening at Harbour Splash
4. Runamuck
March 9, 2019: Coolcarrigan Estate, Co Kildare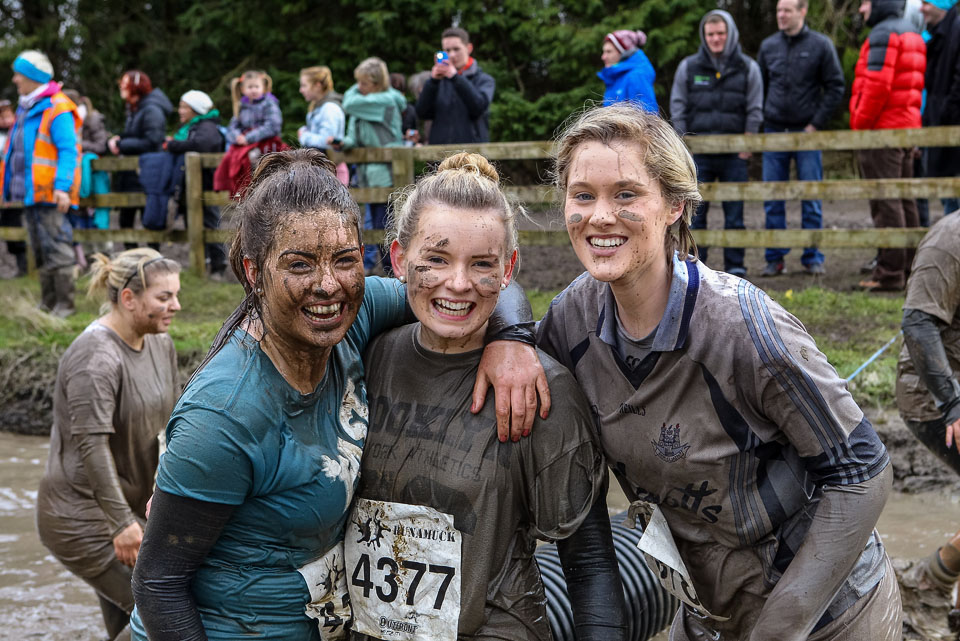 Make sure you bring a change of clothes and leave all of your valuables in your car — because you're about to embark on the muddiest, most challenging, fun-filled course in Kildare. First, choose your length, you can either do one lap (5.5km) or push yourself even further with 2 laps at 11km. Each lap contains 50+ man-made muddy obstacles for you and your team to conquer. The minimum requirement for a team is three people, but there is no maximum, so grab your friends, colleagues, cousins, brothers, sisters and anyone else who wants to get sweaty and dirty!
The race is chip-timed, so you can race your friends if you have a more competitive friend group! This race is sure to put a smile on any adventure-enthusiasts face and will create amazing memories for all. The event also takes pictures throughout the entirety of the race, so you can treasure those memories forever.
Each obstacle is meant to push you outside of your limits, but if you are not comfortable with any obstacle, you are not obligated to participate. The recommended attire is full body cover such as running leggings and long sleeved running top to protect your skin from the elements in this race. Basic washdown hoses will be provided but showers are not available, so have baby wipes, old towels, some water to complete your cleaning.
Find out more and register at Runamuck Challenge.
5. Mayhem
Anytime you wish to book: Kedrah Castle in Cahir, Tipperary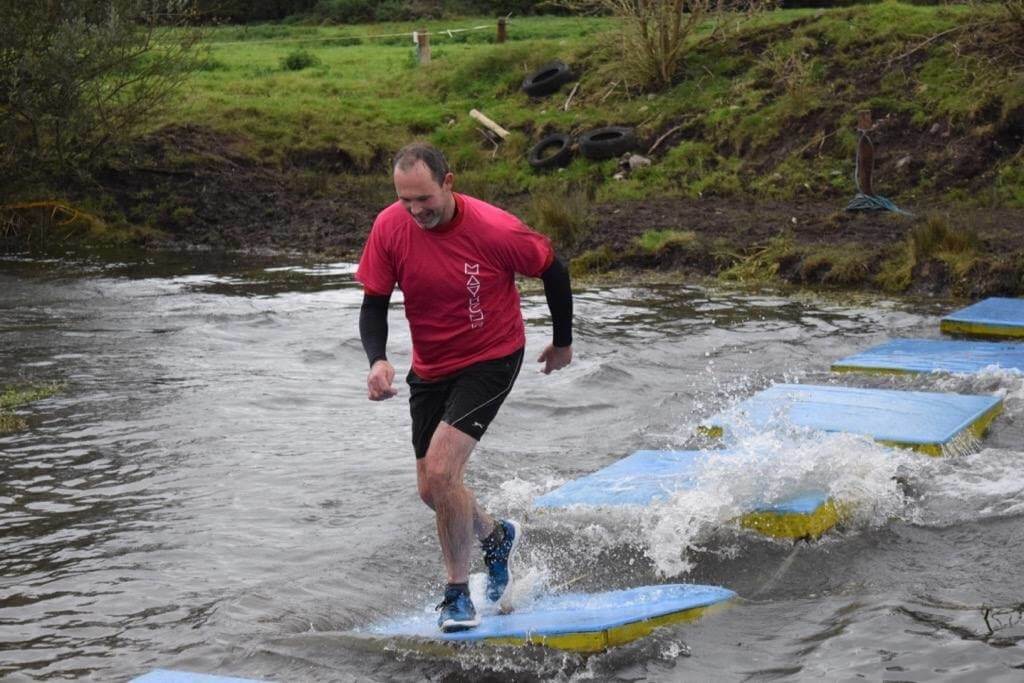 Want to give your employees or club members a day that they will never forget? Mayhem is a family-run company that hosts an amazing, challenging obstacle course that is available for hire for corporate events, training days, hen/stag and birthday parties.
The course can be two, five, 10 or 15 kilometres and provides a challenge experience that focuses on comradeship and craic. The course is set on a 140-acre farmland in Tipperary and provides 60+ obstacles for your employees or friends to sprint, jog, crawl, roll, walk, or drag themselves around. They will be sliding through mud baths, swinging on Tarzan ropes, and jumping through tires. Any fitness level is welcome, and participants must be over the age of 14.
Then, after a thrilling afternoon, rinse off in their hot showers and hospitality rooms. Mayhem offers individual obstacle design, varying track lengths, a team of photographers, stewards on the track, and sports jerseys printed with the company logo if needed!
Book your afternoon on Mayhem.
6. Race2Glory
Returns in 2019: Kiltimagh, Co. Mayo
Race2Glory is a multi-sport adventure race that involves cycling, running and a river run. Based in Kiltimagh, Co. Mayo, this yearly race pushes participants to compete in a 40km full course or a 20km sprint. You can even opt to do a relay where different members of the team participate in different parts of the course.
You'll be able to challenge yourself on Spankers Hill, The Bog, Craggagh Hill and Glore River as you wade through the river to reach the other side! The first stage of the race is a mountain run (10k) where you will embark on a steep ascent to 850ft, combined with a road/bog run, and then a steep descent back to start. The second stage is the 23km cycle with a mixture of steep and gentle hills. Then, back to the running (7km) through roads, rivers and a country track.
For more information, visit Race2Glory.
UTMB: Everything You Need to Know
7. Extreme Sports Ireland
Anytime you wish to book/Varying locations found on their website.
Extreme Sports Ireland presents the Assault Course, an undeniable endurance challenge that is designed to enhance teamwork and comradery. Along the way, you will face obstacles such as water crossings, slippery banks, tunnels rope swings, high walls, mud-slides, ziplines and more. A perfect activity for a company retreat or a birthday party!
Find out more at Extreme Sports Ireland.
8. Tough Mudder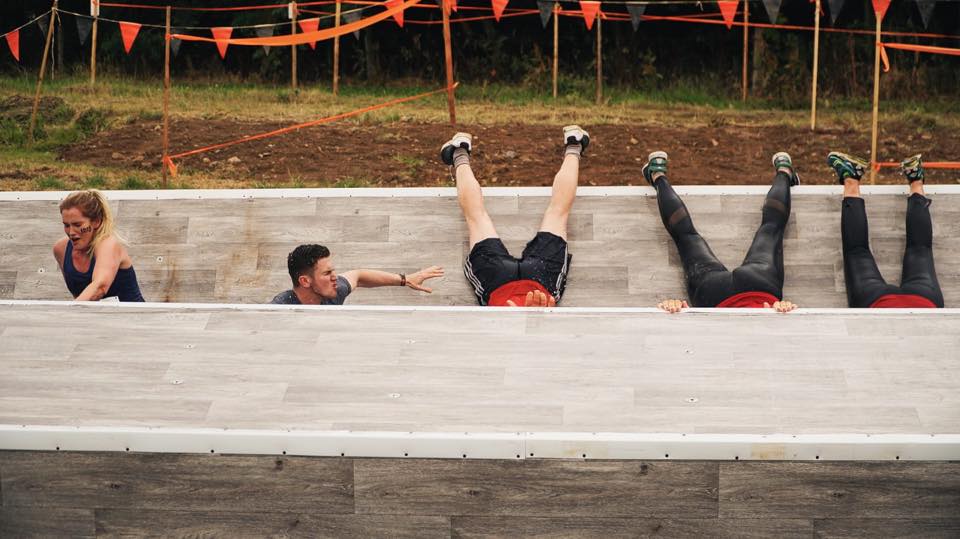 Tough Mudder is right on up there with some of the toughest events in Ireland. What can you expect from this intense race? Ten miles, 20 obstacles, 500,000 gallons of mud and a whole lot of craic. The main goal of the Tough Mudder is to encourage comradery. Before the gun goes off to signal the start of the race, a pump-up volunteer gathers all of the participants to remind the athletes about what this event is really about. It is not about how fast you can sprint across the finish line as you mow past people who try to scale a 50m tall wall — it is about stopping and helping someone else throw that person over the wall and into the icy waters on the other side!
Grab your friends and wipe some mud on your face before you wiggle under barbed wire and run full speed with logs on your back because this event is one that is sure to bring amazing memories!
Find out more on Tough Mudder.
Check out our Hard as Nails podcast:
Like this? Check out these other articles:

Previous Post

Next Post