The renowned German sea kayaker Freya Hoffmeister is coming to Ireland for a series of talks this February. It's an event that is not to be missed!
The East Coast Sea Kayaking Club together with Canoeing Ireland and the Irish Sea Kayaking Association is hosting a series of talks with sea kayaker extraordinaire Freya Hoffmeister. The first of which takes place on 19 February at the Teachers Club in Dublin.
If you are a sea kayaker or into endurance challenges you may have heard of one or two of Freya's achievements at sea. The endurance open ocean paddler has won the overall woman's category at the 2006 Greenland National Championships and won eight golds in Greenland-kayak rolling and racing. However, what she is most known for is her circumnavigations. Freya has completed circumnavigations of Australia, South America and Iceland by kayak. In 2016 she paddled around Ireland, covered the 1500 km in 43 days as a  part of a 'training run'. She is now in the midst of her biggest challenge to date, a circumnavigation of North America.
"It is like climbing mountains – they are getting higher and higher and more and more challenging. I am a (somewhat ambitious) sportswoman, not a traveller or a travelling photographer, and my mountains are just horizontal instead of vertical," she says.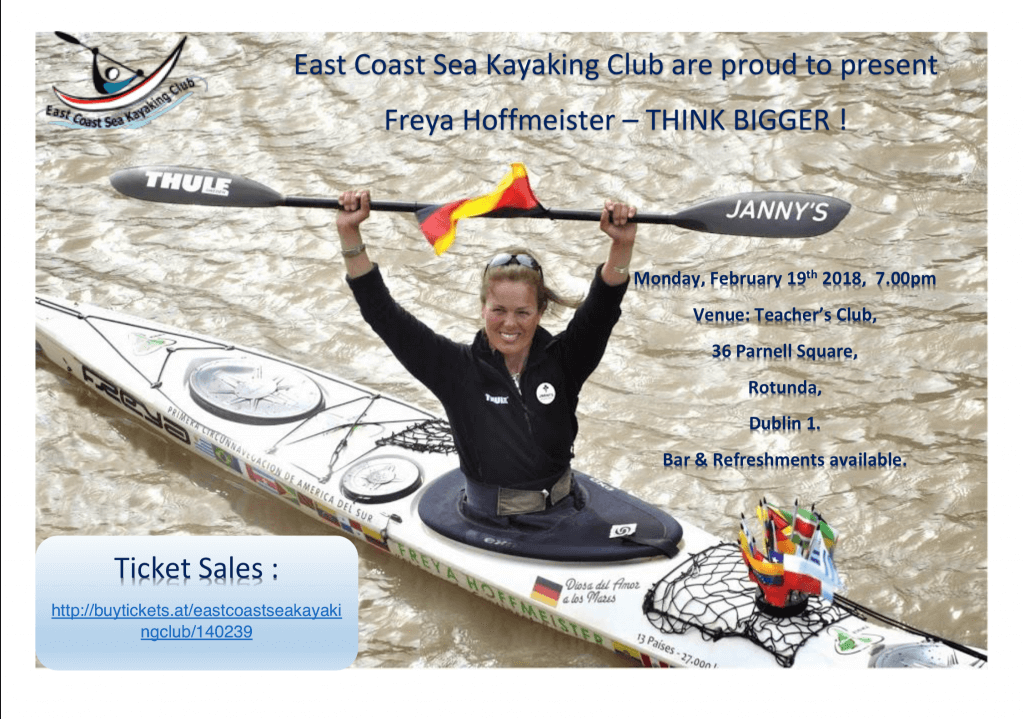 Having already completed a 27,000 km South America circumnavigation in her K1, Freya is now in the midst of doing her third continent, North America. She will cover a distance of roughly 50,000 km which she will do in blocks of 3-5 months at a time. If successful, Freya will be the first person ever to circumnavigate this continent by kayak.
Freya has slept in her kayak, paddled through many a night, fought massive waves and seen every weird and wonderful water creature including saltwater crocodiles, venomous sea snakes and jellyfish. She even survived a shark attack, paddling away from the incident with a bite and several bumps in her kayak. She has faced the elements at their best and their worst. And possesses what appears to be an insurmountable will and mental strength that has seen her overcome loneliness and fear on countless occasions. You really need to hear her story!
Tickets are €15 and you can purchase them here.
Like this? You should check these out: