Everything you need to know for an adventure in Co Donegal, from the best places to go to the best things to do on land and in water.
Donegal, where the accent is strong, the weather is harsh, and the welcome is warm. It is one of our favourite places for an adventure in Ireland. It's got the highest sea cliffs in Europe, the majestic Sliabh Liag, the chance of spotting golden eagles at Glenveagh National Park and Castle as well as some powerful surf. On top of all that, its got locally sourced fresh produce to stuff your face with, the magical Gaeltacht area, and a smattering of stunning islands to explore. Plus, it is only 90 minutes from Belfast and three hours from Dublin and Galway by car. Packed into this guide you will find things to do in Donegal when it rains, when its dry, for the individual and for families. Plus some of our favourite Donegal destinations and of course tons of outdoor activities to enjoy.
Things to Do in Donegal: On Land
Hiking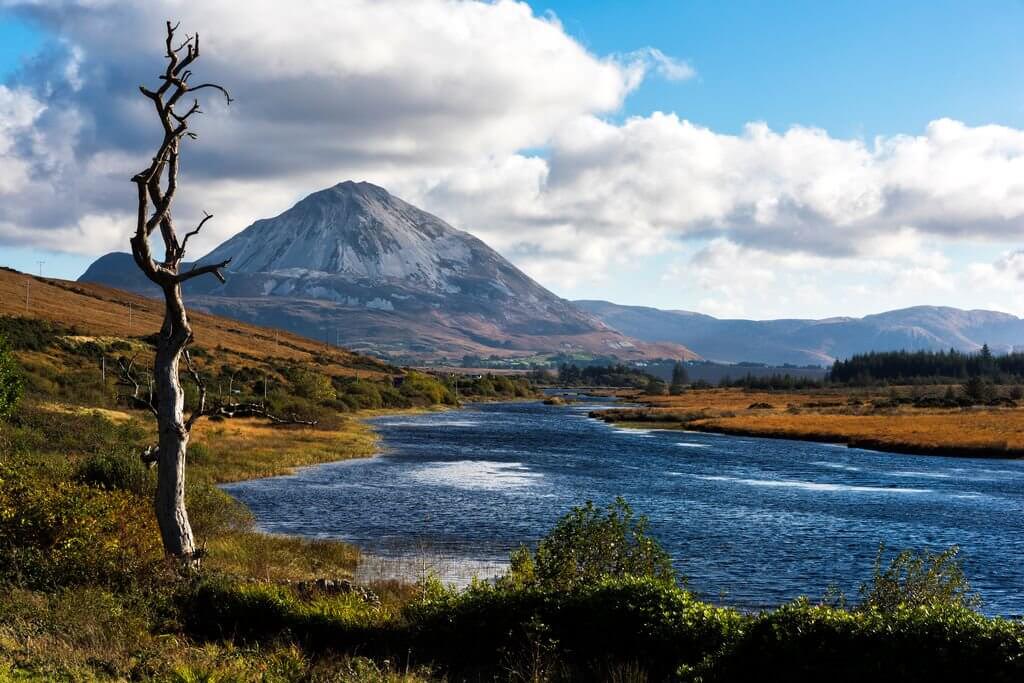 Donegal is brimming with beaches, mountains and trails to be walked and hiked this year. Take a leisurely stroll on the beautiful Moville Shore Path. The views over Lough Foyle will take your breath away. Then there's the Inishowen Peninsula Loop, which is a firm favourite of ours. An 8km coastal loop along bog roads, laneways, rough tracks and minor roads. The peninsula remains a relatively undiscovered part of Ireland and its wild and rugged beauty is sure to leave you wanting more.
For a long distance walk, then there is the Bluestack Way, a 65km route through a true wilderness area of Donegal that traverses the Bluestack Mountains. It takes in some idyllic scenic spots like Lough Eske, the ancient mountain graveyard at Disert and the Owenroe river to reach a bog road.
If it's climbs and mountains you want, there's plenty to keep you occupied in Donegal, including Muckish Mountain in the Derryveagh Mountains and the ever popular 751m Errigal. Of course, you couldn't come all the way to Donegal without exploring the dizzying heights of the Sliabh League cliffs. The summit is 595m but near the suitably named One Man's Pass they fall almost 500m straight into the ocean. For the best views, check out the Cliffs of Bunglas. For more walks check out our full list of hikes in Donegal.
Cycling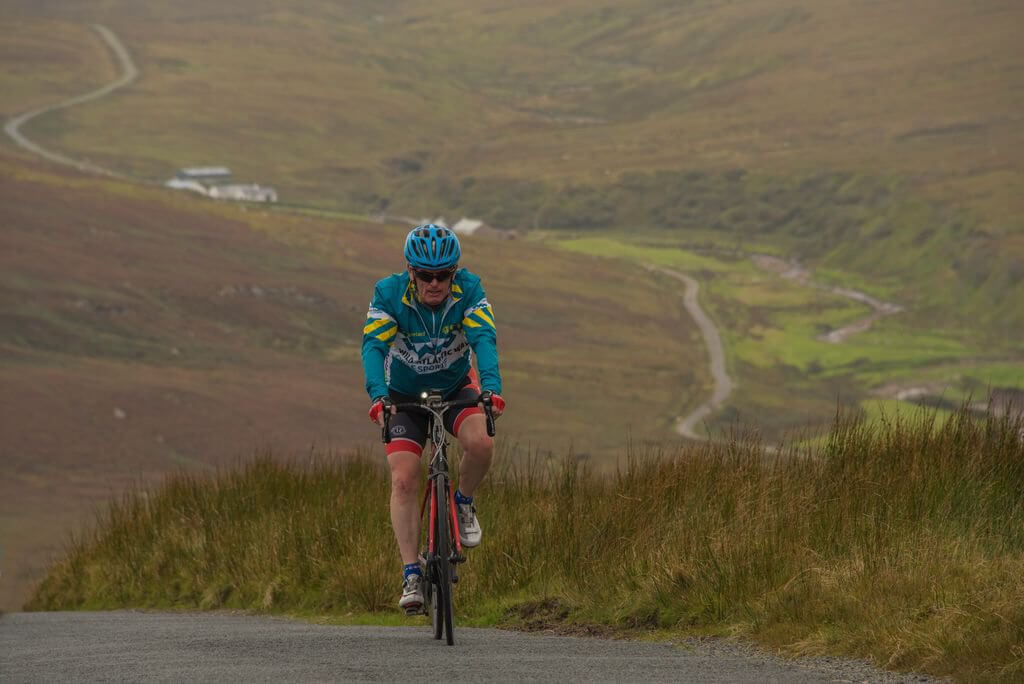 The are tonnes of great cycling routes to take a spin on in Donegal. The North West Cycle Trail is one of the longer ones at 326km. It goes through the counties of Donegal, Tyrone, Fermanagh, Leitrim and Sligo. For a shorter looped cycle within it, check out Route 1, a 39km cycle to Assaroe Lake. Encompassing everything you want on a spin; a series of short steep climbs, past the seaside and of course spectacular views. Another long one is the Donegal Cycle Route, a 200km scenic route which forms part of the National Cycle Network. This can be broken down into 14 stages, thankfully.
The Inis Eoghain Cycleway is a 55km loop connecting The River Foyle in Derry to Lough Swilly in Donegal. The big appeal of this cycle is that more than one third of the route is traffic free. The views are also something special overlooking Lough Swilly, Inch Island, the Inis Eoghain Peninsula and the Sperrin Mountains. There are plenty more loops for you to explore such as The Dooey Loop in Leitirmacaward, The Maghery Lop in Dungloe and The Bunlin Way Loop at Milford. And if you need to hire bikes, the Bike Stop is the place to call.
Boat Trips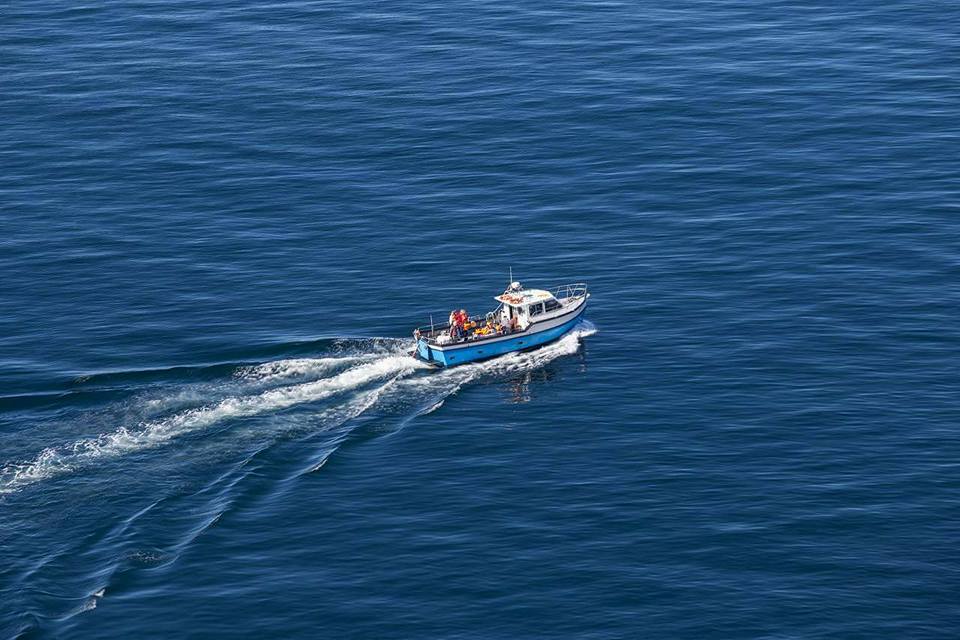 In April, Sliabh League Boat Trips will reopen its doors for the season and will show you the sites of the highest sea cliffs in Europe from the water. With a bit of luck, you will be joined by dolphins, whales and seals. In May and June, there's a good chance you will see some basking sharks. If the marine life isn't playing ball, then look upwards for the wide range of bird life that can be seen nesting and hunting. The highlight of the trip is definitely the opportunity to go for a swim beneath the towering cliffs. The 90 minute trip will open your eyes to the many wonders on this special part of the Wild Atlantic Way.
Climbing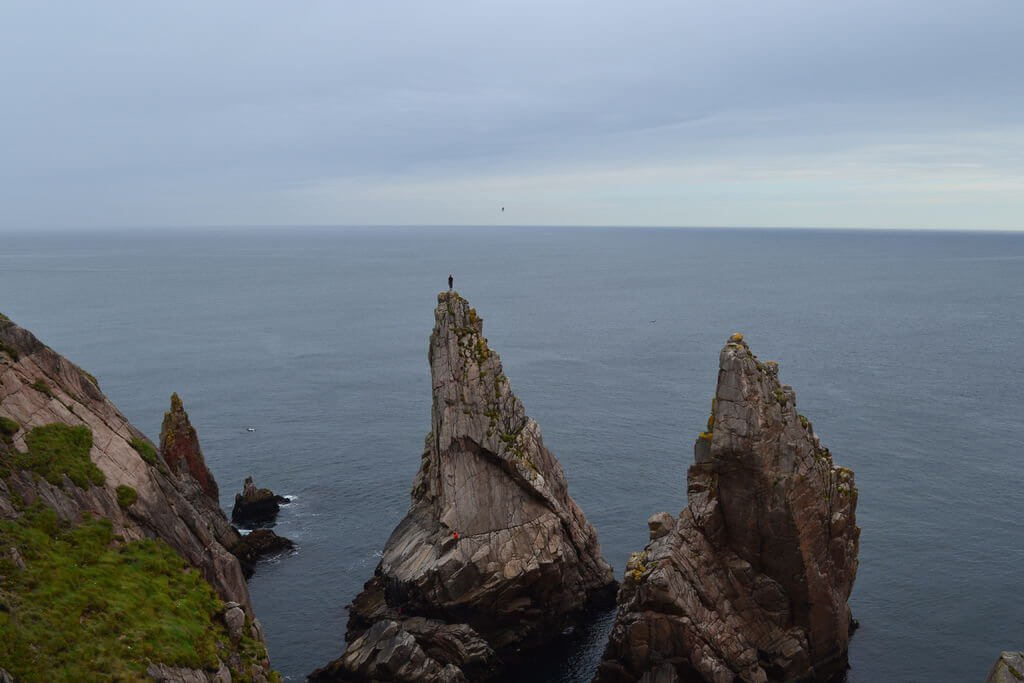 Donegal is without a doubt one of the best places to climb in Ireland, be it climbing a mountain, a rock or our favourite, a sea stack! The county of Donegal contains more climbable rock than anywhere else in Ireland, including one hundred sea stacks and the fantastic granite slabs of Malin Head.
If you don't know where to start, get in touch with local outfit Unique Ascents, which has spent the last five years exploring the better and lesser-known climbing locations throughout the county and have developed and recorded over 500 new routes in Donegal. Unique Ascents offers the opportunity for people of all abilities to visit and climb in places of outstanding natural beauty where solitude and a truly great outdoor experience is guaranteed. Their sea stack climbing is a must, read all about our experience of sea stack climbing in Donegal.
If you are venturing out alone, then the Poisoned Glen at the foot of Mount Errigal is a renowned venue in Ireland for climbing and mountaineering and has Ireland's largest continual rock face The Bearnas Buttress. If you want to climb at Malin Head or at Star Wars film locations for Episode VIII then Donegal Climbing is the provider for you. This area of Malin Head contains sea stacks and sea cliffs for you to practice your single and multi-pitch climbing, abseiling and rappelling.
Things to Do in Donegal: In Water
Surf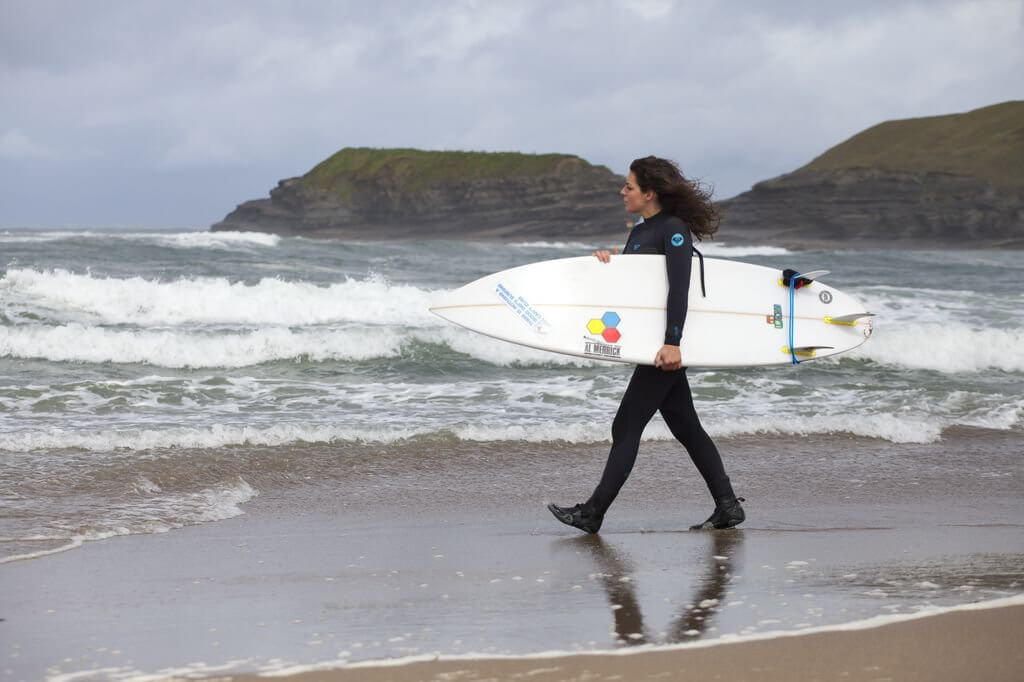 Donegal boasts a total of thirteen Blue Flag beaches and some of them have some sweet surf spots. Bundoran, Rossnowlagh, and Portsalon Beach are just the start of an abundance of hotspots. There is plenty of surf schools jumping up and down awaiting your business. In Bundoran, Surfworld Bundoran and Bundoran Surf Co. In Dunfanaghy, Narosa, in Rossnowlagh, Rossnowlagh Surf School and Finn McCool Surf School. And in Ballyheirnan Bay in Fanad, there is Adventure One. Most of the surf schools also offer SUP lessons and hire if you are looking for something a bit more relaxing.
Coasteering and Gorge Walking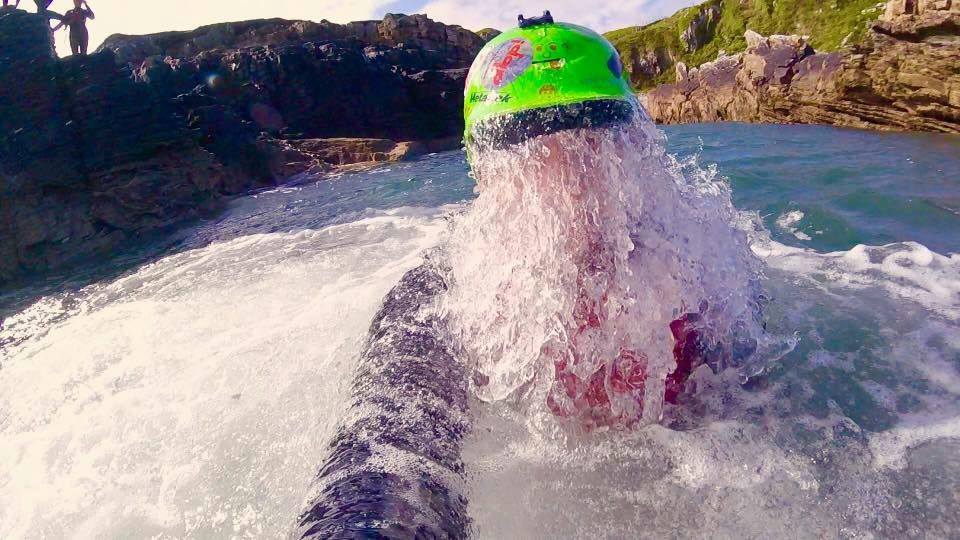 With miles and miles of jagged coastline, it was only a matter of time before coasteering caught on in Ireland. The sport involves climbing, swimming and diving and just generally exploring the cliffs at your disposal. Donegal's got some seriously impressive caves, blow-holes, and coastal cliffs to play on. A similar activity and a step up on the adrenaline stakes is gorge walking. It involves ascents and descents of mountain gorges and rivers using climbing techniques. Three things are guaranteed, you will get wet, you will be challenged and you will feel thoroughly alive! Gartan is the team to bring you on this exhilarating adventure.
Scuba Diving
Donegal is a bit of an Irish diving hotspot, its coastline been awash with the most beautiful and spectacular dive sites. Divers of all abilities will find a dive to suit them whether they want boat or shore diving. There are several wrecks dotted around the Donegal coastline for experienced divers to explore. Mevagh Dive Centre offer Scuba Diving Training all year round in their seawater swimming pool and then will bring you out to dive in some of the clearest waters in Ireland to do wreck, scenic or drift sea dives.
Kayaking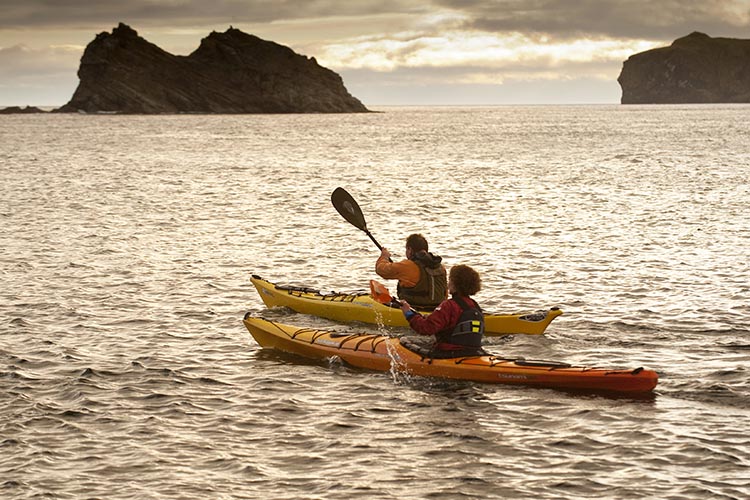 For the kayaking enthusiast, there is plenty to keep you entertained in Donegal. One such challenge is the East Inishowen Sea Kayak Trail, boasting stunning scenery, diverse wildlife and historical sites along the way. Take the plunge and push yourself to kayak this route. Take a look at our full account of The East Inishowen Sea Kayak Trail.
If that sounds a bit too intense, then why not try a two hour scenic trip with Rapid Kayaking for €25 per adult. They use user-friendly sit-on-top kayaks, cover basic paddling skills and run trips all over Donegal, including to Boatstrand Carrickfin, Kincasslagh Harbour, Cruit Island and Dungloe Lake. On their half day trip, you get to paddle along the stunning coastline of Donegal, visit isolated beaches, islands, caves, rocky coves and sea arches.
On the Fanad peninsula, there is Donegal Sea Kayaking or if you are a pro yourself then hire a kayak from Kitty's Kayaks and go explore yourself.
For a slower adventure and using canoes, then you must check out Inish Adventures. Crossing between Donegal and Derry, this idyllic canoeing experience along the River Foyle is incredible.
Sailing
There is an abundance of sailing schools and clubs dotted around the coast and lakes of Donegal. And we get the appeal, with a coastline that incredible, you're going to want to enjoy it from the water. The Rathmullan Sailing and Watersports School is a not-for-profit community-based initiative and an Irish Sailing Association (ISA) accredited Training Centre. They are based on Lough Swilly, a sheltered finger of water between Inishowen and Fanad. The perks of setting up camp on a lake are that it's small enough for beginners to feel comfortable getting on the water, and big enough for the more advanced to explore and test their skills. In Gweedore, Selkie Sailing offers three-hour taster lessons for €35.
Things to do in Donegal: Places to Visit
Places to Visit: Islands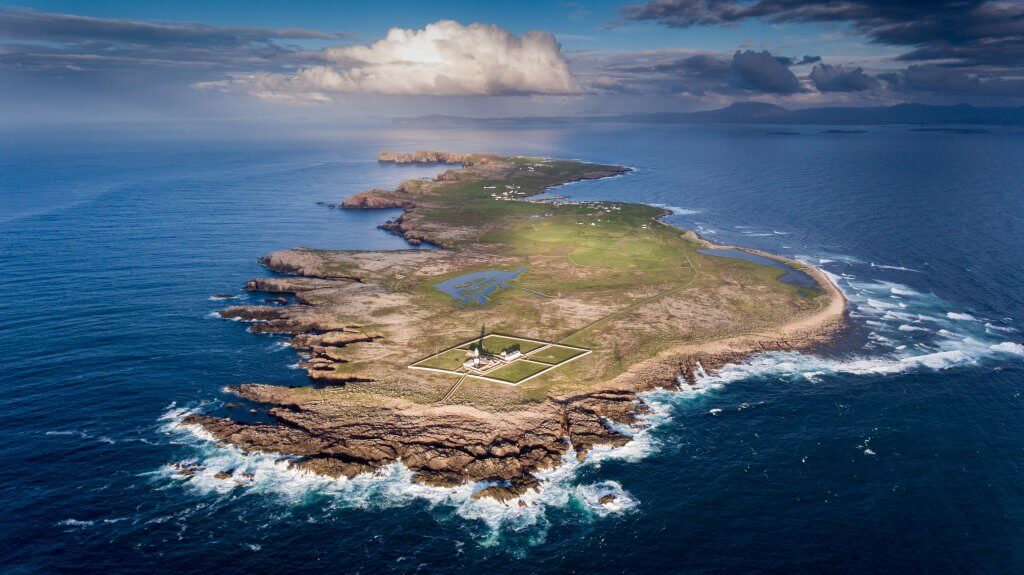 There is a fair whack of islands off the coast of Donegal. Most are uninhabited and most make for great rock climbing, bird watching or just for generally wandering in. Cruit Island, Gola Island and Owey Island are some of our favourites.
Tory Island
Situated 14.5km from the mainland, Tory is one of Ireland's most remote islands. Steeped in history, mythology and folklore, Tory is home to an Irish-speaking community of just 130 people who funnily enough are led by a king; a fellow islander elected by the people. Tory must be visited if you want to really see the rugged beauty that holds such an attraction for its inhabitants that they endure the full fury of the North Atlantic winter for the pleasure of living here in summer. The island is home to incredible swimming spots, walks and diving too. The sunsets on Tory Island are also mind-blowing.
Arranmore Island
Arranmore is one of Ireland's largest inhabited islands and has plenty to offer the enthusiastic explorer. Its clear waters circling it are ideal for diving, sea angling, sailing, and kayaking. As for on land, it has several coastal and inland walks. Or bring/hire a bike and go explore its hidden gems on two wheels.
Places to Visit: Mainland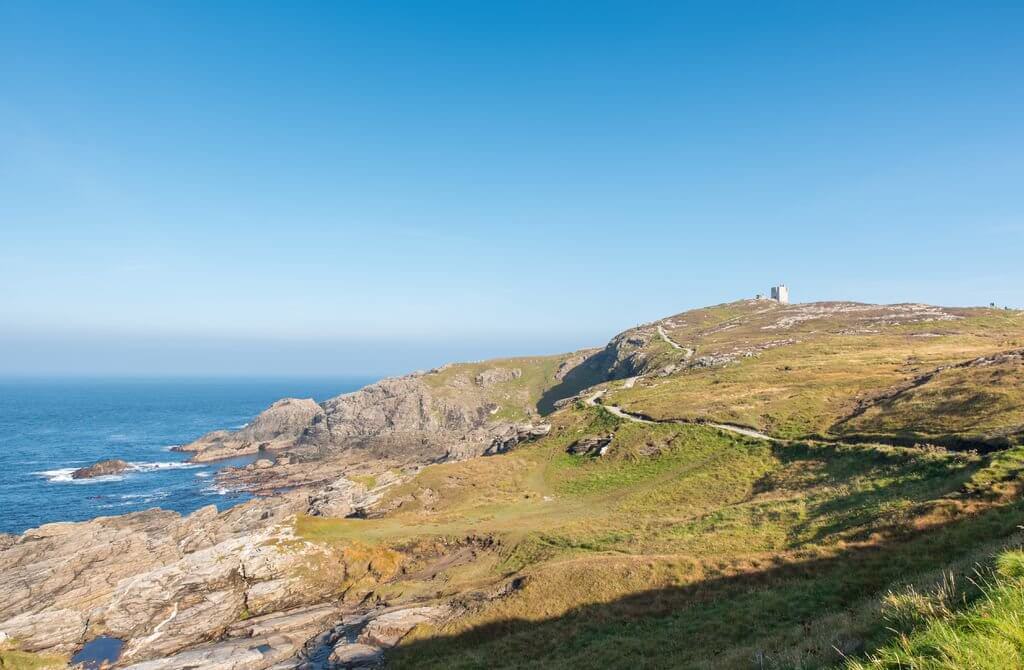 Inishowen
Donegal's Inishowen Peninsula has long been fondly referred to as Ireland in miniature. It is simply stunning. Depending on when you go, you may just have to enjoy the views sitting down, as this is the windiest place on our little rock. Up on the headland is Banba's Crown, a tower built by the British at the turn of the 19th century in case Napoleon ever decided to visit. Below on the cliff edge, you will find the EIRE sign made up in nicely painted white stones as a reminder of our neutrality during the World Wars for whoever was flying over. So historically, geologically and aesthetically, this remote spot has a lot going for it. Have a read of all our favourite things to do in this wonderful part of the county.
Malin Head
Malin Head is the northernmost point on the Irish mainland and marks one end of the Wild Atlantic Way. It is best known for being the start point/end point of the length of Ireland cycle, Misen to Malin/Malin to Misen. While there, why not go rock climbing and abseiling or visit Glenevin Waterfall. Enjoy a pint at Farren's Bar, the most northerly pub in the country or a coffee at Caffe Banba. If you're here at the right time then you might even catch a glimpse of the Northern Lights.
Fanad Head Lighthouse
Tucked away within the Donegal Gaeltacht area, is Fanad Head Lighthouse, voted one of the most beautiful lighthouses in the world. The area boasts all the rugged beauty typical of Donegal. Plus whales, porpoises and dolphins regularly visit the area so keep your eyes peeled. Just down the road is the 150 feet tall Great Arch on Lough Swilly, another stunning viewing spot that is not to be missed.
Check out our Hards as Nails podcast:
Like this? You should check these out: