From ultra-marathons to multi-day adventure races, Outsider's Heather Snelgar usually spends her time outdoors pushing herself to the limits. However, she recently found out that slowing it all down can be just as rewarding. Heather spent two idyllic days canoeing on the River Foyle with Inish Adventures and loved every minute of it. This river adventure is just one of 10 slow adventures that have been put together that explore Derry and the surrounding countryside.
A light breeze whistles through my hair as we bob effortlessly down the River Foyle. Every so often the sun peeks through the clouds and shards of light bounce off the water like dancing fairies. In the distance, a siege of herons (yes that's the collective noun, I've just learned!) take flight, soaring high into the patchwork sky. It's nothing short of enchanting.
Just a few hours earlier, I had been standing under dark grey skies in a nondescript car park on the outskirts of Derry City. Wiping sleep from my eyes, I was completely exhausted after a few hectic deskbound weeks of work. I was wondering how I was going to muster the energy for a 15-mile paddle, broken up by an overnight camp on the riverbanks.
7 of the world's toughest ultra-marathons
However, my world-weary fatigue was short-lived once I met John and Adrian from Inish Adventures. With infectious energy the duo went through a quick kit inspection. "Do you have wellies with you?" asked Adrian. "I looked down at what I thought was an impressive kitbag. I had booties, waterproofs and lots of warm layers. I even had my gardening gloves, my secret weapon for avoiding blisters when paddling." "Ha! No wellies? You'd know you were a city girl," chuckled Adrian good-naturedly.
Welly shaming done and dusted, I hopped into their van for the 30-minute journey to our starting point in Strabane. John and Adrian chatted enthusiastically about a recent paddling expedition to Norway. I knew I was going to be in good company for the upcoming 24 hours.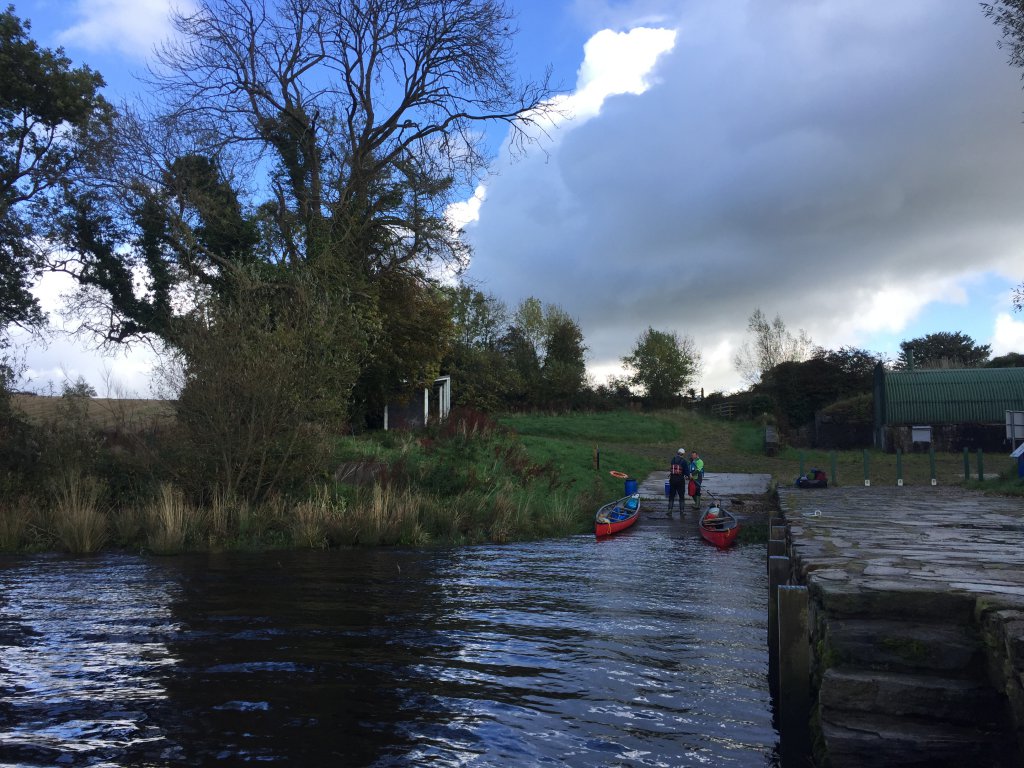 As we launched our canoes, laden with everything from tents to sirloin steaks, I was delighted to see that the tide and the wind were on our side, the sun was on our backs and the views out across the green fields of Donegal and Derry were nothing short of idyllic. The day was definitely looking up.
"Left or right," hollered Adrian. "Left," I screamed in reply. Little did I know the significance of my choice. Legend has it that a barrel was once thrown into the water where the river channel divides around Inishmor, a four-mile long island near Strabane. The path that the barrel took was to determine whether the island was to be on the north or south of the border. "They clearly didn't know much about the flow of water back then," chuckled John. Apparently, the barrel would always go right and so the island has remained part of Donegal ever since.
We had covered four miles with little effort and I could feel all of my stresses start to melt away.
I was surprised at how quickly we reached the end of the island. We had covered four miles with little effort and I could feel all of my stresses start to melt away. We paddled at a leisurely pace, taking time to stop and observe the wildlife and admire some of the historical buildings that are dotted along the riverbanks.
Before I knew it, we had reached the Gribben, a mid-19th-century salmon processing building with an icehouse and pier. Nowadays, it is home to a shelter and a nice piece of grass overlooking the water which proved the perfect place to pitch a tent. As I stood there admiring my tent pitching skills, I once again took note of how relaxed I felt and how serene the environment around me was. We had paddled seven miles but I didn't feel like I had done a thing.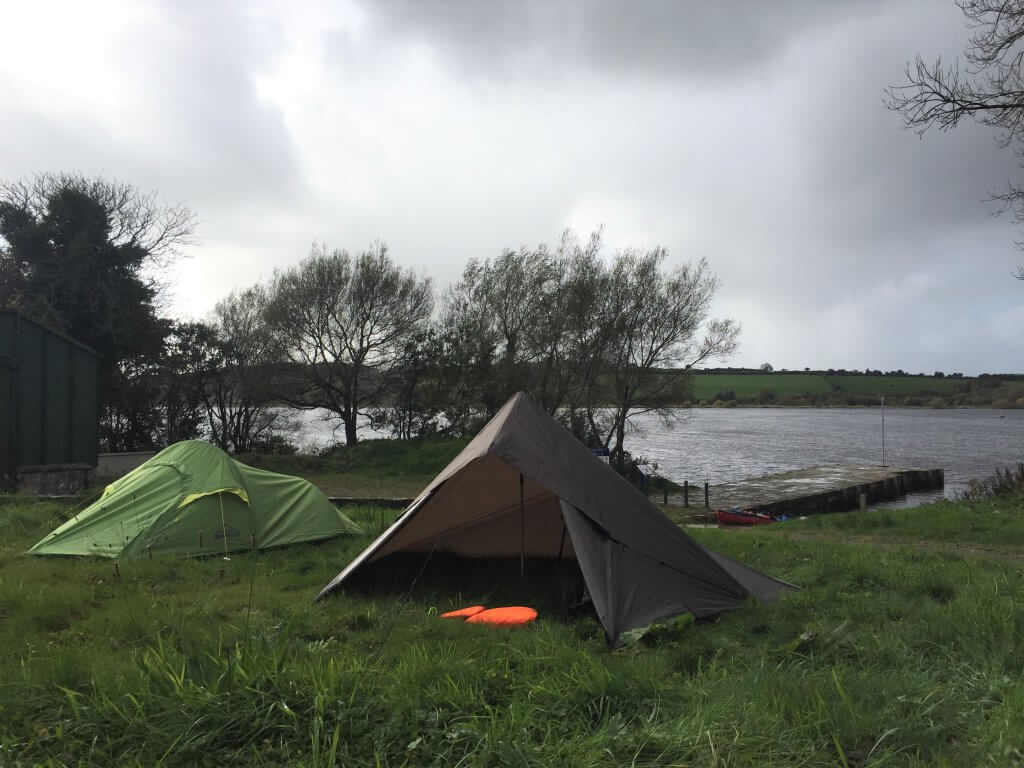 "Heather, I hope you eat meat," the blissful silence was interrupted by the sound of Adrian's strong Derry accent. "Otherwise we're screwed," he hollered. I followed the sound of the voice to a small sheltered area tucked away behind some trees. I looked down to see sumptuous chicken kebabs, fat sausages and juicy looking steaks laid out ready to be cooked as Adrian sparked the portable BBQ. My mouth started to water; it all looked so delicious and every mouthful tasted just as good as it looked.
Best wild-camping spots in Ireland
With our belly's full and stories of past adventures shared, we called it a night. Off we headed to our tents for one of those blissful, fresh-air fuelled sleeps accompanied by just the sounds of lapping water, the breeze gently flapping the canvas and the odd crow squawking a goodnight from the trees.
You can have an adventure that is also relaxing and not too taxing. It's about taking it easy, taking in your surroundings.
As I emerged from my tent the following morning, it was apparent that John and Adrian had been up for some time; the tea was made, the cereal poured and the lads were busying themselves with some large swaths of fabric down at the pier. "What are those for?" I questioned. "Oh we are just getting the sails ready," replied John casually. "Sails?" I said scratching my sleepy head.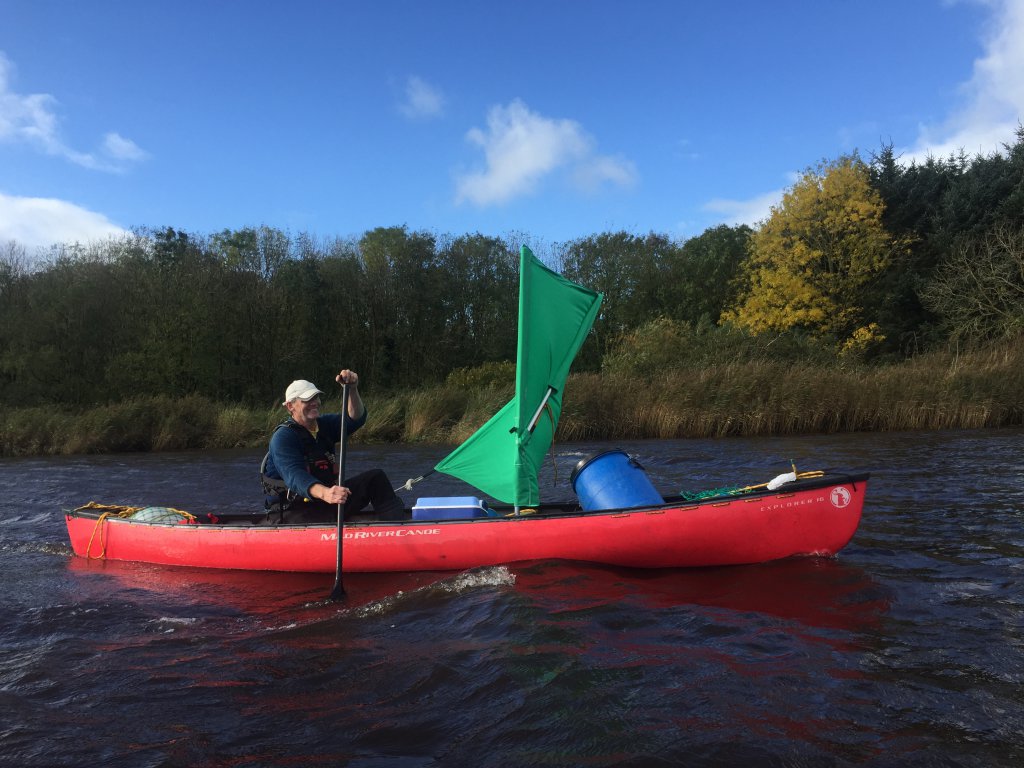 "This is what slow adventure is all about," began Adrian. "We are trying to show people that you can have an adventure that is also relaxing and not too taxing. It's about taking it easy, taking in your surroundings. So we use a sail for the canoe to take the pressure off if the wind is right," he continued.
The idea of slow adventure was quite the alien concept to me. My time outdoors is usually spent in training mode, pushing myself hard. But at this halfway point on my virgin slow adventure, I found myself in enthusiastic support of the concept. It was really heavenly and a great novelty to slow it all down, taking the time to relax and really absorb my surroundings – the dancing grasses, the birds flitting by and the light shining on the river.
By the time I returned to my car some 26 hours after I set off, I felt like I had been away for a week. John and Adrian had proved to be not only fantastic guides, but also lovely company. As I set off back home I couldn't help but think that if everyone could commit to just one slow adventure a month, or even a year, the world would be a far happier place!
Slow Adventure: Paddling on River Foyle – The Essential Information
The two-day Great Foyle Kayaking and Wild Camping Trip costs £179 per person and includes:
all equipment
food cooked by chef Darren Smith
local craft beers
A day trip is also offered for £85 per person.
Other slow adventures in the area include:
cycle, hiking and horse riding tours through the Sperrins, sampling the very best local produce along the way
food foraging excursions
stand-up paddling adventures along the River Foyle
For further details of these trips and the other tours on offer, check out www.slowadventureni.com
Check out our Hard as Nails podcast:
Like this? You should check these out: