Lofoten is an archipelago of islands in northern Norway. We recently spent a little over a week there, hiking, running, camping, surfing and swimming our way around this magical landscape.
View our interactive Lofoten Map
Getting There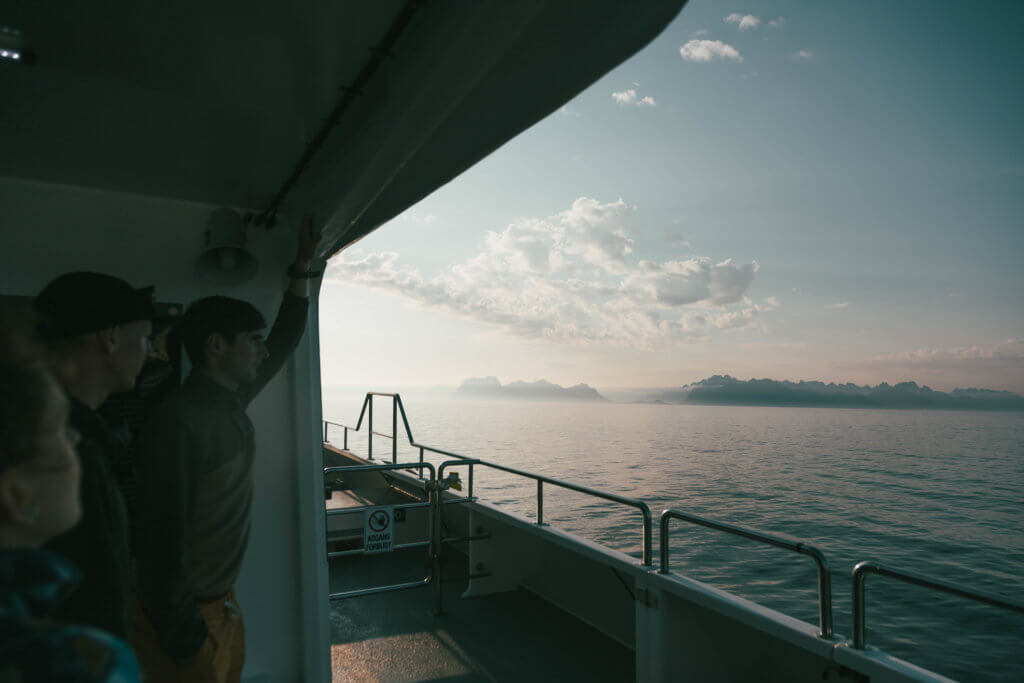 Train & Ferry
As we were travelling from central Norway up to Lofoten, we opted for a 10-hour train journey from Trondheim to Bodø, before catching a ferry to Svolvær (booked on Entur). The train was surprisingly manageable. We got free coffee, tea, lefse (a traditional Norwegian cinnamon pancake) and a sandwich for the trip. The journey was an excellent way to experience the countryside of Norway and gain an understanding of the scale of it. A highlight of this trip was crossing the Arctic Circle. As we approached the 66th degree of latitude the train slowed down to give us a moment to appreciate it.
Our train was scheduled to arrive in Bodø 15 minutes before our passenger ferry departed. We knew it was likely to be close, especially when considering the likelihood of delays over a 10-hour journey. Sure enough, as we approached Bodø, we had less than 5 minutes to make our way across the town to the ferry port. A particularly unpleasant run across Bodø with our large bags of camping equipment followed. We luckily made it just in time for the ferry. The ferry crossing was beautiful. As we gradually made our way closer to Svolvær Harbour, we were in awe.
It is worth noting that there is another ferry that goes from Bodø to a town called Moskness in Lofoten. This is a car ferry and is free for foot passengers!
Direct Flight
One of our group was travelling directly from Ireland and flew to Svolvær. A travel day that involves 3 flights from Ireland. This is only a good option if you are visiting for a short period of time. You can however link up flights from Dublin to Oslo, Oslo to Bodø and Bodø to Svolvær in one day. The approach into Svolvær is absolutely breathtaking and if you are travelling in the summer, as we were, the 11 pm arrival time was paired with some stunning golden colours as the sun was low in the sky.
Drive
Another way of getting to Svolvær is by driving there. During our time in Lofoten, we came across loads of Europeans who had driven up. This is an awesome option if you have the freedom and time to commit to a long trip. A huge perk of this is that, if you are car camping or campervanning, you would be able to save money on accommodation.
Is Lofoten Expensive?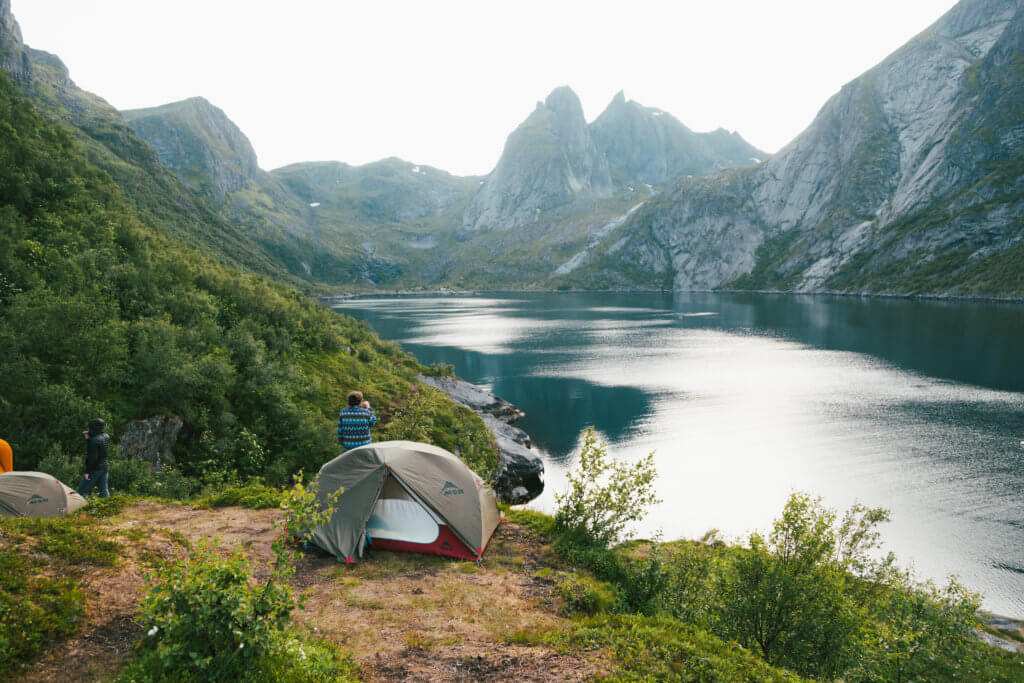 We heard from friends and read online that Norway was an expensive country to travel to. With this in mind, there were a few things that we did to minimise costs:
Travel in a group
One of the most significant expenses for our trip to Norway was accommodation. One way that we decided to minimise this was by travelling in a group. This obviously meant that we had to book larger places, but it also meant that we could divide the cost between us, which ended up working out cheaper. This resulted in us being able to afford a few nights in some very nice, well-situated Airbnbs during the trip.
Wild camp
It is legal to camp almost anywhere on the Lofoten Islands. There are a few exceptions but these are well signposted. This is, of course, free accommodation and in a few cases the campsites were even near facilities such as a toilet or bathroom. We have pinned some of our favourites to our map.
Shop in supermarkets
Eating out is definitely not the way to go if you are on a budget. While it can be nice to treat yourself once or twice, any more than that will eat into your budget very quickly! We have included our recommendations on the map. We stocked up on easy-cook on-the-go essentials, fruits and vegetables in supermarkets as we went. It is worth bearing in mind that once you head further west than Leknes you will not find any large supermarkets. For this reason, we did a final large shop here and then just topped up as required in the smaller, more expensive convenience shops.
Getting around Lofoten
Buses
There are buses that run along the main road in Lofoten which are decently punctual and efficient. They are, however, quite expensive, especially if you do not plan on using them more than a few times. There is an app you can download if you intend on using the bus more than a few times and this will reduce your fee.
Rent a Car
We rented a car from Rent-A-Car Lofoten for 5 of our 7 days in Lofoten. Split among 5 people it worked out at €125 each including petrol. Considering that this is about the cost of a one-week travel pass for buses it made sense, especially considering the amount of gear we had with us. We organised a point-to-point rental which meant we could pick up the car in Svolvær and leave it in Moskenes, where we were getting the ferry back to Bodø. The car we got from Rent-A-Car Lofoten showed significant signs of use when we picked it up and it had a few quirks, including doors that would lock themselves! However, the guys at Rent-A-Car Lofoten were extremely relaxed and easygoing. The same could not be said for our experience with Hertz earlier in the trip.
Hitchhike
It's possible to get quite far hitchhiking in Lofoten. Especially in the most westerly part of the archipelago. This is because there is only one road and it is likely that people are going where you want to go. With that said, a huge amount of the traffic on the roads in Lofoten are tourists with cars full of bags or two-seater campervans. In order to maximise our efficiency we would aim to time our hitchhikes 10-20 minutes prior to a bus passing. This way we had a cut-off and could always pay for a bus trip if we needed to. This never happened, we were picked up within 15 minutes of starting.
A 7-day itinerary in Lofoten
Day 1-2 – Svolvær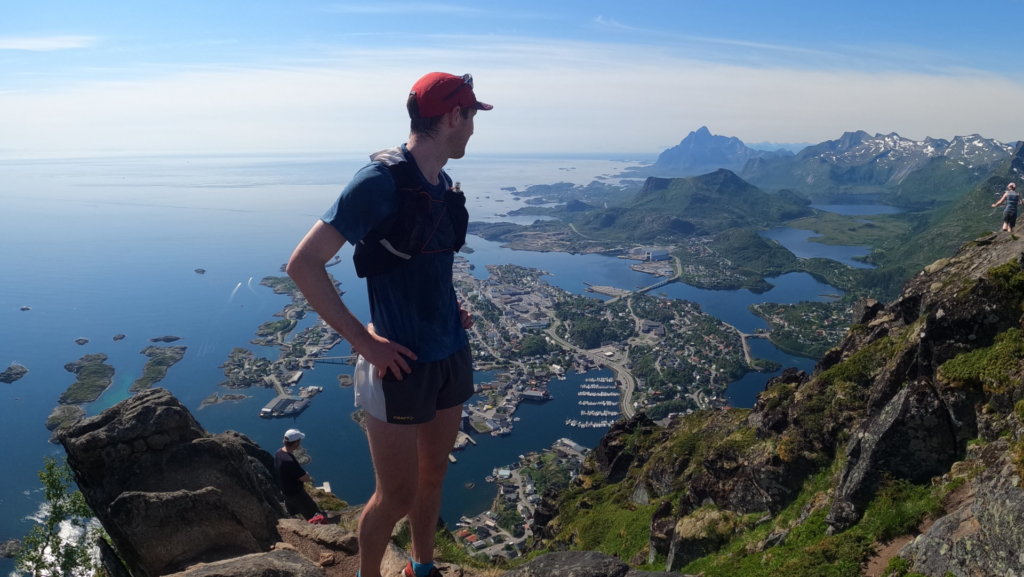 Arriving in Svolvær off the ferry we made our way to an Airbnb that we had booked for three nights. Located just outside the town, this gave us some time to do laundry, home cooking and enjoy the area. We took on the famous steps at Floya that were laid by Sherpa, climbed the nearby peak of Blåtind and enjoyed time at Svolvær beach.
One of the main reasons we went to Lofoten was to take part in the Hoka Lofoten Skyrace. We took on the 32km course which included over 1600 meters of elevation gain. The race traversed the island and provided some epic views, stunning trails and awesome ridges.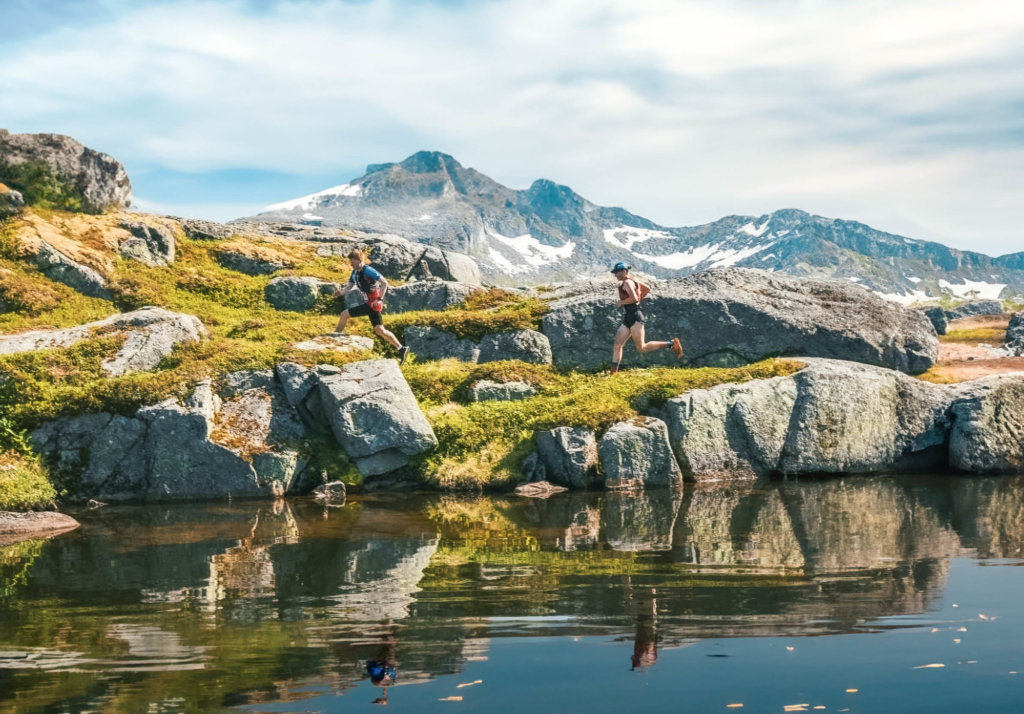 After the race, we enjoyed a relaxing day of washing, shopping and preparing for the upcoming days.
Day 3 Henningsvær and Unstad Surfing
We collected our rental car from Svolvær town centre and headed west towards Henningsvær, a rock climbers' paradise. As we approached the town we noticed that the surrounding granite cliffs were dotted with climbers. One of the most well-known parts of Henningsvær is the football pitch. The pitch is perched at the very end of a rocky peninsula jutting into the sea. We enjoyed a coffee and snack in the "climbers café" with old-fashioned rock climbing equipment hanging from the walls.
We then made our way to Unstad, an unassuming corner of the archipelago accessed through a tunnel. Emerging from the tunnel you are greeted with a beautiful valley, steep mountains sheltering the pristine sandy beach. Unstad is now well known as a bucket list surf destination. We rented boards and thick wetsuits (with a hood, gloves and booties) from Lofoten Surf Senter and headed down to the waves. We spent the afternoon surfing, floating and generally being pushed about by the waves!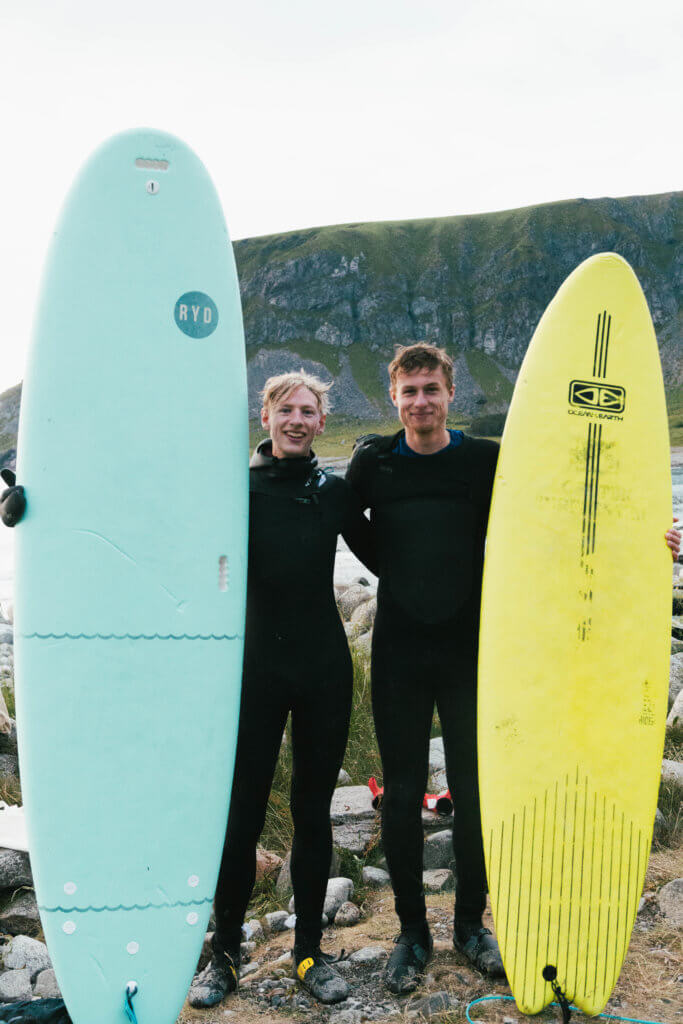 Before bed one of the members of our group floated the idea of a midnight surf. In theory, this was an amazing idea; in practice, the act of putting on a wet, cold wetsuit when your circadian rhythm is winding down was beyond challenging!
Midnight, floating on a surfboard above the Arctic Circle, golden light hitting the surrounding peaks – a pinch-me moment.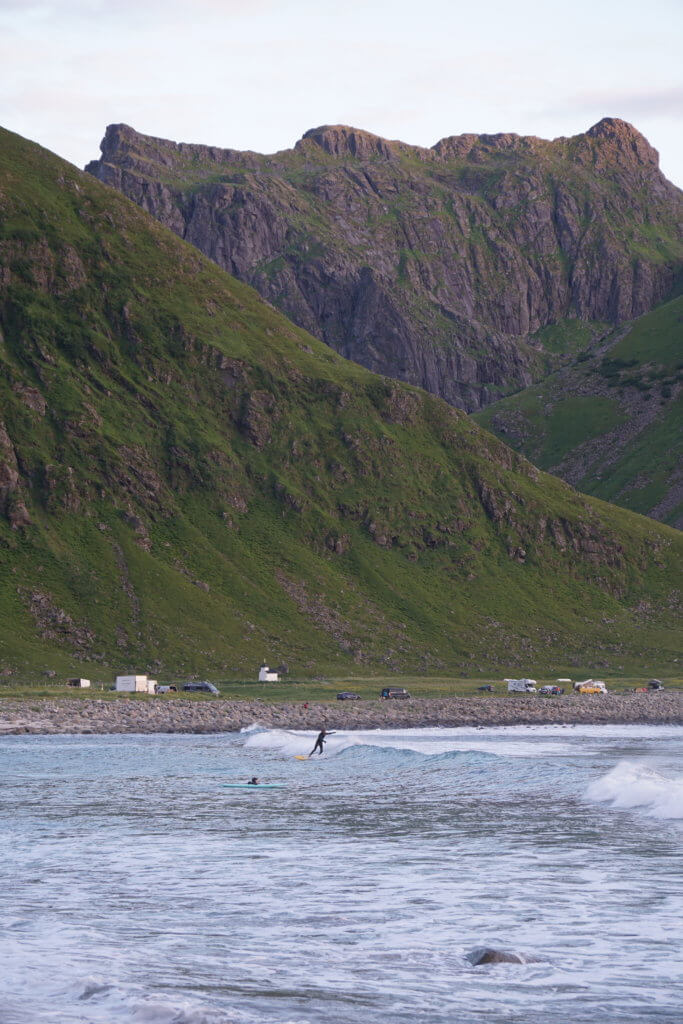 Day 4 Unstad – Kvalvika Beach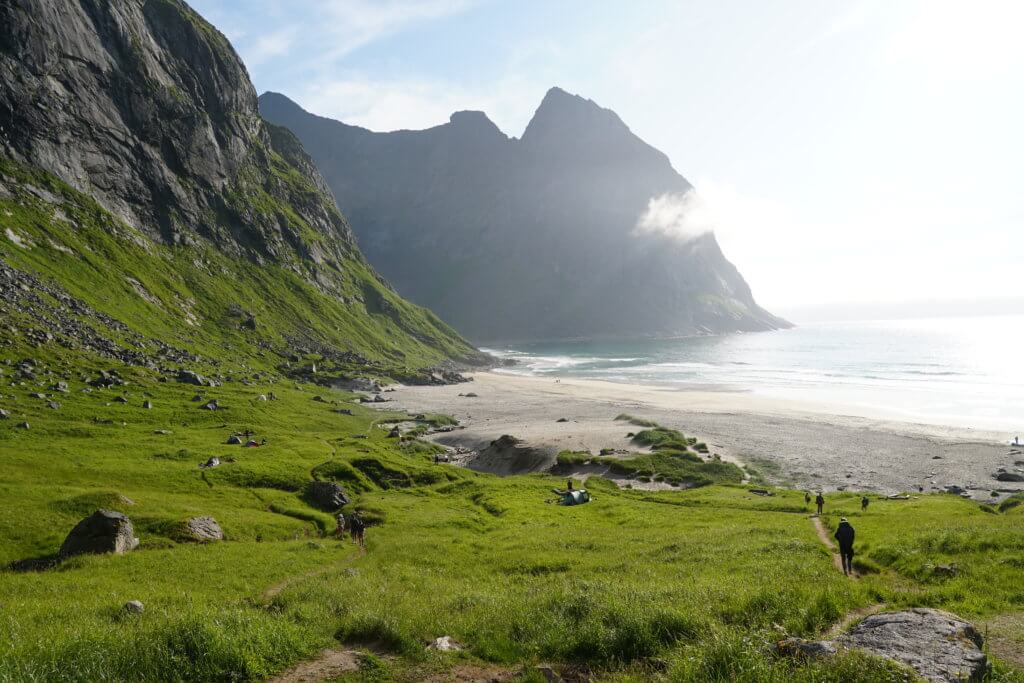 A relaxed morning was enjoyed at Unstad, eating breakfast, drinking coffee, washing our dishes at the nearby facilities and packing up camp. We decided before we headed on we would climb up a nearby mountain and see what Unstad looked like from above. We were shocked by what we found; a long stretch of 10/10, single track along an exposed ridge. This was possibly the nicest trail we experienced in Norway.
We packed up and headed to Unstad Arctic Surf before leaving. We had to try their "best cinnamon buns in the world" – a bold claim! The consensus was that they were delicious, particularly after climbing a mountain. However, setting us back almost €10 per bun, we felt marginally silly for falling for the marketing!
A stunning drive along the fjords with a roadside lunch stop en route followed. We parked up and packed our bags for a short hike to Kvalvika Beach for the night. This 2km jaunt over the hill meant the campsite was inaccessible to cars. We are sure that if it was closer to the road, it would have been far busier. This beach was like something out of National Geographic. Huge granite cliffs overlooking a long sandy beach. We pitched up, cooked dinner and headed to bed.
Day 5 Kvalvika – Bunes Beach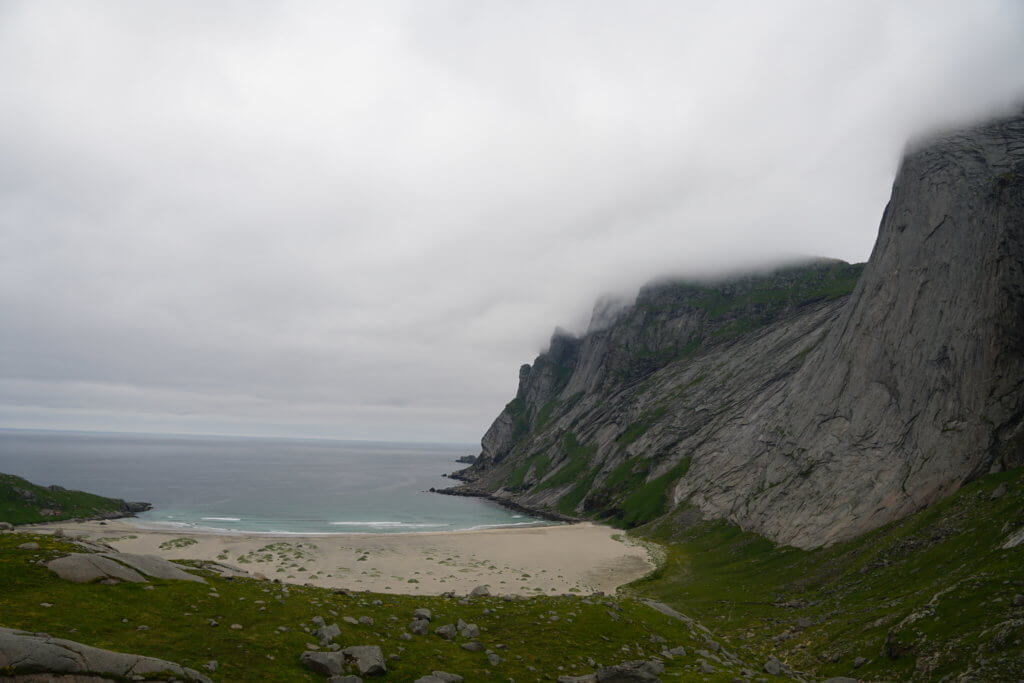 We woke up to the sound of rain on our tent. This was the first time we had experienced rain on our trip! We packed up the tents as best we could and headed back to the car. Luckily, the rain had stopped by the time we reached the car, so we hung the tents on the car to dry off.
A very well-placed advertisement caught our attention – "Coffee, shower, wifi". We made a plan and headed there after breakfast. Gammelbutikken på Krystad translates to "The Old Shop at Krystad". Set up by locals, this small establishment sells some handmade clothes and local goods. It also sells showers, and after a few days of camping, running and hiking, this was most welcome. We sat and had a cup of coffee and homemade gingerbread feeling brand new after our showers. By now the day had completely cleared up and our gear was almost completely dry again.
We drove to Reine and got on the small ferry that connects a few small villages around Reinefjorden. Costing only €8 for a return ticket to the other side of the fjord, this was an awesome way to experience the fjords, especially when you consider that you could easily spend €100 on a "fjord tour".
We got off the ferry in the "village" of Vindstad. Nobody else got off here. We made our way through this isolated, roadless, quiet hamlet towards our camp spot for the night.
Bunes Beach was very like Kvalvika if it was multiplied by 5. The majestic Helvetestinden towered over the beach, which is almost a kilometre from back to front. We pitched up on a patch of grass above the beach and admired the magnitude of our surroundings as we enjoyed our rice and beans.
Day 6 Bunes – Å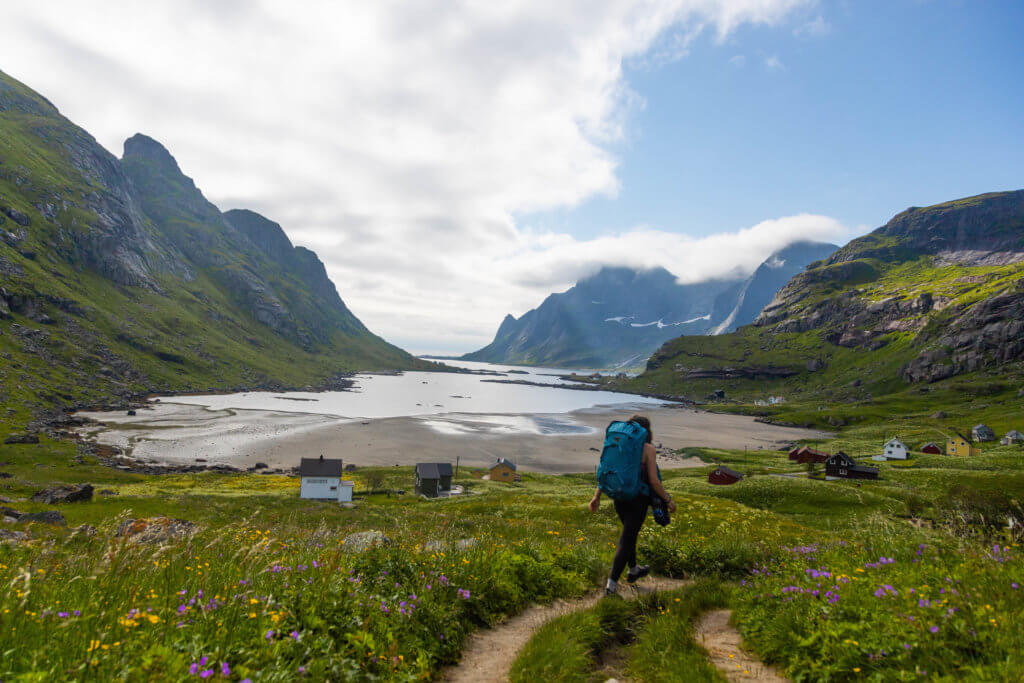 The ferry brought us back to the car via some of the most impressive fjords we had ever seen. A quick coffee and phone-charging stop in Reine before we headed for the end of the road. The road ends at Å (pronounced "aww"), where we parked up and went for a walk, run and swim around a nearby lake.
We treated ourselves to a meal in a restaurant called Brygga in Å before making our way to a nearby wild camping spot.
Day 7 Moskenes – Bodø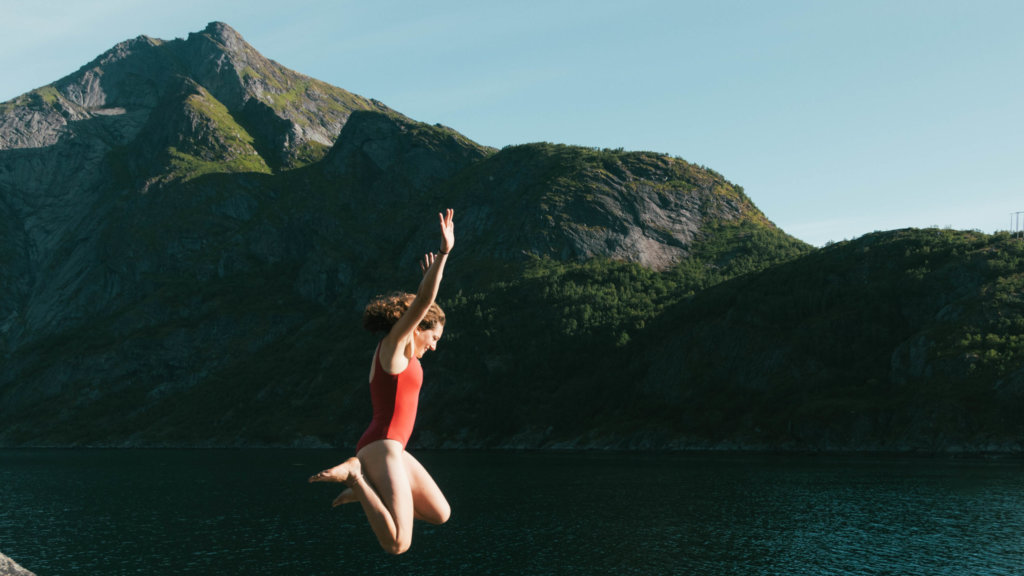 Waking up on our final day, we had a ferry to catch. We drove the car back to Moskenes and returned it, and a short time later our ferry arrived. This ferry is free to foot passengers so we walked on, giving our name to one of the ferry employees as we did so. The ferry takes approximately 3 hours, which was the perfect amount of time to look at photos and reflect on what an amazing week we had in Lofoten.
Like this? You might enjoy these:
Our Once In A Lifetime Colombian Trail Running Adventure
Bike Packing to Ultra Trail Snowdonia