There are infinite ways to find fun and adventure, countless places to go looking and even more ways of going about it. One tried and tested method is the classic road-trip with only the open road, your sense of adventure and the price of petrol holding you back anything can happen. Declan Cunningham suggests some of his favourite things to do and places to go along Ireland's Wild Atlantic Way.
Iconic roads like the Great Ocean Road or Route 66 call for a heavy right foot and a soft-top but what is the journey without a few stops along the way? Surely the line needs to join some dots en route and that to me is where the Wild Atlantic Way comes into its own. Not only is it the longest coastal driving route in the world but with a west coast even Norwegians are jealous of – think jaw-droppingly beautiful cliffs, amazing surfing waves, remote islands and hills all along the route – I wasn't going to stay in the car for long.
Now we've had a west coast for as long as I can remember but we have an awful habit of ignoring the stuff on our doorstep so no matter where you live in Ireland, there are parts of the west that are like little boxes in the sand…they just need someone with inquisitive little fingers to pry them open and discover their overlooked treasures.
Start at the beginning – the Inishowen Peninsula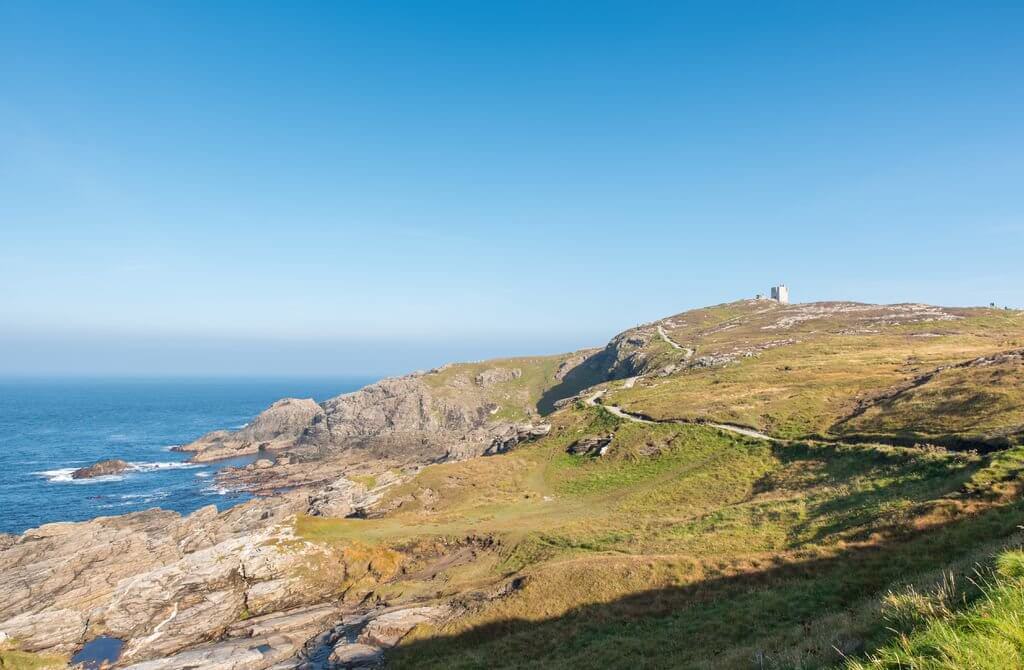 A good place to start is always the beginning, and up on Donegal's Inishowen Peninsula, you'll get your windswept introduction to our most northern point. Its gentle coastline tracks at our rough, northernmost fringes, may not be overly challenging but they are immensely enjoyable. And, depending on when you go, you may just have to enjoy the views sitting down, as this is the windiest place on our little rock.
Up on the headland is Banba's Crown, a tower built by the British at the turn of the 19th century in case Napoleon ever decided to visit. Below on the cliff edge, you will find the EIRE sign made up in nicely painted white stones as a reminder of our neutrality during the World Wars for whoever was flying over. So historically, geologically and aesthetically, this remote spot has a lot going for it.
Taking a ferry across Lough Foyle is a nice little detour too if you want to visit Benone Strand or the Giant's Causeway.
Climb Errigal and Explore the Wild Derryveagh Mountains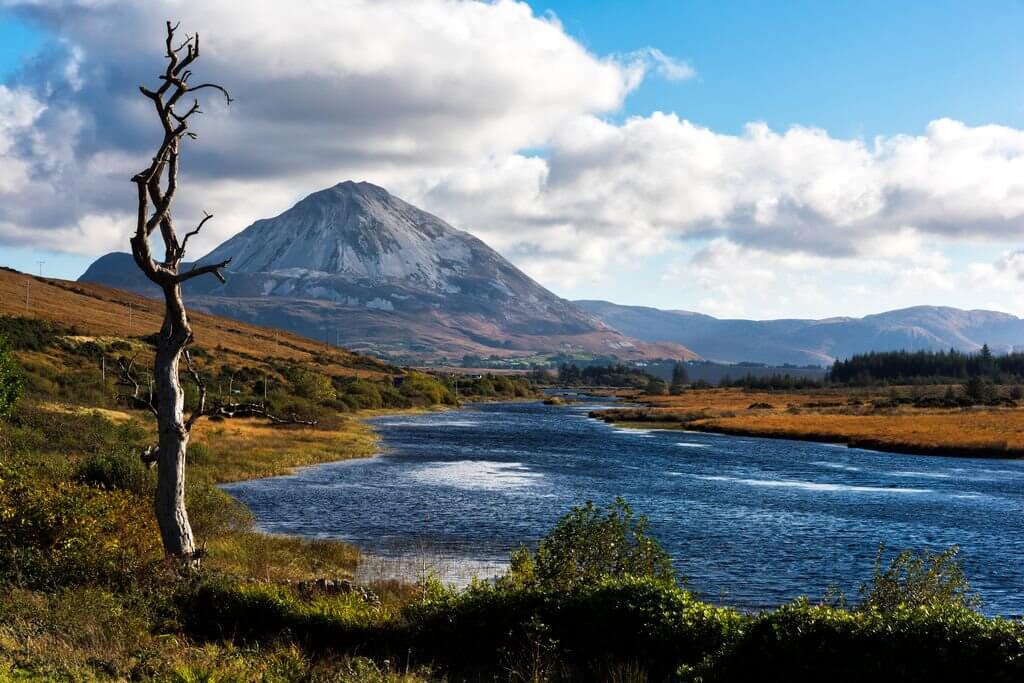 I have a tendency to climb in order to improve my view and while visiting some of our hills may mean leaving the official Wild Atlantic Way route, they are detours to enrichment. Errigal is one such tangent that requires attention. This immediately identifiable pyramid could be part of the county crest if you ask me. It rises defiantly out of the bog near the Derryveagh Mountains and reaches 751m into sometimes turbulent skies. 
There is a boggy start to the route but it dries out when you make the rockier ridgeline. The narrowing trail here will also have your vertigo susceptibility nicely tested. There are twin peaks to this summit but on windier days you might be better off just blowing a kiss to the more northern point. The round trip from the car park is only 5km so it's the kind of hike you can squeeze into any weather window.
If you need help to hike this or any other mountain in the area, get in touch with nearby Gartan Outdoor Education and Training Centre. Not only can they sort out guides and navigation courses, but they also organise a plethora of other activities both on the coast and inland. Take your pick from everything from mellow sea kayaking and archery to adrenalin-fuelled coasteering, surfing and rock climbing.
Climb a Sea Stack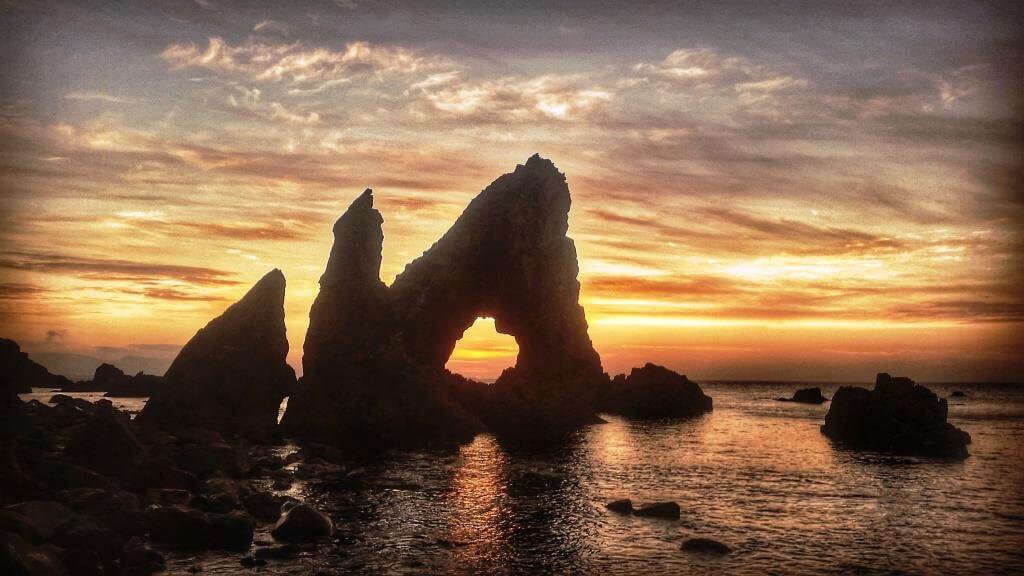 Speaking of rock climbing, if this is your dream activity, you have come to the right place. The county of Donegal contains more climbable rock than anywhere else in Ireland, including one hundred sea stacks and the fantastic granite slabs of Malin Head. If you don't know where to start, get in touch with local outfit Unique Ascents, which has spent the last five years exploring the better and lesser-known climbing locations throughout the county and have developed and recorded over 500 new routes in Donegal. Unique Ascents offers the opportunity for people of all abilities to visit and climb in places of outstanding natural beauty where solitude and a truly great outdoor experience is guaranteed.
The Ultimate Irish Bucket List for Adventure Lovers
Walk along the Sliabh League Cliffs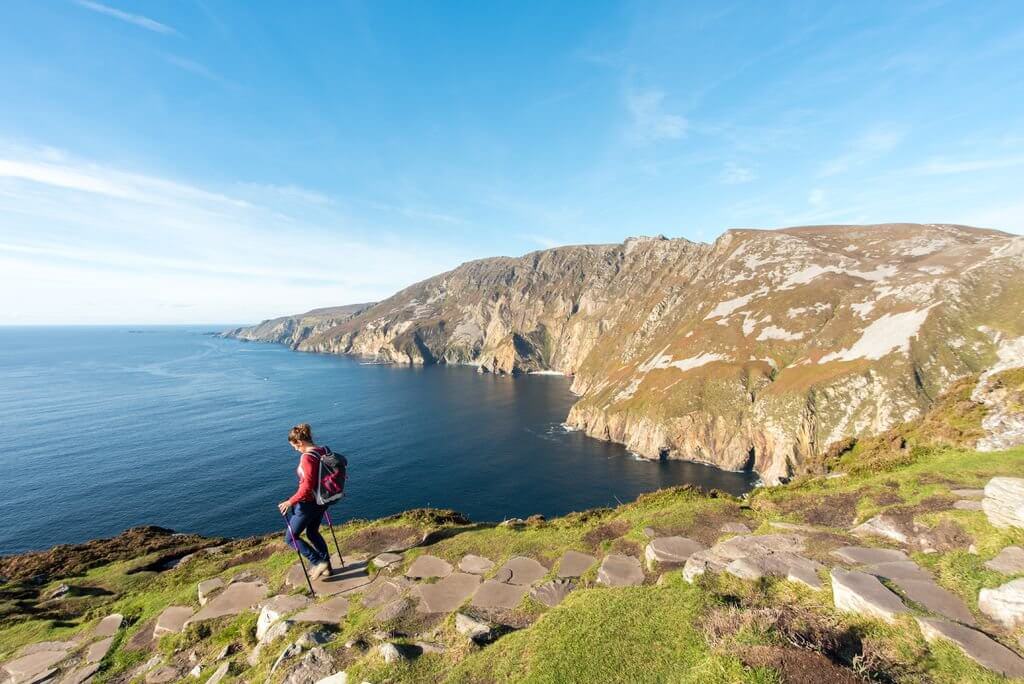 You couldn't come all the way to Donegal without exploring the dizzying heights of Sliabh League's cliffs. The summit is 595m but near the suitably named One Man's Pass they fall almost 500m straight into the ocean. Heed my advice when I say you should not walk two abreast on the narrow ridge to the final summit unless you want to add to the view and not the cairn!
There are plenty of route options here, with a number of car parks to choose from to make a visit to this precipitous corner of Ireland as brief or challenging as you like. Anything from 2km to 12km circuits are possible but whatever you do make sure to bring some sandwiches and a flask and give a new meaning to 'high tea' while you're up there. And if you want to tap into some local knowledge when you're in the area, check out Sliabh League Walkers.
Get on yer bike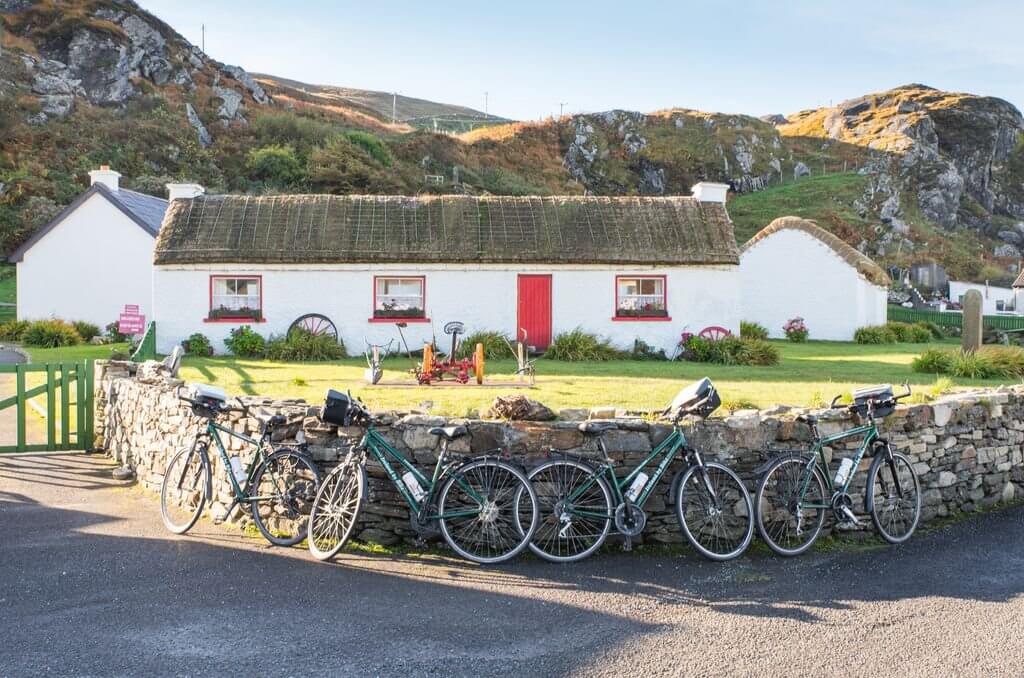 If on the other hand, you'd prefer to travel on two wheels instead of your two feet, you can hire bikes – and electric assisted bikes – from irelandbybike.com. Seamus Gallagher who runs the company offers great tours which will bring you to remote beaches and fantastic spots like the Glencolmcille Folk Village. Run by the wonderfully dynamic Margaret Cunningham, all of the artefacts here were donated by the community and it will give you a really hands-on feel for life as it was in Donegal.
Surf's Up in Sligo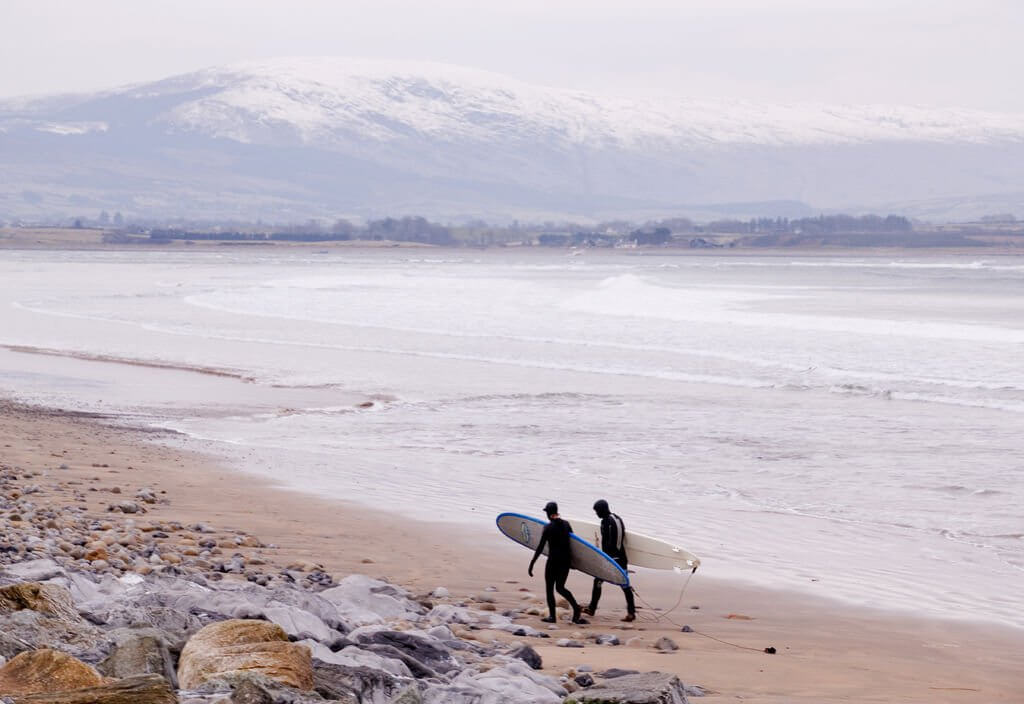 As you travel down towards Sligo, you'll pass some fantastic surf spots in Rossnowlagh, Tullan Strand and Bundoran. These are ideal spots to take your first lesson with surf schools like Turf n Surf and Surfworld Bundoran.
Carrying on into Sligo, you'll be met by the mighty bulk of Ben Wiskin, Ben Bulben and Mullaghmore Head. You'll find great walks and mighty waves here so no matter what you're into you'll have lists of things to do. And if you are stuck for ideas, give the lads in Northwest Adventure Tours (www.northwestadventuretours.ie) a call as they know how to bag a brilliant day out.
A spot of relaxation in the seaweed baths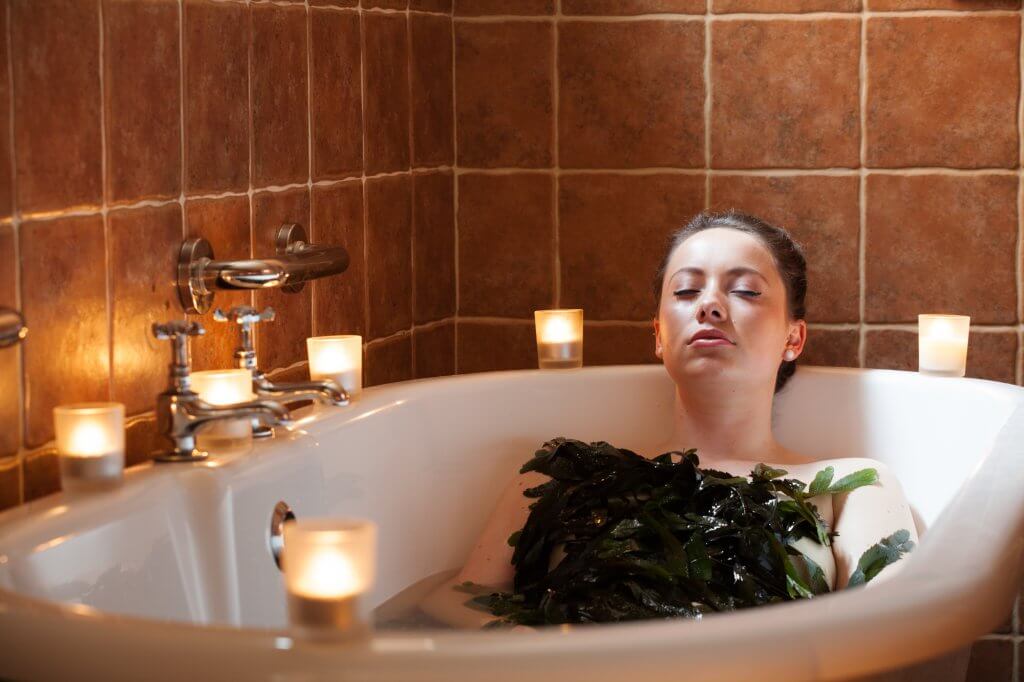 And when your day is done, be sure and have a seaweed bath at either Voya Seaweed Baths in Strandhill or Kilcullen's in Enniscrone. A dip in the Atlantic's rich foliage is a guaranteed way to soothe any aches and pains from a worn-out body!
And then onto Mayo for some more walking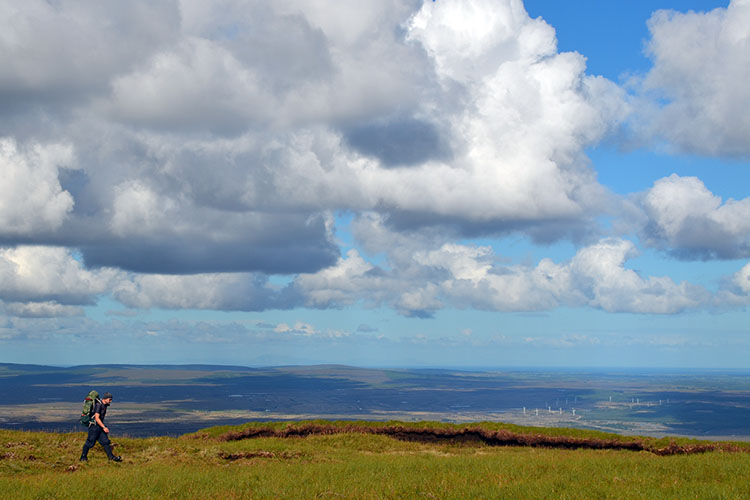 I've made recent visits to Mayo both to the beautiful coastal walks around Erris Head, as well as the staggeringly fantastic wilderness area of the Nephin Beg Range. The west doesn't get any more remote than the Scardaun Loughs so if it's isolation and beauty you're after then look no further.
After traipsing across the Nephins and as you approach civilization once more, it is impossible not to have your gaze drawn over the great expanse of Clew Bay and its myriad collection of islands. These are sunken drumlins left by the last icesheets when Ireland didn't get summers like we've just enjoyed.
15 Things to do in Ireland When it Rains
Further west are the distant silhouettes of Slievemore and Croaghaun on Ireland's biggest island – Achill. Croaghaun also boasts our highest sea cliffs so the Wild Atlantic Way doesn't really get any wilder than this. This is also home to the aptly named adventure race, Quest Achill which takes place in September in case you want a taste of this great spot yourself. The more sedate Greenway off-road cycling path also terminates here after its 42km route from Westport just so you'll have something to do in your downtime!
And let's not forget the Holy Grail that is Croagh Patrick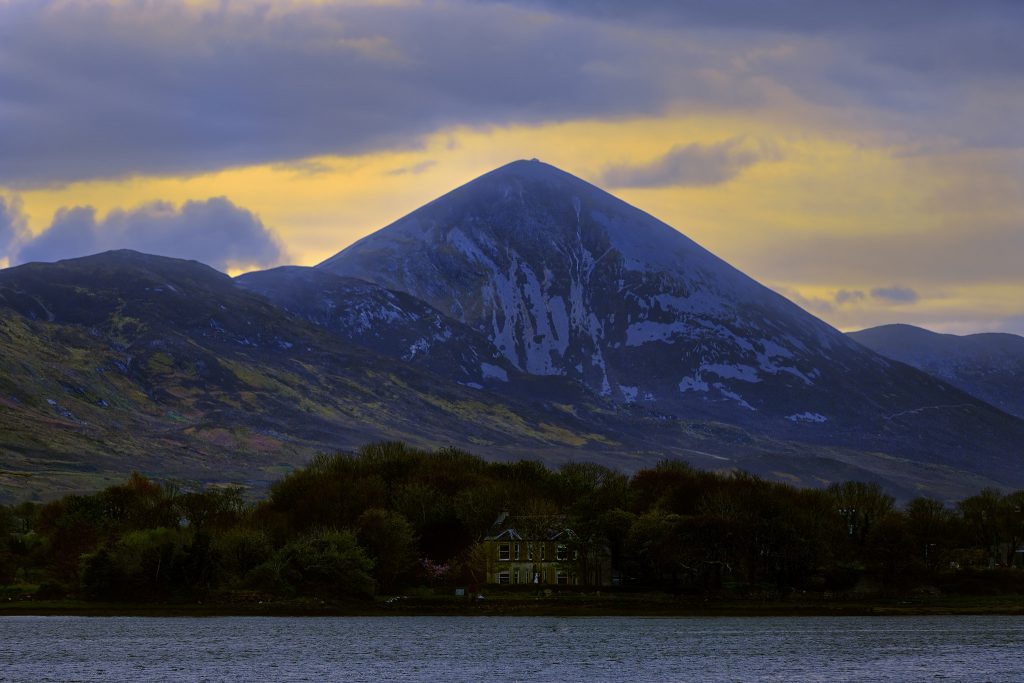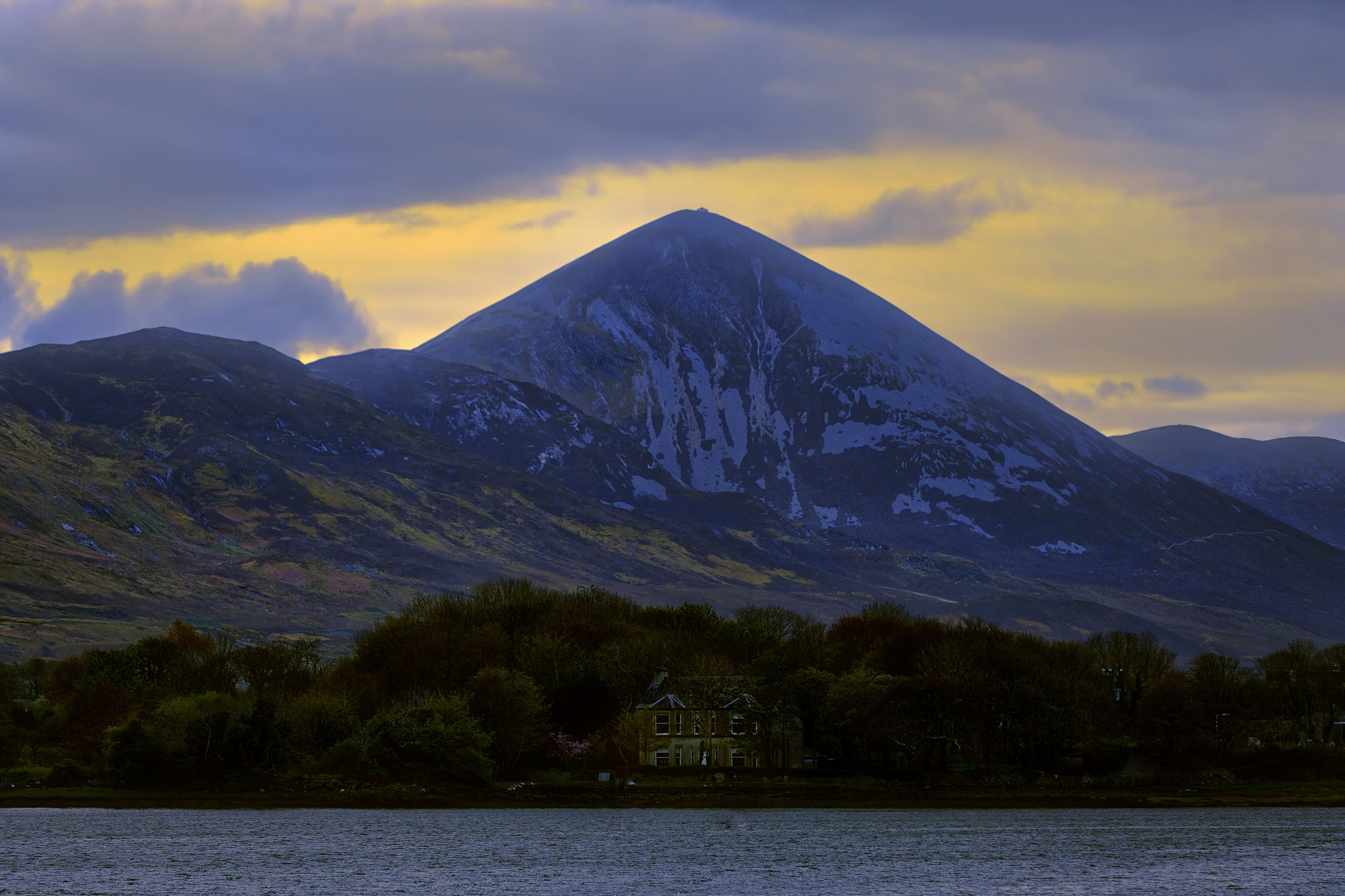 The guardian of the bay to the south is the holy mountain of Croagh Patrick. This really is Ireland's answer to Mecca with almost 20,000 walkers following the pilgrimage route and climbing this quartzite pyramid on the last Sunday in July. Pick any other day and you'll have a quieter trip to the top though. The west to east traverse of the mountain prolongs the best of views if you can organise a car drop for yourself but otherwise the roundtrip from Murrisk is less than 8km to the 764m summit. You'll have to mind your ankles on this one though as the scree-covered peak makes for a steep ascent/descent.
And let's not forget about the Island's off Mayo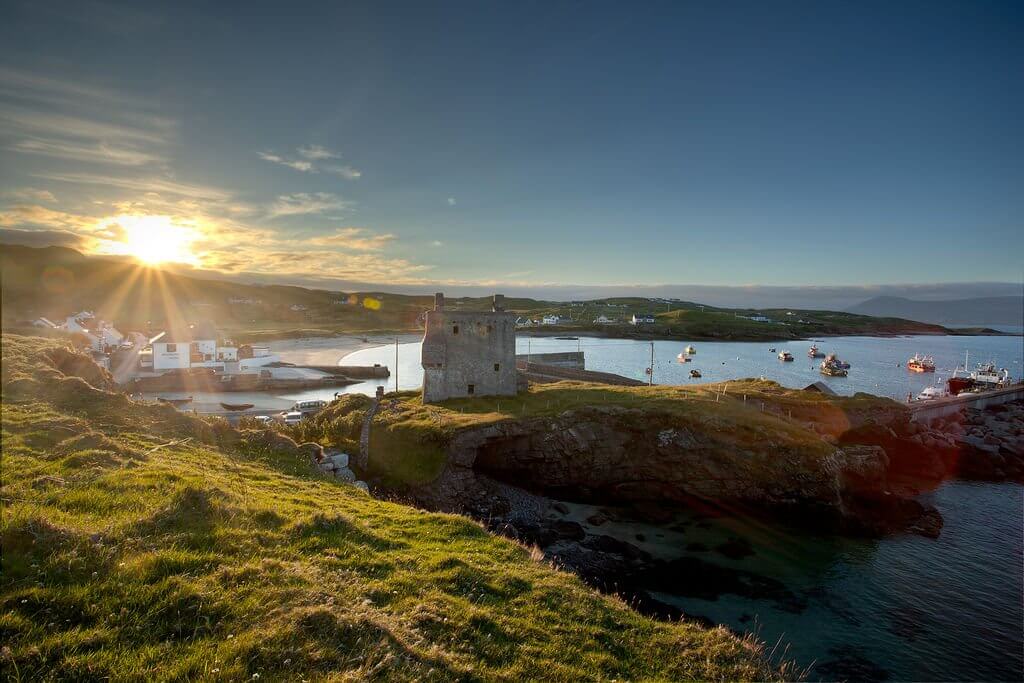 If you want one last adventure before you leave Mayo, make it a visit to Clare Island, ancient home of Grainne Uaile. For a relatively small dollop of land in Clew Bay, it offers a welcome as warm as a fine summer's day and a huge variety of activity and terrain. Hike to the spectacular cliffs at the back of the island where huge numbers of sea birds nest, coasteer along the craggy shoreline, kayak of the sandy beach or rock climb and abseil in several locations (www.clareislandadventures.ie). For reasonable accommodation and food, the Go Explore Hostel is a winner.
And the Aran Islands shouldn't be missed either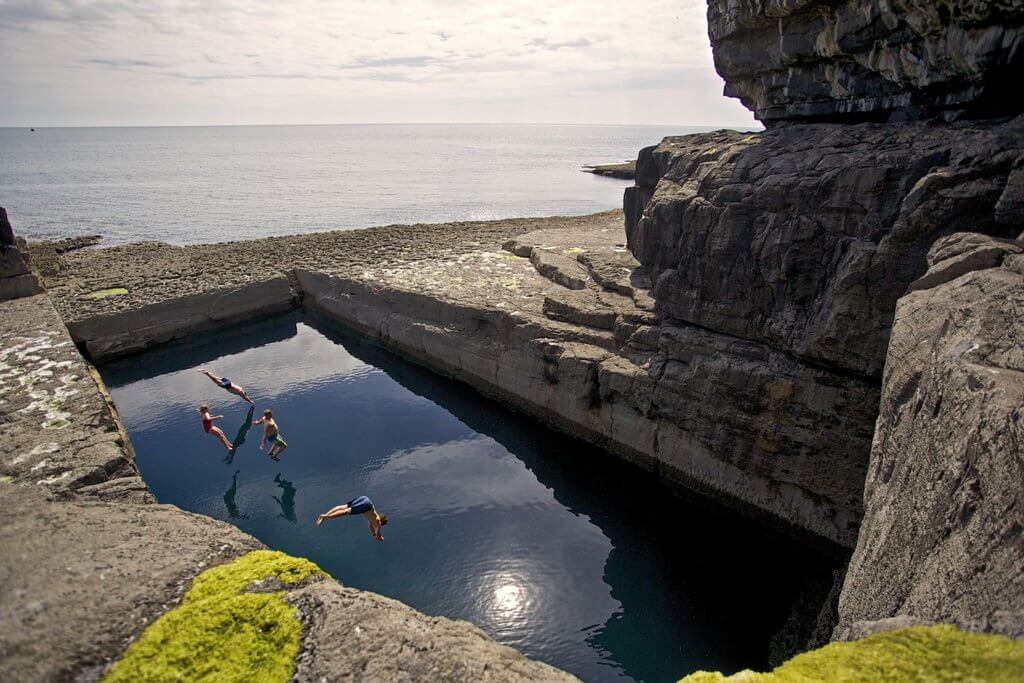 Reluctantly leaving Mayo behind we wander on into Galway and the dark mass of Mweelrea towering in contrast over the bright waters of Killary Harbour and Silver Strand. Whether you're into going up, going down or going across, there are hills and waves aplenty so you will have to make mountains of visits to take it all in.
If you can peel yourself away from the stark wonders of Connemara then taking in a visit to the Aran Islands is an absolute must. Home the Red Bull Cliff Diving Championships, the Sepent's Lair 'pool' really has to be seen to get your head around the idea of someone willingly jumping into it from so high above.
And then onto Clare where there's something for everyone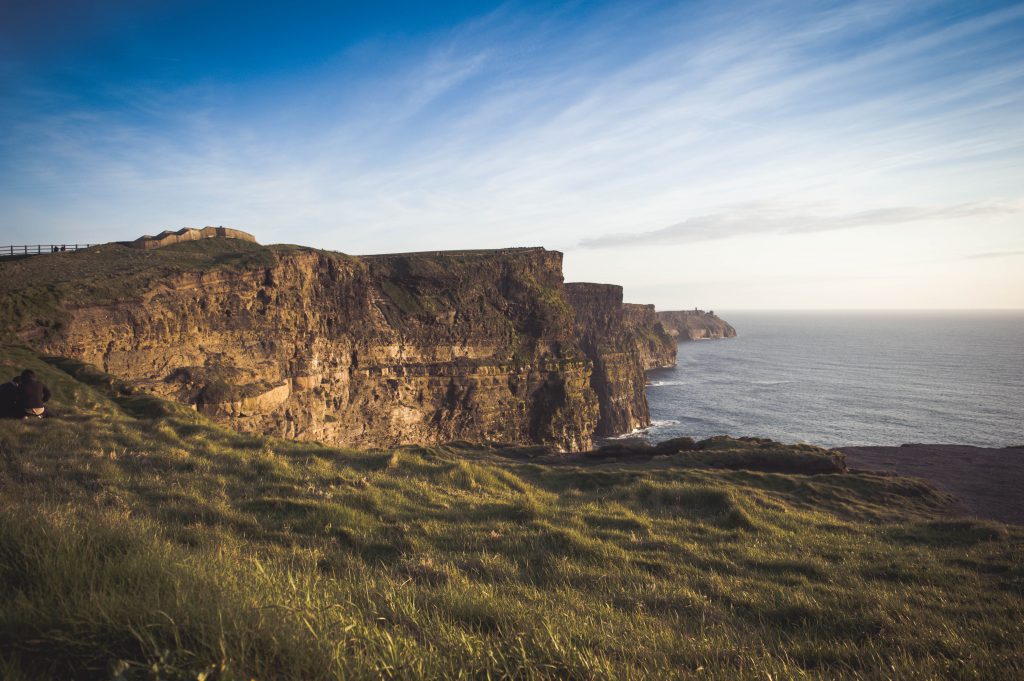 Heading into the Banner County of Clare we have the ridiculously endless Cliffs of Moher. Arguably one of Ireland's most recognisable landscapes, they stretch from Doolin to Hags Head with sheer drops to the inviting blue and white of the raw Atlantic more than 200m below in some places. The cliff trails here might be level but your buzz levels will be off the charts.
Clare has tons of surfing, caving, cycling, climbing and whatever you're having yourself.
Conquering Ireland's highest peak in Co Kerry is a must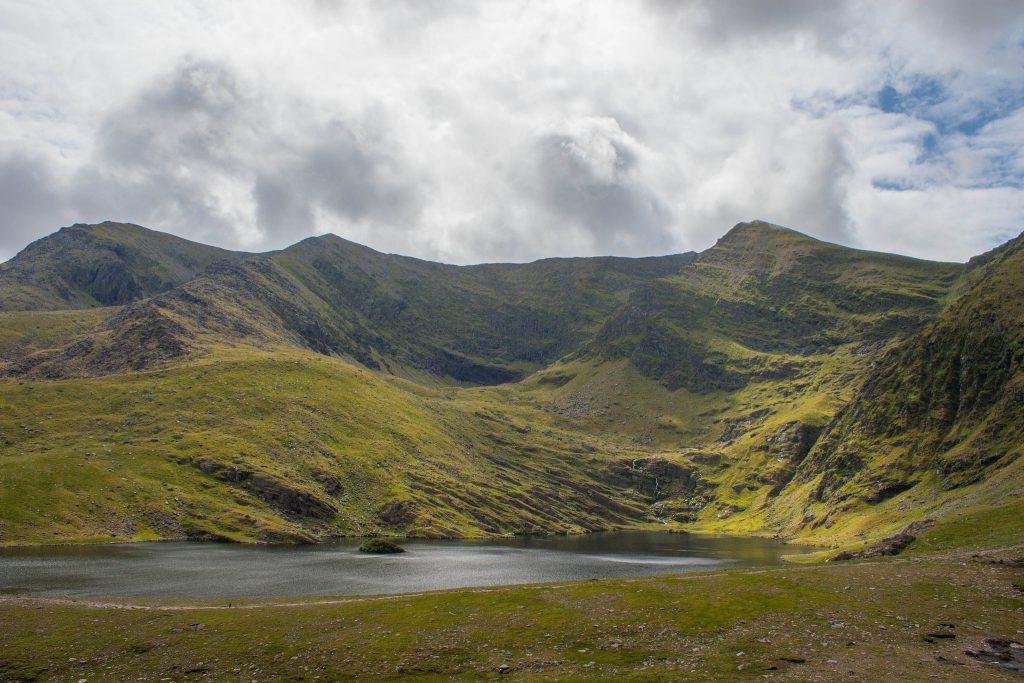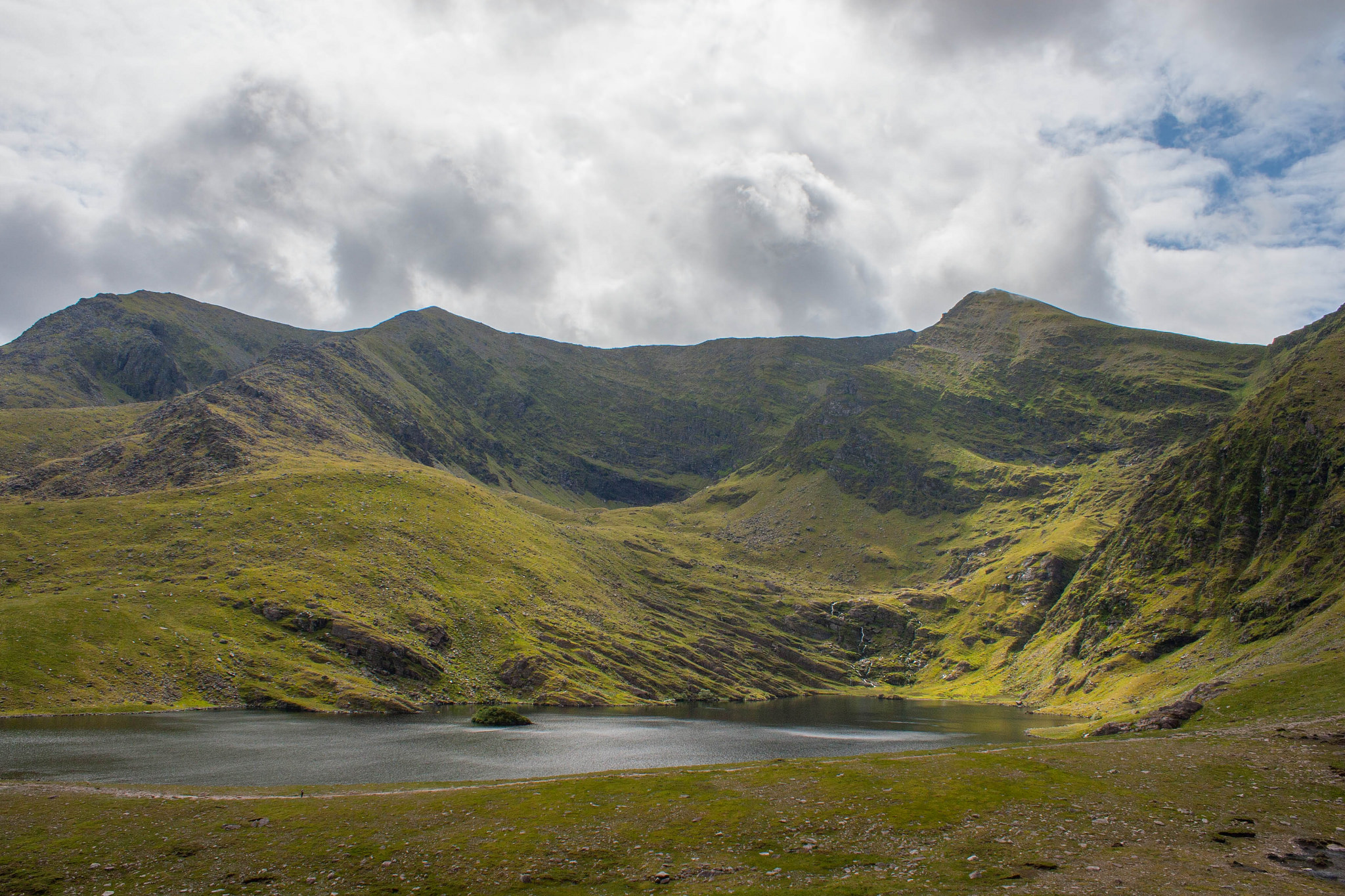 What a county! With the highest peaks in the country here, you know you're in for a great time. The Coumloughra Horseshoe route takes in the country's top three peaks – Carrauntoohil, Caher and Beenkeragh. It's an out-and-out classic with mind-bogglingly brilliant views and some of the best scrambling going. It's a big day out though, and requires navigational skill and a head for heights – that and the cop-on to know if the weather turns you better go to Plan B. If you need a guide check out Outdoors Ireland. They also can organise rock climbing, kayaking, canyoning and stand-up paddle boarding.
The Kingdom is also an island hopper's paradise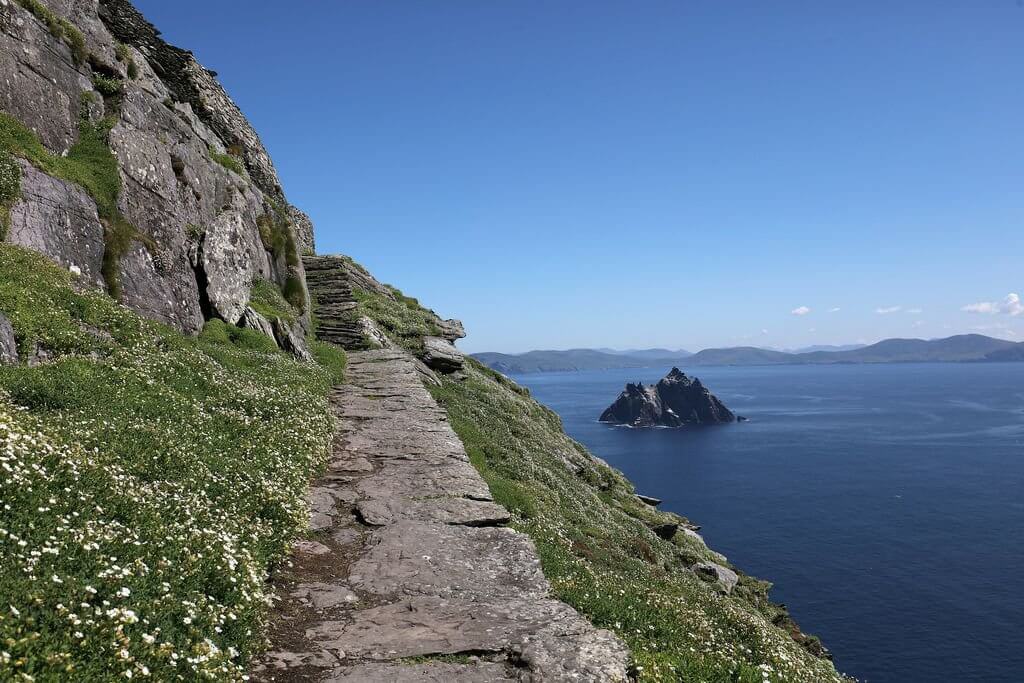 With the Blaskets just a hop out of Dingle for some of the most remote and wild walking you're likely to get. The iconic Skelligs are out literally out of this world but not so far away from Portmagee that you can't arrange a visit.
And we better not forget about Cork
The final county on our 2500km journey is the Rebel county of Cork and what a way to finish with Hungry Hill and the Caha Mountains of Beara being a big draw you're your legs are tired by now though, again there is the option of hiring bikes and electric assisted bikes from Cycle West Cork or kayaks (during summer) from West Cork Sailing.
And then there are Cork's islands. Irish-speaking Cape Clear is a world apart while the quiet and quirky Dursey Island, which is accessed by Ireland's only cable car, offers insights into a forgotten way of life and surprisingly enjoyable walking.
5 of the Best Walking Routes in Co Cork
There isn't so much as a hint of tapering as we approach the end of the road with amazing attractions like swimming with bio-luminescent algae in the tidal waters of Lough Hyne. Sea kayaking in this unusual lake with Atlantic Sea Kayaking is an experience to savour. They also run night paddling and seaweed foraging trips. And don't miss out on walks around Charlesfort of the Old Head of Kinsale if you can find time to squeeze them in!
It's not just a long way to Tipperary anymore but you won't be thinking about the mileage when you finish but about turning around and doing it again!!
Check out our Hard as Nails podcast:

Next Post