Spain's Las Alpujarras mountains in the Sierra Nevada region are a mountain biker's Mecca. Alan Moore, a keen biking enthusiast from Tipperary first discovered the trails back in 2008. Last year, the sun and challenge lured him and six mates back for a full-on biking blitz.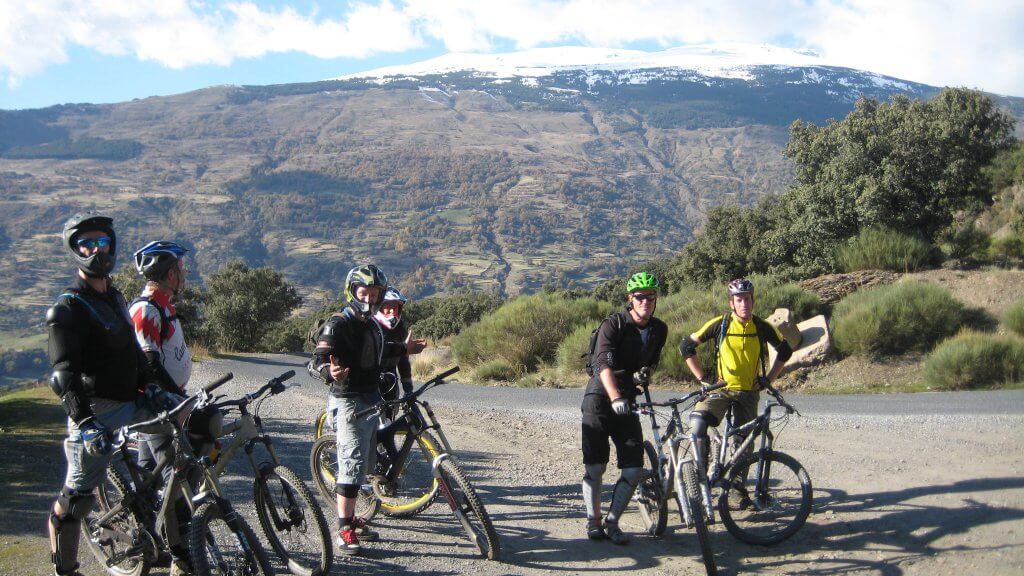 From ancient rocky mule tracks hewn into the mountainside by medieval terrace farmers to open swooping, flowing singletrack, it's hard to beat the mountain biking trails of Spain's Alpujarras. The tracks here vary hugely in length and difficulty meaning that there are suitable routes for most levels of biking skill from moderate (Ballyhoura-type level) to hard-core. Trail surfaces include fine dust, gravel, rock slabs, dried-out stream beds and boulders aplenty. Another huge attraction is the weather. Located in Spain's Sierra Nevada range and close to the Mediterranean, you're pretty much guaranteed to get somewhere between mellow golden to 'wow' hot, depending on the time of year you visit.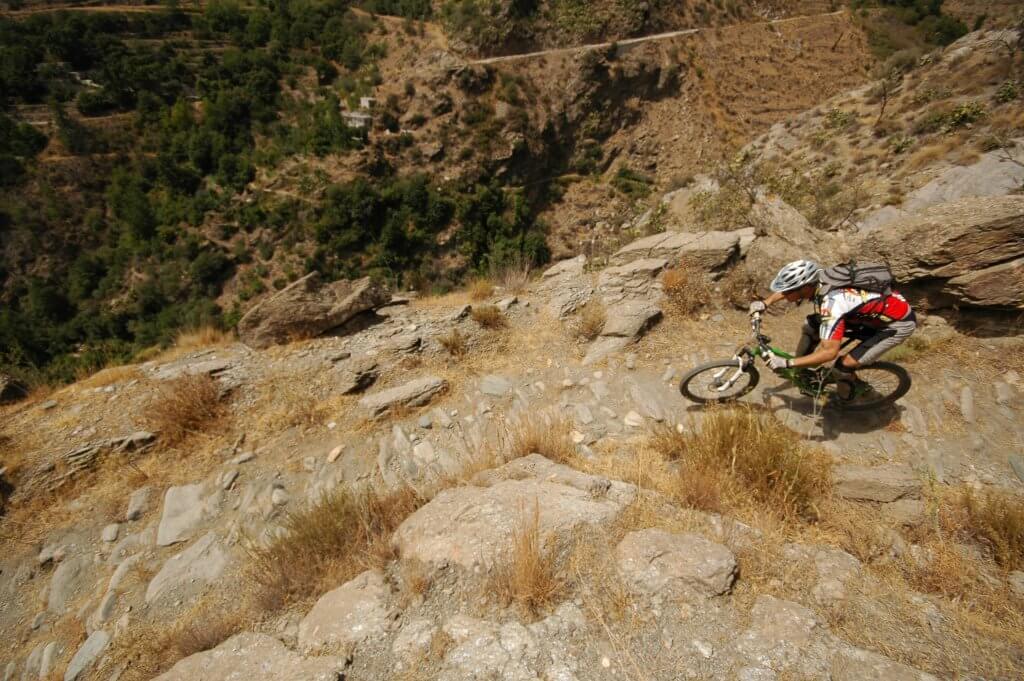 My buddies and I chose autumn (late September to the end of October) for a second visit to this region. Fading light and deepening mud at home were the reasons our minds turned southwards – and of course the memories of a trip to this region five years previously. A party of seven of us (me, my brother Niall, Peter, Jimmy, David, Kevin and Philip) made the early morning flight to Malaga from where we were whisked into the mountains by Luki the driver.
Our adventure was organised by Switchbacks, a near legendary company in the Moorish town of Bubion, with a deserved reputation for delivering the goods for mountain bikers. Michael Saunders is an extrovert Canadian ex-downhill racer who set up shop here 14 years ago and remains a manically enthusiastic ambassador for his sport. His company offers guiding, teaching and endless entertainment on and off the trails. The format of the holiday has been distilled by Saunders over the years into a fine brew of riding, eating and drinking.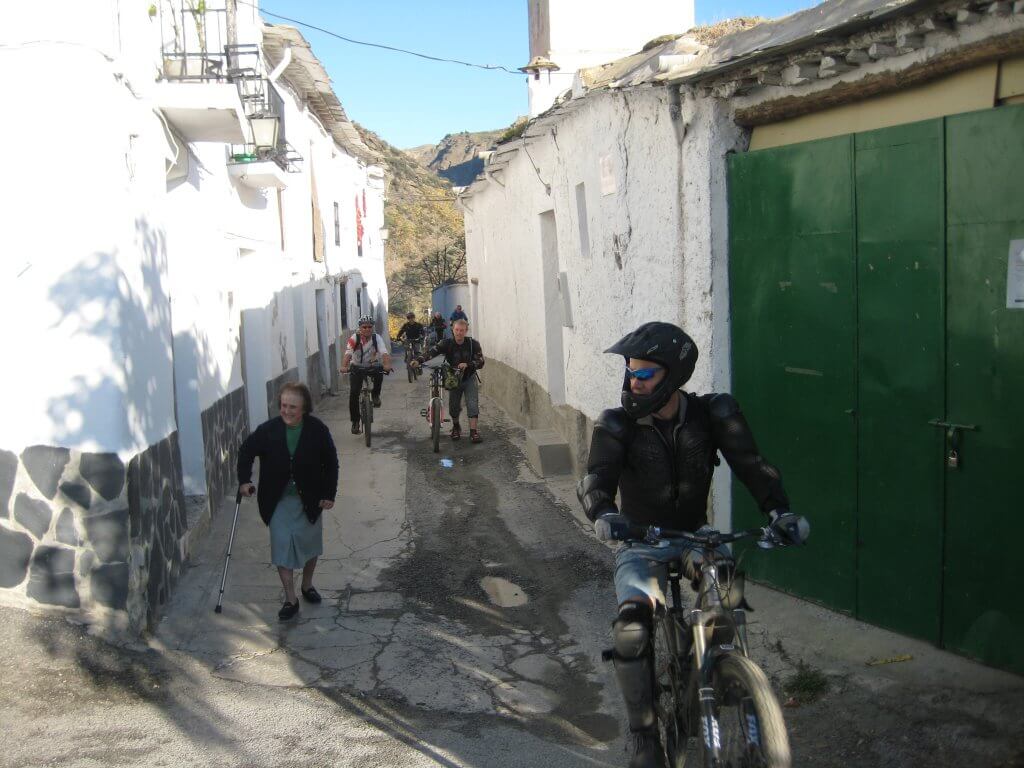 Each morning riders plus bikes are transported by van to a new trailhead around the Las Alpujarras region and in the vicinity of such gem-like white villages as Capileira, Pitres, Pampaneira and Bubion itself. Saunders and his guides quickly assess the skill level of new arrivals to match them with the most suitable trails for their ability.
There is some uphill riding, but this is merely an aperitif for the main course which is simply sublime downhill and cross-country riding, including the famous 'switchbacks' which gave their name to the company. These tight recurring corners on the steepest sections require a technique akin to a slalom ski turn and demand full commitment for success. Saunders and his guides have refined their teaching skills and conduct impromptu clinics mid-ride and at coffee stops which are master classes of brevity and clarity. All of our riding came on in leaps and bounds – and some tumbles – under their patient tutelage.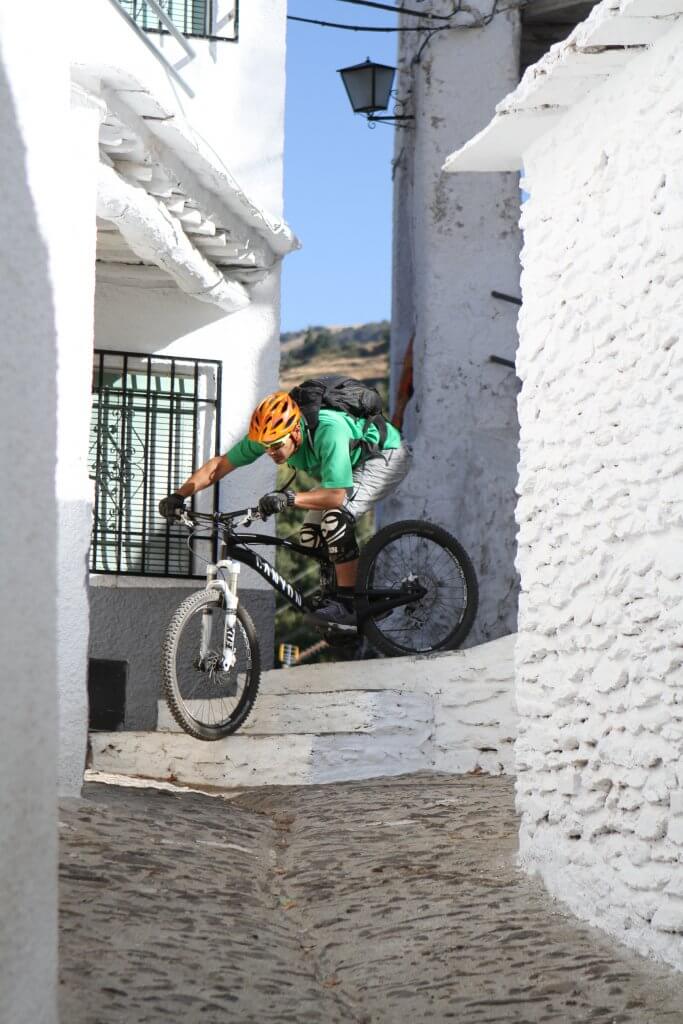 Bike and gear choice are really important, To enjoy rather than survive the trails you need five to six inches of suspension front and back, coupled with heavy duty tyres to keep punctures to a minimum. The more body protection you wear, the more relaxed you will feel on the trail and many riders wear upper body armour as well as knee pads and padded gloves. You can rent bikes from the company but this is expensive and really only for emergencies if your own bike is broken. Switchbacks has a workshop with tools and will help with repairs where possible.
Tales of derring-do
Routes were arranged so that we rolled into a white village just as caffeine or energy levels were dwindling.
Each day of our adventure saw new terrain and new challenges. Routes were arranged so that we rolled into a white village just as caffeine or energy levels were dwindling. Leisurely alfresco coffee and tapas-style lunch stops on street-side terraces punctuated the day's adventures where tales of derring-do and near misses on the trails were shared.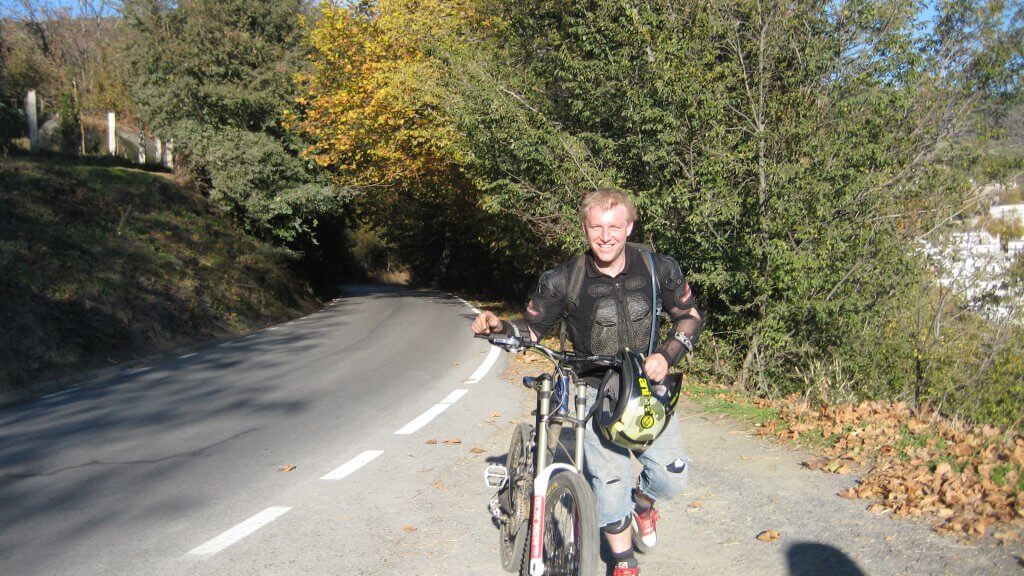 We all had our moments, with skids and offs, but nothing serious. These fell into the classical categories of first-day mishaps, before we found our rhythm and learned to relax and flow through the boulders drops and corners, and mistakes due to fatigue at the end of a punishing day's descending – those familiar wipe-outs on the 'one last run' when forearms and thighs have turned to jelly and caution is thrown to the wind.
We ate figs and walnuts from the trees and filled our Camelbaks from mountain springs, some of which were naturally carbonated and fizzing with gas.
Our brief stay was rich in sightings of flora and fauna: a herd of wild boar romped past our party at one point. We saw two scorpions, a preying mantis, exotic blue-winged grasshoppers and several ibex (wild long-horned goats) clinging to the rocks above. We often met herds of goat with their shepherds and were glad of a chance to dismount and wait while they passed across our track to the soundtrack of their gently clanging bells. We ate figs and walnuts from the trees and filled our Camelbaks from mountain springs, some of which were naturally carbonated and fizzing with gas.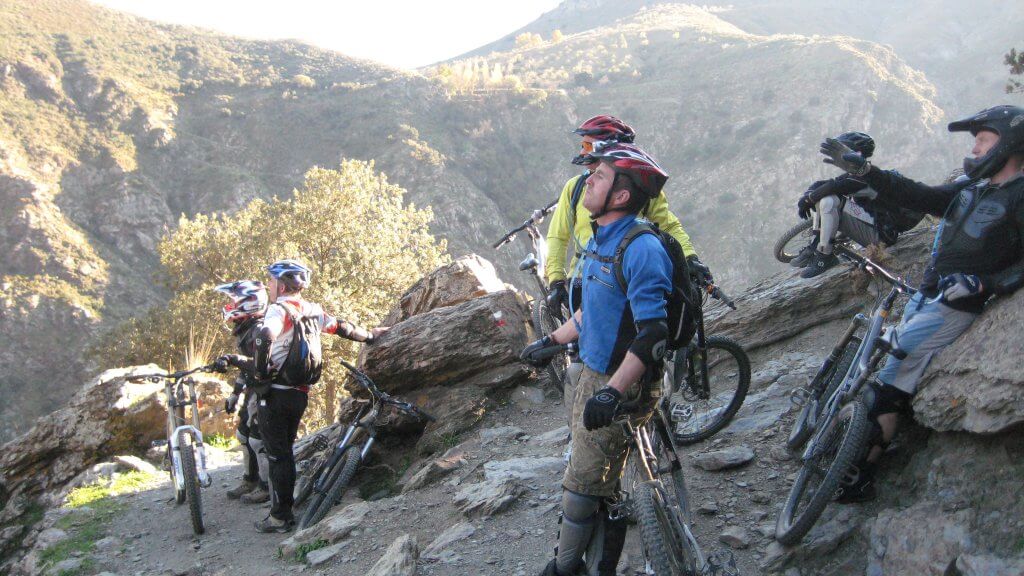 Our self-catering accommodation was in a typical ancient Moorish flat-roofed townhouse – clean and simple – with a roof terrace for post-ride evening drinks and dramatic views down the Poqueira Gorge (a favourite walking holiday destination). In the evenings, we ate in excellent local restaurants in Bubion and Capileira, a 15-minute walk away, where simple hearty fare included rabbit, venison and wild boar. Local wines were sampled, and local brandies rounded off rib-sticking meals before early bedtime.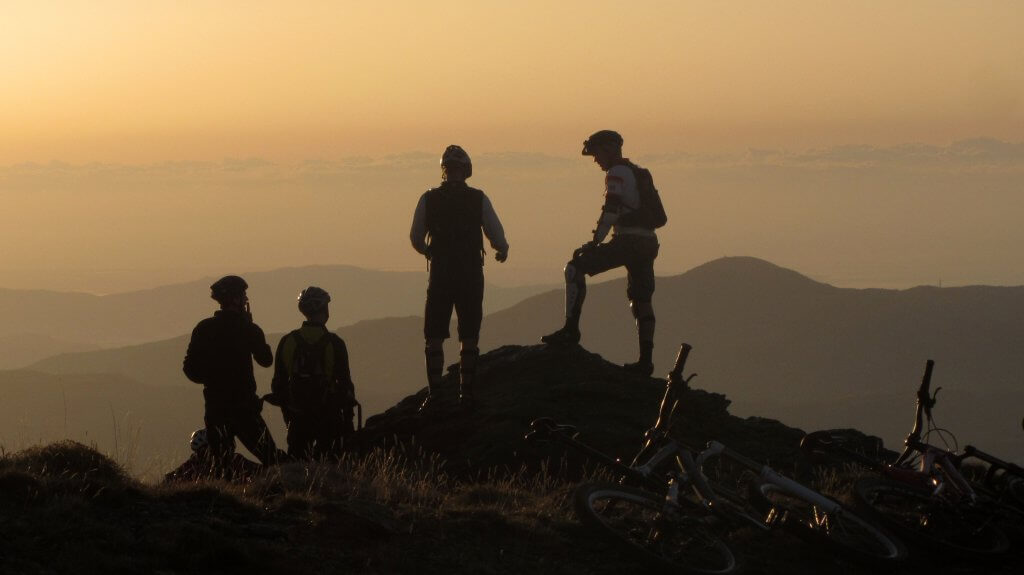 Have your own mountain biking adventure:
Switchbacks – Bubion
When to go: Switchbacks in Bubion is open from May to October. From November to April, the company runs a more gravity-orientated operation for dyed-in-the-wool downhillers in the rocky mountains behind Benalmadena (down the coast from Malaga).
Who is it for? While aimed primarily at the more experienced rider, Switchbacks takes pride in imparting confidence and skills to adventurous types of all abilities.
Break options: Four-and-a-half day's riding with airport collection from Malaga, guiding, teaching, uplifts and accommodation, including breakfast and sandwich materials costs €365 per person. Seven day breaks are also popular. Flights to Malaga are good value from Dublin and Cork, though bike carriage is an extra €40 each way.
Where to eat: Dinner in the excellent local restaurants came to about €30 per head, including local wines.
Trails include: Hurt Locker, Fifty-seven Stitches, Hysterectomiser, Flowtastic, Abject Terror and The Cresta Run.
Check out our Hard as Nails podcast:
Like this? You should check these out: