Declan Cunningham and Chris England decided to take on a summit climb of Mt Blanc. They tell us how they got on and all the information you need to plan your own alpine climbing trip. 
Training and getting prepared for a climbing trip is a little like dress rehearsal. You go through the motions to get ready for the main performance. The thing is you can rehearse all you want to but sooner or later the curtain needs to go up so you can see if you'll remember the lines or make a Muppet out of yourself. Otherwise, it's just a lot of hanging around in other people's clothes. Of course, when it comes to a trip to the Alps if you forget your lines it's called base jumping.
Meet the 15-year-old Triathlete who Will Put your Training Plan to Shame
So before an Alpine trip last year, my friend Chris and I did some training, practised climbing in big boots and hung out of trees to simulate our crevasse rescue technique. And then, in the words of the Muppets, it was time to get things started.
Both of us had left the Alps the previous year following an unsuccessful attempt on Mt Blanc. In a way that was enough of a target but we also hoped to er….nip up the Matterhorn. My first trip to the Alps was to that magnificent peak and a combination of altitude, weather and just plain tiredness left the last 200m undone. Mt Blanc may have been the intended feather in our caps but the Matterhorn would be a jewel in the crown. We would have our work cut out for us.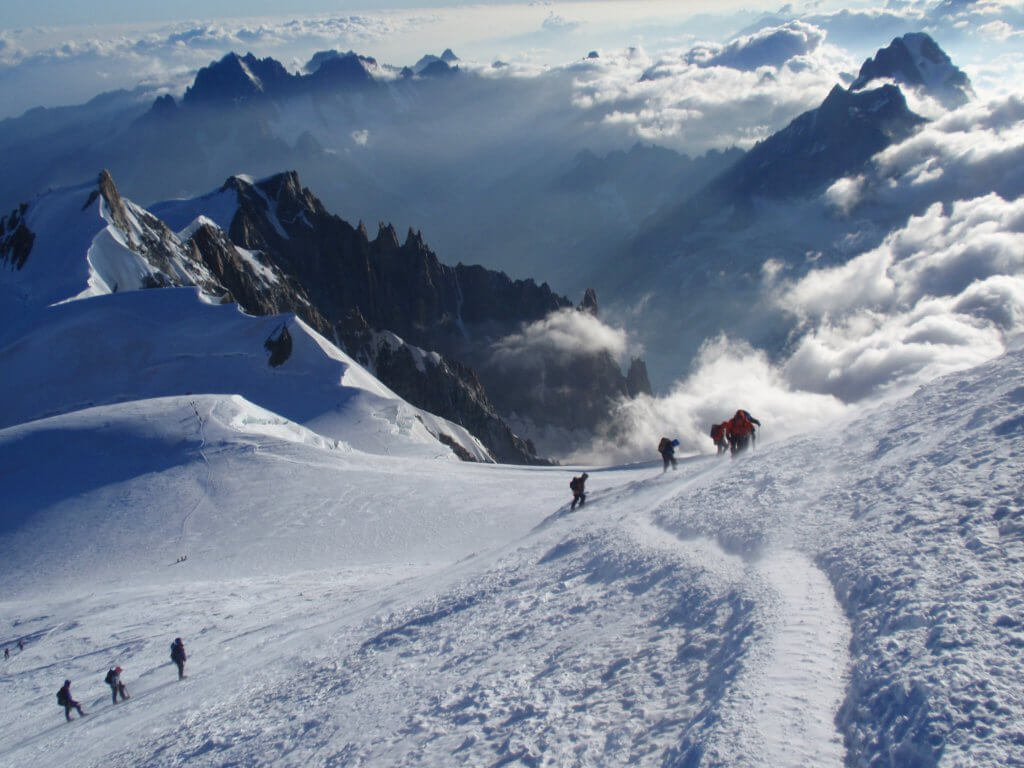 Act One involved getting to Chamonix and getting acclimatised. Some people try to 'do Mt Blanc' in a few days but why rush? If you take the time to get accustomed to the altitude you won't just increase your chances of success you might just enjoy yourself as well. Chamonix valley offers great variety in climbing options and easier peaks for exactly that. Unless you wear crampons at home (we have wooden floors and Ikea tiles so that's out for me), it's worth choosing one that allows you to get out on the ice somewhere to re-familiarise yourself with moving while roped-up and simply walking in crampons without making your shins look like a pair of teenager's jeans.
I don't even think a purist would regard making use of the cable cars as cheating and when it comes to acclimatising getting cable is your only man. Anyone with pangs of guilt needs to take their conscience to one side and knock some sense into it. For our intro we chose Le Petit Verte (3,512m) to acclimatise. It's a PD grade which is a relatively easy mixed route. There is plenty of return on this little route though with a good mix of terrain, fantastic views and great coffee at the cable-car station. Not bad for a first day.
Warming up
Because we were thinking of the Matterhorn as well as Mt Blanc we needed to get our Alpine heads on from a rock-climbing point of view too so we chose the Cosmique Arete as a warm-up route. It's a magnificent way to spend a day in a spectacular location. For the most part, it's not too challenging but there is plenty of exposure and several places required a bit of grunt as well as technique.
The route goes from the Col du Midi right back to the cable car station so it's not just convenient but highly recommended just for the unrivalled beauty of the place. Consequently, the route is understandably popular so when we arrived at the cable car station there was already a queue of people. It's a combination of gnarly axe-totting Frenchmen, guides and their clients, and eager tourists.
The cable car takes about 50 people so delicate use of your elbows is permitted to make a bit of room for yourself. If you think about it the cable car is just a lift without the music but with more places to look when you don't know where to. Anyway, we weren't complaining as we, like everyone else, peered out the windows at a shrinking world watching our cars turn to specks before disappearing altogether.
The whole car shook alarmingly as we were jerked rudely over the first main support causing a little nervous laughter from the tourists but not so much as a blink from the weathered guides. The early morning sun hadn't quite finished cloud busting and as we gained height the clouds gathered closer and closer eventually obscuring the view for us and our fellow passengers like a group loss of consciousness.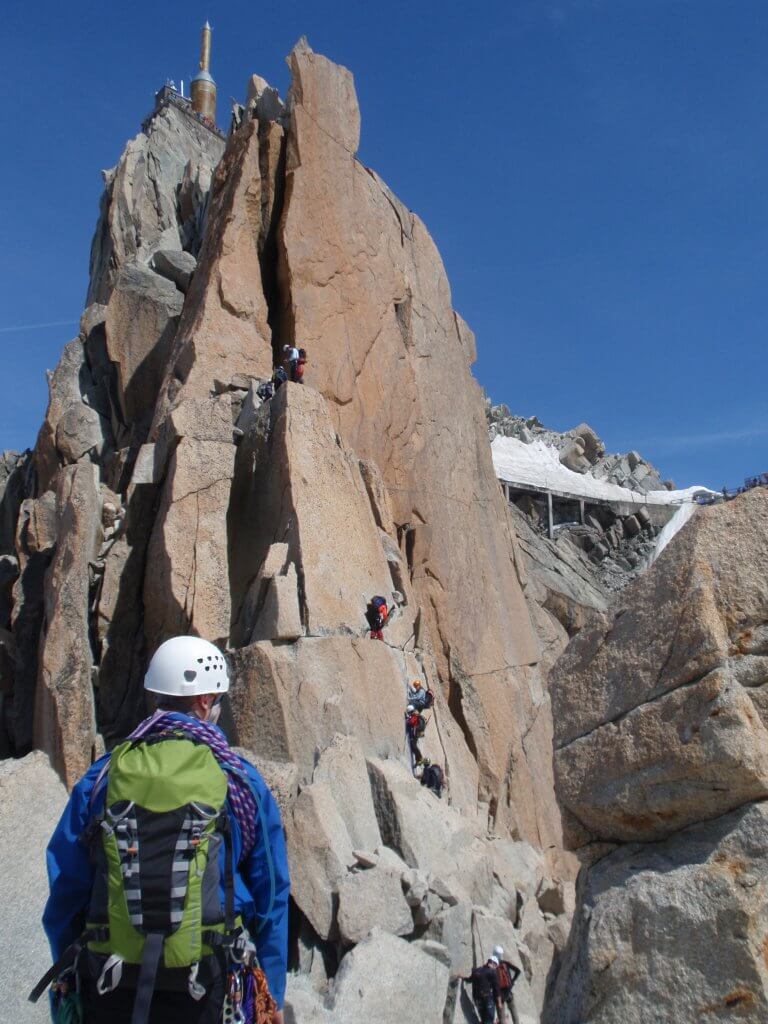 I'd heard the Cosmique Arete route mentioned countless times and it was a real confidence booster to finally do it myself. Only sections of the climb are testy, with large sections just easy scrambling. There are a number of gendarmes to abseil but the crux is kept till near the end. It's just a big rock step but it will irk anyone in big boots. Unfortunately, some fool felt it was too testy and cut notches in the rock which is a shame but I have to admit that it was hard not to benefit from them a bit.
Climbing over the railing onto the Aiguilles viewing platform gave us a real ego boost with lots of chattering Japanese tourists eager to take our photo!
Having had a few days at 3,500m or above, it was time to focus on our first main objective – Mt Blanc. At 4,808m it's the highest point in the Alps so it's something of a Mecca for climbers. I was toying with the idea of becoming a purist as there is a train that can save you 1,800m of climbing it got my vote in the end!
One major danger on the climb of Mt Blanc is the infamous Grand Couloir. It may not look like much and only takes a few minutes to cross but the danger from falling rock is ever present.
It was a fabulous sunny day when the train deposited us at Ni d'Aigle (2,372m) and we shouldered our packs and got going. It's a bit of a plod but there are endless views, loads of chamois (mountain antelope) and the occasional glint of sun off the roof of the incredibly remote Gouter Hut to entice you on. The route felt long as ant-like we inched our way up the moraine towards the first hut, the Tete Rousse. We had opted for one night at the higher Gouter Hut as it makes for a shorter summit day. Bookings for these huts start as early as March so it's probably wise to book a night in each under different names to allow for a more flexible programme in case the weather or your knees don't play ball.
Heavenly views
The Tete Rousse Hut (3,167m) offers an irresistible opportunity for a break and a chance to simply admire the views. You can see all the way into Chamonix and over to the easily identifiable Aiguille du Midi but there are awe-inspiring views no matter which way you look. This is also the best time to decide, depending on snow conditions, whether crampons are needed for the 650m scramble to the Gouter Hut.
One major danger on the climb of Mt Blanc is the infamous Grand Couloir. It may not look like much and only takes a few minutes to cross but the danger from falling rock is ever present. It's certainly the troll under the bridge on this particular peak.
Personally, I love the scrambling section and wish there was more of it. There are even via ferrata like cables most of the way for you to clip onto for added security. It's people on this section that are often the culprits for stone fall on the Grand Couloir, as anything dislodged can easily find a way into that potentially deadly chute. It's amazing how much stuff gets knocked just by careless climbers so have a lid on. Our ascent was occasionally interrupted by shouts of warning or alarm from above and below so be careful.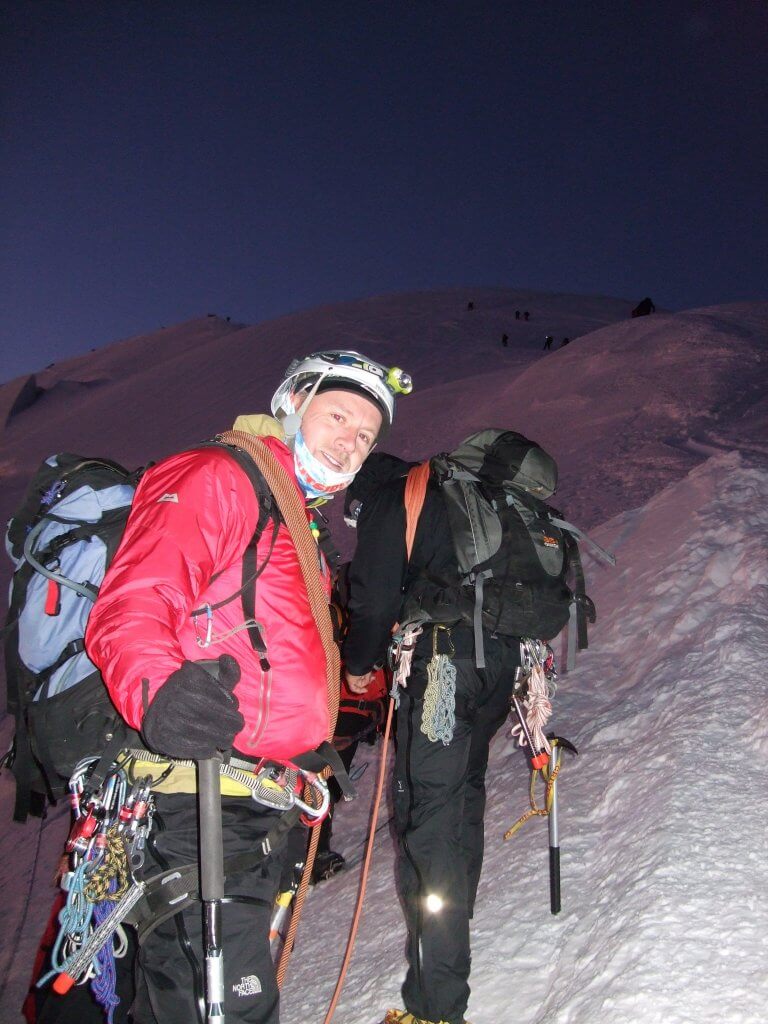 This section takes about 2-3hrs but for a while you hardly feel like you're making any progress with the Gouter ever distant on the ridge above. It's only when you look down that you realise how far you've come. Microscopic tent placements, like rain drops in sand, pockmark the ground around the tiny Tete Rousse hut far below. We were really going up in the world and that spurred us on.
The Gouter Hut is busy. You only have to look at the boot rack inside the door to realise that space is a premium here. It's like Grand Central without the timetables, but with food and good company. The basic plan was to head to the summit the following morning and back the same way but we were toying with the idea of the Three Monts route which traverses Mont Maudit and Mont Blanc de Tacul before descending to the Aiguille du Midi. The conditions couldn't have been better and we were hopeful to give it a try.
We bumped into Robbie Fenlon (an Irish UIAGM guide who has written for Outsider) who was guiding an Irish group and quizzed him about any potential problems. We had a few doubts but we were happy to mull it over and see how the initial climb went. After watching multiple rock falls powering down the couloir and stragglers arriving at the hut just before a glorious sunset it was time to call it a day. There are two kinds of people at the Gouter – those who booked bunks in advance and those who don't sleep. We sleep.
The line of head-torches rose slowly towards the waiting stars like confused fireflies, with each person lost in the struggle of their private vigil.
After the mania of breakfast and donning gear, at 3.15am, I stepped from the relative safety of the grilled platform of the hut onto the snow. It would be a long trudge but I try to adopt a of guide's pace. This pace may seem pathetically slow but the idea is not to stop at all. A storm the previous year had made this section much more difficult but we didn't have to zigzag as much as we anticipated and progress up to the Dome du Gouter was fast.
Summit fever
The line of head-torches rose slowly towards the waiting stars like confused fireflies, with each person lost in the struggle of their private vigil. The light from my fellow climber behind me made a giant of my shadow. I follow it endlessly into the black and white of night in the high mountains feeling anything but giant such is the scale of this fantastic place.
We plodded on towards the Vallot Hut (4362m). It's more of an emergency shelter than a refuge and the wind here was brutal. It was Baltic so we stopped for an extra layer and a snack to boost our morale and got going again.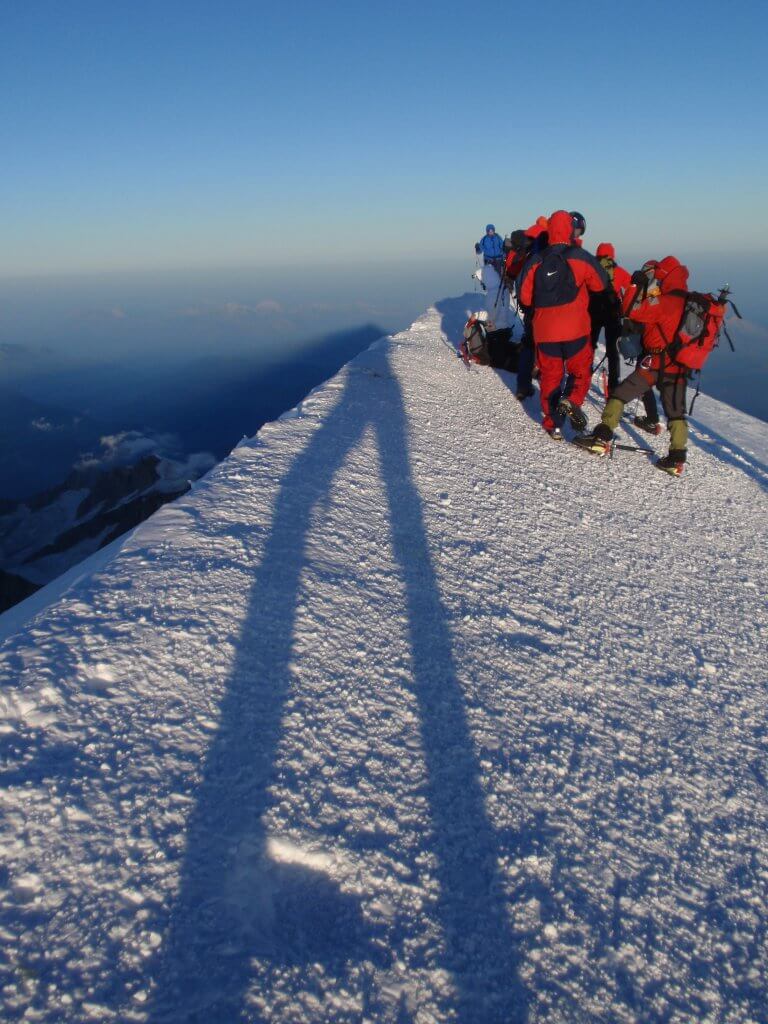 There are always negative thoughts that peddle doubt and the idea of turning back but they must be ignored. I think that's why I find that even stopping is always an effort because of the faff involved and the effort sometimes required to get going again. Other groups stopped on the narrow trail and it was tempting to stop and wait behind them but we detoured past. They passed us later in the constant slow-mo leapfrog.
Before dawn our view was limited so I focused on sound instead: the determined scratch of my crampons, my breathing and the occasional clink of ice axes or poles. I felt part of a very wayward chain gang but this was escape of a different kind. Every once in a while I looked up to estimate our progress as light crept into the sky. The summit looked ever distant and I feel like a yo-yo without momentum condemned to stay at the end of my string with no way to climb.
But every step counts and we finally found our way to the precarious Bosses Ridge, the last obstacle – a snaking, narrow ridge with thousands of metres either side tugging at you. This place can be lethal if the wind picks up but we were lucky in the relative calm. In summer it's busy here and passing people can be dangerous. We were glad to be ahead of the posse. Eventually the curl of the ridge tapered off to the beautiful snow capped and climber littered dome of the summit. It was only 7.15am and we were standing on this Alpine apex. If I had been at home I would I'd probably have still been asleep. I can never knock getting up early again.
Conditions couldn't have better so there was no difficult decision about route choice. The majority head back the same way but we put our backs to the Bosses Ridge and headed towards Mont Maudit and the Three Monts route. It's a steep descent in places so you need to watch your step. The Three Monts Route is usually done the other way around as the snow is more stable. Last year there was a big avalanche on Tacul which killed about eight people. Our route now meant that we would be descending that very peak just when the sun is at its highest. If there had been any recent snow we simply wouldn't have been able to do it safely.
At this stage you can't ignore your tiredness and you carry it with you like an extra pack.
Getting to Col de la Brenva is easy but we then started to regain the lost height up Maudit so we could finally the awkward abseil that was ahead. We only had 30m of rope and we knew the ab is at least 100m. It's much easier for the people coming up to make progress on the steep snow and ice but we managed, despite having to pass people on the way down. (Should you put in a short line about how you managed so people don't think you were nutters??!)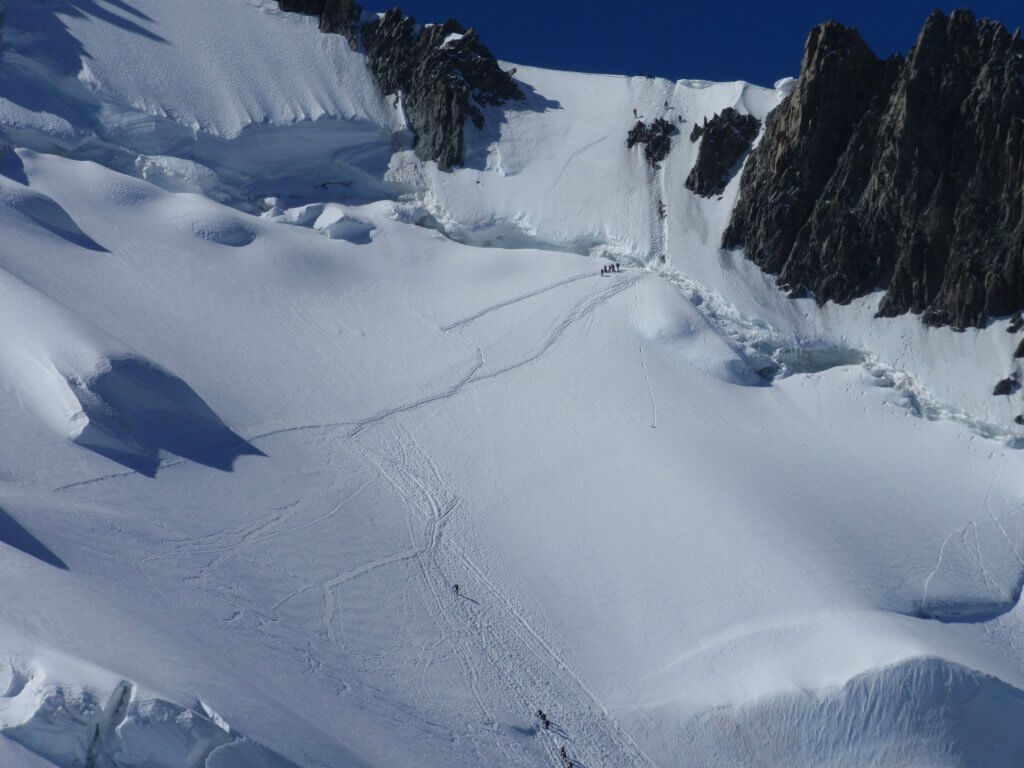 At this stage you can't ignore your tiredness and you carry it with you like an extra pack. We make slow but happy progress up the flank of Mt Blanc de Tacul before starting the final descent to Col du Midi. It felt strange to be looking down at the Aiguille's familiar cable station tower so ridiculously far away. The descent is very steep in places and we walked beneath enough towering seracs to know that time spent here should be kept brief so we took a direct line to the col where we could.
Creeping crept snail-like across the huge col we felt like our work was done. The final sting in the tail was the snow ridge back up to the Aiguille which felt like it would never end. Our rest had been truly earned at this stage but our route change meant I still had to get a bus back to La Fayet to collect the car!
Zermatt bound
The next day was a rest and travel day as we headed to a Zermatt for the next act. We took the mountain road to Martigny and as rental cars don't come with maps we decided it was time to buy one. A couple of garages later and we were still handed when I spotted a box of chocolates. It had a 3-D lid with exactly the area we needed mapped out enabling us to pick the correct route. I'm sure that's the first time anyone used chocolate to find the Matterhorn but as Toblerone is modelled on it it's not surprising.
Our trip took something of a turn at this point because it did nothing but rain in Zermatt. We couldn't even see the bloody mountain so we decided to make the best of our last few days and leave. Of course we woke up the next morning with our bags packed only to see the peak in glorious sunshine with the top section with a fresh cover of snow. We were torn with desperately wanting to climb it but equally wanting to get back down! A visit to the local guides confirmed that the mountain is rarely climbed directly after fresh snow so we resigned ourselves to leaving it undone. Still I've been to Zermatt a number of times now and it's always been there waiting so I guess we'll both have to wait a little longer.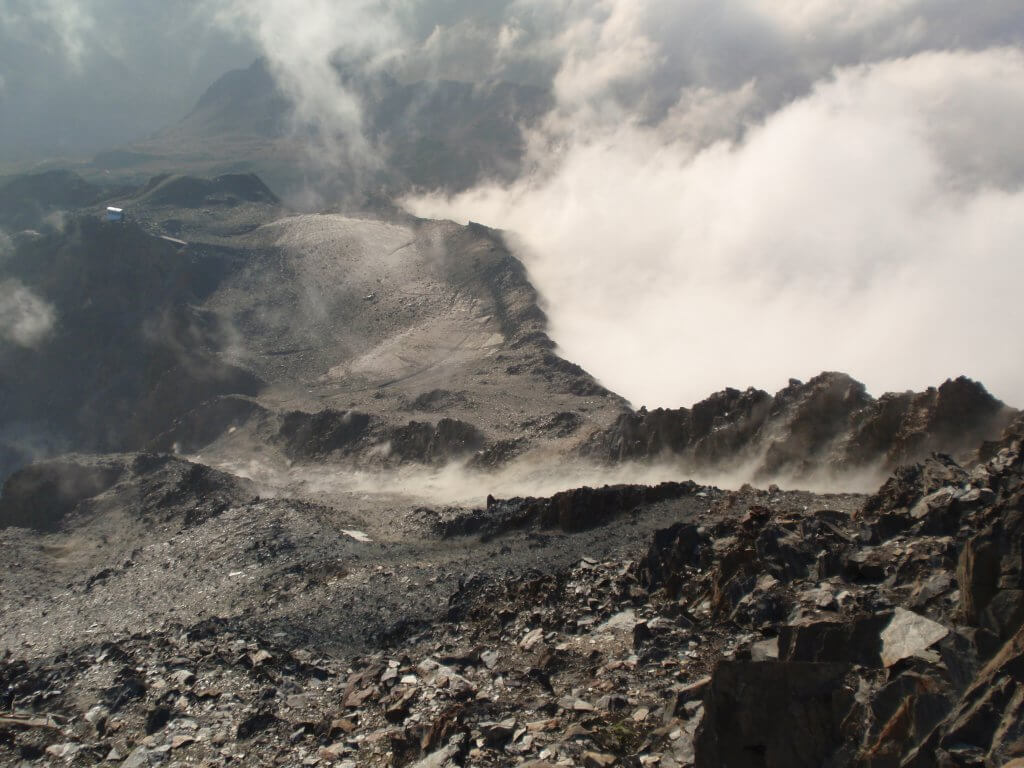 We'd been to Chamonix and Zermatt but another famous climbing valley neither of us had visited was Grindlewald so it was time to pay the home of the Eiger a visit. I'm sure there were a few raised eyebrows when we texted: "Conditions weren't right on the Matterhorn so we're going to have a look at the north face of the Eiger instead."
In fairness that really is all we intended but the Mittellegi Ridge was briefly aired as a possibility. We did a few via ferratas in the valley instead including one on the north face itself…I'm not kidding by the way.
We had fun using the tourist sketch map to find the start and it was great fun to be anywhere near the infamous Nordwand even if the weather never felt obliged to give us a decent view of it. It seems that every time I go to the Alps, however much I get done I always feel like there's so much more left undone. It's like trying to empty a bucket of mercury with a fork. And however many times the curtain comes down on those pristine and beautiful peaks I will always make time for one more encore.
Climbing Mt Blanc: The low-down
Getting there:
We flew to Geneva and rented a car. Rental on the French side is a bit cheaper so check this before you go to save a few quid.
Climbs info:
Guiding:
Fancy the climb but not sure how. Check out Robbie Fenlon at Wilderplaces.
Mountain Huts:
These are generally open from June to September and should be booked well in advance. If you do it via e-mail give a range of dates so you won't be disappointed.
Tete Rousse Hut: 3167m, 68 beds, tel. +33-450-582497, email: teterousse@orange.fr.
Gouter Hut: 3817m, 108 beds, tel. +33-450-544093, email: refuge.gouter@neuf.fr.
Words: Declan Cunningham
Photos: Chris England & Declan Cunningham
Check out our Hard as Nails podcast:
Also, check out: