Another epic Outsider Awards are done and dusted for the year. And while we recover and get psyched for the year ahead, let's have a quick recap of what went down in the Sugar Club on Wednesday night.
Eleven people have won the top prizes at the Outsider Awards 2017, out of a really talented field of 38 incredible adventurers and sports people who were nominated. These awards celebrate people who are doing amazing things outside mainstream sport on the Irish outdoor and adventure scene.
Most of them are regular people who are quietly taking on extraordinary challenges and these awards shine a spotlight on their inspirational achievements. The awards were sponsored by Just Eat, Columbia Sportswear, and Great Outdoors, Dublin.
The awards were presented by Anton Savage at a ceremony in the Sugar Club on Leeson Street in Dublin on Wednesday 24 January 2018.
Take a look at who took home the top prizes.
Audience Choice Award: Galway Baybes, cyclists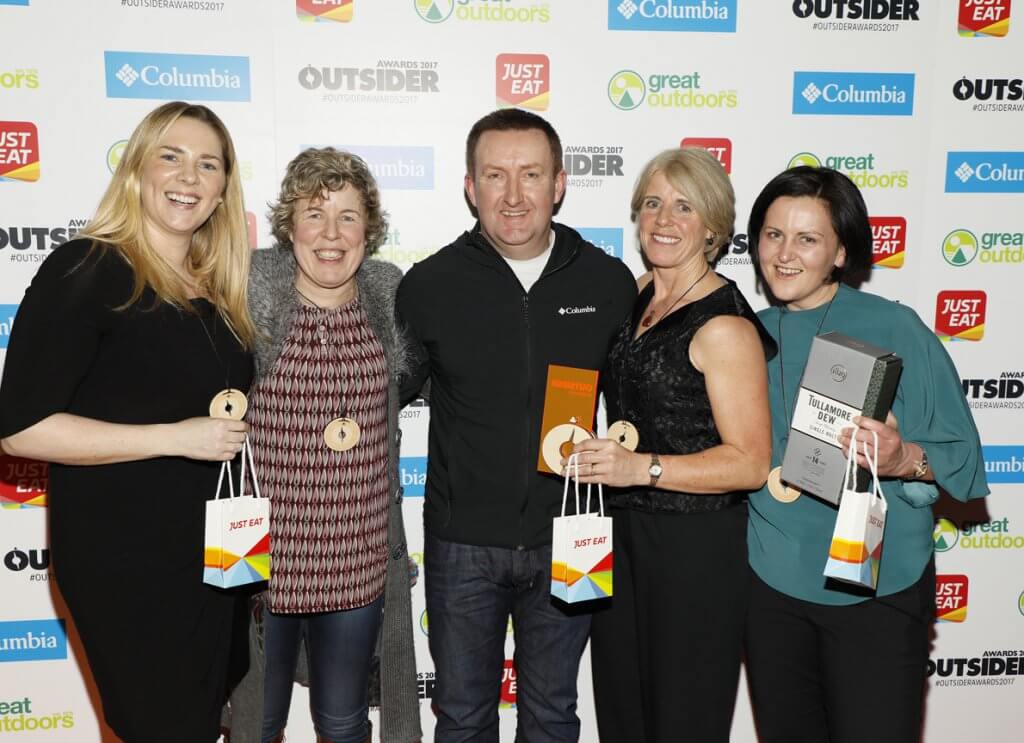 The Galway Baybes completed the epic Race Around Ireland as a relay in a time of 81 hours 13 minutes, smashing the Irish record by an incredible 10 hours and 17 minutes. All of the women have full-time jobs while three of the women also have children. Their aim was to inspire more women to get out there and take up triathlon and cycling. The Baybes are made up of Marie Boyle (48) from Donegal, Karen Cassidy (48) from Moycullen, Joanne Murphy (39) from Cork, and Bríd Naughton (38) from Spiddal. All live in Galway.
Outsider Woman of the Year: Sinead Kane, visually impaired runner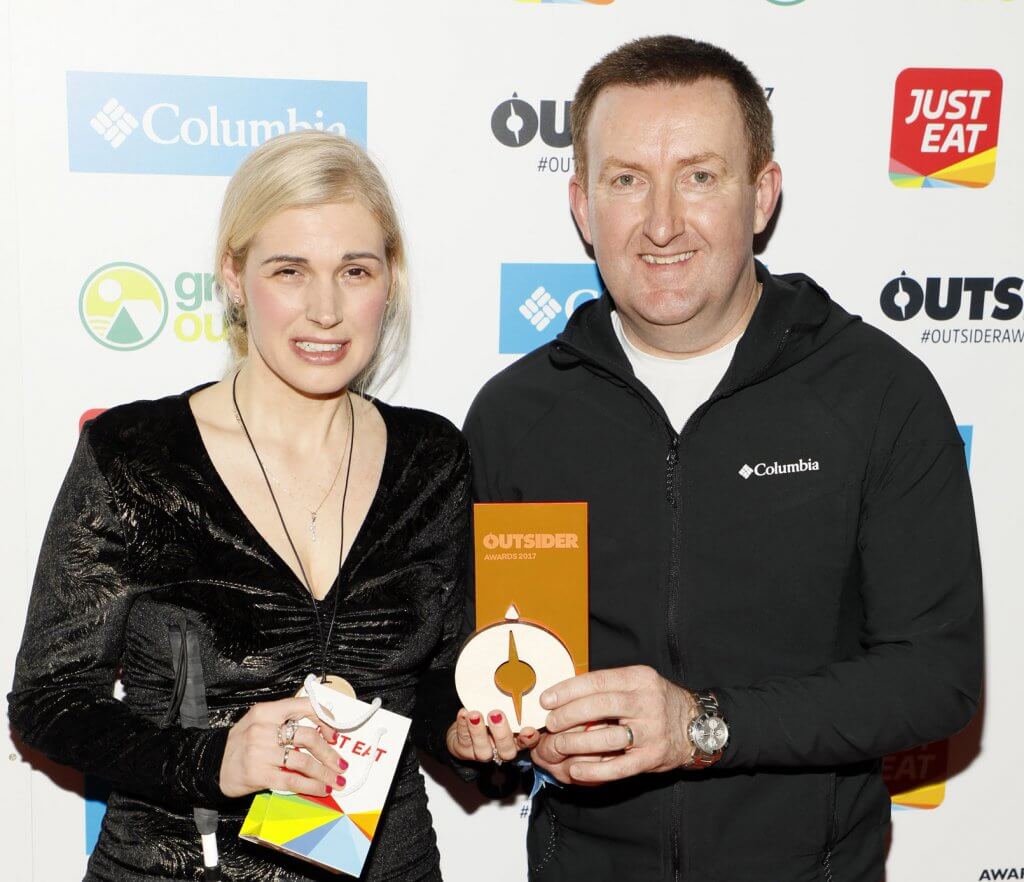 Earlier this year, Cork woman Sinead Kane (35) completed seven marathons, on seven continents in seven days and entered the Guinness Book of Record for being the first visually-impaired athlete to achieve such a feat. That's a total of 295km in Antarctica, Africa, Australia, Dubai, Europe, South America and North America as well as spending about 45 hours in the air to travel between the continents.
Outsider Man of the Year: Joe Barr, endurance cyclist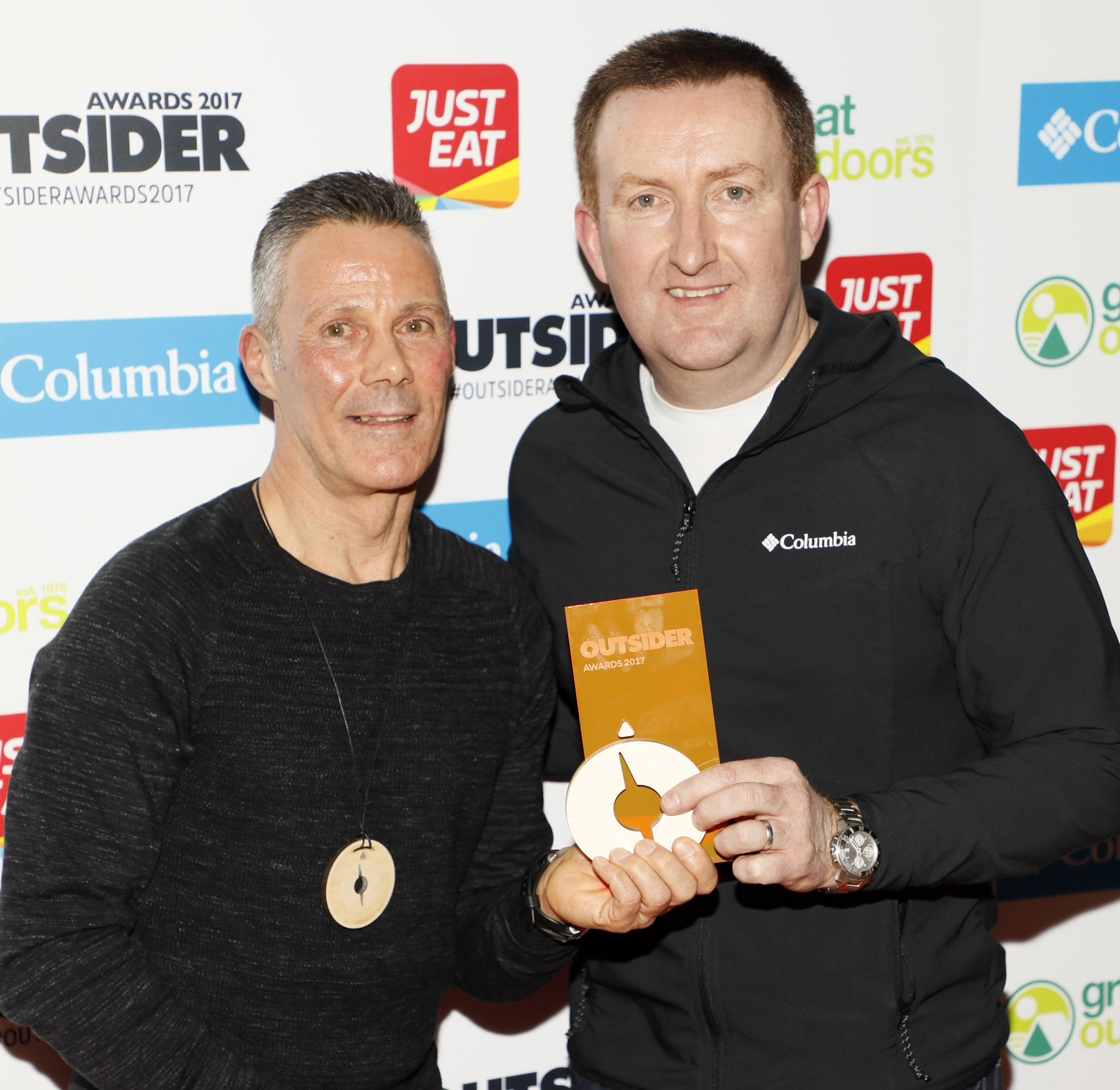 Derry man Joe Barr (58) competed at some of the world's toughest endurance events as part of the Ultra Cycling World Cup and in December was declared World Champion. Joe also broke his own record for cycling the 735 miles from Malin to Mizen Head and back again, completing the mammoth cycle in just 48 hours and 40 minutes.
Most Inspiring Person: Nikki Bradley, Adventurer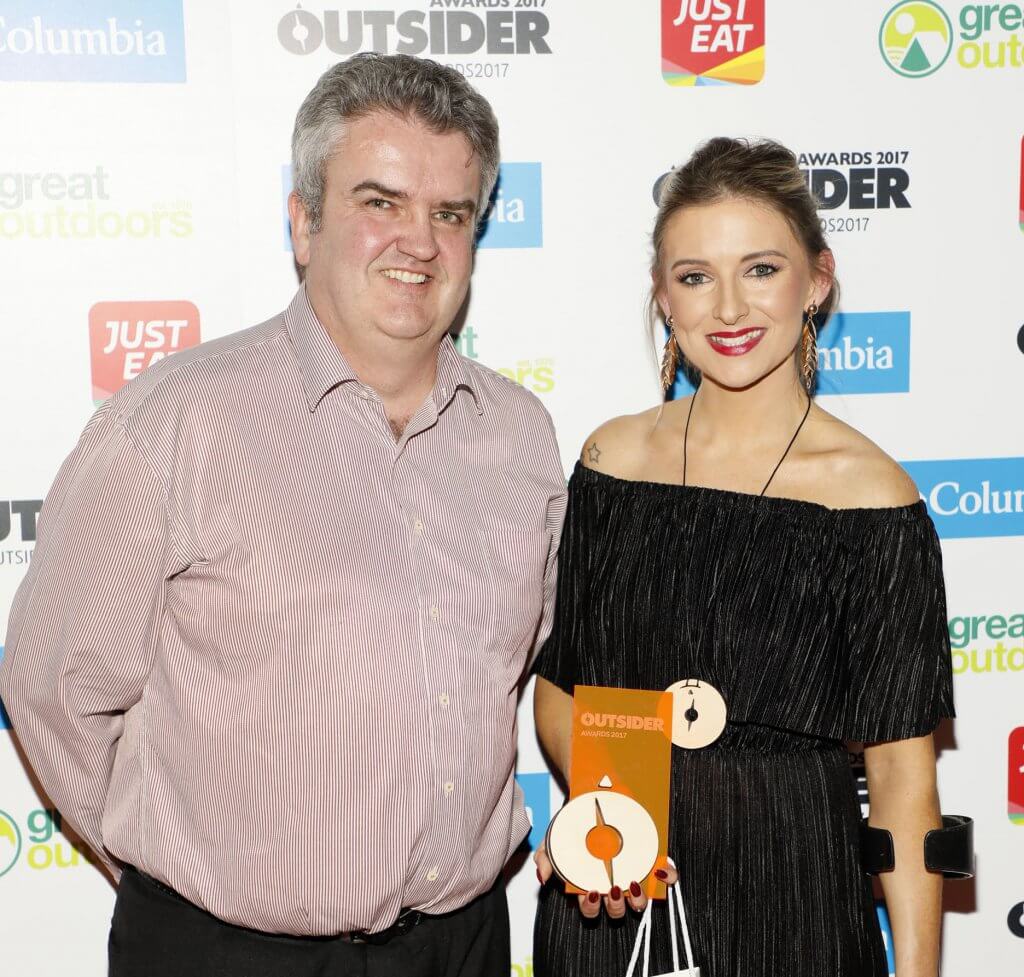 Donegal woman Nikki Bradley (31) was diagnosed with a rare form of bone cancer (Ewing's Sarcoma) at the age of 16. Having received the news that she would remain on crutches permanently and, in the future, may face full right leg amputation, she started her own campaign 'Fighting Fit For Ewing's'. Since then, she has undertaken several incredible challenges to both raise awareness for the rare disease and highlight the importance of exercise for rehabilitation. In 2017, that campaign included completing the Fan Dance race, an event that follows an SAS Selection test staged over Pen y Fan, the highest mountain in the Brecon Beacons. The infamous march is the world's oldest Special Forces test. Nikki has also climbed a route of the Sólheimajökull glacier in Iceland, abseiled into a 45 foot ice cave, completed numerous mountain climbs and becoming the first woman to abseil off Fanad Head Lighthouse.
Youth Award: Aoife Hopkins, Sailor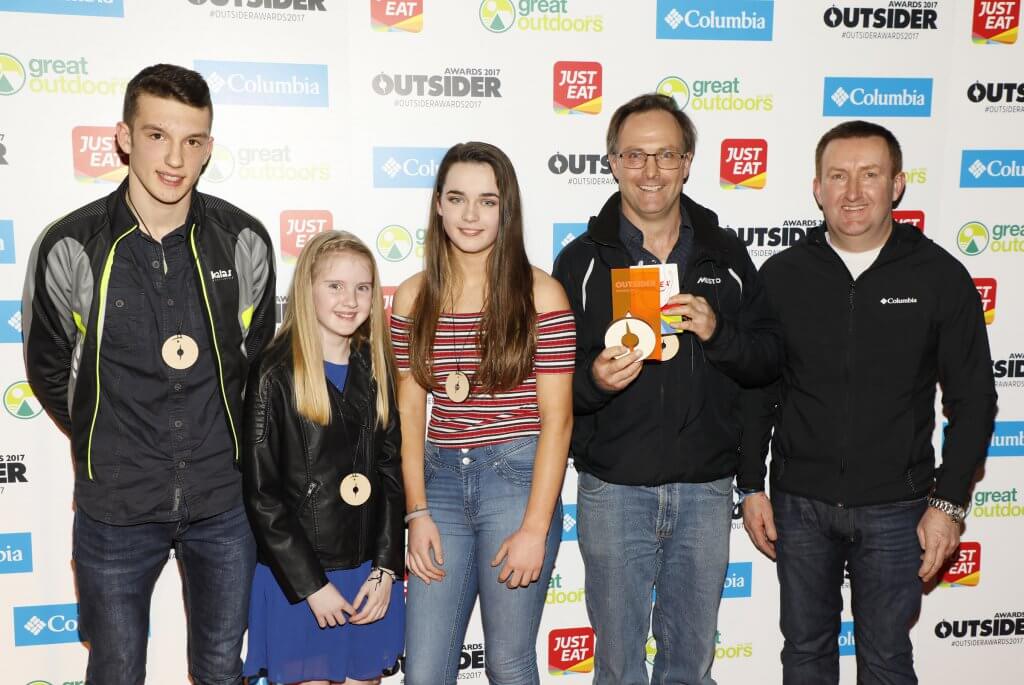 Dublin sailor Aoife Hopkins (18) has had a busy year. She won the Ladies National Championship and the U21 European Championships, and was 21st at the Senior European Championships. She then went on to sit her Leaving Certificate, coming out with 600 points in the bag, proving doubters everywhere that sport and work truly can be balanced.
Most Devoted to the Outdoor Scene Award: John O'Regan, Runner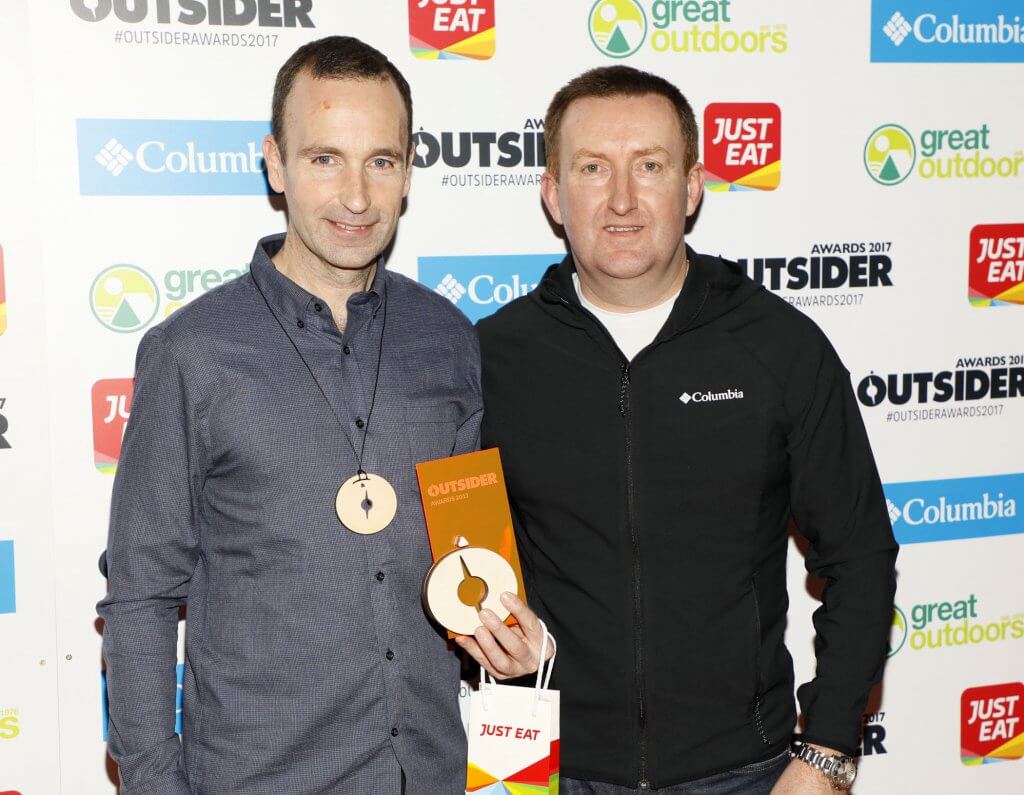 John O'Regan (48) from Dublin but living in Kildare has a running resumé like few others. He has represented Ireland in World and European Championships for 24-hour racing, 100km and ultra trail. He has acted as guide on the Everest Marathon for the visually impaired athlete Mark Pollock. This year he acted as guide for the visually impaired athlete Sinead Kane during the 777 World Marathon Challenge, which consisted of a marathon on each of the seven continents, starting in Antarctica and finishing seven days later in Australia. He also somehow manages to hold down a full time job.
Breakthrough Achievement: Killian Callaghan, Mountain Biker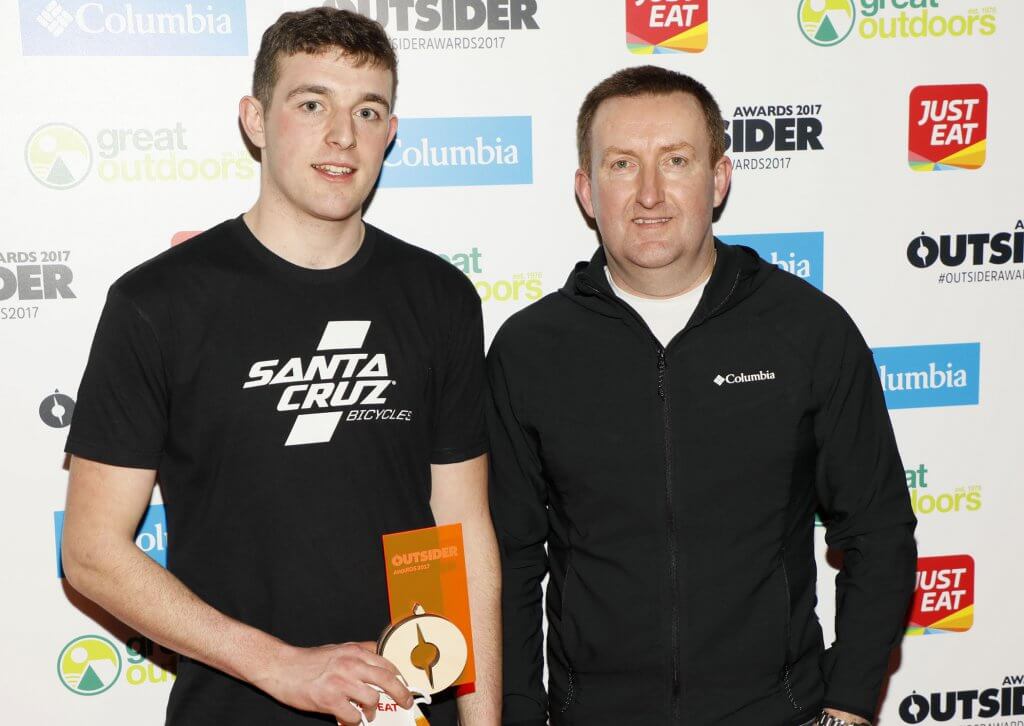 Killian Callaghan is the current U21 Enduro World Champion. An even more impressive achievement when you consider that he only took up mountain biking four years ago and struggled greatly with sponsors which meant he was forced to hold down a job in between trips abroad to compete.
Just Eat Fit Food Award: The Irish Biltong Company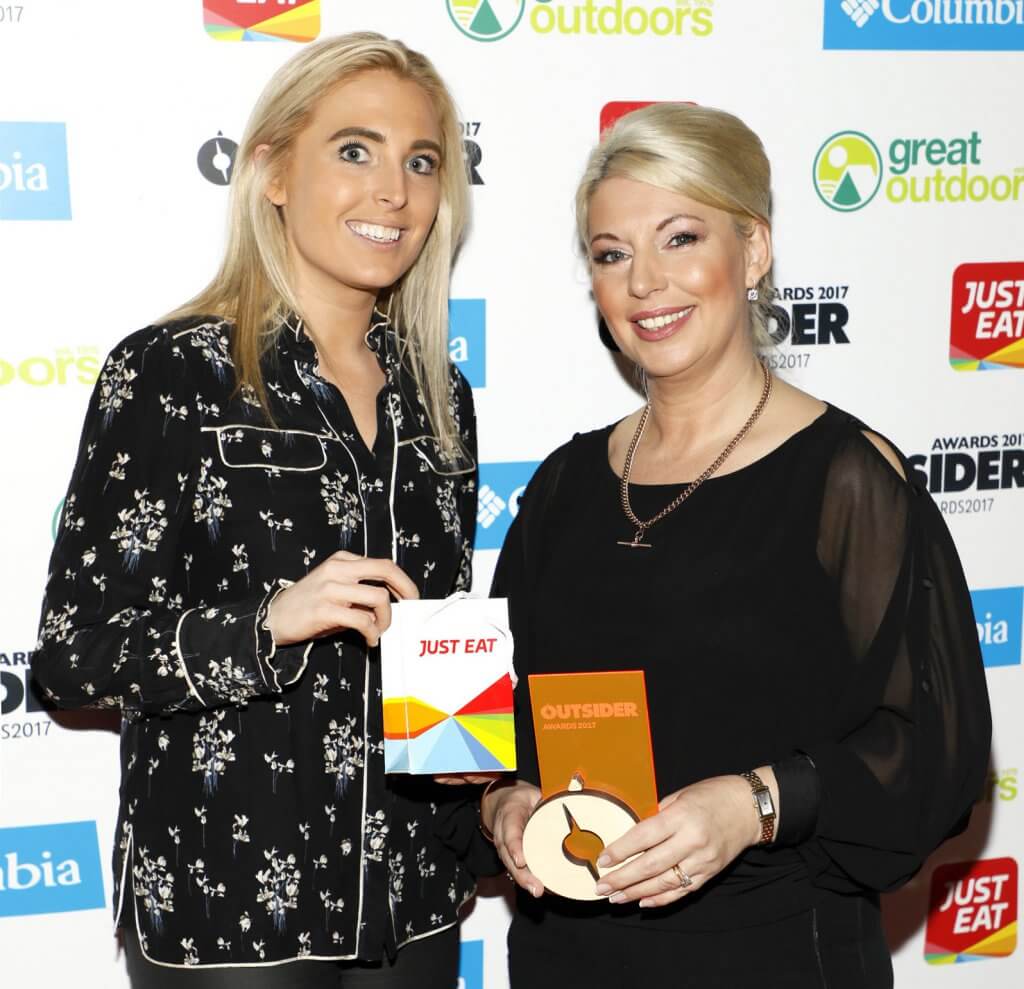 The Irish Biltong Company is a family-owned business in Co Kildare run by John and Noreen Doyle. Biltong is a high-protein low-fat dried beef snack used by many athletes during and after sport. It's made in Kildare using a traditional method of dry aging, hand curing, tender hooking and hand cutting the beef. Sponsored by Just Eat, the Fit Food Award it aims to promote the importance of balanced diets and healthy, tasty food for active people.
Best Outdoor Adventure Event: Quest Glendalough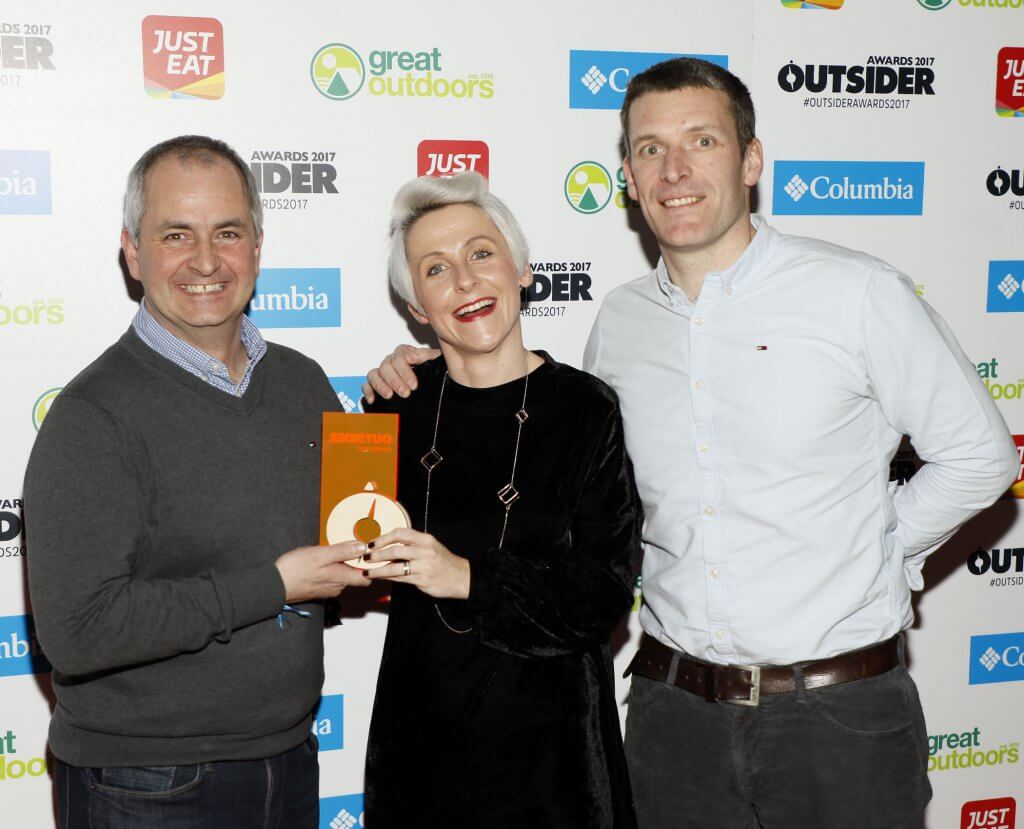 Quest Glendalough is a firm favourite on Ireland's adventure calendar. This epic adventure involves racers running and cycling through the Wicklow Mountains National Park and Glendalough Valley, as well as kayaking across the spectacular Upper Lake and finishing the race in the shadows of the monastic round tower which epitomises the Glendalough area.
Best Outdoor Escape/Provider: Giddy Gally Adventures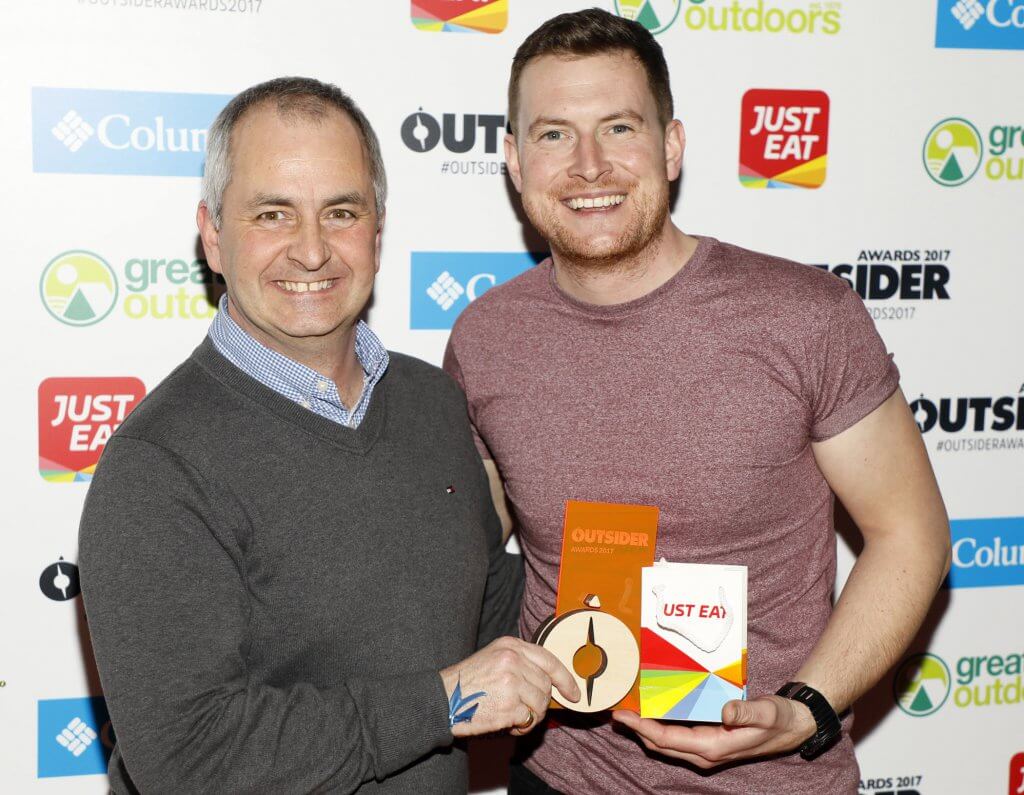 Giddy Gally Adventures offers a range of Rock Climbing courses, guided hikes and summer camps for the novice and experienced climber alike. They also provide a range of overseas trips for adventure lovers.
Leave No Trace and Clean Coasts Most Devoted to the Environment: Dublin Clean Canals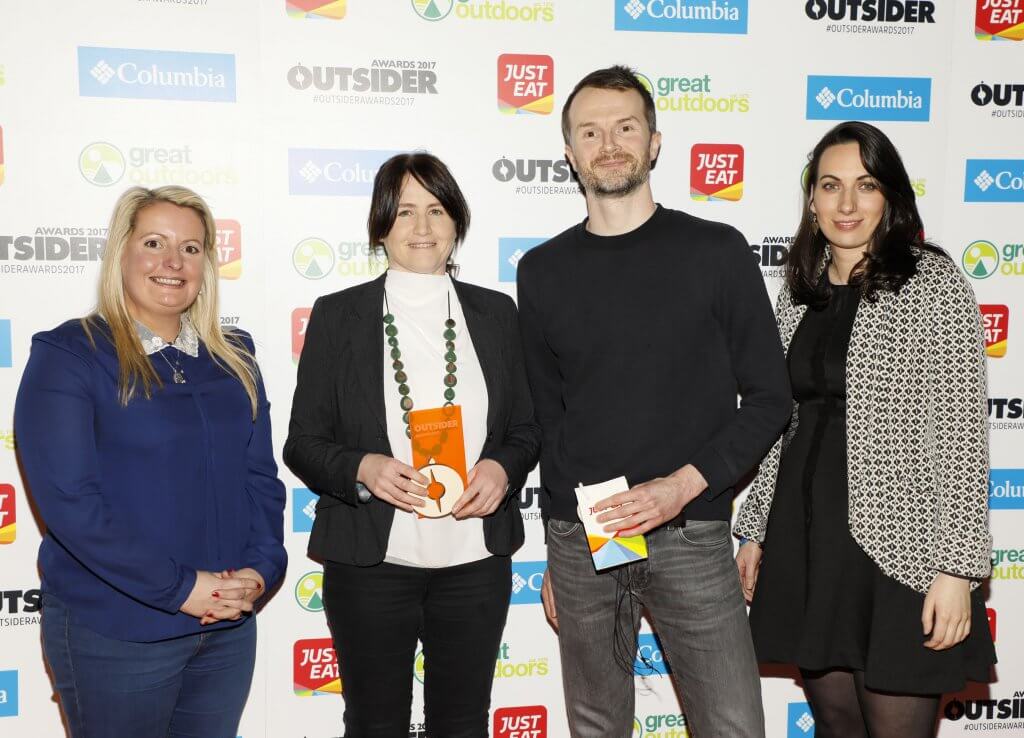 The aim of this group is to promote the use of both of Dublin's beautiful canals to their fullest potential as amenities. Regular volunteer clean-ups are organised along the canal banks throughout the year.
Best Outdoor Adventure Film: Between the Wind and the Waves with Francois Colussi, Wild Mayo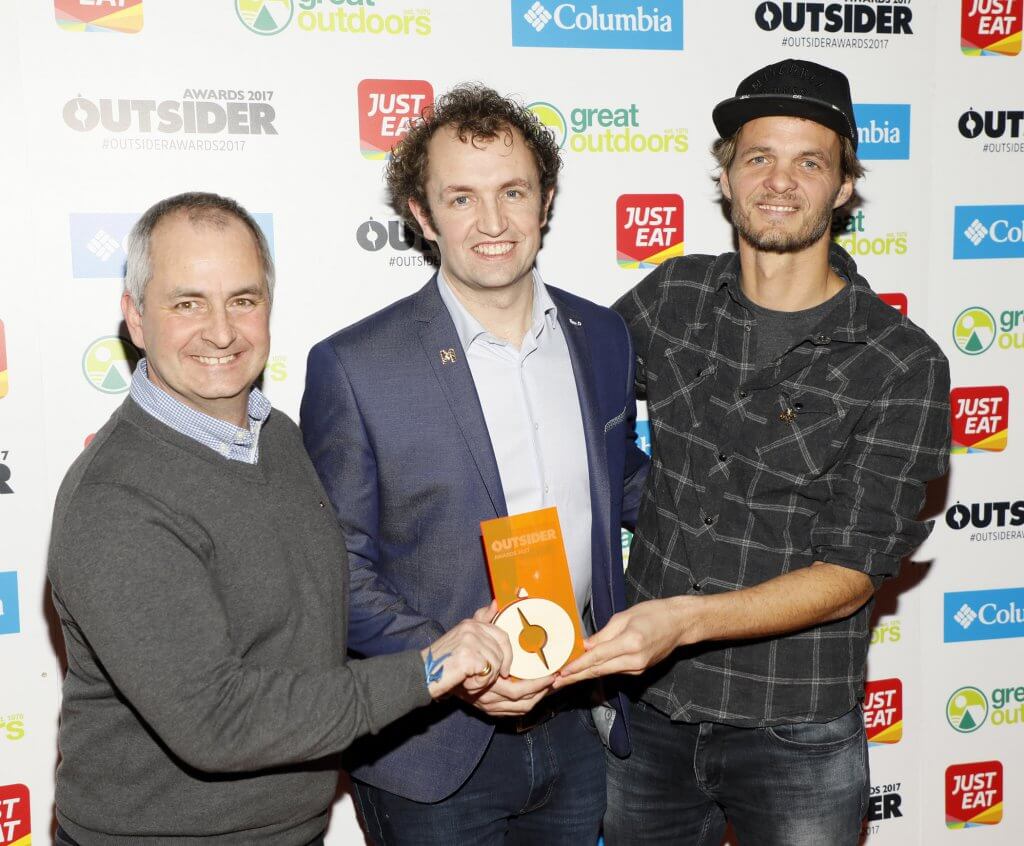 Watch Francois Colussi fall deeper in love with the landscape as he cuts through the clear waters of the Atlantic Ocean. Uniting his passion for Ireland and his sport of kitesurfing, he introduces us to the beauty that is County Mayo.
Best Outdoor Adventure Photo: Living the Dream by Adrian Van der Lee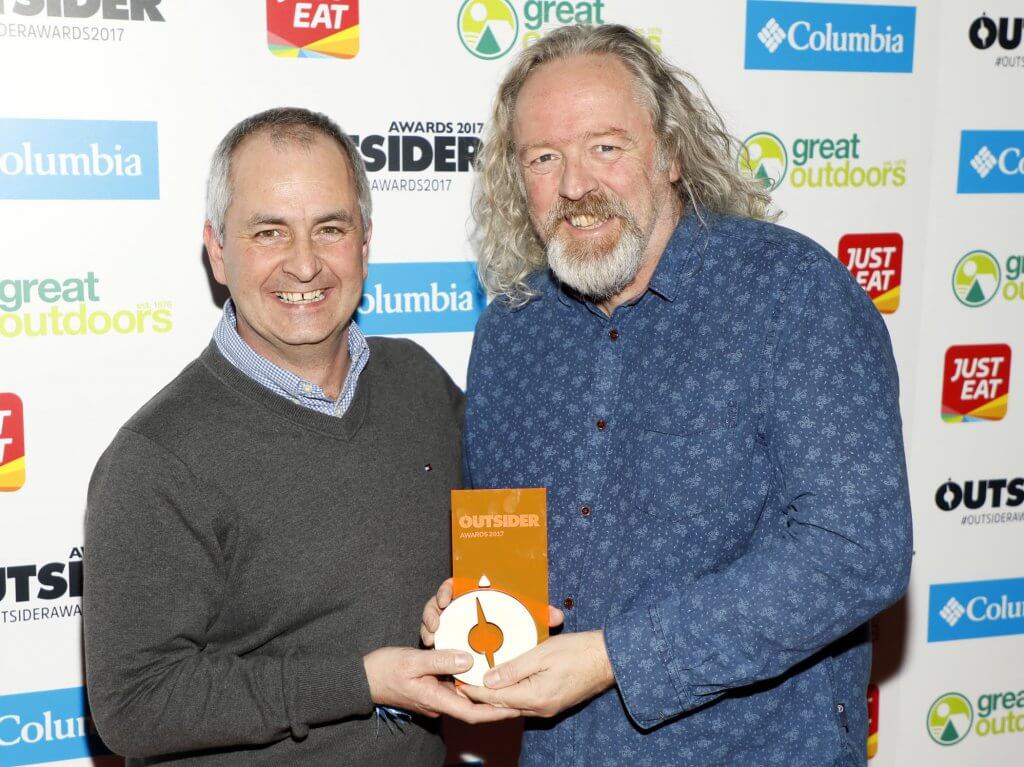 Rider Gav Carroll gets some air on Dreamtrack, Ticknock, Co Dublin. Captured so spectacularly by Adrian Van Der Lee.
Massive congratulations to all the nominees and thanks to all who came out to show your support! We can't wait to do it all again next year!
Why not also check out: 

Previous Post