Usually, you talk yourself off the ledge, not over it. But this is not your average day. I have embarked on an adrenaline-fuelled high ropes course and while I might be out of my comfort zone I am having an absolute blast. Tucked away from civilisation, deep in the blissful wilderness of the Dublin Mountains sits a little cabin, an outhouse and a bunch of boys hanging upside down from harnesses. It goes by the name of Zipit.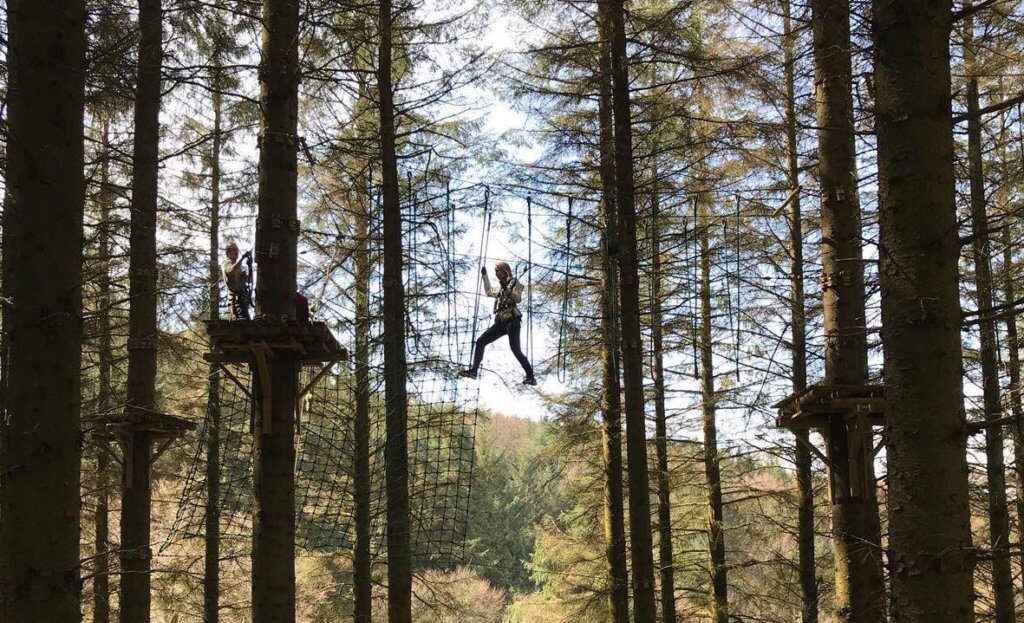 Tibraden Wood is the chilled out location of this high wire forest adventure park where the Lost Boys of Peter Pan wouldn't look out of place. You might have to go looking for it as it's pleasantly subtle. It's not until you take a closer look at the towering trees that you glimpse the obstacle course hidden among them. It complements nature rather than consumes it. Here I get to spend a day out with my two sisters, to bond, to laugh, to reawaken our old sibling rivalries and to pretend that we are kids again. 
11 Adventurous Gift Vouchers for the Person Who Has Everything
Zipit combines platforms on trees (at heights ranging from one-metre to 20 metres off the ground) with rope bridges, swinging logs, cargo nets and zip lines. It is one of those rare places that a group of grown-ups can go to play, or a child's imagination can run wild with thoughts of fairies and epic adventures.
The Zipit staff, Liviu, Ross and Stephen emerge from the cabin to greet us and harness us up. They'll take us through the five different circuits (green, orange, white, blue and red). Each one is a little more challenging than the last. The lads assure us that our bravery will grow as we progress through the different courses. We have a thorough safety briefing which is peppered with good-humoured slagging amongst my sisters and I about who will be the bravest. Sibling rivalry, it seems, never gets old.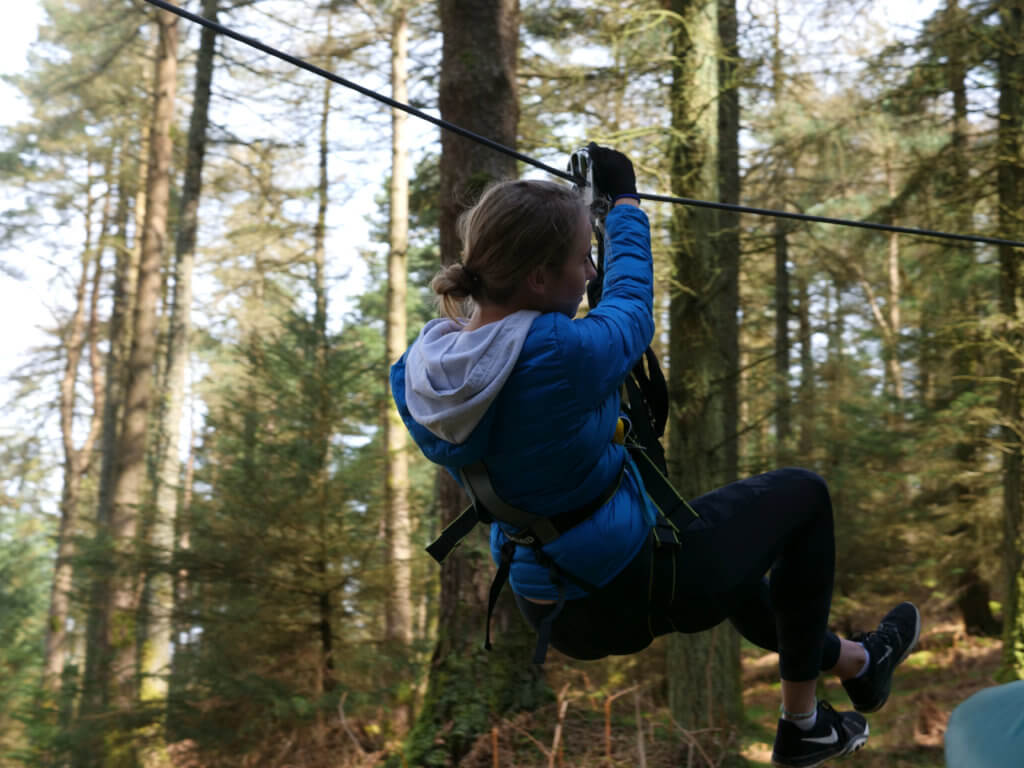 Before we know it we are off on the orange route to test our bravado. The fear of using the harness quickly dissipates as the unclipping and clipping becomes rhythmic, natural and almost obvious. We progress through the trees and obstacles, encouraging, laughing and of course, hustling each other as we go.
As we move up the levels we take on some of the big attractions. There is a snowboard in the skies, a BMX bike across a bridge, a Tarzan swing, a trapeze, cargo nets, loads of zip lines and a BASE jump.
Feel The Fear And do it Anyway!
Cycling a BMX bike at a height of 20m feels downright reckless. You can't actually fall to your death, as you are all harnessed up, but you can't stop the thought from creeping into your mind. The fear and adrenaline that consumes you on the big stuff is addictive. Nothing feels more unnatural than standing on the edge of a platform on the top of a tree and stepping off it into thin air.
"'Step out, step out. You can do it. Drop, Orla, drop. Just let go,' I tell myself. I am standing on a ledge, 13 metres above the ground and I am shitting myself. Stepping out into thin air goes against every rational bone in my body."
That initial stomach flip as you free fall before the harness catches you gives you such a buzz. You feel so in tune with the moment and so alive. The fear is irrational yet it is not. It comes down to mind over matter, trying hard to calm a beating heart and simply take the leap. Simultaneously knowing that kids would skip around you on this without any fear.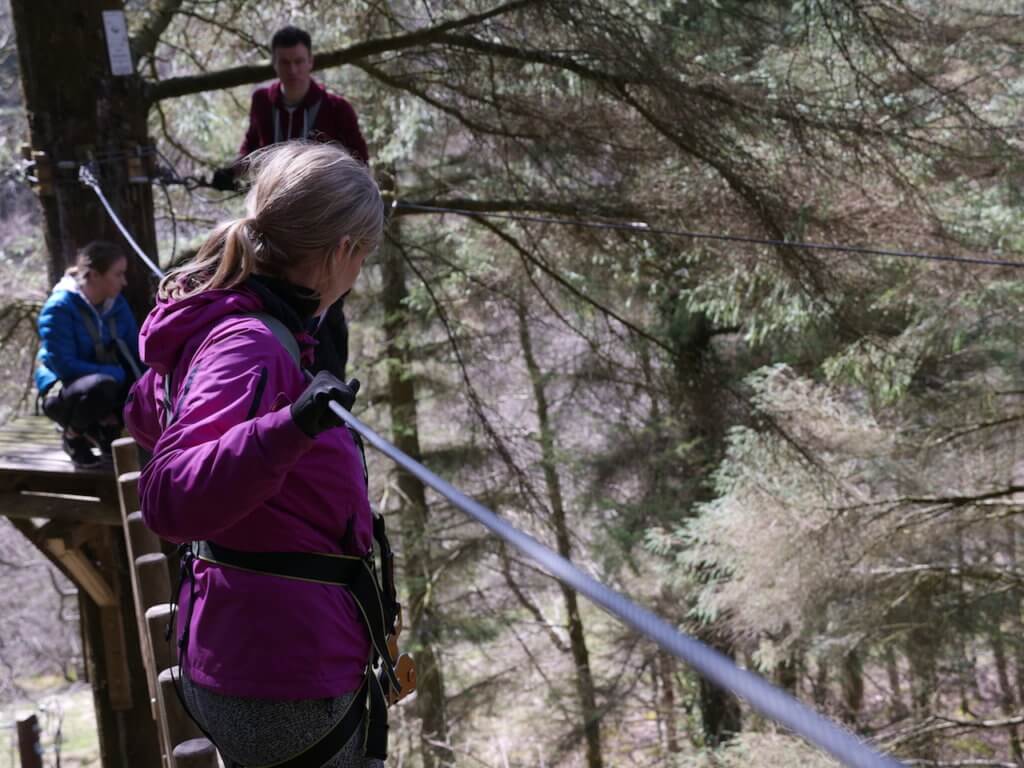 A day in Zipit feels like the best kind of workout. The one where you don't realise you're exercising until you feel that familiar ache in your muscles the following day. It is without a doubt the most fun I have had in a long time. A rare opportunity to play, yes play, with my two sisters. We trapeze, zip and laugh our way through the morning. All the while helped on by the gentle humour of Ross and Stephen. They are great at encouraging you through it, coaxing you out of your comfort zone by whatever means necessary!
This Summer's Festive Adventures: The 53 Degrees North Adventure Festival in Wicklow
By the time I reach the final challenge of the day I am more confident but the slight fear of what's to come still lingers. We have just the BASE jump left to conquer. And it looks terrifying. Fighting my instinct to retreat to safety I once again talk myself over the ledge.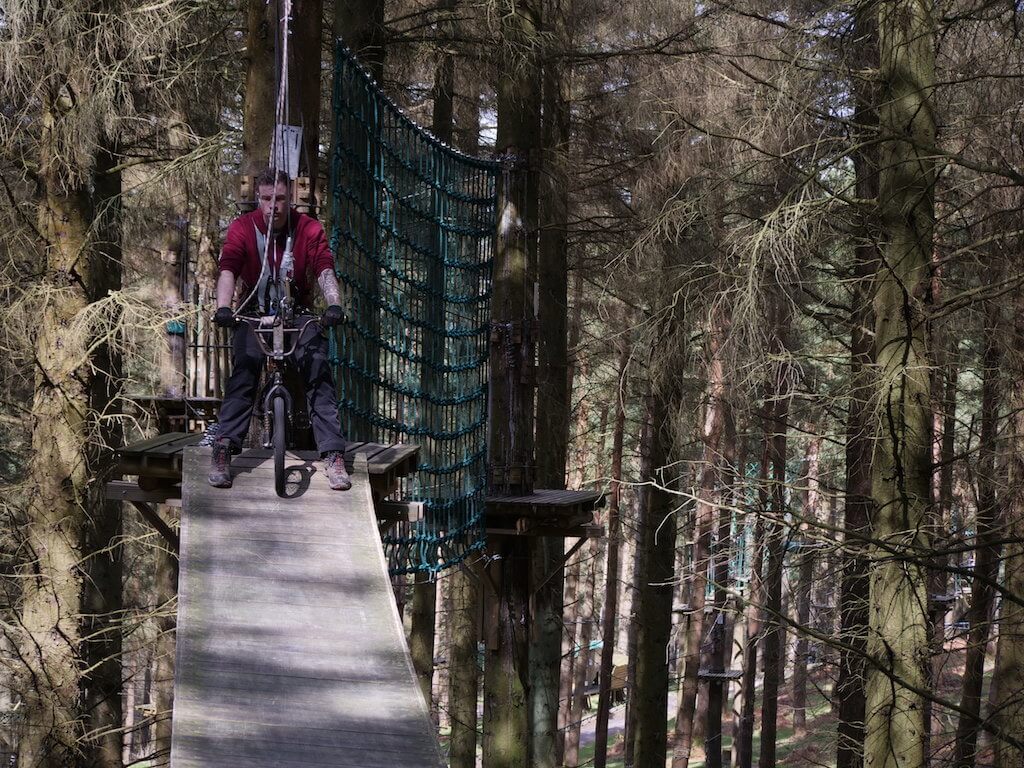 The moment is all-consuming, I forget life itself and all its woes. I take the leap. Adrenaline pumps through my veins as I plummet towards the ground, caught just in time by the rope that holds my life in its hands. As I lower myself back to terra firma, I am exhausted but totally exhilarated. In fact, I struggle to remember a time that I have felt so free, laughed so hard or been so terrified!
More info: Zipit
By Orla Ó Muirí
Check out our Hard as Nails podcast:
Like this? You should check these out: