There is something quite thrilling about departing for a weekend away. Knowing that you aren't going to have to make your own bed for a couple of days, the anticipation of new places to explore and the sheer luxury of being able to watch telly in bed, it is blissful.
And, as I recently discovered, you don't have to go far to feel like you have escaped the daily grind. Powerscourt Hotel is located just 30 minutes from the centre of Dublin by car, yet it feels a million miles away.
From the moment you walk in through the hotel's revolving door, you feel like you have been transported into another world. Despite the hotel's five-star status, there is nothing stuffy about the place. It is evident that huge emphasis has been placed on friendly service and a relaxed atmosphere. And the best part of all, the staff don't bat an eyelid at lycra-clad bodies or muddy trail runners, in fact they embrace them!
Do: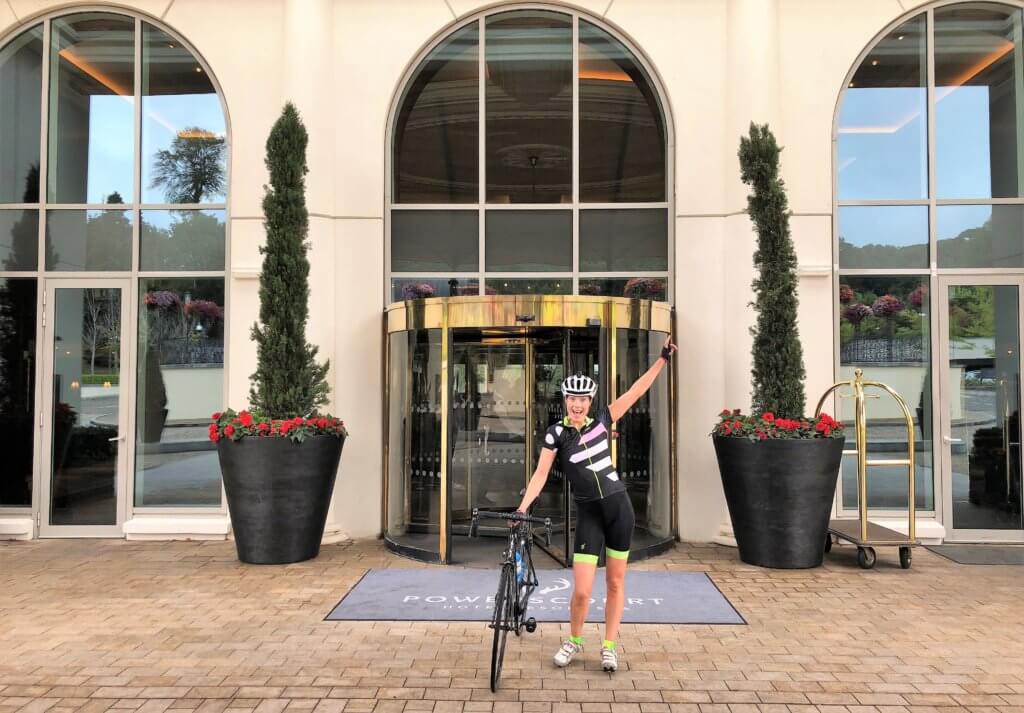 The Powerscourt Hotel could not be better located for outdoor lovers. Whether you are after a gentle stroll, a wild swim or a gruelling bike ride, there are a plethora of great offerings right on the doorstep of the hotel.
And once you return from your adventures, you have a fluffy robe, slippers and a warm and welcoming spa to retire to for the afternoon!
Walking:
Those who are after a gentle stroll should head for the river on the Powerscourt Estate. Lined with trees, it is lovely spot if you are looking to get a bit of fresh air. And of course, the famous Powerscourt Gardens are also well worth a stroll around too.
Hiking/ Trail Running:
There are so many fantastic hikes and trail running routes within a stone's throw of the hotel. We opted to head to Lough Dan as we were eager to combine a trail run with a swim. We parked the car above Lough Tay and took the path through the Guinness Estate before turning off towards Knocknacloghoge. We climbed to the top of this peak and then descended to Lough Dan for a dip.
Check out our complete guide to hiking and trail running routes in Wicklow for more inspiration.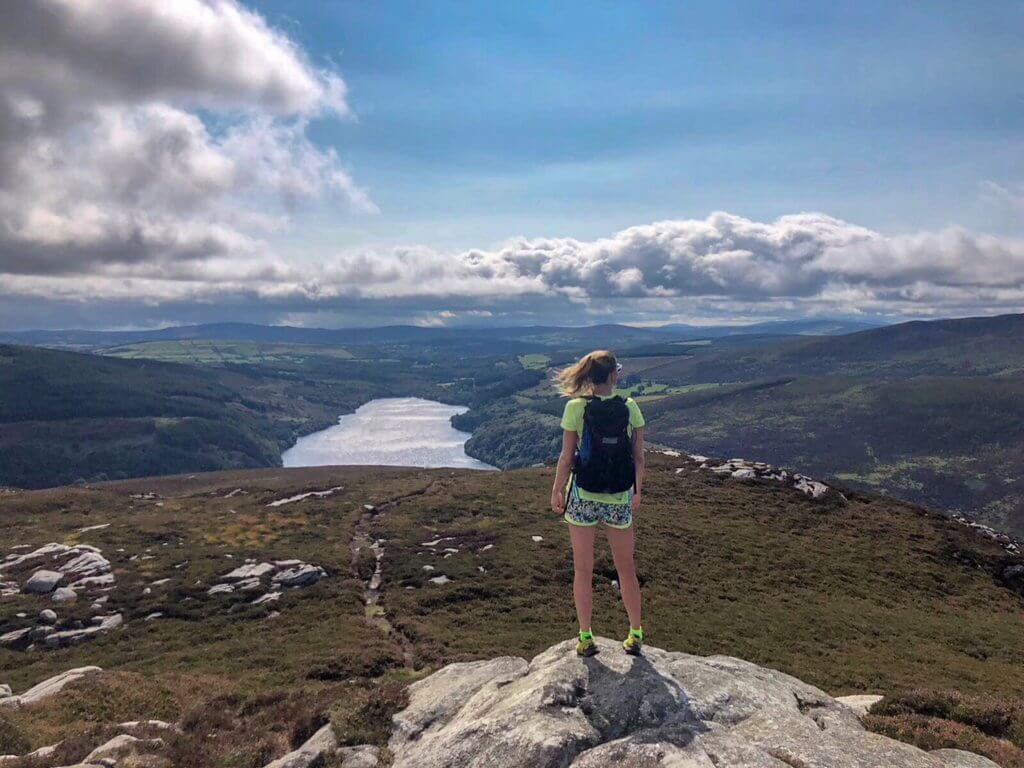 Road Cycling:
All of the Dublin-based cycling clubs flock to Wicklow for their long weekend rides. And for good reason. The area offers some of the finest road riding in Ireland. You can expect a couple of gruelling climbs, but the epic views across the Wicklow Mountains National Park more than make up for the effort. You can ride directly in and out of the hotel.
Mountain Biking:
If you fancy getting your pulse racing then why not hit the mountain bike trails at Ballinastoe. The looped route offers some spectacular views over the Irish Sea and Lough Tay. The trail network is signposted, so no map needed. Biking.ie, located at the trailhead, offers bike rental and mountain biking lessons for those who want to learn the ropes.
Wild Swimming:
Wicklow's lakes are nothing short of breath-taking (and no, that's not only due to the temperature of the water!). Lough Ouler, Lough Dan, Glendalough Upper Lake and Lough Bray are a few of our favourites.
The Adventure Lover's Guide to Wicklow
Unwind and Relax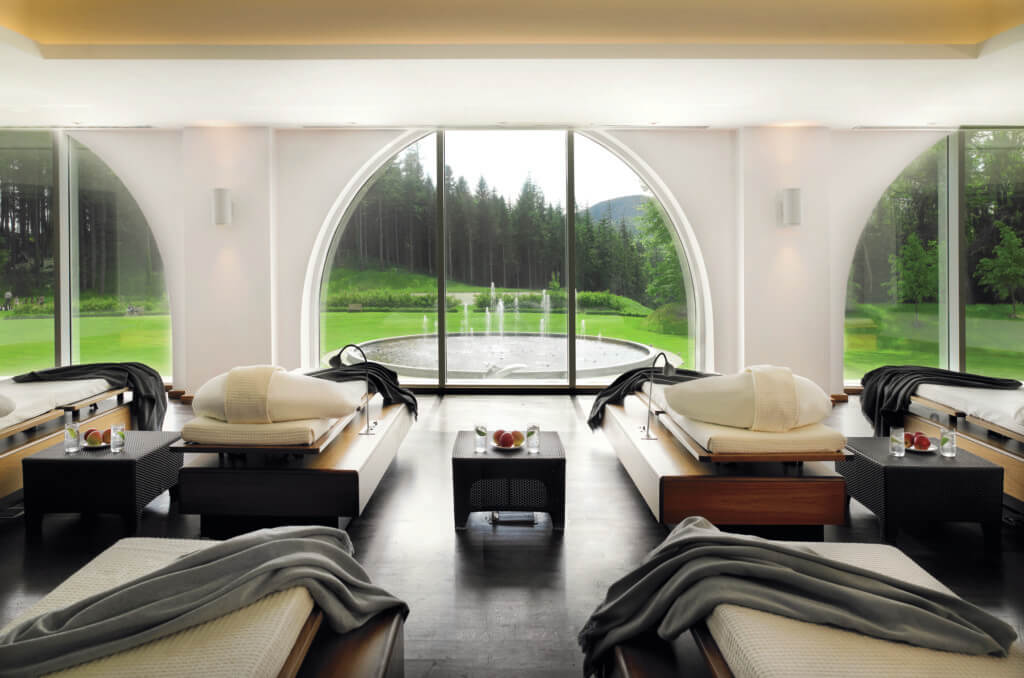 This is the best part! Returning to the hotel, shivering after a rather wet and windy road ride, we couldn't wait to pop on our fluffy robes and slippers and retire to the spa for the afternoon.
The dark pool area with its glistening Swarovski crystal ceiling is a haven on a bad weather day. Equipped with a large Jacuzzi, sauna, steam room and pool-side loungers, you could easily while away a couple of hours down there.
However, the real star of the show is the spa area on the floor above. Offering an array of treatments, you can spend the afternoon making the most of the spa's relaxation room, Jacuzzi, sauna and steam room all of which overlook the hotel's perfectly manicured grounds.
After several hours of pampering, snoozing and Jacuzzi-ing, we retired to our room for another nap before dinner.
The rooms in Powerscourt are exquisite. We stayed in one of the hotel's mountain suites. Offering views of the Sugar Loaf, the room has a large balcony, two bathrooms, a living room, kitchen and a colossal bedroom. It is the definition of pure luxury. Be warned, you will never want to leave!
Grub's Up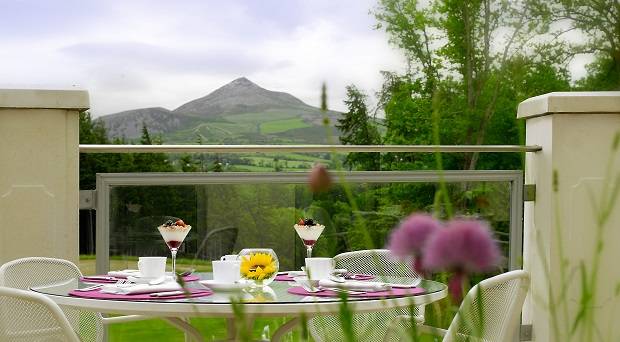 No good weekend away is complete without some top-notch nosh. And once again, Powerscourt Hotel did not disappoint. On our first night we opted to dine in the relaxed Sugar Loaf Lounge where we treated ourselves to a comforting plate of fish and chips and a crisp glass of Chardonnay. It hit the spot perfectly.
On our second night, we upped the ante and dined in the hotel's main restaurant, SIKA. While the menu is more formal, the atmosphere is still very relaxed. Hungry after our day's activities, we devoured fresh crab cannelloni for starters, juicy rib eye steaks for mains and raspberry parfait for dessert. It was delicious from start to finish.
Breakfast is also an affair worthy of a mention. The buffet is one of the best I have seen in an Irish hotel. Offering freshly baked breads, pastries, homemade granola and the obligatory Full Irish, there is more than enough to set you up for an action-packed day of adventure. If the weather is nice, I highly recommend you dine out on the terrace. With the sun hanging low over the mountains, it's a great way to start the day.
Powerscourt Hotel: Essential Information
Powerscourt Hotel Resort Spa, B&B rates vary from €210 (£183) midweek to €270 weekends.
Special Offers:
Naturally Unexpected: From €170pp (£148), includes an overnight stay at the hotel with breakfast at the award-winning Sika restaurant, along with 20% off ESPA treatments (until 30th September).
Day Spa Retreat: €140pp midweek or €160 on the weekend, includes 50-minute full body massage & choice of either a salt and oil body scrub, mini facial or head massage, with lunch included
Like this? You should check these out: 

Previous Post