We take a closer look at the MSR Reactor Stove to see if it really is 'the fastest and most fuel efficient stove' on the market.
MSR Reactor Stove
Price: From €159.95
Brief Look
Not only is the Reactor Stove System the fastest and most fuel efficient stove ever made, it's the only one that delivers that level of performance in the cold and wind of the real world. Simply put, you'll burn less fuel, carry less fuel, and move faster than with any other stove available.
What MSR says: Specification
Integrated System: State-of-the-art stove and high-efficiency cookware are combined into a compact, self-contained and easy-to-use system.
Unrivaled Boil Time: Outperforms the competition in head-to-head lab tests—boiling .5 litres of water in just 1.5 minutes.
Unmatched Wind Protection: Heat exchanger completely encloses radiant burner head, virtually eliminating the effects of wind to maintain outstanding boil times and save fuel.
Maximum Efficiency: Patent-pending radiant burner, heat exchanger and internal pressure regulator produce best-in-class, fuel-sipping efficiency in all conditions.
Compact: All systems are self-contained, fitting the stove and fuel inside the pot. (1.0L Reactor System nests optimally with our new, smaller-diameter 4 oz. canisters, which are sold separately)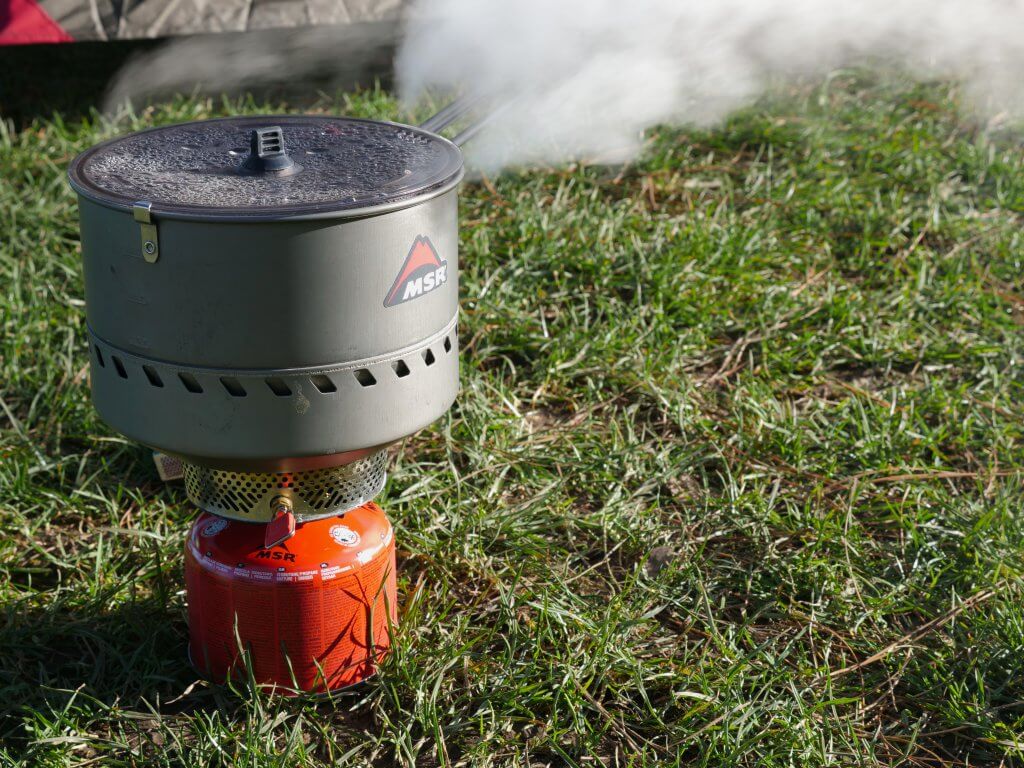 Outsider Verdict: The MSR Reactor Stove
Size:
This isn't the smallest stove out there. Compared to the Pocket Rocket it seems gigantic. But once tucked into your pot, it really makes no difference whatsoever. The complete Reactor Stove System comes in three sizes: 1L, 1.7L and 2.5L. The stove itself weighs in at 434g.
Assembly:
There is no assembly required with this stove. Simply slip the stove out of its protective PackTowl covering, screw it on top of your gas and you are good to go.
Performance:
This is a great stove for cold, windy and generally poor weather conditions. It is very easy to light and boy does it boil water quickly. In just 90 seconds you can have a steaming cup of tea in your hands. This is thanks to the wide face of the stove and the integrated pot which conducts heat exceptionally and ensures that no heat is lost between the two.
However, get things to simmer on this exceptionally hot stove can be tricky. While there is a heat control on the side, the stove is hot so if you are looking to reduce a sauce or something that requires simmer time you may find it tricky.
The integrated pot works well. I use the 1.7L which can feed four comfortably. The strainer lid works really well and the pot overall has stood the test of time.
Durability:
I have been using this stove for several years now. It has accompanied me on multi-day adventure races and camping trips and is still as good as new. I have seen no wear or tear on the pot and the stove still works perfectly. It has also proved to be relatively fuel efficient. My only gripe is that the locking handle does pop off from time to time but it is very easy to pop back on.
More info: MSR
Available from: Great Outdoors, Wild Side Sports
Check out our Hard as Nails podcast:
Check out our reviews of other MSR products:
Previous Post