Spending time in the great outdoors with your child is one of the most rewarding experiences in life. Whether you are hitting the trails with your kids or even just strolling around your local park when you get home from work, there is nothing better than taking a deep breath of fresh air with the ones you love. But, even when you are having a wonderful time adventuring, the safety of your child is paramount. Child carriers are a great way to be able to take your baby out into the world while strapped to your back. Here is everything you need to know before you buy your first child carrier. 
Getting Started
It may seem daunting trying to choose the correct backpack carrier for your child. You want to keep them safe and cosy, and you yourself also want to comfortable enough to carry them for extended amounts of time. 
Before buying, think about how often you will use your pack, and think about what kinds of activities you want it to support. Are you hoping to take your child on an extended hike? Or do you just want an easy way to carry them while taking a walk in the park? All of these factors will contribute to the type, make, and model of carrier that you choose. For instance, if you plan on taking longer, more frequent outings with your baby, consider choosing a model that will have more storage features, enhanced padding, and a snug, comfortable fit.
Most backpack carriers have an aluminium alloy frame. The waist and the hip-belt of the pack evenly distribute the weight of the baby along your back, shoulders, and hips (rather than keeping all of the weight on your shoulders and neck like most front-loading child carriers). When wearing the pack, the majority of the weight should be placed on your hips. You should fit the pack from your hips up and not from the shoulders down, which is the instinctive method that most will try. Keeping all of the weight on your shoulders will quickly become a burden, and will easily tire you out.
Do not use a backpack carrier until your child can sit up unassisted and has full head and neck control. If you're not quite sure how to fasten your baby in, or not sure how to fasten the carrier to yourself securely, call the manufacturer to assist you. Do not just "wing it," make sure the carrier and your child are secure in the pack. Also, keep all instructions for future use, you may need them as your child grows!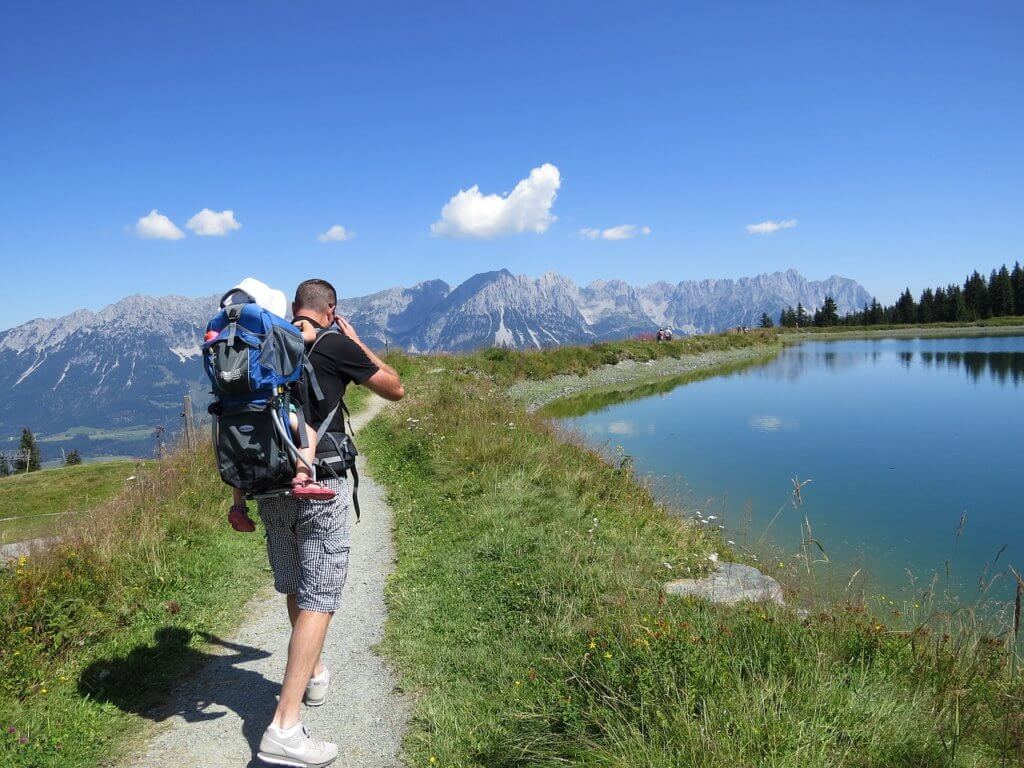 Types
There are two different types of carriers, based on whether you want to take your children for strenuous tasks, or for simple strolls.
1. Framed Carriers
Framed carriers are the more rugged of the two backpacks. Their substantial aluminum frames make for a sturdier build that is able to withstand more movement. They also have extra storage space to carry water, snacks, diapers, toys – you name it! The framed carriers are aimed at those who want to go on hikes with their child. They are far more supported, and more heavy-duty than their counterparts, and are highly recommended if you're planning on hiking with your child. Because they are more heavy-duty, these packs also weigh a bit more. Make sure to not exceed the weight limit of the pack in order to ensure your child's safety.
2. Lightweight or "Urban" Carriers
These types of backpacks are better designed for everyday use, such as walking to the grocery store or taking a stroll through the park. These packs look more like a regular backpack, but still have a structured frame to keep your child supported. They are less bulky than framed carriers, and can be easily packed for short trips.
25 Buggy-Friendly Walks in Ireland
Features
The Cockpit:
The "cockpit" refers to the seat in which your baby sits. Find a seat that fits your baby comfortably and even a bit snuggly. Although you want your baby to have room to breathe, you do not want the seat to be large enough that he/she could accidentally slip through. Also, try to find a seat that has stirrups on the side for your baby's feet, and this will help prevent his/her feet from falling asleep during the ride.
Five Point Harness:
It is essential to look for an adjustable five-point harness when searching for a carrier. The harnesses will be two straps over the shoulders, two for the thighs, and one across the chest. These harnesses will help keep the pack secure on your body and will help evenly distribute the weight to keep you more comfortable.
Do not purchase a carrier that relies solely on waist belt that is separate from the shoulder and chest straps. This would cause the carrier to have openings on the sides that are potentially big enough for a child to slip through. Make sure all of the straps are secure and fastened before departing.
Straps:
The shoulder straps should have firm and wide padding. They should have an adjustable chest buckle that keeps the straps on your shoulders and prevents chafing around your neck. They should also be able to be adjusted safely while still carrying your baby.
Look for as much flexibility in the straps as possible. All of the straps should be adjustable to cater to you and your child's specific needs. When it comes to straps, the fit and the firmness of the padding are more important than the thickness of the padding.
Fabric:
Many carriers are made with durable nylon straps that resemble those of normal hiking backpacks. Fabrics among the packs can vary from lightweight to sturdy and substantial. For hiking, try to find a pack that has adequate ventilation in the back and on the straps. You're going to work up a sweat while walking with your kid, so more air-mesh materials will reduce perspiration and keep you cooler.
The material of your carrier should be durable and easy to clean. If the material gets wet, make sure to let it air dry for a few days before using it again in order to keep your baby comfortable. And, if you plan to ever walk with your baby in the dark, try to find a material that has reflective properties in order to ensure your visibility to cars or other walkers. Make sure that the material on the front of your child is soft enough so that they do not experience chaffing on their chin (from being bounced up and down while you walk).
Fasteners:
Buckles that hold the waist and shoulder straps should be easy to adjust and should be able to hold the straps tightly so that they do not come loose while using the carrier. The snaps and buckles should be sturdy and should prove difficult for children to open.
Kickstand:
Framed carriers have kickstands that are used to erect the seat on the ground so that the child can easily climb in. The kickstand should firmly lock into place when opened. The hinges should also have spacers so that your fingers will not get pinched when opening and closing the kickstand. Also, when the carrier is on your back, the kickstand should close fully so that it does not snag on objects as you walk.
Even though the stand sits still while on the ground so that a child can climb in, never use the carrier with the kickstand as a baby seat. It is not sturdy enough on the ground to ensure the safety of your child while seated for an extended period of time.
Leg Openings:
The leg openings for the baby should be adjusted small enough so that your baby does not slip out, but not too small as to cut off circulation. Adjustable leg openings are ideal so that you can change the width as your baby grows.
Seats and Seatbelts:
The seat should adjust so that your child sits high enough to see over your shoulder, but not high enough to risk falling out. The seat should also be padded for your baby's comfort.
Storage:
When travelling with kids, you'll need to bring snacks, toys, nappies, and anything else required to keep you and your child happy and comfortable on your trip. When looking at the storage qualities of a carrier, zippered pockets are better for making sure that nothing falls out. Meanwhile, if you're a family that travels a little bit on the heavier side, look for a carrier with a bottom compartment. These compartments below the seat have enough space to accommodate anything you may need for a day out – and always remember to never exceed the weight limit of the pack when preparing your kit.
Weather Shield:
Most carriers come with a sun/weather shield that helps protect your baby from the sun's harmful rays, wind or rain. The better shields are hoods that come up over the back for full coverage.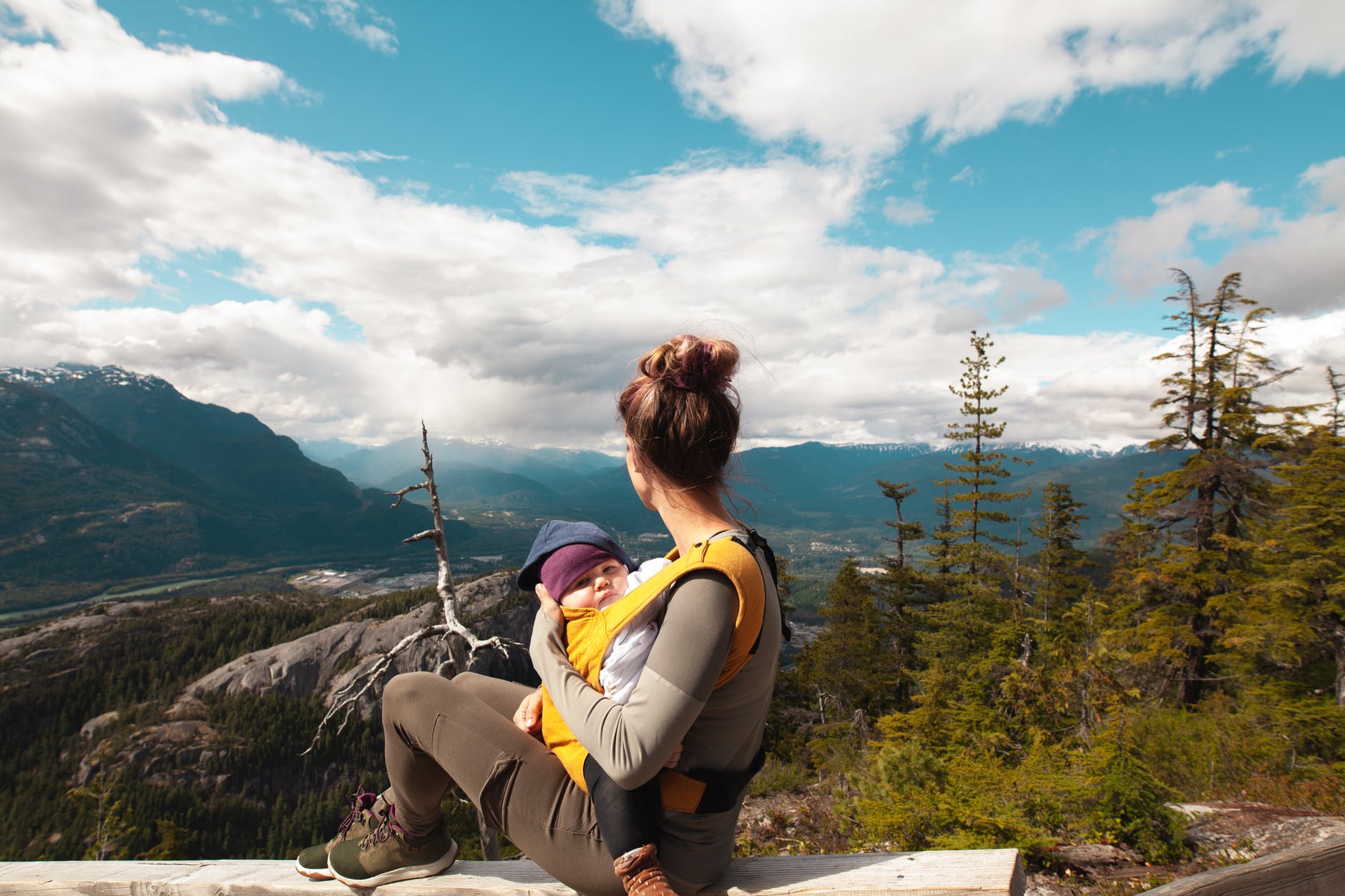 Safety Tips
When your child is in the carrier, be mindful that his/her head could be higher than yours at the time. So, be wary of things such as tree branches or doorways.

Periodically check on your child. Carry a small mirror with you so that you can check up on your kid while walking.

Check the backpack before every use for weakened seams, loose fasteners, or frayed straps. Never use a carrier that has frayed seams, for they can then easily break and injure you or your child.

Do not lean over while you are carrying the pack. Bend at your knees to keep your baby from falling out when you are reaching for something on the ground.

If the seat has been in the sun for a bit, let it cool off before setting your child in. The aluminium of the seat can heat up and cause the baby irritation.
Check out our list of the best child-carrying backpacks for adventures with your little ones.
Check out our Hard as Nails podcast:
Like this? Check out these other articles: