One of our favourite Irish adventurers, Nikki Bradley, has bossed her latest challenge. The Donegal woman and cancer survivor has entered the history books once again for becoming the first crutch-user to climb Carrauntoohil, Co. Kerry, Croagh Patrick, Co. Mayo, Slieve Donard, Co. Down and Errigal, Co. Donegal, in 32 hours. Outsider's Orla O'Muiri caught up with Nikki to find out all about her Four Peaks Challenge.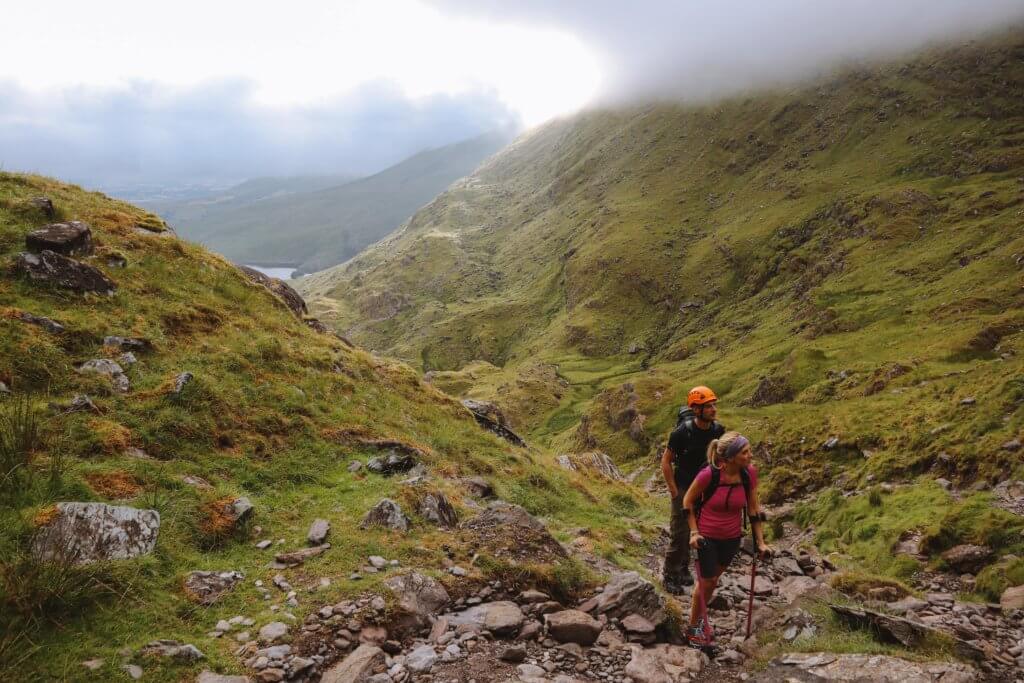 Diagnosed with a rare form of bone cancer at 16, Nikki Bradley (31) is one of fewer than 10 people in the world to survive her form of Ewing's Sarcoma. But treatment has left Nikki with severe problems with her legs meaning that she now permanently uses crutches.
Despite this, the adaptive adventurer is no stranger to a challenge. In recent years, Nikki has completed the Fan Dance Race, a gruelling 24km trek through the Brecon Beacon in Wales, climbed a route of the Sólheimajökull glacier in Iceland, abseiled into a 45-foot ice cave and she also became the first woman to abseil off Fanad Head Lighthouse.
Meet the Revolutionary Women Who Became the First Female Porters on the Inca Trail
Her latest challenge was to climb one of Ireland's most iconic mountains back to back – Nikki's Four Peaks Challenge.
At 6 am on 21 July 2018, along with Irish army soldier Billy Fanneran, mountaineer Iain Miller and boyfriend Ian Parke, Nikki set off to climb Carrauntoohil, Croagh Patrick, Slieve Donard and Errigal. The 32 hours that followed were filled with pain, elation, fatigue and freedom. Nikki's goal was to raise €50,000 for three charities, The Irish Cancer Society, Action Cancer and The Ross Nugent Foundation.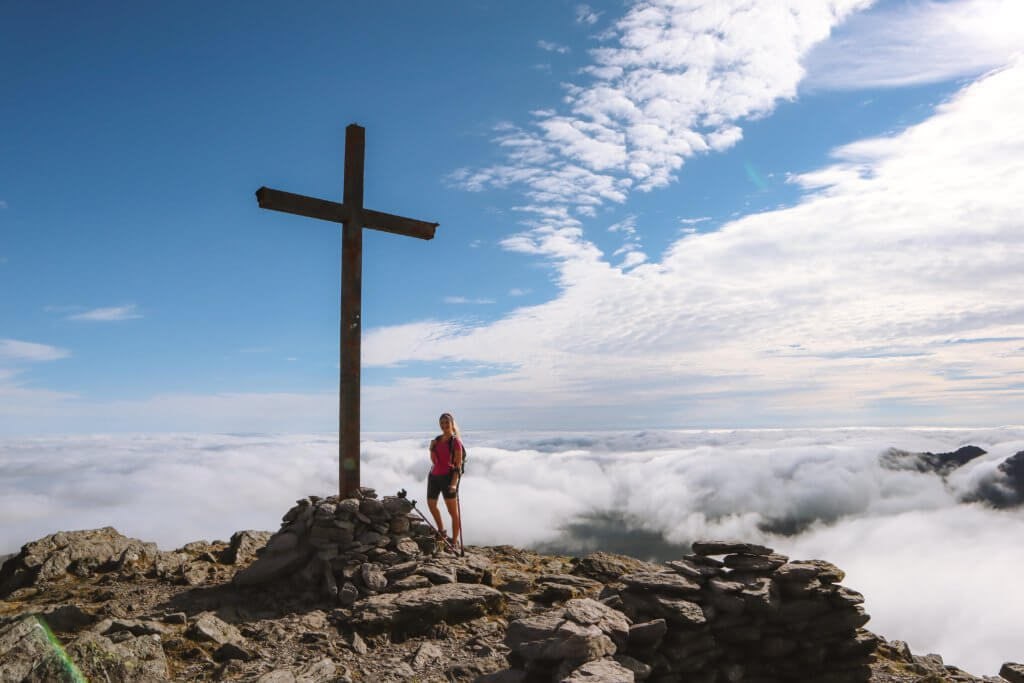 Starting with the toughest, Nikki set off on a seven-hour trek up Ireland's highest peak, Carrantuohill (1,038m).
"It was stunning; it was the perfect first climb. And to top it off, just as we were coming up to the summit, we witnessed a cloud inversion which was absolutely incredible," she recounts.
After that, it was straight into the car for the three-hour drive to Croagh Patrick.
"Your body is already in recovery mode. You start getting stiff and tired. So, psychologically, we weren't firing on all cylinders, but we knew this was going to happen," says Nikki. "It's the type of pain that when it hits you, it's all you can think about in that moment. It's like a really extreme version of stubbing your toe."
"It's the type of pain that when it hits you it's all you can think about that moment. It's like a really extreme version of stubbing your toe. Like when it happens you're punching things and you want to scream the house down but then it's gone."
But Nikki got a boost when she reached Croagh Patrick. "When we reached Croagh Patrick, I noticed a man and a woman walking towards me. Straight away, I knew the man was an amputee. They came over and introduced themselves. The man, Paddy, had Ewings twice and, unfortunately, he lost his entire leg as a result. They had heard about my story and they wanted to walk to the base of the mountain with us, which I thought was the most incredible gesture. He ended up donating quite a lot of money to our GoFundMe page and he messaged everyone in his phonebook and asked them to donate. He ended up raising a couple of hundred euro from that one act."
Croagh Patrick is not Nikki's favourite mountain, and it was there that the first cracks started to show.
"In terms of pain, that's where I started to feel it. I had a couple of slips on the way back down. My hip was so tender at this stage. It's loose, which means it can be fine one minute and then if I have a little fall or a jerk it can move. Once that happens, it's almost caught and it can send searing, hot pain the whole way along the right side of my body. General joint pain and muscle pain I can deal with quite well, but nerve pain is so severe, it's very difficult to ignore," says Nikki.
In typical Nikki fashion, she didn't dwell on the negatives, so despite the pain she was experiencing – and the lashing rain – she swiftly moved on to the silver lining.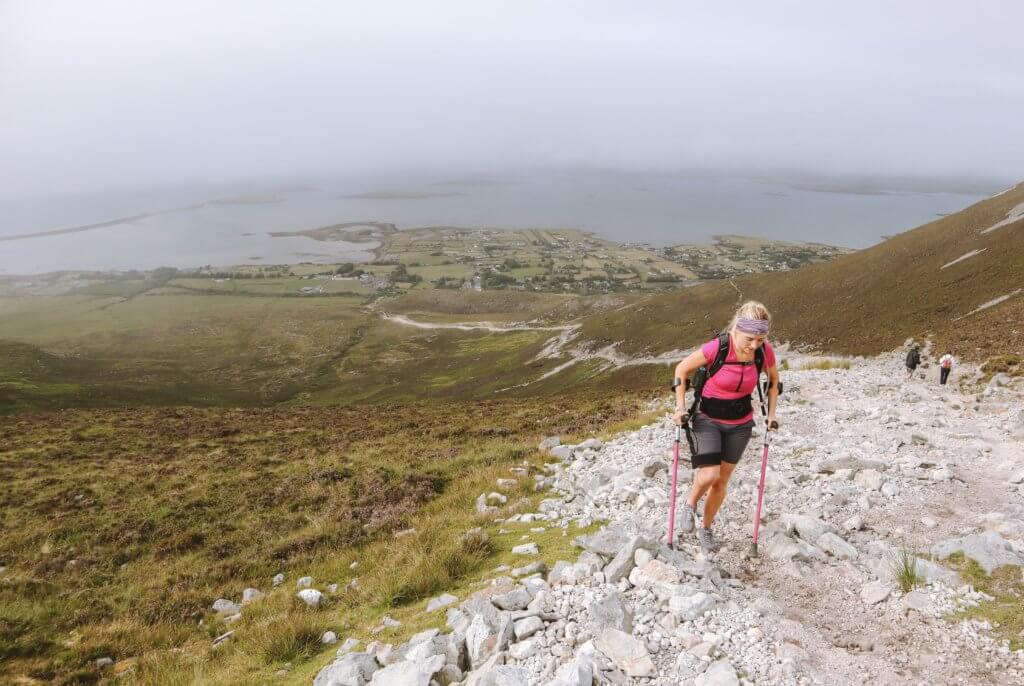 "On the way back down, we saw a brocken spectre which is when the sun shines in a certain direction and creates what's like a magnified shadow around your figure onto the clouds opposite. Considering the weather was quite bad, it was incredible to experience such a cool piece of sunshine," recalls Nikki.
The team had reached the half-way mark. Two mountains down; two to go.
"It was about 3am when we got to Slieve Donard. Iain Miller and I put on our head torches while the others got some rest. That climb was slow. We really were drawing on every bit of mental strength we had left. I had a couple of slips on the way up – one of them actually brought me to tears."
"It's the type of pain that when it hits you, it's all you can think about in that moment. It's like a really extreme version of stubbing your toe. When it happens, you feel like punching things and you want to scream the house down, but then it's gone. In my case, it's not quite gone but it does ease enough to allow you to continue. It's difficult to explain but once that happens, it's like it opens up your nerve endings and you're just waiting for even the slightest bump to set it off again," says Nikki.
Summit of My Life: Jason Black's K2 Epic
By this point, the impact of every step was causing the Donegal woman pain.
"My hands started to lose all feeling just from being wrapped around the crutches for so long. It was getting tougher to just switch off and ignore the pain. When you're tired, you do tend to focus on the negative. That climb took five hours, which is a very long time, but we physically couldn't go faster. I couldn't anyway. We were running on empty. Climbing at night is tough. There is nothing to distract you. You only have whatever light is coming from your head torch."
Nikki adds quickly though, "But don't get me wrong, there were positives. You begin to really notice the little things, like the smell of the pine from the woods on Slieve Donard. Stuff like that becomes much more noticeable when you can't see."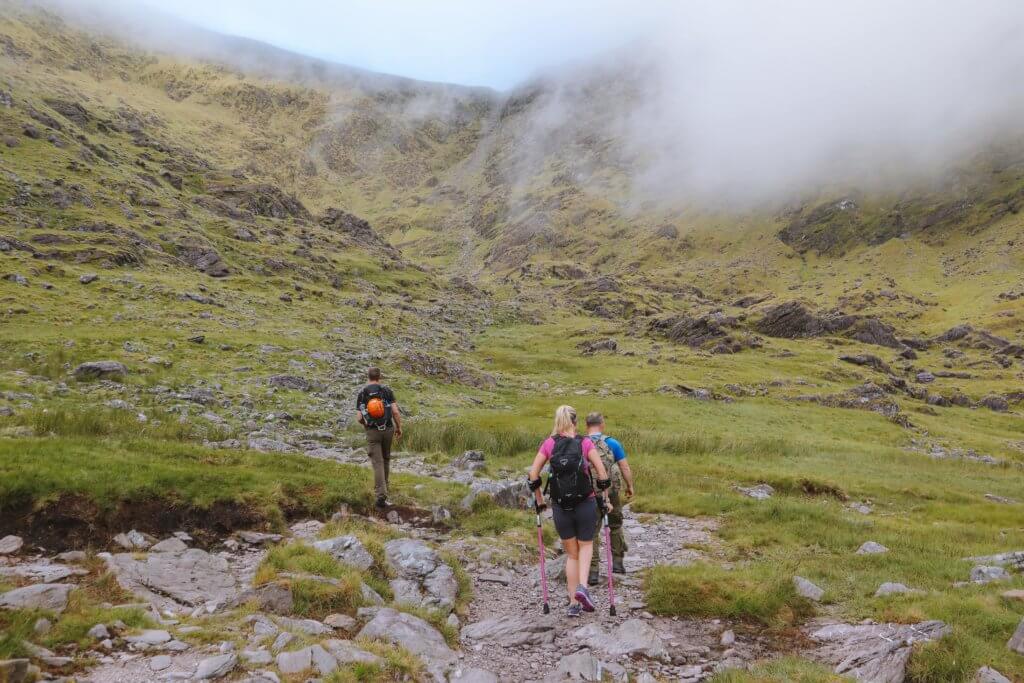 Just one mountain remained in Nikki's path, Errigal.
"Knowing it was the end got me up and back down that mountain," says Nikki. "On the descent, I could see a small crowd gathering. It was my family, friends and also people from the three charities all gathered together with a banner. I got quite emotional. Even little things like openly crying in front of strangers is such an unusual experience, something that you wouldn't do day-to-day. But after you've put yourself through something like this, you're free of that embarrassment. It's actually lovely, you just feel free to bawl your eyes out and feel happy doing so."
Check out Nikki's podcast here:
Like this? Check out these articles: